This post may contain affiliate links. For more information, read my disclosure policy.
Spring is one of my favorite food times of the year because it's perfectly acceptable to add coconut to every single dessert.
If you like coconut, these Coconut Cream Truffles are for you!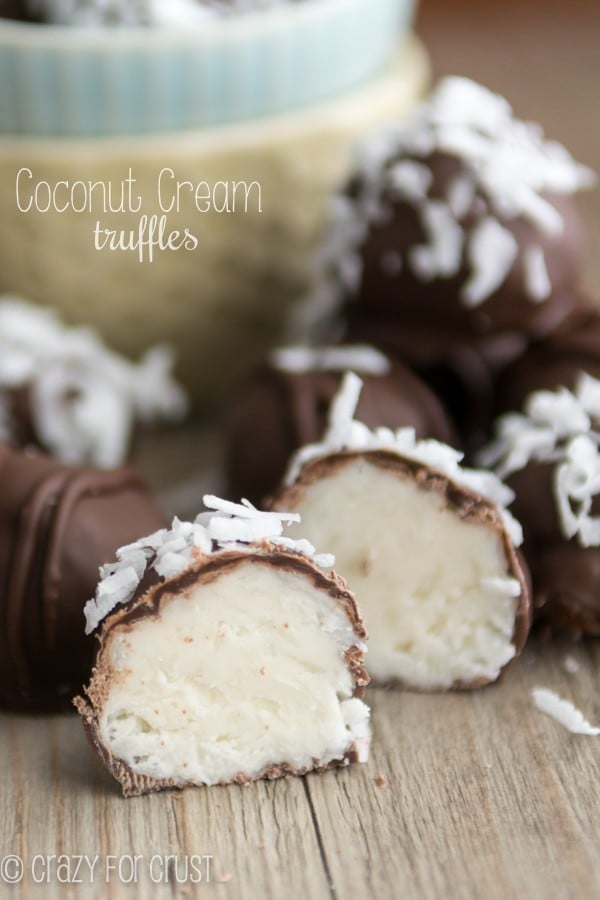 I have a slight bone to pick with Hershey's Kisses. My absolute favorite Kiss flavor is the Coconut Cream. Every year after Valentine's Day I start impatiently stalking Target for my shipment to come in. I usually buy a bag to bake with…and a bag to eat. But this year?
There are NO coconut cream kisses to be found! It's like my own personal armageddon.
I've looked at Target. Walmart. The grocery store. I've looked again. I've done laps in the Easter and candy and specialty aisles with no luck. I even tweeted @HersheysKisses and asked and they said they were rolling them out…and still to date…nada.
It's a sad, sad day in the Crazy household.
I even bought another brand, a popular one that has very good chocolate. But you know what? All I tasted was the chocolate. The coconut got lost because of how good this brand of chocolate is.
So I decided to take matters into my own hands.
I made my own coconut cream truffles. The coconut cream to chocolate ratio is way in favor of the coconut. #win

These are a simple butter-based truffle with triple the coconut stirred right in.
Once you mix up the base of the truffle (butter and powdered sugar) you add vanilla and coconut extract. I know, another extract to buy. But honestly, if you want that punch of coconut flavor, you need the extract. Shredded coconut alone doesn't pack the wallop I was hoping for. Buy the generic extract at Walmart and it won't cost you a bunch.
The second coconut layer comes from Cream of Coconut. I bought the Coco Real brand. You can find it in the liquor section of your grocery store. It's used as a mixer in lots of drinks, but it doesn't actually have alcohol in it. I supposed you could use the canned cream of coconut you find in the Asian foods aisle, but I really don't like that stuff. I've tried using it before and the flavor just turns me off. The Cream of Coconut reminds me of coconut oil in texture, but it packs a strong coconut flavor.
And last, of course, there is actual shredded coconut in the truffle. It adds some texture and flavor and gives it that nice coconut chew, as I like to call it. The three ingredients together give these a great coconut flavor!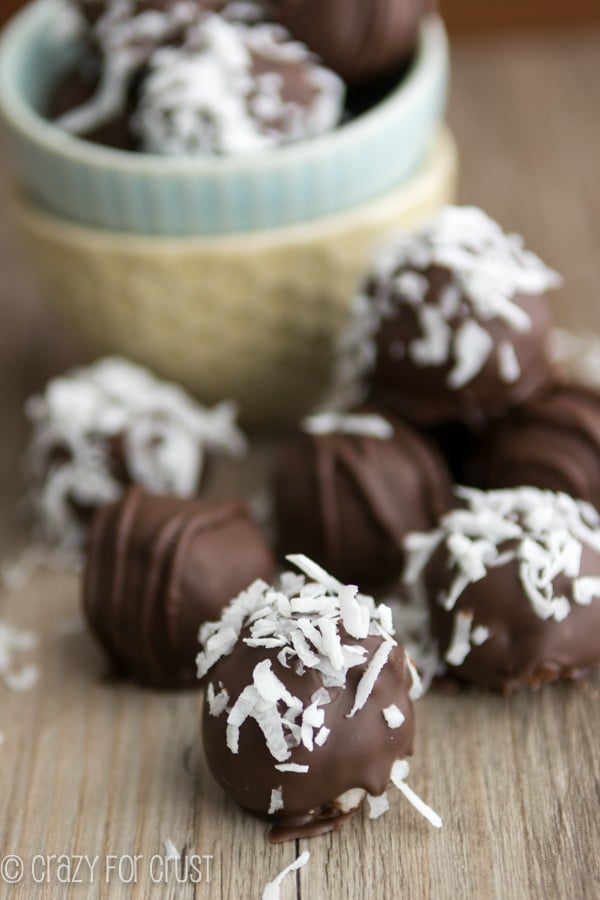 Once you have the truffles rolled and chilled, it's time to dip them. You can use a candy melt made for dipping (my favorite is Candiquik) or you can use semi-sweet baking chocolate (my favorite is Ghiradelli). Use what you like best! Both of these (and Almond Bark and Wilton's Candy Melts) can be found in the baking aisle at your local grocery store or Walmart/Target.
Hate dipping? Me too. But it's actually easier than you think, and gets easier the more you do it. I made a video tutorial awhile back explaining how I dip truffles without throwing a tantrum, if you're interested. The post also has some helpful tricks and tips about all the candy choices and dipping in general.
Depending on when you're serving these truffles, you can decorate them in so many ways. Drizzle them with chocolate or coconut, like I did. Use pretty sprinkles or chocolate jimmies. Or, if you're making them for Easter, they'd be really eye-catching with some pastel candy drizzled over the top (Wilton sells all different colors).
I went easy, with more coconut. I'm a coconut addict after all.
Like lemon and dark chocolate, coconut is something that I've only become obsessed with since I started blogging.
I was kind of hoping that would happen with beets and kale, but so far no dice.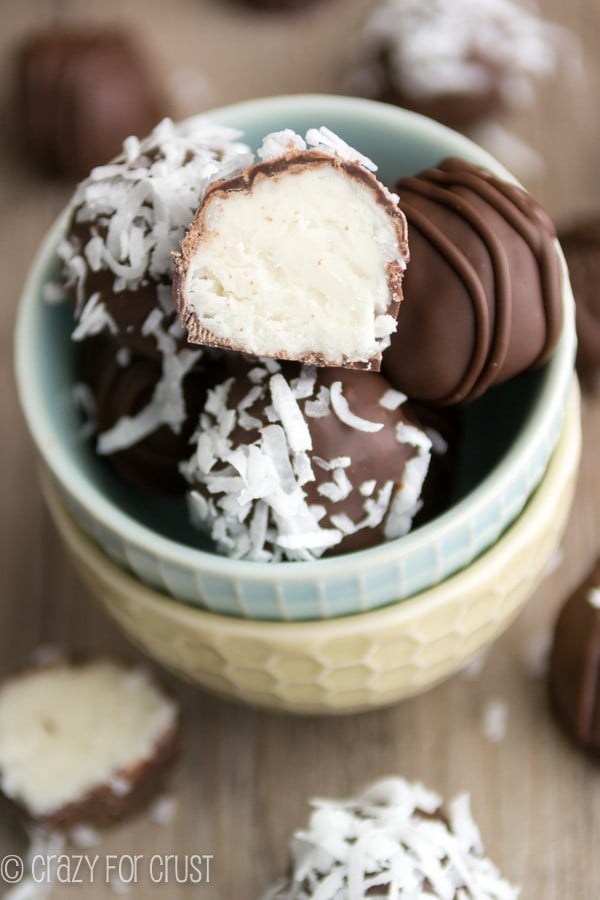 I'll stick with sugar thankyouverymuch.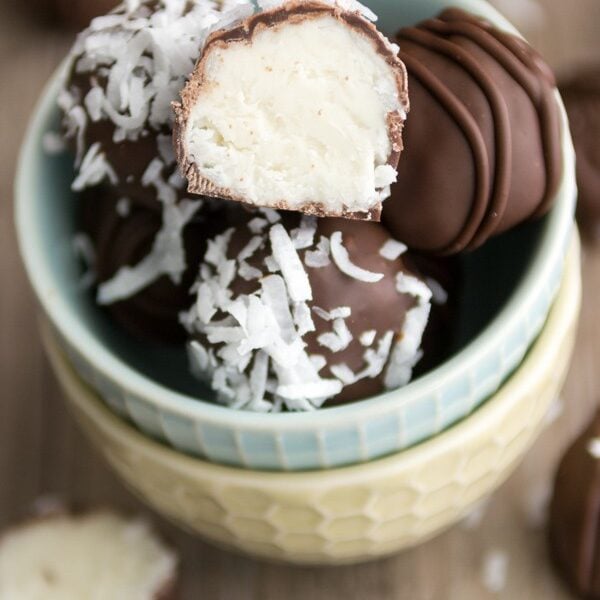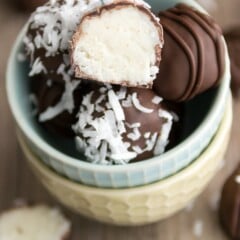 Coconut Cream Truffles
These are the perfect coconut truffle: a creamy center filled with coconut flavor and shredded coconut, all surrounded by chocolate. When you can't find your favorite coconut cream candies at the store, these are the perfect stand-in.
Ingredients
1/4

cup

butter

softened

1/2

teaspoon

vanilla extract

1/2

teaspoon

coconut extract

2

tablespoons

cream of coconut

I used Coco Real Brand

Pinch

salt

1 1/2

cups

powdered sugar

1

cup

shredded coconut

6-8

ounces

chocolate candy melts or semi-sweet baking chocolate
Instructions
Beat butter with a hand mixer until smooth. Mix in extracts, cream of coconut and salt. Slowly add the powdered sugar until it's mixed in. Mix in coconut.

Drop tablespoon sized balls on a wax-paper lined cookie sheet and roll into uniform balls. Chill for at least 1 hour before dipping. You can wrap the cookie sheet with foil and chill overnight, if needed.

When ready to dip, melt candy melts according to package directions. Dip each ball into the melts, tapping off the excess, and place on a new cookie sheet lined with wax paper. (If your truffles start to get soft, pop them in the freezer for a few minutes before continuing.) Sprinkle with sprinkles or coconut, if desired.

Chill until set, store in refrigerator. Best served at room temperature.
Nutritional information not guaranteed to be accurate
Click here to see more of my ULTIMATE COCONUT recipes!
Last Updated on May 31, 2020