This post may contain affiliate links. For more information, read my disclosure policy.
These Maple Walnut Truffles have a whole lot of maple and walnut flavor, with the perfect amount of sweetness! They are a See's Candy copycat recipe and I think I nailed it! The maple buttercream filling is coated in chocolate just like the See's Candy version and the flavor is spot on. These homemade truffles are great for gifts or keep them all to yourself!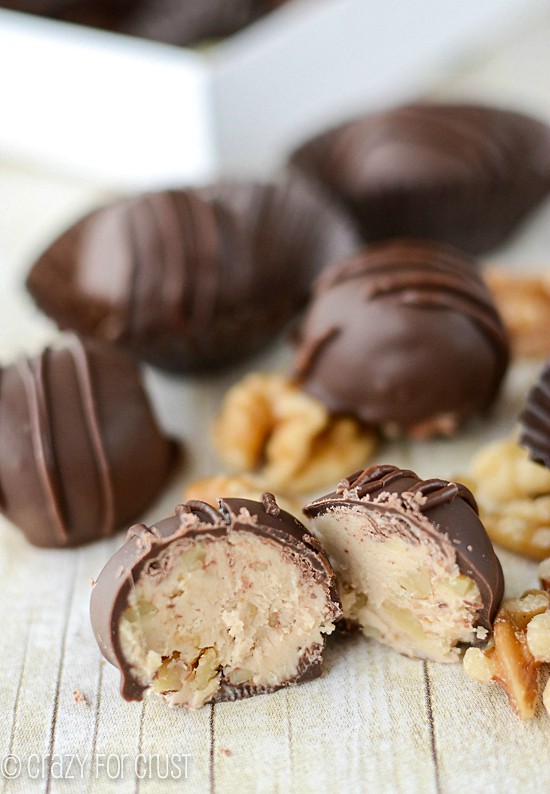 I've been a fan of See's Candy for a longtime and I've had several of their confections on my list to make at home. I love doing copycat recipes and recreating their iconic Maple Walnut Truffles has been at the top of the list!
Have you have heard of See's Candy? If you live East of Chicago, you probably have no idea what I'm talking about, but if you have ever lived on the West Coast, or been to an airport in the West, you'll probably recognize the name.
Walking into a See's store is like smelling home to me. No matter where I am, whenever I walk into the shop with the black-and-white checkered floor, I take a deep breath and I'm instantly transported to my childhood. To this day, their Walnut Maple Truffles are still one of my favorites.
The truffles have a rich maple and walnut filling with a chocolate coating and it's a flavor combination I've loved since I was a kid. Growing up, a 1-lb box of See's lasted less than 24 hours in our house (and there were only three of us, my mom, dad, and me!) By the next day, the box would be but an echo of brown wrappers, half pieces of fruit filled candy no one wanted, and the knife used to cut them.
I never needed to cut the Maple Walnut Truffles in half. I could identify them on sight. Not perfectly spherical, they were higher than they were round. That's a difficult shape to recreate so I went for perfect spheres for this copycat version and I'm happy to report I achieved it!
These may not look like the original, but they sure do taste like them. I'm a little scared that I know how to make these now. And that I always have the ingredients to make them on-hand. Sugar highs, every day, for sure.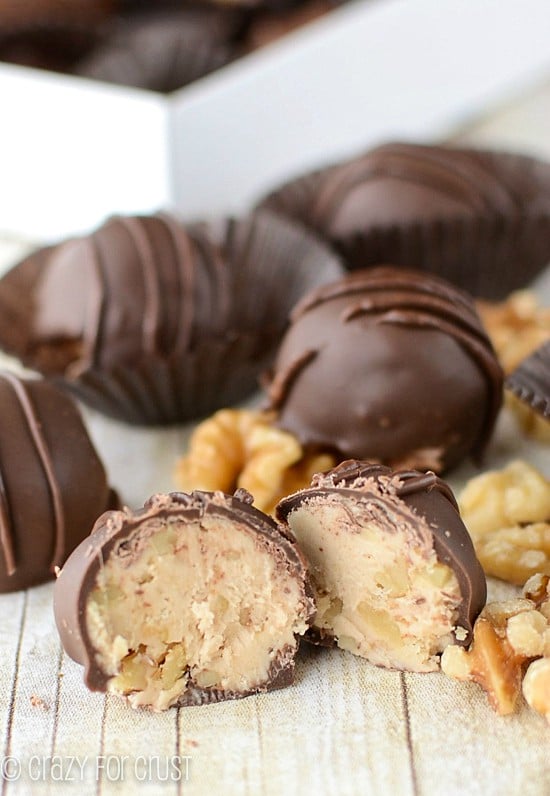 Some Tips Before You Make Maple Walnut Truffles
Although they might look complicated, homemade truffles are actually pretty easy to make. They just take some time, that's all. Before you get started here are the tools you'll need and some tips before you get started:
First, be sure to plan your time. The filling is quick to make, but it needs to chill for at least 30 minutes before you roll it into balls. Once you've rolled the filling into balls you will need to chill them for another 10 minutes.
You will want a hand mixer (or stand mixer fitted with the paddle attachment) to make the maple walnut filling. It will make it easier to get the creamy texture for the filling.
Line a baking sheet with wax paper. This will make it easy to remove the truffles once they're set.
You will need a microwave-safe bowl for melting the candy melts.
For dipping, you will want a spoon, fork, and toothpicks.
To create the chocolate drizzle on top of each truffle, you will need a squeeze bottle or a plastic bag with the corner snipped off.
Maple Cream Filling
The filling is made with softened butter, maple syrup, powdered sugar, vanilla, and maple extract.
Combine all of the ingredients until you have a creamy mixture. At this point, you can stir in chopped walnuts.
Chill the filling for 30 minutes which will allow it to firm up so you can form it into balls.
Once chilled, scoop a tablespoon of the filling and form it into a ball. Repeat with the rest of the filling, placing each ball on the baking sheet lined with wax paper.
Chill the balls for at least 10 minutes or until you are ready to dip them in chocolate. I recommend only removing a few balls at a time from the refrigerator since they will be difficult to work with if they warm up.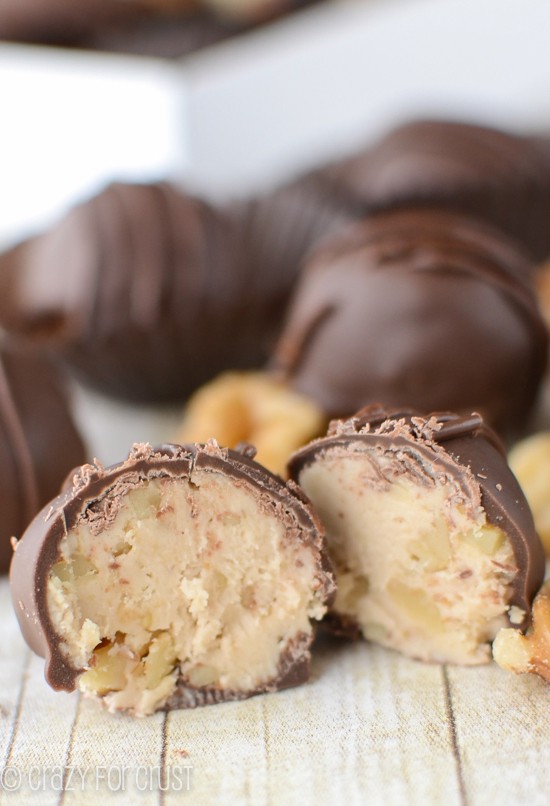 How to Dip Truffles in Chocolate
Once you've melted your candy melts, you're ready to start coating your truffles. Be sure to read through my tips here, but you should also watch my tutorial on how to dip candy! I share tons of tips and tricks in that post that you might find helpful, too.
Like I mentioned, you don't want your filling to get too warm while you're dipping the truffles, so only work with a few balls at a time and leave the rest in the refrigerator so they stay nice and cold.
Place a truffle in the chocolate. Instead of rolling it around in the chocolate, use a spoon and spoon the melted chocolate over the top.
Once it's evenly coated, use a fork to lift the truffle out of the chocolate and gently tap the fork on the edge of the bowl. This will help the excess chocolate drip off of the truffle and give you a smooth chocolate candy coating.
The easiest way to transfer the truffle from the fork to the baking sheet is with a toothpick. Use the toothpick to gently slide the truffle off of the fork. Doing it this way won't mess up your chocolate coating.
Chill the chocolate coated truffles until the coating is semi-hard.
Transfer your leftover melted chocolate to a squeeze bottle or plastic bag. If using a plastic bag, snip off one of the corners so you can squeeze the chocolate out in a thin stream. Drizzle some chocolate over the top of each truffle to create a little chocolate squiggle.
How to Store Maple Walnut Truffles
The best way to store your truffles is in the refrigerator. They will last longer that way. What I like to do is keep them chilled and then pull them out about an hour before serving so they come to room temperature.
I have not tried freezing these Maple Walnut Truffles, but I have frozen other types of truffles with success. Sometimes the chocolate turns cloudy after being frozen, but you can always re-dip them in more chocolate to cover it up.
I love that I was able to recreate this childhood favorite! These homemade truffles are a fun project and are great for gifts, too. I just wish I could replicate the chocolate-in-the-air smell you experience when you visit a See's Candy store. Now that would be cool!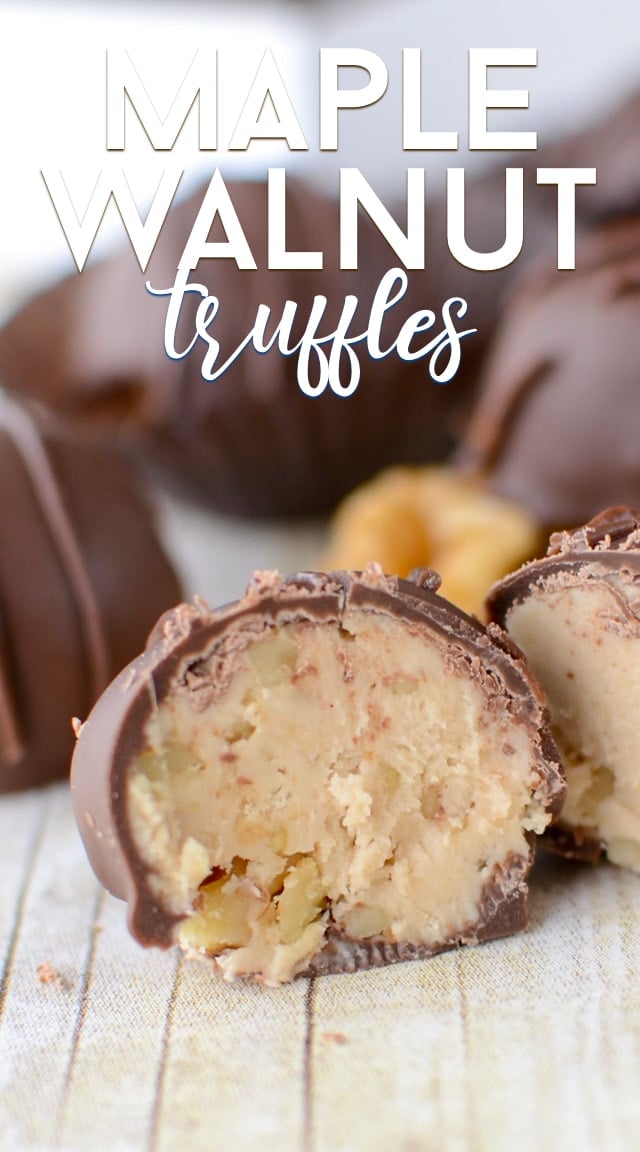 Other fun truffle recipes to be sure and try:
Other candy recipes we love:
Have you made this recipe?
Tag @crazyforcrust on Instagram or hashtag it #crazyforcrust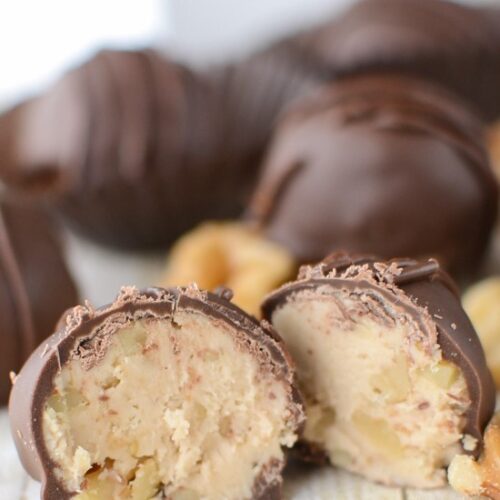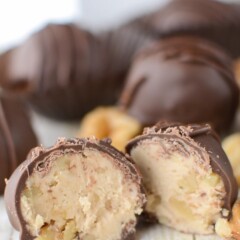 Maple Walnut Truffles
These Maple Walnut Truffles are a See's Candy Copycat! Just like the original, but made at home!
Ingredients
1/4

cup

unsalted butter

softened

1

tablespoon

maple syrup

1 1/2

cups

powdered sugar

1

teaspoon

vanilla

1/4

teaspoon

maple extract

1

cup

chopped toasted walnuts

8

ounces

chocolate candy melts

such as Candiquik
Instructions
Mix butter, maple syrup, and powdered sugar with a hand mixer. Add both extracts and beat until creamy. Stir in walnuts. Chill for 30 minutes.

Once chilled, scoop 1 tablespoon sized balls of dough and place on a wax paper lined cookie sheet. Chill again until just ready to dip (at least 10 minutes).

Melt your candy in a microwave safe bowl according to package directions. Dip each truffle in the bowl of chocolate.

Do not roll it around, use a spoon to spoon chocolate over the top. Lift onto a fork carefully and tap to remove excess chocolate. Place on a wax-paper lined cookie sheet. I find it best to use a toothpick to help the truffle slide off the fork without disturbing too much of the coating.

Note: these truffles soften quickly. If you find them getting to soft, re-chill them and only remove a few at a time to dip.

Chill dipped truffles for just a few minutes, until coating is semi-hard. Meanwhile transfer the remaining chocolate to a squeeze bottle (or a plastic bag with the tip cut off) and pipe swirls or swipes of chocolate over the top for decoration.
Recipe Nutrition
Serving:
1
truffle
|
Calories:
122
kcal
|
Carbohydrates:
14
g
|
Protein:
1
g
|
Fat:
7
g
|
Saturated Fat:
3
g
|
Cholesterol:
6
mg
|
Sodium:
6
mg
|
Potassium:
28
mg
|
Fiber:
1
g
|
Sugar:
13
g
|
Vitamin A:
71
IU
|
Vitamin C:
1
mg
|
Calcium:
8
mg
|
Iron:
1
mg
Nutritional information not guaranteed to be accurate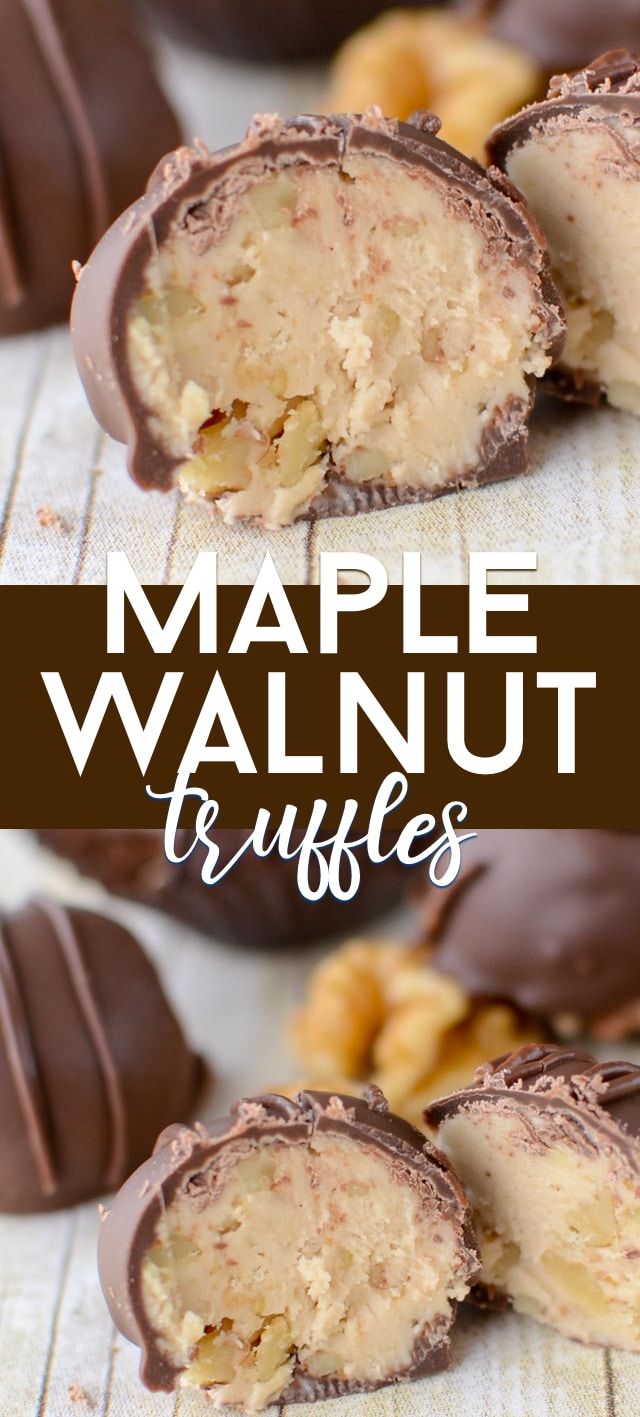 Maple Walnut Truffles are an easy candy truffle recipe – a See's Copycat! These classic truffles are so good and will remind you of childhood.
Last Updated on May 30, 2020