No Bake Lemon Cream Pie
This post may contain affiliate links. For more information, read my disclosure policy.
No Bake Lemon Cream Pie – this EASY lemon pie recipe has a homemade graham cracker crust and is filled with lemon and vanilla pudding! It's the EASIEST lemon pie recipe ever!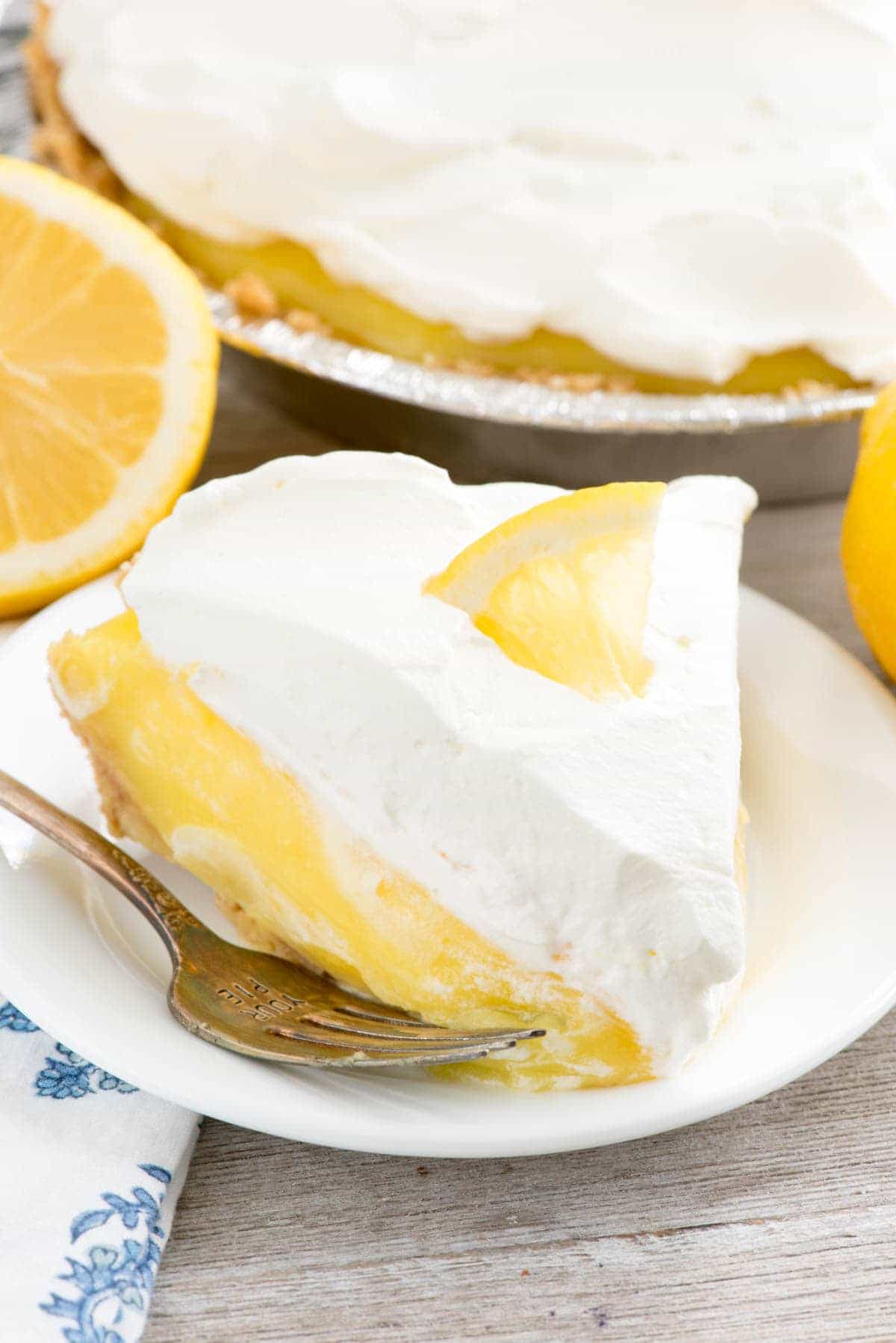 No Bake Lemon Cream Pie – Perfect For Spring
There is nothing quite like waking up in a cold sweat at 5:50am only to realize that the recipe video you have to share on Facebook at 6:30 hasn't been edited yet. #foodbloggerslife
Luckily, that didn't happen with this pie. I, in fact, edited this video a full week ago. This incident occurred last Thursday, when I posted my Cheesy Bacon Ranch French Bread Pizza. I kept thinking to myself, that post is due at the end of March, no big deal. I have time, it's not until March 30. And then I realized OMG IT'S THE END OF MARCH. How did April come so fast?
April is gonna be a crazy month. I have a trip to South Carolina for a conference this week, Mel is taking Jordan to San Diego to see his family, and we have spring break…all in the next 2 weeks. And then, as we all know, after spring break it's just a downhill slide to summer.
But I can't think about summer yet. It stresses me out too much: no childcare, full time job, a tween, and no more elementary school. *head explodes*
In the meantime, since it's spring, I'm still into all things lemon. I've got THREE lemon recipes for you over the next few weeks, plus that video yesterday of my Lemon Gooey Bars. Imma turn into a lemon if I'm not careful.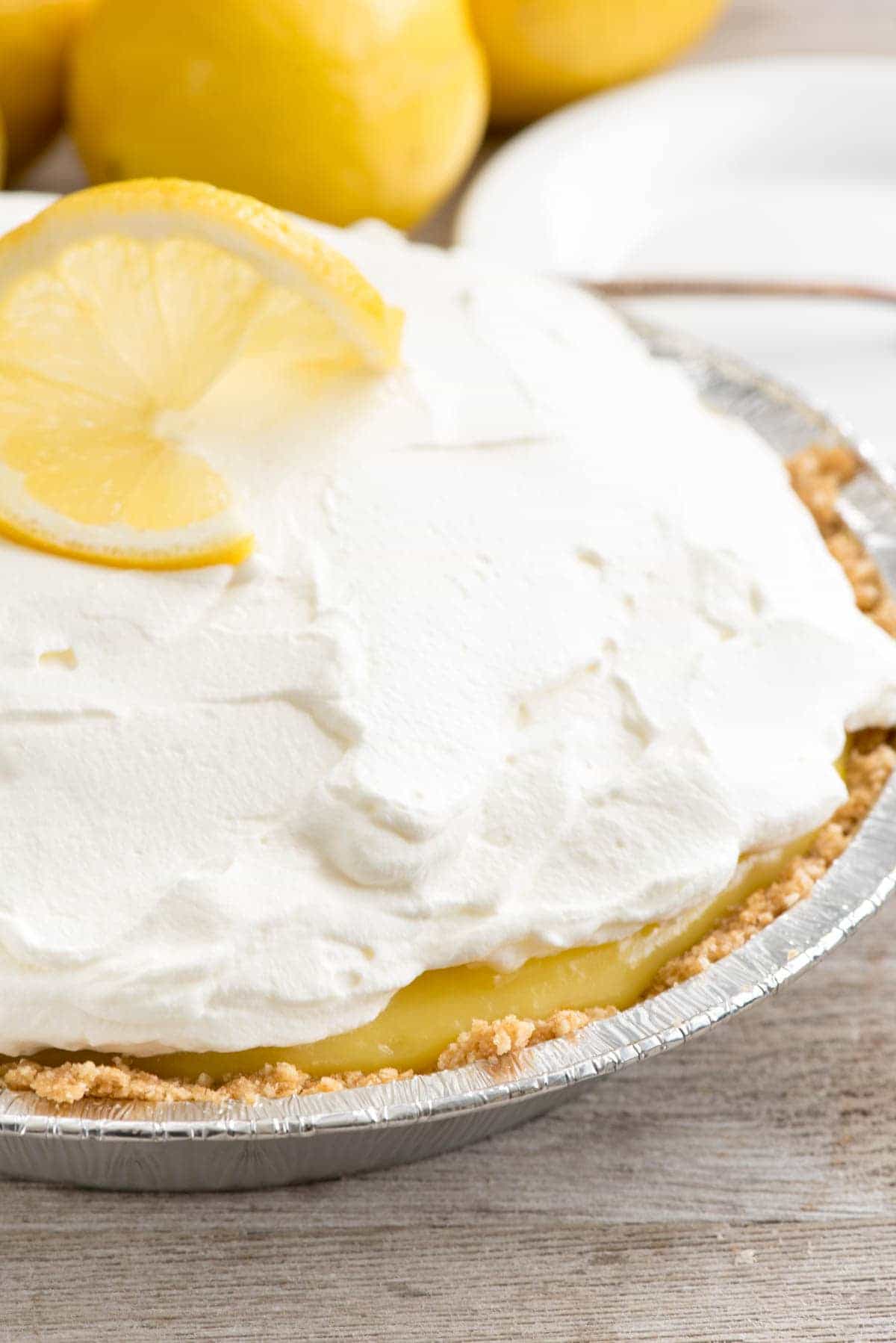 Since you all looooooved my lemon meringue pie and my coconut cream pie, I decided to marry the two and make a no bake lemon cream pie. It's easier than lemon meringue and just as good. Plus, it's a cream pie, which basically is the best thing ever invented. (Also, it's one serving, right? So there's that.)
I paired this pie with my perfect graham cracker crust, but you can also make it with a Golden Oreo crust or a shortbread crust. And you might think "but that's a disposable pie plate, she didn't make her own crust" but I promise, I did. I like to buy disposable pie plates for weight control: if it's in a disposable plate, I can give the pie away and not lose a pie dish.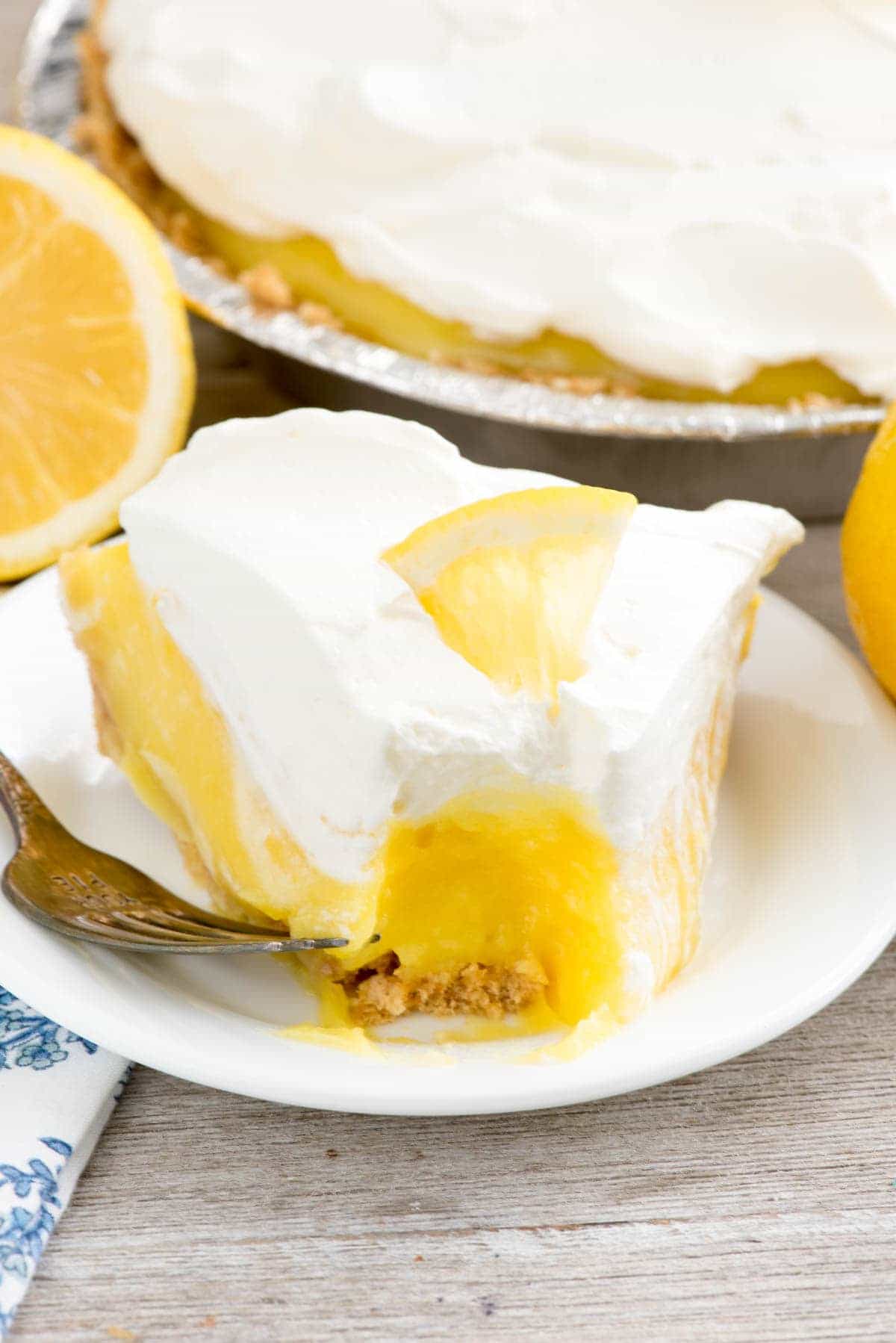 How to Make This No Bake Lemon Cream Pie
This no bake lemon cream pie is filled with a mix of lemon pudding and vanilla pudding. I tried it with two boxes of the lemon and it was too strong, so I suggest mixing one lemon with one vanilla. I like using instant pudding for ease, but you could also use the cook 'n serve version. I always find lemon pudding mix and the grocery store, but I can never seem to find it at Target, so if it's not at one store it will be at another. If you can't find it at all, you can add the zest of a lemon and some lemon juice and extract to plain old vanilla pudding.
I topped the pie with a fresh whipped cream, but as usual Cool Whip can be substituted. I'm all about easy and fast around here. I love chemicals and processed foods, after all. (Did you read the sarcasm? Yes? Good, because I know some people will read this recipe and send me nasty comments about it not being a real "recipe" because it uses mixes. Did I mention that time is going so fast? I have no patience for those commenters anymore, lol.

No bake lemon cream pie is oh-so good. If you're a lemon lover, watch out, because once you take one bite the next thing you know the pie will be gone.
Not that I'd know or anything…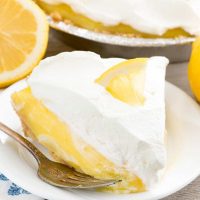 No Bake Lemon Cream Pie
No Bake Lemon Cream Pie – this EASY lemon pie recipe has a homemade graham cracker crust and is filled with lemon and vanilla pudding! It's the EASIEST lemon pie recipe ever!
Ingredients:
Directions:
Make pie crust according to directions and chill until ready to fill.
Whisk both pudding mixes with milk until smooth. Let sit 3-5 minutes until it is soft set. Stir in lemon zest.
Pour pudding mix into prepared pie crust. Cover and chill at least 3 hours or until set.
Before serving: top with whipped cream or cool whip.
Store in refrigerator for up to 2 days.
Notes:
You can find lemon pudding mix at most grocery stores. If you can't find it, substitute a second box of vanilla pudding mix and add the zest and juice of one lemon, reduce the milk to 3 1/4 cups, and add 1/2-1 teaspoon of lemon extract (to taste).
Nutrition Information
Yield: 8-10 servings, Serving Size: 1/8th slice of pie
Amount Per Serving:
Calories: 187
Total Fat: 2g
Saturated Fat: 1g
Cholesterol: 4mg
Sodium: 666mg
Carbohydrates: 38g
Sugar: 19g
Protein: 4g
All images and text ©
. Please do not use my images without prior permission. If you want to republish this recipe, please re-write the recipe in your own words, or link back to this post for the recipe. Disclaimer: Nutrition information shown is not guaranteed to be accurate.
Click here to see the complete list of Lemon Recipes!
See more of my ultimate pie recipes here!
Check out the The Complete List of No Bake Pies!
No Bake Chocolate Peanut Butter Cream Pie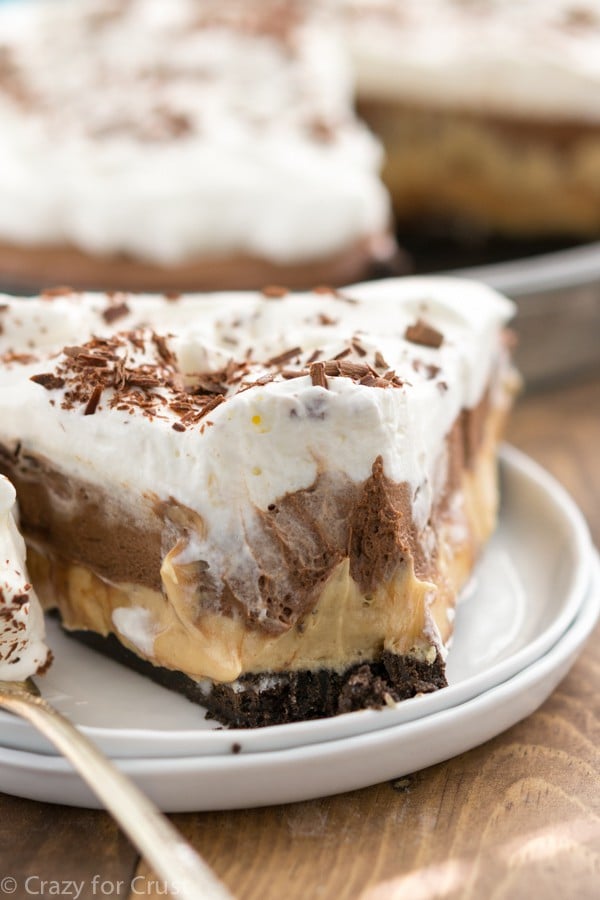 No Bake Chocolate Chip Cookie Pie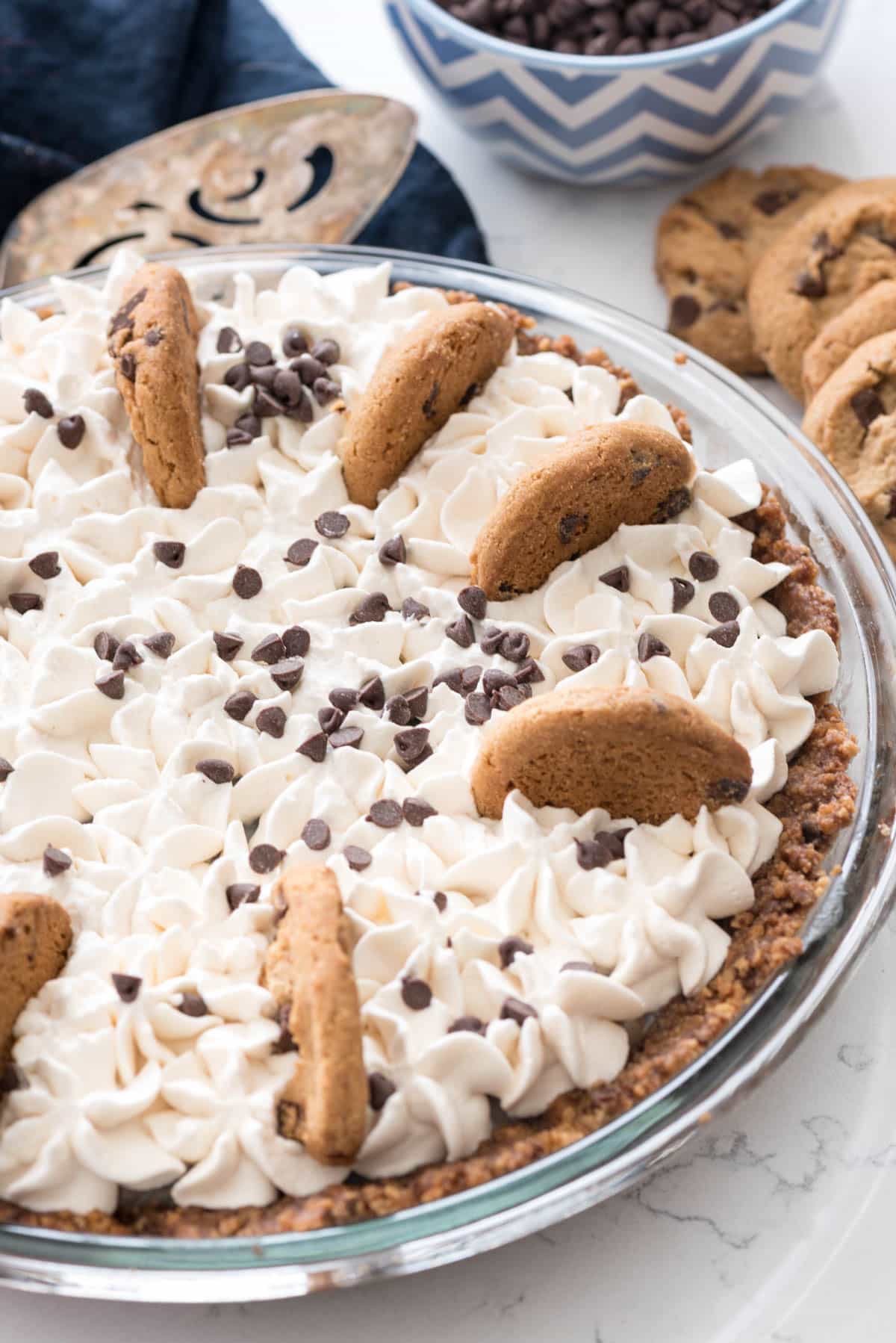 Aunt Tootsie's Lemon Meringue Pie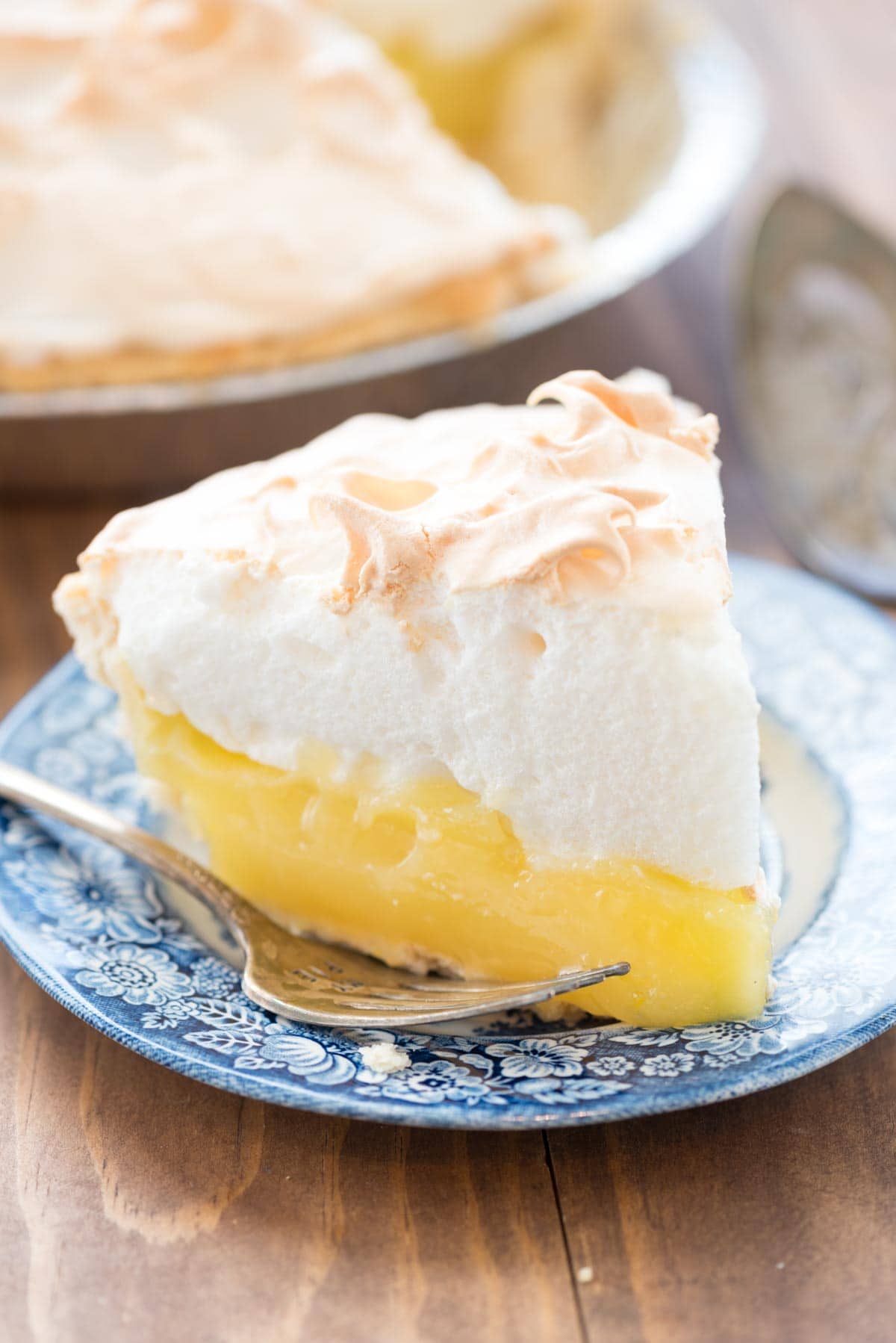 Sweets from friends:
Chocolate Cream Pie by Brown Eyed Baker
Coconut Banana Cream Pie by Lemons for Lulu
Bailey's Mint Chocolate Cream Pie by Grandbaby Cakes