This post may contain affiliate links. For more information, read my disclosure policy.
A graham cracker crust recipe for baked pies and no bake pies! We could also title this post The Anatomy of a Graham Cracker Crust. In other words, we're making our own graham cracker crust from scratch today and it'll be the best graham cracker crust you've ever had!
NEVER buy a store bought crust again – this one is easy and tastes SO MUCH BETTER!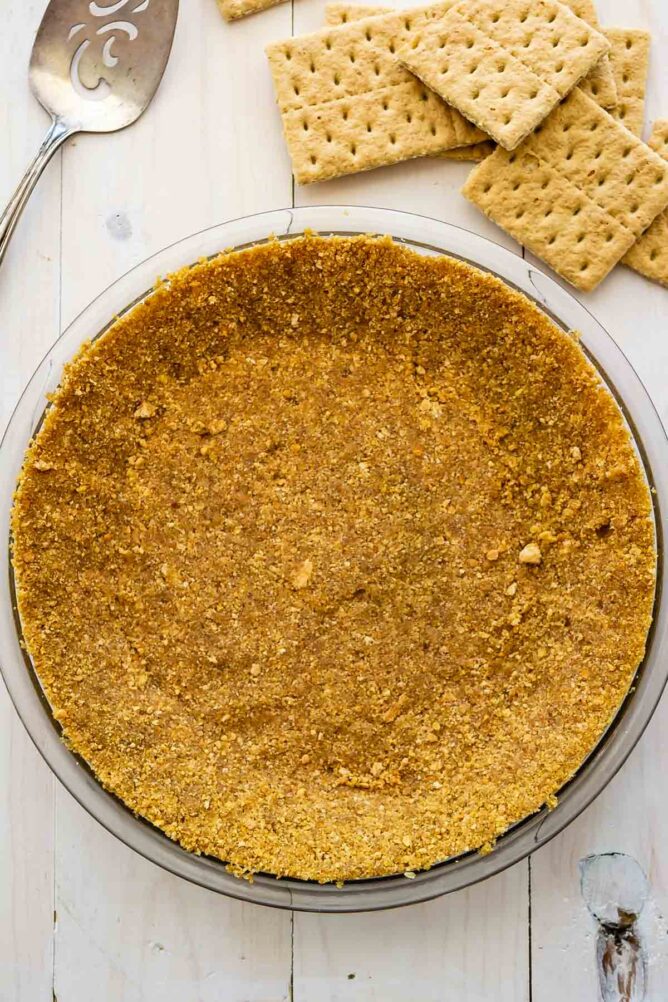 The BEST Graham Cracker Crust Recipe
Graham cracker crust is one of my favorite pie crusts. I don't think I can choose an absolute favorite, because I love all of them too much. But a good graham cracker crust is a must have in your baking arsenal. So many pies can be made to pair with the graham cracker flavor because it's so versatile. You can fill it with creamy s'mores chocolate pudding or even an easy blueberry-lemon dessert filling.
I think everyone needs a from-scratch graham cracker crust recipe in their arsenal. What if you want a pie right now and can't get to the store? And, let's face it. As good as those store-bought crusts are, they sorta taste like the aluminum foil pie tin, right? Or is it just me?
Store-bought is great in a pinch, but homemade is always better. #mytwocents
How to make a Graham Cracker Crust Video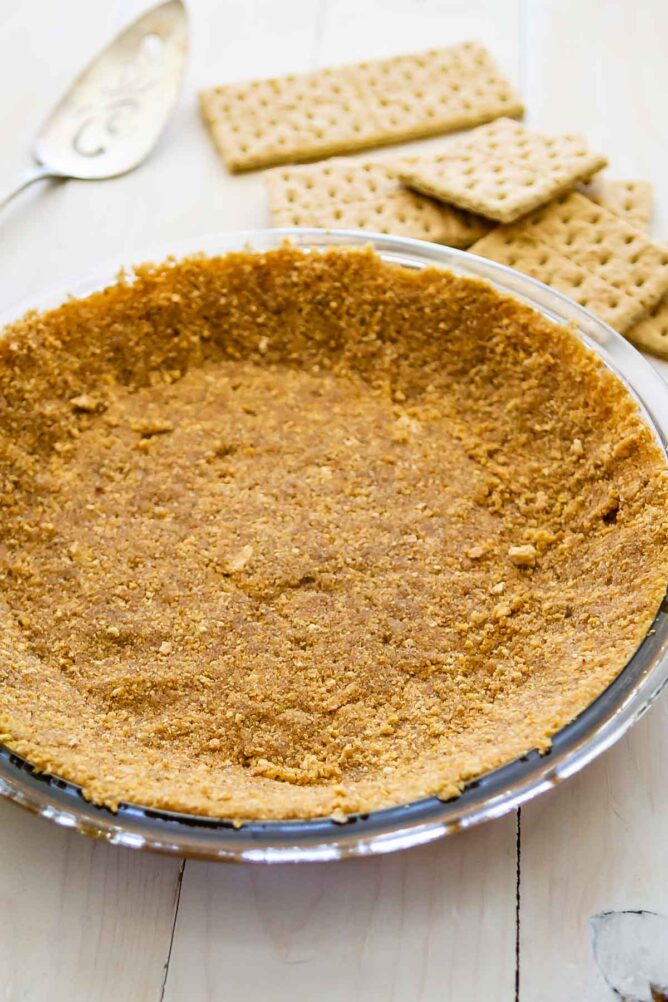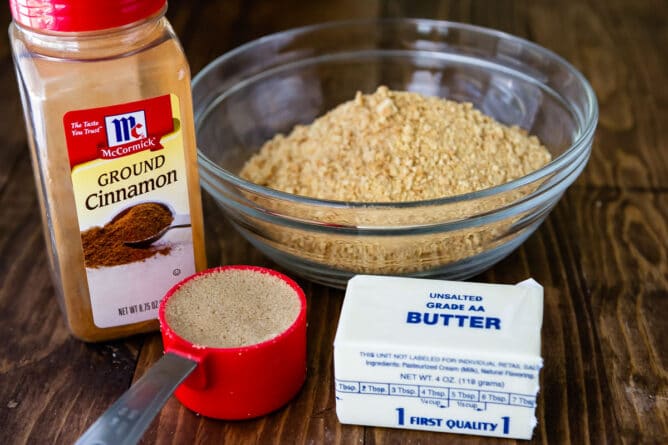 Ingredients in Graham Cracker Crust
The main ingredient in this pie crust is graham crackers, obviously. (If you're out of the USA and are curious what a graham cracker is, they're similar to digestive biscuits, and you can make this crust out of those, I think.)
You have two different options when starting with graham crackers: whole and crumbs. One is cheaper, one is easier. Should you buy whole graham crackers? Or crumbs? It doesn't matter at all!
The biggest question: What if you're using whole crackers but it calls for crumbs? How many do you crush?
3 full graham cracker sheets = approximately 1/2 cup graham cracker crumbs
BROWN SUGAR: 99% of recipes you see use granulated sugar. That's fine, you can use that if you want. I like using brown sugar. Brown sugar is my favorite kind of sugar, and graham crackers are very brown sugary. It fits.
BUTTER: I used unsalted butter in all my recipes, but you can substitute salted if you need too. You won't notice a huge difference.
Cinnamon gives the crust a little secret flavor that goes with just about everything. But, if you're not a cinnamon person, you can leave it out.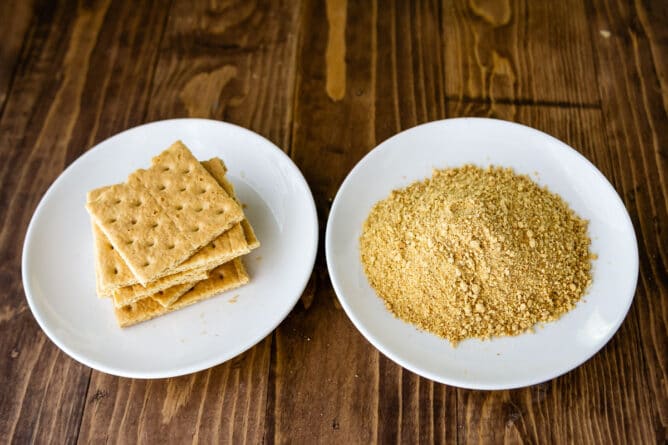 How to crush graham crackers for pie crust:
I tried crushing the crackers in my food processor and in a plastic bag using a rolling pin and, when compared with the store-bought crumbs, they were all exactly the same.
Moral of the story: use your favorite graham cracker or crumbs, and crush them the easiest way for you.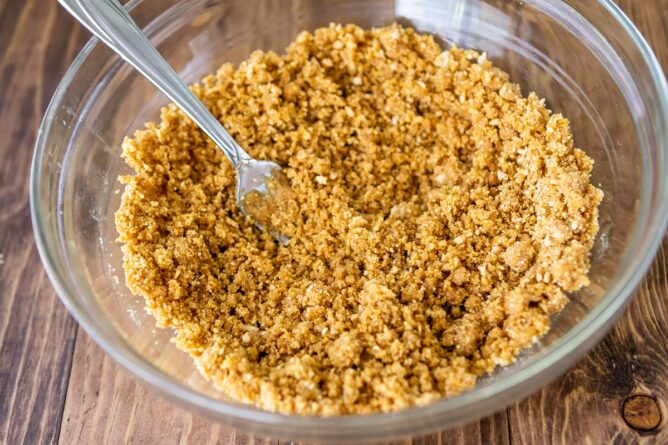 How to make a Graham Cracker Crust from scratch
Grind: grind or crush your crumbs.
Mix: stir the crumbs with sugar, cinnamon and melted butter
Press: press into pie plate
Use in your pie recipe!
Mixing Tip
I mix all my crumb crusts with a FORK. I like how a fork works for mixing together the crumbs, and then again when adding the butter. It makes it more crumbly somehow.
It's the texture of very coarse sand. You pour this mixture into a 9″ pie plate. Make sure you measure your plate. 9″ is standard, and I think this would even do well in a 9 1/2″ pie plate. But anything over (or under) that and you need to edit the recipe.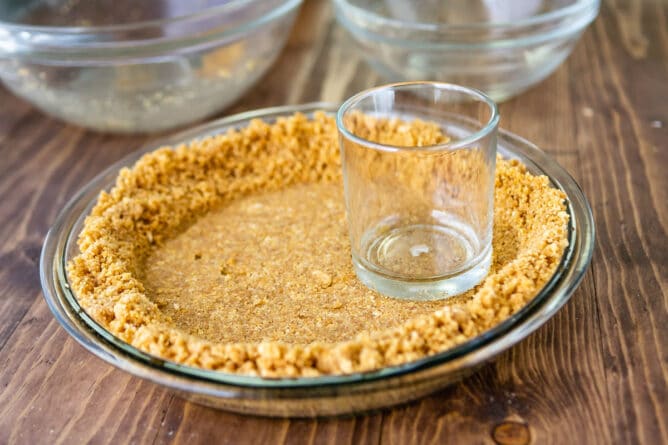 How to use your crust
1. No Bake Pie: Chill the crust for at least one hour before filling with your no-bake filling. Chill according to the recipe directions, then cut and serve. The crust is semi-crunchy and perfectly sweet. It may crumble a little more on cutting than the baked version, but it'll hold together nicely. Perfect with no bake cheesecake!
2. No Bake Filling Pie with crunchier crust: Bake the crust for 10 minutes at 325°F. Let it cool completely, then fill and chill according to the recipe directions. A baked graham cracker crust will be more crunchy and be less crumbly, but you have to use your oven.
3. Baked Pie: Fill it with your liquid/baked pie filling and bake the pie as directed in the recipe you're using. Perfect with chocolate chess pie!
Either way you make it, this graham cracker crust is the best base for your pies. It's easy, comes together in mere minutes, and tastes way better than packaged.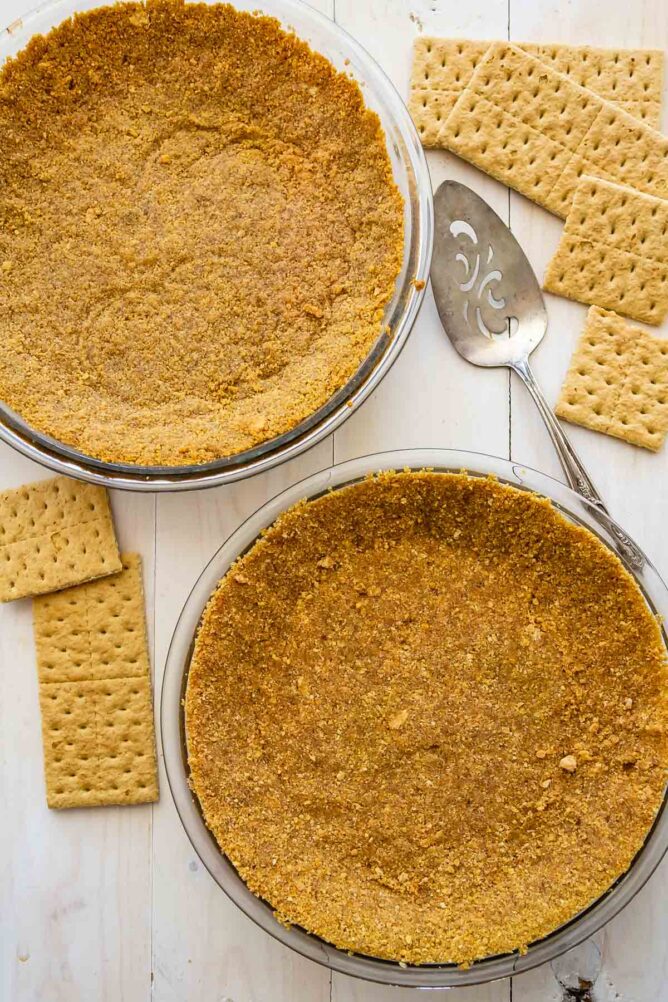 Expert Tips
Use real butter for best results. Butter substitutes and low fat butter will cause the recipe to be oily.
Remember that 3 graham cracker sheets = approximately 1/2 cup crumbs.
When this pie is made for a no bake pie it can be hard to slice the first piece. After that the pieces will come out easy.
Use any kind of filling for this pie, like coconut cream, banana, peanut butter, or lemon.
FAQ
Do you have to bake a pre-made graham cracker crust?
No – with this recipe you can just fill it unbaked.
What can you use instead of graham cracker crust?
If you don't have graham crackers, you can substitute digestive biscuits or any other simple cookie. Graham crackers aren't very sweet, which is why we add sugar, so be mindful when substituting other cookies. If you want a whole other kind of pie crust, try my Oreo Crust.
What sugar can I substitute?
You can use granulated sugar if you prefer in equal amount of the brown sugar called for.
Can I make vegan graham cracker crust?
I'm not sure if graham crackers themselves are vegan but if they are you can substitute vegan butter sticks for the regular butter.
Can I use flavored graham crackers?
Yes! Cinnamon graham crackers or chocolate graham crackers would be fantastic with this same recipe.
Try using this crust with the following pies:
Have you made this recipe?
Tag @crazyforcrust on Instagram or hashtag it #crazyforcrust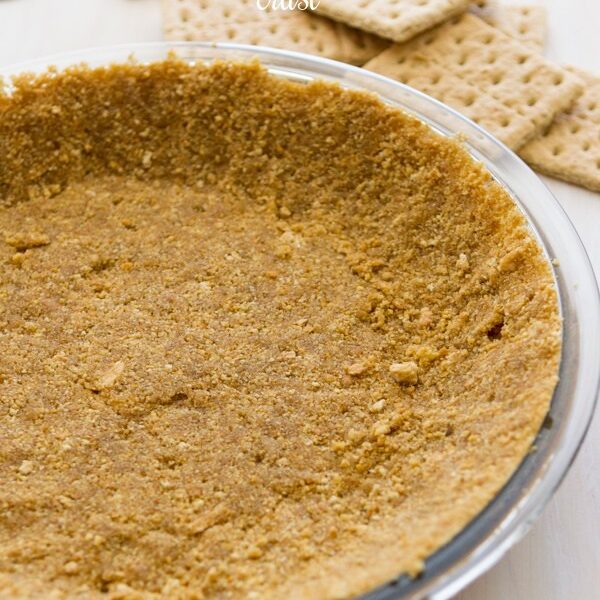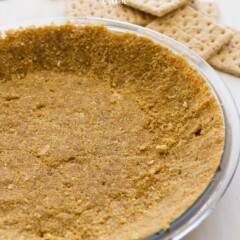 Perfect Graham Cracker Crust Recipe
NEVER buy a store bought pie crust again when you can make this easy 4-ingredient Graham Cracker Crust. Use it for ANY pie recipe – bake or no bake!
Ingredients
1 1/2

cups

graham cracker crumbs

from about 9 whole graham crackers

1/4

cup

packed brown sugar

1/2

teaspoon

cinnamon

optional

Pinch

of salt

7

tablespoons

unsalted butter

melted
Instructions
If you're using whole graham crackers, finely crush them in a food processor or place them in a ziploc bag and roll with a rolling pin.

Stir graham cracker crumbs, brown sugar, cinnamon, and salt together in a large bowl. Add melted butter and stir with a fork.

Press mixture into the bottom and up the sides of a 9" pie plate. Press hard to compact. You can use a glass to press the bottom, but use your fingers to press the sides.

To make a no-bake pie: Chill pie crust for at least one hour before filling. Cover if chilling longer. Make pie as directed.

To make a baked graham crust: Preheat oven to 325°. Bake crust for 10 minutes, until it just starts to brown. Cool completely before filling.

To make a baked pie: Preheat oven to 325°. Bake crust for 10 minutes. Fill with pie filling and bake according to recipe directions.
Recipe Nutrition
Serving:
1
slice
|
Calories:
1448
kcal
|
Carbohydrates:
151
g
|
Protein:
10
g
|
Fat:
92
g
|
Saturated Fat:
52
g
|
Polyunsaturated Fat:
4
g
|
Monounsaturated Fat:
25
g
|
Trans Fat:
3
g
|
Cholesterol:
211
mg
|
Sodium:
857
mg
|
Potassium:
324
mg
|
Fiber:
5
g
|
Sugar:
82
g
|
Vitamin A:
2452
IU
|
Vitamin C:
1
mg
|
Calcium:
179
mg
|
Iron:
6
mg
Nutritional information not guaranteed to be accurate
Best Pie Plate
This recipe is written for a 9-inch pie plate. It's a thick pie crust, so if you want it thinner you could use a bigger pie plate or a deep dish. Anything smaller and it'll be too thick, so either make two or use a portion of the crumbs.
Another secret to the perfect graham cracker or cookie crust is compacting the crumbs. You need to really, really compact them. I use the bottom of a glass for the bottom of the pie plate. Press it good!
Then I use my fingers for the sides. Again, use a lot of pressure. Try to get it as even as possible.
This is important if you're going to fill and bake the pie. It really depends on what you're filling it with, but anything that is liquid (like, say, a lemon bar filling) will soak through any gaps. So it's important it's very compacted.
Tools to make this recipe:
Pie Plate
Food processor or rolling pin
Check out all of my pie crust recipes for even more inspiration!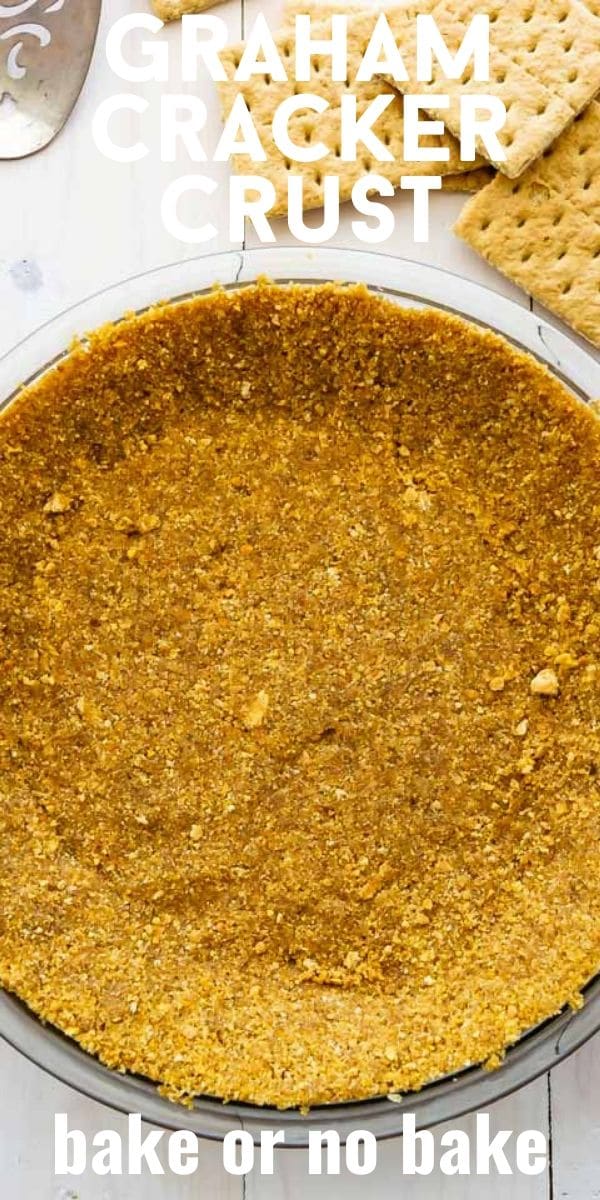 NEVER buy a store bought pie crust again when you can make this easy 4-ingredient Graham Cracker Crust. Use it for ANY pie recipe – bake or no bake!
Last Updated on March 4, 2023