This post may contain affiliate links. For more information, read my disclosure policy.
My Easy Butter Cookies Recipe, also called Danish butter cookies, are a holiday classic. The dough is formed into a log, coated with coarse sugar, and then all you do is slice and bake the cookies. They're simple but so delicious they literally melt in your mouth.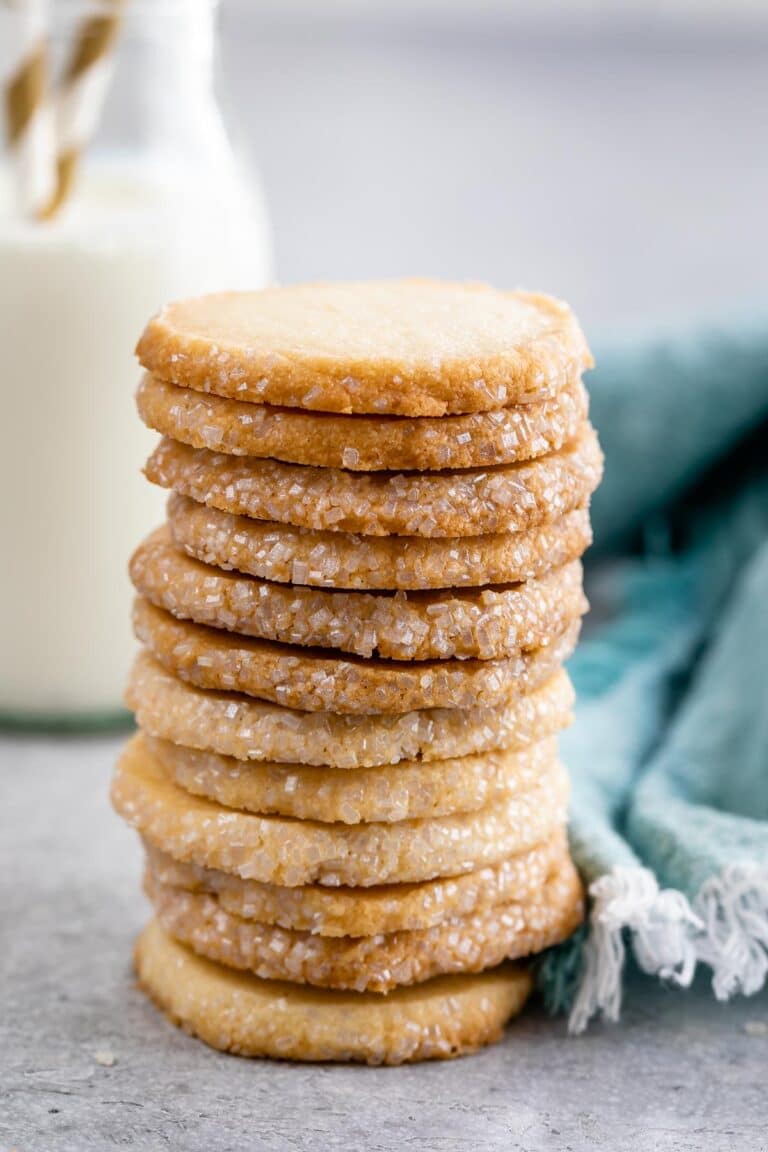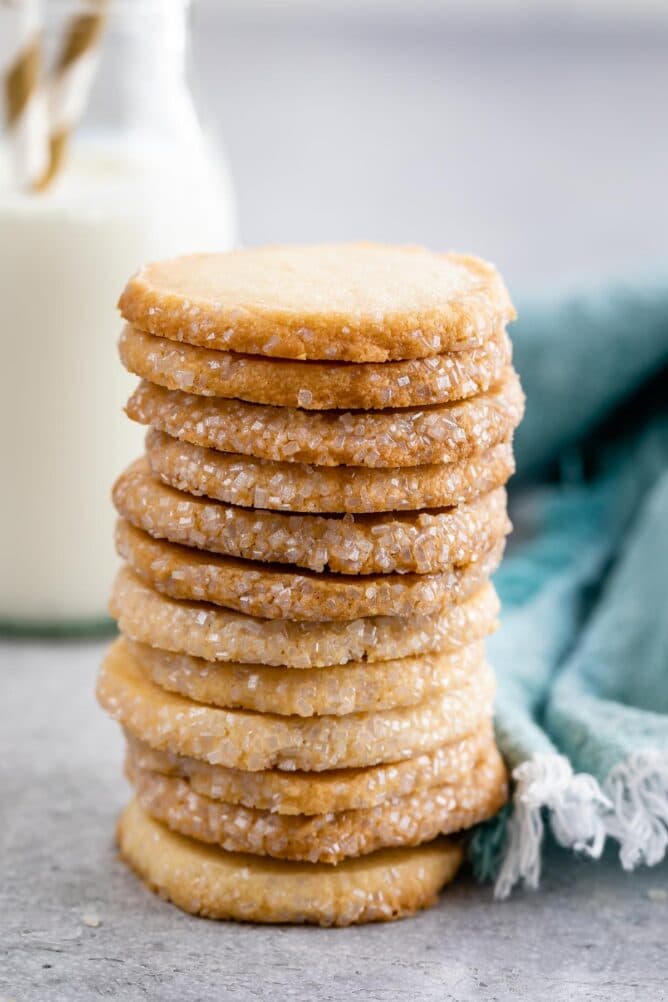 Best Danish Butter Cookies Recipe
We love those tins of Royal Dansk Danish cookies but this year you can skip them and make your own homemade Danish butter cookies!
I hesitate to call these a copycat recipe because they are so much better than the store-bought ones. This is the best butter cookie recipe – buttery, sweet, and every bite melts in your mouth.
If you're looking to change out those holiday sugar cookies for something even more unique, this easy recipe is for you!
Why you'll love this recipe:
The full recipe has just seven basic ingredients, and I bet you have them on hand already.
They're made with butter, so they have a fantastic flavor and egg yolks add some richness, too.
Plus, this easy recipe is for slice and bake butter cookies –make the dough, form it into a log, chill it, and then slice and bake.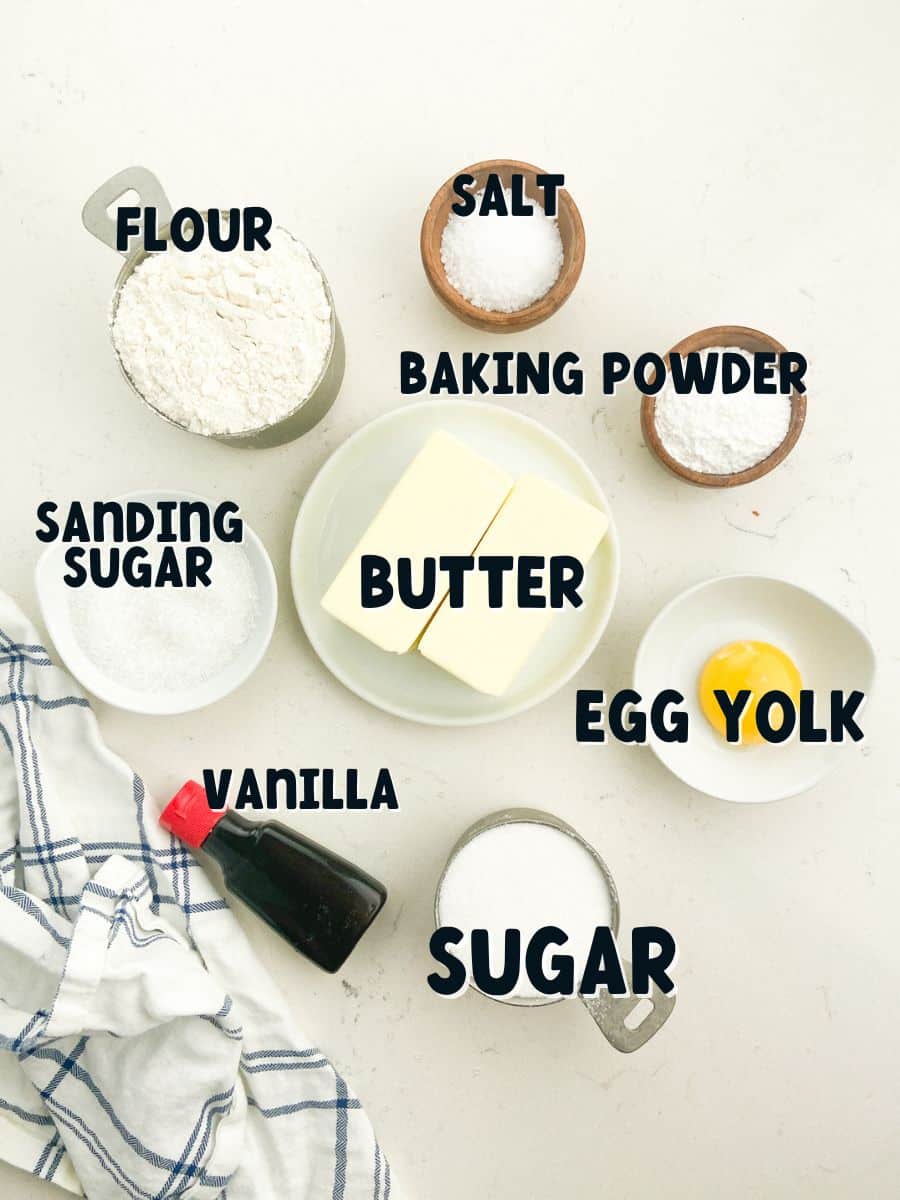 Ingredients in Slice and Bake Cookies
Butter: Start with softened unsalted butter. To substitute salted butter, reduced salt in the recipe to 1/4 teaspoon.
Granulated Sugar: Gives these just the right amount of sweetness and crunch.
Egg: You just need one large egg yolk for this recipe.
Baking Powder: Helps them get that delicate texture.
Salt and Vanilla extract: For flavor
All-Purpose Flour: Be sure to measure it correctly.
Sanding sugar: For decoration, this is optional.
Tip: For the best cookies, use ingredients that are room temperature.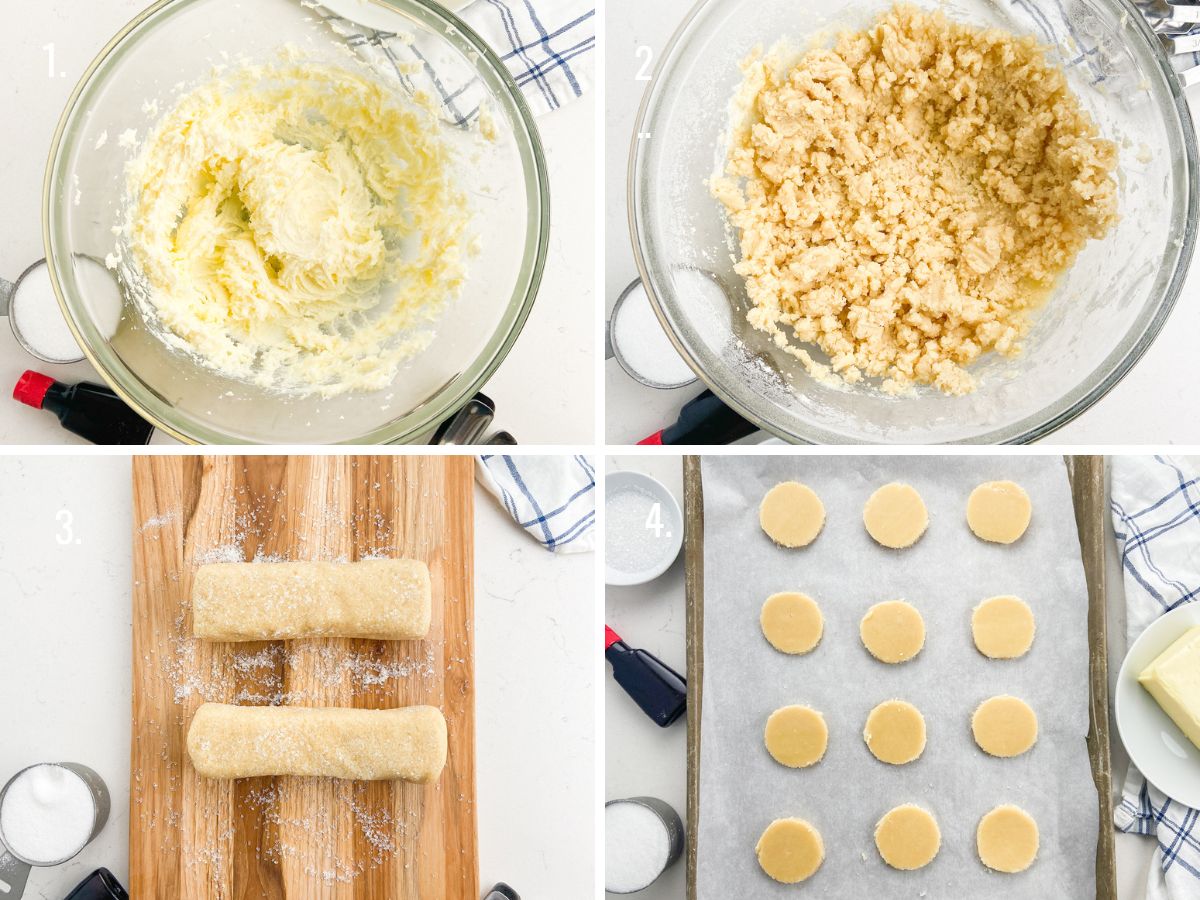 How to Make Butter Cookies
Use a stand mixer with a paddle attachment or a large bowl and hand mixer, cream room temperature butter and sugar together for one to two minutes.
Mix in the egg yolk, baking powder, salt, and vanilla until the butter mixture is smooth. At low speed, mix in the flour until the dough forms.
Divide the cookie dough in half and roll each into a six to seven-inch long log approximately one and a half inches wide. This is the size I prefer, but you can make them bigger or smaller just keep in mind the baking time will vary.
Pour some sanding sugar on a large flat surface (a baking sheet works well) and roll each log in the sugar. Lightly press the sugar, so it adheres to the dough. This step is optional but adds a nice touch. When the cookies are baked, the edges will have a sweet, crunchy coating.
Wrap the cookie dough logs in plastic wrap or parchment paper and chill them for at least two hours or overnight. For perfectly round cookies, stand the logs upright in tall glasses. This will prevent them from flattening on one side.
Preheat the oven to 350°F and line cookie sheets with parchment paper. Slice the logs into ¼"-thick slices and place the cookies on the prepared baking sheet.
Bake cookies for 16 to 18 minutes, or until they're lightly golden brown around the edges and no longer glossy. Cool them on the sheet and then store them in an airtight container.
Tip: Check on your cookies halfway through the baking time and rotate the pans. This will help them bake and brown evenly.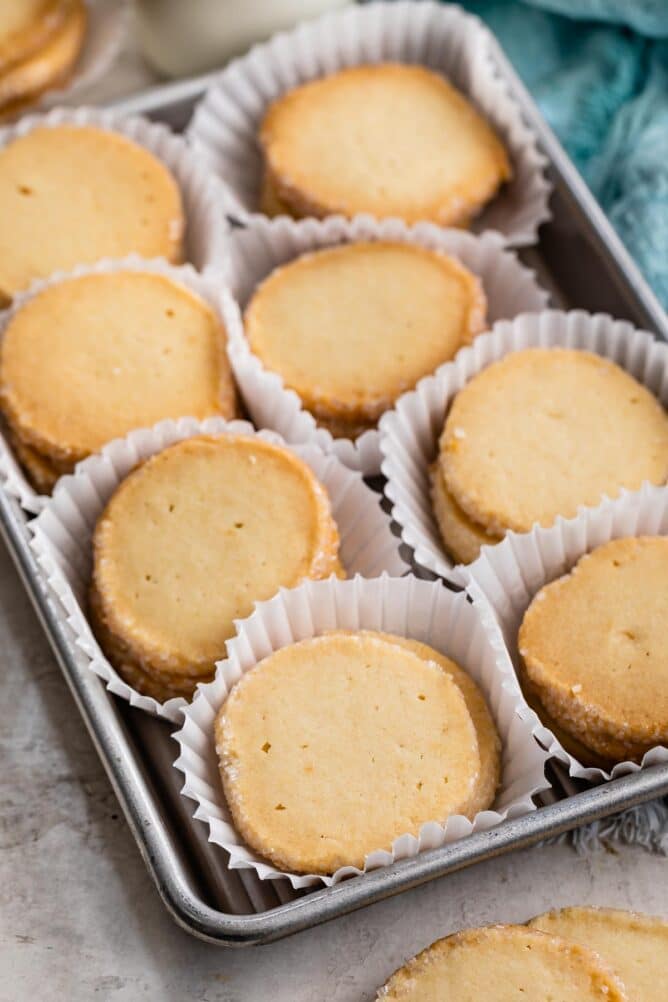 Ways to Decorate Butter Cookies
The butter cookies are delicious plain, but it's easy to add decorations to make them more festive.
Coarse Sugar: Coarse sugar or sugar in different colors works great. Roll the logs in colored sugar before you chill them.
Sprinkles: Instead of sugar, roll the logs in sprinkles.
Chocolate: Another nice way to dress them up is with chocolate. Melt some in the microwave and then dip the cooled cookies in it. Lay them on parchment paper until the chocolate sets.
Place your wrapped cookie dough log in a glass to put in the refrigerator to avoid having a flat side. This will keep your butter cookies ROUND!

PRO TIP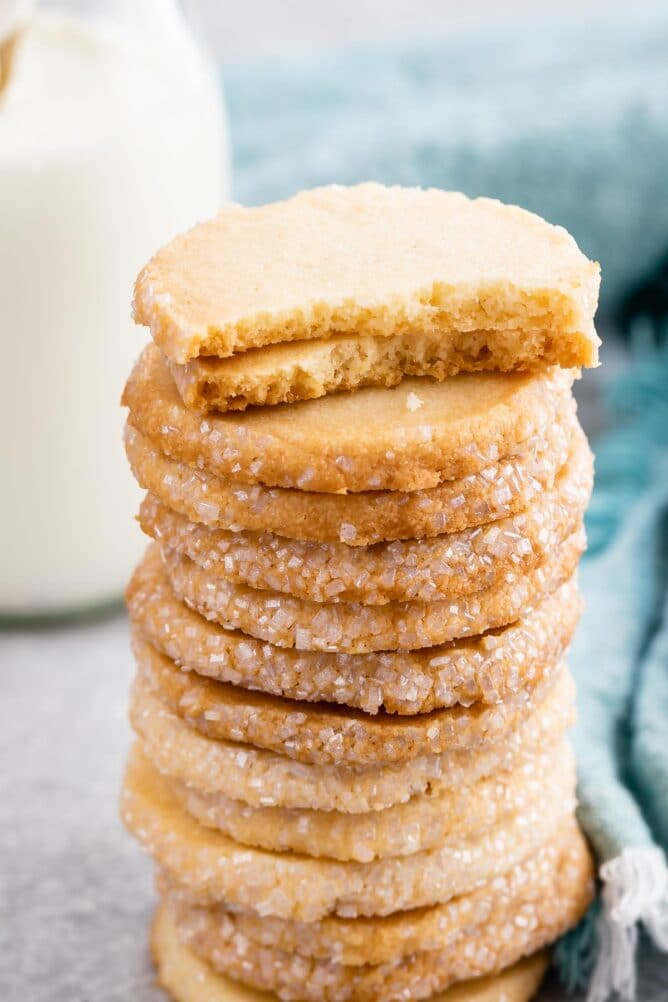 This easy all-butter cookies recipe needs to be on the list if you are trying new cookie recipes this year. So, break out those Christmas tins and make a batch – everyone will be thrilled to get a batch!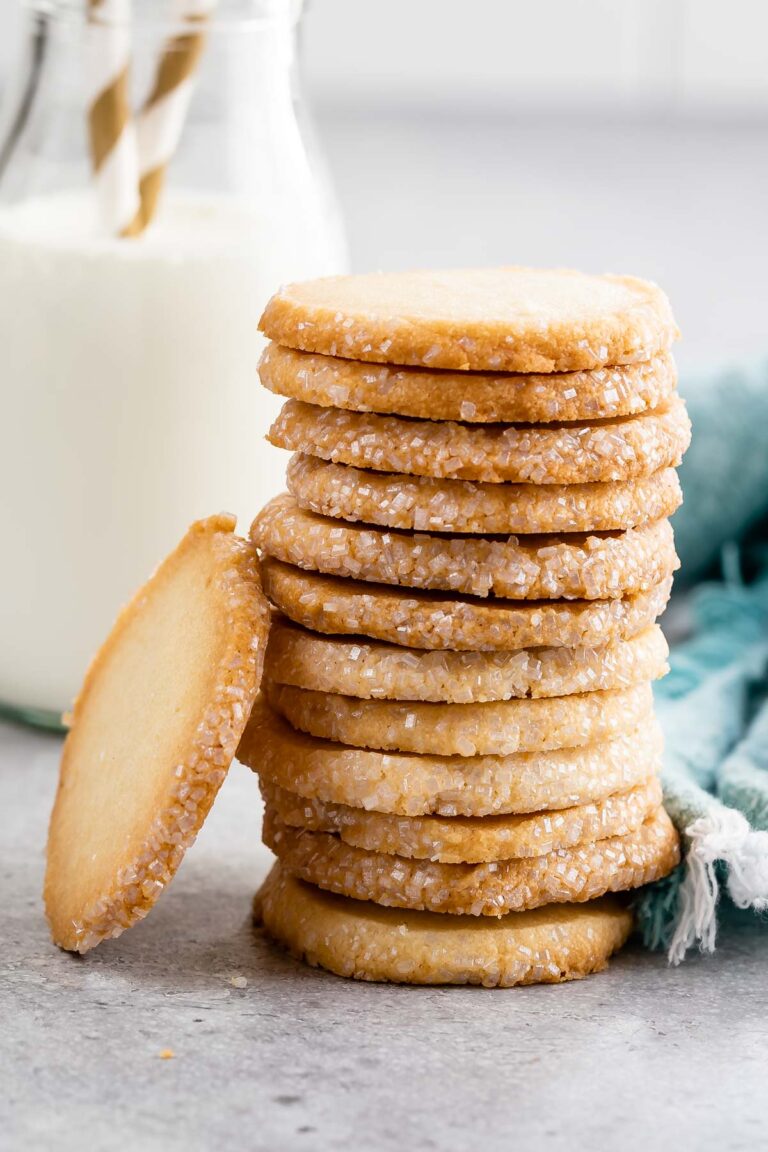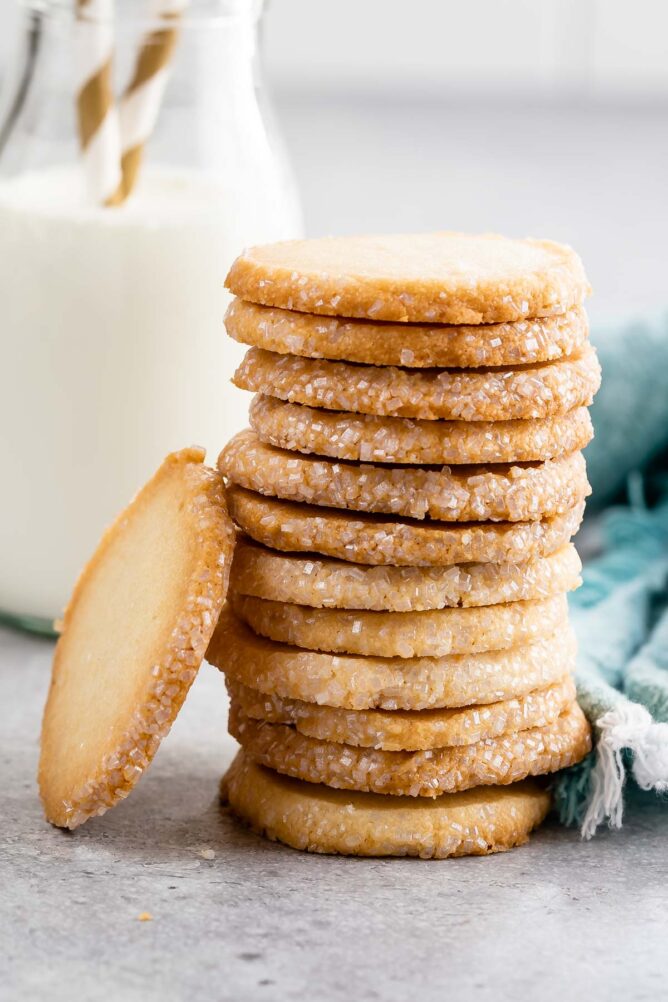 FAQ
Can you substitute shortening for butter in a cookie recipe?
No, I don't recommend using shortening. It will completely change the flavor of the cookies.
What can I substitute for butter in this cookie recipe?
There isn't a substitution. Butter is the key to making the best Danish cookies.
Can you use a cookie press for these cookies?
A cookie press won't work with this recipe. Normally cookie press cookies have more egg, so they are a thinner dough that will move through the press.
Are Danish butter cookies the same as shortbread cookies?
They might look similar, but they aren't the same. Butter cookies are made with egg yolks, and shortbread cookies don't have eggs.
Can you double the recipe?
If you want to make more cookies you can double the recipe easily.
Do Danish butter cookies taste different? What are the flavors of Danish butter cookies?
Danish cookies are sweet with a rich buttery flavor. There are hints of vanilla, and the texture is lightly crispy.
Can you pipe these cookies?
The dough won't pipe well, so it's better to slice and bake the cookies. You can also roll out the dough to ¼" thick and use a cookie cutter to cut out the cookies.
How do I double the recipe?
It's easy – just double all the ingredients. You'll need twice as much of everything, including 2 egg yolks. Read my post on how to double recipes!
More Easy Holiday Cookie Recipes
Have you made this recipe?
Tag @crazyforcrust on Instagram or hashtag it #crazyforcrust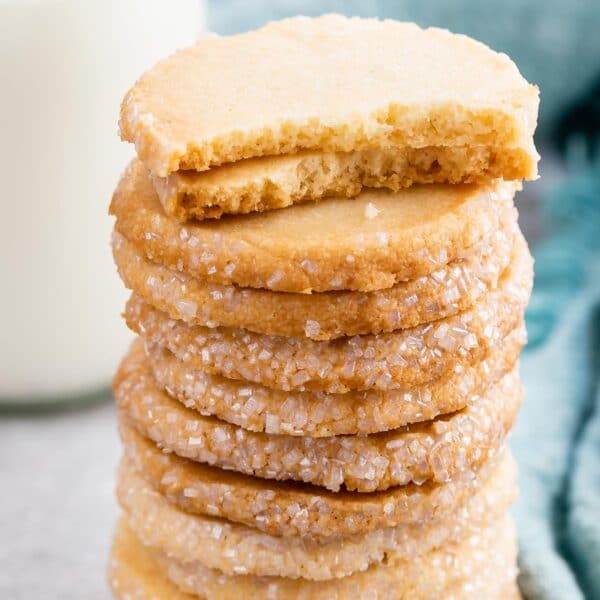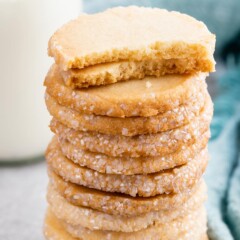 Danish Butter Cookies Recipe
These easy Butter Cookies, also called Danish butter cookies, are a holiday season classic. They're simple but so delicious they literally melt in your mouth.
Total Time
1
hour
43
minutes
Ingredients
1

cup

(226g) unsalted butter, softened

⅔

cup

(134g) granulated sugar

1

large egg yolk

½

teaspoon

baking powder

½

teaspoon

salt

1

teaspoon

vanilla extract

2

cups

(248g) all-purpose flour

Sanding sugar

for rolling, optional
Instructions
Cream butter and sugar until fluffy in a large bowl using a hand or a stand mixer, about 1-2 minutes.

Mix in egg yolk, baking powder, salt and vanilla extract until smooth, then mix in flour until dough forms.

Divide dough into two sections. Roll each into a log that is about 6-7-inches long and approximately 1 ½-inches in diameter. (You can make these any size, larger or smaller, if you prefer.)

Place sanding sugar on a large flat surface. Roll each log carefully in sugar and press lightly to adhere it, then wrap the logs in plastic wrap and chill at least 2 hours before slicing, or up to overnight. Tip: Place the logs standing up in drinking glasses so they stay circular.

When ready to bake, preheat oven to 350°F. Slice cookies desired thickness, no more than ¼-inches. Place on cookies sheets covered with parchment paper or silicone baking mats.

Bake for 16-18 minutes, or until they're light golden around the edges and no longer glossy. You may want to check part way through baking to see if you need to rotate your pans in your oven, even if you normally don't. These are delicate cookies and may brown in different areas quicker or slower.

Cool on cookie sheets then store in an airtight container for up to 5 days. Freeze for up to 3 months.
Recipe Nutrition
Serving:
1
cookie
|
Calories:
65
kcal
|
Carbohydrates:
7
g
|
Protein:
1
g
|
Fat:
4
g
|
Saturated Fat:
2
g
|
Polyunsaturated Fat:
1
g
|
Monounsaturated Fat:
1
g
|
Trans Fat:
1
g
|
Cholesterol:
14
mg
|
Sodium:
25
mg
|
Potassium:
12
mg
|
Fiber:
1
g
|
Sugar:
3
g
|
Vitamin A:
124
IU
|
Calcium:
4
mg
|
Iron:
1
mg
Nutritional information not guaranteed to be accurate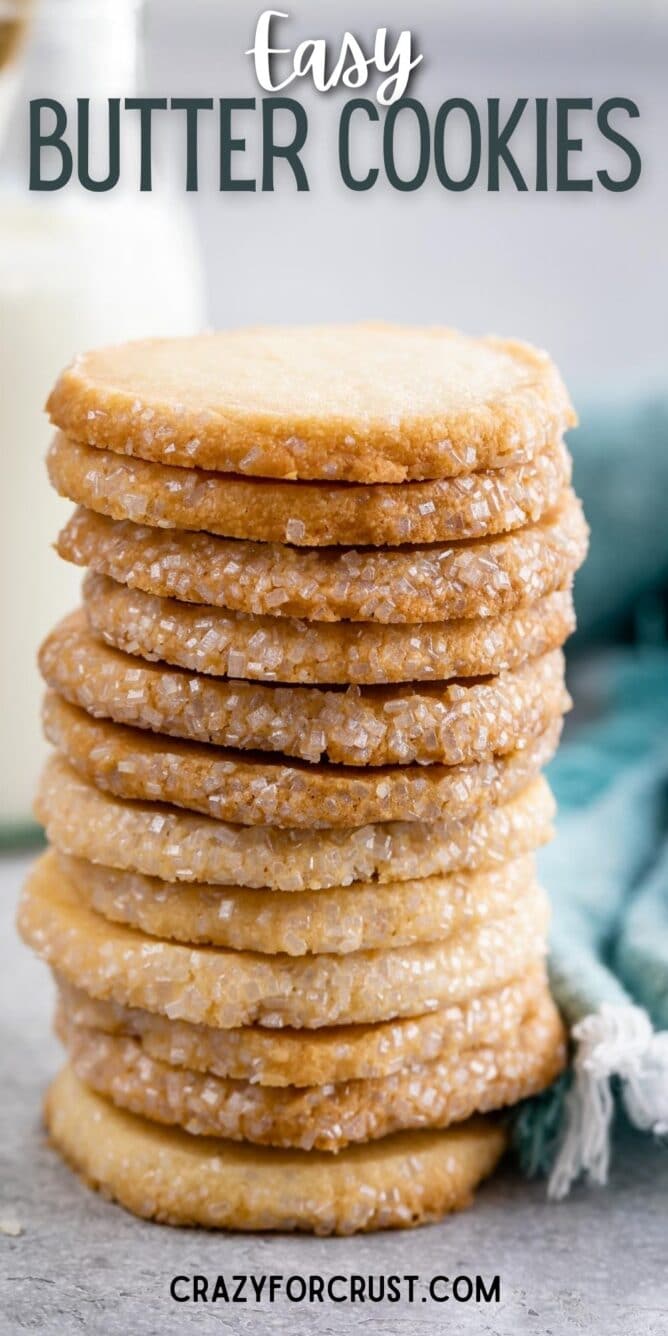 If you're looking for a new go-to holiday cookie recipe – try these Easy Butter Cookies! The recipe needs just seven ingredients, and I bet you have them on hand already.
Last Updated on October 26, 2022