The BEST Crumb Apple Pie
This post may contain affiliate links. For more information, read my disclosure policy.
Let me introduce you to the pie that started this blog, literally: Dorothy's Famous Crumb Apple Pie.
This is the BEST Crumb Apple Pie recipe you'll ever make: an all butter pie crust, soft tart apples, and a crunchy sweet crumble topping. The perfect apple pie!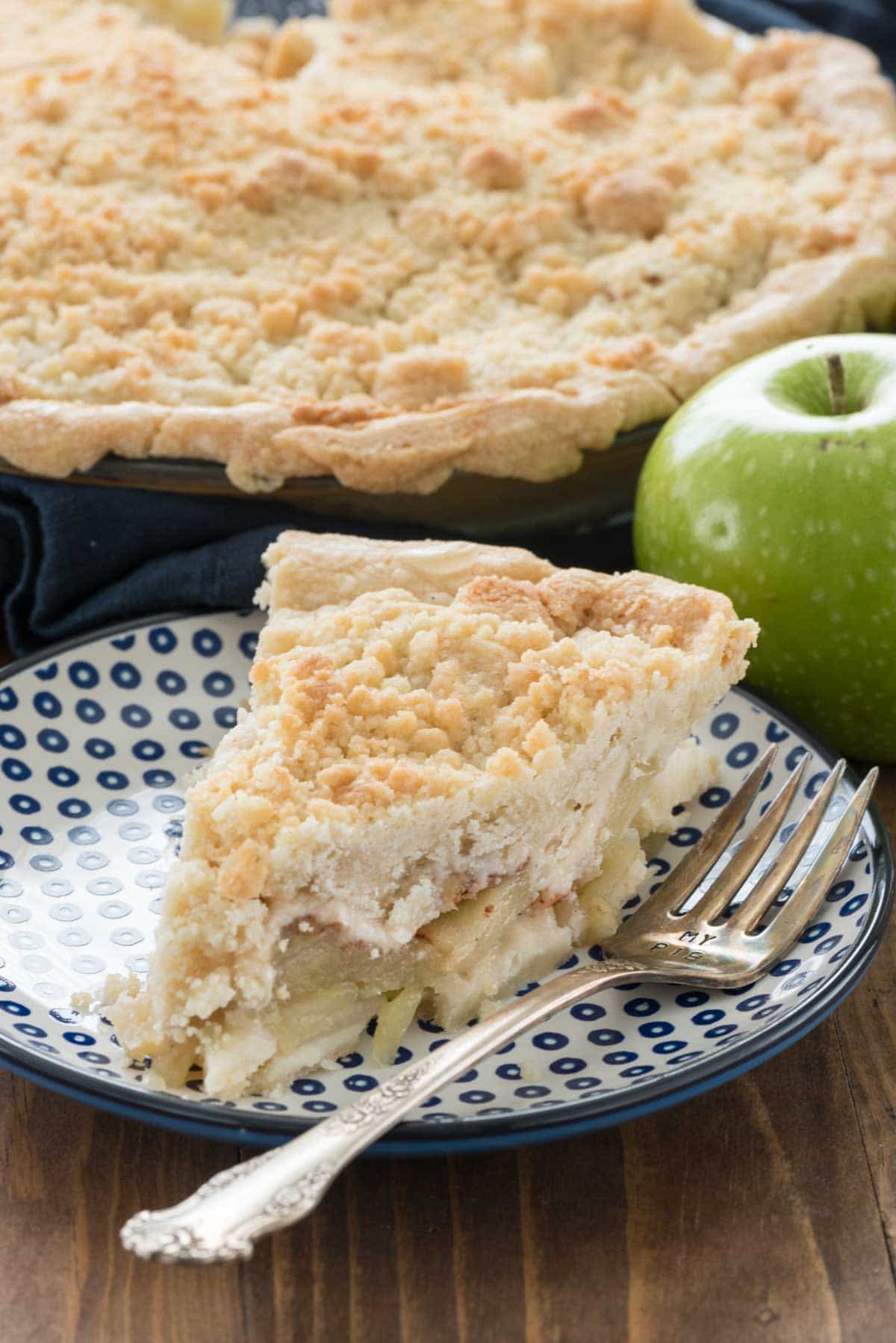 I can say it's famous, right? If it's been on the internet? And is the most requested pie in my entire family? And if MEL EATS IT?
Okay, so I first posted this pie in the early days of this blog. I'm not even gonna link it because, really. No one needs to see it. That was back when I thought "Hey, I'll post all these recipes and magically everyone will start reading my blog!" which was what I thought a hot second after thinking "Hey, the Pioneer Woman is famous! I can do that!"
*snort laugh*
Anyway, post #2 was back in 2012. I joined forces with some of my BFF bloggers to on a "redo" post. That is, we picked an old post, reshot it and reposted it because our old photos sucked. And, well. LMAO, I actually thought it was a great photo. (See the bottom of this post for the original shot.)
This is the pie that is the reason I started my blog; it deserves to be front and center. It deserves good photos and a good pin count (so pin it, pretty please?) and everyone needs to make this pie.
The BEST apple pies are crumb apple pies!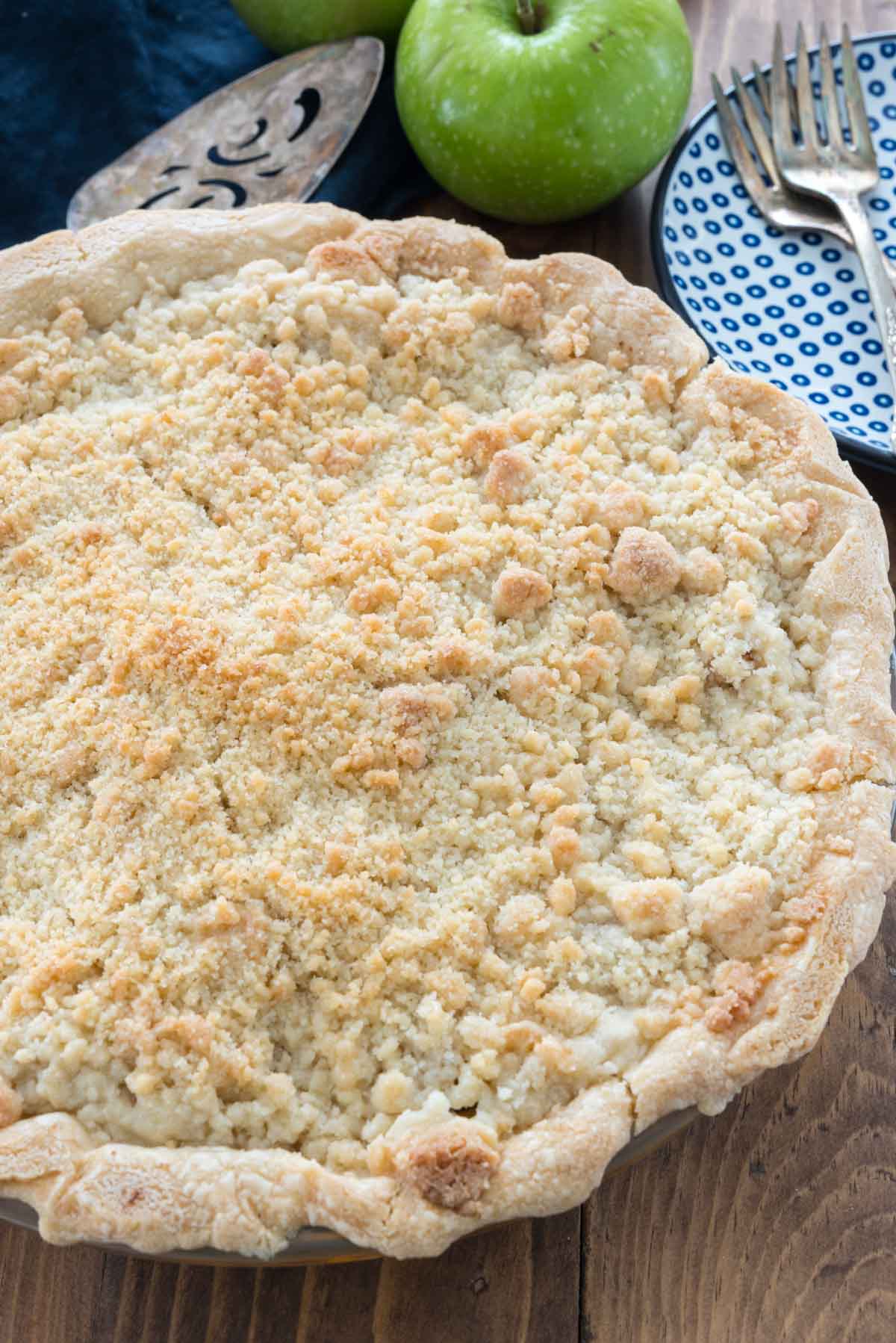 Look at that crumb? You guys, I'm drooling, for real.
So how did this pie start it all? Well, I developed this recipe when I was in college. I loved the flavors of apple pie but I always thought the traditional two crust variety was missing something. I also hate chewy/crunchy apples in pie; I can't even eat a pie if the apples bounce back at me. So I created this recipe and it became legendary (at least to me). I subsequently have made this pie for every holiday for 20 years. And: it's one of the only non-peanut butter, non-carrot cake desserts my husband eats!! And he can never resist it!
How did that turn into a blog? Well, Mel and I always joked that we should make this pie without the apples; just the crust and the crumb, because that was the best part. Then that turned into a business idea we had for a bakery (which is still on my mind)…and that turned into Crazy for Crust. And the rest is history!
So, what makes this pie so special? What makes it the BEST APPLE PIE out there? Well, let's break down the only pie recipe you'll ever need from now until infinity, shall we?
My Crumb Apple Pie Recipe is the absolute BEST; it's a family tradition!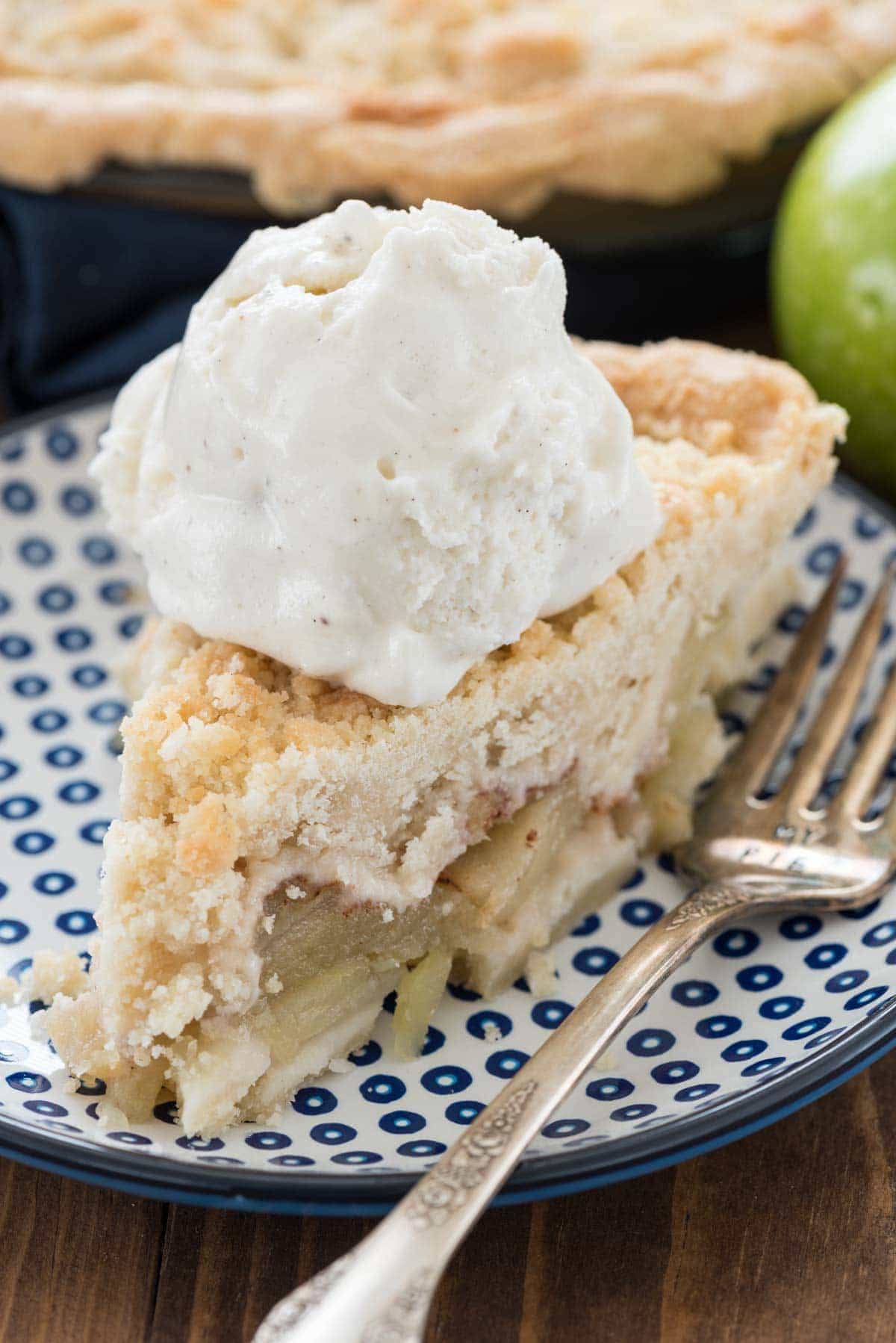 How do you make a crumb apple pie?
The Crust. Now, when I first started making this pie I used a refrigerated pie crust (Pillsbury). When I'm not in the crust making mood, I still use that, but most of the time I make my favorite All Butter Pie Crust recipe. It's easy and so, so good once it gets soaked with the filling. The butter makes it turn out perfect every time – no dry, burned crust here!
The Apples. As I said before, I hate crunchy apples in pie. My secret to the perfect apple filling? I cook the apples before adding them to the crust. YES! It's genius, really. I peel, core, and slice my apples (using my handy dandy apple peeler, get one, it saves your sanity) then quarter the apple rings and boil them for just a few minutes in a pot with a bit of water. You don't want them to get mushy and turn to apple sauce. You want them to just be turning opaque, then immediately strain them and let them cool a few minutes. This creates the PERFECT apple filling.
The Crumb. There is a LOT of crumb on this pie. It has a lot of butter and sugar. And it's SO FREAKING GOOD. The crumb cooks together in the oven so it turns into a crunchy layer on top of the perfectly cooked apples. I don't ever even want apple pie without crumb. Heck, I'd put this on a pudding pie, a lemon pie, ANY PIE. It's that good.
That's right – I cook my apples before adding them to the pie!
Those three things, when added together, equal the BEST crumb apple pie recipe you've ever eaten.

The outer edges of the crust are perfectly cooked and not dry or burned, the crust gets crunchy, the apples are the perfect filling. The bottom crust isn't crunchy but isn't soggy either; the apple juices drain into it and make it almost taste like a soft cookie. You top this baby with ice cream and you've got yourself the perfect meal dessert for ANY day.
I knew the third time would be the charm. Isn't she a beauty?
Want even more? Subscribe to Crazy for Crust to get new recipes and a newsletter delivered to your inbox. And stay in touch on Facebook, Pinterest, Twitter, and Instagram for all my latest updates.
Servings: 10 servings
The BEST Crumb Apple Pie
This is my absolute FAVORITE pie recipe. It's the reason I started this blog! A buttery crust filled with sweet apples and a crunchy sweet crumble on top. It's the perfect WOW dessert, especially with ice cream!
Ingredients
For the pie:
1 All Butter Pie Crust  — or you can use a refrigerated pie crust
6-7 Granny Smith apples — about 3 pounds
1/4 cup sugar
1 teaspoon ground cinnamon
For the crumb:
2/3 cup sugar
1 1/2 cups flour
1/4 teaspoon salt
12 tablespoons unsalted butter — slightly softened
Instructions
Roll out your pie crust according to recipe or package directions and place in your 9" pie plate. Refrigerate until ready to use.

Peel and core the apples, then slice into thin slices. I like using my apple peeler for this step. Place one inch of water in the bottom of a large pot. Add apples and cook, stirring occasionally, approximately 3-5 minutes after water boils, or just until the apples start to turn the slightest bit opaque.

While apples are cooking, add the crumb ingredients to a large bowl. Using a fork or pastry cutter, cut the ingredients together until they form coarse crumbs, about the size of a pea.

Drain apples very well. Let them sit in the strainer for a few minutes to cool, then place them in pie crust. Sprinkle 1/4 cup sugar and cinnamon over apples. Add your crumb mixture evenly on top. Place pie on a cookie sheet to avoid mess in the oven. Cover outer edge of crust with thin strips of foil or a pie crust shield.

Bake at 375° for 35-45 minutes. Remove pie crust shield during the last 15 minutes of baking to ensure that the crust browns.

Pie may be made a day in advance. Refrigerate overnight. Serve with whipped cream or ice cream.
Course: Dessert
Cuisine: American
Keyword: pie
Nutrition Information
Amount per serving (1 slice) — Calories: 493, Fat: 23g, Saturated Fat: 12g, Cholesterol: 45mg, Sodium: 163mg, Potassium: 196mg, Carbohydrates: 70g, Fiber: 4g, Sugar: 37g, Protein: 4g, Vitamin A: 600%, Vitamin C: 6.3%, Calcium: 23%, Iron: 1.8%
See more of my ultimate pie recipes here!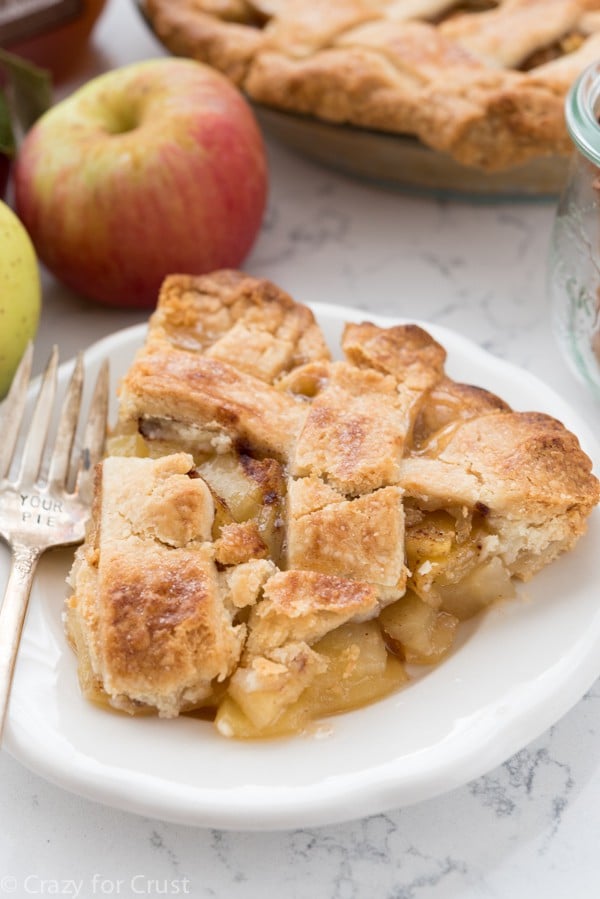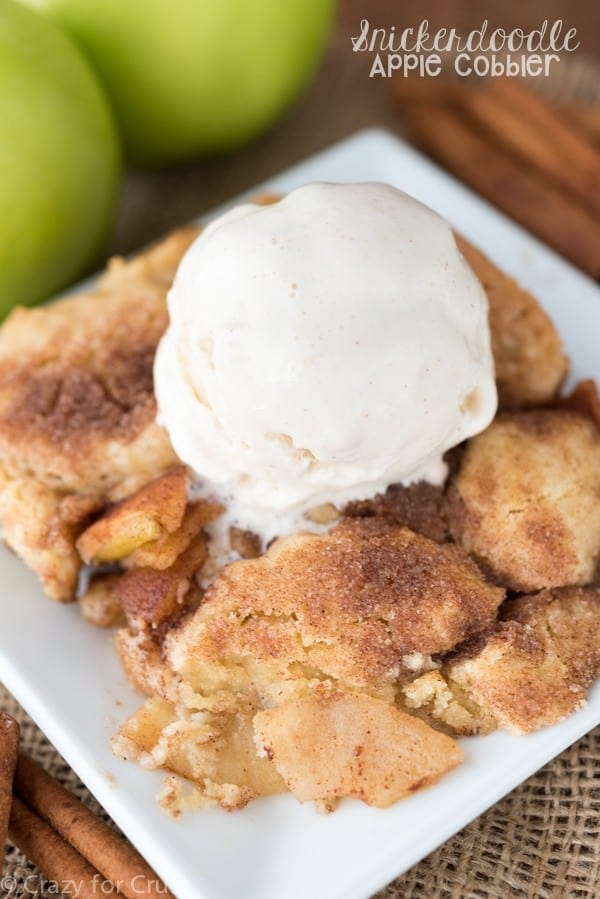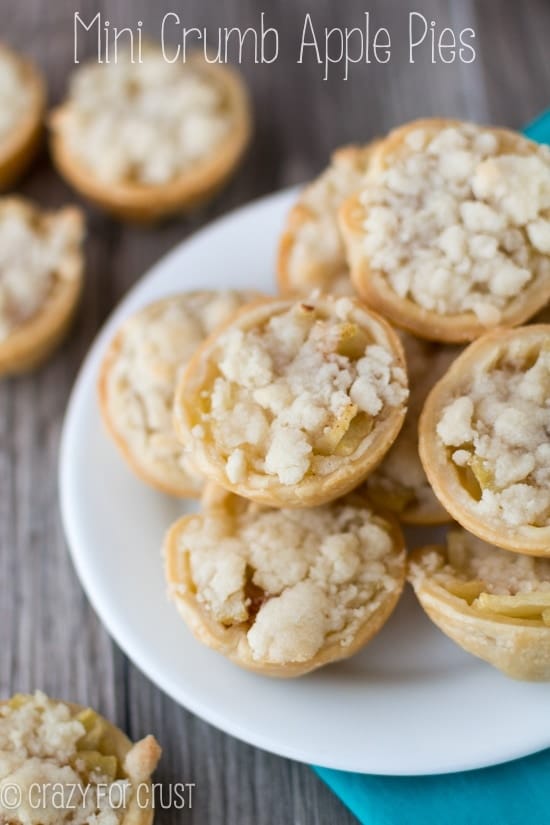 **Did you make this recipe? Don't forget to give it a star rating below!**