This post may contain affiliate links. For more information, read my disclosure policy.
These Caramel Apple Cinnamon Rolls come together quick! You don't need any yeast, and you don't even need to make the dough – we're using crescent rolls to make them. They are filled with homemade cinnamon apple filling and topped with a caramel frosting that you'll want to eat with a spoon!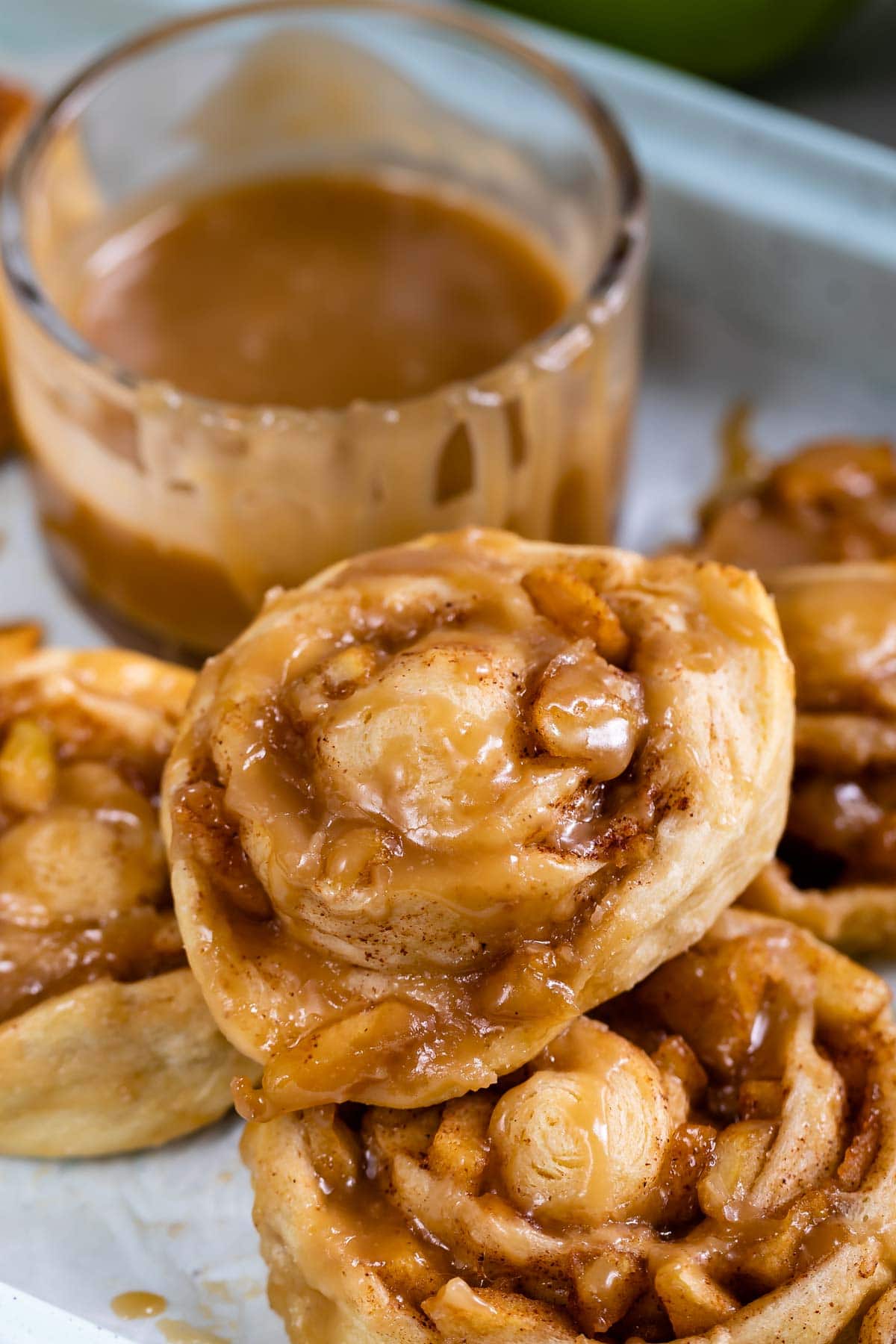 Why you'll love these Cinnamon Rolls
While I love a regular cinnamon roll, I don't always have time to make the dough from scratch, deal with the yeast, knead, and then roll the dough out. But that doesn't mean we don't ever have cinnamon rolls. These days, instead of reaching for the yeast, I reach for the crescent rolls and make these caramel apple rolls. They're just like regular rolls but made so much easier.
These crescent roll cinnamon rolls with caramel frosting are like magic – they come out perfectly every time.
They're semi-homemade with a homemade apple filling and a homemade caramel frosting. Both are amazing.
The ingredient list in the recipe card might look long, but many of the ingredients are used multiple times in the filling and the frosting.
These are the best breakfast treat for fall with all the apples and cinnamon, but I've also done other versions with lemon and orange.
Ingredients Needed
Apples: I prefer using Granny Smith but you can do this with Fuji, Gala, or a Golden Delicious apple too. You'll want to dice these small – use my favorite apple peeler to help you out.
Sugar: You'll need granulated sugar for the apples and brown sugar for the frosting, but you can use brown sugar for both in a pinch.
Cinnamon: REQUIRED since we're making cinnamon rolls!
Crescent Rolls: This is where the semi-homemade magic comes in. Grab one can of 8 rolls (any brand).
Heavy Whipping Cream: No substitutions here – you need it so the frosting sets up.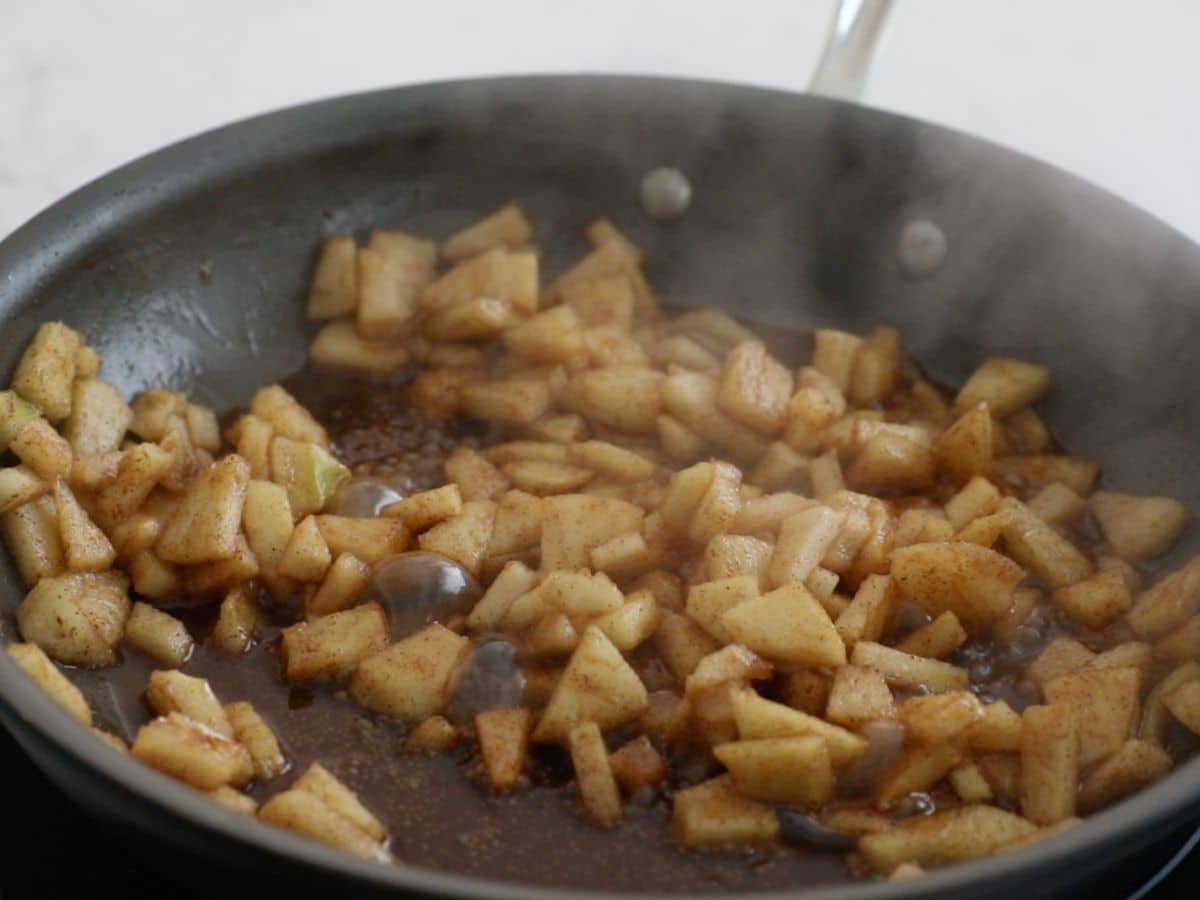 How to Make Caramel Apple Cinnamon Rolls
Cook the Apples: Place butter in a small skillet and melt it over low-medium heat. Add the diced apples, cinnamon, and sugar. Cook the apples, occasionally stirring, until they start to turn translucent. This will take about 15 minutes. Once they are cooked, take the skillet off the heat and let the filling cool while preparing the dough. I cook my apples before adding them to the crescent rolls. I like a cooked apple in recipes better because then they aren't rubbery.
Assemble: Take the dough out of the tube and unroll them. There will be perforations on the dough, which you will want to press together so you have one large rectangle. Spread the cooled filling over the dough and then sprinkle cinnamon and sugar over the top.
Roll, Slice, Bake: Starting at one of the shorter ends, roll the dough up like a jelly roll. Do this as tightly as possible, so the filling stays inside. Slice the roll into eight equal-sized pieces. I like to use a serrated knife, so I don't squish the dough while slicing it. Bake the rolls at 350°F for 11 to 14 minutes or until they golden on top.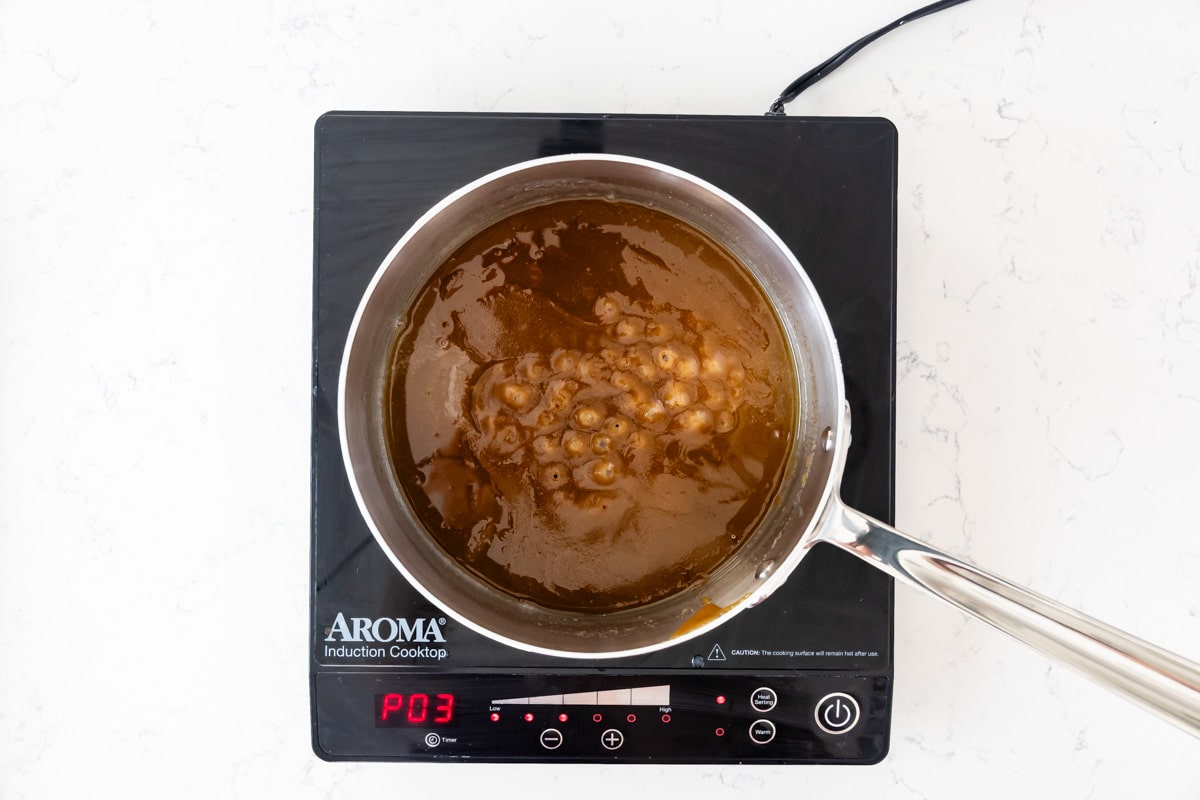 How to Make Homemade Caramel Frosting
Cook Butter and Brown Sugar: Place the butter and brown sugar in a pan and cook them for two minutes while stirring continuously.
Remove the pan from the heat and whisk in the powdered sugar.
Then whisk in the cream and vanilla and it's time to frost your rolls.
Frost the warm apple cinnamon rolls and serve!
The frosting is more of a drizzle until it cools. Once it cools it's hardened, so if it cools too much before you use it just microwave it a few seconds and stir and it'll thin right out.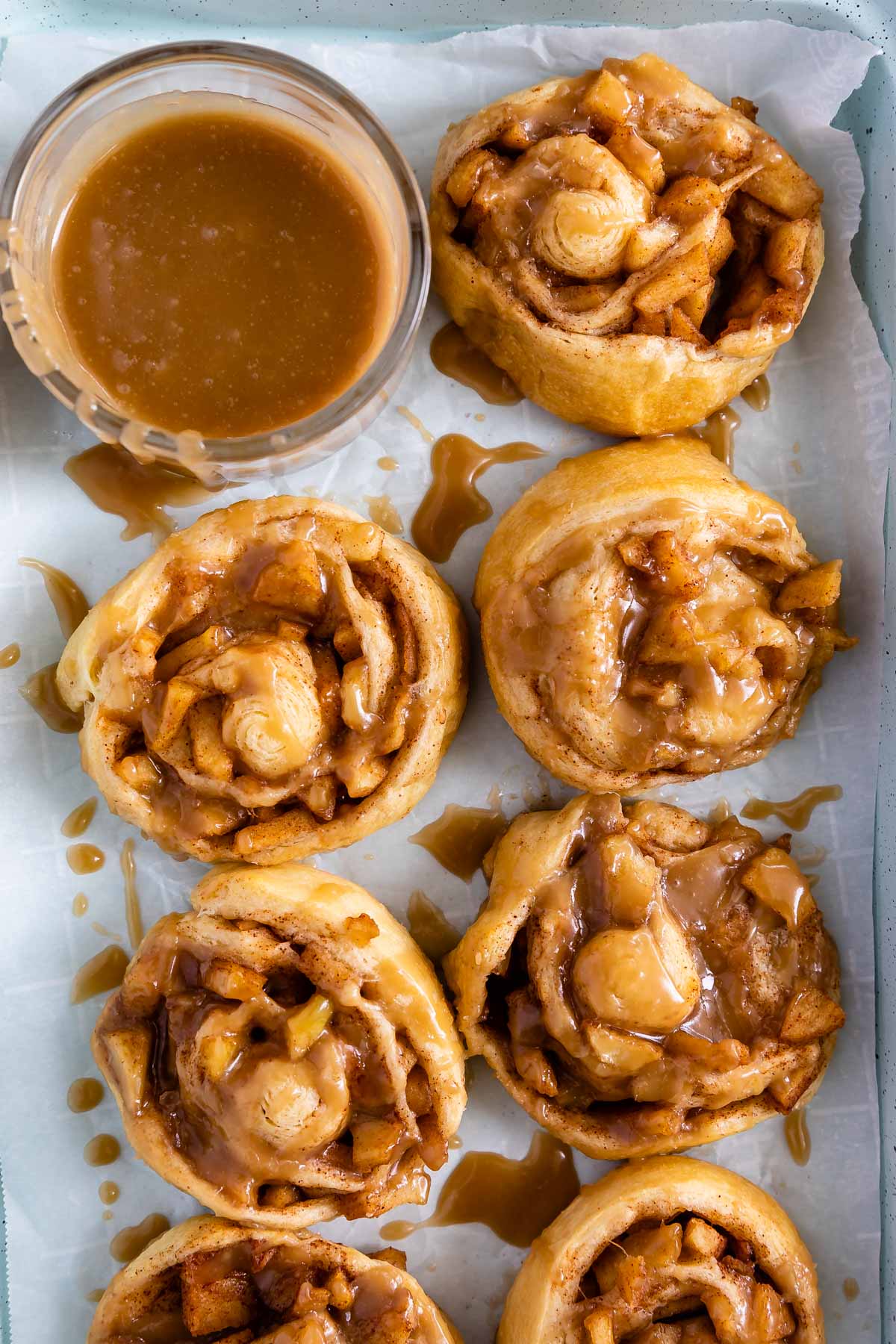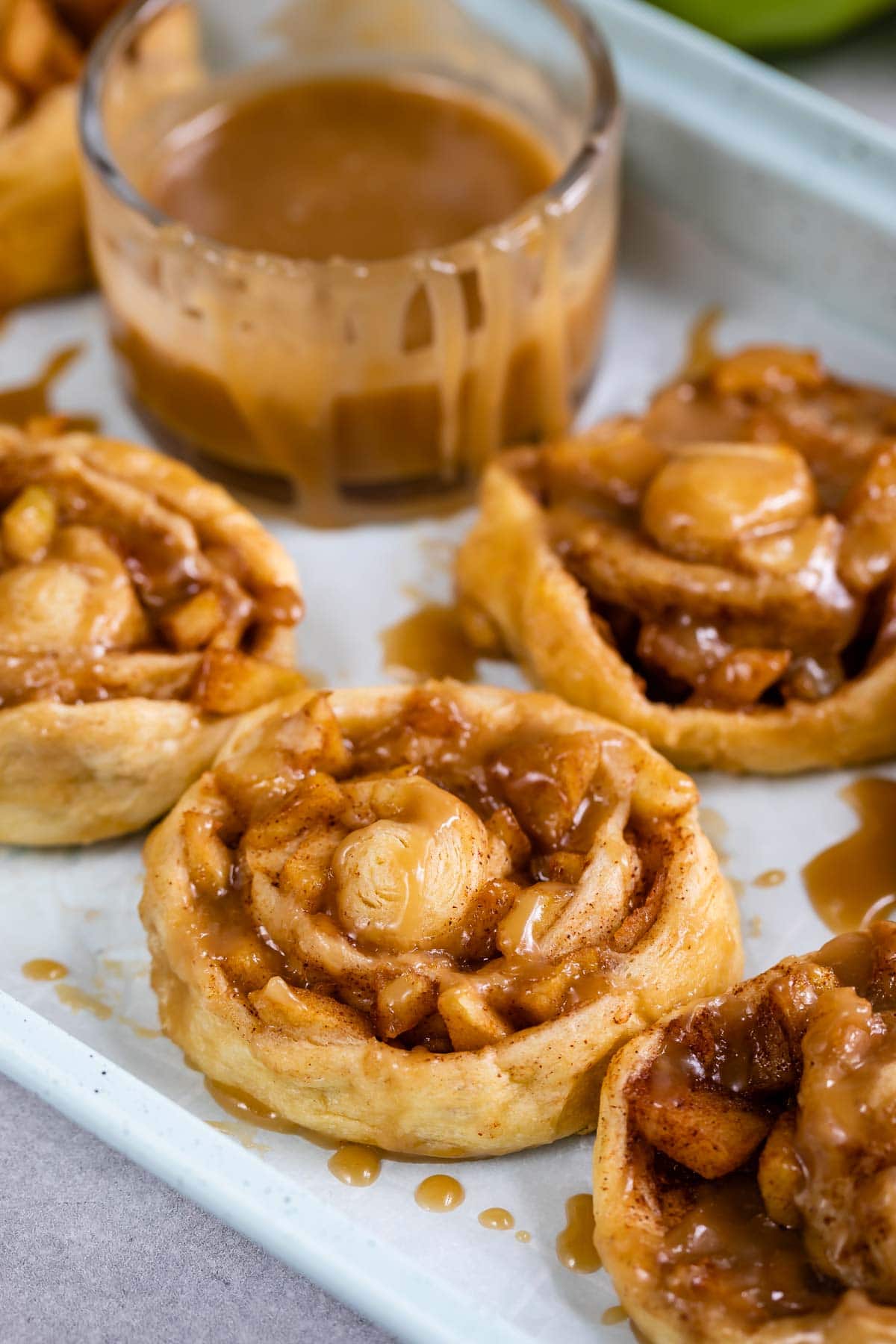 FAQ
Can you use crescent rolls to make cinnamon rolls?
Yes, and it's really easy! Instead of breaking the dough apart into triangles to make crescent rolls, you can keep the dough in one large rectangle. Then, add your filling, roll it up, slice, and bake.
What can I substitute for the crescent rolls?
f you don't have access to refrigerated crescent rolls, you can use pizza dough instead.
How to store cinnamon rolls?
You can store them at room temperature for a day or two. Or keep them in the refrigerator for three to four days. Either way, keep them wrapped, so they don't dry out.
Can you freeze?
If you want to freeze them, I recommend freezing them before you bake them. First, make them as instructed, and then place them in a freezer-safe pan and wrap them tightly. When you are ready to bake them, thaw them for a day in the refrigerator before baking.
My caramel frosting is clumpy. What happened?
If this happens, it just means the frosting cooled before you thoroughly mixed it. If this happens, place the pan back on the stove and warm it up while stirring. The frosting should loosen up and turn smooth.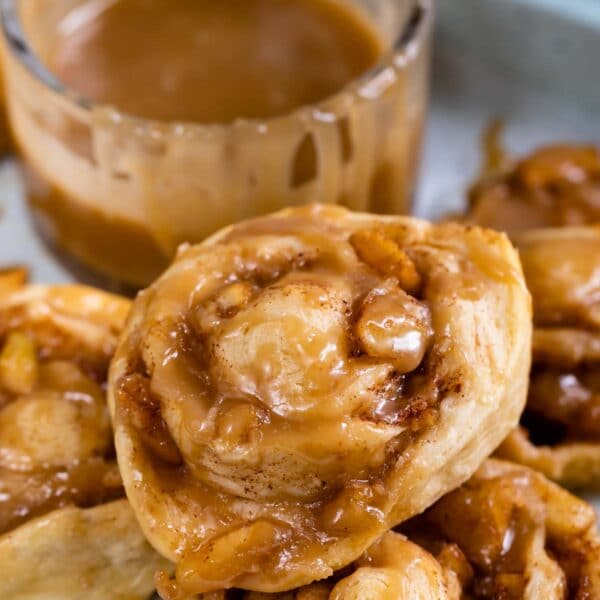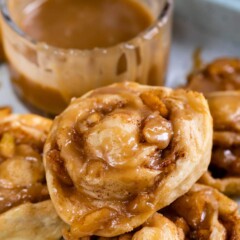 Easy Caramel Apple Cinnamon Rolls
These Easy Caramel Apple Cinnamon Rolls are filled with homemade cinnamon apple filling and baked until they are golden and soft!
Ingredients
For the Filling:
2

tablespoons

(28g) unsalted butter

2

cups

diced Granny Smith Apples

(about 2 medium apples or 200g)

2

tablespoons

(25g) granulated sugar

1

teaspoon

cinnamon
For the Rolls:
1

can

crescent rolls

(8 rolls)
For the Frosting:
2

tablespoons

(28g) unsalted butter

¼

cup

(50g) packed brown sugar

2-3

tablespoons

heavy whipping cream

½

cup

(57g) powdered sugar

1

teaspoon

vanilla
Instructions
Preheat the oven to 350°F. Line a cookie sheet with parchment or a silpat liner.

Melt the butter in a small skillet over low-medium heat. Add apples, cinnamon and sugar. Cook, stirring occasionally, until the apples are just beginning to turn translucent, about 15 minutes. Cool at least 10 minutes.

Unroll crescent rolls on a cutting board, leaving them in the rectangle as much as possible. Press the seams together to form one big rectangle. Spread apples over the crescent rolls. Roll up as tight as possible, slice into 8 equal portions. (It's best to use a serrated knife to cut them.) Place on baking sheet. You can evenly space them (not touching) or you can place them close together so they bake together, creating a more doughy center (like traditional cinnamon rolls).

Bake until golden on the top, 15-25 minutes, or until cooked through.

While they are baking, make the frosting. Melt butter and brown sugar together and cook for 2 minutes, stirring constantly. Remove from heat and whisk in powdered sugar, then whisk in vanilla and 2 tablespoons cream. Add more cream as needed for desired consistency.

Tip: you can skip making the frosting and serve caramel ice cream topping instead.
Recipe Nutrition
Serving:
1
cinnamon roll
|
Calories:
237
kcal
|
Carbohydrates:
31
g
|
Protein:
1
g
|
Fat:
13
g
|
Saturated Fat:
7
g
|
Polyunsaturated Fat:
2
g
|
Monounsaturated Fat:
3
g
|
Trans Fat:
1
g
|
Cholesterol:
20
mg
|
Sodium:
251
mg
|
Potassium:
16
mg
|
Fiber:
1
g
|
Sugar:
21
g
|
Vitamin A:
231
IU
|
Vitamin C:
1
mg
|
Calcium:
14
mg
|
Iron:
1
mg
Nutritional information not guaranteed to be accurate
Easy Caramel Apple Cinnamon Rolls are semi pre-made, semi-home but completely delicious! These are cinnamon rolls with apples and topped with caramel frosting – yum!
Last Updated on August 31, 2023