This post may contain affiliate links. For more information, read my disclosure policy.
I love breakfast sausage. I love cinnamon rolls.
I really love them together. My new favorite breakfast: Cinnamon Roll Sausage Rolls!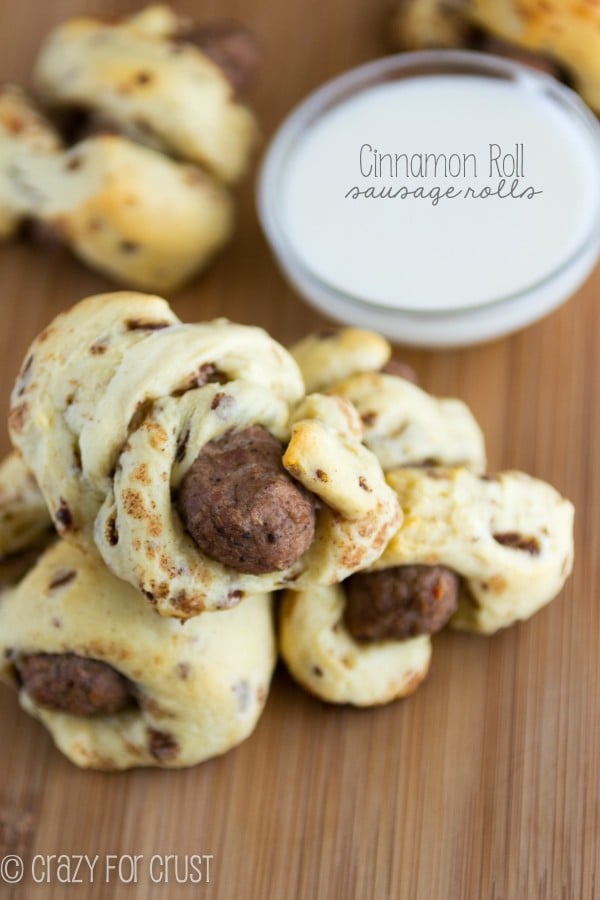 Many years ago my mother-in-law introduced me to the best breakfast in the world: Crescent Roll wrapped breakfast sausage. She'd make them whenever we came to stay and I'd will myself to only eat 2 when I could have eaten 8.
Since then, those wrapped breakfast sausages are a staple in my house. I make them for special occasions (they're required at Jordan's birthday breakfasts) and I always keep some in the freezer for quick morning meals.
They're also my favorite food to bring on a road trip because you can eat them room temperature. I'll make a huge batch and freeze most of them, then pack some in the travel food bag. Since my husband likes to leave on driving trips at o'dark thirty, eating a sausage roll keeps us going until our first stop.
And, not only that, but they've gotten us through the morning grumps while standing in line at Disneyland. The protein from the breakfast sausage eeks out an extra hour or so before the full-blown tantrum hits. Then it's time for lunch.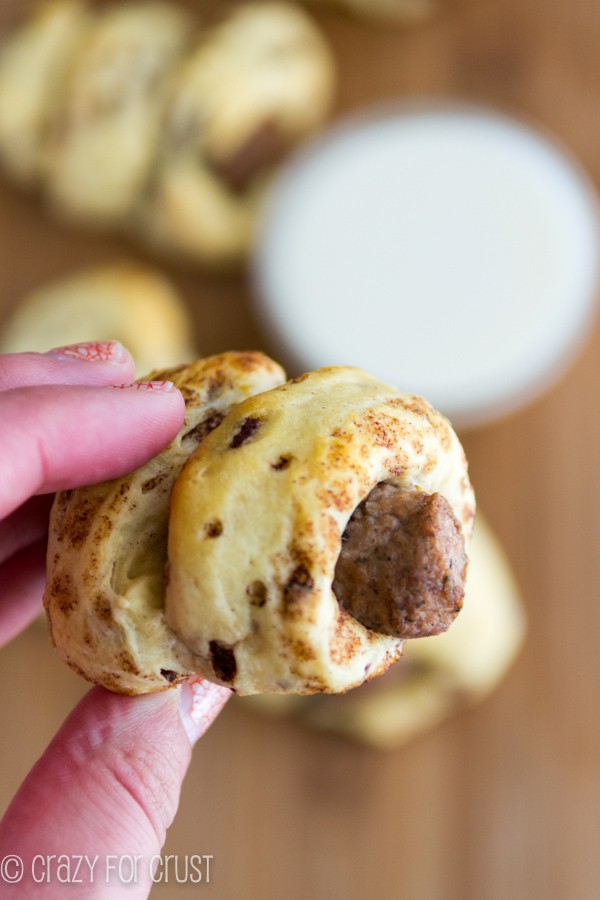 Last year on our road trip, I started thinking about other things you could wrap around a breakfast sausage. Cinnamon Rolls immediately came to mind. I love that whole spicy-sweet thing, don't you? It took me a year to finally decide to make them.
Why did I wait so long???
These are super easy to make and can be on your table in less than 30 minutes. You start with a tube of cinnamon rolls and some cooked breakfast sausage. You can use your favorite brand of sausage. I like to use Jimmy Dean or Jennie-O turkey sausage, the kind that's already cooked and just needs to be reheated. It saves the step of actually cooking and letting the sausage cool. But if you're starting with raw sausage, you'll want to cook, drain, and let it cool.
Then you perform surgery on your cinnamon rolls.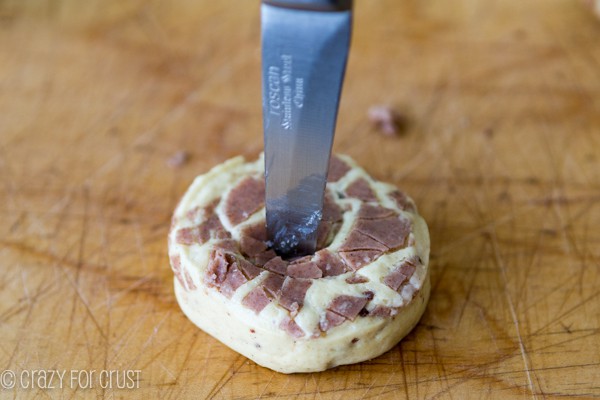 You'd think they'd unravel like a homemade one, but they don't. You need to cut along the spiral and out to the edge of the cinnamon roll.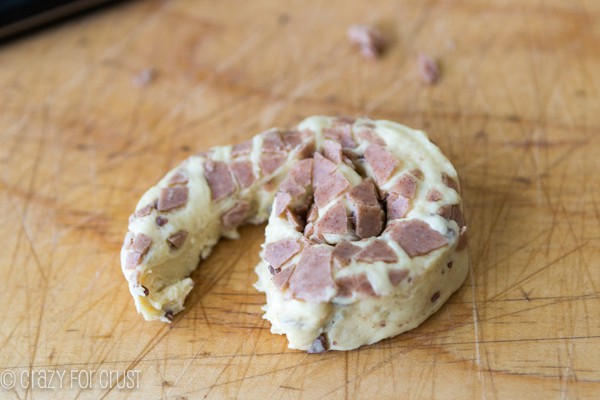 Then it's ready to unroll.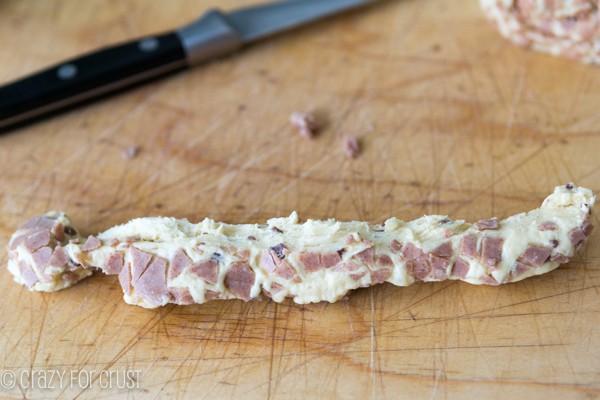 Unroll it into the best tasting snake ever.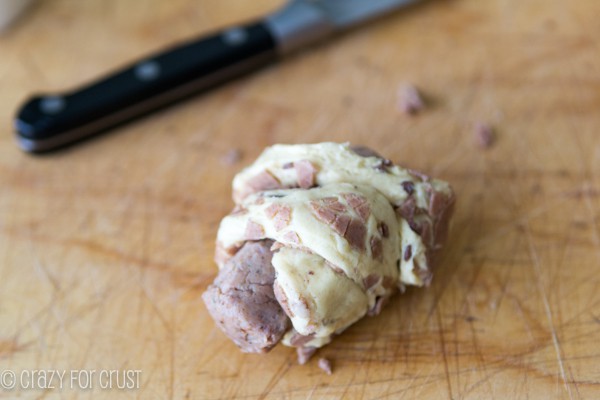 Then wrap up your sausage. Bake, then eat.
Like I mentioned before, you can freeze the cooked and cooled rolls. Reheat by wrapping in a paper towel and microwaving for 30-40 seconds. This makes a great and fast school morning breakfast. Or you can pop one in a lunch box and it'll be defrosted by noon.
But my favorite time to eat them is on vacation, when calories don't count and I can do this: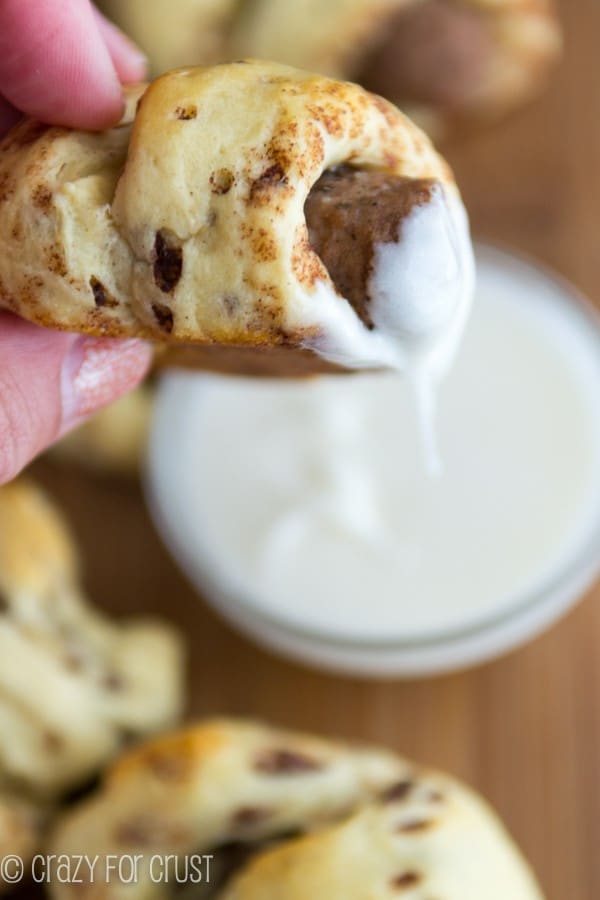 So, let's sum it up. These Cinnamon Roll Sausage Rolls are great for breakfast or snack, and they only have 2 ingredients. They're ready in under 30 minutes. They freeze well and travel well. They're great to eat on vacation and they prevent hunger tantrums at theme parks.
Pretty much that means they're magical. And, it means I can eat cinnamon rolls. Any day I can do that, I'm a happy girl.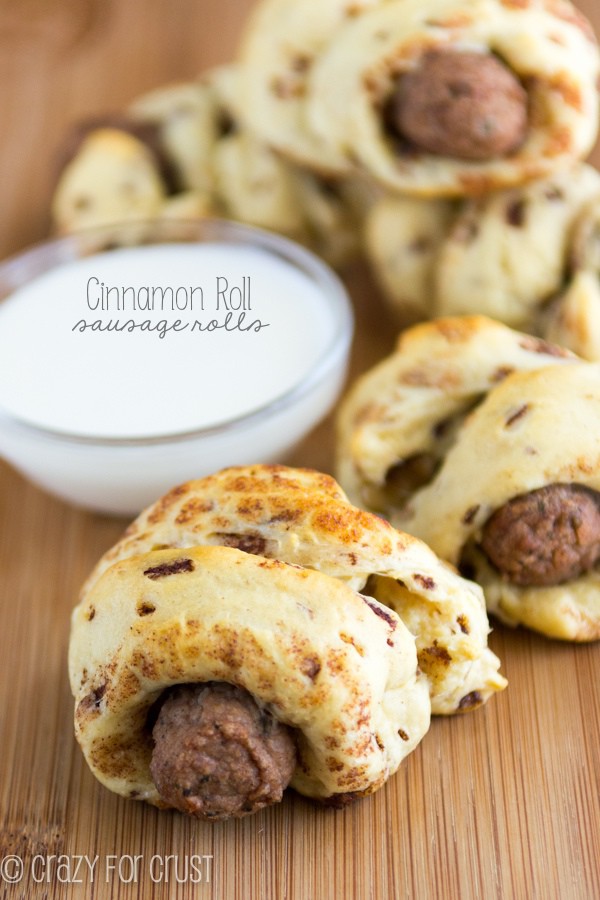 What do you like to eat on your road trips?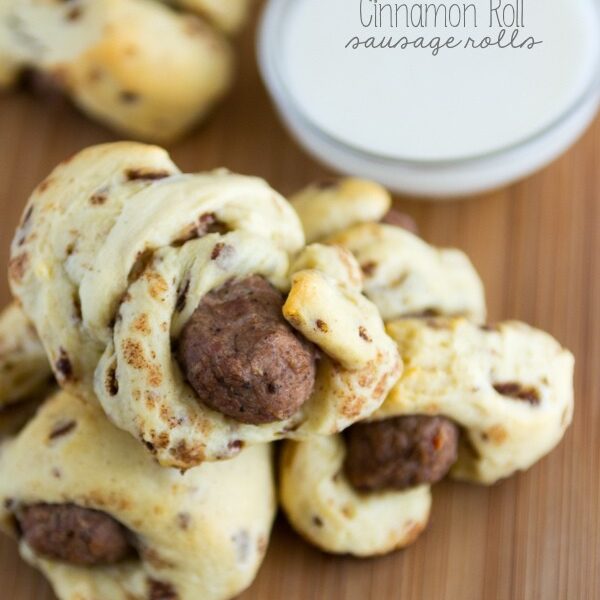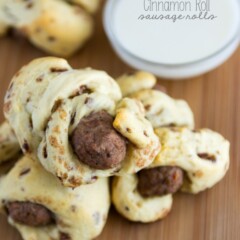 Cinnamon Roll Sausage Rolls
An easy 2 ingredient breakfast great for on the go!
Ingredients
1

tube Pillsbury

or similar Cinnamon Rolls, 8 count (not Grands!)

8

breakfast sausage links

use your favorite; I like Jimmy Dean Turkey Sausage
Instructions
If your sausage is the already cooked just reheat kind, skip this step. If you're sausage is raw, then cook it according to package directions. Drain and cool completely.

Preheat oven to 350°F. Line a cookie sheet with parchment paper or a silicone baking mat.

Remove cinnamon rolls from package. Using a small but sharp knife, cut around the spiral so that you can unroll the cinnamon roll. Unroll it flat and wrap it around a sausage.

Repeat for remaining rolls. Place 2" apart on prepared cookie sheet.

Bake 10-13 minutes until the cinnamon roll is golden brown. Cool slightly before eating. These are good plain, but they're also good dipped in the frosting that comes with the cinnamon rolls.

Store in an airtight container or ziploc bag in the refrigerator for up to 4 days. You can also freeze these rolls for quick morning breakfasts. They're great for road trips because they can be eaten room temperature.
Nutritional information not guaranteed to be accurate
Click HERE for more Pillsbury Dough Recipes!

Peanut Butter Snickerdoodle Crescent Rolls
Easy Cinnamon Sugar Soft Pretzel Bites
Sweets from friends:
Easy Chocolate Chip Cookie Stuffed Crescent Rolls by Sweet Treats and More
Nutella Cinnamon Rolls with Vanilla Glaze by Averie Cooks
Easy Cinnamon Sugar Fritters by Something Swanky
Last Updated on May 13, 2020