I've finally done it: I found the perfect Coconut Macaroon recipe! These are the BEST Coconut Macaroons! Bakery-style, perfect, and dipped in chocolate! They are egg-free, soft, chewy, and FULL of coconut.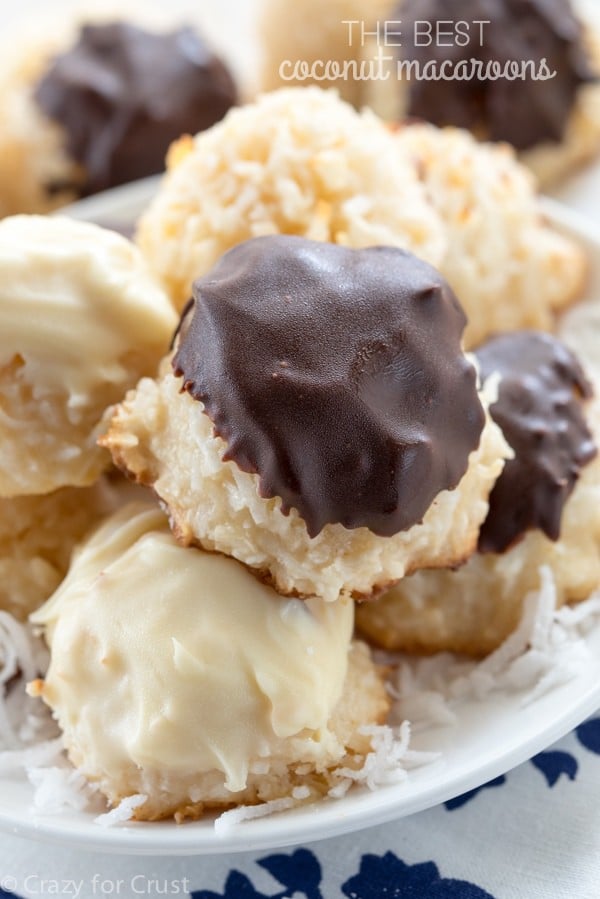 I was only 22 when I went to Carmel for the first time. Mel and I went for his 39th birthday. We were dating (but soon to be engaged). The second I stepped foot on Ocean Avenue I was in love. Carmel is one of my happy places!
On that trip, Mel introduced me to high-end shopping (where we couldn't afford to buy, but it was fun to look), high-end restaurants with inch-thick wine lists, and Midori Martinis. We loved Carmel so much that we returned once or twice a year for several years until one time Mel ordered an orange juice with breakfast and it was $7.
That's when we realized we were kind of priced out of the area. #saddayindeed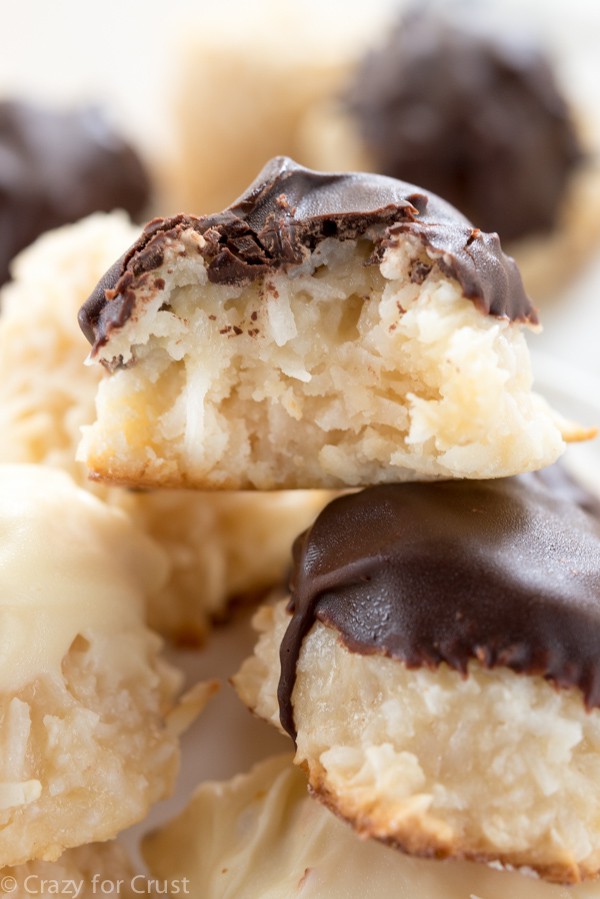 Last month, when I visited Carmel with some blogger friends, we walked around downtown and memories kept rushing back to me. The gallery with the gorgeous photographs, the store where I tried on high-end apparel just for fun, the restaurants we used to eat at. Even after 10 years it seemed like nothing had changed. And, delightfully, that included the bakeries.
The two main bakeries in Carmel are pretty much the same but with different names. They both have a front window full of ginormous chocolate chip cookies, soft pretzels the size of my head, and softball sized coconut macaroons.
I bought a coconut macaroon and fell in love. It reminded me that I've been hunting for the perfect coconut macaroon recipe for almost 2 years (ever since I had a Matterhorn Macaroon at Disneyland). So the second I got home I started testing recipes…again.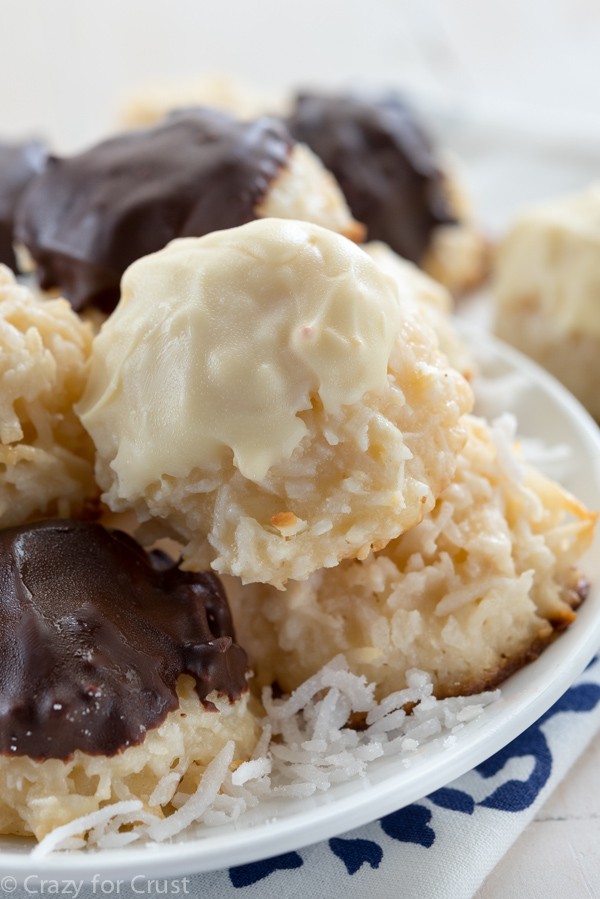 You see, I've tried so many macaroon recipes and not liked any of them. I've tried ones with flour, without flour. I've tried ones with sweetened condensed milk and ones with just sugar. I've tried whipping egg whites and not whipping them.
I've probably made 100 macaroons over the last 2 years. Some were okay. Some I hated. Some had major potential but ended up not being what I was looking for.
Until today. Today I'm sharing with you the BEST Coconut Macaroon recipe out there. And I know, because I've tried SO MANY.
This is the BEST Coconut Macaroon recipe because it's full of coconut, soft and chewy, and has no egg!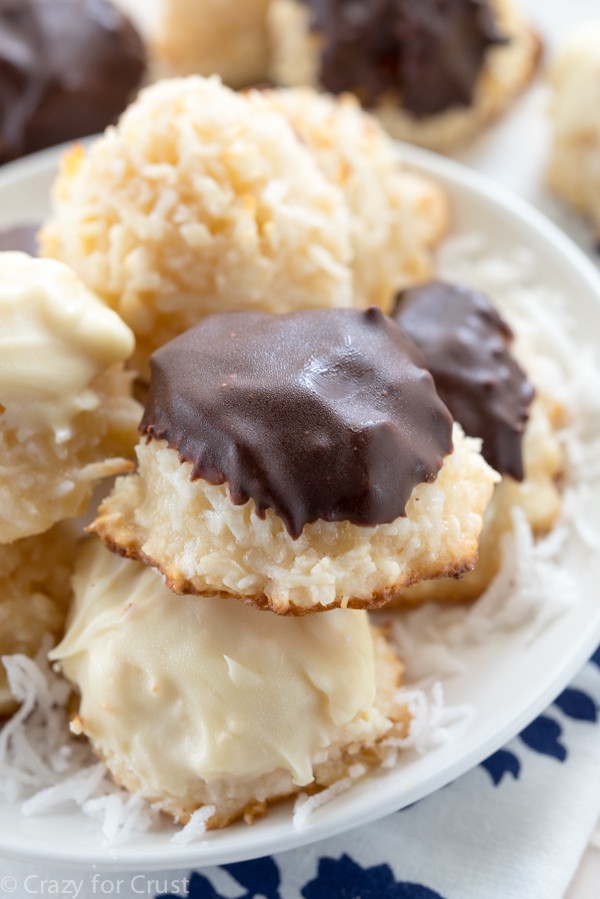 So, what is the secret to the perfect, most compact, BEST macaroons?
NO EGGS AT ALL.
I know, right? That's what I thought too. Is it even possible to make a macaroon without eggs? Is it allowed? Or is it against macaroon law?
Whatever it is, it's the best. Instead of binding these with eggs, they are held together with flour. Leaving out the egg and adding some flour makes a dense and more cookie-like macaroon. THIS is the recipe I've been searching for ever since I devoured too many Matterhorn Macaroons 2 summers ago.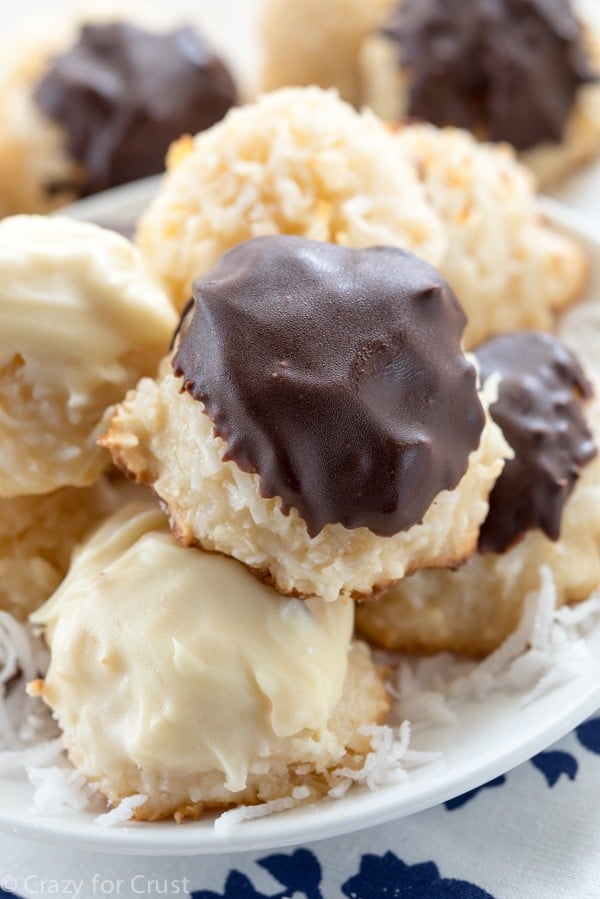 Making coconut macaroons (not to be confused with almond-based macarOns) is one of the easiest things ever. One bowl, one spoon, and about 10 minutes from stirring to baking.
How to make the best coconut macaroons:
Because there are no egg whites to bind the coconut together, you need something wet. For that reason, I used

sweetened condensed milk

. I also used both

vanilla and almond extracts

. I could drink almond extract, I love it so much. You can leave that out if you want (or use another extract in it's place, like lemon or hazelnut).
Don't forget the coconut! Obviously, you need lots of the good stuff for these cookies. I used the basic shredded sweetened you get at the grocery store. Mix all the ingredients, scoop, and bake. I used a 2 tablespoon cookie scoop. You could make them mini or even larger if you want. #GoSoftballSized
They're great plain. But they're even better with chocolate! I dipped the tops of mine in chocolate and white chocolate. You can use one or the other, or both. You can also dip the bottoms instead. Do what you like! I like dipping the tops because you get more chocolate.
More chocolate > less chocolate.
If we're being honest, I liked the white chocolate ones best. They reminded me of Disneyland. 🙂

The chocolate ones remind me of Carmel, which reminds me of my husband…and lots of blogger friends. 🙂
Coconut Macaroons
These are the BEST Coconut Macaroons! Bakery-style, perfect, and dipped in chocolate! They are egg-free, soft, chewy, and FULL of coconut. Omitting the eggs from these Coconut Macaroons makes them more dense and the perfect bakery style cookie!
Ingredients
2/3

cup

82g flour

5 1/2

cups

402g shredded sweetened coconut

1/2

teaspoon

salt

1

14 ounce can (396g) sweetened condensed milk

2

teaspoons

vanilla extract

1

teaspoon

almond extract

4

ounces

white or semi-sweet baking chocolate or a combination of both

or almond bark
Instructions
Preheat oven to 350°F. Line cookie sheets with parchment paper or silpat baking mats.

Stir flour, coconut, and salt. Stir in sweetened condensed milk and both extracts. Stir until combined.

Drop 2 tablespoon balls of dough onto the prepared cookie sheets. These do not spread so you can crowd them close together. Wet your hands slightly and push down any sticking up or out single pieces of coconut as these might burn.

Bake for about 11 minutes, until the bottoms are golden and the tops start to turn the tiniest bit golden. Cool completely before eating or dipping.

To dip: melt chocolate according to package directions. I like to melt my chocolate on 50% power in 30 second increments, stirring after each, until it's melted and smooth. Add a teaspoon of vegetable oil or crisco if needed to get it to melt smoother. Dip the bottoms or tops of each macaroon in chocolate. Let dry. Tip: don't refrigerate or you'll get the condensation marks!
Nutrition Information
Serving:
1
cookie
|
Calories:
107
kcal
|
Carbohydrates:
16
g
|
Protein:
2
g
|
Fat:
4
g
|
Saturated Fat:
3
g
|
Cholesterol:
43
mg
|
Sodium:
863
mg
|
Sugar:
16
g
Click here to see more of my Christmas cookie recipes!
Click here to see more of my ULTIMATE COCONUT recipes!
If you love macaroons, try these:
Macaroon Blossoms
Salted Caramel Toffee Coconut Macaroons by Two Peas and Their Pod
Pink Sprinkle Macaroons by Pint Sized Baker
Caramel Rum Macaroon Cookies by Melissa's Southern Style Kitchen
Bakery Style Chocolate Chip Cookies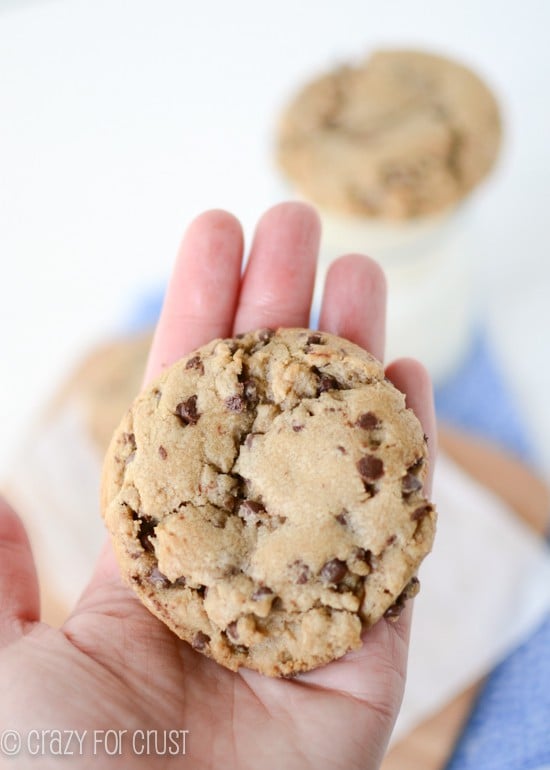 Bakery Style Peanut Butter Cookies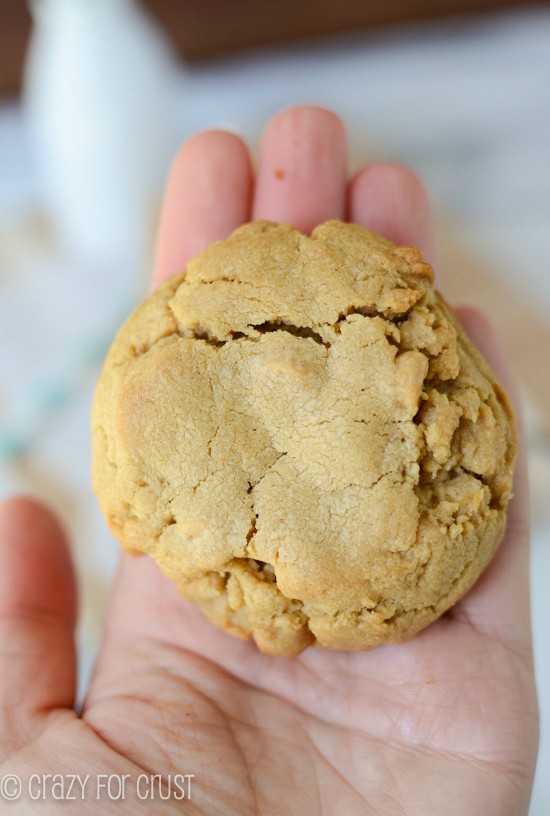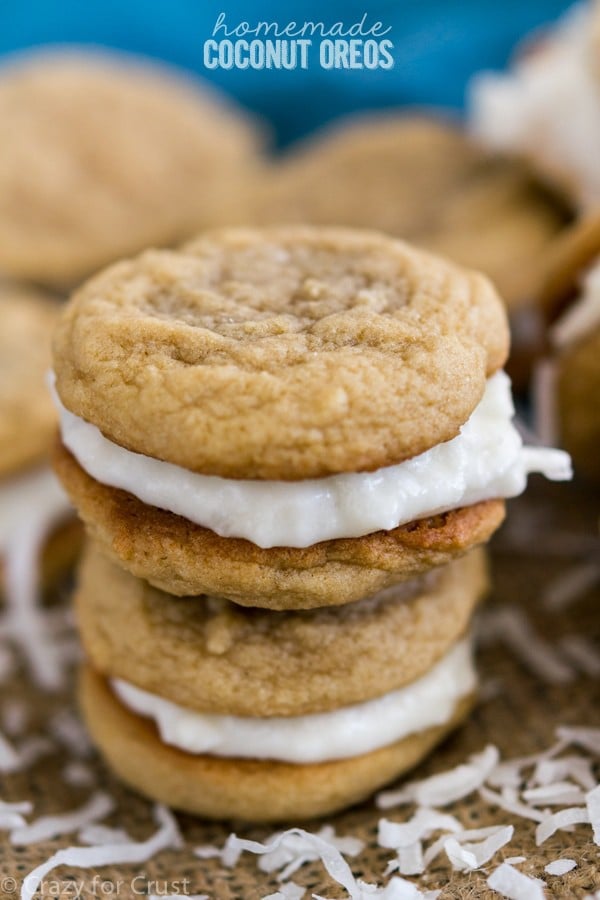 All text and images © DOROTHY KERN for Crazy for Crust. Please do not use my images without prior permission. If you want to republish this recipe, please re-write the recipe in your own words, or link back to this post for the recipe. Disclaimer: Nutrition information shown is not guaranteed to be accurate.
This post may contain affiliate links. For more information, read my disclosure policy.
Published on: June 23, 2015