This post may contain affiliate links. For more information, read my disclosure policy.
Ever wondered how to toast coconut? Do it THIS WAY! I've been toasting coconut for years and have tried all the methods (stove, microwave, oven) and this is the easiest way to do it without burning it. You can toast coconut for any recipe if you use my method.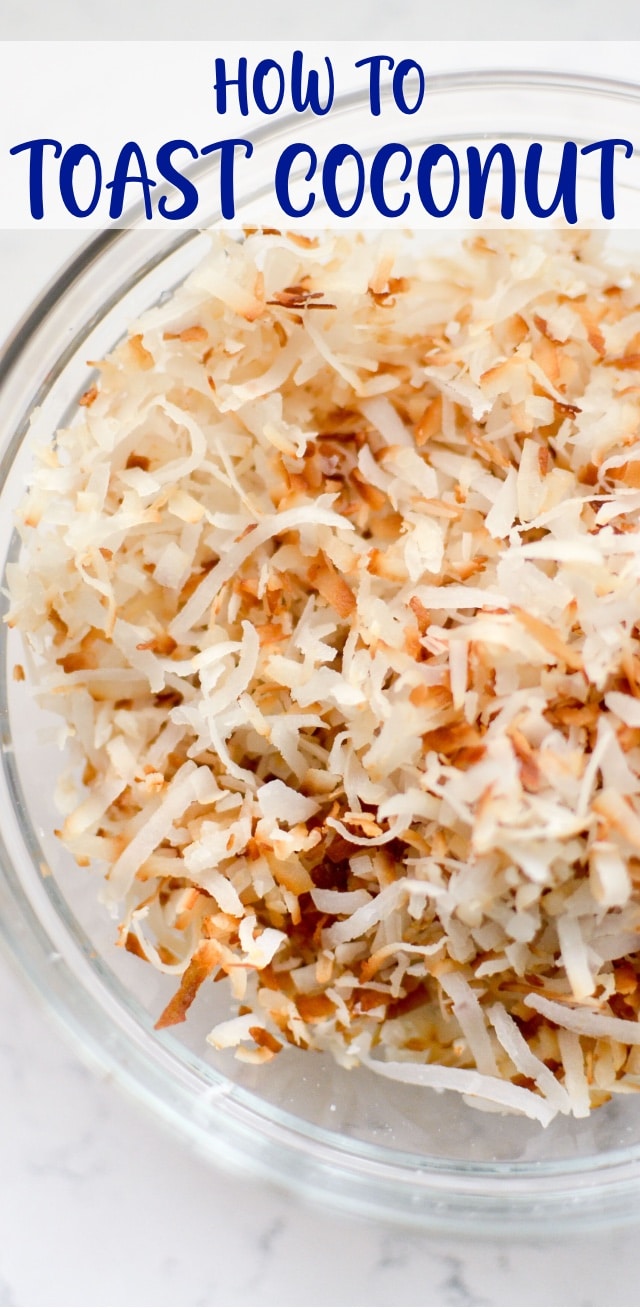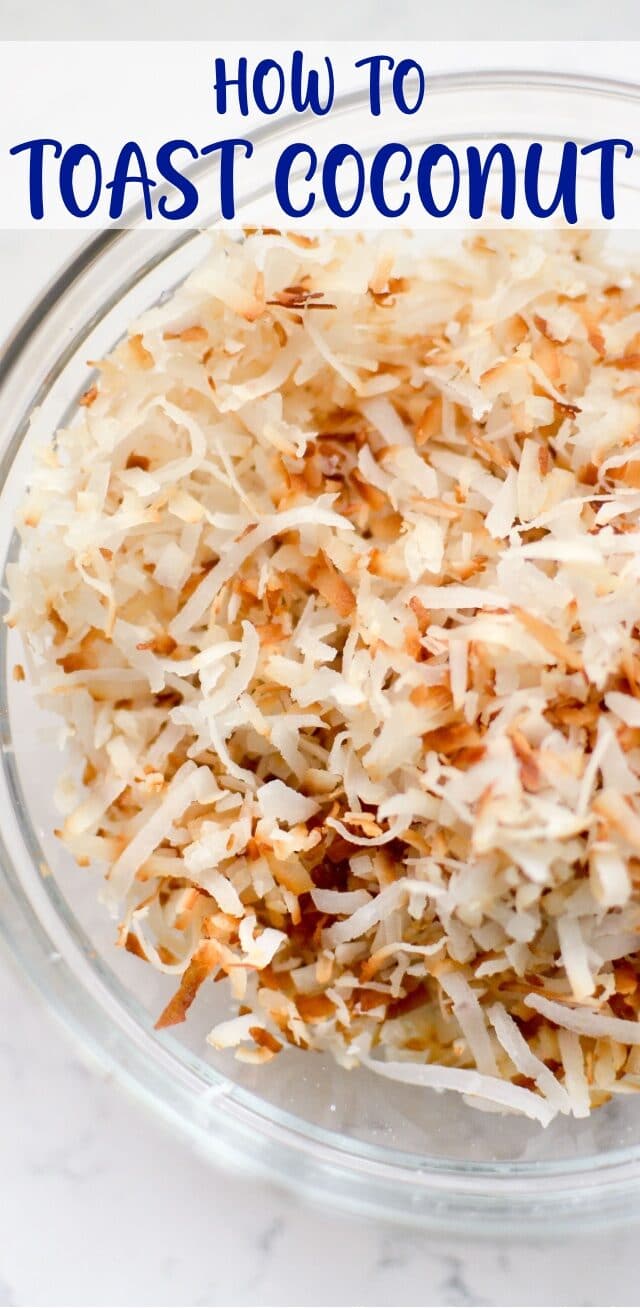 Have you ever made a recipe where one of the ingredients is "toasted coconut" and you're confused because you don't know how to toast coconut?
Or, have you ever attempted to make toasted coconut to garnish or add to a recipe and it burned and smelled your whole house up for three days?
I've been there more than once, which is why I've tested several methods for toasting coconut and THIS is the only way I will do it from now on.
This is one of those posts that you should just pin and file away for a rainy day. Adding toasted coconut to any recipe (sweet or savory) is the perfect way to kick it up a notch: it's the perfect garnish for a Coconut Carrot Cake, Banana Pancakes, or to add on top of Triple Coconut Cupcakes. It's also good on savory recipes, like on top of green beans, tacos, or soup. Toasted coconut adds the perfect crunch to so many recipes…and I even like to sprinkle it on my yogurt or cereal in the mornings.
Learning how to toast coconut – the easy way – will make you a star in the kitchen!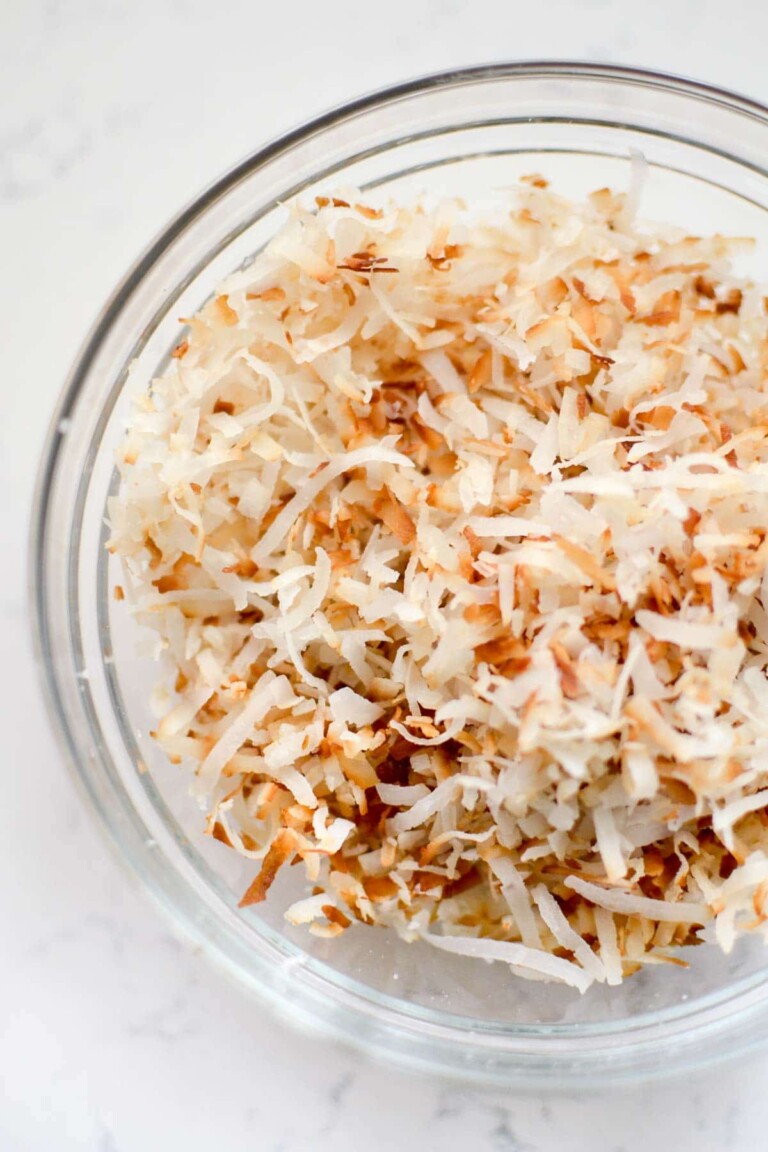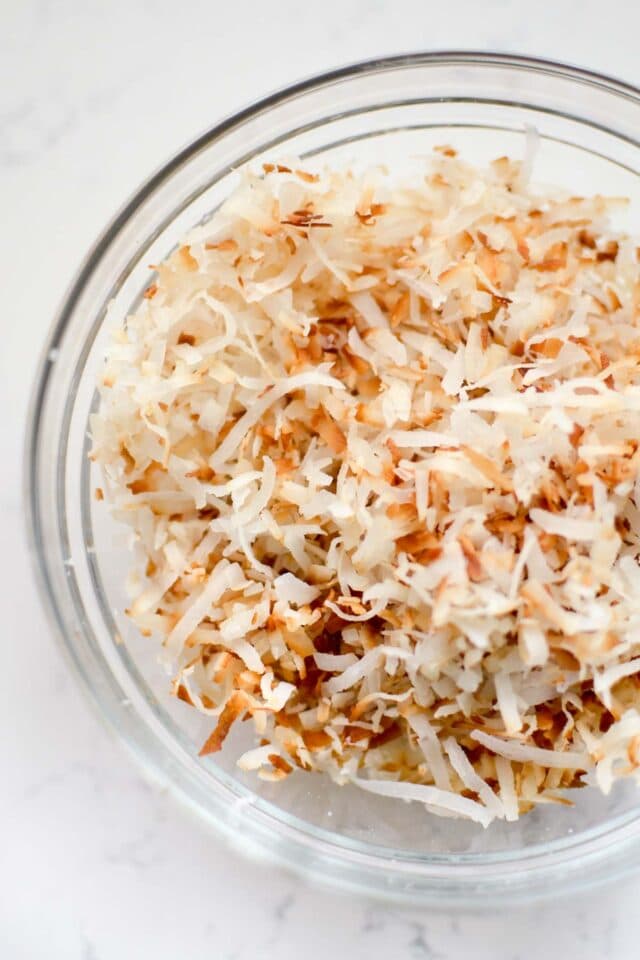 Ways you can toast coconut
I've tried toasting coconut in the microwave and in the oven, but my favorite way to do it is on the stovetop.
I find that cooking coconut (or nuts) on the stove makes me pay more attention to them, ensuring that it doesn't burn. Burned coconut smells horrible so doing it on the stove is an easy way to avoid that!
How to toast coconut on the stovetop
Use a frying pan on the stove instead of baking it in the oven. It's easier to watch and keep it moving this way.
Use medium-low or low heat to cook it.
Stir almost constantly until it begins to brown. Do not walk away from the stove; coconut goes from brown to burned very quickly.
Make sure to stir the sides of the pan and keep it turning from the bottom so it toasts evenly.
Once it's brown, immediately remove it from the heat and the hot pan to cool completely.
PRO TIP: always keep stirring your coconut while you're toasting it. Otherwise it will burn!
How to Store Toasted Coconut
It's best to store toasted coconut in an airtight bag or container. I always put it in the refrigerator as well, which makes it last longer. It will last 3-4 weeks in the refrigerator.
Recipes that use toasted coconut:
You can also use toasted coconut on:
Be sure to check out all my other baking tips, like how to measure flour and how to soften butter!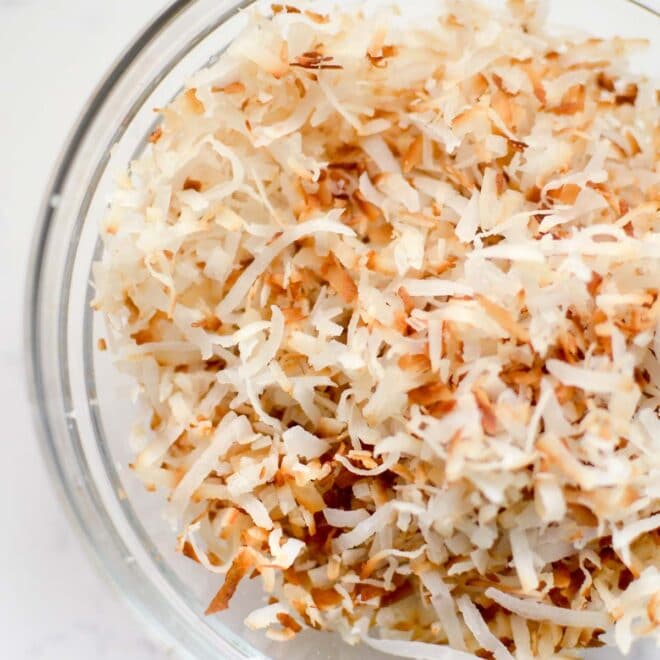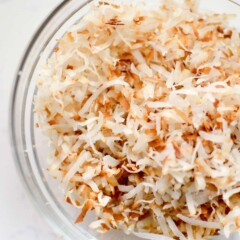 How To Toast Coconut
Learn how to toast coconut the easy way! Doing it on the stovetop lets you control the heat and keep it moving, which is essential to keep it from burning. With this easy recipe you can have toasted coconut for every recipe!
Ingredients
1

cup

shredded sweetened or flaked coconut
Instructions
Place a small frying pan over medium-low heat. Add the coconut and break up any chunks using a wooden spoon.

Cook, stirring almost constantly, until the coconut begins to steam and brown. Turn the heat to low and continue stirring constantly as the coconut browns.

Do not walk away - it will go from brown to burned very fast.

As soon as the coconut is browned to your liking, immediately remove pan from heat and remove the coconut from the hot pan to a bowl or plate to cool.

Use as desired for garnish. Store in an airtight bag or container in the refrigerator for up to 2 weeks.
Recipe Nutrition
Serving:
1
Cup of Coconut
|
Calories:
640
kcal
|
Carbohydrates:
64
g
|
Fat:
36
g
|
Sodium:
240
mg
|
Fiber:
8
g
|
Sugar:
48
g
Nutritional information not guaranteed to be accurate
Learning how to toast coconut the right way will make you a star in the kitchen. This tried and tested method is foolproof and gives you the best toasted coconut every time!
Last Updated on March 6, 2021