This post may contain affiliate links. For more information, read my disclosure policy.
Learn the best ways to melt different kinds of chocolate, so it turns smooth and glossy every time. I'm sharing tips for melting chocolate in a double-boiler or a microwave, plus some of my favorite tricks to make it easy and stress-free!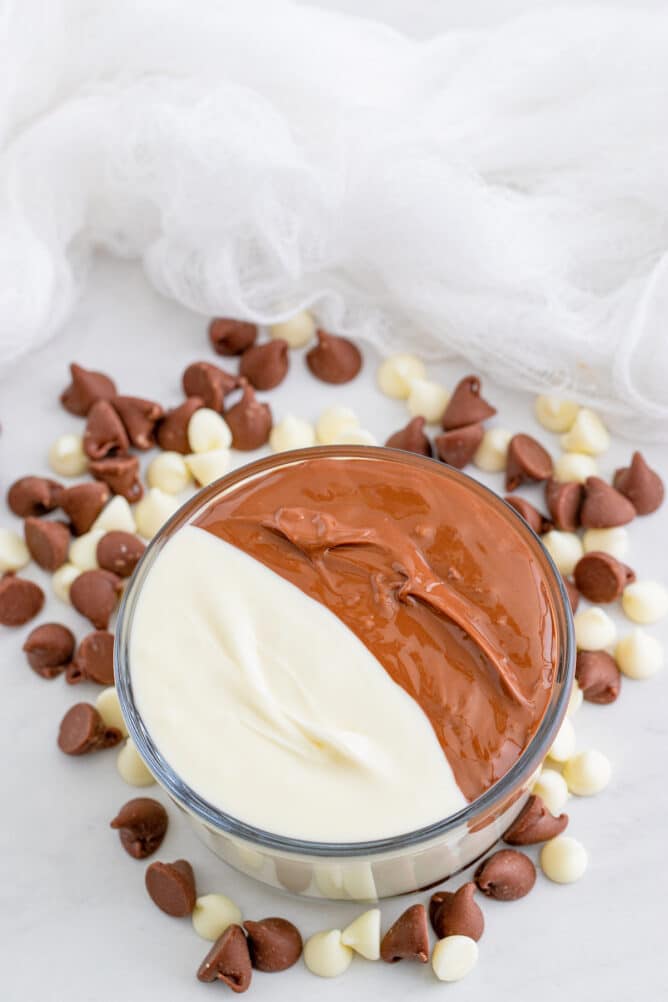 It might seem like a simple thing, but there are definitely "do's and don'ts" for melting chocolate. If you've ever had chocolate seize up on you or not melt properly, you know how annoying it can be. So, I'm showing you the best ways to melt chocolate so you can do it every time without problems.
What We'll Cover in This Post
How to melt in the microwave vs. a double boiler.
How to melt chocolate chips plus other types of chocolate, including how to melt white chocolate chips, so you get smooth chocolate every time.
I'm sharing my best tips for salvaging seized or overheated chocolate.
Plus, a few more secrets so you can melt chocolate like a pro!
Before you melt chocolate, the first thing to ensure is that there is no water. Even the smallest amount of water that comes into contact with your melted chocolate will turn into a gritty paste.
So, make sure your spatula (or spoon) and bowl are completely dry. It's especially important if you use the double-boiler method, but more on that in a minute!
Table of Contents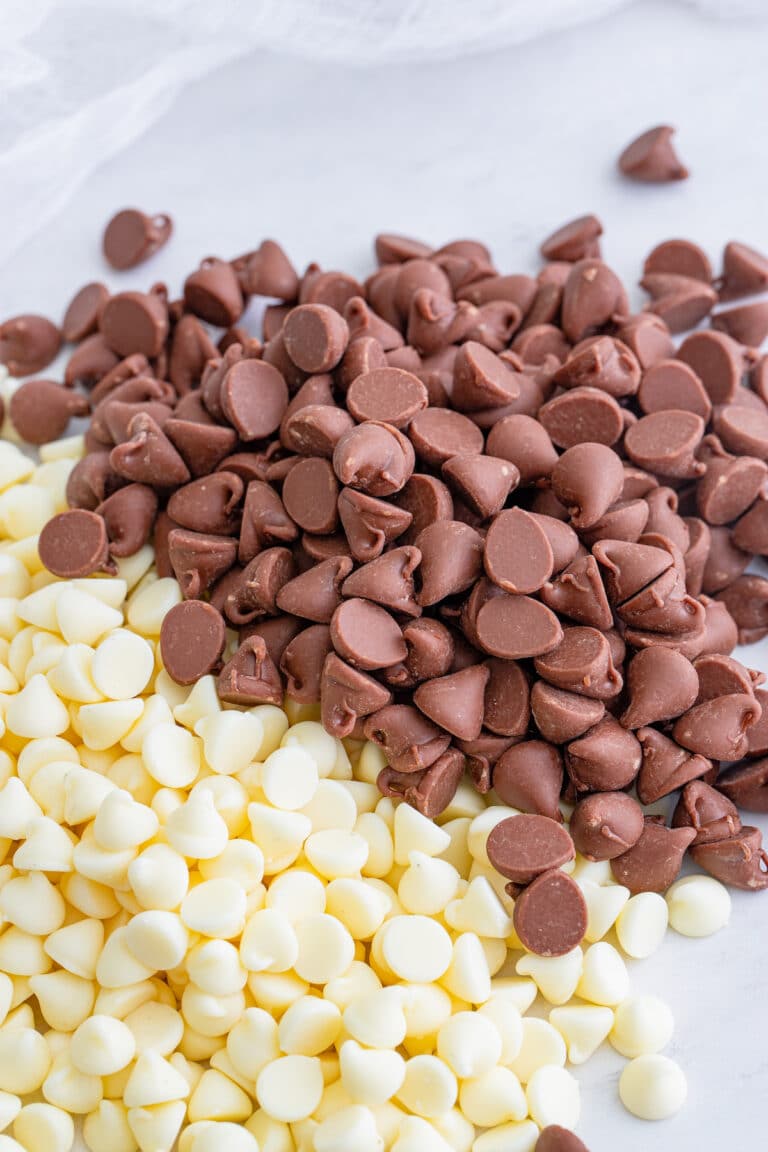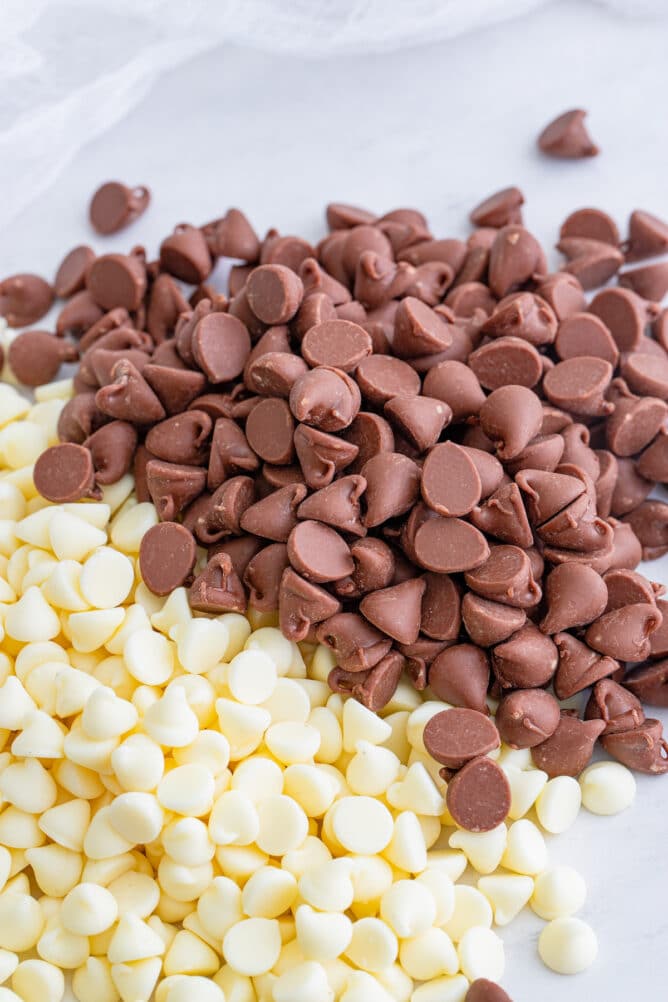 How to Melt Chocolate in Microwave
What's great about the microwave method is that it's easy and fast. The downside is that it's easier to burn, but with a few tips, you don't need to worry about overcooking the chocolate, which can make it dull and too thick.
In general, the best way to melt chocolate in the microwave is to first set the power to 50%. This will make it easier to not overcook it. Place the chocolate in a microwave-safe bowl and melt the chocolate in 30-second increments, stirring between each. Using this stop-and-stir method will ensure you don't burn it.
Tip: For easy clean-up, use a small plastic dixie bowl. They are microwave-safe!
Depending on the kind of chocolate you are melting, here are some additional tips to keep in mind:
Baking bars and almond bark: Always follow the package's recommendations for melting these kinds of chocolate. Different brands will vary, so always double-check.
Chocolate chips: I like to add a teaspoon of oil or Crisco when I melt chocolate chips. When you melt them in the microwave, the oil helps the melting process. You can use this same process to melt white chocolate chips.
Chocolate bars (not baking bars): Follow the same instructions for chocolate chips, but omit the oil or Crisco.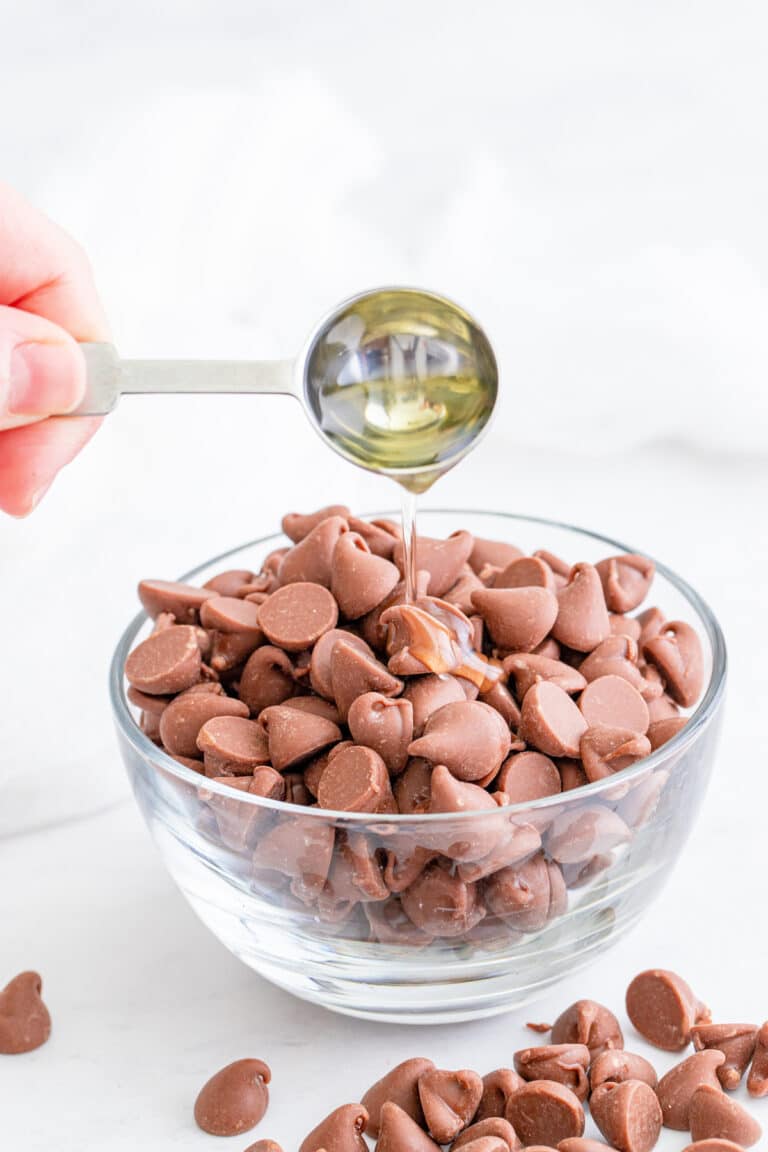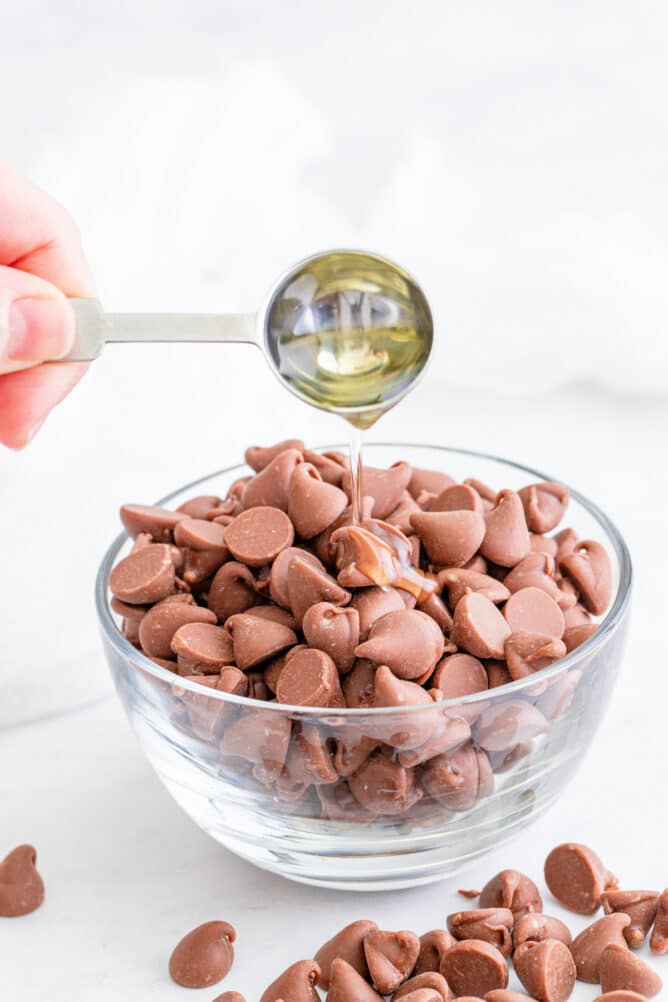 How to Melt Chocolate in a Double-Boiler
The double-boiler method for melting chocolate is easy, but you need a pot and a bowl (a little more clean-up), but the benefit is that it's harder to burn the chocolate than the microwave method.
To make a double boiler, all you do is place a heat-proof bowl on top of a pan of simmering water. The water should not touch the bowl's bottom. That way, the heat from the steam will heat the bowl creating an indirect heat that gently melts the chocolate. This makes it less likely that it will burn.
The bowl must fit in the pan without gaps to prevent water from splashing up into the chocolate, which can cause it to seize up.
To melt the chocolate, place it in the bowl and stir it. The heat from the steam in the pan will melt it.
You can use this method with chocolate chips and chocolate bars. Baking bars and almond bark usually have stovetop melting instructions listed on the package.
I use both methods depending on what I'm making. When I need some quick melted chocolate, I often use the microwave method.
I sometimes use the double-boiler method for white chocolate because white chocolate has more sugar and can burn easily. The double-boiler process is great when you want pretty glossy chocolate – it's a gentler way to melt it, and it's easier to control the heat to achieve that result.
I hope these tips for melting chocolate are helpful! Whether you use the microwave or double-boiler, following the tips and tricks will ensure you get beautifully melted chocolate every time.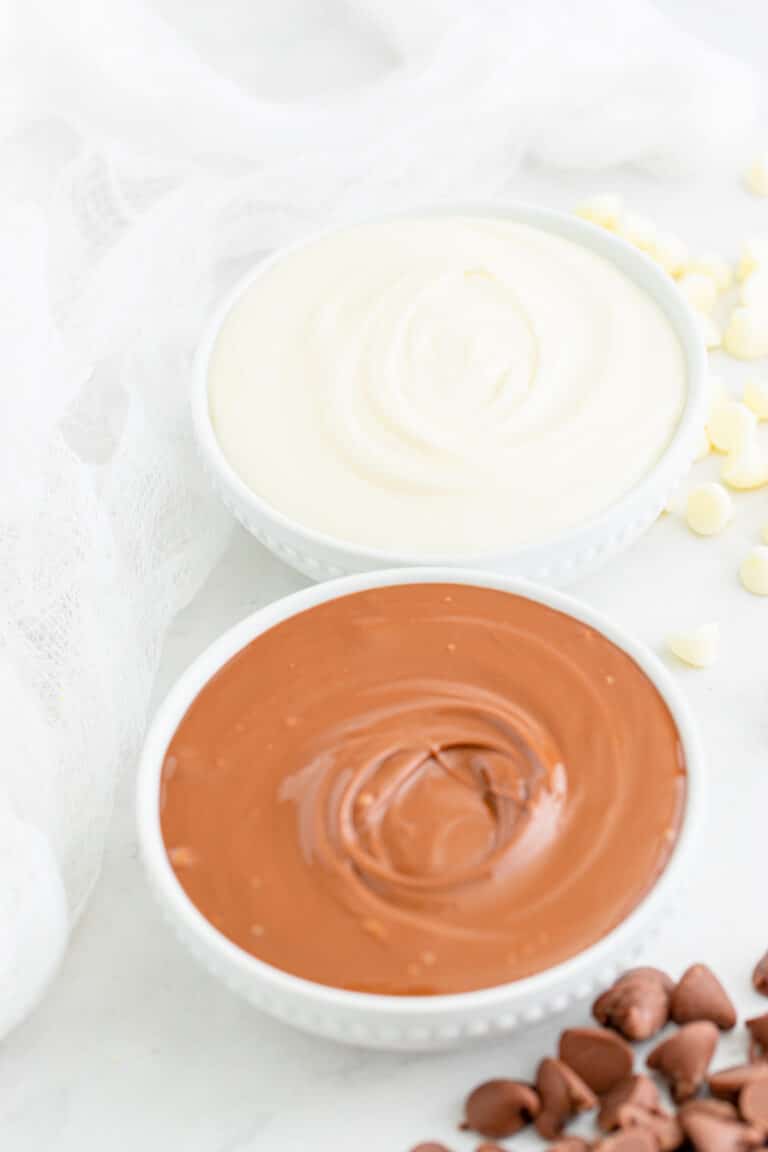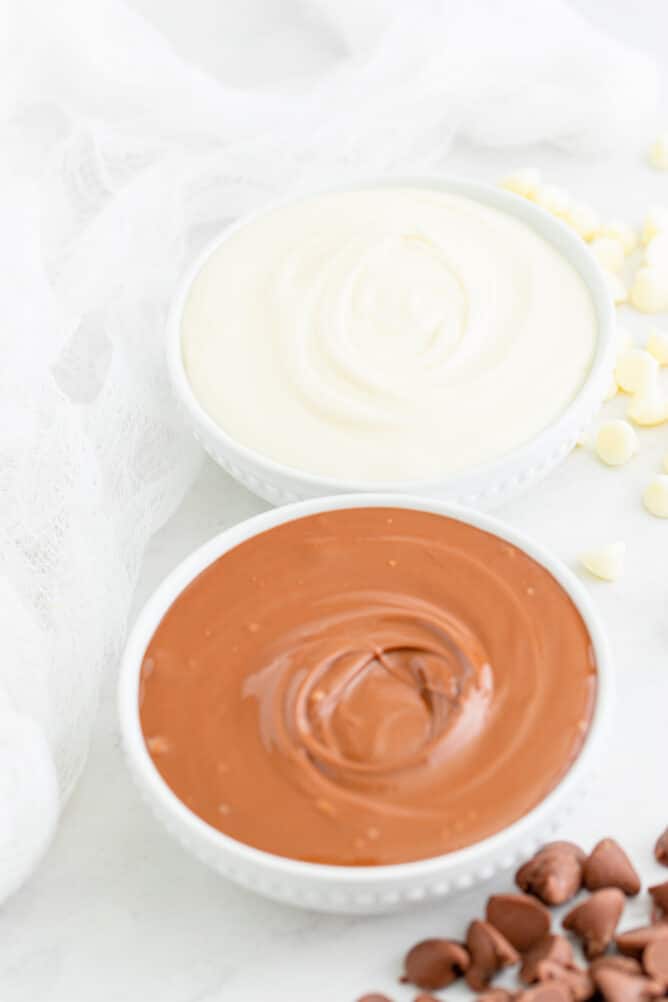 More Helpful Baking Tips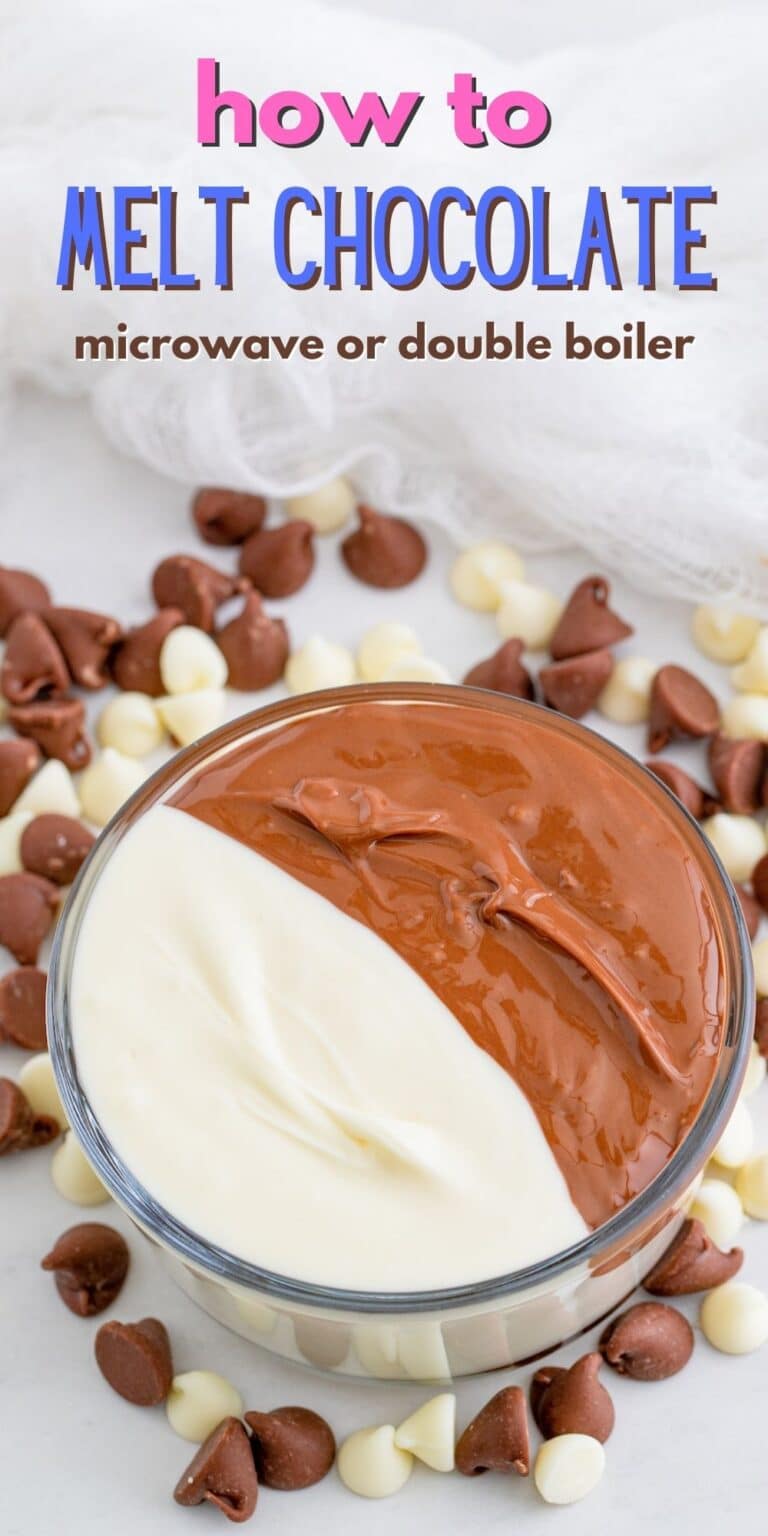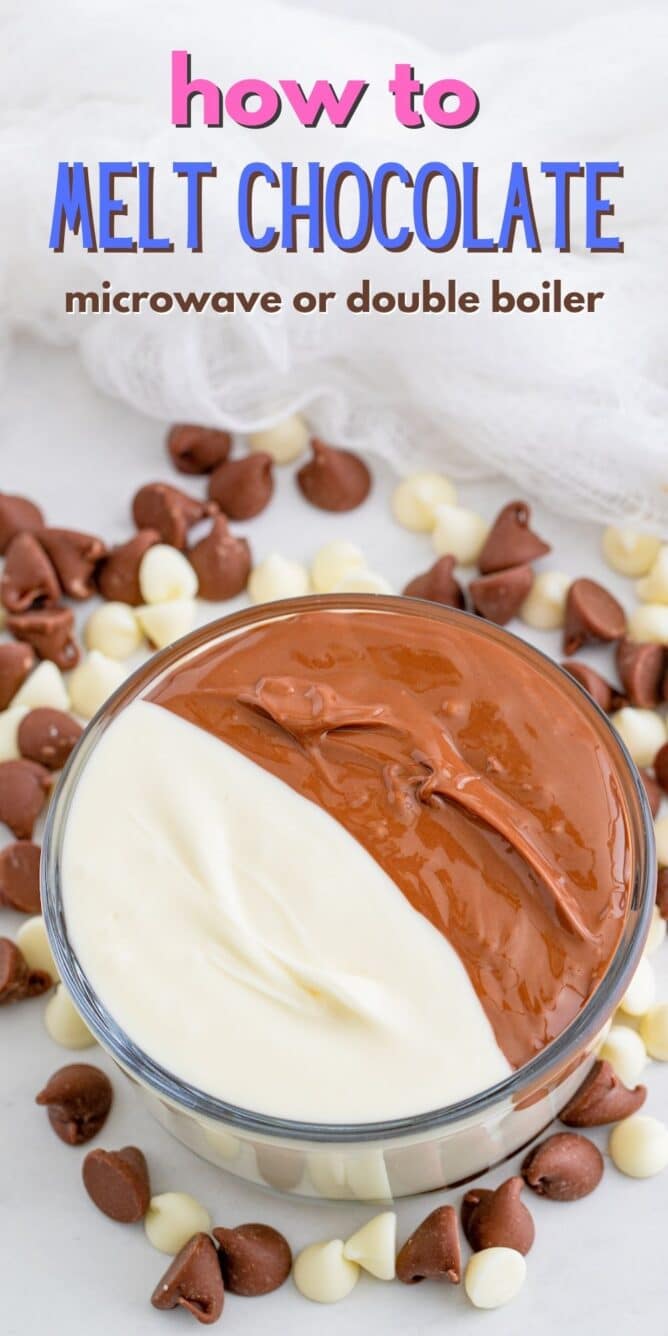 Melted chocolate has so many fun uses and it's a really great skill in the kitchen to master. I hope these were helpful and that your melted chocolate turns out smooth and glossy everytime!
Last Updated on March 6, 2021