This post may contain affiliate links. For more information, read my disclosure policy.
Looking for a way to use all of those fresh summer cherries? Make homemade my Cherry Pie Filling recipe! My recipe is so easy and you only need five ingredients!
Use this easy filling for pie or use it to create other delicious cherry desserts. Never waste those fresh picked cherries again!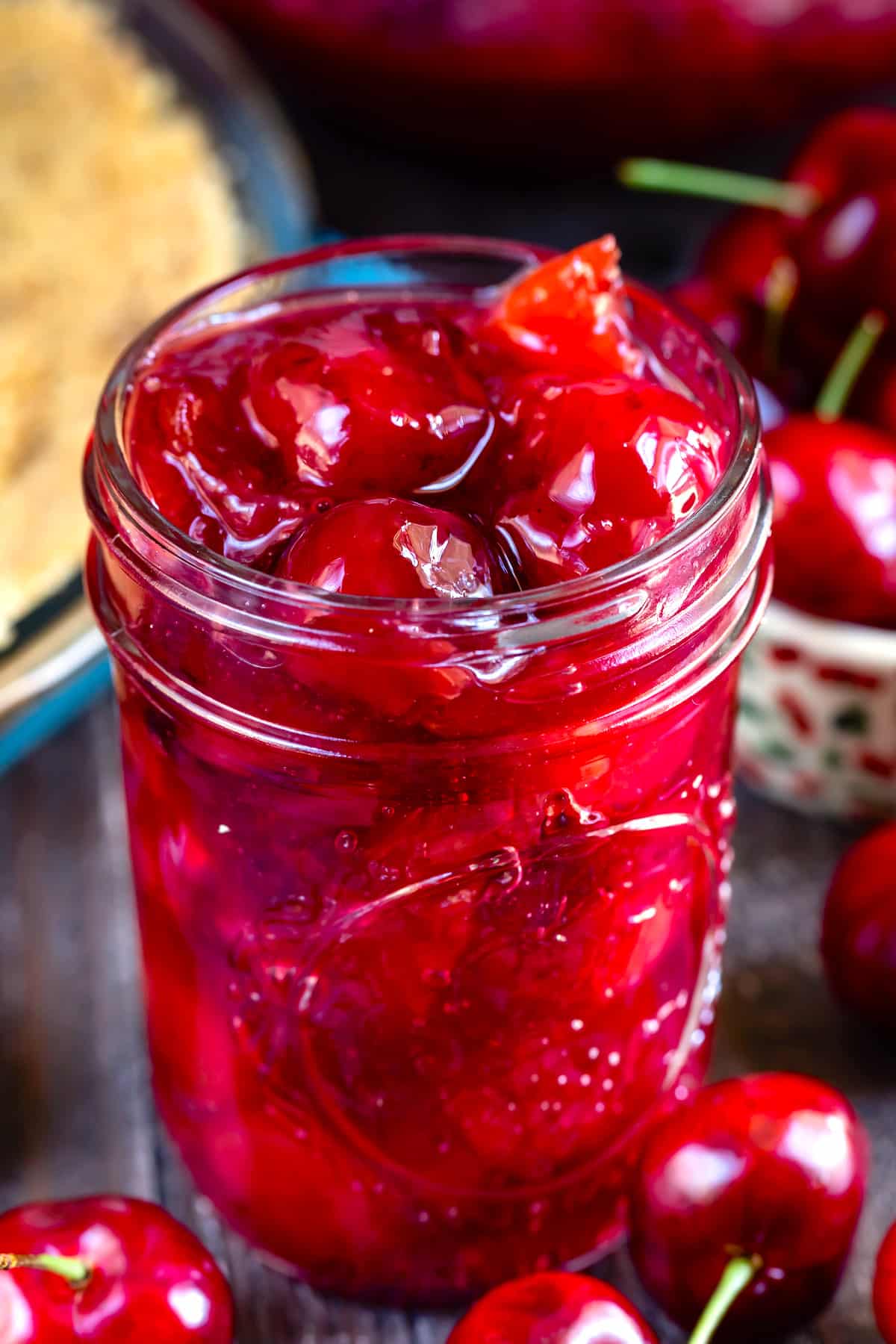 Why This Recipe Works
Once you try making homemade pie filling, I can promise that you will never want to buy canned pie filling again. Using fresh cherries makes a huge difference! Perfectly sweet with just the right amount of sugar this pie filling is all about that fresh cherry flavor.
The cherries cook down with cornstarch to get nice and thick. You can make this with fresh or frozen cherries and it's the perfect pie filling or topping for anything you like.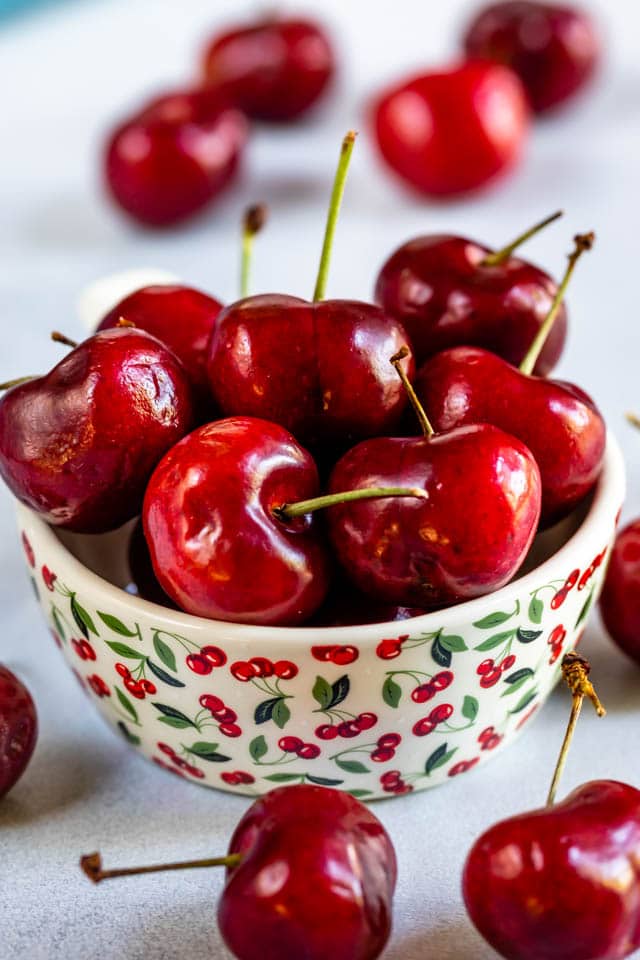 Ingredients in Cherry Pie Filling
Cherries: If you use fresh cherries you will need to pit them. The easiest way to pit a cherry is with a cherry pitter. You will also need to remove the stems. You can also use frozen cherries! Don't have a cherry pitter? Learn how to pit a cherry with a straw.
Water: When you cook the cherries, you will need to add some water. Cooking the cherries in water helps break them down and release the juices.
Sugar: You will need some granulated sugar to sweeten the pie filling.
Cornstarch: To thicken your filling, you will add a slurry which is made with cornstarch and cold water.
Lemon Juice: You will also need some lemon juice which helps balance out the sweetness from the sugar.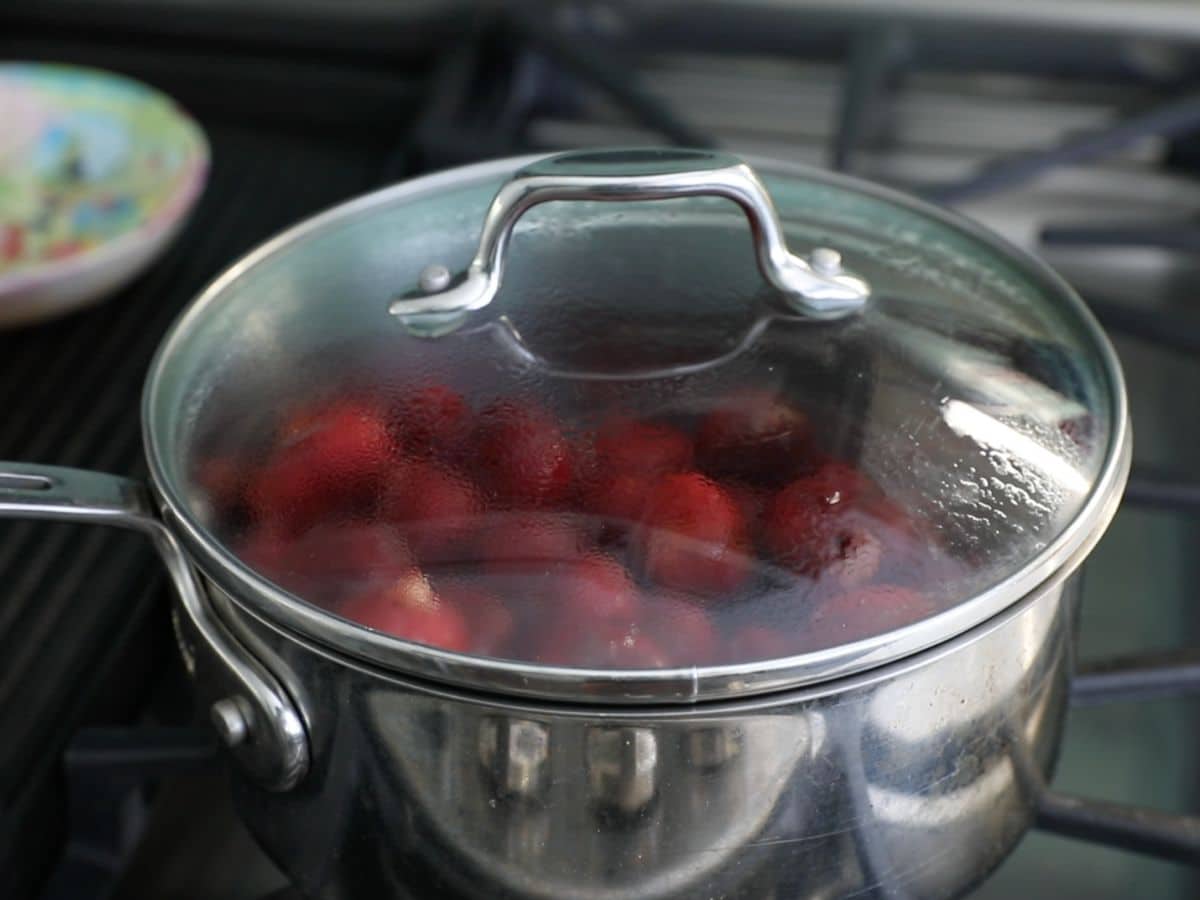 How to make cherry pie filling
Cook Cherries: Place the prepped cherries and water in a sauce pan. Bring it to a boil and cook the cherries for 10 to 15 minutes or until they have softened and released their juices.
Make Slurry: Combine the cornstarch with cold water in a small bowl.
Mix and Boil: Add the sugar to the cherries followed by the cornstarch slurry. Stir continuously. The mixture will thicken quickly at which point you can take it off the heat.
Taste: At this point, taste the filling (carefully- it will be hot!) and if it's too sweet you can add lemon juice to balance it out.
Cool: Transfer the filling to a bowl or large bowl. Let it cool to room temperature and then place it in the refrigerator until you ready to use it.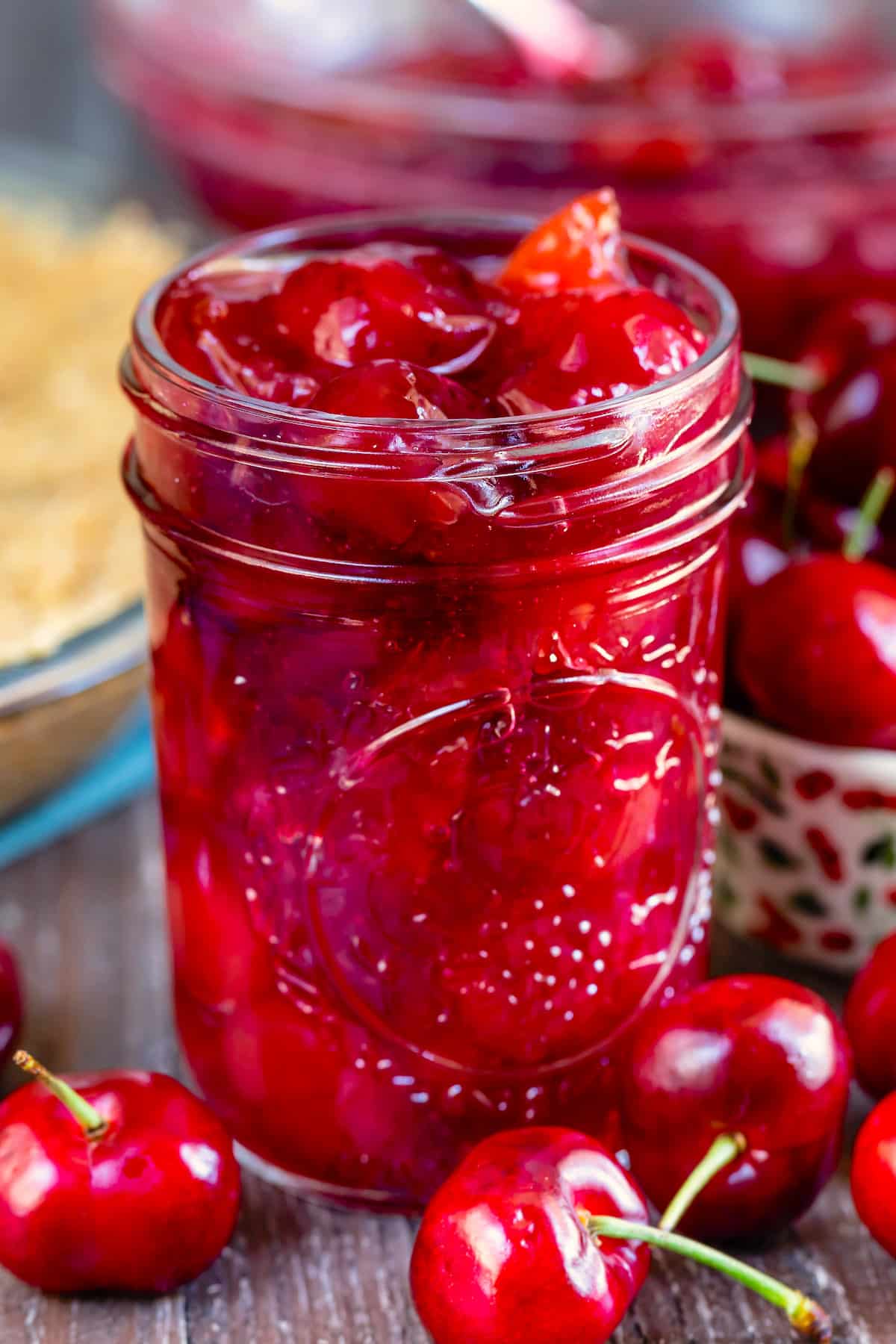 FAQ
What Cherries are best for pie?
The type of cherry you choose will make a difference in your filling. I recommend that you use fresh cherries! There are tart and sweet variety of cherries and you can use all of the same for your filling or do a combination. It really depends on your tastes! As you'll see in the recipes, you can easily adjust how sweet or tart your filling is depending on the type of cherries you use.
Can I use frozen cherries for this recipe?
Cherries have a really short season, but that doesn't mean you can't make this cherry filling recipe when it's not summer! You can use frozen cherries, but you will need to thaw them completely first and then drain off all of the excess liquid before you make your filling.
How do you thicken cherry pie filling?
I like using cornstarch as I find it works best for pie filling.
How do you store pie filling?
Store this in a jar or airtight container for up to 2 weeks in the refrigerator. Use your canning resource to can it properly.
Can you freeze cherry pie filling?
Yes store in the freezer for up to 2 months.
Does cherry pie filling need to be cooked?
Once you've made the recipe below you can use the filling for a no-bake or a baked pie.
Ways to use Cherry Pie Filling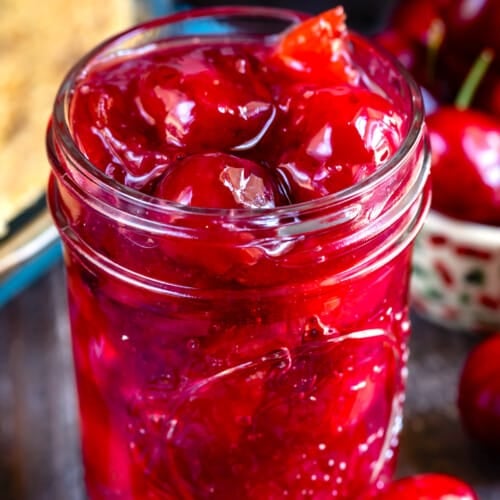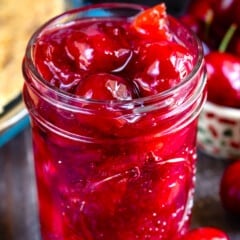 Cherry Pie Filling
This easy Cherry Pie Filling can be made with tart or sweet cherries and is perfect for a no bake pie or any cherry dessert. Plus the filling is gluten-free!
Ingredients
4 1/2

– 5 cups cherries (about 1¾ pounds)

pitted

¼

cup

water

⅔

cup

(133g) sugar

¼

cup

(30g) cornstarch

1

tablespoon

(15ml) lemon juice

see note
Instructions
Pit your cherries and place them in a medium saucepan with the water. Place over medium-low heat and cover. Bring to a boil and cook until the cherries start to soften and release their juices, about 10-15 minutes.

Make a cornstarch slurry: add the cornstarch with an additional 1/4 cup of COLD water to a small bowl and stir with a spoon.

Add the lemon juice if you feel the mixture is too sweet (see note).

Stir the sugar into the cherries, then add the cornstarch slurry. Stir continuously while the mixture thickens, which will happen fast.

Remove the cherries from the heat and place in a bowl or large jar. Cool to room temperature then chill until ready to use. You can also freeze. Will last up to 4 days in the refrigerator
Recipe Notes
• You can use all tart or all sweet or a combination of cherries. If using sweet cherries, be sure to add the lemon juice. If you're using tart cherries, you may not need it (the lemon juice cuts the sweetness) so it depends on how sweet you want your pie filling.
• You can make this with frozen fruit but it must be thawed and well drained.
Recipe adapted from AllRecipes.
Recipe Nutrition
Serving:
1
serving
|
Calories:
83
kcal
|
Carbohydrates:
21
g
|
Protein:
1
g
|
Fat:
1
g
|
Saturated Fat:
1
g
|
Sodium:
1
mg
|
Potassium:
10
mg
|
Fiber:
1
g
|
Sugar:
17
g
|
Vitamin C:
1
mg
Nutritional information not guaranteed to be accurate
This easy Pie Filling can be made with tart or sweet cherries and is perfect for a no bake pie or any cherry dessert. Plus the filling is gluten-free!
Last Updated on June 30, 2023