This post may contain affiliate links. For more information, read my disclosure policy.
Want to make a cherry pie, but don't have a cherry pitter? Here's how to pit cherries with a straw (and some other easy methods) that will make your life easier this cherry season!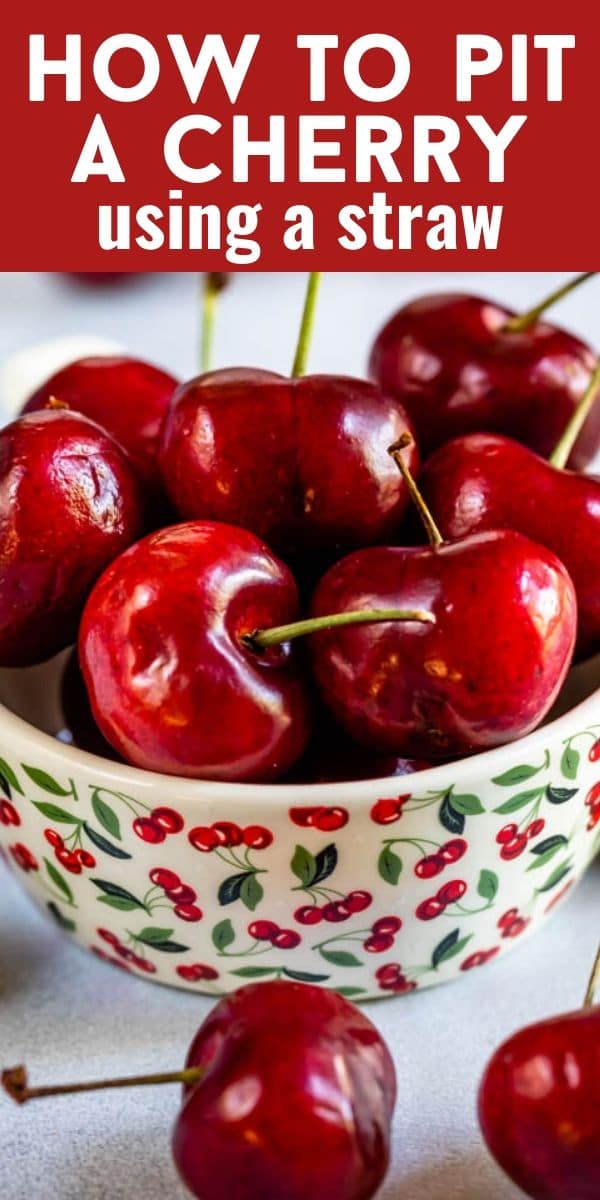 So you've brought home a bunch of fresh cherries and want to make a pie or pie filling, or maybe you just want to enjoy a bowl and not worry about the pits. If you don't have a special tool for pitting a cherry, then you've found the right place.
Today I'm going to teach you my favorite way to pit a cherry without a tool – using a straw. But I'll also talk about a few other easy ways you can get that pesky seed out of the center of this delicious summer fruit.
How to Pit Cherries Tutorial Video
Table of Contents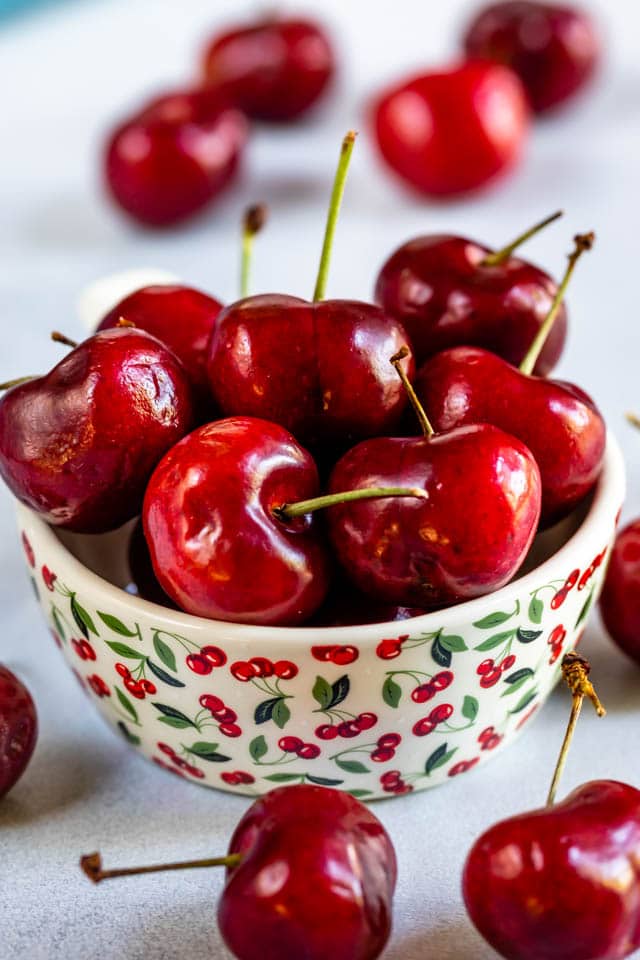 How to Pit Cherries (3 ways)
With a Cherry Pitter tool – this is the easiest method. This is my favorite one.
Using a straw
Using a paperclip, chopstick or even a pastry tip
You're most likely here because you don't have #1, so let me tell you about a pitting cherries hack I learned years ago that I absolutely love.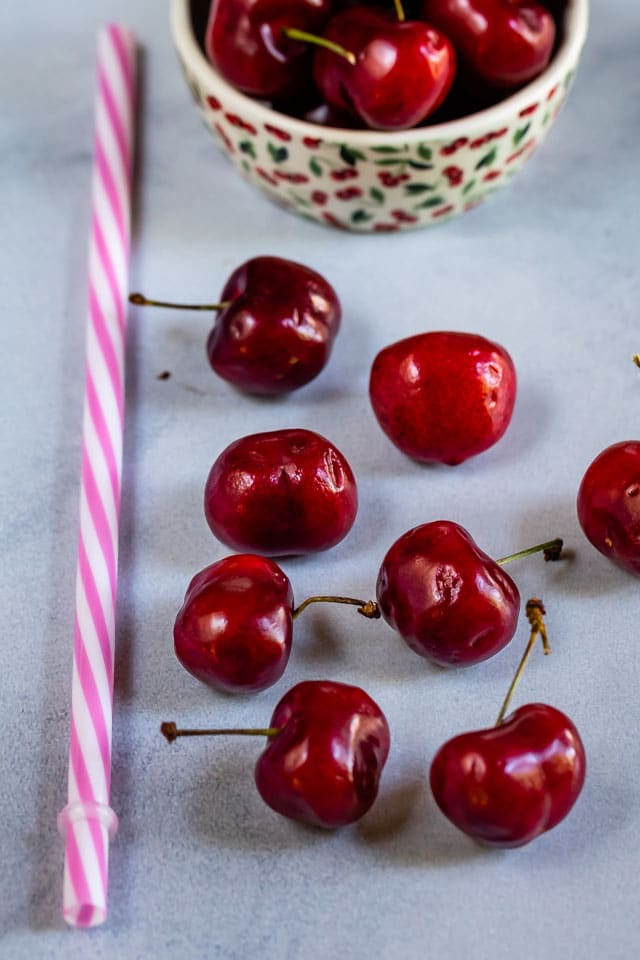 How to pit a cherry with a straw
This is my favorite way to do it!
Tip: use a strong plastic reusable straw. Disposable ones are too flimsy, so I use a straw that comes with one of those reusable cups you get at Starbucks or that comes with your water bottle.
First, remove the stem.
Place the straw over the cherry where the stem was.
Hold the cherry in one hand and the straw in the other and press the straw through the cherry. It will pop the pit right out!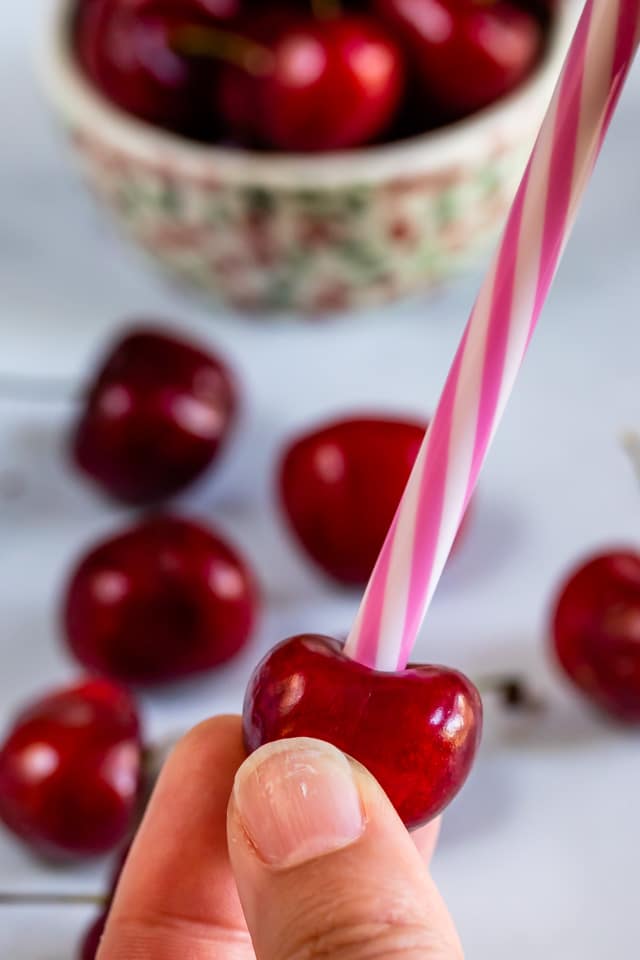 By far, this is the easiest method I've found to pit cherries without a pitter. But! There are other ways you can do it as well.
Pitting Cherries with other tools
Pastry Tip
Use any regular sized pastry tip to pit a cherry by placing it, pointy side up, on the counter. Place the cherry on the tip and press down – the pit will pop right out.
Paper Clip
Unfold the paper clip, press it into the cherry, and dig it around until you find the pit. This method is much messier and will not leave a pretty looking cherry.
Chopstick
This is a cross between the paper clip and straw method: press the chopstick into the cherry where the stem was and (hopefully) the pit will pop out the other end.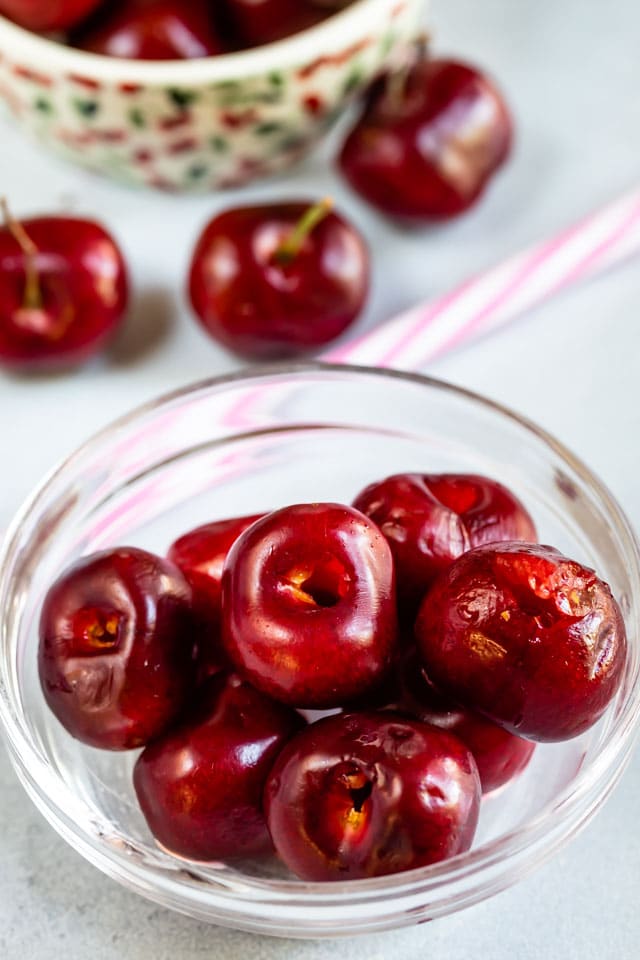 Once you have your pitted cherries you can make the following (recipes coming soon):
Have you made this recipe?
Tag @crazyforcrust on Instagram or hashtag it #crazyforcrust
Last Updated on May 24, 2021