This post may contain affiliate links. For more information, read my disclosure policy.
Want to know a secret? I freeze pretty much every single dessert I make for the blog. Want to know how to freeze desserts too? Well, you're in the right place today.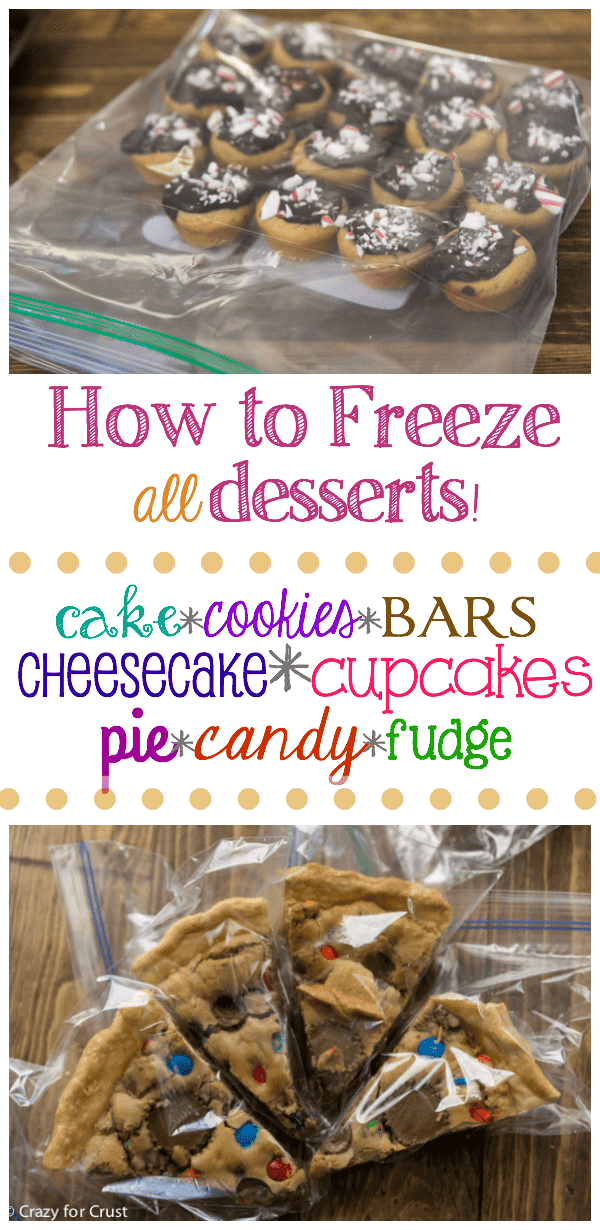 Ah, the holidays. Thanksgiving, Christmas, Hanukkah, New Year's Eve; so many holidays in one short month! If you're anything like me, these are the baking holidays. I make desserts for parties, pot lucks, class treats, gifts, family…and for the blog. In other words I have an abundance of sugar coming out of my kitchen.
If you're like me, you don't like to spend the actual day of the holiday baking. So what to do? Do what I do: bake ahead and freeze! Yes, you can.
Also, if you're like me, you don't want all those leftover cookies and desserts staring you in the face after the holiday is over. After a month of indulgence it's time to watch what you eat, right? What to do? FREEZE IT ALL! Don't throw it away, and if you don't have someone to give it to…freeze it for later.
I freeze dessert, and today I'm going to share my secrets with you. I get lots of questions about how long things last and how to freeze them, I figured it was about time to just write a post about it. Right? Right.
Supplies Needed to Freeze Dessert
Paper towels (the kind that are select-a-size)
Gallon size Ziploc storage bags (they're cheaper than freezer bags and I just don't see the point)
Airtight containers (like tupperware or the Ziploc/Gladware ones)
With those three things, you can freeze pretty much anything.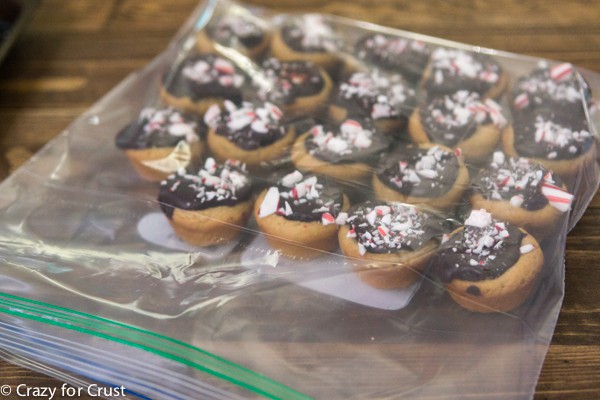 You can freeze almost any dessert easily by following my tips.
How to Freeze Cookies and Bars:
Basic cookies and bars are the easiest things to freeze. Layer the cookies or bars in a single layer inside your gallon size bag. You'll probably fit about 12-15 cookies or bars to a layer (depending on size). Place a paper towel on top (inside the bag) and add another layer. I find that three layers are as many as will fit, and each layer will hold less cookies, so you may need more than one bag. Seal and freeze.
To defrost: Let them set on the counter to come to room temperature. Don't remove the paper towel, that will absorb the moisture as they thaw.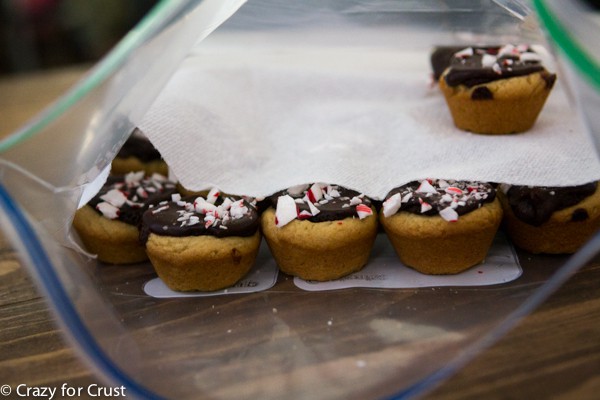 Note: you can also freeze cookie dough. Scoop balls of dough and place them on a wax paper lined cookie sheet. Freeze until firm, then place the balls in a bag or airtight container in the freezer. Pull out a few as needed and bake as directed.
My favorite cookies and bars: Russian Teacakes, Peanut Butter Snickerdoodles, Peanut Butter Brownies
How to Freeze Cheesecake
You can most definitely freeze cheesecake. I find that baked cheesecakes freeze better than no-bake.
Freezing Baked Cheesecakes: you can freeze the entire thing by covering the top with a paper towel and then wrapping it in at least 2 layers of plastic wrap. Freeze slices by wrapping them individually or using sandwich baggies.
Freezing No-Bake Cheesecake: I only recommend freezing no-bake cheesecakes if they are made with cool whip. You can freeze ones made with fresh whipped cream but they may defrost a little bit strange, which is why I only prefer freezing the kind made with whipped topping. I recommend freezing the entire cheesecake (or what's left of it) by wrapping it well with plastic wrap.
If your cheesecake has a topping, like chopped cookies, they may soften in the freezer, so beware.
How to Freeze Frosted Cookies, Bars, and Cupcakes:
Yes, you can freeze things with frosting! This method works with anything that's gooey and/or you can't stack when room temperature for fear of crushing the decorations.
Place the items in a single layer on a cookie sheet. Place the cookie sheet in your freezer. (Remember to use a pan that will fit in your freezer!) Let them freeze for about 30 minutes to one hour, then take them out of the freezer. Large airtight containers work best for cupcakes and you can stack frozen frosted cookies and bars between paper towels in gallon size bags like regular cookies/bars. Refreeze until needed.
To defrost: If your items are in a single layer in an airtight container or in one layer in a bag, just leave them on the counter to thaw. If you've stacked the items, place them in a single layer on a baking sheet to thaw so that the frosting doesn't smudge when it gets to room temperature.
My favorite frosted bars and cupcakes: Triple Lemon Cupcakes, Perfect Sugar Cookies, Coconut Sugar Cookie Bars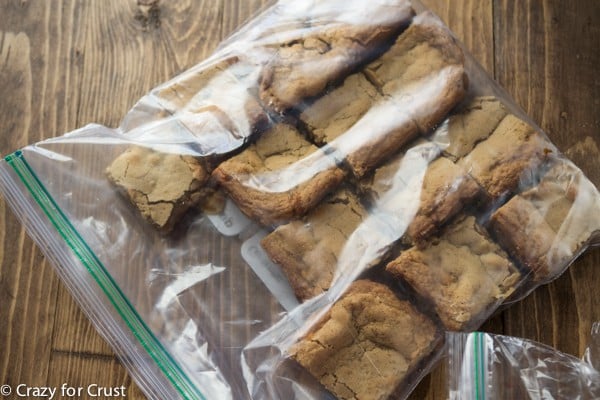 How to Freeze Candy and Fudge
Yes, I freeze fudge. I have a huge bag from last spring still in my freezer!
Layer the candy or fudge in a single layer inside your gallon size bag. Place a paper towel on top (inside the bag) and add another layer. Keep going until your bag is full. Note: if you're dealing with small truffles, you might want to use a quart size bag instead.
To defrost: Let them set on the counter to come to room temperature. Don't remove the paper towel, that will absorb the moisture as they thaw. The only issue I have with freezing chocolate dipped candy is that it is sometimes less shiny after thawing. So, if the truffles are for a gift, you may not want to freeze them. But if you just have extra after a marathon baking session, have at it. Then you can have a truffle whenever a craving hits.
My favorite candies and fudge: Oreo Truffles, Pecan Pie Fudge, Gingerbread Fudge, Sugar Cookie Bark
How to Freeze Muffins, Quick Breads, Pancakes and Waffles
Frozen breakfast foods are the best – make a big batch on the weekend and have breakfasts – fast – for the week. I often pop a frozen slice of pumpkin bread into Jordan's lunchbox and by lunch it's defrosted!
Muffins: Freeze them like you would cupcakes, in a single layer on a cookie sheet. Once they're frozen you can throw them all in a large gallon size bag, seal, and store in the freezer. Just take a muffin out as you need one and either let it come to room temperature or microwave it for about 30 seconds.
My favorite muffins: Fruity Pebble Muffins, Pumpkin Cream Cheese Muffins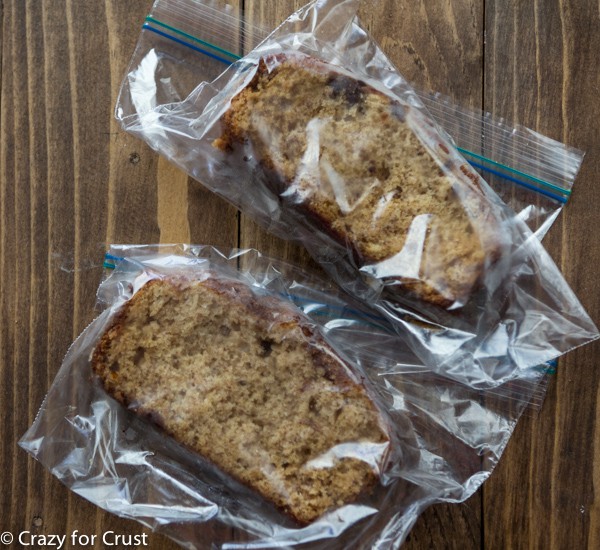 Quick Breads: Slice the loaf of quick bread and place each slice in a sandwich size ziploc bag. Seal and freeze. Take one bag out at at a time, as needed. Either let it come to room temperature, or microwave for about 30 seconds to thaw. The only issue you'll have is if the bread is glazed, but melted glaze from microwaving is still really good.
My favorite quick breads: Mom's Banana Bread, Healthy Banana Bread, Pumpkin Bread
Pancakes and Waffles: I like to layer my pancakes and waffles between pieces of paper towel. Then stack them up and place them in a bag and freeze. That way they're easy to separate, because the paper towel keeps them from sticking to each other. Pancakes can be microwaved and I like to reheat waffles in the toaster. (This also works for french toast!)
My favorite pancakes: Cinnamon Sugar Pancakes, Sprinkle Pancakes, and Wheat Germ Pancakes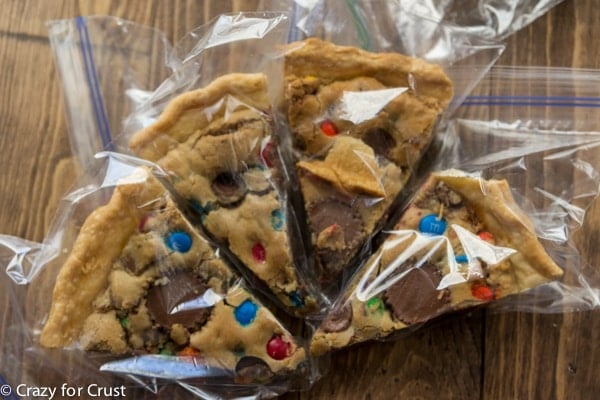 How to freeze Pie and Cake
There are two ways to do freeze a cake or pie:
Freeze them whole. Let them cool completely. Wrap them well in plastic wrap and freeze. To defrost, unwrap and let them thaw in the refrigerator. (For a frosted cake you probably want to freeze it first on a cookie sheet, then wrap it in plastic.)
Freeze the slices. Slice your pie or cake. If your slices are firm (like a cheesecake or a cookie pie) place each in a ziploc sandwich bag, seal, and freeze. If your slices are messier, like a cream pie, place the slices on a cookie sheet and freeze for 30-60 minutes, then place each in a bag and re-freeze.
There are some caveats: I have more success freezing firmer pies, like chess or cookie pie, than I do pudding pie, but I've frozen them all. It's just a matter of how pretty they look once defrosted.
If you're serving for a party, I suggest not freezing a pudding pie or a pie with whipped cream. Make any topping just before serving. Pies and cheesecakes made with cool whip freeze and defrost well.
My favorite pies, cakes, and cheesecake: Cookies 'n Mint Chip Cheesecake, Key Lime Cheesecake, Peanut Butter Chess Pie, Toffee Pecan Pie
Shopping list for successful freezing desserts:
Have you made this recipe?
Tag @crazyforcrust on Instagram or hashtag it #crazyforcrust
Last Updated on December 21, 2020