Fruity Pebble Pudding Cookies
This post may contain affiliate links. For more information, read my disclosure policy.
Hey, guess what? You can now Follow my blog with Bloglovin!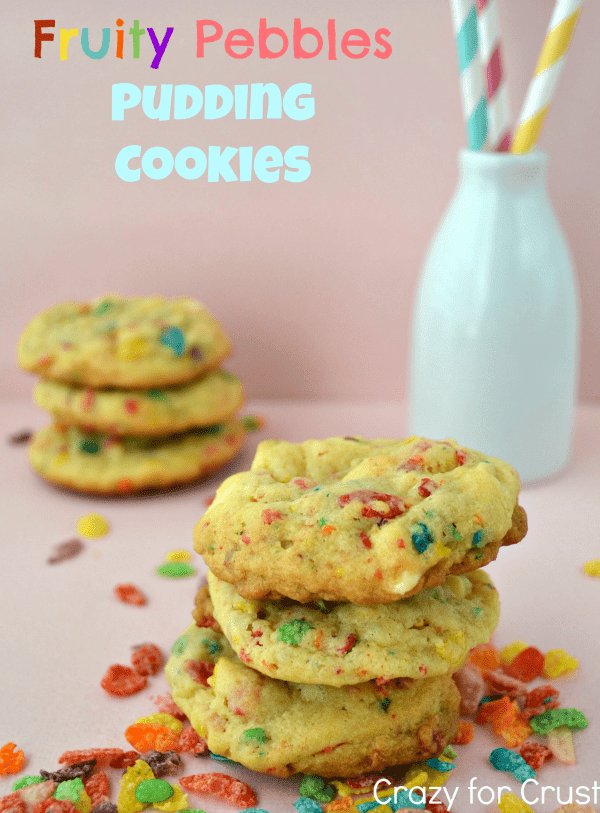 Usually I'm really good at writing posts ahead of time. My goal is to have Sunday nights post written by Friday afternoon. Then on Mondays I do Crazy Sweet Tuesday and another post for the week, and so on.
On Friday last week, I was busy with Online BlogCon and preparing for the teachers' luncheon I'm coordinating for next week, so I got my photos edited…but no content into the post, figuring I'd write some witty, funny, Dorothy-content on Saturday, sure to make you laugh your heads of an shake your head and say "that girl is crazy!"
Yeah. That didn't happen.
Instead, I spent Saturday doing laundry. Eight hours of laundry. And I still have more than 10 garbage bags zip-tied in my garage. Of more laundry.
Jordan would prefer me not to really discuss what went down on Saturday. So I won't, but you can probably guess. It involved laundry. And hair.
I'm still dealing with it, and will be for the next week or more.
Sigh.
So will you forgive me for not writing all funny? Can the awesomeness of these cookies speak for themselves?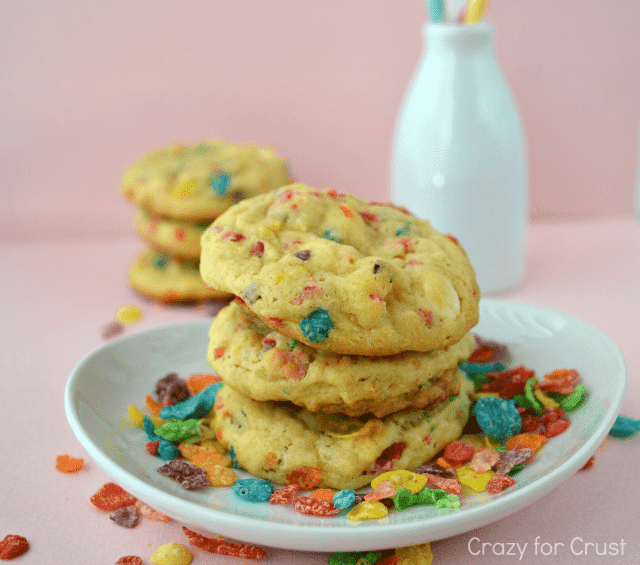 I made pudding cookies (again). They are my absolute favorite kind of cookie. I still have another version to share with you next week!
I made these for Jordan's cheerleading squad. So I wanted to make them kid-ified. What's more kid than Fruity Pebbles? I, for one, love them. I love all sugar cereal. I wondered what they'd be like in a cookie. I googled it, and it's been done, in cake-mix cookies. So I decided to try them in pudding cookies.
And what the girls didn't eat? I did. Ohmygodtheyweresogood.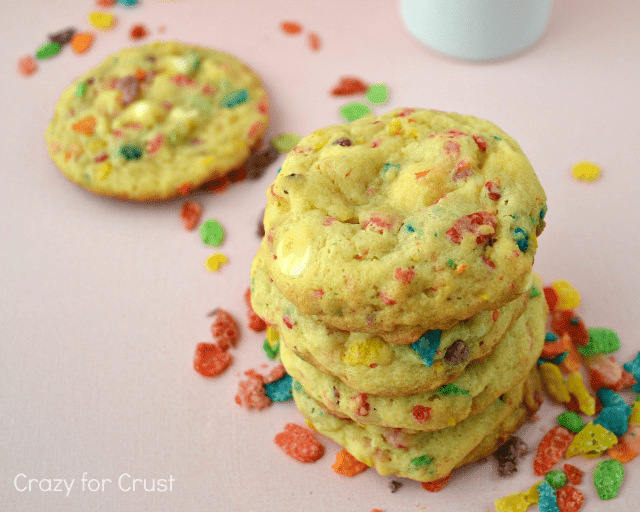 Waaaaaay better than vacuuming for 4 hours. Or doing 1,000,000,000,002 loads of laundry. Or combing. *Shudder*
So make these. You'll like them. If you don't, mail them to me. I'll eat them. 🙂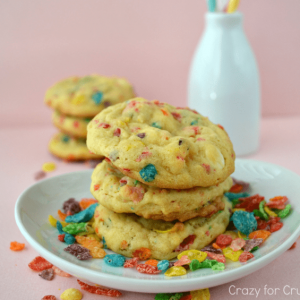 Fruity Pebble Pudding Cookies
Ingredients
1 ½ sticks butter
1 cup granulated sugar
1 (3.4 oz) package instant vanilla pudding mix
2 eggs
1 teaspoon vanilla extract
1 tsp baking soda
2-1/4 cups flour
2 cups Fruity Pebbles cereal
1 cup White Chocolate Chips
Instructions
Preheat oven to 350°. Line cookie sheets with parchment paper and set aside.

Whisk together baking soda and flour and set aside.

Cream together butter and sugars. Add the pudding package and beat until well blended. Add eggs and vanilla extract. Slowly add the flour and mix until just combined. Stir in Fruity Pebbles and white chocolate chips.

Scoop 1" balls and place on your cookie sheets. Bake for 10-12 minutes. Let cool.
Thanks for reading!
This post may be linked to: Chef in Training, Trick or Treat Tuesday, Cast Party Wednesday, Sweet Treats Thursday, Chic-and-Crafty, Tastetastic Thursday, Sweet Tooth Friday, I'm Lovin' it Fridays, Sweets for a Saturday, A Well-Seasoned Life, Strut your Stuff Saturday, Weekend Wrap Up Party, Weekend Potluck, Sundae Scoop Link Party, and all of these too!