This post may contain affiliate links. For more information, read my disclosure policy.
This Cherry Dump Cake recipe is an easy dessert with just 5 ingredients! It combines cake mix with cherry pie filling and blueberry pie filling for a delicious cake that's so quick to make. Everyone LOVES this easy cake recipe.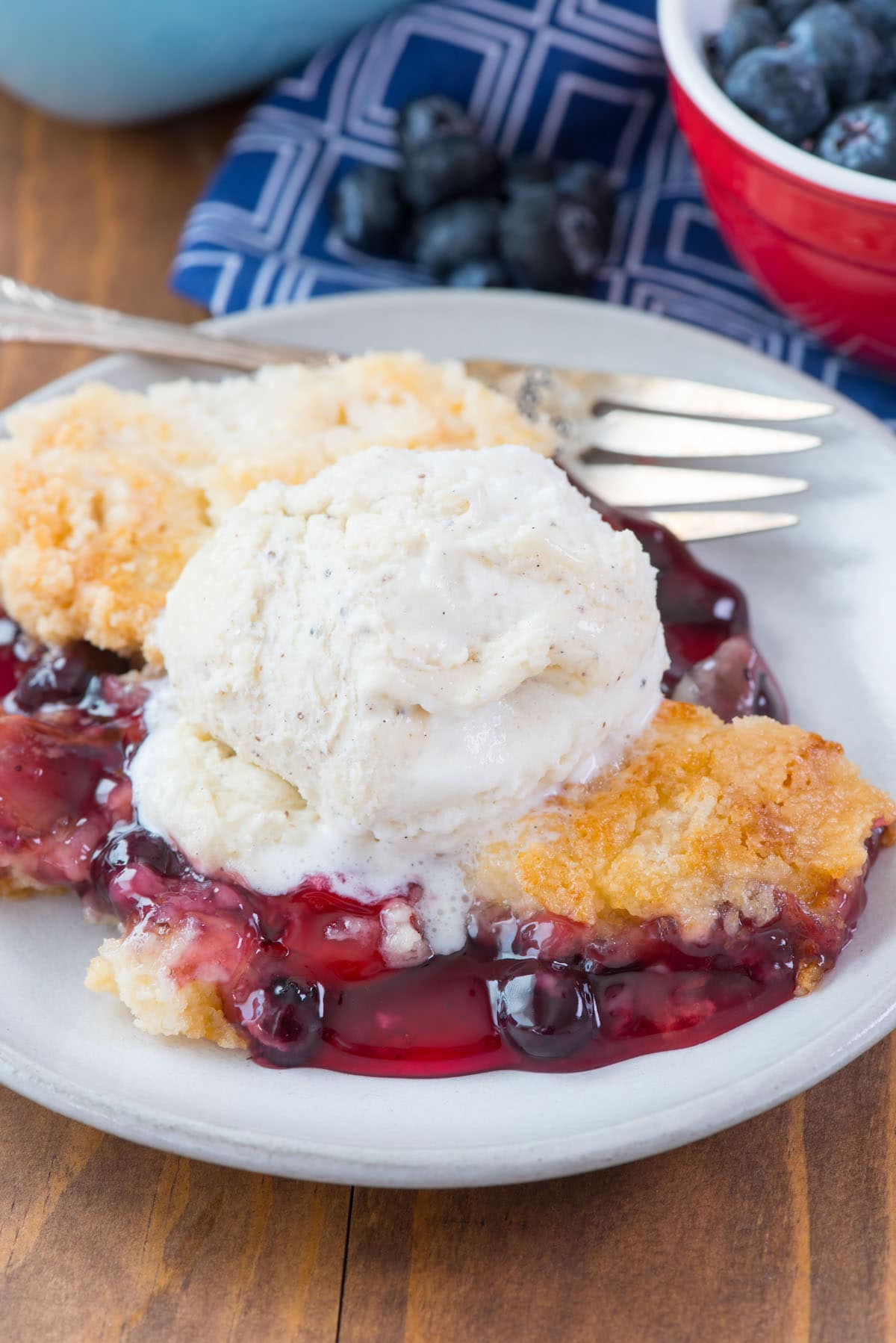 BEST Cherry Dump Cake Recipe
A dump cake recipe with no clean-up and only five ingredients? I am signing all of us up for this one because it doesn't get any easier than this.
This dump cake recipe with cherry and blueberry is so easy you'll have it memorized after the first time you try it. Even better, you can easily switch up the ingredients to make all kinds of cakes!
I just love dump cake recipes, and I've shared more than a few over the years, but when it's summer, I am all about this cherry blueberry dump cake recipe. If you want an easy recipe, dump cake is the way to go.
Why We Love This Recipe
Dump cakes are the perfect summer dessert because they're like cobblers or crisps in terms of how easy they are to make. They feed a crowd, and everyone loves them!
I like to add slivered almonds because cherries and almonds are the best flavor match.
You can serve it warm from the oven, at room temperature, or cold. My favorite is warm because when you add a scoop of ice cream, it melts and combines with the warm fruit filling. It's heavenly.
This recipe for dump cake is super versatile – make it with any fruit you like! We love this version of cherry dump cake with blueberries because the combination is so good.
Ingredients in Cherry Dump Cake
Cherry pie filling – This is what makes ita cherry dump cake
Berries – You can use fresh berries OR blueberry pie filling
Sliced almonds – These are optional but I like the nice crunch
Yellow cake mix – or you can use white cake mix
Unsalted butter – for the topping, this melts and makes the magic happen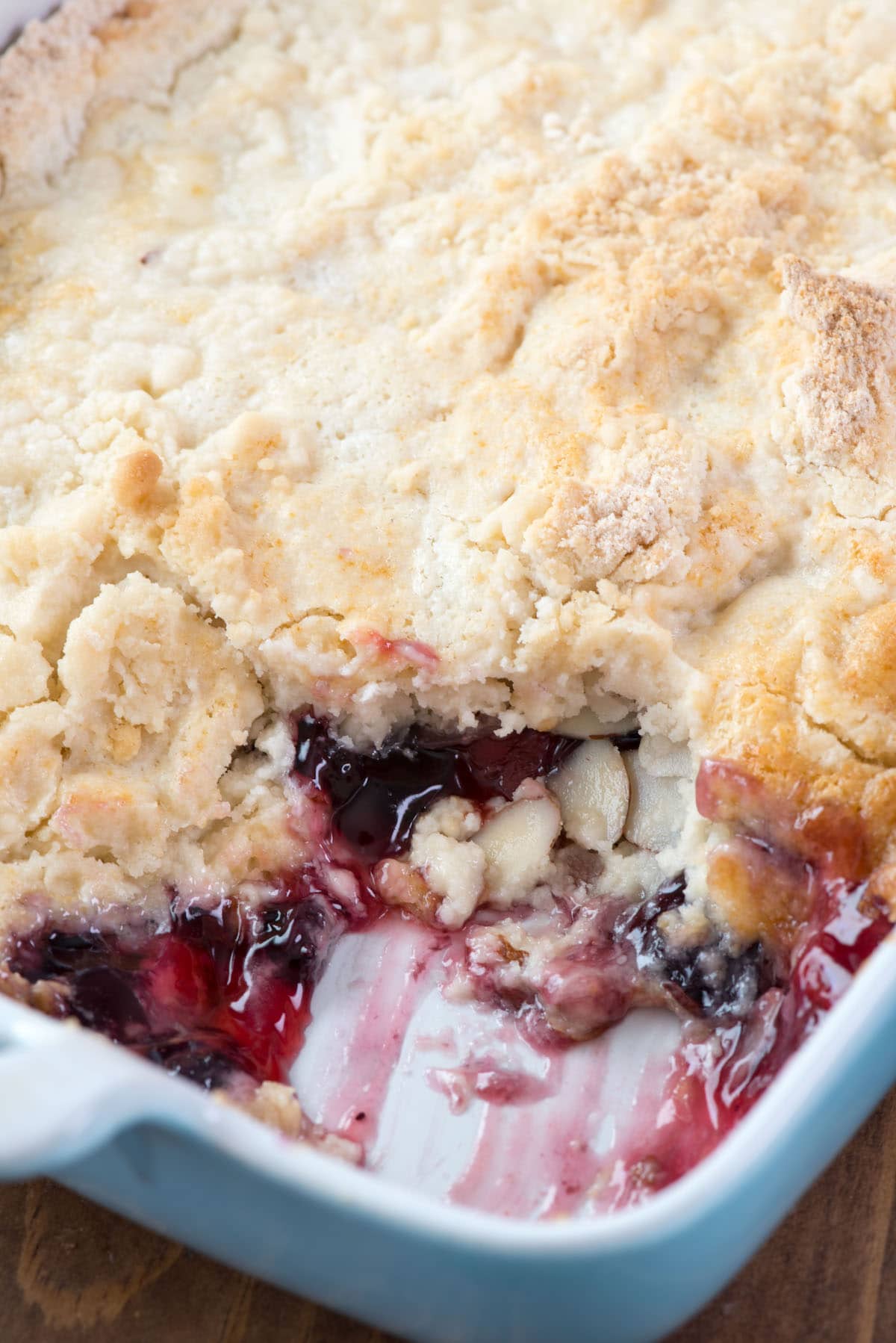 Variations
You can basically use any flavor of cake mix and fruit pie filling that you like!
Try a chocolate cake mix with all cherry pie filling or lemon cake mix with strawberry filling. There are so many different kinds of cake mixes available you could make it a different way every time and never make the same one twice!
Use any kind of nuts in place of almonds, or swap chocolate chips, or omit!
Use my homemade cherry pie filling or blueberry pie filling in place of canned.
Swap fresh fruit for half of the filling – use at least one can of pie filling and then 2-3 cups fresh fruit.
There are recipes from scratch, but dump cake recipes using cake mixes are seriously easy and so delicious. Easy and delicious is the kind of recipe I love the most!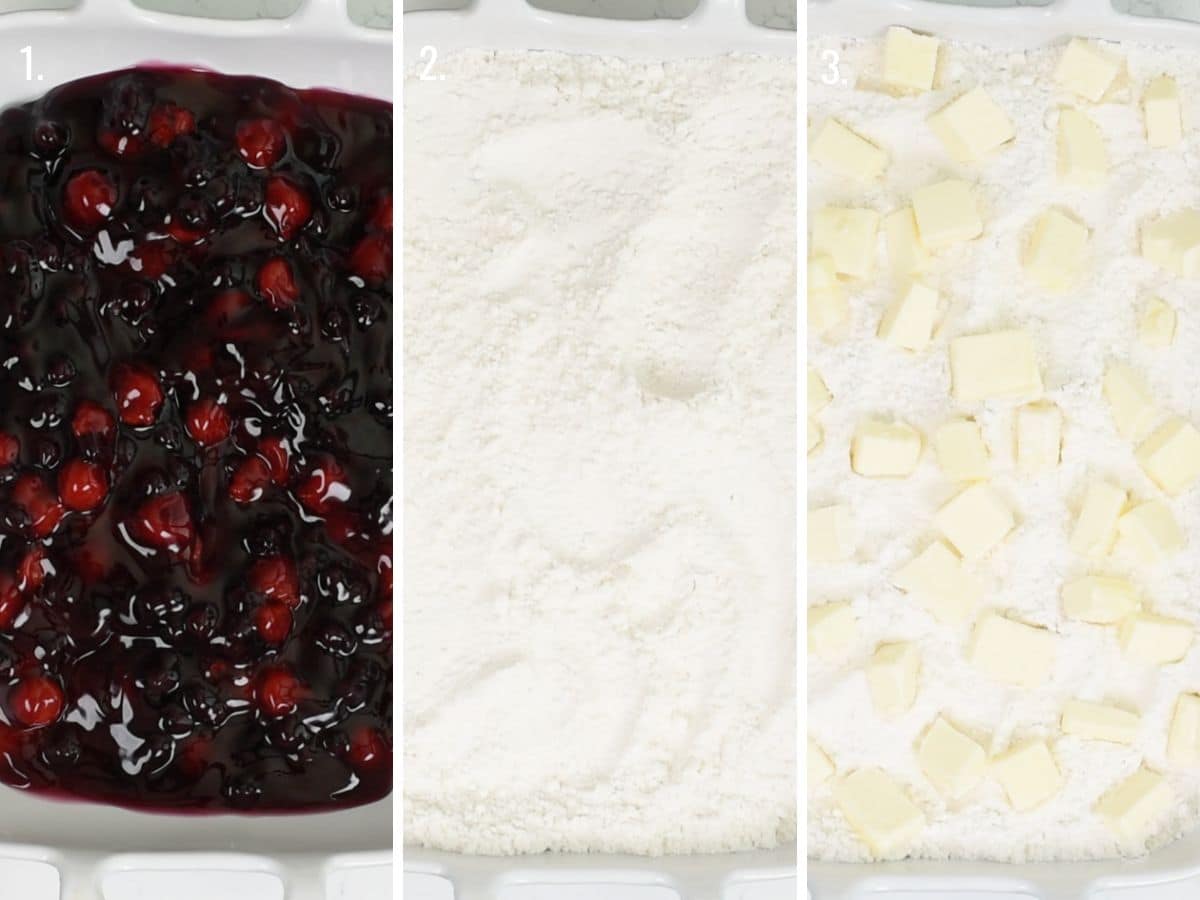 How to make Cherry Berry Dump Cake
Coat a 9×13" baking dish with cooking spray. Or you can use a 2.8L casserole dish for this recipe, too.
Pour both kinds of pie filling into the baking dish. Sprinkle the nuts over the top, and then sprinkle the dry cake mix in an even layer over the top of the nuts.
Cut the butter into small pieces and place them evenly over the top of the cake mix. Be sure to sprinkle them evenly so that when the butter melts, you don't end up with spots that are still powdery cake mix.
Bake the dump cake for 30 to 40 minutes at 350°F or until the filling is bubbling hot and the edges of the cake are golden.
Serve it warm with scoops of ice cream or whipped cream on top.
FAQs
What is the difference between cobbler and a dump cake?
A traditional cobbler is made with a biscuit dough topping, while a dump cake is made with dry cake mix sprinkled over the top.
Why is a dump cake called a dump cake?
Because you dump all of the ingredients in a pan and bake them! You don't need to do any mixing because the filling and cake mix topping are layered in the pan.
Can I use fresh fruit?
You can use fresh fruit with pie filling. I don't recommend using all fresh fruit because the filling won't have the right consistency. So, for this recipe, you could pair cherry pie filling with fresh blueberries. Just make sure to at least use one can of pie filling and about 2 cups fresh fruit.
How do you know dump cake is done?
The filling should be bubbling hot, and the edges of the cake should be lightly golden brown.
What do I do if the top is still powdery?
To avoid this, be sure to place the butter pieces evenly over the top of the cake mix. If you notice while the cake is baking that parts of the topping are still powdery, you can add more butter pieces to the dry spots while it finishes baking.
Have you made this recipe?
Leave a 5 start rating by clicking the stars below.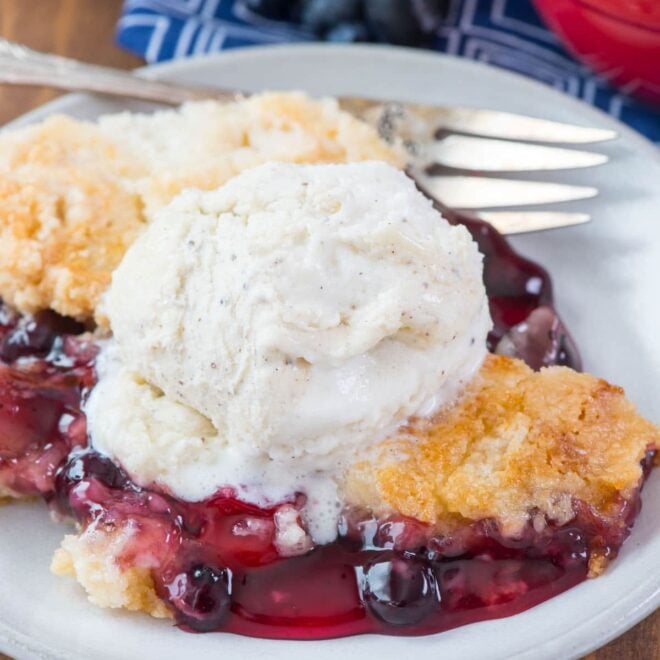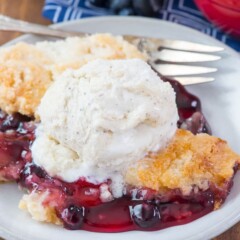 Cherry Berry Dump Cake
Cherry Berry Dump Cake – this easy cobbler recipe has just 5 ingredients! It starts with your favorite cans of pie filling: cherry and blueberry and is topped with a cake mix. EVERYONE loves this easy cake recipe.
Instructions
Preheat oven to 350°F. Spray a 2.8L casserole dish or 9×13" pan with cooking spray.

Pour the cherry and blueberry pie fillings in the bottom of the dish. Sprinkle the nuts over the fruit. Open the cake mix and sprinkle the power evenly over the top.

Slice butter into small pieces and sprinkle evenly over the top of the cake mix. Make sure to make it even so that it all melts into the cake mix.

Bake for 30-40 minutes until the fruit starts to bubble up around the edges and the edges start to turn golden. I baked mine in a casserole dish that was deeper than a 9×13" pan so it took 40 minutes. Different pans will have different baking times, so start checking after 30 minutes.

Serve with ice cream or whipped cream. Store covered in refrigerator.
Recipe Nutrition
Serving:
1
serving
|
Calories:
168
kcal
|
Carbohydrates:
2
g
|
Protein:
2
g
|
Fat:
18
g
|
Saturated Fat:
9
g
|
Polyunsaturated Fat:
2
g
|
Monounsaturated Fat:
6
g
|
Trans Fat:
1
g
|
Cholesterol:
36
mg
|
Sodium:
3
mg
|
Potassium:
64
mg
|
Fiber:
1
g
|
Sugar:
0.4
g
|
Vitamin A:
420
IU
|
Vitamin C:
0.01
mg
|
Calcium:
26
mg
|
Iron:
0.3
mg
Nutritional information not guaranteed to be accurate
Dump Cake Recipes Using Cake Mixes:
Cherry Berry Dump Cake is an easy dump cake recipe that's the perfect cobbler for any fruit and pie filling – perfect with ice cream!
Last Updated on January 23, 2023