This post may contain affiliate links. For more information, read my disclosure policy.
Fireworks sugar cookie cake can be your star spangled, patriotic dessert on Memorial Day or the 4th of July! This easy cookie cake recipe is full of red, white, and blue deliciousness!
I am SO ready for the Fourth of July, are you? This Fireworks Sugar Cookie Cake is the PERFECT dessert to serve for the holiday!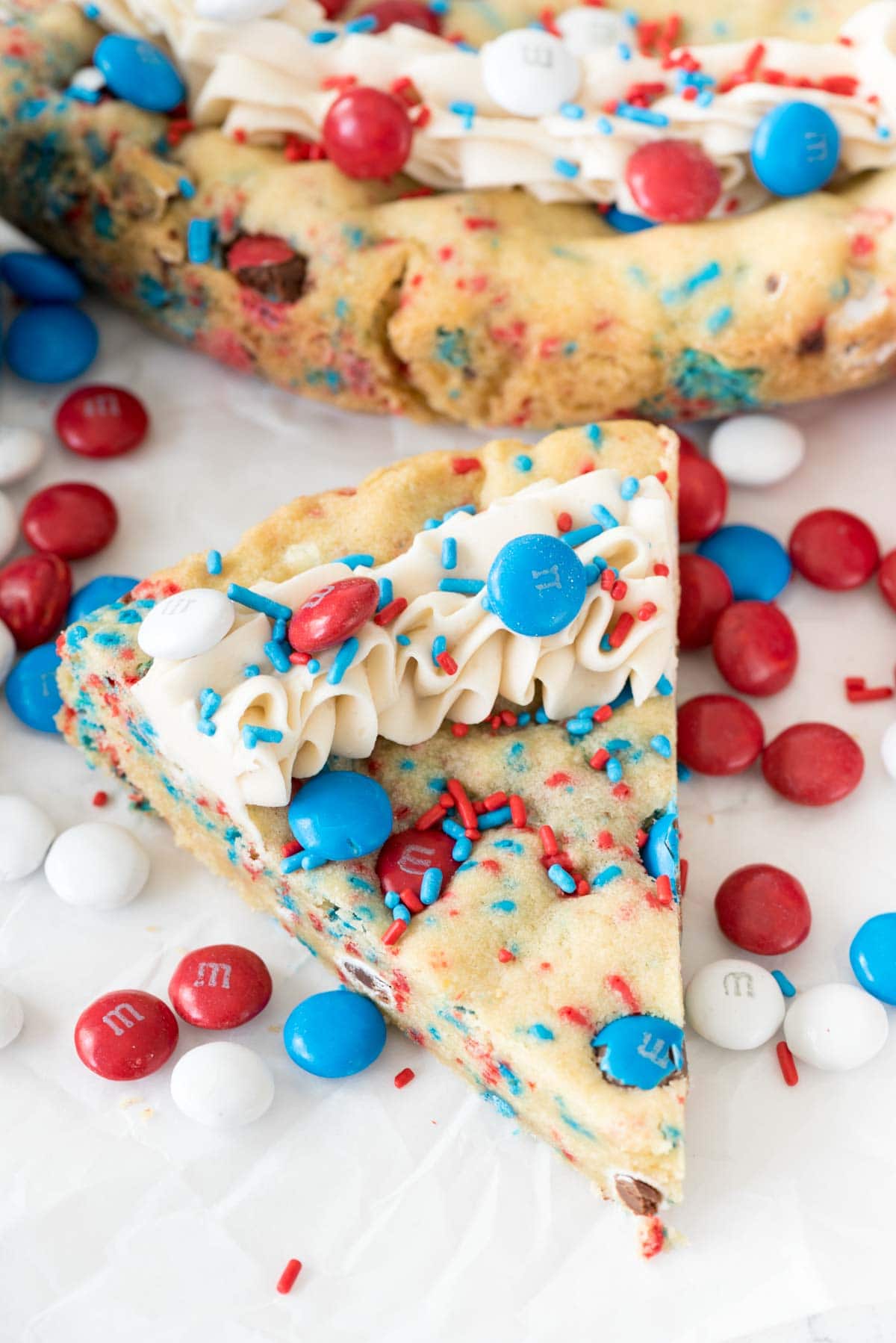 Easy 4th of July Cookie Cake
I swear, something about red, white, and blue food makes me happy. Is it the color combo? The promise of a holiday that doesn't require presents? The knowing it'll be a day of endless swimming and barbecue and fun? Or should I lie and say it's because it's our day of Independence?
Honestly, I think it's a little of all those things, but mostly the 4th of July means that it's SUMMER. The entire month is fun, what with Mel's birthday and our anniversary and all the other little things here and there. (Please remind me of this statement come July 31 when I'm all is it time to go back to school yet?)
Jordan got out of school last week (happy dance) but you know the BEST part of the entire end-of-school was? Returning her darn violin. That thing was my nemesis! She was so excited to start playing back in September…and then she actually had to, you know, learn to play it. Once she realized it was more than just looking cool holding an instrument the thing became a glorified door stop/middle of the night road block/hours of whining.
I returned it to the store a few week ago and literally jumped for joy. Then I went to Target and bought red, white, and blue M&Ms because it's SUMMER!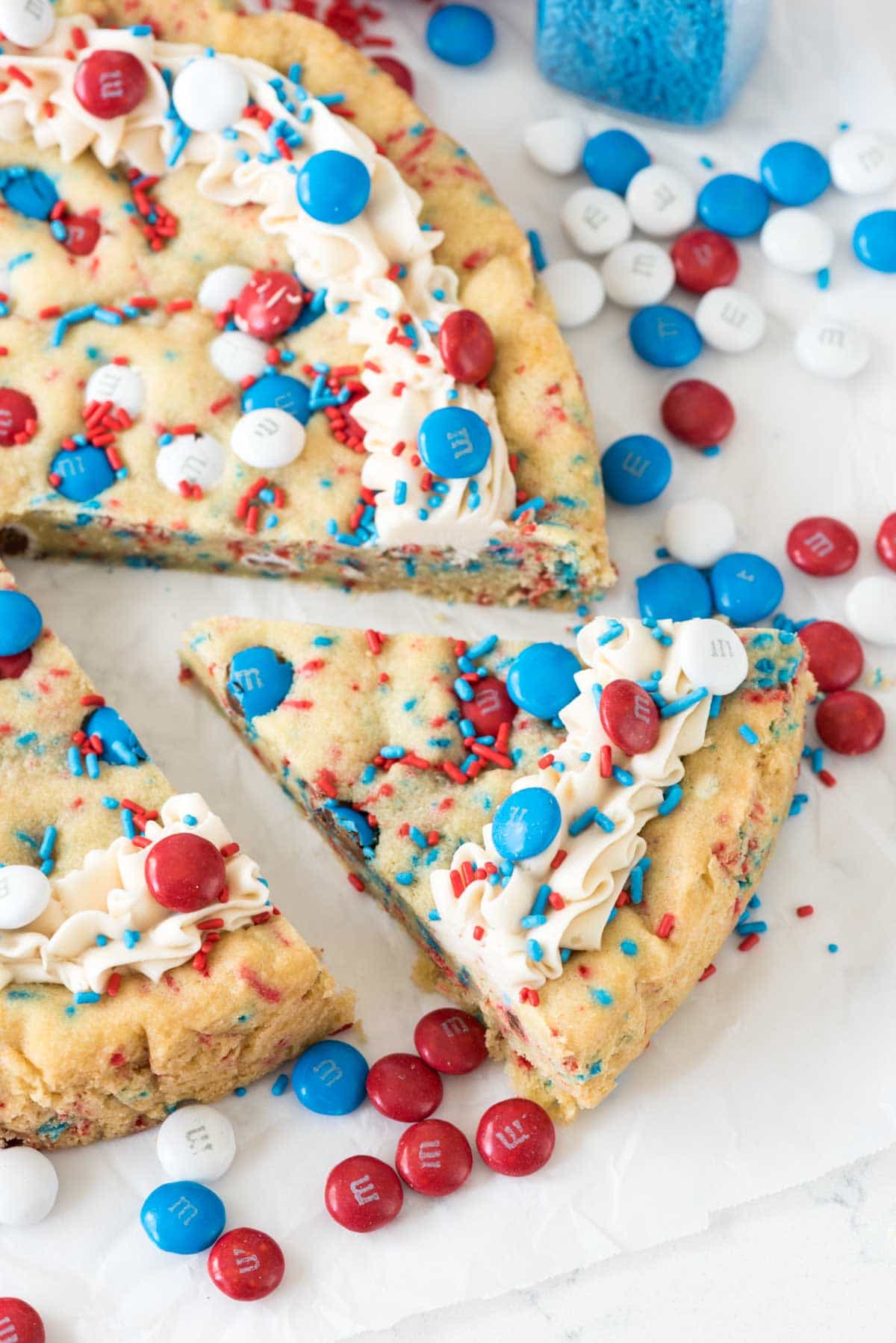 You're probably like, gosh, this looks familiar. Fireworks cookies…didn't she do that before? Well, yes. Yes I did make those last year. But they were different. And cookies, not a cookie cake recipe. And also, y'all liked the explosion of M&Ms and sprinkles, so I figured, why not do it again?
Plus, the pictures of my fireworks sugar cookie cake make me super happy, with all the red, white, and blue and all. Speaking of fireworks, my blogger friend, Becca, has a summer vegetable orzo pasta salad recipe nicknamed Fireworks orzo salad, because of the explosion of color and flavors. And Angie has a recipe for a 4th of July fireworks cake roll!
This is my favorite sugar cookie recipe. I've used it for bars and cookie cups and snickerdoodles. However you make these cookies, they're SO GOOD. However, I think my favorite way to eat them is like this: with chocolate, baked in a pan. The dough is soft and tender and gooey…I could easily eat the entire cake by myself.
What makes this fireworks sugar cookie cake recipe so special?
Lots of butter and sugar (equal parts), as well as cream of tartar. Cream of Tartar is a leavening agent that helps keep cookies soft and tender, and when combined with baking soda it makes it so they are chewy and soft, all in the same bite. I also use a full tablespoon of vanilla extract to give it lots of extra flavor…and you can never have too many M&Ms!

Plus, the cookie cake recipe is easy. You can make it even if you're not a seasoned baker. Pressing it into a 9″ cake pan makes it easy to get a soft not-over baked cookie and the frosting adds a perfect sweet finish.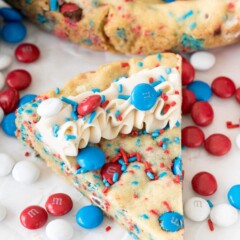 Fireworks Sugar Cookie Cake Recipe
Fireworks Sugar Cookie Cake is the perfect 4th of July desserts! Add M&Ms and sprinkles to my perfect sugar cookie recipe and bake it in a cake pan!
Ingredients
For the Cookie Cake:
¾

cup

(170g) unsalted Challenge Butter

softened

¾

cup

(150g) granulated sugar

1

large egg

1

tablespoon

vanilla extract

½

teaspoon

baking soda

½

teaspoon

salt

½

teaspoon

cream of tartar

2

cups

(248g) all purpose flour

1

cup

M&Ms

Use patriotic M&Ms for the 4th of July

½

cup

"jimmie" sprinkles

use red and white for the 4th of July
For the frosting:
3

tablespoons

(38g) unsalted butter

softened

1 ½

cups

(170h) powdered sugar

1

teaspoon

vanilla extract

⅙

teaspoon

salt

2

tablespoons

(30ml) heavy whipping cream or milk
Instructions
Preheat oven to 350°F. Line a 9" round cake pan with foil and spray with nonstick cooking spray.

Make the cookie cake: Beat butter and sugar with a hand or a stand mixer until creamy. Beat in egg and vanilla, then mix in baking soda, salt, and cream of tartar. Slowly mix in flour. Stir in M&Ms and sprinkles.

Press batter into prepared pan, pressing more M&Ms onto the top as desired. Bake for 19-22 minutes or until the edges are just turning a light golden brown. It's better to under bake this dough than over bake it. The cake will continue cooking a bit as it cools so err on the side of underdone for the best tasting cookie. Let it cool completely before frosting.

Make the frosting: beat butter until smooth, then slowly beat in powdered sugar until crumbly. Add salt and vanilla, then add 1 tablespoon of heavy whipping cream. Beat until smooth, adding more a teaspoon at a time to get a spreadable texture.

To frost: use a 1M tip and a ziplock or piping bag to decorate the cookie cake. Top with more sprinkles and M&Ms.

Store loosely covered for up to 2 days.
Nutritional information not guaranteed to be accurate
Red Velvet Cookie Cake (use red, white, and blue sprinkles!)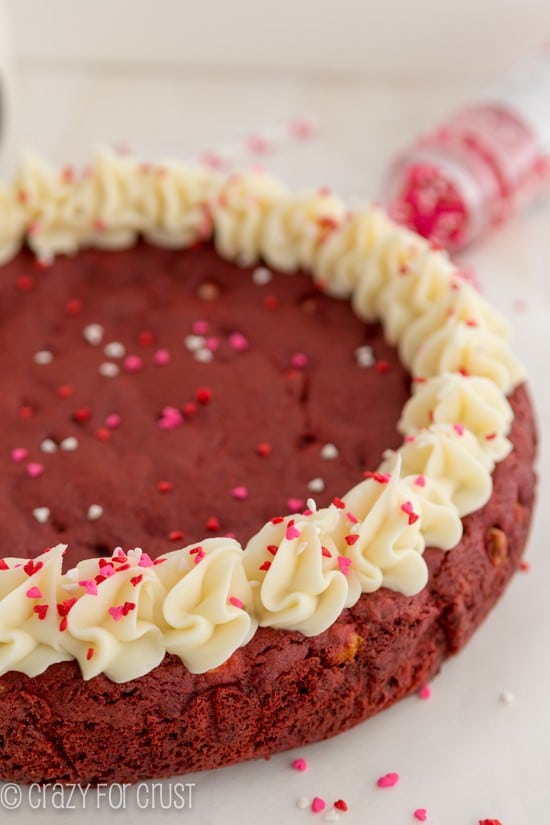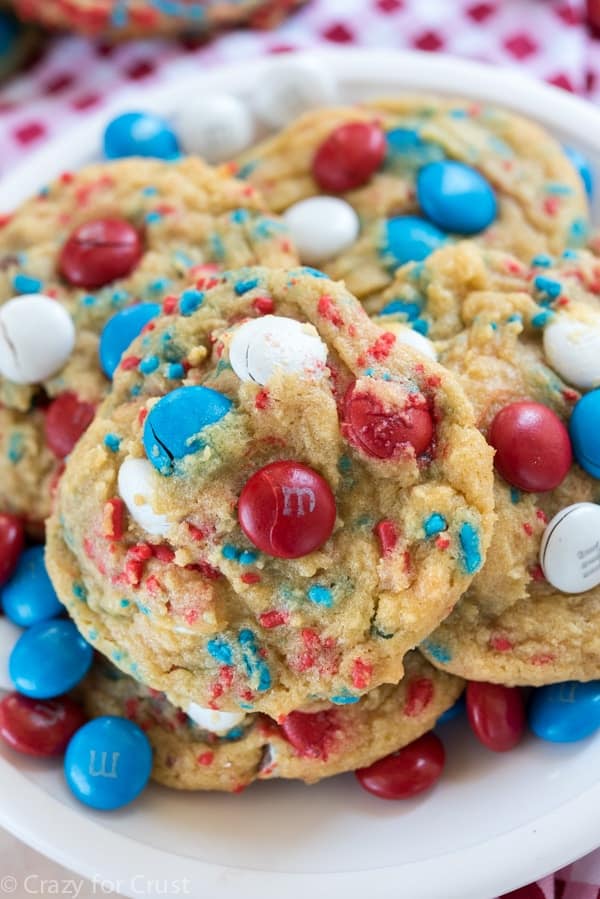 Chocolate Chip Cookie Cake (use Patriotic M&Ms!)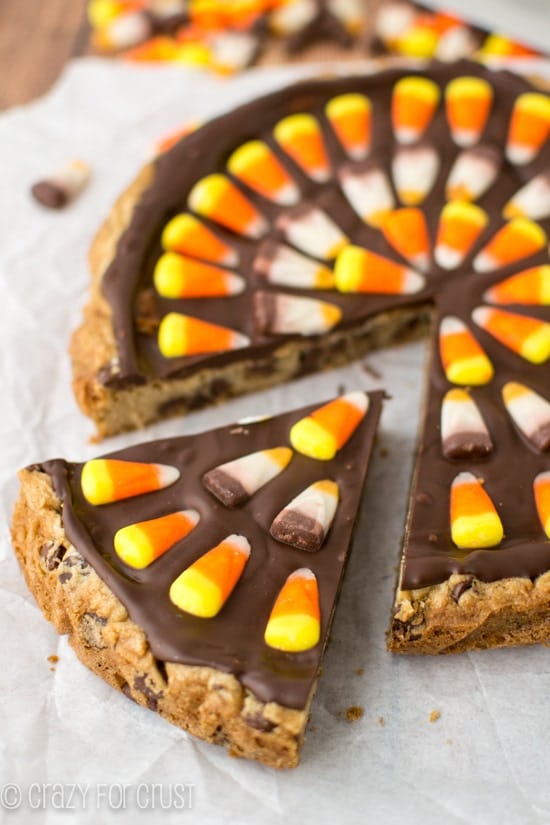 Last Updated on June 16, 2023