This post may contain affiliate links. For more information, read my disclosure policy.
Make my Homemade Caramel Recipe, and you'll never go back to store-bought again! This is an easy caramel made with just a few simple ingredients. It has the best soft texture and amazing caramel flavor and keeps for up to two weeks.
It's great as a sauce for ice cream, or you can let it soft set as a frosting for brownies or bars. It's the PERFECT caramel!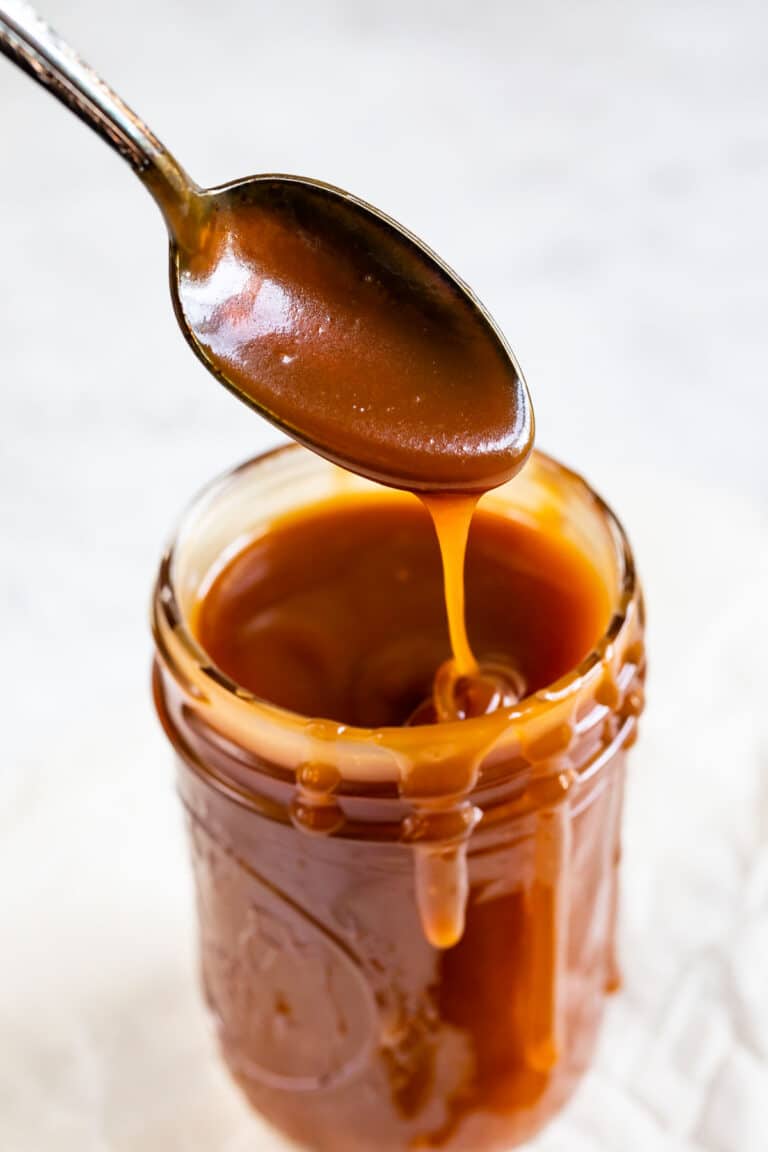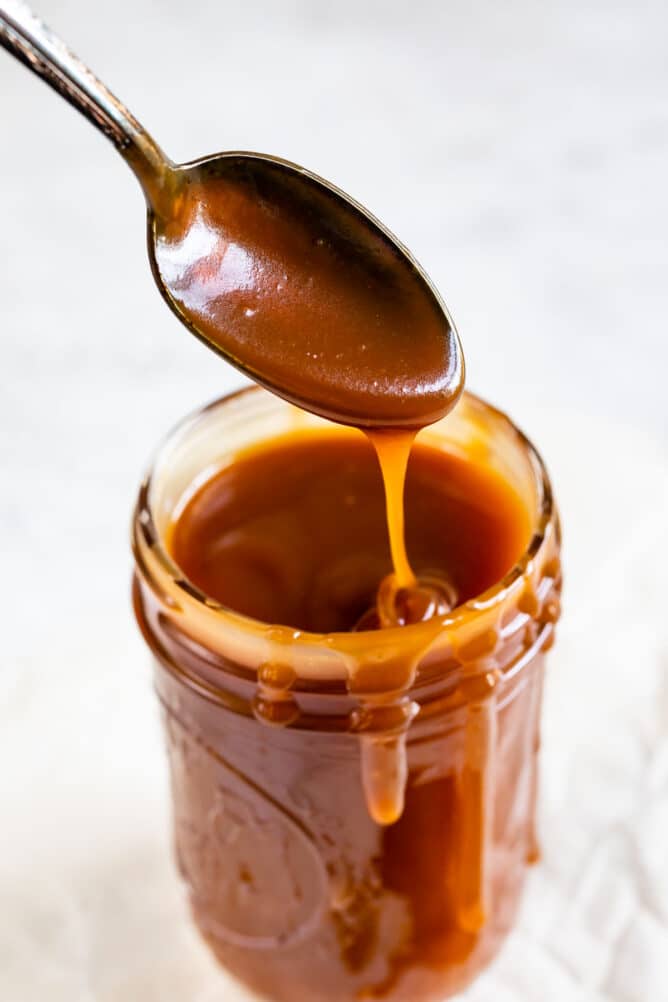 Easy Caramel Recipe Video
The Best Homemade Caramel Recipe
For so long, I thought caramel sauce was super complicated to make at home, and I would just buy jars of it at the store. Don't get me wrong, there's nothing wrong with using a shortcut, but once I learned how to make caramel sauce from scratch, I haven't gone back to the premade stuff.
It's actually easy to make, and with a few tips and tricks, it's practically foolproof! Wait until you try it – you'll be team homemade caramel, too.
You only need five ingredients to make, and you might already have all of them on hand.
Once it's done, it has the best soft texture. In other recipes I've seen, people use corn syrup to achieve this soft texture, but the one I'm sharing is without corn syrup, and you still get that velvety soft-set caramel that everyone loves.
Once you know how to make it, there are different ways to switch it up with other ingredients. I'm sharing some of my favorite variations later in the post.
You will love this caramel sauce recipe for all the things! Spoon it over slices of cake, bowls of ice cream, or serve it as a dessert dip with sliced apples. Or, enjoy by the spoonful straight from the container – I won't tell.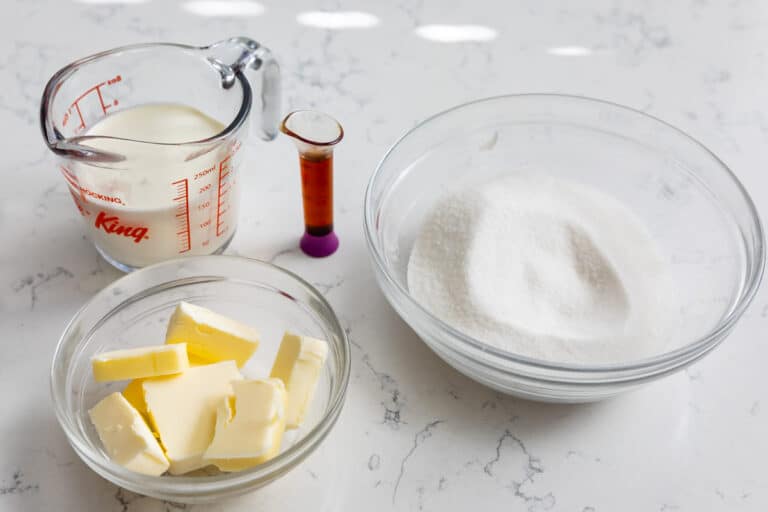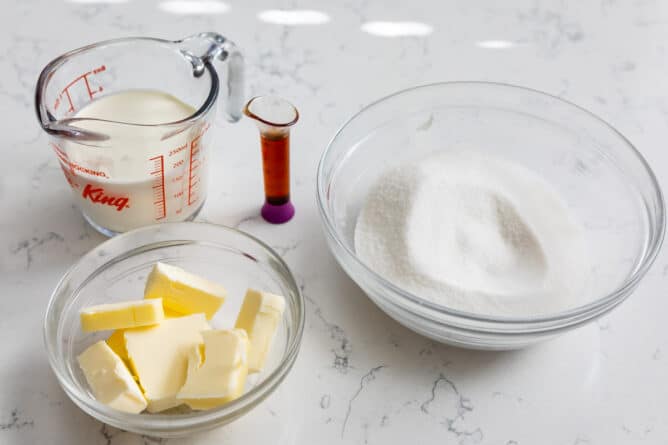 Ingredients needed to make this Caramel Recipe
Sugar: a classic caramel uses granulated sugar
Butter: have your unsalted butter sliced and ready to go before starting
Heavy Whipping Cream: gives a nice richness to the caramel (no substitutions for this)
Vanilla Extract: for flavor
Salt: you need to add salt even if making regular caramel. You can turn this into salted caramel by adding extra, but salt is necessary to make the caramel a delicious flavor.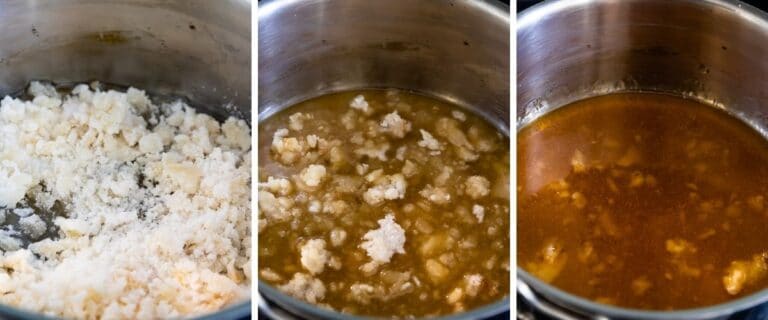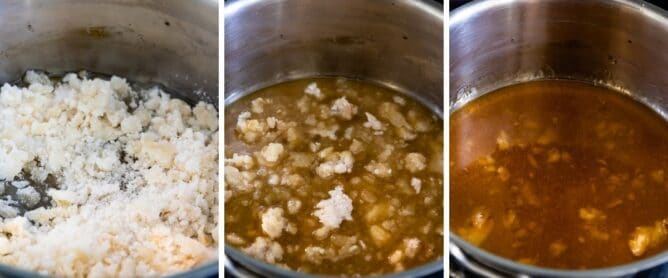 How to Make Caramel from Scratch
1. Prep: get everything ready, caramel needs undivided attention!
2. Cook the sugar: Pour the sugar into a heavy-bottomed medium saucepan. Place the pan over medium-low heat.
Stir the sugar as it heats up. As you stir, keep the sugar on the bottom of the pan and avoid spreading it up the sides as it warms up.
As the sugar heats, it will start to clump up and then will melt and turn a light amber color. Keep gently stirring until all of the lumps have dissolved. This process will take about 7 to 12 minutes from when you first turn on the heat to when the sugar is completely dissolved.
Wondering how to make caramel without filling your kitchen with smoke?
Do not walk away from the caramel – you don't want it to burn, and it can burn fast if left unattended.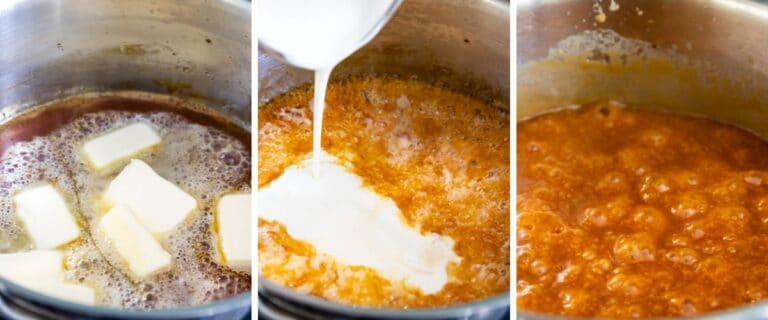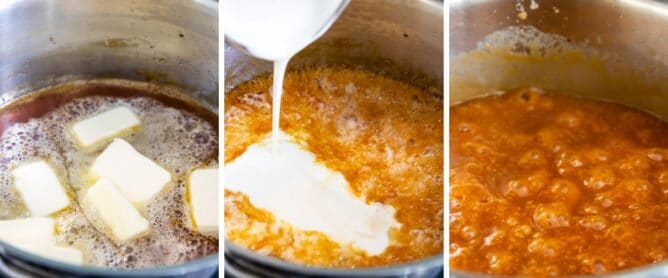 3. Butter: Once the sugar has dissolved, add the sliced butter and stir until it melts.
4. Cream: When the butter has melted into the sugar, add half of the cream, stir, and then add the rest. The mixture will bubble up when you add cream.
5. Flavoring: Once the cream is mixed in, turn off the heat and add the vanilla and salt. Stir until the caramel sauce is smooth.
6. Cool: Pour the warm sauce into a container and let it cool to room temperature. It will thicken as it cools. Cover and store the sauce in the refrigerator for up to two weeks. To serve, warm the sauce in the microwave.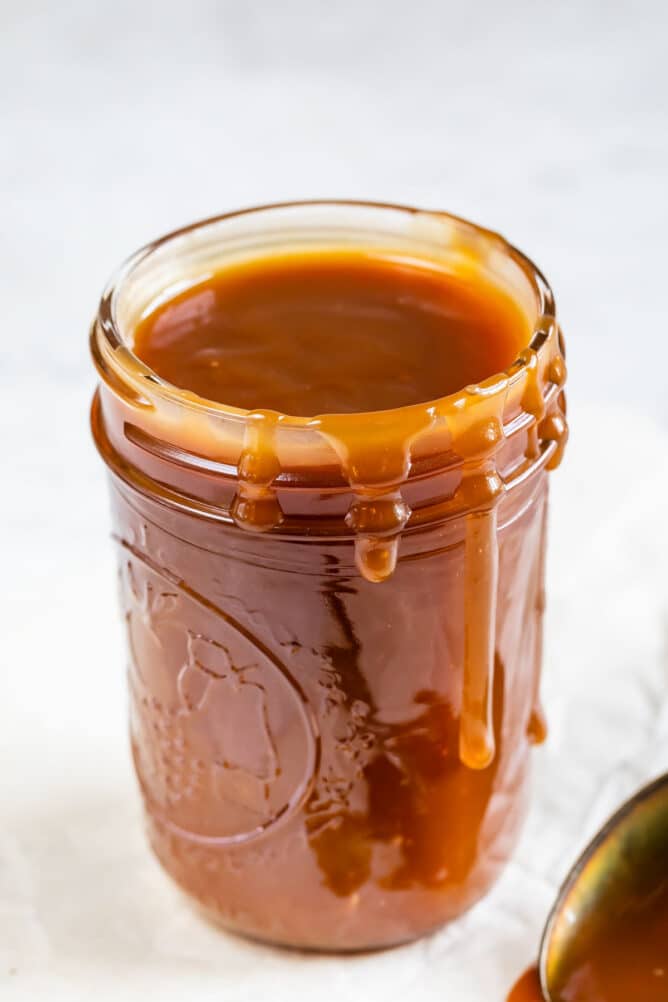 Variations
My favorite variation is to make a salted caramel sauce. It's super easy to do – just add up to a ½ teaspoon more of salt when you add the vanilla.
Make cinnamon caramel sauce by adding some cinnamon spice. Or try my pumpkin caramel sauce – it's perfect for fall.
For a boozy twist, my caramel recipe with brandy is so, so good.
You can even add pumpkin puree to make pumpkin caramel!
Important Recipe Tips
Making caramel sauce is not hard, but it does require your undivided attention. This isn't the kind of recipe you can leave on the stove and go fold the laundry (trust me on that, I learned the hard way it's a great way to burn caramel). So, make sure there aren't any distractions when you get ready to make it.
Gather and measure all of your ingredients first. The cooking process is really fast, and there won't be time to find the cream and measure it while the sugar is warming in the pan (again, I know this from experience!). So, take a few minutes to organize your ingredients first.
And speaking of ingredients, this is a recipe that really benefits from high-quality butter. With so few ingredients, buying the best butter you can will make a big difference in the final result. Also, don't skip the salt. It's crucial for enhancing the flavor of the sauce.
For the saucepan, one that is heavy-bottomed and conducts heat well works best. Also, the sides need to be high enough to prevent the cream from bubbling over the edge, so avoid a shallow pan for this recipe.
When you are melting the sugar, stir gently and be patient. The time it takes will depend on your pan and the kind of stove you have (gas stoves heat faster than electric ones). The gentle stirring will prevent sugar crystals from splashing up on the sides of the pan. Avoiding this will keep your sauce from crystalizing, which is just a fancy way to say "turning grainy."
Most important, don't leave the sauce alone at any point turning the cooking process. There is a thin line between a perfect caramel sauce and a burnt one.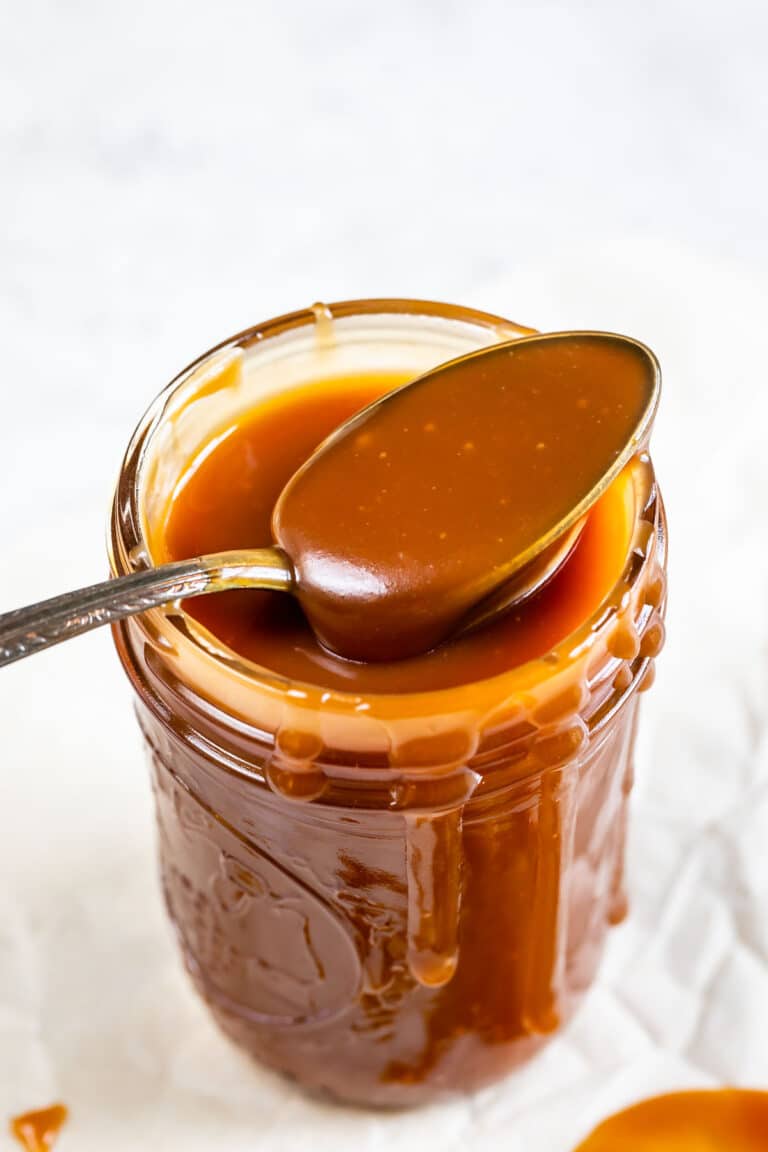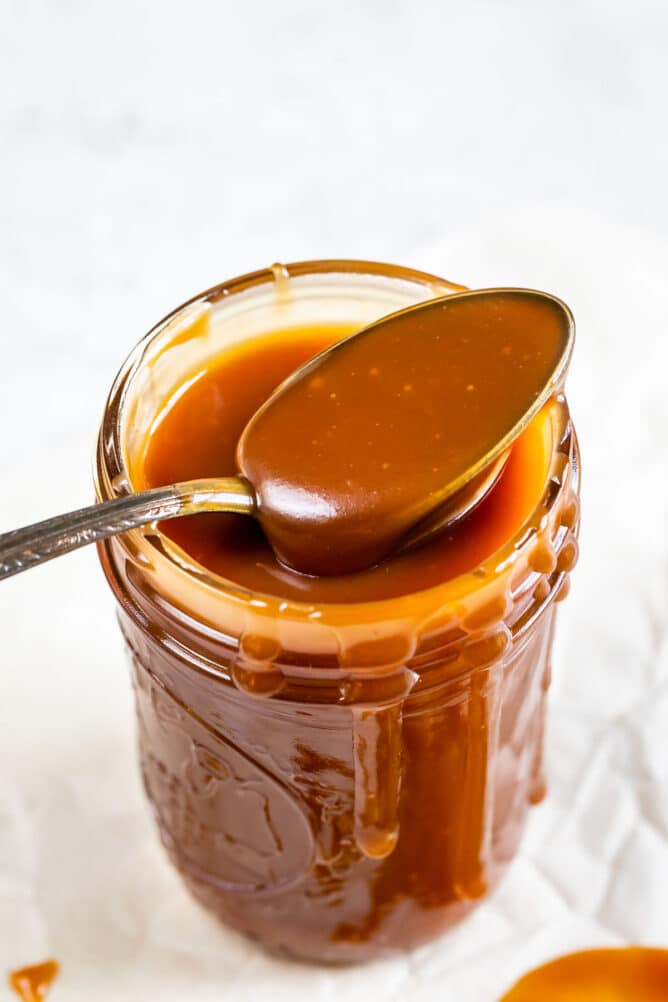 FAQs
Do you need a candy thermometer?
No, you don't need one for this recipe!
How do you store caramel sauce?
Store it in an airtight container in the refrigerator.
How do you reheat caramel?
You can warm it in the microwave or warm it up in a saucepan on the stove. It only takes between 60 to 90 seconds in the microwave, so that's the way I usually do it.
Does this set after you cook it?
Once you've made it, transfer it to a container. As the caramel cools, it will thicken, so it is soft set. It will tighten up when chilled, but once you rewarm it, it will go back to the soft-set again.
Why didn't my caramel set?
The key to getting the right soft-set texture is to use heavy whipping cream, which has a high milk fat content. Don't substitute a lower fat cream, half and half, or milk otherwise, the caramel will not set properly.
Why did my caramel burn?
Did you stir the sugar? It's important to keep stirring as it melts, so it doesn't burn. Also, you shouldn't let it alone while the sugar is melting – it doesn't take long for it to start burning.
Can this caramel be used to make caramel apples?
No, it's not thick enough to make caramel apples. It makes an excellent dip for sliced apples, thought!
Why did my caramel clump?
If you remove it from the heat too soon before it's thoroughly mixed, it could clump up. If this happens, just warm it up again and whisk it until smooth. If your sauce is grainy, it's most likely because the sugar crystalized. Unfortunately, there's not much you can do about that.
How do I prevent homemade caramel from sticking to the pot?
Caramel is sticky so it'll stick to the pot – for easy cleaning fill the pot with water after you've removed the caramel and let it soak. The sugar will dissolve making it much easier to clean.
Are you so ready to make your own caramel sauce from scratch? It's not difficult, and your attention and focus will be rewarded with the most fantastic sauce. I hope you love it!
More Sauce Recipes You Should Try
Have you made this recipe?
Tag @crazyforcrust on Instagram or hashtag it #crazyforcrust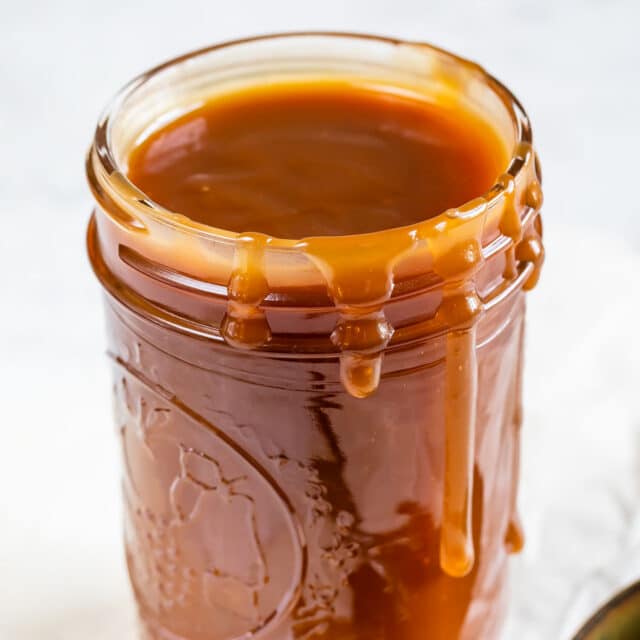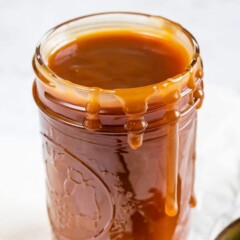 Easy Homemade Caramel Sauce Recipe
Homemade Caramel Sauce is easier to make than you might think! I'm going to show you how to make it using all my tips and tricks.
Ingredients
1

cup

(200g) granulated sugar

5

tablespoons

(71g) unsalted butter

sliced into tablespoons

⅔

cup

(158ml) heavy whipping cream

1

teaspoon

vanilla extract

¼

teaspoon

salt

or more to make salted caramel
Instructions
Note: making caramel is something that needs your undivided attention. Make sure you have all your ingredients gathered before starting and that you are not distracted. Leaving the caramel alone at any point can cause it to burn.

Place sugar in a heavy-bottomed medium saucepan. Make sure the sides of the pot come up a little bit (that it's not a shallow pan) because it will boil up when you add the cream later.

Place the pan over medium-low heat. Cook stirring often but being careful not to spread the sugar up the sides of the pan too much. The sugar will form clumps then melt into a light amber liquid. Keep stirring until the lumps have all become liquid. This will take about 7-12 minutes, depending on your pot and the heat of your stove. DO NOT LEAVE THE SUGAR ALONE, it will burn fast.

As soon as the lumps are dissolved, add the butter and stir until it's melted. Add half of the heavy whipping cream, stir, then add the rest. It will bubble up as you add it to the mixture. Turn off the heat and then stir in the vanilla and salt. Stir until smooth. At this point, add up to an additional 1/2 teaspoon salt (to taste) for salted caramel.

Pour the caramel carefully into a jar and let cool to room temperature. It will thicken as it cools. Cover and store in the refrigerator. When ready to use, remove the lid and heat in 30 second increments until the caramel is melted and smooth and the desired consistency (about 60-90 seconds for the just-made texture). Will keep for 2 weeks in the refrigerator.
Recipe Notes
Note: making caramel is something that needs your undivided attention. Make sure you have all your ingredients gathered before starting and that you are not distracted. Leaving the caramel alone at any point can cause it to burn.
Recipe Nutrition
Serving:
1
serving
|
Calories:
306
kcal
|
Carbohydrates:
34
g
|
Protein:
1
g
|
Fat:
19
g
|
Saturated Fat:
12
g
|
Trans Fat:
1
g
|
Cholesterol:
61
mg
|
Sodium:
109
mg
|
Potassium:
24
mg
|
Sugar:
33
g
|
Vitamin A:
680
IU
|
Vitamin C:
1
mg
|
Calcium:
20
mg
|
Iron:
1
mg
Nutritional information not guaranteed to be accurate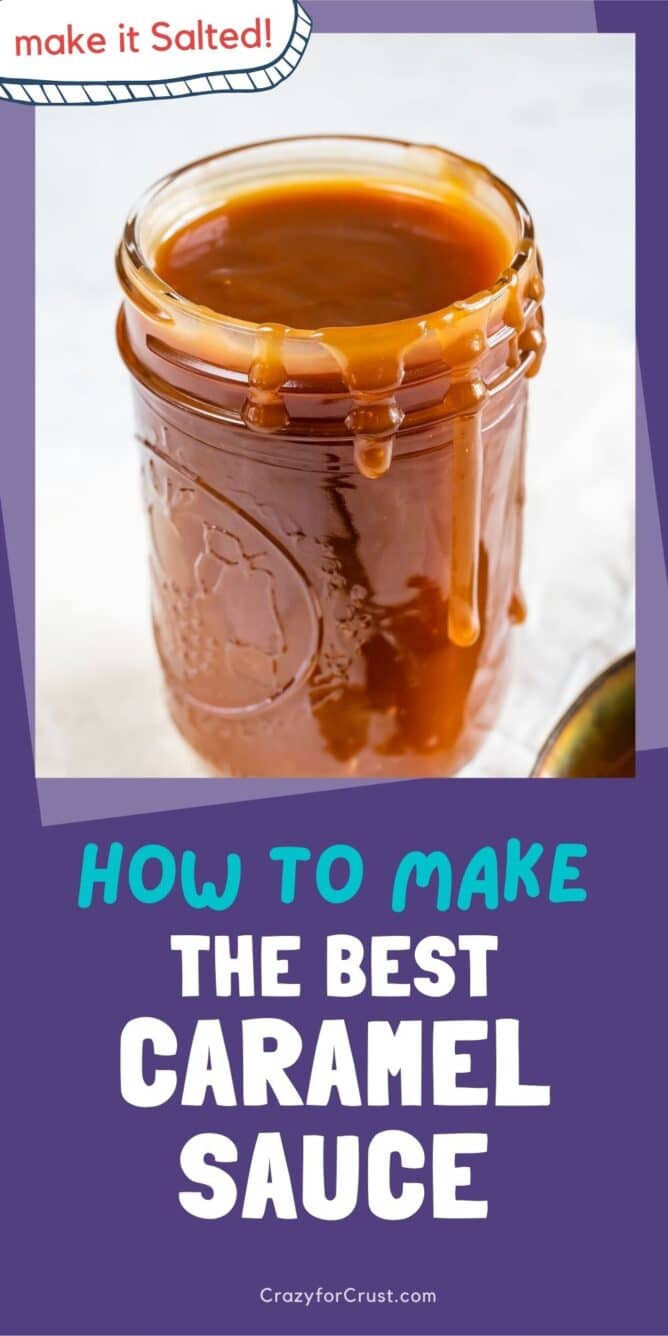 This Easy Homemade Caramel Sauce has the best soft texture and amazing caramel flavor and keeps for up to two weeks. Drizzle it over all the desserts and bowls of ice cream for a rich and decadent treat.
Last Updated on May 20, 2022