This post may contain affiliate links. For more information, read my disclosure policy.
Oreo cookie crust made fresh, from scratch! This easy homemade Oreo cookie crust will amp up the flavor of your favorite no-bake pie recipes.
Raise your hand if you don't like the store-bought Oreo Cookie Crusts. Don't worry – you never need to buy one again! Now you can make your own with this perfect DIY recipe, and the best part? You can use ANY flavor Oreo cookie!!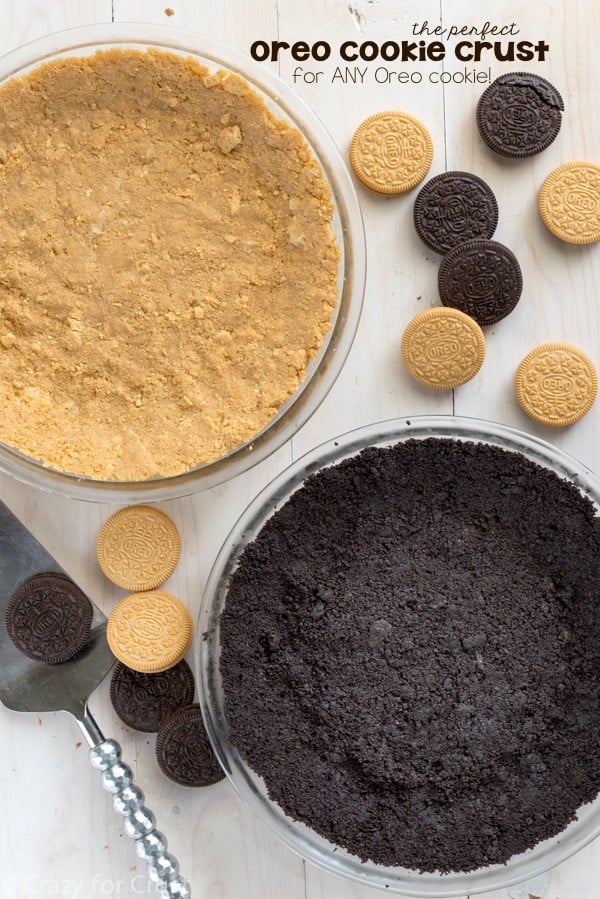 It's our last week of school. In 3 days Jordan will be a 5th grader. **sobbing**
The next three days are jam-packed fun-filled days for the kids at school. They're stressful, gut-wrenching, and exhausting for us moms, especially those of us who work at home and are trying to get 3 months of work done since, hello, no childcare.
I often wonder why the kids go to school this week. The grading period ended last Friday, so there will be no homework, no math fact drills, and no required reading. There will be a pizza and cake party, park time, and several assemblies. The first of the assemblies starts today: the Talent Show.
Jordan and two of her friends are the opening act in the Talent Show with a dance. Jordan's nervous, excited, and she has a cold. Because of course she does, right?
(BTW, who gets sick in summer? Like, isn't that illegal? It's 90° outside. No sickness allowed!)
Speaking of summer, I'm about ready for no-bake summer to begin. The A/C has been running steadily and every time I run the oven I think about the electrical meter spinning like in National Lampoon's Christmas Vacation.
No-Bake Summer is why I'm introducing you to the only crust you'll need (alongside this one) to make pie all season long, without your oven: a perfect No-Bake Oreo Cookie Crust.
And when I say Oreo I mean ANY Oreo cookie, not just regular!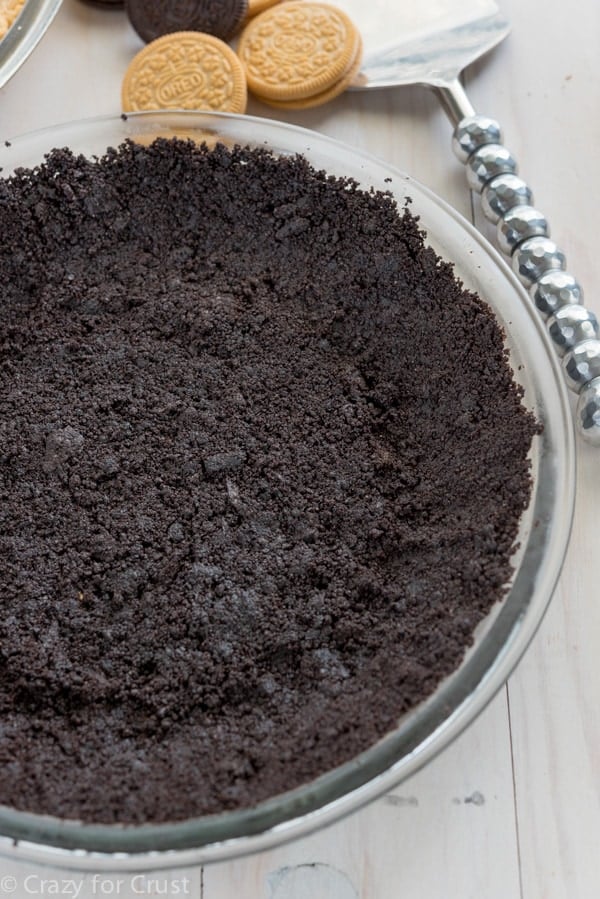 Whenever someone says "Oreo Crust" I'm sure you think of that kind up there, the kind made from traditional Oreos. I always think of that one too. I mean, it's the perfect base for, say, a peanut butter chocolate cream pie.
But have you ever noticed all the different flavor Oreos out there? I mean, I love the traditional chocolate but if I must admit it…I like the Golden Oreos better. I especially like them as a pie crust.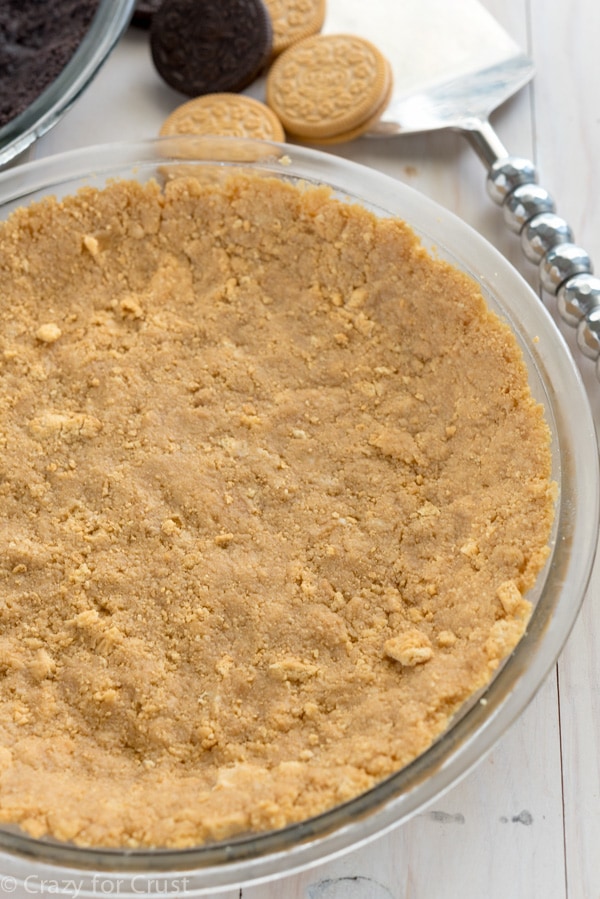 All Oreos, when you break them down to bits, are the same thing with different flavors. They have the same cream in the center and the cookie has the same texture. Therefore, you can use any of the cookies interchangeably in crust.
I mean, the possibilities are endless. Mint, peanut butter, cotton candy, watermelon, cookie dough…should I go on or are you super hungry now?
Making your own Oreo Cookie Crust is easy, fast, and works for so many recipes. I even made a photo tutorial for you on how to make the crust. Scroll past the recipe for the photo tutorial!
You can use these crusts entirely no bake – just make and fill according to the recipe you're using. You can bake the crust for a few minutes to make it crispy if you prefer them that way. Or you can bake cheesecake or fruit pies in the crust. There are so many options for how to fill an Oreo crust.

Plus, a homemade Oreo Cookie Crust tastes so much better than a store-bought one. Two ingredients and 10 minutes gives you a fresh, homemade, DIY no-bake crust perfect for any pie.
Which Oreos would you use??
Don't forget to check out the tutorial on how I made the crust below the recipe! Then, make a pie like an Oreo Cheesecake, a Coconut Cream Pie, Peanut Butter Chocolate Cream Pie, Dulce de Leche Pie, Banana Cream Pie, or Black Bottom Cherry Cream Pie.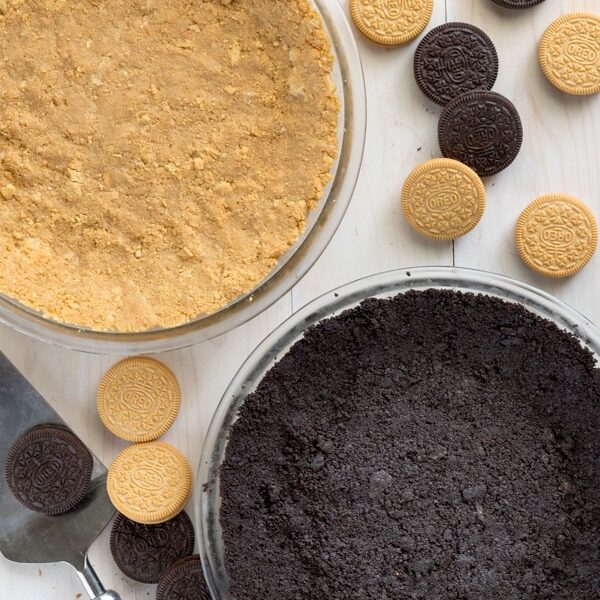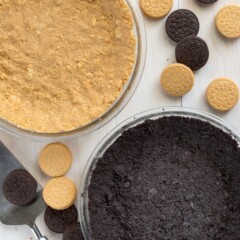 Perfect Oreo Cookie Crust Recipe
This Oreo Cookie Crust Recipe can be used with any flavor Oreo Cookie! It's an easy no-bake pie crust that works for so many different pies.
Ingredients
25

Oreo Cookies

your favorite flavor

5

tablespoons

unsalted Challenge Butter melted
Instructions
Finely crush your cookies. I like to use a food processor for this step, but you can also place the cookies in a plastic bag and roll the sealed bag with a rolling pin. If you're using a rolling pin, seal the bag but leave about an inch open for air to escape. You'll have to put some muscle in it to get a fine crush. The crust sticks together best when the cookies are crushed finely.

NOTE: You do NOT need to remove the filling from the Oreo.

Stir the cookie crumbs and melted butter together with a fork. Press crumbs into the bottom and up the sides of a 9" pie plate. Chill until ready to fill.

For a no-bake pie: chill the crust about 30 minutes before filling, then fill/chill as directed in the recipe.

For a crunchier no-bake filling pie: bake the crust for 8 minutes at 350°F then cool completely before filling.

For a filled baked pie: press the crust into the pie plate and then bake about 8 minutes at 350°F. Fill with filling and bake as directed in the recipe.

This crust can also be pressed into a 9x9 inch pan for pie bars or used as a cheesecake crust in a 9-10" springform pan.
Recipe Nutrition
Calories:
1908
kcal
|
Carbohydrates:
212
g
|
Protein:
17
g
|
Fat:
116
g
|
Saturated Fat:
55
g
|
Cholesterol:
150
mg
|
Sodium:
1387
mg
|
Potassium:
645
mg
|
Fiber:
8
g
|
Sugar:
123
g
|
Vitamin A:
1750
IU
|
Calcium:
83
mg
|
Iron:
26
mg
Nutritional information not guaranteed to be accurate
Check out all of my
pie crust recipes
for even more inspiration!
Here's the
step-by-step Oreo Cookie Crust Recipe

photo tutorial (video here):

First, finely crush your cookies. You do NOT need to remove the filling from the Oreos. Just throw them all into a food processor and pulse until they are a fine crumb.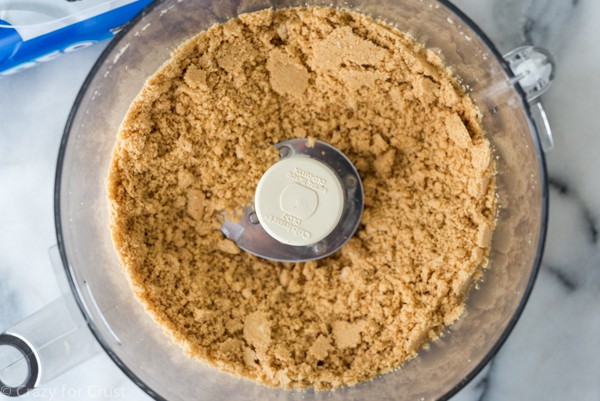 If you don't have a food processor, you can also do this in a gallon-size ziploc bag. Seal all but one inch of the bag (so air can escape) and roll to get crumbs. Doing it by hand is harder – you want a fine crumb so that the crust holds together. But it can be done in a bag, just take all your aggressions out on it!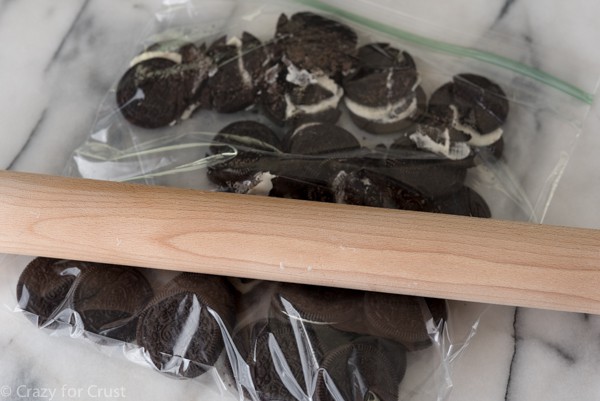 Place your finely crushed cookies in a bowl and add the melted butter. Stir with a fork until the crumbs are all moistened.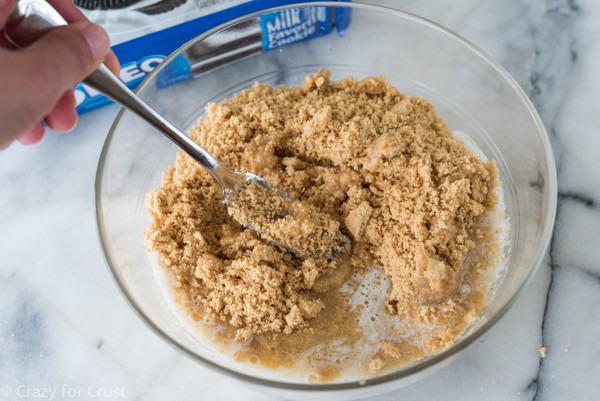 Place in a 9″ pie plate and press to compact on the bottom and up the sides of the pan. Chill the crust for at least 30 minutes and then fill as directed in the pie recipe you're using.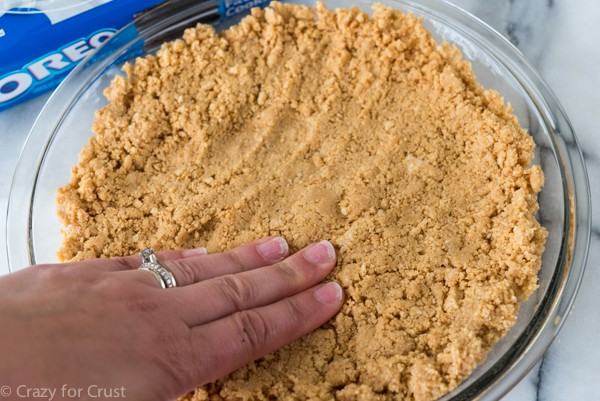 Notes:
You do not have to bake the crust, making this a totally no-bake recipe.
If you like a crispier crust, bake the Oreo Cookie Crust at 350°F for about 8 minutes. Cool, then fill as directed in the recipe.
Baking something like butterscotch-apple pie or pumpkin mousse pie? Bake the crust at 350°F for about 8 minutes, then fill and bake as directed in the recipe.
You can also press this crust recipe into a 9×9″ square pan to make cheesecake or pie bars.
Making a cheesecake in a springform pan? This recipe works for that too!
You can use this Oreo cookie crust recipe to make so many different pies!
Peanut Butter Chocolate Cream Pie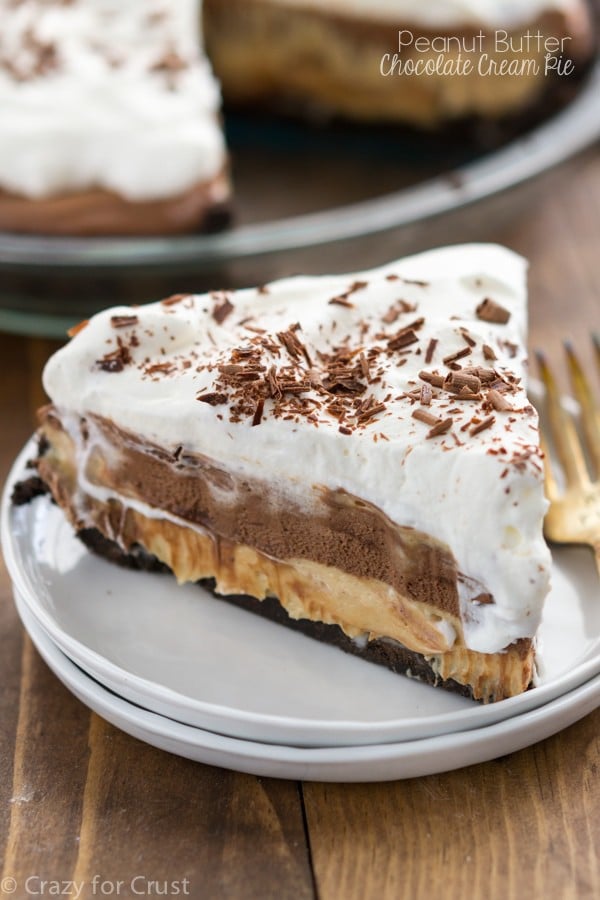 Peppermint Chocolate Ganache Pie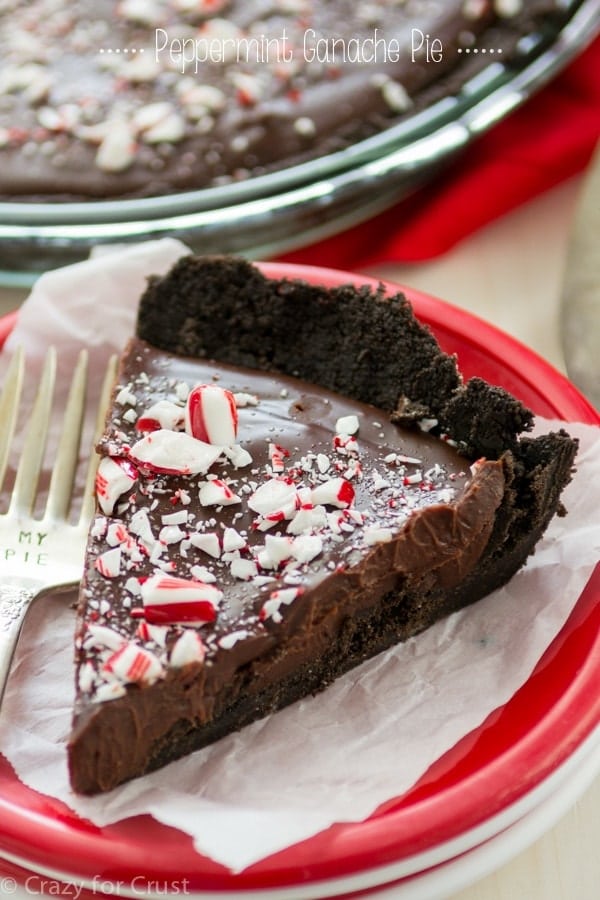 Last Updated on September 20, 2019