This post may contain affiliate links. For more information, read my disclosure policy.
Make Disneyland Churro Toffee at HOME! This is an easy copycat recipe but it's good even if you've never had it at Disneyland. Rich, buttery toffee topped with white chocolate and cinnamon sugar – this is easily our FAVORITE toffee recipe ever!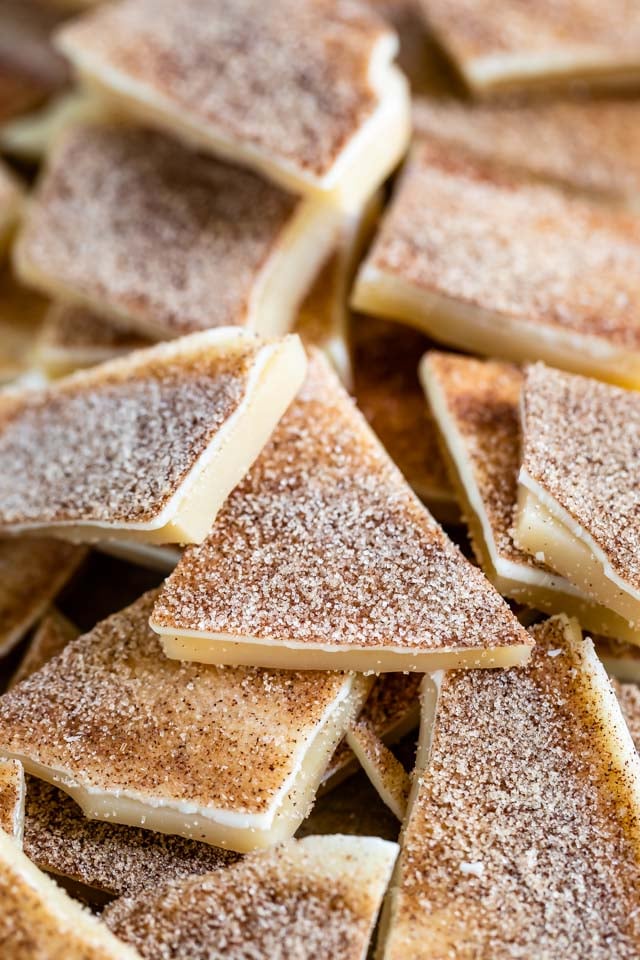 If I could only have one Disney treat for the rest of my life, it would be their Churro Toffee. It's crunchy and sweet and has that hint of warm cinnamon and I can never get enough of it!
Whenever I visit Disneyland I buy way too much of this stuff because I know I can't get it anywhere else – until NOW! Now I can make churro toffee at HOME and that's so dangerous…watch out waistline.
What is Churro Toffee?
Churro Toffee is a buttery toffee that's topped with white chocolate and cinnamon sugar (like a churro, hence the name).
At Disneyland, they use their signature toffee you can buy at the candy store (the one that's usually coated in chocolate and toffee bits), but they coat it with white chocolate. The cinnamon sugar is sprinkled on top while the white chocolate is still wet, causing it to stick, and adding a nice warm flavor to the bite.
The first time I saw this toffee version on instagram I immediately thought too sweet. White chocolate, for me, is cloyingly sweet and I don't normally enjoy it. But, of course, Disney treats freak that I am, I had to try it anyway and I was so surprised:
It's not too sweet. It's actually less sweet than the regular toffee – and it tastes BETTER!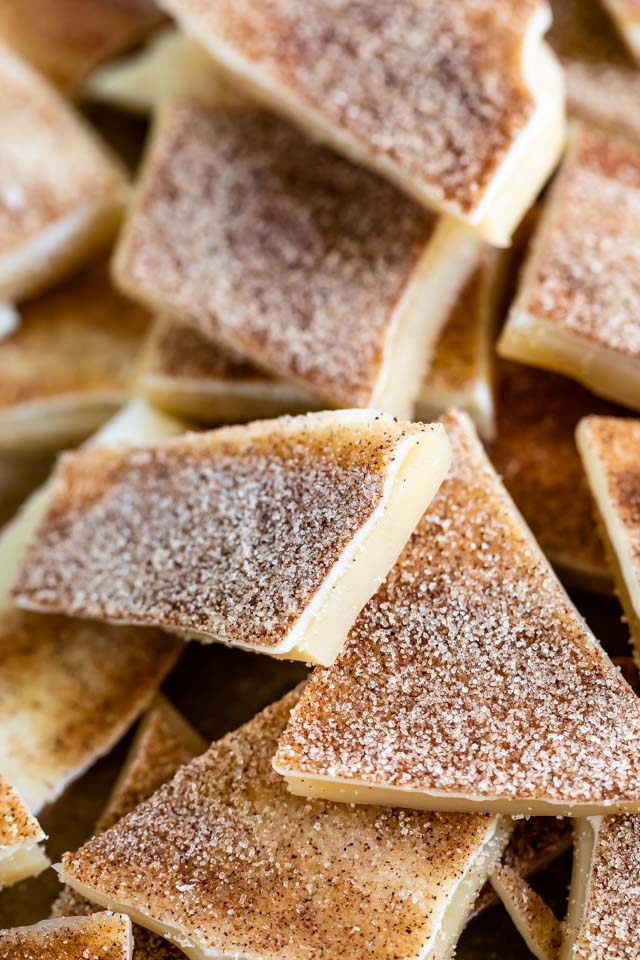 I immediately knew I was going to make churro toffee at home because I can't go that long without it. PLUS, homemade toffee makes a great holiday gift, so it's perfect to learn how to make toffee this time of year.
I know that making toffee at home can seem difficult because it involves a cooking sugar and using a candy thermometer, but it's really easy to make homemade toffee.
Once you have your toffee recipe down you can make it so many different ways with so many toppings!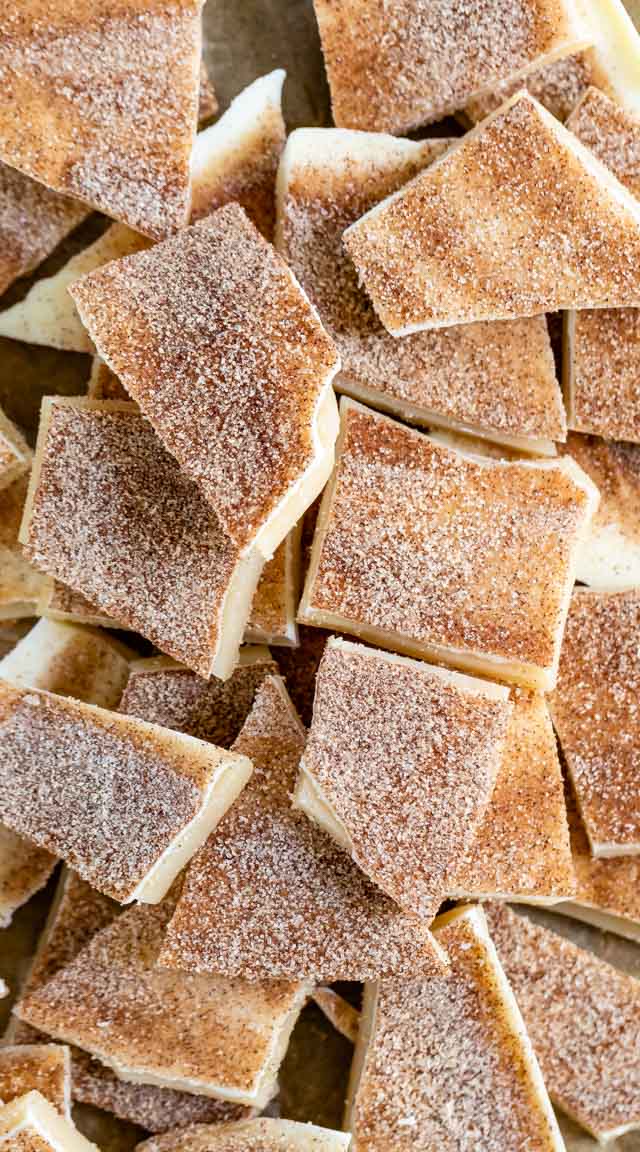 How do you make homemade toffee?
It's easier than you think. You just need a few ingredients, which you should gather before you start:
Butter
Sugar
Water
Corn Syrup
Vanilla extract
White Chocolate
Cinnamon Sugar
To make the base of the toffee, you're going to cooke your butter, sugar, water and corn syrup in a saucepan over medium heat. You bring it to a boil and then let it cook until it's 290°F.
Do you need a candy thermometer to make toffee?
YES. I mean, I guess there are some recipes out there that say "boil for 3 minutes" but really, you have no idea when you're guessing. Toffee is one of those things that needs to be done just perfect or it's too hard or too soft.
I used to use the old-school analog candy thermometers but I've found over time that they're not as good. You can use them for sure, but know they won't last as long as digital; digital thermometers are the way to go.
You can find many digital thermometers on Amazon, but I recommend the Thermapen. They're more expensive but so much more reliable (and no battery) but it's accurate. It might not clip on your pot, but it's going to be more reliable than an analog clip-on one.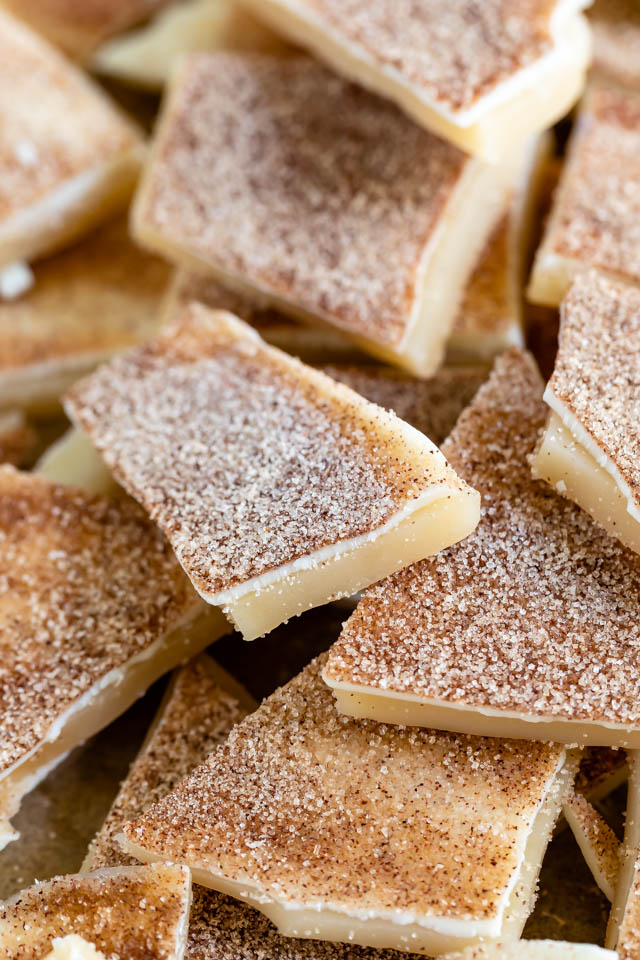 What makes this toffee taste like a churro?
The cinnamon sugar topping!
Once you have your toffee in the pan, it's time to top it with the white chocolate.
I melt the white chocolate in the microwave on 50% power. White chocolate is so temperamental so I melt it low and slow, stirring often.
Let the toffee set a few minutes so you can spread the chocolate, but not so long the chocolate won't stick. 4-5 minutes is just perfect.
Spread the chocolate over the top and sprinkle with cinnamon sugar. Once it hardens, you crack it apart and then eat!
Skip the dipping and just spread chocolate on top; less steps and it tastes just as good!

PRO TIP
I know that at Disneyland, the toffee is completely coated in white chocolate, but I like to just spread it on the top. It's so much easier than dipping it!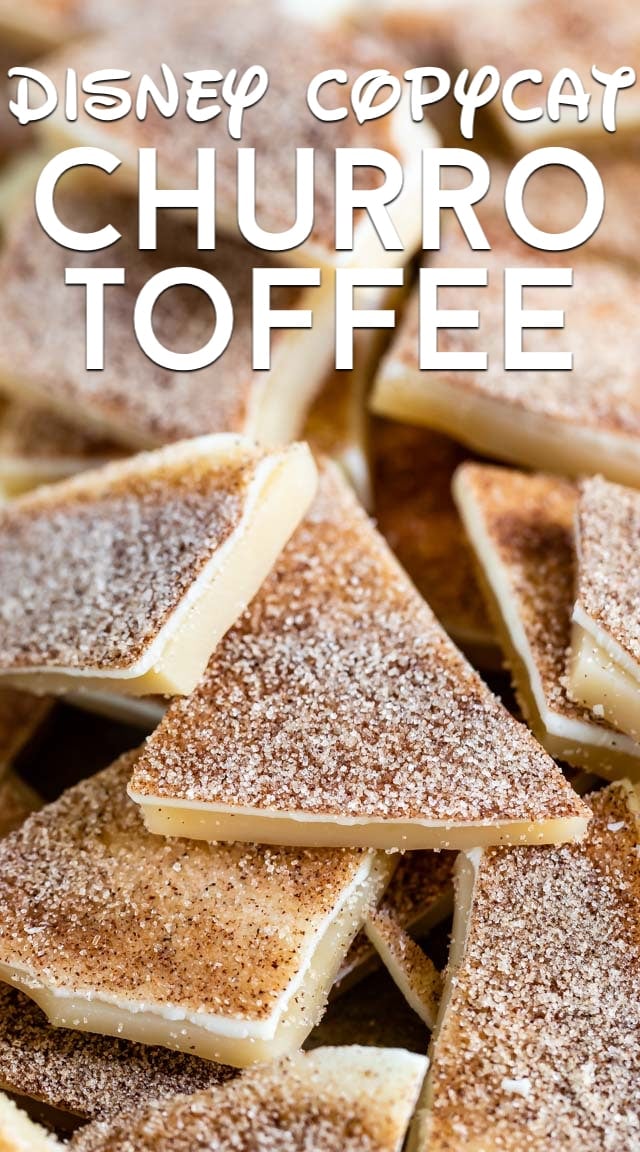 If you love Disney treats, you'll love this toffee and some of the other copycats I've made:
Other toffee recipes to try:
Have you made this recipe?
Tag @crazyforcrust on Instagram or hashtag it #crazyforcrust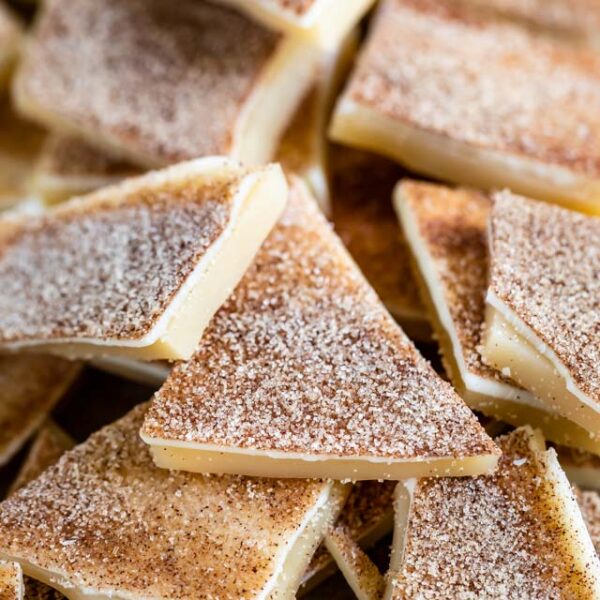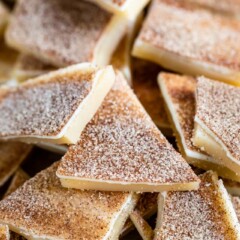 Churro Toffee Recipe
Make Disneyland Churro Toffee at HOME! This is an easy copycat recipe but it's good even if you've never had it at Disneyland. Rich, buttery toffee topped with white chocolate and cinnamon sugar – this is easily our FAVORITE toffee recipe ever!
Ingredients
1

cup

unsalted butter

1

cup

granulated sugar

3

tablespoons

water

1

tablespoon

light corn syrup

1

teaspoon

vanilla

1/4

teaspoon

salt

8

ounces

white chocolate

1/4

cup

granulated sugar

2

teaspoons

cinnamon
Instructions
Line a 9×13" pan with foil and spray with cooking spray. You can also use parchment, if you prefer.

Melt butter in a 2-quart heavy saucepan over low heat. Stir in 1 cup sugar, water, and corn syrup. Bring to a boil over medium-high heat, stirring until sugar is dissolved. Try not to splash the side of the pan too much or the sugar will stick and crystalize; stir gently.

Once sugar is dissolved, place a candy thermometer in your pan and cook over medium heat, stirring frequently, until the candy thermometer reaches 290°F (soft-crack stage). This will take from 10-14 minutes, depending on your stove. Watch the heat and adjust it as necessary to keep the boiling uniform throughout cooking. Don't walk away from the stove; watch it especially carefully during the last 5 minutes or so as it can reach temperature fast. Remove thermometer once it gets to 290°F. Turn off heat, stir in vanilla and salt quickly. Pour into prepared pan.

Cool for 4-5 minutes just until the top is set.

Meanwhile, melt white chocolate in a microwave safe bowl on 50% power in 30 second increments, stirring between each, until melted and smooth.

Stir together cinnamon and 1/4 cup sugar.

Drizzle melted chocolate over slightly cooled toffee and spread evenly. Sprinkle with cinnamon sugar.

Let sit about 3 hours or until set. This can be done on the counter or in the refrigerator. Remove toffee from pan using foil, remove the foil and then break into pieces. Store in an airtight container for up to two weeks.
Recipe Notes
I recommend using a white chocolate baking bar (such as Bakers or Ghiradelli) instead of using white chocolate chips. Chips don't melt as well as the baking bar will, but you can use them if you need to.
Recipe Nutrition
Serving:
1
serving
|
Calories:
325
kcal
|
Carbohydrates:
34
g
|
Protein:
1
g
|
Fat:
21
g
|
Saturated Fat:
13
g
|
Cholesterol:
45
mg
|
Sodium:
69
mg
|
Potassium:
59
mg
|
Fiber:
1
g
|
Sugar:
33
g
|
Vitamin A:
478
IU
|
Vitamin C:
1
mg
|
Calcium:
45
mg
|
Iron:
1
mg
Nutritional information not guaranteed to be accurate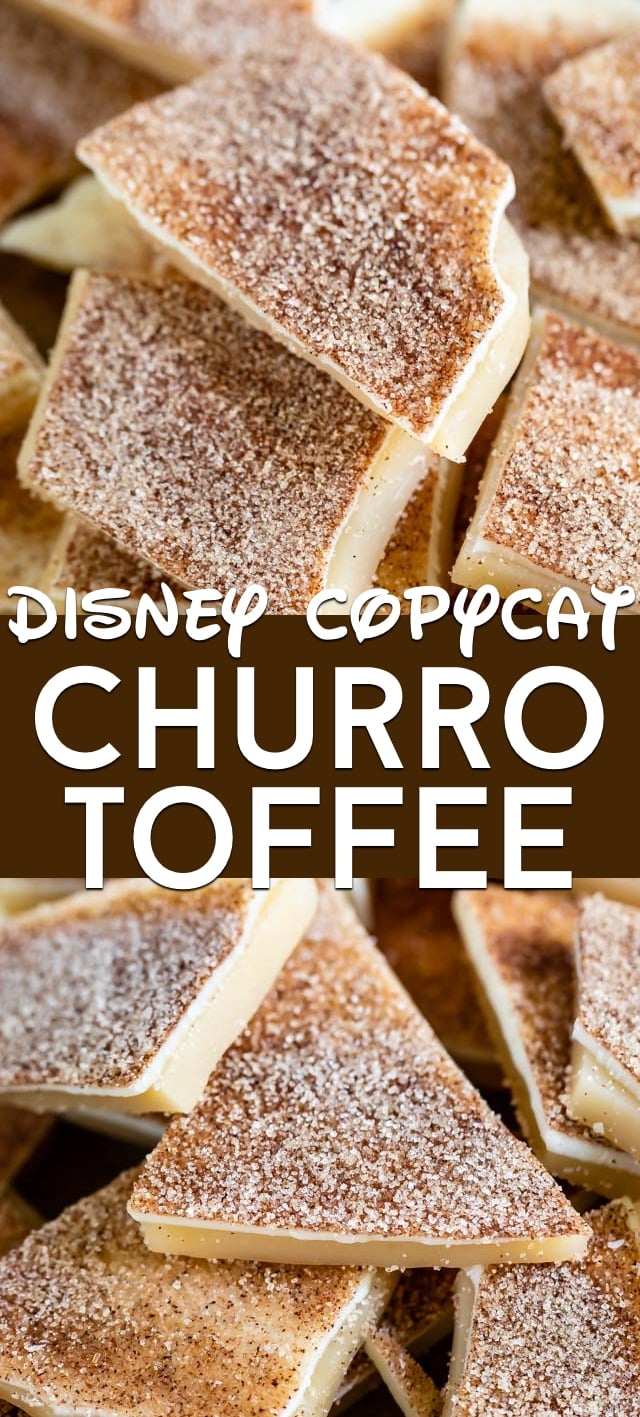 Copycat Disney Churro Toffee is the best homemade toffee ever! You can make this treat at home and have it all the time.
Last Updated on July 9, 2023