This is the BEST Peanut Butter Cookie Recipe you'll ever make. It's soft and chewy and full of peanut butter flavor. It's a classic – and it's my husband's favorite cookie!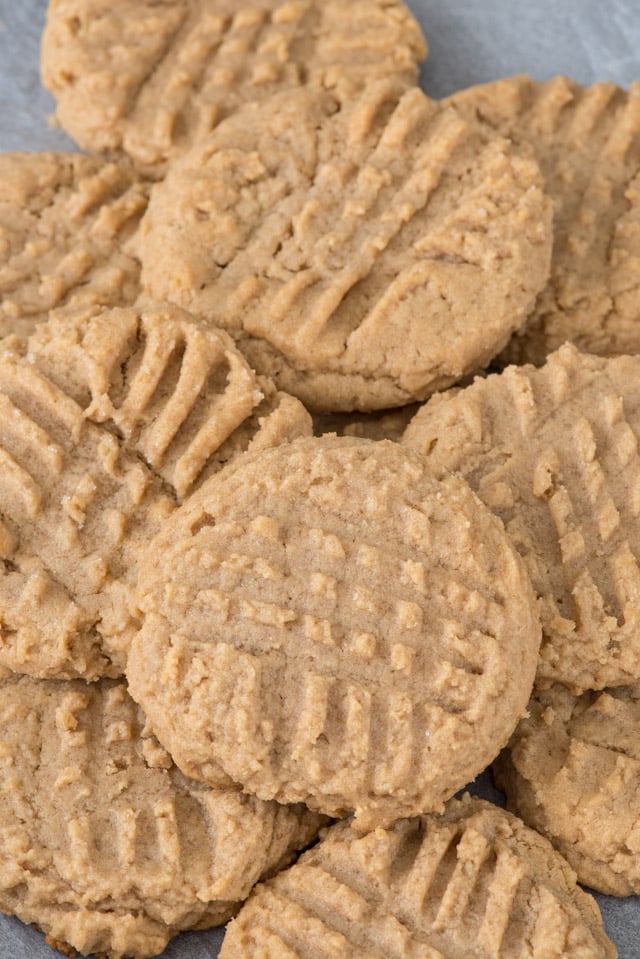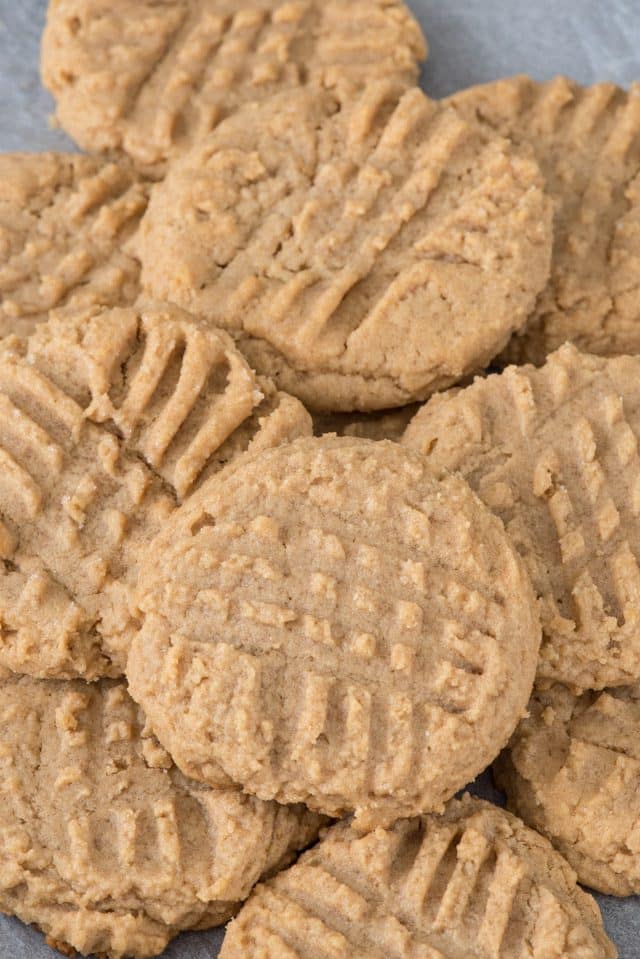 Can we talk for a minute about kids getting older? Man, it's hard.
When you have an infant or a toddler or even a little and you see older ladies at the store and they're all "enjoy this time it goes by so fast!" all you want to do is roll your eyes and be all, yeah mmm-hmmm just give me that older kid please so I can sleep through the night!
Jordan is now 13, going into 8th grade. If I'm being honest, I'd take 13 over toddler any day, but man getting used to this new-and-teenaged kid is just HARD. They, like, have opinions now. And don't want to do things they used to do. It's hard to get used to.
I have to get better at taking the nuggets when I get them. Like when Jordan asks me to win her a stuffed animal at the carnival, so I do. Or she asks me to take her picture…I should accept I'm not welcome in it. LOL
The next 5 years are going to be…interesting, that's for sure.
In the meantime, I have an old standby recipe that doesn't change – ever. It's as true as time!
Really – it is. It's actually on this blog in several other forms: stuffed cookies, cookie cake, cookie pie, gooey bars.
I figured it was about time I posted the basic good old fashioned peanut butter cookie recipe.
#Yourewelcome
At least this recipe won't change like my kid. HA!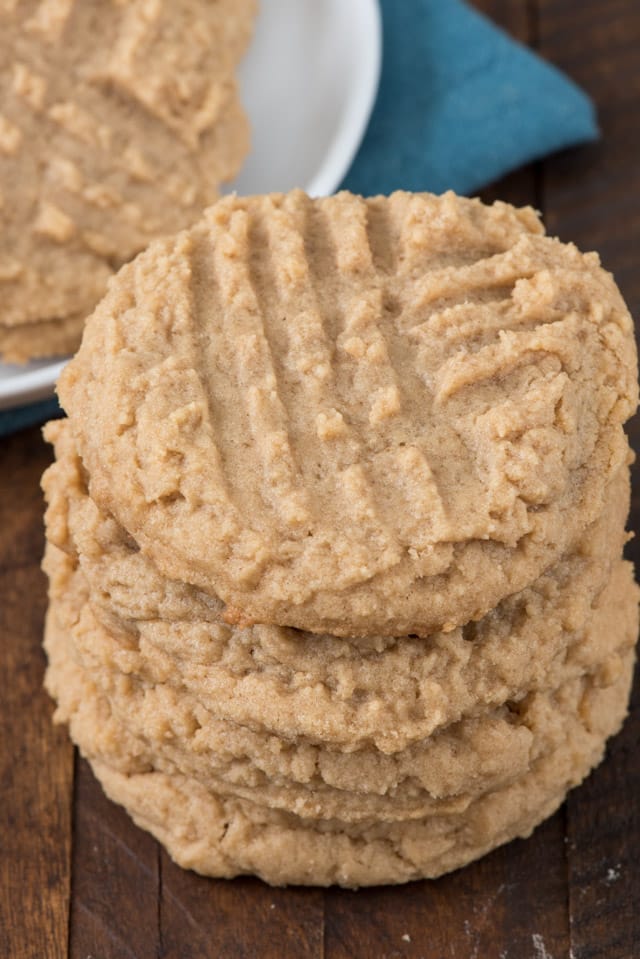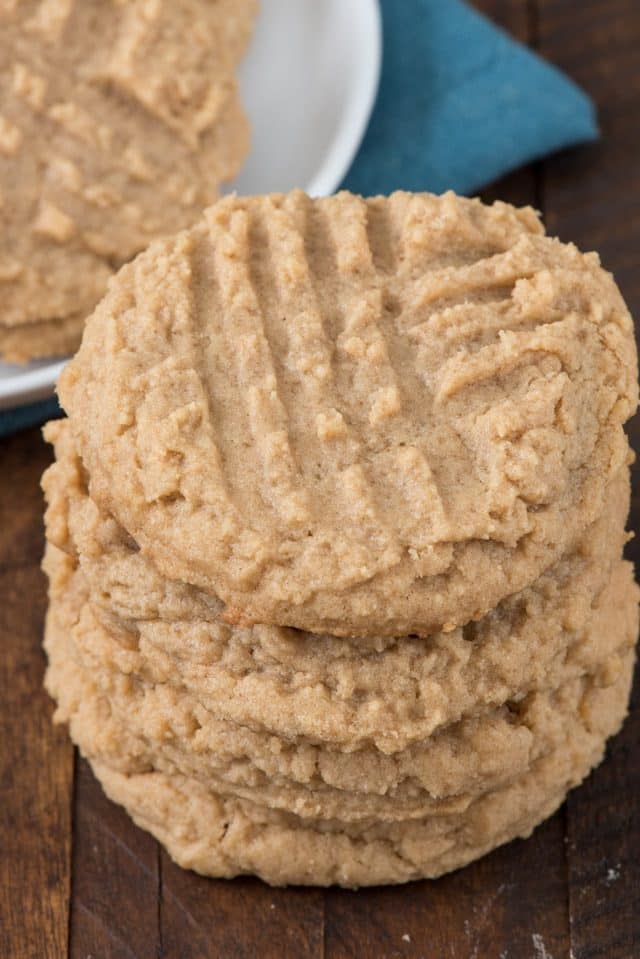 Peanut butter cookies are probably the kind of cookie I make the most. After all, they're the only kind Mel will eat. I just love making them because they're easy and don't need any chill time. Plus, it's easy to dress up a peanut butter cookie:
And so many more ideas!
This easy peanut butter cookie recipe is classic and easy and the best base for any other peanut butter cookie creation.
Let's break down the components in the best peanut butter cookies.
Unsalted Butter. Sometimes you see that peanut butter cookie recipes call for shortening. While you can easily substitute shortening for the butter, I prefer the flavor that the butter lends to the cookie. It makes it  a bit more light and fluffy too.
Peanut Butter. It's the most important part! For this recipe, use a regular no-stir peanut butter you can get at the regular grocery store. Forego natural peanut butter unless you're using a no-stir natural (like Jif or Skippy). Use crunchy for some extra texture!
Brown sugar. This cookie recipe is FULL of brown sugar. I love using brown sugar in cookies so much more than granulated. While this recipe has both kinds of sugar, the brown sugar keeps the cookies soft.
The rest of the ingredients are normal for a peanut butter cookie: baking soda, salt, flour, egg, milk. Like I said, this is a basic peanut butter cookie recipe.
But it's anything BUT basic. It's the best ever peanut butter cookie recipe!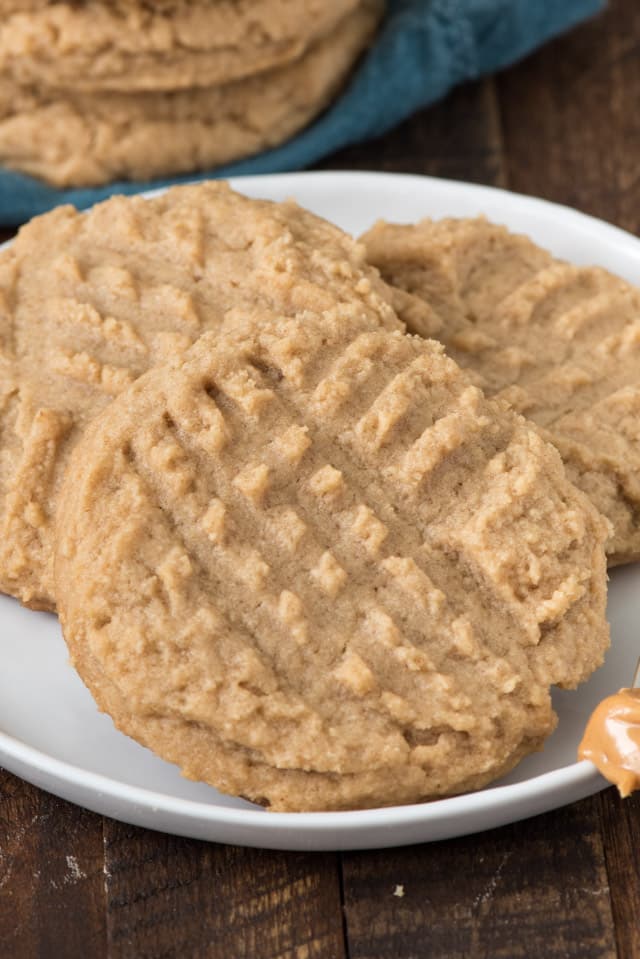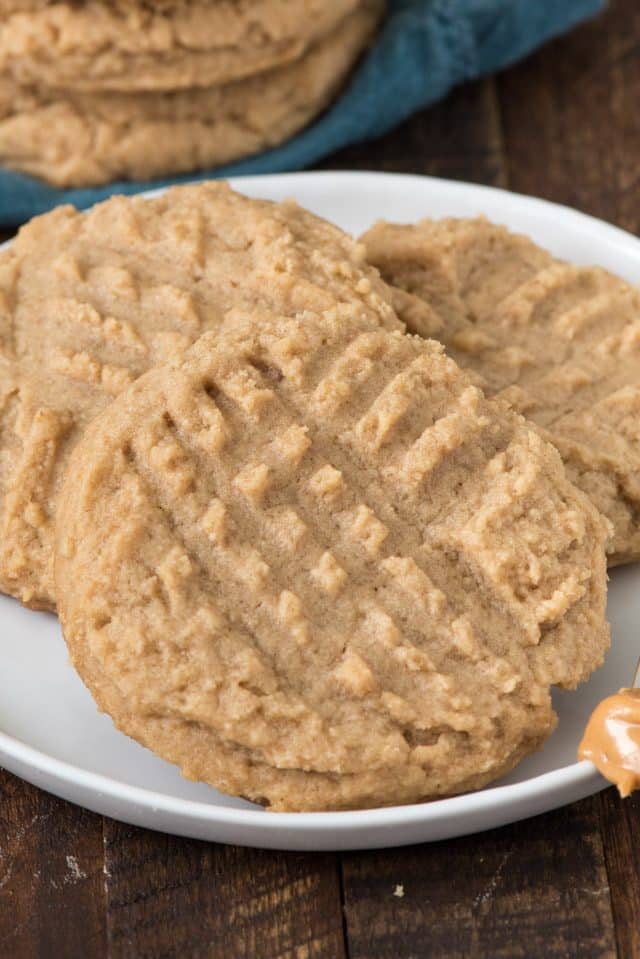 Have you ever wondered why there are hash marks (or criss cross marks) in peanut butter cookies? It's because adding peanut butter makes them not spread as much, so the fork criss cross was to help the cookies flatten and bake evenly.
Another good thing about peanut butter cookies? They don't need to be chilled! Since they don't flatten much (because, science), you don't have to wait to have the best peanut butter cookies ever.
This recipe is my favorite peanut butter cookie recipe. I hope it will be yours too!
THE BEST PEANUT BUTTER COOKIE RECIPE
This is the BEST Peanut Butter Cookie Recipe you'll ever make. It's soft and chewy and full of peanut butter flavor. It's a classic - and it's my husband's favorite cookie!
Ingredients
1/2

cup

113g unsalted butter, softened

3/4

cup

213g creamy peanut butter

3/4

cup

138g light brown sugar, packed

1/4

cup

50g granulated sugar

1

teaspoon

5ml vanilla extract

1

large egg

1

tablespoon

15ml milk

1/2

teaspoon

3g baking soda

1/4

teaspoon

salt

1 3/4

cup

248g all-purpose flour
Instructions
Preheat oven to 350°F. Line two cookie sheets with silicone baking mats or parchment paper.

Place butter and peanut butter in a large bowl. Using a hand or a stand mixer, mix until combined then add both sugars. Cream until smooth. Mix in egg, vanilla, and milk and mix on medium speed until combined.

Mix in baking soda and salt, then slowly mix in flour and mix just until the batter is smooth and comes together. Be sure to scrape the sides of the bowl during mixing.

Scoop 2 tablespoon balls of dough and place 2-inches apart on prepared cookie sheets. Using a fork, create a criss cross pattern on the cookies to flatten slightly. (Tip: if the dough starts sticking to the fork, dip it in a bit of granulated sugar.)

Bake for 9-13 minutes, or until the edges are just golden brown and the tops are no longer glossy. Cool on cookie sheets at least 10 minutes before removing.
Recipe Video
Recipe Notes
Baking times: 1-tablespoon cookies: 7-11 minutes 2-tablespoon cookies: 9-13 minutes Jumbo 1/4 cup cookies: 10-15 minutes 9x13-inch pan: 20-25 minutes
Nutrition Information
Serving:
1
cookie
|
Calories:
152
kcal
|
Carbohydrates:
17
g
|
Protein:
3
g
|
Fat:
8
g
|
Saturated Fat:
3
g
|
Cholesterol:
17
mg
|
Sodium:
122
mg
|
Potassium:
73
mg
|
Sugar:
9
g
|
Vitamin A:
130
IU
|
Calcium:
13
mg
|
Iron:
0.6
mg
Be sure to check out all my peanut butter cookie recipes!
Rolo Stuffed Peanut Butter Cookies are gooey!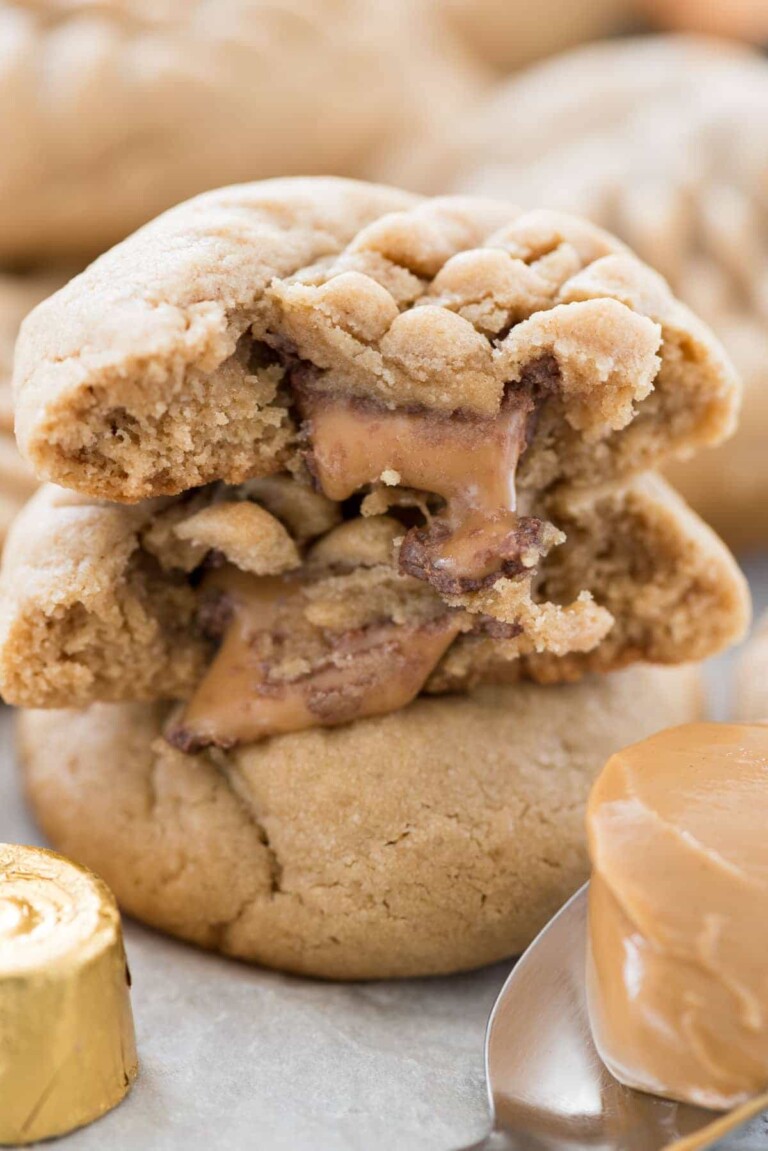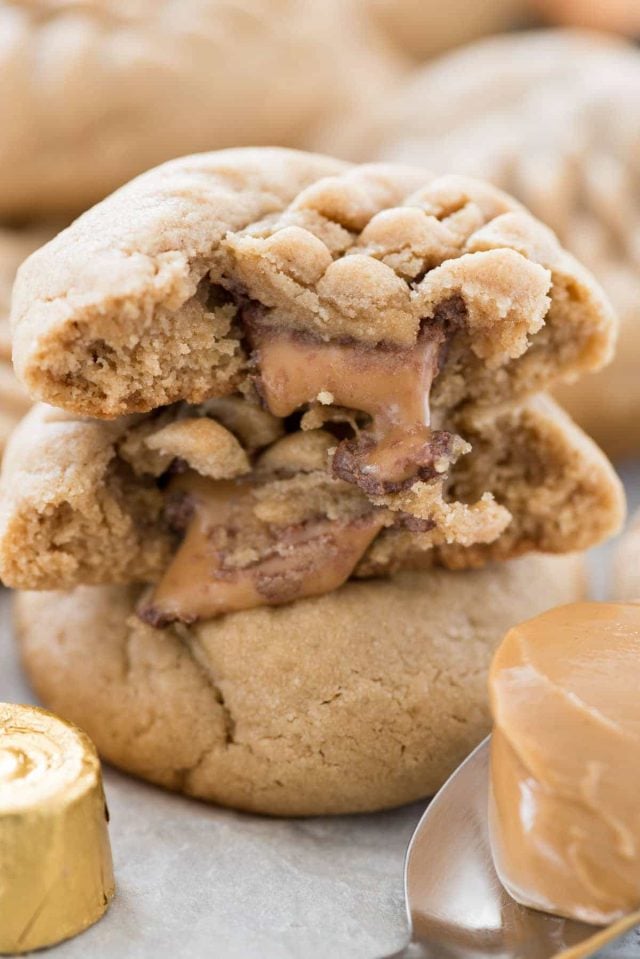 Make Peanut Butter Cookie Bars with Almond Joy!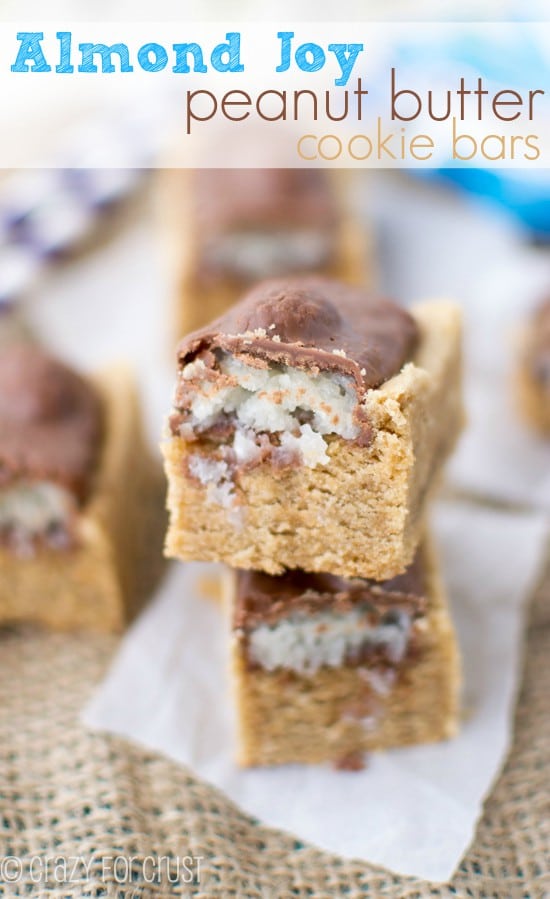 I love these peanut butter cookies with pretzels!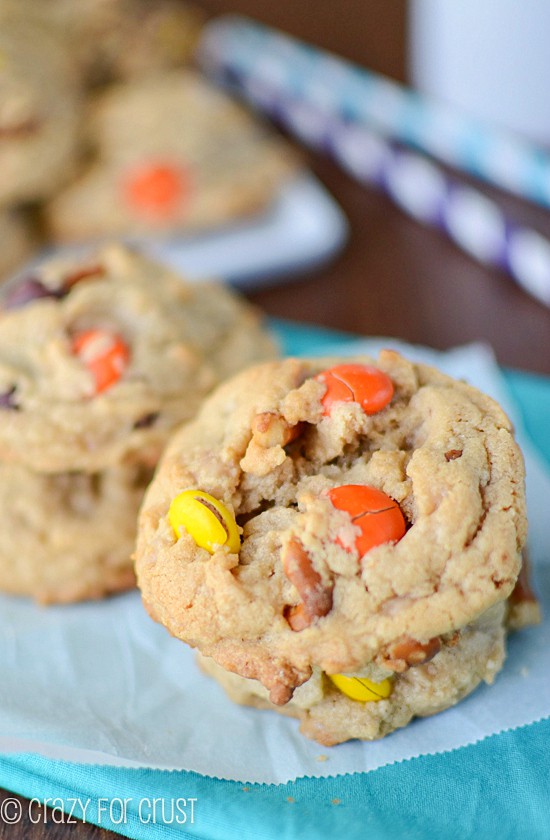 All text and images © DOROTHY KERN for Crazy for Crust. Please do not use my images without prior permission. If you want to republish this recipe, please re-write the recipe in your own words, or link back to this post for the recipe. Disclaimer: Nutrition information shown is not guaranteed to be accurate.
This post may contain affiliate links. For more information, read my disclosure policy.
Published on: July 30, 2018