This post may contain affiliate links. For more information, read my disclosure policy.
These are the absolute BEST Rice Krispie Treats because they're soft and THICK, extra gooey, and start with brown butter! Everyone needs a Rice Krispie Treats recipe, and this is the only one you'll need – even better than the original rice kripie recipe!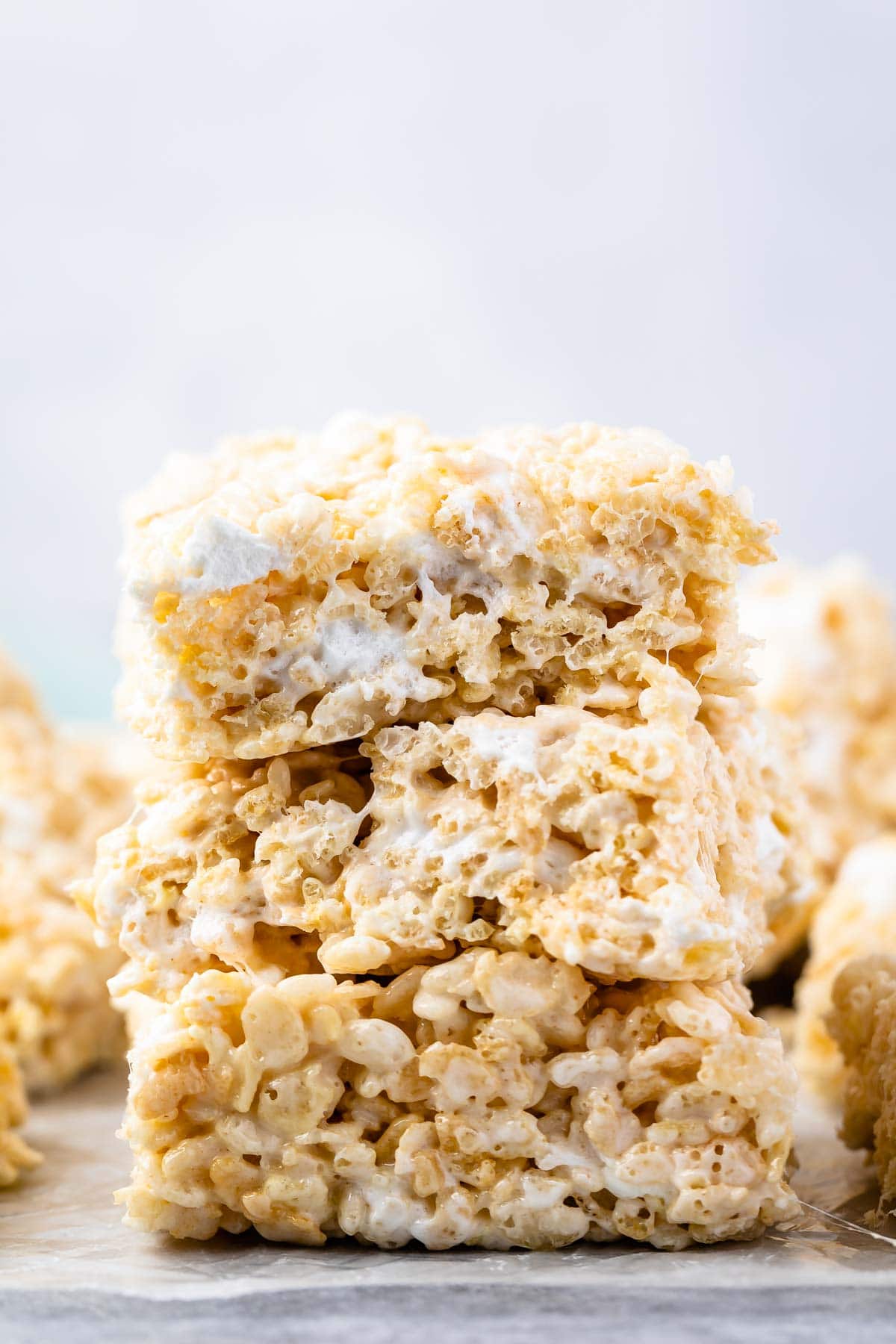 BEST EVER Rice Krispie Treats
For me, there's nothing more classic than a batch of homemade rice krispies treats! I loved a pan of these cereal treats when I was a kid, and I've lost count on how many I've made with my kid over the years.
They're easy, made with simple ingredients, and I never get tired of all the ooey-gooey marshmallows and crispy rice cereal. They really are the best no bake dessert in my book. These have a BONUS that makes them even BETTER: Brown Butter!
Why you'll love this recipe
Brown butter takes crispy treats to a whole new flavor later. I absolutely love the stuff – it tastes nutty (without nuts!) with a deep flavor that reminds me of caramel. It really makes the best recipe.
I'm sharing how to make the best ooey-gooey rice krispies marshmallow treats. You know, the kind when you pull them apart, you get those gooey strings of marshmallow? Yes, I know. It's so, so good.
My daughter says these are her favorite crispy rice treats!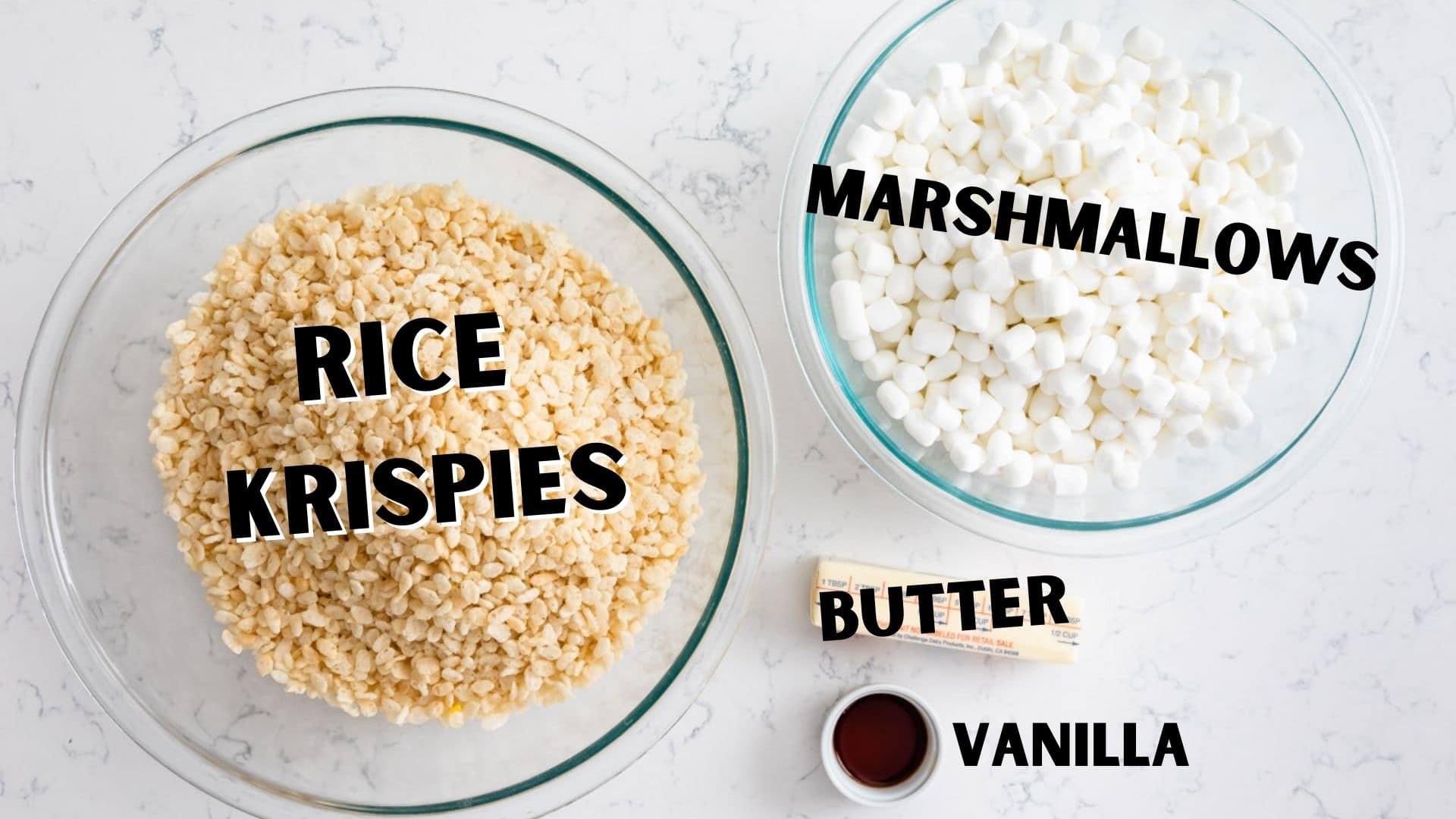 Rice Krispie Treats Ingredients
Rice Krispies Cereal: Use regular or generic or any flavor. I use 9 cups of rice krispies because I like thick bars!
Mini Marshmallows: I prefer using mini because not only are we melting them but we're stirring them in at the end too. Be sure to use FRESH marshmallows, and you need 2 bags (10 ounces each).
Unsalted Butter: You don't want to brown salted butter so be sure to use unsalted.
Vanilla: Always buy PURE vanilla extract.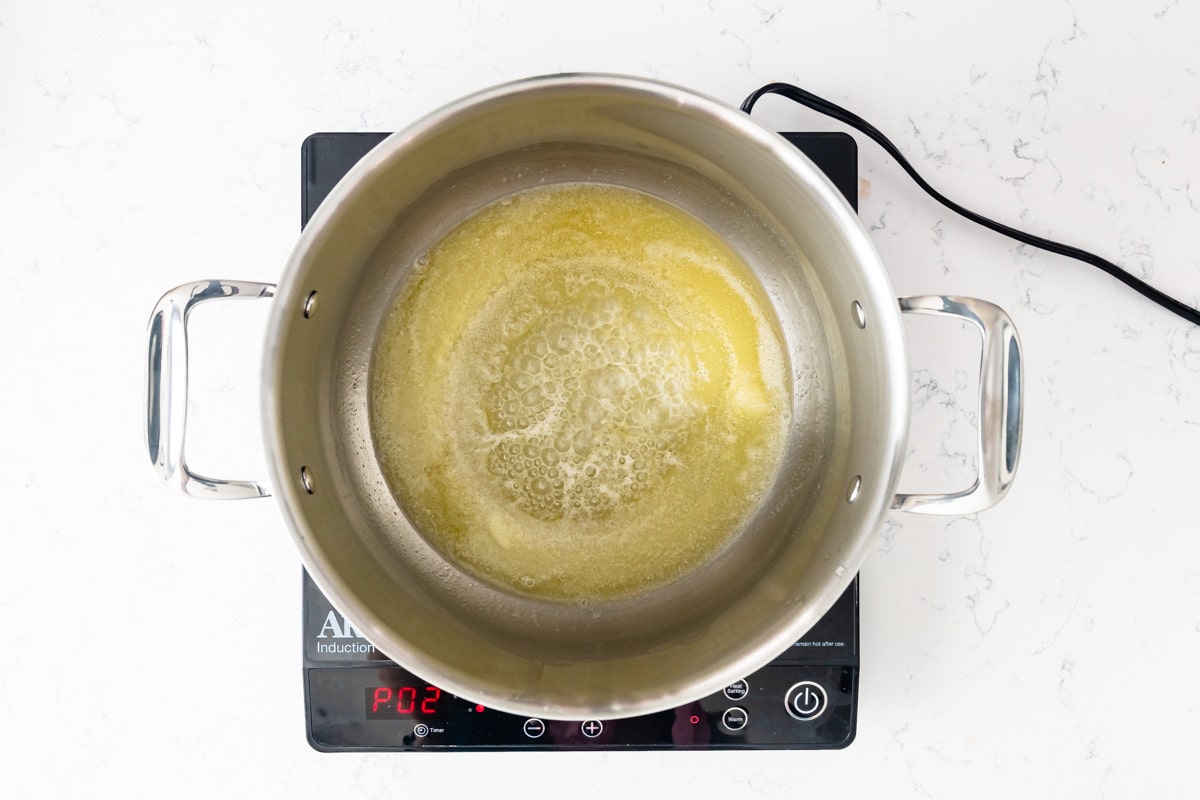 How to Make Rice Krispie Treats
Melt butter over medium heat in a large pot.
Stir while it cooks until it turns golden brown. This will take a few minutes, don't walk away from the pan.
Open the plastic bag of marshmallows, add 15 ounces to the melted butter, and stir until they melt. Stir in the vanilla extract.
Add the cereal to the melted marshmallows and stir, so it's evenly coated in the melted marshmallow mixture.
Add the rest of the marshmallows and stir gently so they don't fully melt.
Press the mixture into a prepared baking dish or casserole pan. Press carefully to ensure the mixture is compact.
Leave the pan at room temperature so the rice krispy treats can set for easy cutting. It's a short time to wait – they don't need to sit long.
Rice Krispie Treats Variations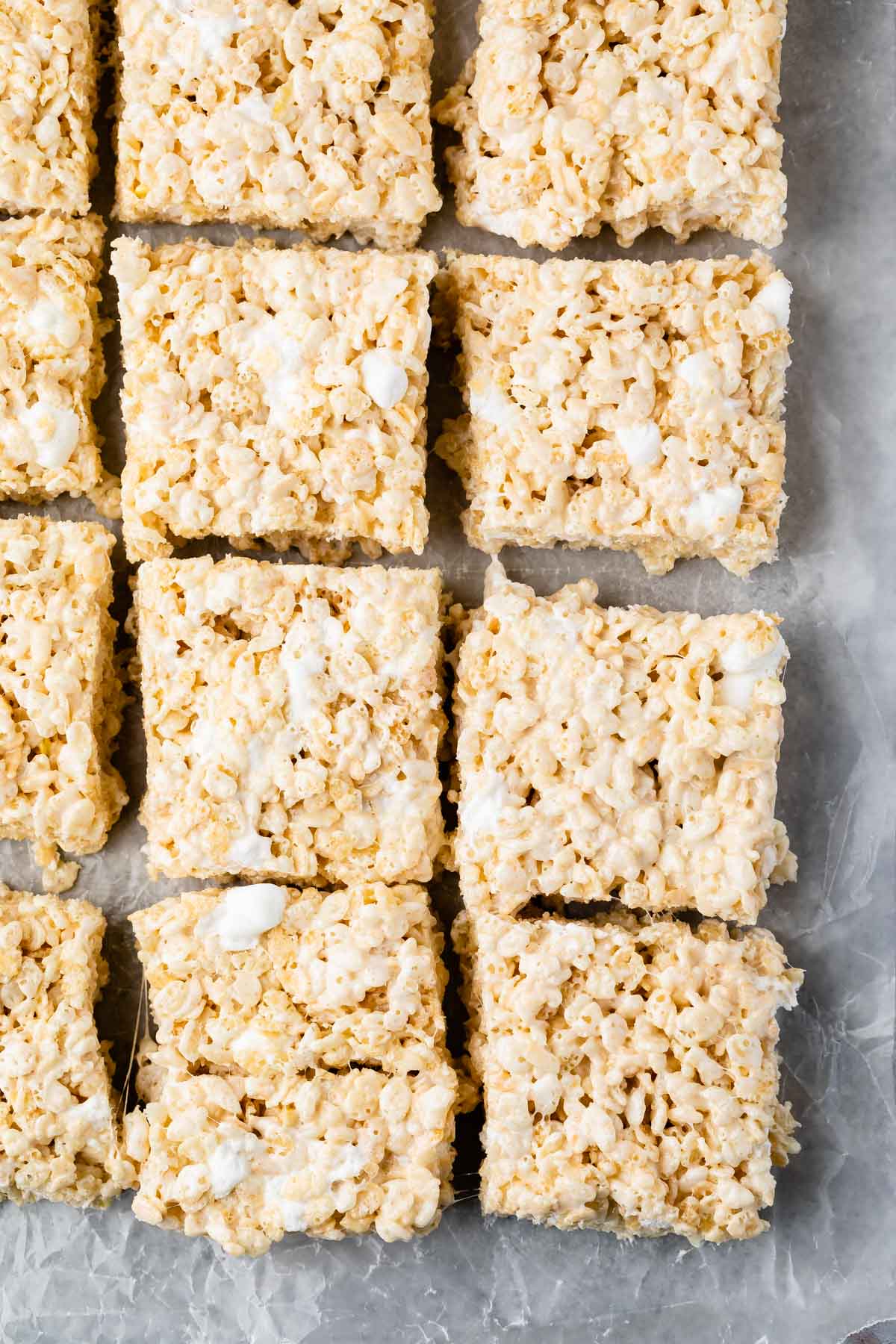 Tip From Dorothy
Expert Tips
The secret to the best gooey rice Krispies treats recipe is the marshmallows. First, make sure they are really fresh for the best results – even slightly stale marshmallows won't be as ooey-gooey. The quality of the ingredients matters, so always double-check the expiration date!
You can skip the brown butter step and just use melted butter if you prefer.
Be sure your cereal is fresh too – not stale!
Fully melt some of the marshmallows, and then once you mix in the cereal, add the rest. The second batch of marshmallows won't fully melt but will soften into amazing marshmallow pockets! That's how you get those fantastic marshmallow pulls when you pull a treat in half – it's the best way to do it.
Be sure to line your pan with parchment paper or foil and spray it with cooking spray, so the treats don't stick.
When you press the mixture into the pan, use a piece of wax paper coated with cooking spray. This will keep the mixture from sticking to your hands for less mess. It works better than a spatula or a wooden spoon, too. You can also use the butter wrapper, or spray your hands with cooking spray.
Don't press too firmly, but even if you do, these are thick an gooey and will stay soft!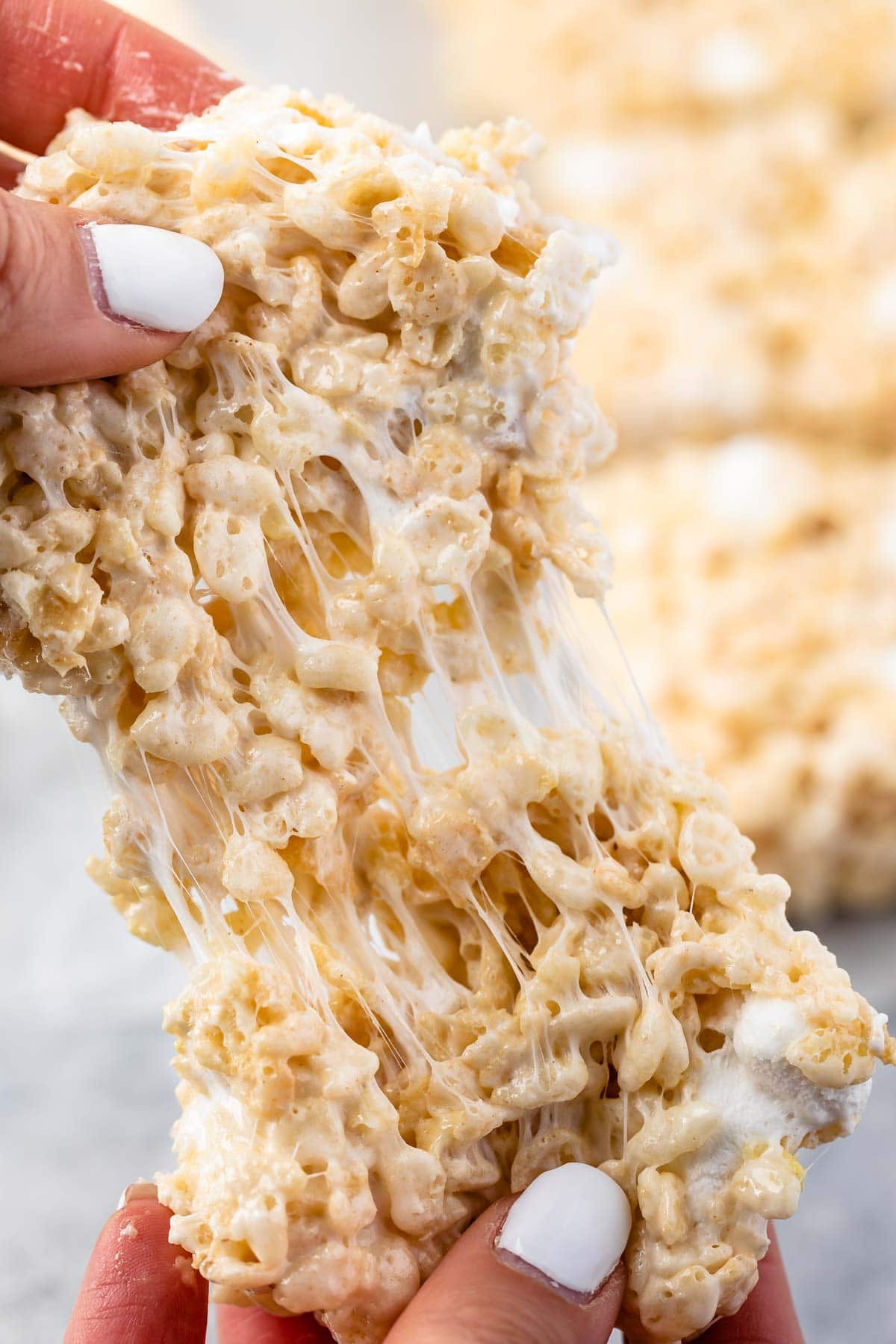 FAQ
Why are my rice krispie treats hard?
Be sure to use fresh marshmallows. Stale marshmallows will harden after they are melted and cooled, making hard rice Krispie treats with a stale texture instead of soft and gooey ones. If you're not sure about your marshmallows, your best bet is to buy a new bag.
Are rice krispie treats gluten free?
Not necessarily – it depends on the kind of cereal and marshmallows you use. The original rice Krispie treats recipe made with Kellogg's Rice Krispies cereal (the back of the box recipe) is not gluten-free. So, to make gluten-free treats, you would need to use gluten-free rice cereal. Some brands of marshmallows are gluten-free, and others are not, so double-check the package for the best options.
How long do homemade rice krispie treats last?
Room temperature: They will keep well for up to three to four days. Refrigerator: They should keep for up to a week. Freezer: Properly stored, they should keep for up to a month.
Can you freeze cereal treats?
Yes, you can freeze them. I recommend placing the individual pieces in a freezer-safe container or freezer bag with wax paper separating the layers. Freeze them for up to a month and let them thaw at room temperature before eating.
Can you make this rice krispie treats recipe with big marshmallows?
Yes, you can use big marshmallows for this rice Krispie treat recipe. You'll need to cut them for the second mix in or omit them.
How long Rice Krispie treats cool?
You should at least let these cool to room temperature before slicing. They stay gooey for days!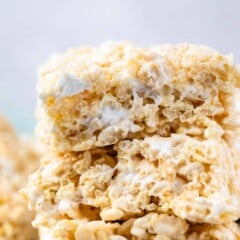 BEST Rice Krispie Treat Recipe
These are the absolute BEST Rice Krispie Treats because they're soft and THICK, extra gooey, and start with brown butter!
Ingredients
9

cups

(237g) Rice Krispies Cereal

20

ounces

(566g) mini marshmallows, divided

8

tablespoons

(113g) unsalted butter

1

teaspoon

(15ml) vanilla extract
Instructions
Line a 9×13-inch pan with foil or parchment and spray with nonstick cooking spray.

Measure out cereal and place in a large bowl.

Measure out 15 ounces (1 ½ packages) mini marshmallows and set aside.

Melt the butter in a large pot over medium low heat. Continue cooking the butter, stirring occasionally, until the butter browns. This will take 3-7 minutes depending on the size of your pan, but just watch it – it'll foam then reduce and little brown flecks will form in the bottom of the pan.

Once the butter is browned, add the marshmallows and stir until melted. Remove from heat and stir in vanilla extract.

Add cereal and stir to coat with the marshmallow mixture. Stir in remaining marshmallows and immediately pour into prepared pan. Press firmly to compact. Tip: spray wax paper with nonstick cooking spray so you can press without it sticking to your hands.

Let set until firm then slice into bars. Store in an airtight container for up to 3 days. To freeze, let cool completely then cut into bars and wrap each individual bar in wax paper and freeze in an airtight container for up to 3 months.
Recipe Notes
Use any flavor Rice Krispies cereal.
You can use any size marshmallows, just make sure you're only using 15 ounces in the actual mixture – you'll want mini ones to mix in or you'll have to slice large ones to fold in at the end.
You can skip browning the butter but it adds SO much amazing flavor.
These stay extra gooey but will get stale if not stored properly.
Only use FRESH marshmallows and not-stale cereal for best results.
Recipe Nutrition
Serving:
1
serving
|
Calories:
298
kcal
|
Carbohydrates:
56
g
|
Protein:
2
g
|
Fat:
8
g
|
Saturated Fat:
5
g
|
Polyunsaturated Fat:
1
g
|
Monounsaturated Fat:
2
g
|
Trans Fat:
1
g
|
Cholesterol:
20
mg
|
Sodium:
150
mg
|
Potassium:
31
mg
|
Fiber:
1
g
|
Sugar:
29
g
|
Vitamin A:
1630
IU
|
Vitamin C:
13
mg
|
Calcium:
5
mg
|
Iron:
6
mg
Nutritional information not guaranteed to be accurate
Make a batch of these homemade rice Krispie treats soon, and I know they'll be a hit! Make a pan of treats to share the next time you have an event, or keep them all to yourself – either way, every bite of these sweet treats will not disappoint. Enjoy!
Last Updated on May 19, 2023