This post may contain affiliate links. For more information, read my disclosure policy.
Brown Butter is one of those ingredients that you may not know how to make and today I'm going to teach you! It's easy to do and adds so much flavor to any recipe where butter is an ingredient. If you've never had it you're missing out!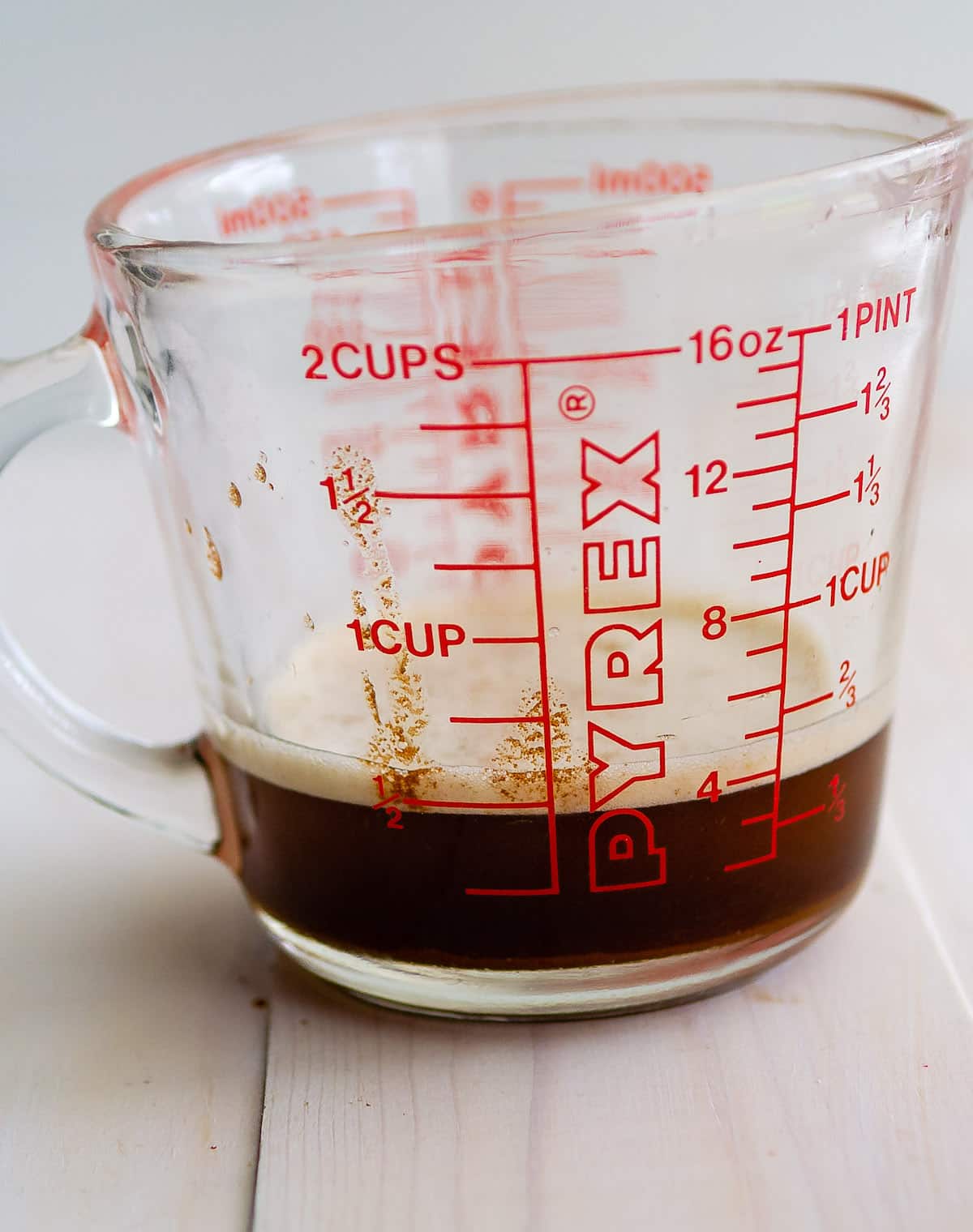 What is brown butter?
The first time I had this butter I was in awe. Cooking the butter until it's brown gives it a nutty and rich flavor that regular butter just doesn't have.
Nope, brown butter isn't just burned butter!
I've used this in so many recipes – including one of my favorite chocolate chip cookie recipes – and it is such an easy ingredient.
What's so special about brown butter? Well let me tell you:
When you cook butter slowly it turns brown and dark and golden. The butter concentrates as the milk solids turn dark and the result has a slightly nutty flavor.
What butter is best for brown butter?
The best kind of butter to use when browning butter is unsalted. Salted butter can ruin the flavor, if the salt gets too concentrated as it cooks. I highly recommend using unsalted butter, also called sweet cream butter.
When it comes to brand, you all know that Challenge Butter is my favorite, but regardless of what you use, be sure to use a top-quality brand. Don't use the cheap store brand – the browning only concentrates the flavor. It's like when you cook with wine; you want to use one you'd actually drink (or spread on bread, in the case of butter).
Expert Tips
Start with room temperature butter if you remember – it melts faster
Use low to medium heat so the butter doesn't cook too fast
Cut the butter into small chunks before starting so that it melts evenly
Stir occasionally and don't walk away from the stove!
How to make brown butter properly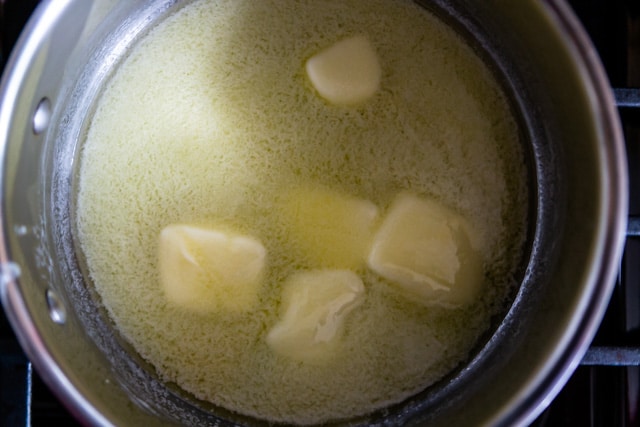 Melt the butter in a saucepan over medium heat. Let it melt slowly.
Once the butter melts, it will start to boil and foam.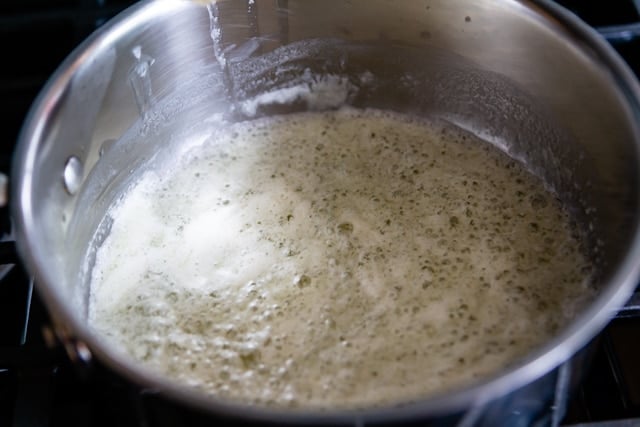 You'll be able to see below all the foam, that the butter is still yellow at first. As you cook it it will turn from a light yellow to darker yellow, then to light amber to golden brown.
Butter goes from brown to burned fast – so keep an eye on it!

PRO TIP
It will foam quite a bit during cooking, so be sure to continue stirring occasionally and not leave it alone.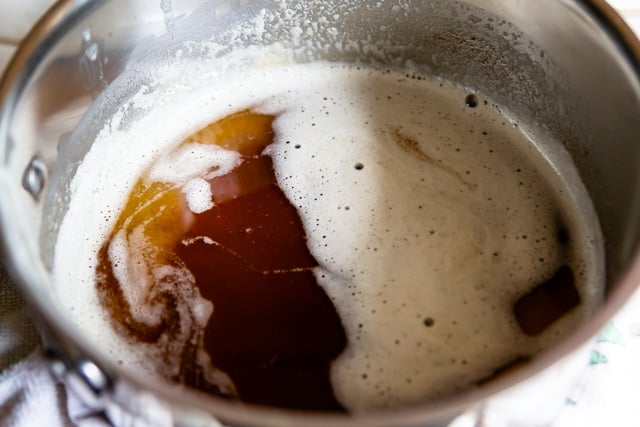 Once it gets to a nice dark amber color, it's done cooking. Be careful – butter can go from brown to burnt VERY fast – so be sure and watch it. Once it turns brown, take it off the heat.
The milk fats in the butter will sink to the bottom and look like silt – that's the good stuff and totally normal!
What do you use brown butter for?
There are so many uses for this amber colored wonderfulness! Here are some of my favorite brown butter recipes:
Spoon it over vegetables, pasta or meat – brown butter sauce is so flavorful!
Mix it with chopped nuts and sage for a sauce for ravioli, pasta, or vegetables.
I've used it with my garlic green beans recipe and it's delish!
Add it in place of butter in sauces like Alfredo.
For baking, there are SO many ways to use it! Besides the chocolate chip cookies, I use it in:
Storing Tips
It's probably best to just brown your butter and use immediately in a sauce. I wouldn't make a bunch and save it for a rainy day – it's best fresh.
The only time I chill it is when I'm making frosting – I want a solid butter when I make buttercream, so let it harden up in those cases.
FAQs
How long does it take to make brown butter?
About 5-10 minutes depending on how much you're browning and the size pan you're using.
How to tell if brown butter is burnt?
The flecks in the bottom of the butter will turn black as the butter starts to burn. It will become smokey and also smell rancid.
How to make brown butter for cookies?
If your recipe calls for melted butter to start, just brown the butter as stated, then use it in the recipe. If the cookie recipe you're using wants softened butter, allow the browned butter to cool completely – it will firm back up as it reaches room temperature.
How to make brown buttercream?
Let the butter firm back up and then use it in your favorite frosting recipe – the flavor is unbelievable!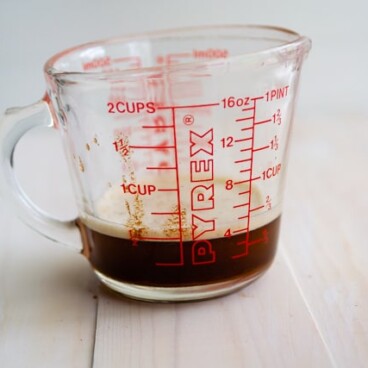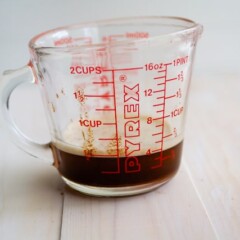 Brown Butter Recipe
Learn how to make this nutty golden butter – it's so easy and adds so much flavor!
Instructions
Slice your butter into chunks or tablespoons. Place in a saucepan over medium-low heat.

Melt the butter then cook, stirring often, until the butter browns. It will melt then boil, then foam and turn from yellow to golden to amber to brown. It will go from brown to burned fast, so be sure and watch it.

Use immediately unless you're making frosting with it and need it to set. The milk fats in the butter will form little brown silt in the bottom, this is normal and that's the good stuff!
Recipe Nutrition
Serving:
1
tablespoon
|
Calories:
102
kcal
|
Carbohydrates:
1
g
|
Protein:
1
g
|
Fat:
12
g
|
Saturated Fat:
7
g
|
Cholesterol:
31
mg
|
Sodium:
2
mg
|
Sugar:
1
g
|
Vitamin A:
355
IU
|
Calcium:
3
mg
Nutritional information not guaranteed to be accurate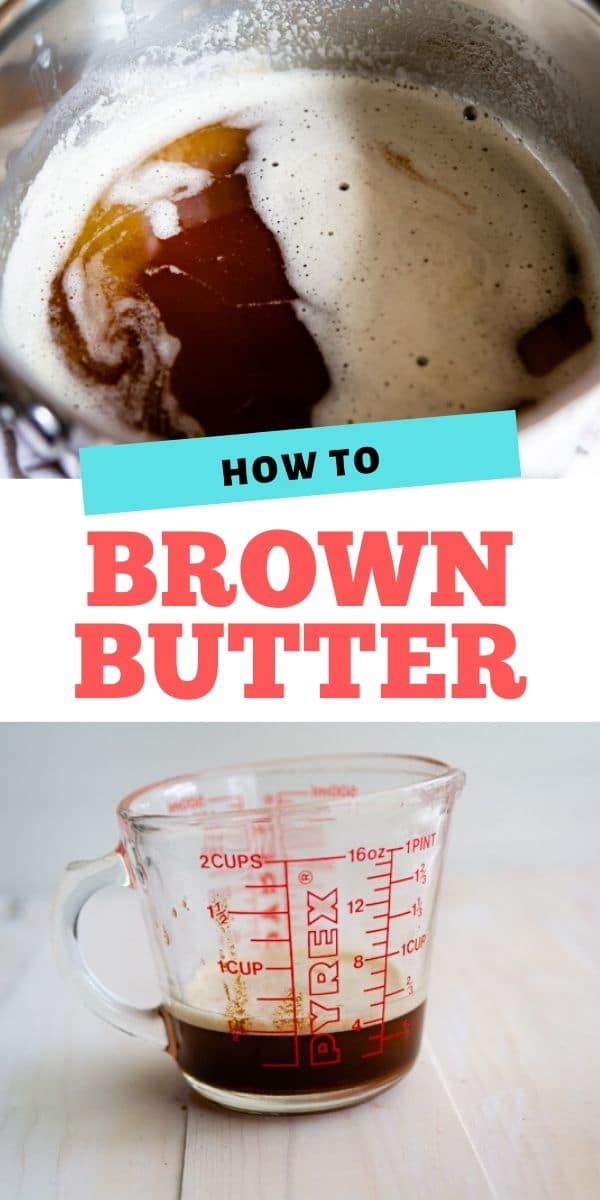 This recipe is an easy way to make browned butter that adds so much flavor to recipes!
Last Updated on September 23, 2022