This post may contain affiliate links. For more information, read my disclosure policy.
Fruity Pebble Krispie Treats are the best kind of marshmallow cereal treat! Made with fruity pebbles and lots of marshmallows this recipe is gooey and sweet and the perfect rainbow treat!
If you love Rice Krispies or Pebbles cereals, these easy Krispie treats are perfect for you. I can't ever get enough Fruity or Cocoa Pebbles, so I love making these with all my favorite cereal flavors!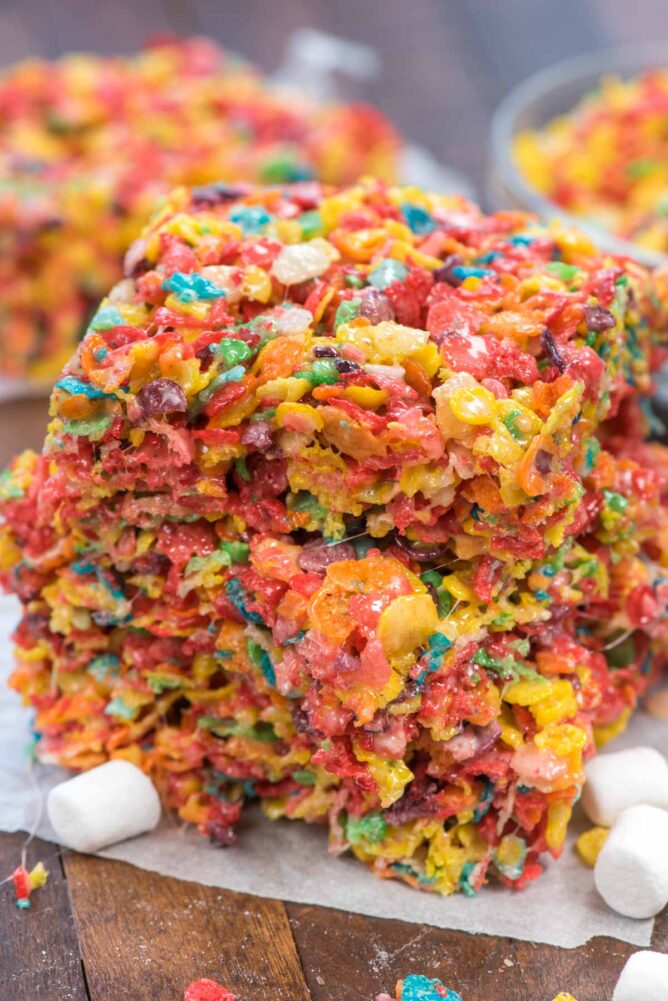 How to make Fruity Pebble Cereal Treats Video
I thought these fun and pretty cereal treats would be a good way to celebrate this week. Why? Because Jordan, my baby, turns 13 tomorrow! Somehow I went from a little baby to a 5-year-old to a teenager. (Honestly, I don't know what's worse: having a teenager or knowing I'm old enough to have a teenager…)
As hard as this new stage of parenting has become (and as hard as it will get over the next few years), I love watching Jordan grow up. Every age is my favorite, but I love having her be older and like gossip and Riverdale and shopping. I just have to remind myself when she's talking to me like I know nothing that I love having her as a Starbucks buddy. She really is one of my best friends, and I cannot wait to see what the next few years bring us.
(I know what the next few years are going to bring me: lots of wine to cope.)
I post every year for Jordan's birthday. Until recently, her favorite dessert for me to make was something Chocolate Mint related. After all, February 19 is National Chocolate Mint Day so when it be came her favorite dessert it was kind of fitting. I've made her Chocolate Mint Poke Cake, a Mint Chocolate Chip Cake Roll, and Mint Chocolate Brownie Cupcakes for past birthdays. Most recently, she's fallen in love with Elmer's Brown Sugar Pecan Pie, which is what she asked for last year and again this year for her birthday treat. (And HE has to make it. I'm not allowed to.)
The only other thing Jordan loves more than that pie is cereal. She's obsessed with cereal; she'd eat it for every meal if I let her. Honey Nut Cheerios are what I make her eat for normal breakfasts because it's sweet but not as bad for you as her favorites: Capt'n Crunch and Fruity Pebbles.
That's why I decided that Fruity Pebble Krispie Treats were what I should make for her birthday post this year. Happy 13th my sweet girl!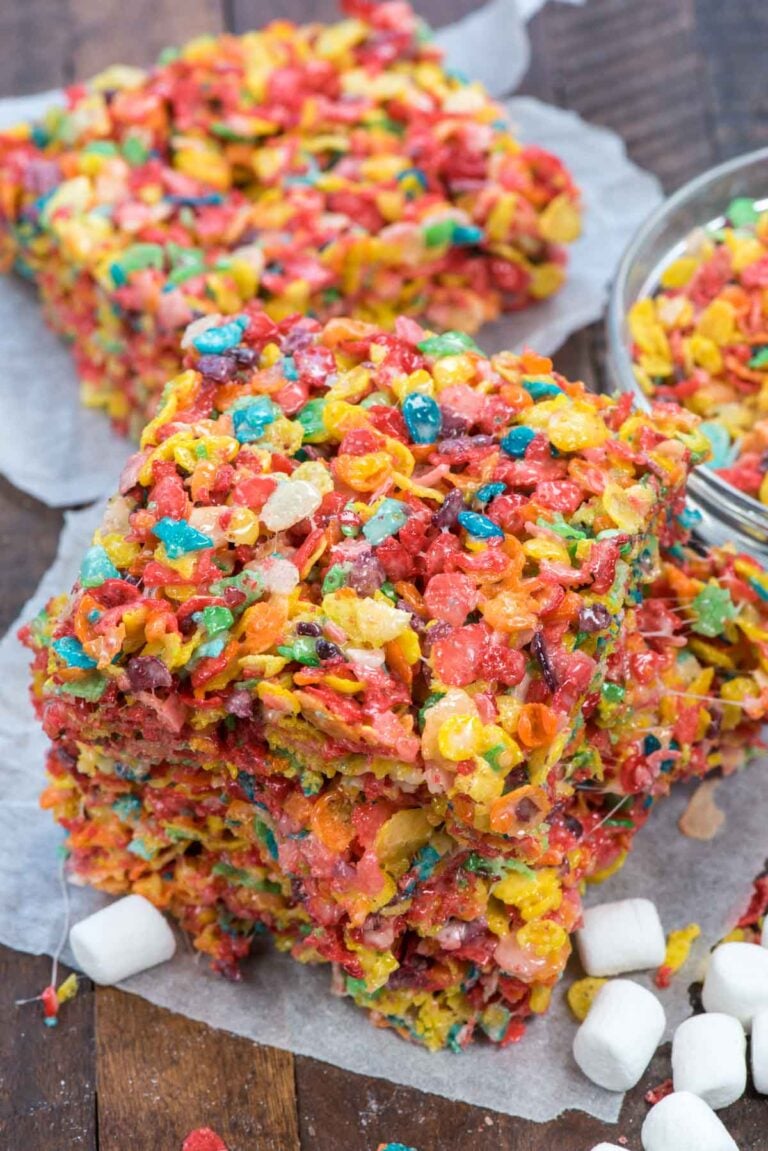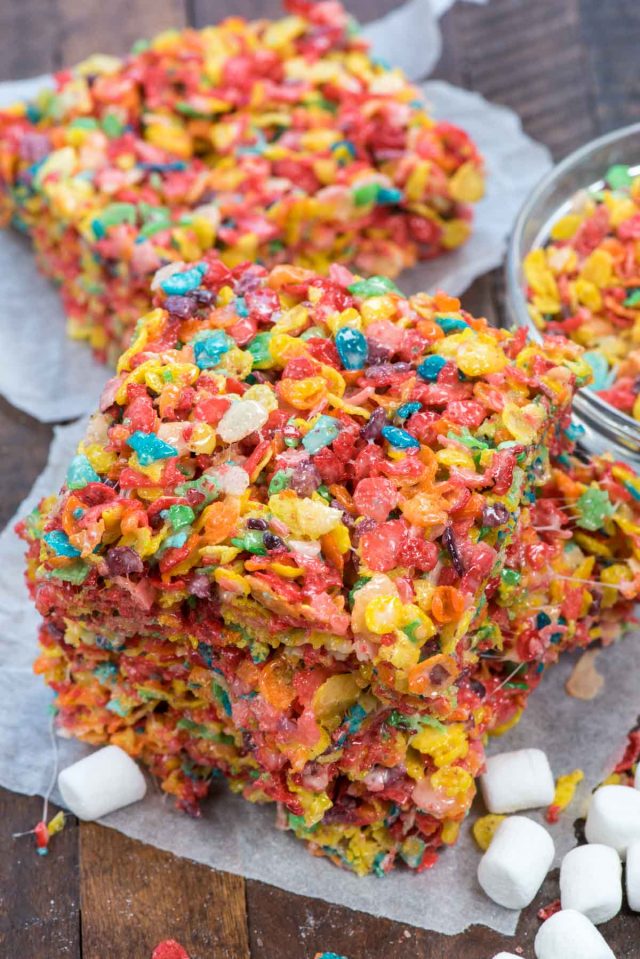 If I'm being totally honest, plain old Rice Krispie Treats are not something I'd choose for dessert. If you add Butterfingers, then I'm more likely to say yes, but I still prefer pie. However, I do have a Pebbles Cereal addiction. I've made a few recipes with Fruity Pebbles: muffins and cookies, as well as a no bake dessert with Cocoa Pebbles and cookies with Cinnamon Pebbles. Basically, I like the cereal, a lot, but I've never made cereal treats with them, until now.
That was a diet mistake, guys. Just forewarning you. Don't make these if you're dieting, unless you're serving them at a party or giving them away. Because I'm pretty sure 1/9 of the recipe is NOT a serving and NOT on WW.
However, Jordan's face lit up when she saw these, making me realize that I was spot on for what I should post for her birthday. Plus, there was leftover cereal that she got to eat for breakfast…and snack…and dessert.
That girl is just like her mama, what can I say?
Fruity Pebble Treats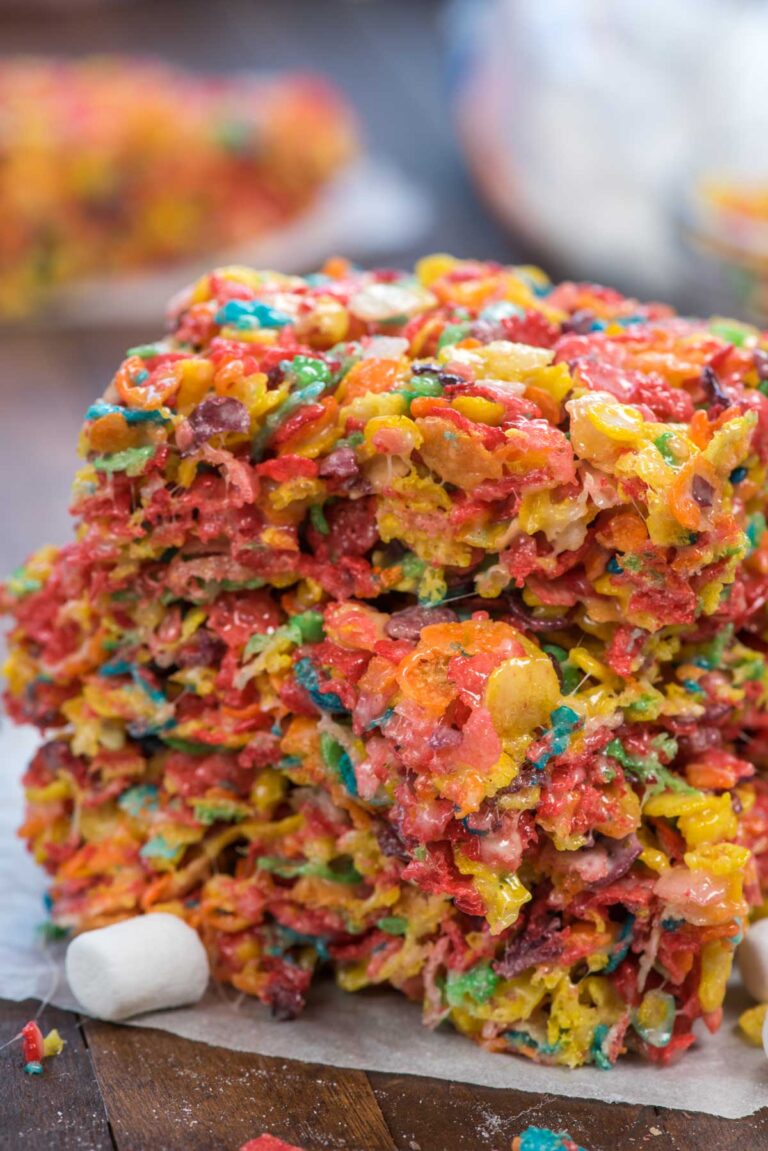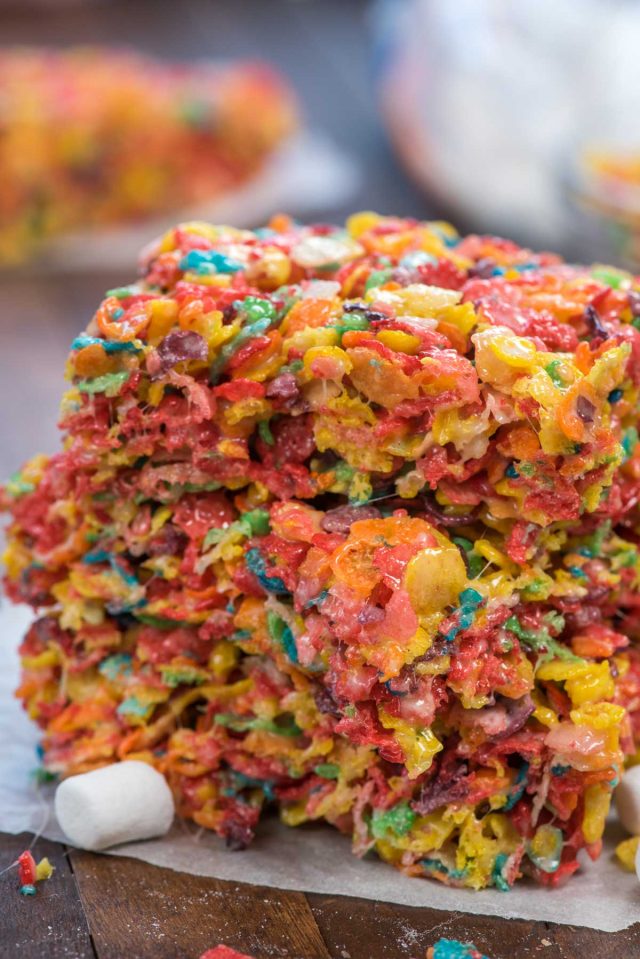 How to make the best Fruity Pebbles Rice Krispie Treats:
Use just the right amount of butter and marshmallows. I find the regular Krispie treat recipe on the box to be a bit dry for my taste. I want a gooey treat, not one that cuts the roof of my mouth.
For goodness sake, use FRESH cereal, no matter the flavor. Stale cereal really tastes stale when you make these. Same goes for the marshmallows! FRESH ingredients, please.
Use any Krispie or Pebbles cereal flavor you like (ahem, COCOA PEBBLES).
To press the cereal in the pan and not have it stick to your hands, spray wax paper with nonstick cooking spray and use it to press down the treats. Works like a charm with no messy hands!
Just be sure to serve these to someone who will love them, like a 13 year old or her mother. 🙂
Tools for success:
Favorite Crazy For Crust Recipes:
Want even more? Subscribe to Crazy for Crust to get new recipes and a newsletter delivered to your inbox. And stay in touch on Facebook, Pinterest, Twitter, and Instagram for all my latest updates.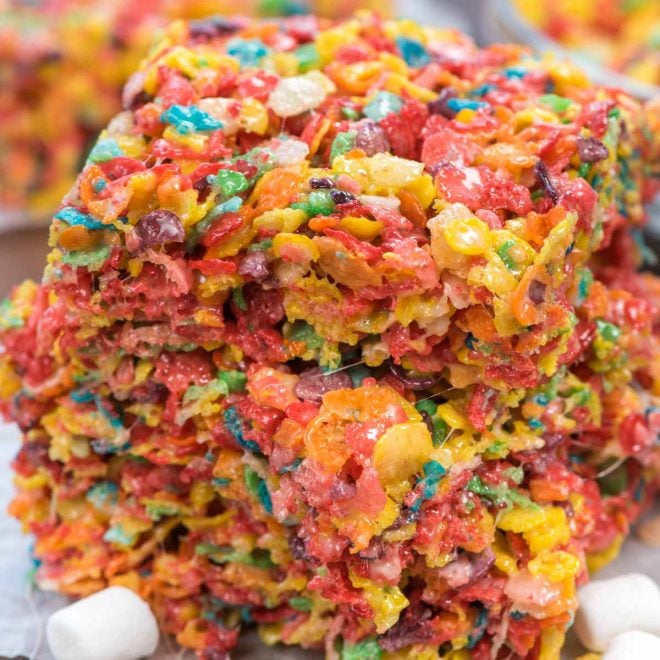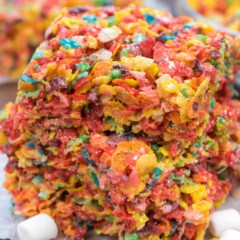 Fruity Pebble Krispie Treats
Fruity Pebble Krispie Treats are the best kind of marshmallow cereal treat! Made with fruity pebbles and lots of marshmallows this recipe is gooey and sweet and the perfect rainbow treat!
Ingredients
9

cups

Fruity Pebbles Cereal (or any Pebbles flavor)

398g

15

ounces

mini marshmallows

426g

8

tablespoons

unsalted butter

113g

1

teaspoon

vanilla extract

15ml
Instructions
Line a 9×13-inch pan with foil and spray with nonstick cooking spray.

Melt the butter in a large pot over medium low heat. Add the marshmallows and stir until melted. Remove from heat and stir in vanilla extract.

Add cereal and stir to coat with the marshmallow mixture. Pour into pan. Press firmly to compact. Tip: spray wax paper with nonstick cooking spray so you can press without it sticking to your hands.

Let set until firm then slice into bars. Store in an airtight container for up to 3 days.
Recipe Nutrition
Serving:
1
bar
|
Calories:
114
kcal
|
Carbohydrates:
17
g
|
Protein:
1
g
|
Fat:
4
g
|
Saturated Fat:
3
g
|
Cholesterol:
10
mg
|
Sodium:
89
mg
|
Sugar:
8
g
Nutritional information not guaranteed to be accurate
If you love Fruity Pebbles you MUST try Jocelyn's Fruity Pebble French Toast, Julianne's Fruity Pebble Poke Cake, or these Fruity Pebble Granola Bars!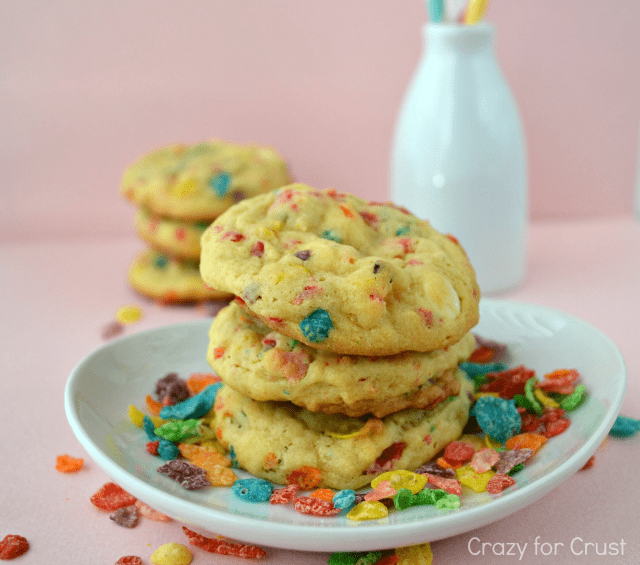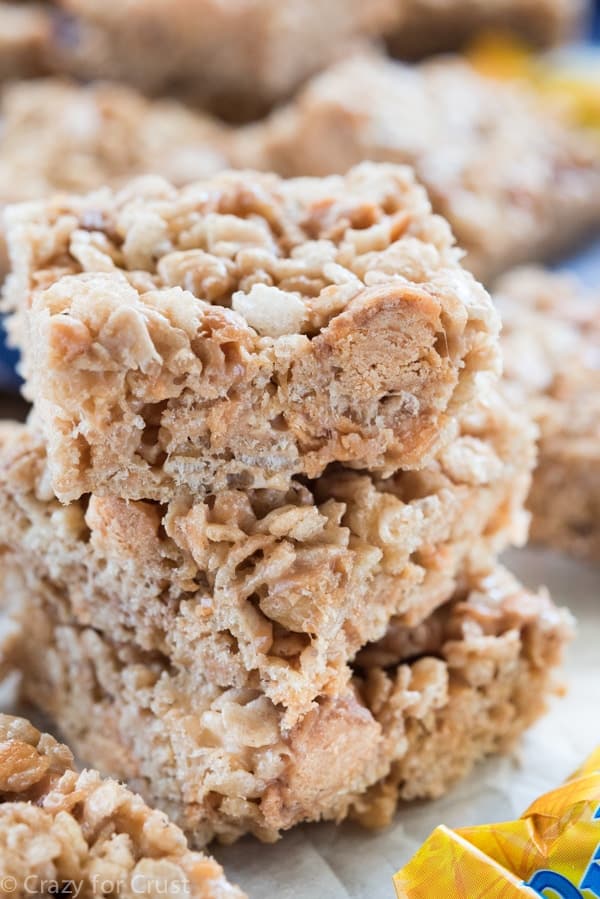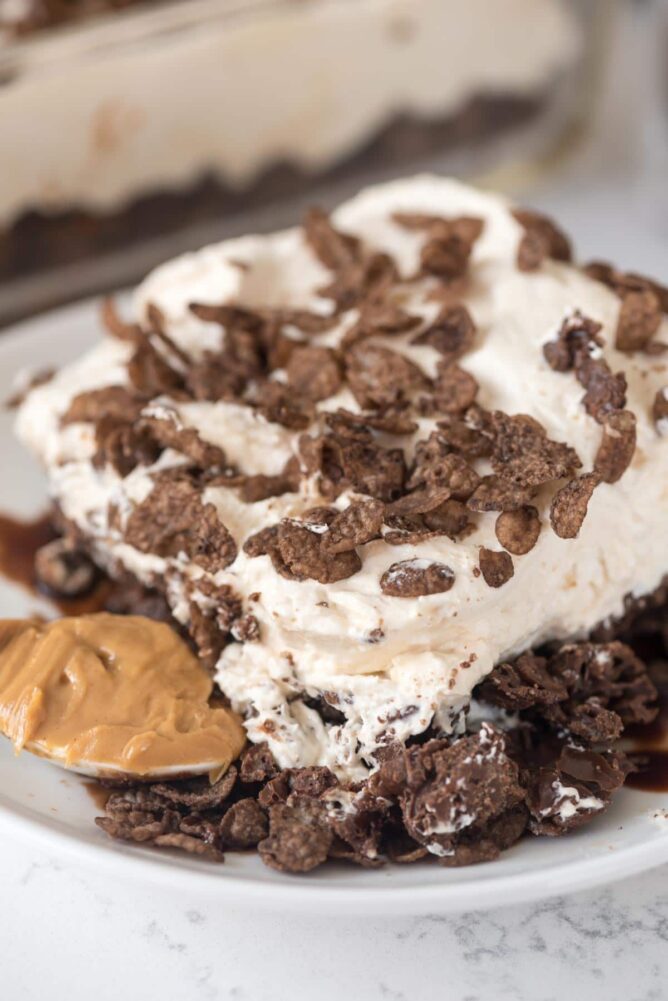 **Did you make this recipe? Don't forget to give it a star rating below!**
Last Updated on May 12, 2020