This post may contain affiliate links. For more information, read my disclosure policy.
I know summer is winding to an end, but that doesn't mean I don't want a good no-bake dessert. This Peanut Butter Cocoa Pebbles No-Bake Dessert not only satisfies my craving, but it makes me feel like a kid again too!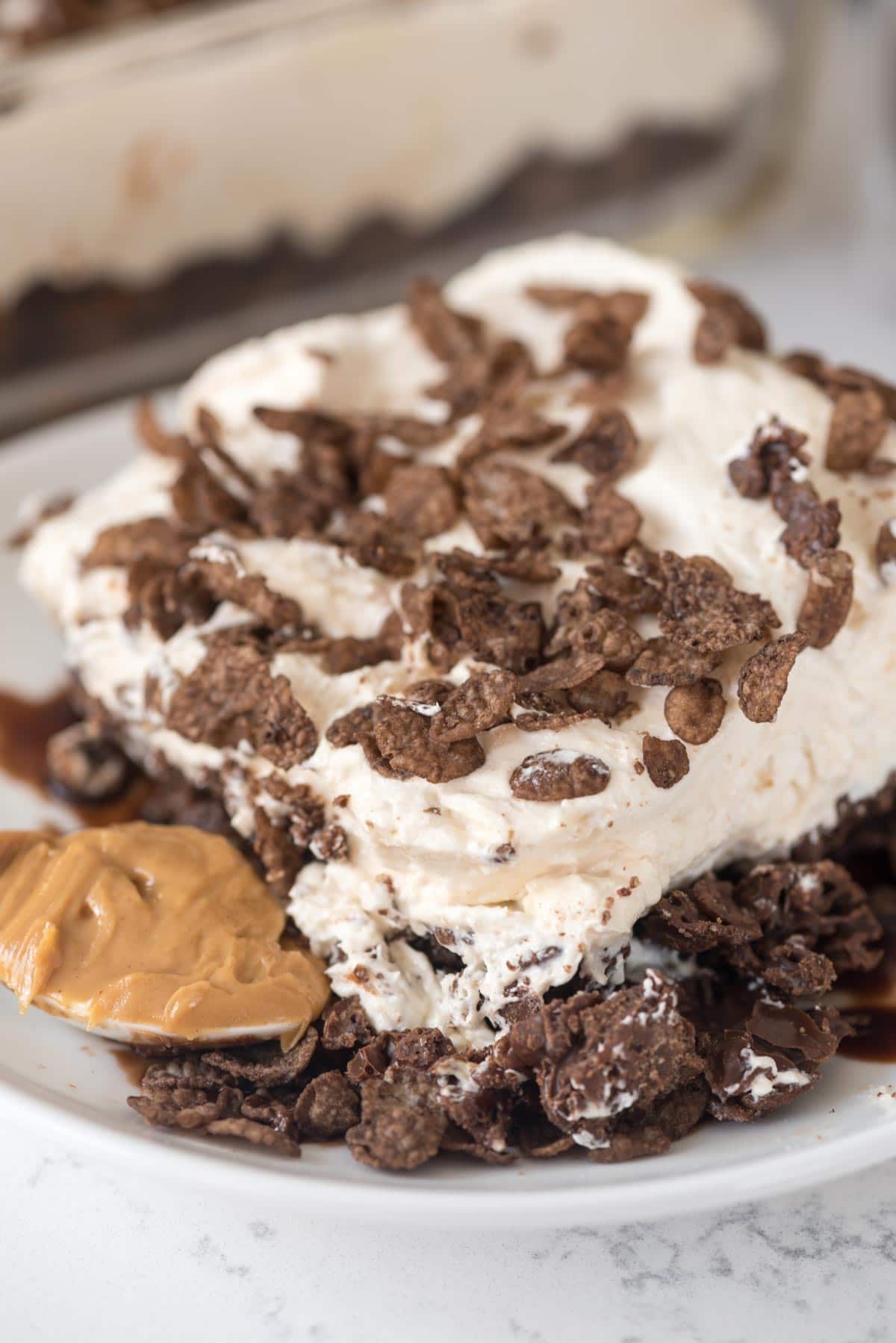 I did something really fun and unexpected last week: had a mom sleepover. Mel was out of town and I let Jordan invite a friend to sleepover, but instead of just letting them do their thing while I binge-watched Nurse Jackie, I invited the mom to sleep over too. We're friends and are always too busy to really spend quality time gabbing and catching up, so I figured I'd tap into my inner child and host an adult sleepover. It was probably one of the more fun evenings I've had in a really long time. We got to catch up, one on one, and act like kids again staying up late.
Of course, the next morning we were paying for our late night. Just like the kids we were tired and just a bit cranky…except we had to adult. Sometimes acting like a kid again comes with a price, ha!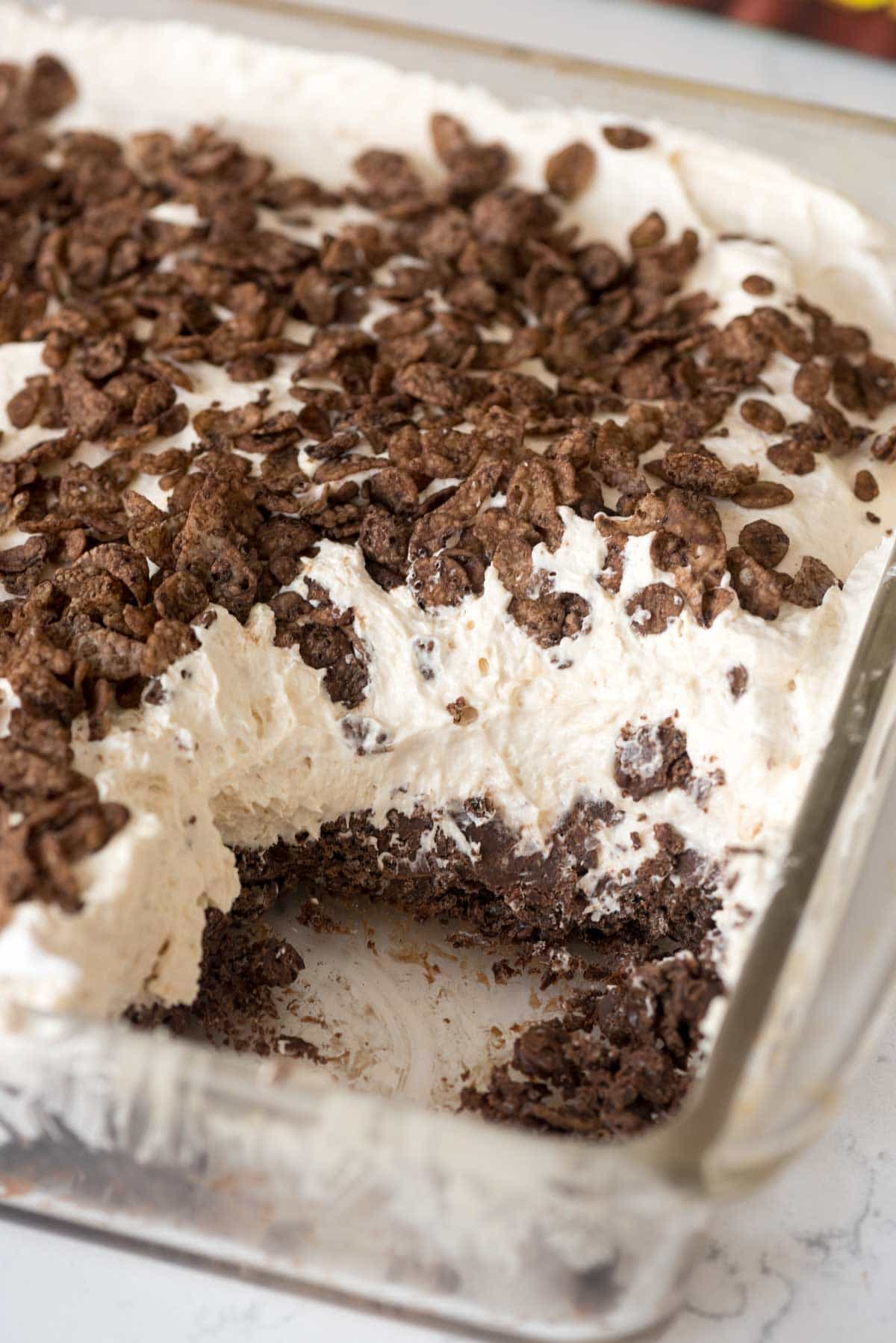 Speaking of acting like a kid again, have you ever been at the grocery store and seen the brightly colored boxes of cereal and just NEEDED to buy them? I get like that sometimes; the craving for the cereals I love just MAKE me buy them. Fruity Pebbles and Cocoa Pebbles are two of the ones that call to me often.
I love Fruity Pebbles dry – no milk. I'll eat it as dessert with a spoon, savoring the fruity sweet crunch. Cocoa Pebbles MUST have milk because at the end you get a bowl of chocolate milk you can slurp like when you were 11 and annoying your mom at the breakfast table.
But, if I'm being honest, one of my favorite things to do with those cereals is turn them into something else. After all, one of my more popular recipes is my Fruity Pebbles Pudding Cookies. Have you tried them? Those are actually one of my favorite pudding cookie flavors. I followed them up with Fruity Pebbles Muffins, making Pebbles portable.
I realized recently I have no recipes with Cocoa Pebbles. That's just..wrong. I decided I needed to change that…so I made a No Bake Peanut Butter Cocoa Pebble Dessert. That was a GOOD DECISION, y'all.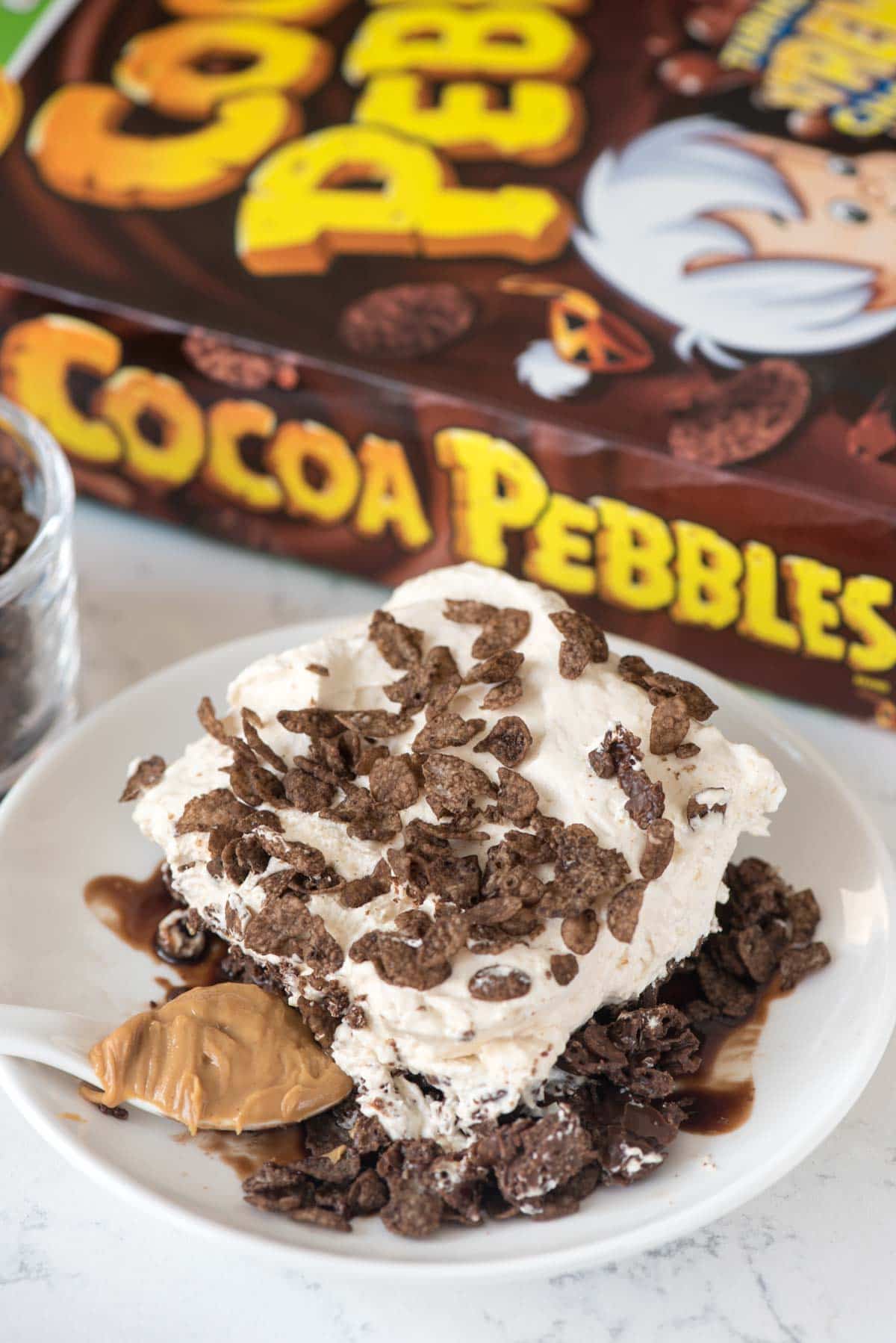 This dessert is completely no-bake, which I love year round. It's full of peanut butter and chocolate, so it's obviously one of my favorite things ever. Plus, ALL THE COCOA PEBBLES. The crust is made out of them.
I took Cocoa Pebbles and mixed them with peanut butter and melted chocolate chips and then pressed them into a 9×9″ pan. Once it hardened it becomes a crunchy, sweet, chocolatey peanut buttery cereal crust!
Then I made an easy no-bake peanut butter cheesecake to spread on top. It's super soft and fluffy and surprisingly light, so it lets the crust totally stand out.
Sprinkle some more Cocoa Pebbles on top and feel like a kid again eating DESSERT!

Which Pebbles are your favorite?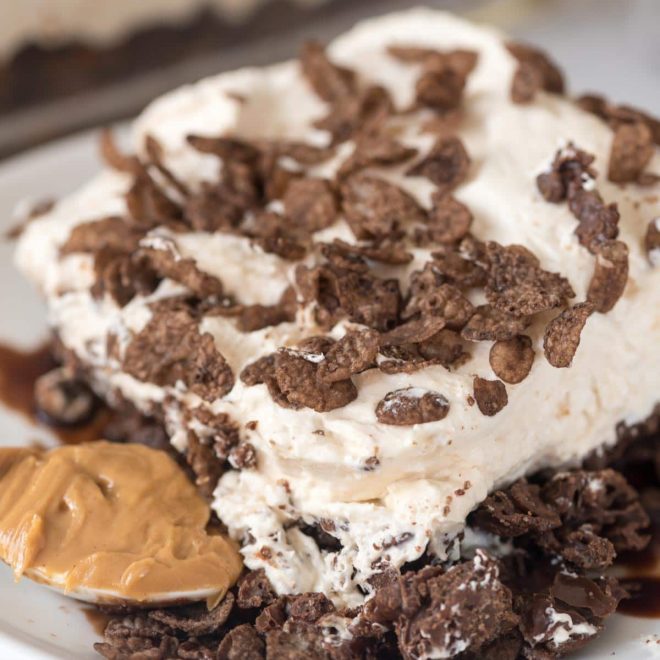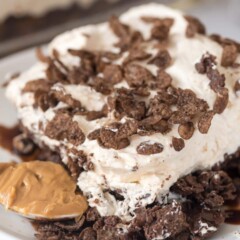 Peanut Butter Cocoa Pebbles No-Bake Dessert
Peanut Butter Cocoa Pebbles No-Bake Dessert - make a crust with Cocoa Pebbles and peanut butter and fill it with no-bake peanut butter cheesecake! Feel like a kid again with this easy dessert.
Ingredients
For the crust:
1/3

cup

peanut butter

3/4

cup

chocolate chips

3

cups

Cocoa Pebbles
For the filling:
8

ounces

cream cheese

room temperature

1/4

cup

peanut butter

1/4

cup

granulated sugar

1

teaspoon

vanilla extract

1

8 ounce container whipped topping (or about 3 cups freshly whipped cream)

More Cocoa Pebbles for garnish
Instructions
Place peanut butter and chocolate chips in a medium sized microwave safe bowl. Heat on high in 30 second increments, stirring between each, until melted and smooth (about 1 minute). Stir in cereal and stir to coat.

Spray a 9x9" pan with nonstick cooking spray. Place the crust in the bottom of the pan and press it flat with a spatula. Chill while you make the filling.

Beat cream cheese until smooth, then mix in the peanut butter until no lumps remain. Mix in sugar and vanilla and then fold in whipped topping.

Spread cheesecake mixture over the crust. Chill to set, about 30 minutes (or longer), then sprinkle with more cereal for garnish. Cut and serve with chocolate sauce.

Store in the refrigerator for up to 3 days.
Nutritional information not guaranteed to be accurate
Click here to see more PEANUT BUTTER recipes!
For more inspiring Pebbles content, connect with us on Facebook, Instagram, and Twitter @PebblesCereal.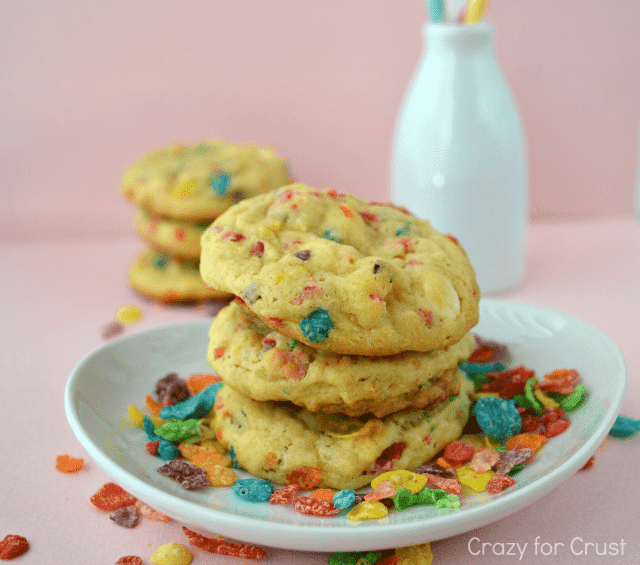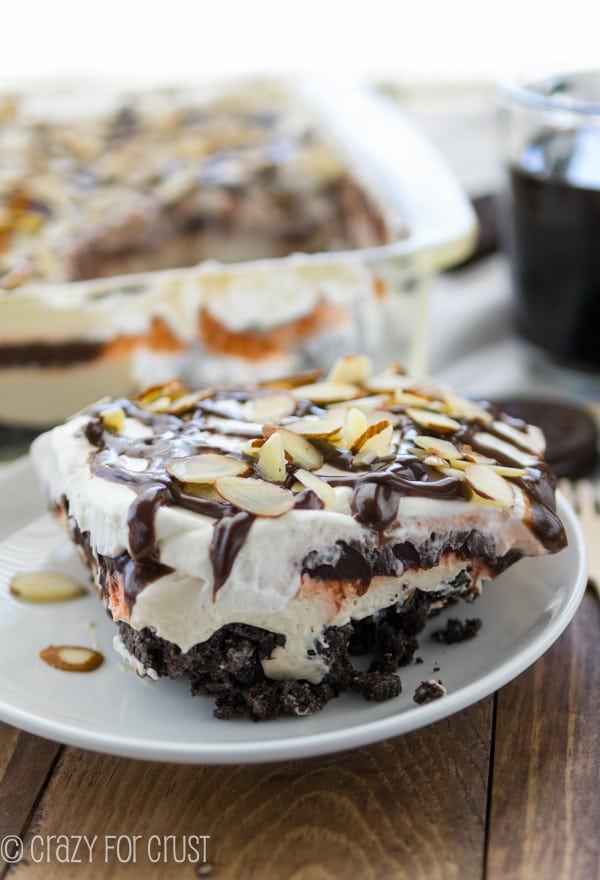 This post has been sponsored by Post Cereals Cocoa Pebbles. All opinions are 100% my own.
Last Updated on September 23, 2019