This post may contain affiliate links. For more information, read my disclosure policy.
You know when you make something and then the next day you realize you ate the entire pan? (Or is that just me?)
Yeah, that was what happened when I made these Peanut Butter Pretzel Bars. They're easy, fast, and they're no-bake!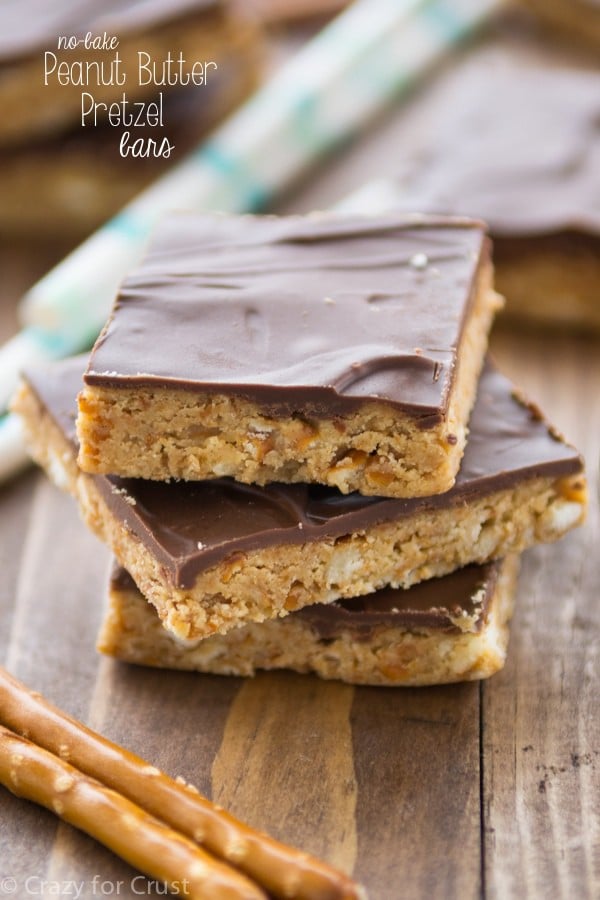 Normally I don't get my recipes from other bloggers or cookbooks or TV shows. I might draw inspiration from all those things, but 99% of what you see on this blog is mine (unless I'm doing a cookbook review, that is). But I had to make an exception for these peanut butter bars. Let me explain.
Jordan has taken to watching The Food Network on Saturday and Sunday mornings. She's usually up before the sun and she sneaks downstairs and watches TV until I wake up. (She takes after her dad – he goes and exercises at 5am…no matter what day it is.)
Last weekend she was watching Trisha Yearwood's cooking show. All of a sudden she's running for a piece of paper and copying down a recipe that Trisha is making. It was these Peanut Butter Pretzel Bars.
Now, you all know that I let Jordan bake with me whenever she wants. Pretty much I drop everything and run to the kitchen when her mood strikes because it doesn't happen very often. She's come up with some pretty good ideas, like Oreo Peppermint Bark, Reese's Explosion Peanut Butter Cookies, and Mint Chip Milkshake Cupcakes.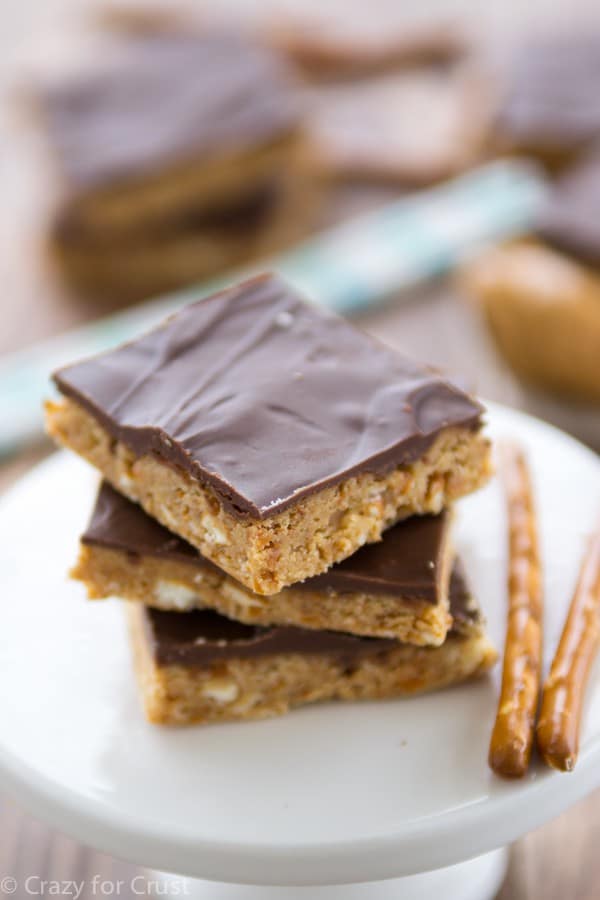 That afternoon we settled in to make these bars. Or, rather, she made them. They're that easy. I ground up the pretzels in the food processor, but she did the rest. (And if you want, you could put the pretzels in a bag and let your kids whack them with a rolling pin…as long as you're confident they won't whack you or each other…)
With only 5 ingredients and a few simple steps, these came together in minutes. They chilled for 30 before we couldn't stand it anymore and cut into them.
While we were cutting I told Jordan she should set up her "camera studio" so she could post the recipe on her blog. I wasn't even going to post them – after all, that's not usually what I do.
Then I took a bite. And another. And before I knew it, I'd eaten 3 bars without even breathing in between.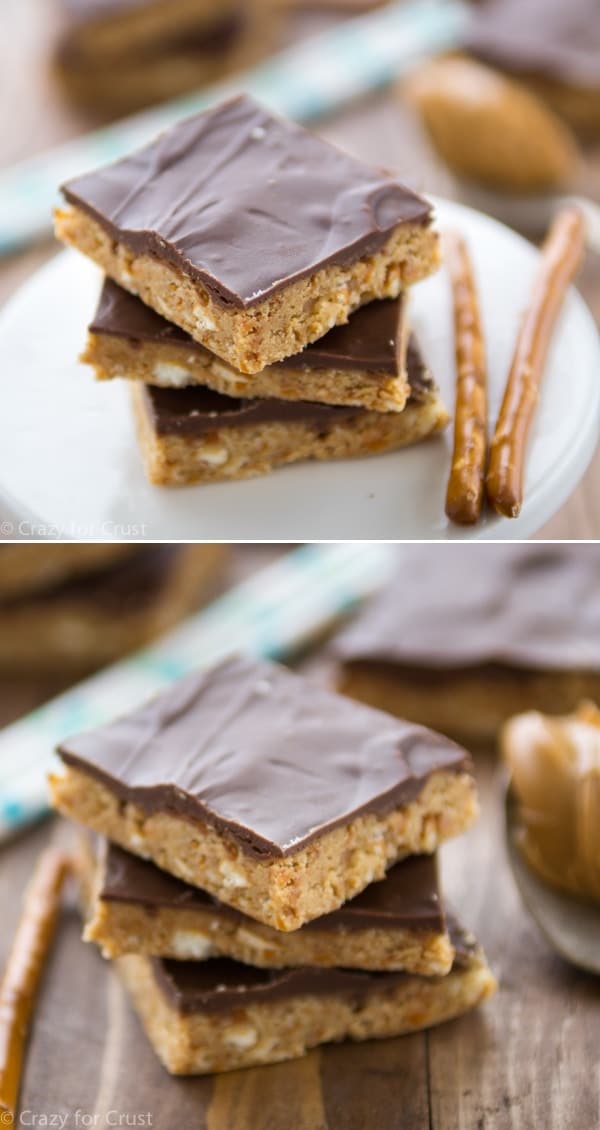 That moment, I knew I had to post them. I mean…how could I not? They're the best things in the entire world.
(Plus, I've seen about 10,000 versions of this recipe on Pinterest. So I think I'm good.)
Really, all you need is one bowl and about 15 minutes. These are get-them-out-of-this-house-this-instant bars. Or you'll eat the entire pan, I'm not joking. You'd think they'd be heavy from all the peanut butter and butter and chocolate, but they're not. They go down way too easy, like a fruity cocktail. And they don't even get you in the end like the cocktail does.
Whatever you're doing today, put it on hold.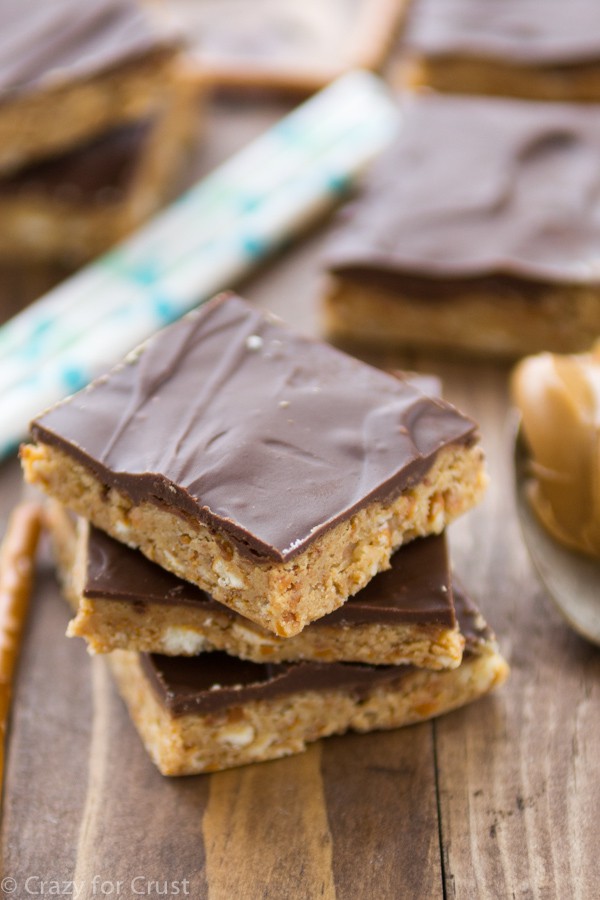 You have to make these instead!!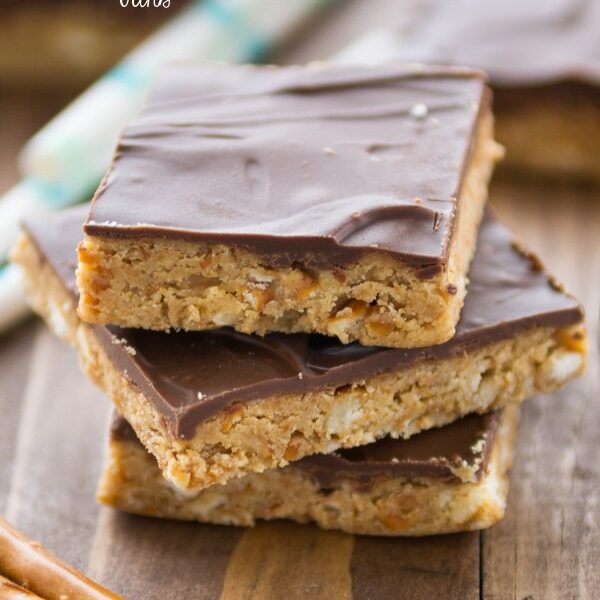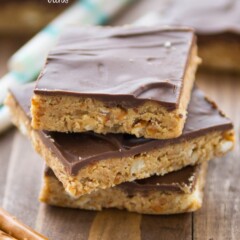 No Bake Peanut Butter Pretzel Bars
These no-bake bars come together in minutes and are so easy a kid can make them. And they taste better than a peanut butter cup!
Ingredients
12

tablespoons

(170g) unsalted butter

melted

2

cups

(70g) pretzels rods or twists

, finely crushed

1½

cups

(170g) powdered sugar

1¼

cups

(300g) creamy peanut butter

, divided

1 ½

cups

(255g) milk or semi-sweet chocolate chips
Instructions
Line a 9x13" pan with foil and spray with cooking spray.

Place melted butter, pretzels, powdered sugar, and 1 cup peanut butter in a large bowl. Mix by hand until combined. Press firmly into prepared pan.

Place chocolate chips and remaining 1/4 cup peanut butter in a microwave-safe bowl. Heat on HIGH power in 30 second increments, stirring between each, until melted and smooth. Pour over bars and spread with a spatula to evenly coat. Chill for at least 1 hour to set, slice into bars.

These can be stored in an airtight container at room temperature or in the refrigerator, depending on how warm your house is. The chocolate will get melty if it's too hot, so use your judgement on where you should store them.
Recipe Notes
Be sure to measure the pretzels THEN finely crush them in a food processor or in a large bag with a rolling pin. If you measure the crushed pretzels the mixture will end up being too dry.
For a thicker bar, make these in a 9x9-inch pan.
Recipe Nutrition
Serving:
1
serving
|
Calories:
250
kcal
|
Carbohydrates:
22
g
|
Protein:
4
g
|
Fat:
17
g
|
Saturated Fat:
7
g
|
Polyunsaturated Fat:
2
g
|
Monounsaturated Fat:
6
g
|
Trans Fat:
0.2
g
|
Cholesterol:
16
mg
|
Sodium:
142
mg
|
Potassium:
156
mg
|
Fiber:
2
g
|
Sugar:
13
g
|
Vitamin A:
181
IU
|
Vitamin C:
0.1
mg
|
Calcium:
17
mg
|
Iron:
1
mg
Nutritional information not guaranteed to be accurate
Click here to see more PEANUT BUTTER recipes!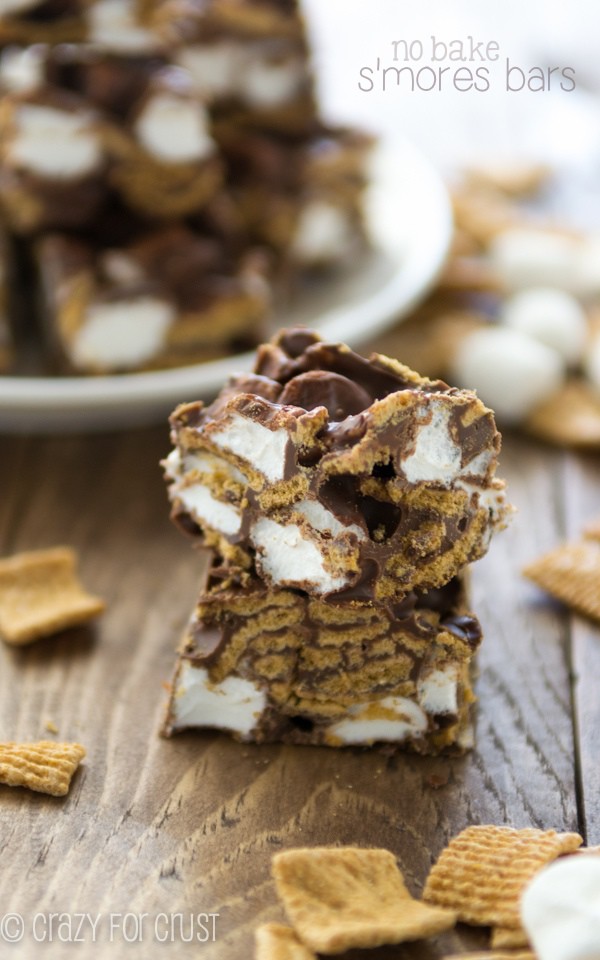 Peanut Butter Cookie Dough Cheesecake Pie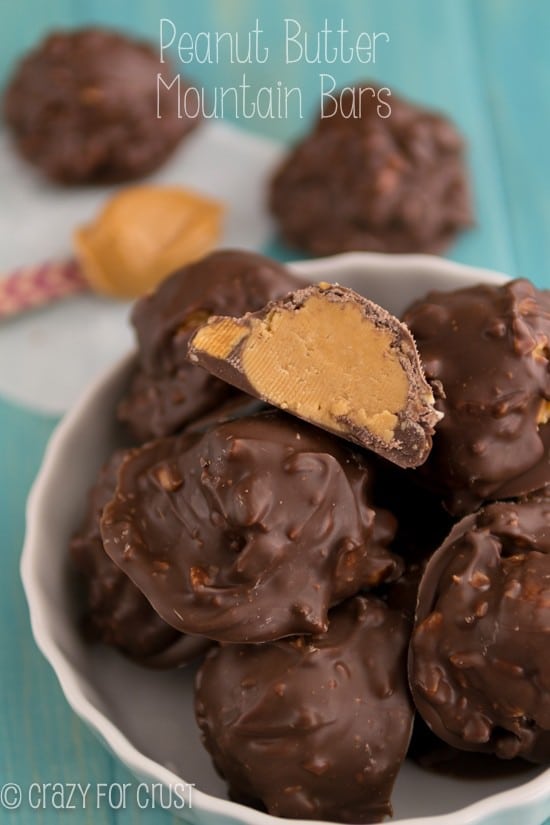 Last Updated on May 13, 2020