This post may contain affiliate links. For more information, read my disclosure policy.
Learn how to make a no bake Pretzel Crust for pie! This crust is a great way to put a spin on your favorite cheesecake, no-bake pie, and other desserts that need a no bake crust. If you love sweet and salty desserts, this pretzel pie crust recipe has your name on it!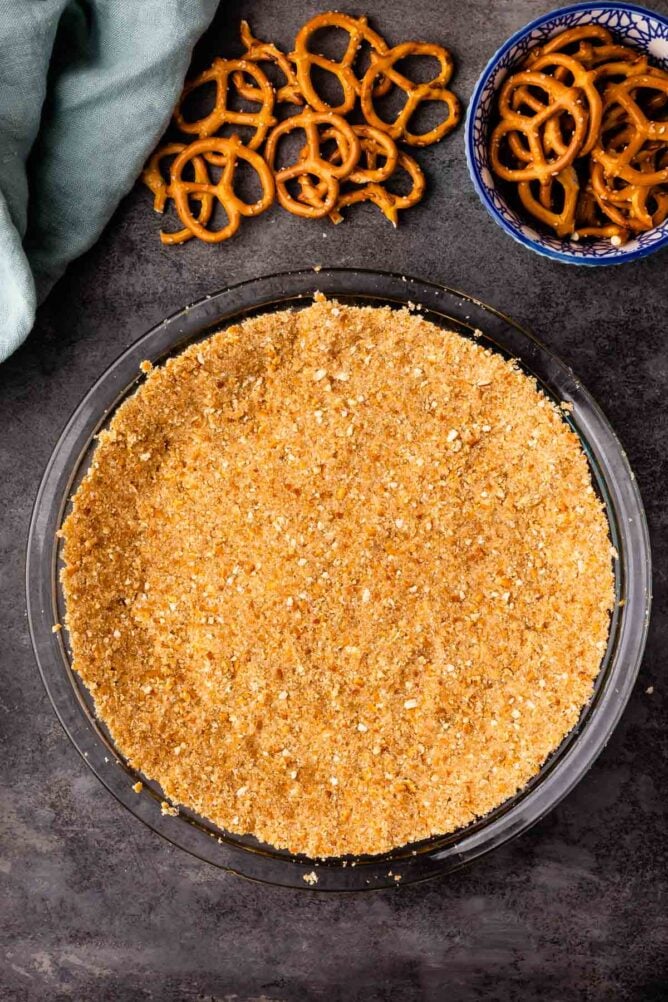 Pretzel Crust for No-Bake Pies
Sure, we all love a graham cracker crust or cookie crust, but have you ever had a crust made with pretzels? It's a really easy way to give a dessert a sweet and salty twist!
This crushed pretzel pie crust recipe is an easy no bake pie crust that pairs with so many desserts. I often switch out other no bake crusts so I can use it – it always gets rave reviews!
I love the flavor of a pretzel crust dessert, but I also love how easy it is. You only need three ingredients and a few minutes to get it in the pie plate.
A food processor makes it super easy, but you can still make it even if you don't have one. Break out a resealable bag and rolling pin – crushing pretzels is a great way to get the stress out!
I love to make this crust for pies, cheesecakes, and even brownies! Basically, you can use it in any recipe that calls for a no-bake crust.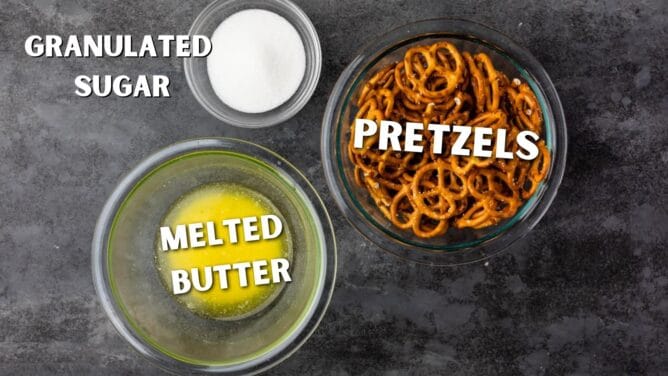 3 ingredient Pretzel Pie Crust
Pretzel Twists: Use your favorite kind. The amount you need depends on the size of the pretzels.
Granulated Sugar: To add a little sweetness.
Melted Unsalted Butter: Binds it all together.
How to Crush Pretzels
Whether you use a food processor or crush them in a bag, you will need 4 ½ cups of pretzel twists to make a 9-inch pie crust.
Food processor: Place the pretzels in a food processor fitted with a chopping blade. Pulse until they break down into fine crumbs.
Rolling pin: If you don't have a food processor, place the pretzels in a Ziploc bag and seal it. Use a rolling pin (or kitchen mallet) to crush them until they are fine crumbs.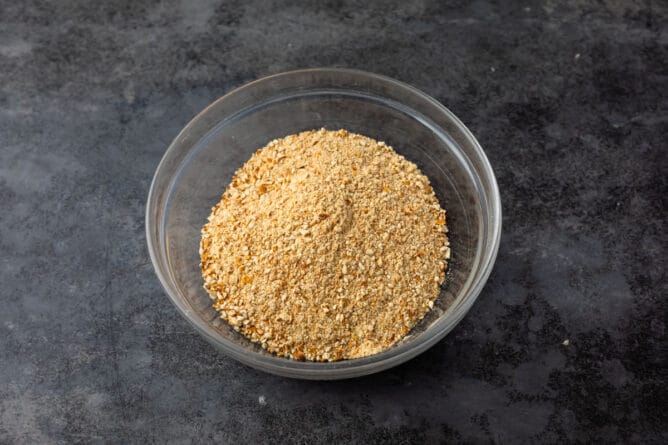 How to Make Pretzel Pie Crust
1. Place the pretzel crumbs in a mixing bowl. Add the melted butter and sugar.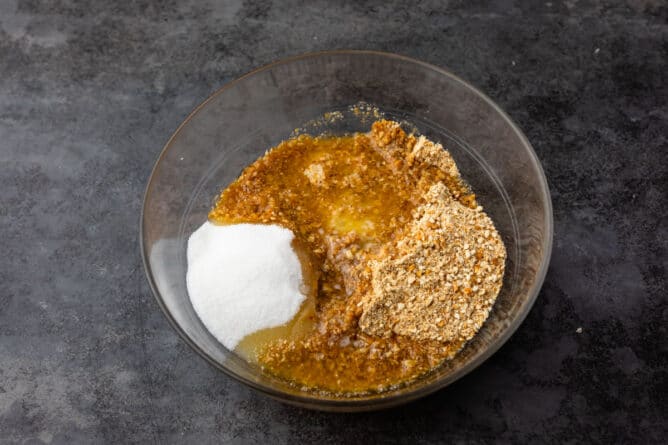 2. Stir them with a fork until the crumbs are evenly moistened.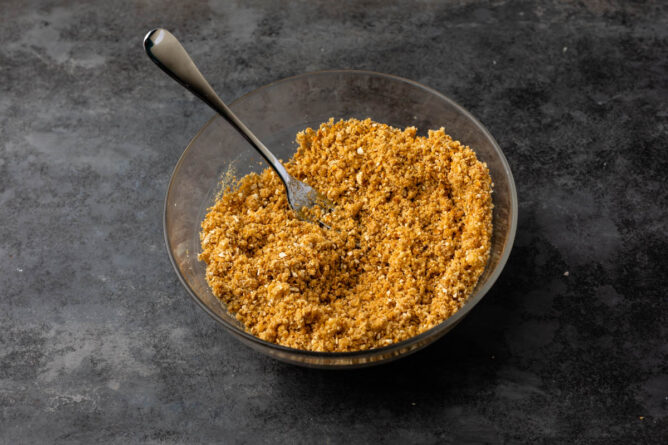 3. Press the mixture evenly in the bottom and up the sides of a 9-inch pie plate. Chill the crust until it's set and then use it as directed in the pie recipe you are using.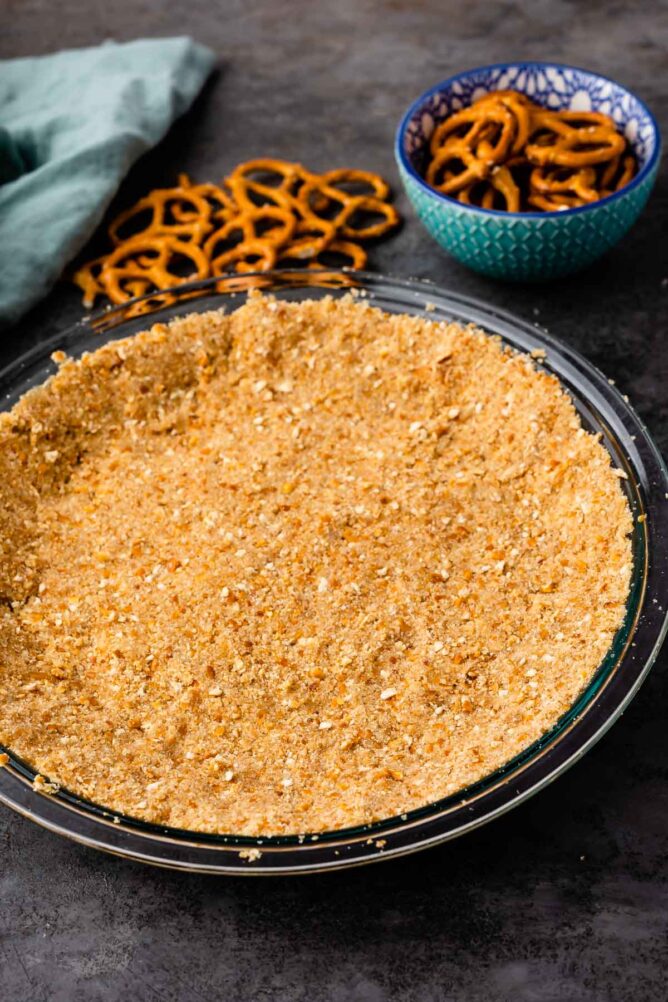 How to Use Pretzel Crust
Cheesecakes: I love this crust for cheesecake. It pairs great with the creamy filling.
No-bake pies: Use this in place of cookie crusts or graham cracker crusts for your favorite no bake pie recipes.
Brownies: Give your brownie recipes a pretzel upgrade! This crust is the perfect crunchy crust for a batch of fudgy brownies like my brownie pie recipe.
Expert Tips
For the best salty-sweet dessert with pretzel crust, use salted pretzels. You can use plain ones, but salted pretzels add more flavor.
Be sure to use fresh pretzels and not ones that have gone stale. You'll taste it in your pretzel crust.
Be sure to crush the pretzels finely – there shouldn't be any large or uneven bits. Finer crumbs will hold together better so it doesn't fall apart when sliced.
FAQ
What pretzels are best for pie crust?
I think salted pretzels work best, so you get a salty-sweet combo in your dessert. I use pretzel twists, so if you use ones that are a different size, you will need to adjust the amount you use for the recipe.
How to make pretzel crust hold together?
The best way to ensure the crust holds together is to finely crush the pretzels. If your crumb mixture has large chunks or a lot of uneven crumbs, your crust won't hold together as well.
Why does my pretzel crust fall apart?
Did you use finely crushed crumbs? Make sure to process the pretzels enough, so they break down into fine crumbs. If you do this by hand with a bag and rolling pin, it might take a little time to evenly crust them.
More No-Bake Pie Crust Recipes
Have you made this recipe?
Tag @crazyforcrust on Instagram or hashtag it #crazyforcrust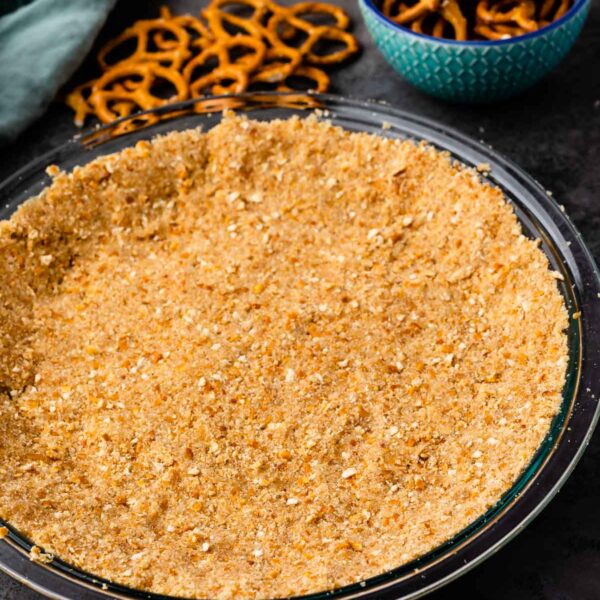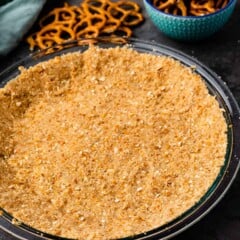 Pretzel Crust Recipe
This crushed Pretzel Pie Crust recipe is an easy no bake pie crust that pairs with so many desserts.
Ingredients
1 ½

cups

(150g) finely crushed pretzel crumbs

¼

cup

(50g) granulated sugar

8

tablespoons

(113g) unsalted butter, melted
Instructions
You'll need about 4 ½ cups pretzel twists to make the amount of crumbs needed. Place the pretzels in a food processor and run the processor until they're finely ground.

Stir together pretzel crumbs, sugar and melted butter with a fork. Press into the bottom and up the sides of a 9-inch pie plate. Chill to set, then use as directed in your pie recipe.
Recipe Notes
Make sure your pretzels are crushed finely – it's best to do this in a food processor. If they are not fine the crust won't hold together. Also be sure to use FRESH pretzels!
Recipe Nutrition
Serving:
1
Pie Crust
|
Calories:
1456
kcal
|
Carbohydrates:
146
g
|
Protein:
13
g
|
Fat:
95
g
|
Saturated Fat:
58
g
|
Polyunsaturated Fat:
5
g
|
Monounsaturated Fat:
24
g
|
Trans Fat:
4
g
|
Cholesterol:
241
mg
|
Sodium:
1501
mg
|
Potassium:
295
mg
|
Fiber:
4
g
|
Sugar:
53
g
|
Vitamin A:
2799
IU
|
Vitamin C:
3
mg
|
Calcium:
60
mg
|
Iron:
6
mg
Nutritional information not guaranteed to be accurate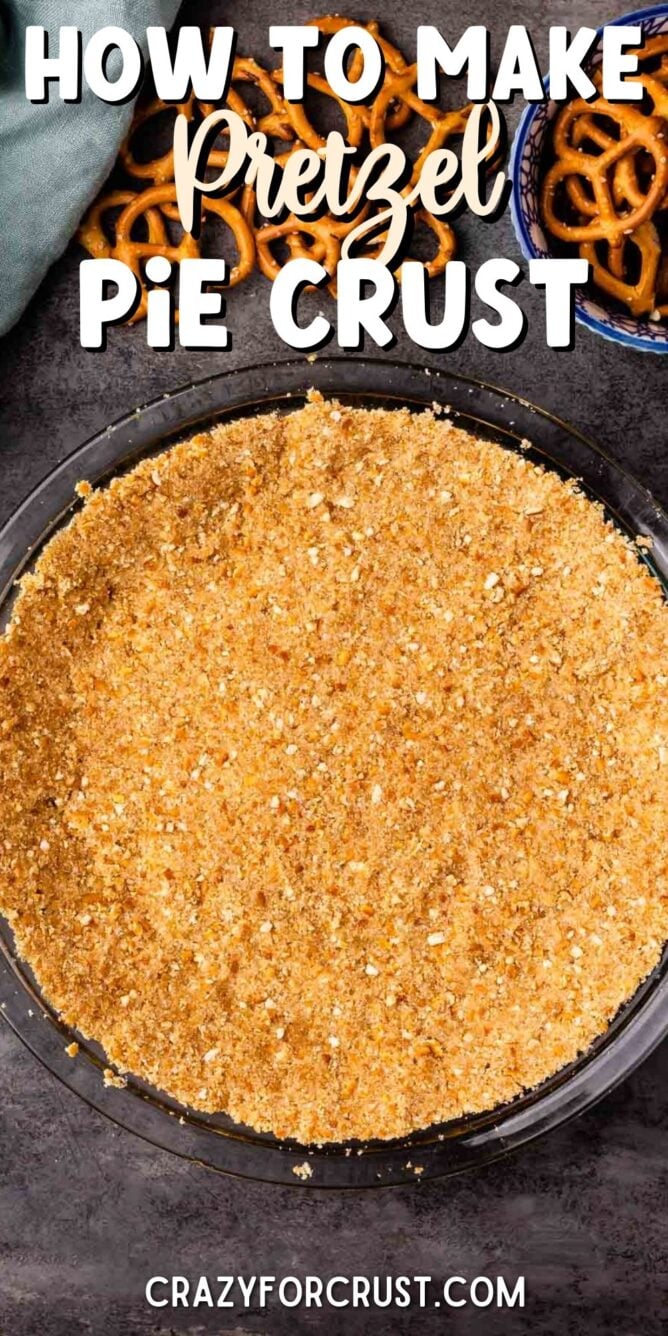 The next time you need an easy no bake crust, I hope you give this pretzel crust recipe a try! Whether you make a pretzel crust for pie or other desserts, you will get all the compliments. Enjoy!
Last Updated on May 20, 2022