19
Feb 07
The BEST Brownie Pie {from scratch}
This is, like, a stupidly simple recipe for a brownie pie. But it's the BEST Brownie Pie and it's completely from scratch!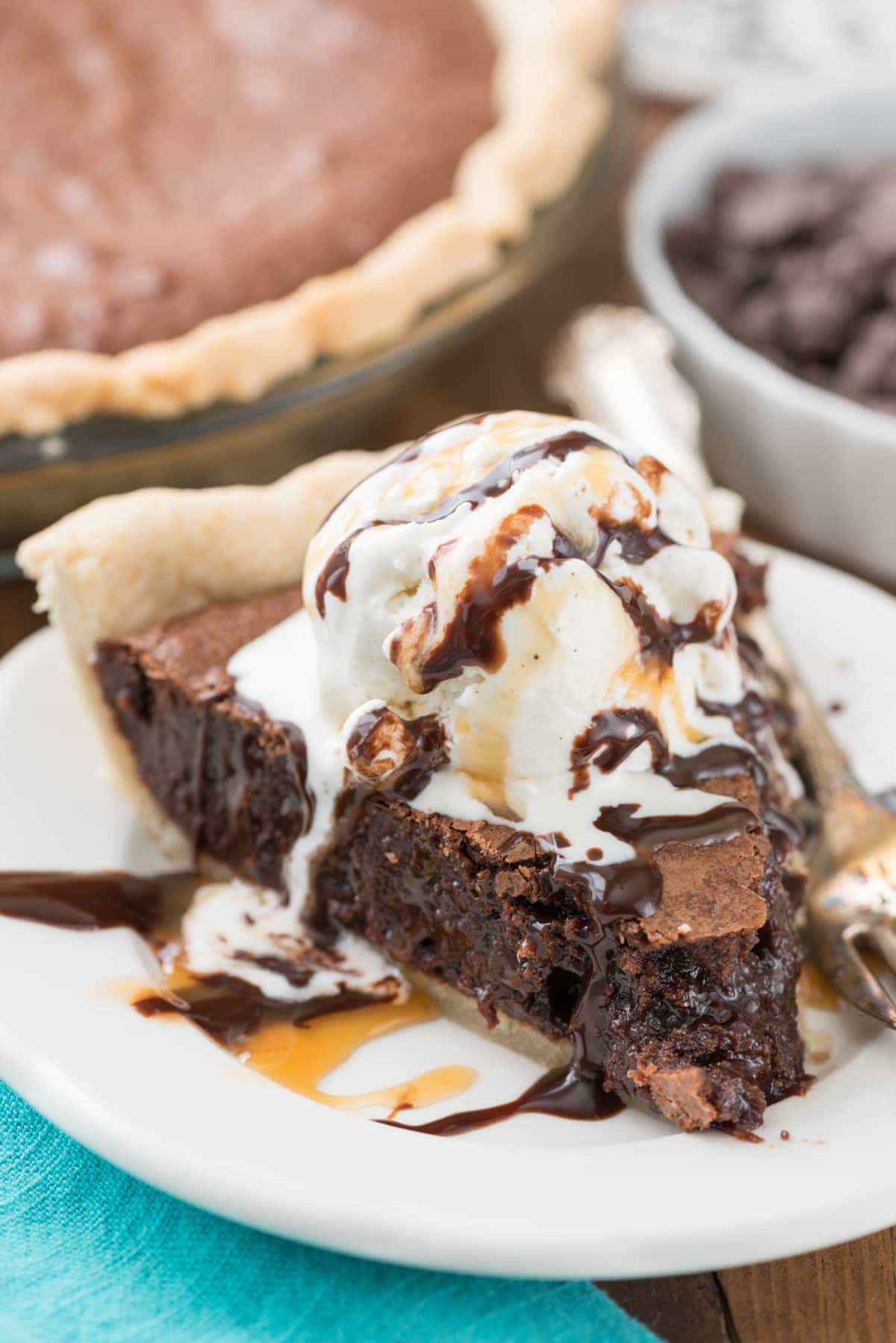 Y'all need to stop what you're doing and RUN to your kitchen to make this pie. I'm serious, GO!
It's fudgy. It's indulgent. It's over-the-top chocolatey. It's gooey. It's easy yet from scratch. By looking at the pictures you probably think, "Wow, I bet that's so rich I couldn't finish a whole slice!"
You'd be wrong if you thought that. Very, very wrong. Try it. Cut a slice and try to just eat a bite.
I dare you.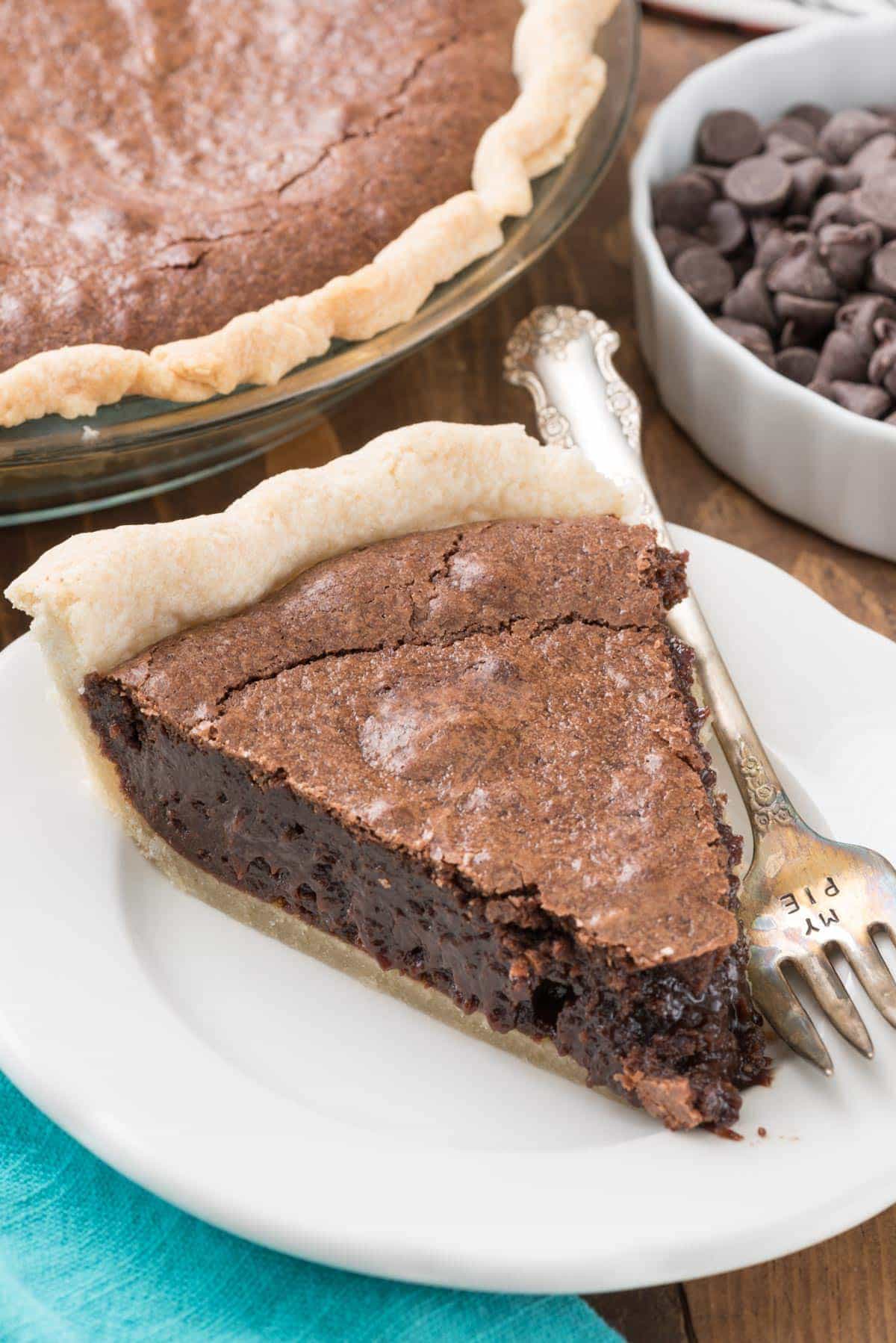 So I guess there's some big football game on today? Will you be watching? Or will you be like me: eating chips, guacamole, pizza, and peanut butter football to your hearts content while you surf food blogs and watch the TV when the commercials come on?
The only 3 hour period a year where you don't fast forward through the commercials: the Super Bowl.
Normally on "holidays" blog traffic spikes until the start of the festivities (for example, on Thanksgiving, pageviews are doing pretty good until about 1pm on the east coast, then they drop like a bag of rocks) but I'm assuming today will be pretty good most of the day. I mean…there are lots of people like me out there, who only watch football for the food.
Speaking of food, you should make this pie today. Because you really want to make it when there is company coming over, or you could end up being like me and eating two slices before the day ends.
You've been warned!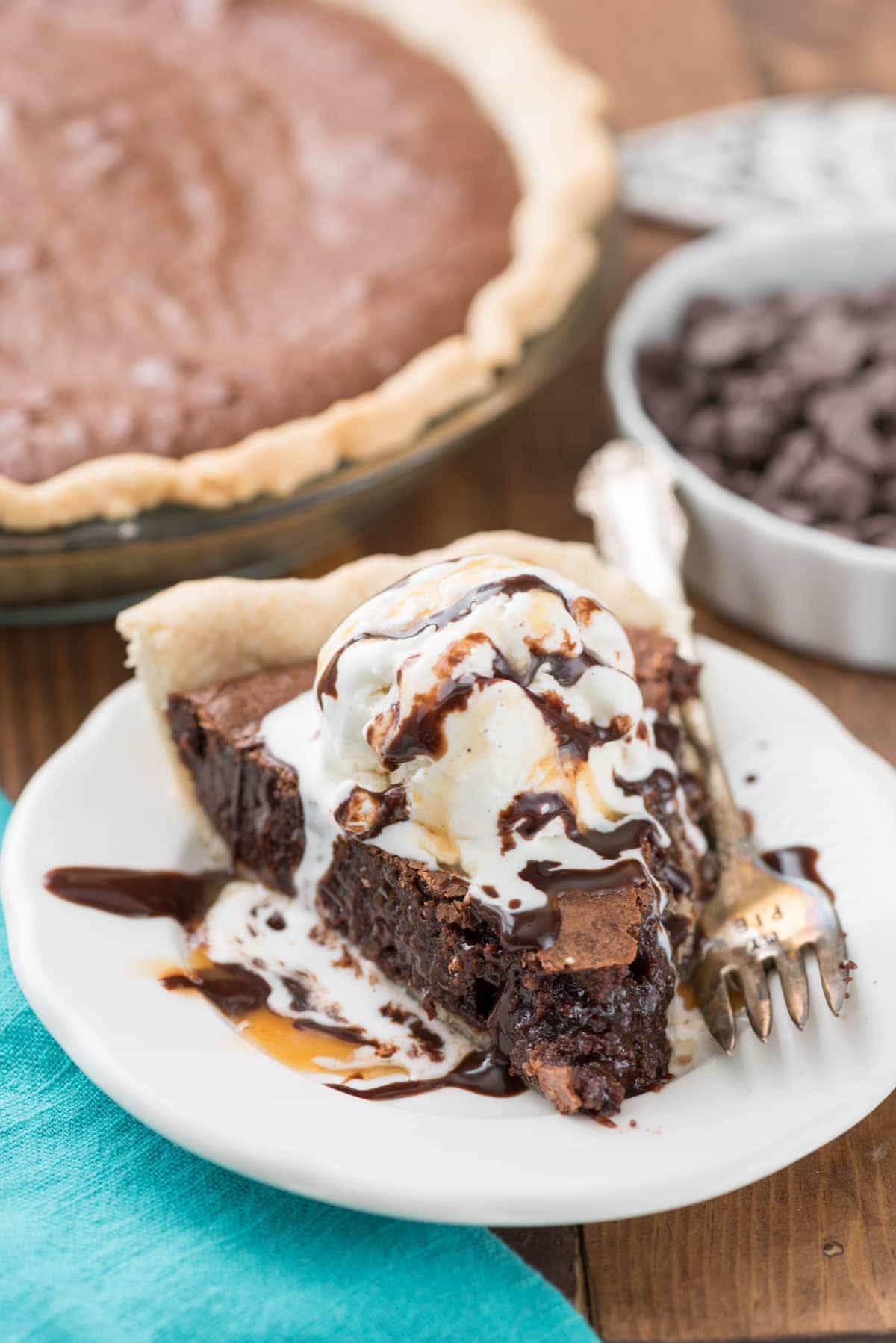 I really can't get over how good this was. I mean, I love my brownie recipe and I love my pie crust recipe. So, together, I knew I'd love it.
But it still blew my mind.
Have you ever baked brownies with a crust? Either in a pie or a 9×13″ pan? It keeps the center of the brownies suuuuper gooey. If you like melty gooey brownies, THIS is the pie for you.
I love using box mixes, I use them all the time, but sometimes I just feel like getting into the kitchen and doing it all. It makes me feel like a super woman…or something. Is that just me?

Have I convinced you that you MUST make this pie today?? Good, then I've done my job. Get to it!
A few notes about the recipe:
If you are in a rush and want to use a prepared pie crust, go ahead. Just make sure to use one that will fit in a 9″ pie plate (like Pillsbury).
You're also allowed to use a box brownie mix, I won't tell.
You can tell from the pictures that the center is ooey gooey fudgy. Some people might say it's super under done, I say it's perfect. I give a wide range of bake times for this pie. If you want it more done, just cook it longer. But know that you're probably not going to get a very done brownie texture with the crust under there, especially with my brownie recipe. Ooey Gooey Brownie Lovers Only, please. 🙂
Mix it up: add 1 cup of any chopped candy to the batter, or even chocolate chips!!
Enjoy!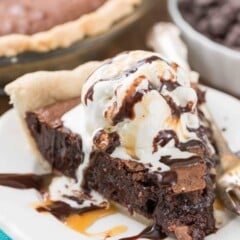 The BEST Brownie Pie
Yield: 10-12 servings
Total Time: 1 hour 20 minutes
This is seriously the BEST Brownie Pie recipe EVER!! Make a homemade crust, a from scratch brownie and get the gooiest, most chocolatey and fudgy brownie pie you've ever eaten!! You can use a prepared pie crust too, but whatever you do you need to make this pie!
Ingredients:
1 recipe All Butter Pie Crust or one refrigerated crust (from a pack of 2)
2 ounces unsweetened baking chocolate
2 ounces semi-sweet baking chocolate
3/4 cup unsalted butter
1 3/4 cups granulated sugar
3 eggs
1 tablespoon vanilla extract
1/2 teaspoon salt
2 tablespoons unsweetened cocoa powder
1 cup all purpose flour
Directions:
Preheat oven to 350°F. Prepare pie crust as directed and press into a 9" pie plate. Chill until filling is ready.
Place baking chocolates and butter in a large microwave safe bowl. Heat in 30 second increments, stirring between each, until melted and smooth (about 2 minutes depending on your microwave).
Stir sugar into chocolate mixture, then stir in eggs until well mixed. Add the vanilla, cocoa, and salt and stir until smooth, then carefully stir in the flour.
Pour batter into the pie crust. Place pie onto a cookie sheet. Cover the pie crust with a pie crust shield or strips of foil. Bake for 38-48 minutes, until the top is cracked. The pie shown in the photos was baked for 38 minutes (a toothpick came out wet) and the center is very gooey, which is how we like it. The center won't turn to a crumbly brownie texture because of the crust – it'll stay pretty fudgy, but if you like it more done, cook it longer, until less wet more crumbs stick to the toothpick. Your choice! Just be sure to remove the foil strips or pie shield after about 20-25 minutes of baking so that it has time to become slightly golden brown.
Cool the pie completely before slicing and serving with ice cream or whipped cream. Store covered at room temperature for up to 3 days or freeze slices for up to one month.
© Crazy for Crust
. All images & content are copyright protected. Please do not use my images without prior permission. If you want to republish this recipe, please re-write the recipe in your own words, or link back to this post for the recipe.
Love chocolate pie? Check out these babies:
Chocolate Chess Pie with Graham Cracker Crust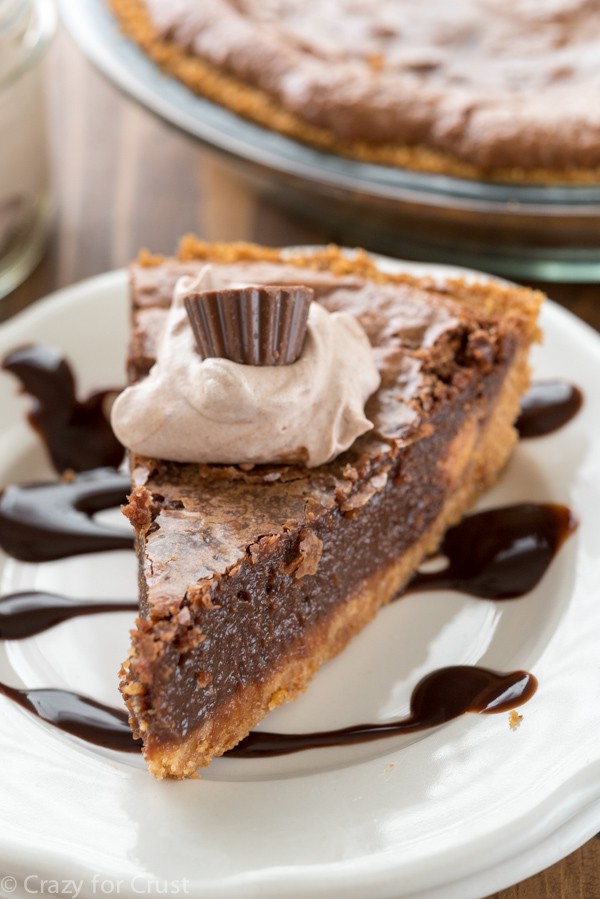 Peanut Butter Chocolate Cream Pie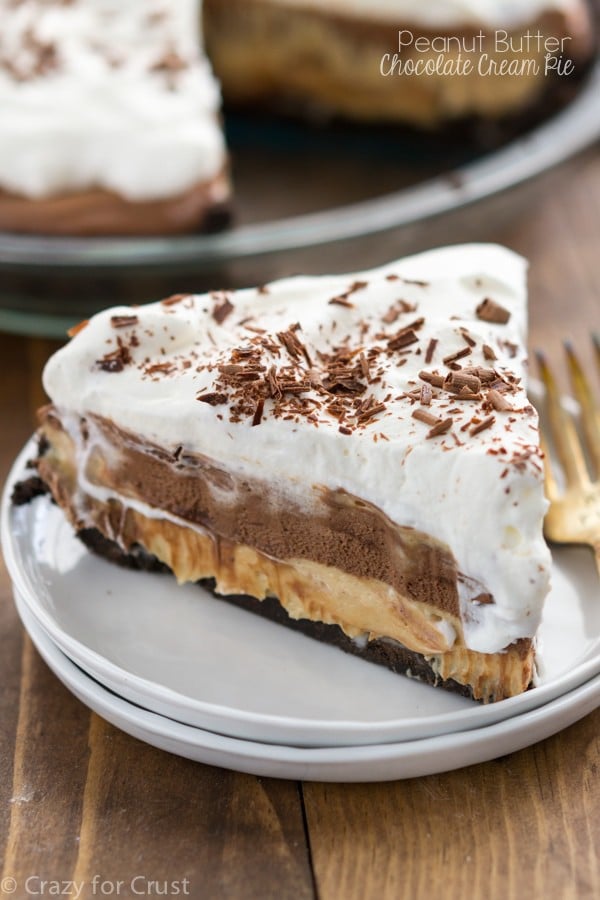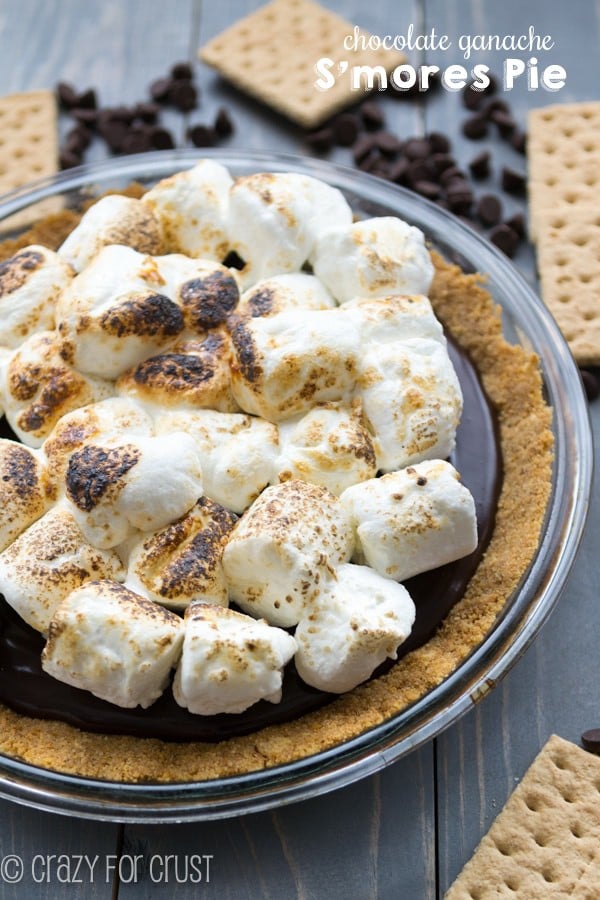 Sweets from friends:
Easy Brownie Pie by Chocolate, Chocolate, and More
German Chocolate Brownie Pie by Foodie Crush
Slutty Brownie Pie by Something Swanky