This post may contain affiliate links. For more information, read my disclosure policy.
A Pastel Rainbow Cake is a fun cake for a birthday or kids party! This easy cake recipe has four colorful pastel layers and is coated with a watercolor frosting and colorful sprinkles, perfect for a rainbow lover like ME!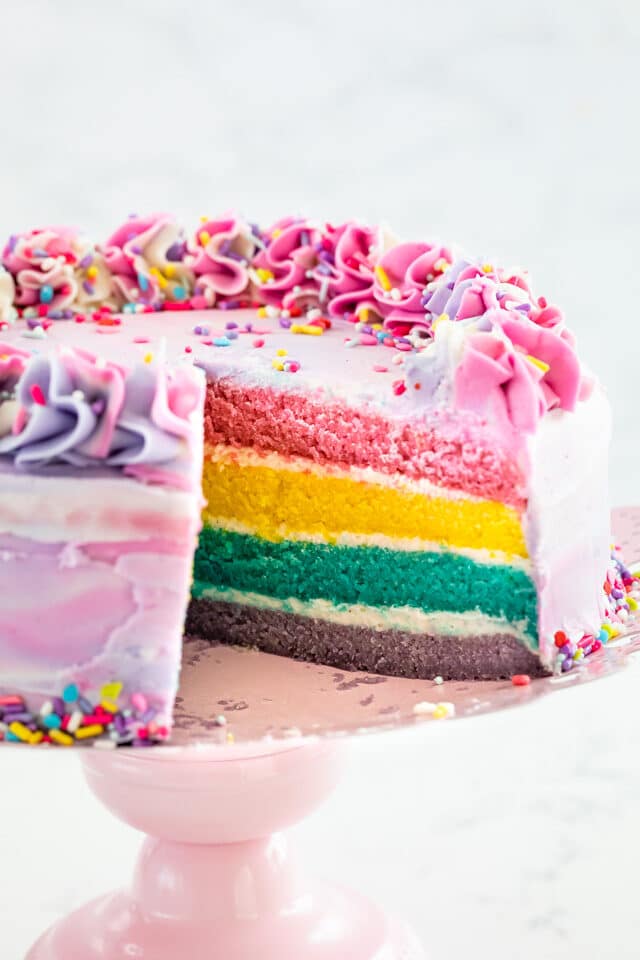 Not only is this rainbow cake one I'd love for my birthday but it's great for another special holiday:
TAYLOR SWIFT'S NEW ALBUM, LOVER!
You guys know how much of a Taylor Swift freak I am, right? I'm like an 11-year old preteen girl: I wear her merch, I blast her songs and I set alarms for her music to drop.
Her new album drops on August 23 and I was trying to think of a way to tell the internet how excited I am. How do I tell people I love how excited I am? I make them CAKE! And not just any cake: a pastel rainbow cake with my favorite buttercream and a fun watercolor frosting decoration.
I've loved Taylor Swift since Jordan was crushing on her back in the 1989 era (remember her Taylor Swift birthday party?) and my excitement about her music has just increased over time. Her Reputation album was just what I needed at that point in my life and now, with this new album, she's making a transition from darkness to light, which is what I'm trying to do in my life. It's like her music has become a mantra for my life.
So I wanted to celebrate her and this new album…with cake. And this is what I came up with:
A Pastel Rainbow cake full of pretty colors, swirled frosting and my own sprinkle blend!
Basically, this is a unicorn cake and a rainbow cake and my dream dessert all rolled into one nice package.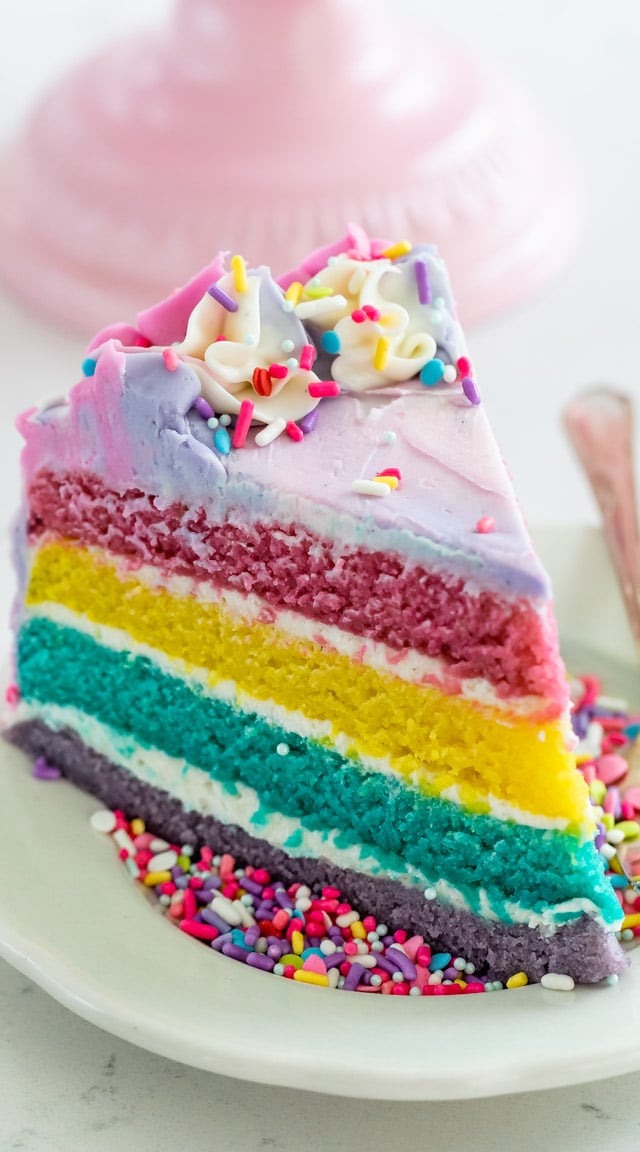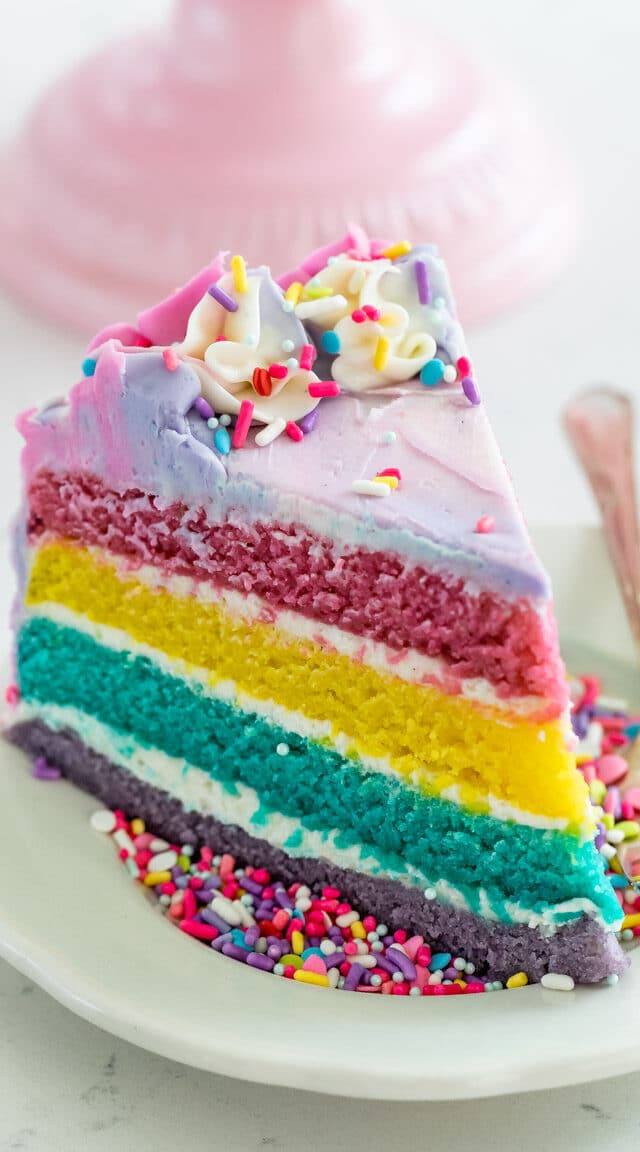 You're probably thinking that making a rainbow cake is hard and you're not totally wrong. I mean – is making any layer cake easy? Not really, which is why we do it for special occasions. The only extra step between this cake and my normal yellow cake is that I colored the batter and baked it in four pans instead of two.
The extra time it takes will be worth it when whoever you're making it for sees it. Their face is going to be priceless, so get that camera ready.
What cake recipe do you use for a rainbow cake?
You can use any vanilla or white cake recipe to make this cake. As long as the recipe is baked in two 8-inch rounds as written, it will work for this recipe. However, might I suggest my favorite vanilla cake recipe?
Don't want to make a cake from scratch? Use a box mix! I suggest using a white cake mix if you're using a box, so that the yellow color of the batter doesn't affect the food coloring.
When it comes to frosting, the vanilla frosting in that yellow cake recipe is my favorite. Using vanilla frosting means that you can color it as well as the cake, if you want. You can also use cream cheese frosting for the outside of the cake.
When it comes to food coloring, you can use any colors from any brand. I used gel food colors for this recipe because it's what I had on hand, but the grocery store also carries neon colors that would be perfect for this cake.
Use uniform cake pans for best results.
When you're thinking about making a rainbow cake, you know you're going to make different layers. You have different options for making a colorful cake:
Make a two layer cake and make each layer one color;
If you want more than two layers, make one set of layers then another and so on until you have all of the colors you want
Or, do what I did: I divided my batter into four colors (you can do five or six if you want)
The key is that you use the SAME kind of cake pan for every layer. I ended up buying 4 cake pans for this recipe because the two I had didn't match the others I found at the store. Not all 8-inch round pans are created equal and sometimes you have to do some extra work to make the layers look nice.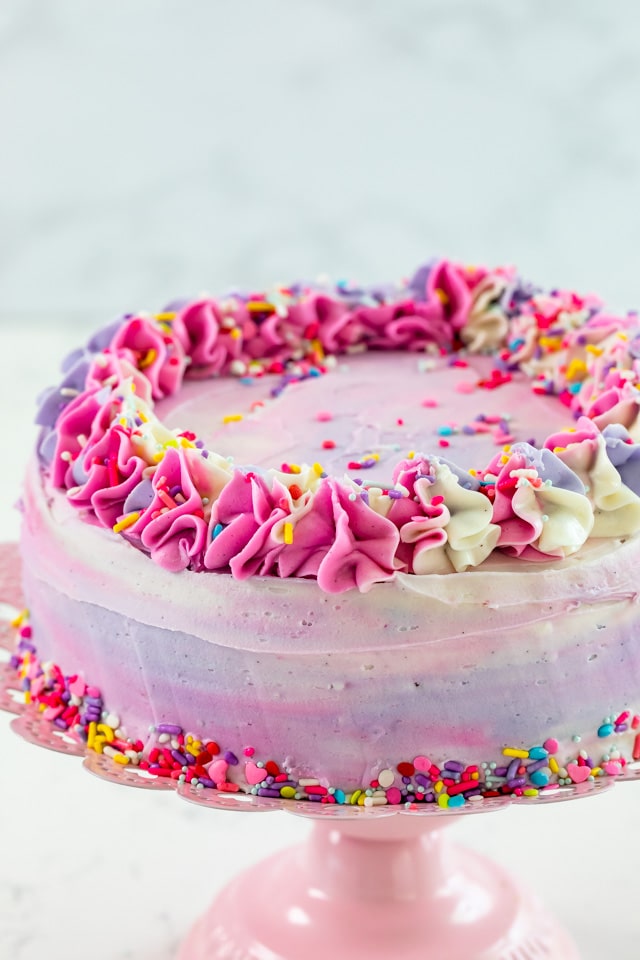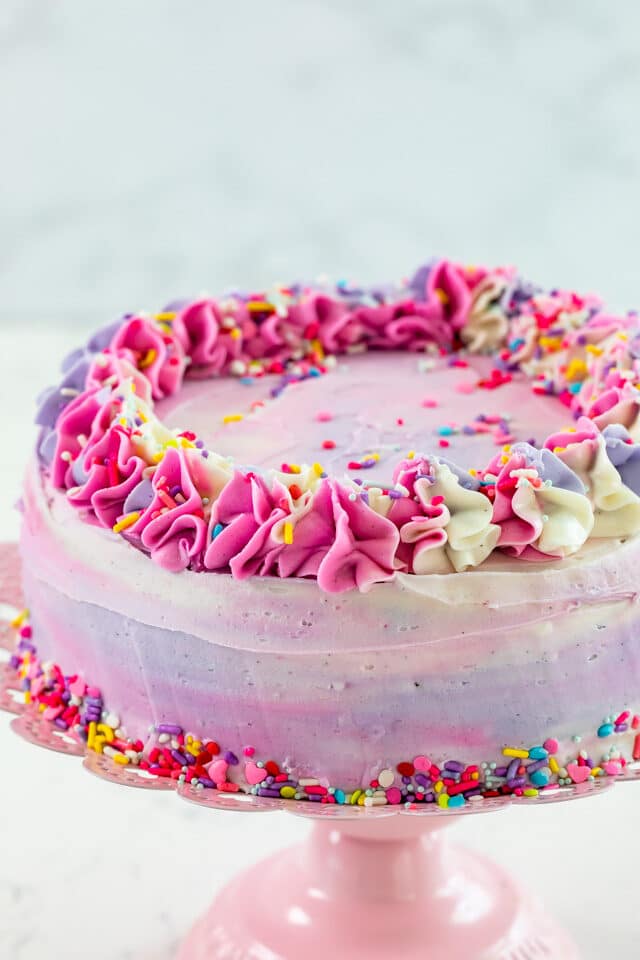 Once the cake is cool, it's time to start assembling it.
What filling can you use for a rainbow cake?
Really, you can use any kind of filling you want. This cake would be great with:
Search in my cake archives to find all my frostings and fillings and make what you like!
Frosting with a crumb coat helps make your cake look pretty.
Once your cake is filled you should crumb coat it before doing the decorative frosting layer. A crumb coat is when you frost the cake with a very thin layer of frosting to "catch all the crumbs" in the cake. Then you let it set (chill it) and doing a top layer of frosting is easy.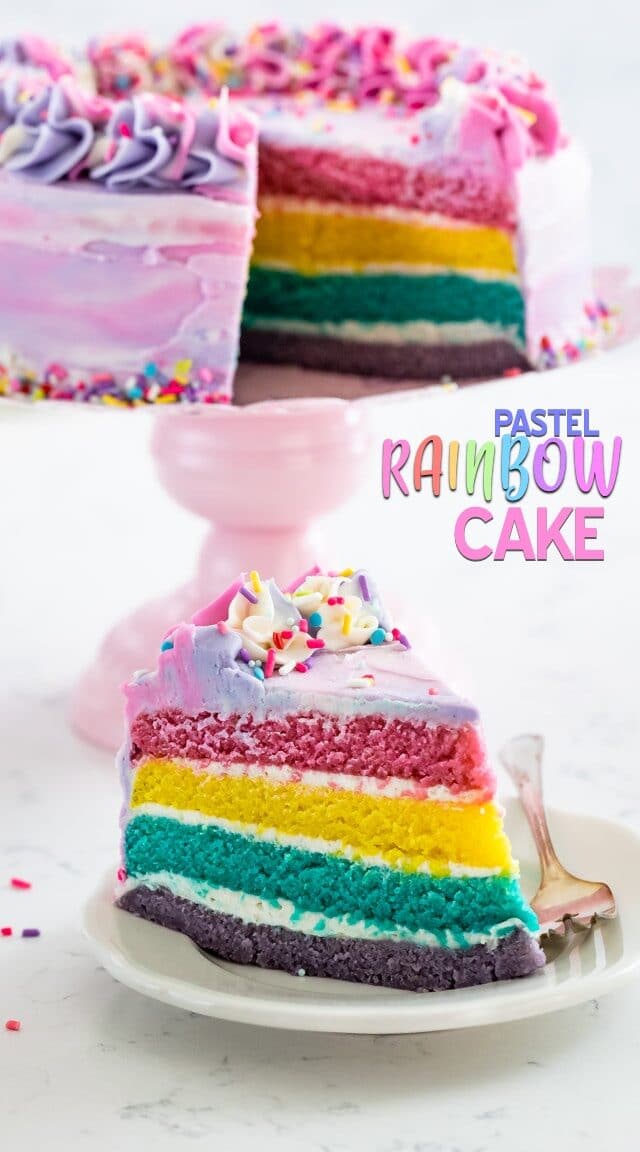 A watercolor frosting decoration is an easy and pretty way to frost a cake!
Taylor's album cover looked like a watercolor of pink, blue and purple to me, so that was what I aimed to do on the cake. The video explains it all but to do a watercolor technique on a cake you:
Dollup different colors of frostings around the edges, like polka dots.
Use a spatula to smear and smooth the frosting. It'll end up like a watercolor painting!
On the top of the cake I used the frosting swirl technique I used for my unicorn cupcakes to do the swirls on top and then I used my favorite sprinkles to make a Taylor Swift Lover blend of jimmies and nonpareils.
Once it's frosted, this pastel rainbow cake doubles as a rainbow unicorn cake!
You could also do this same technique with regular rainbow colors or mermaid colors or even sports colors!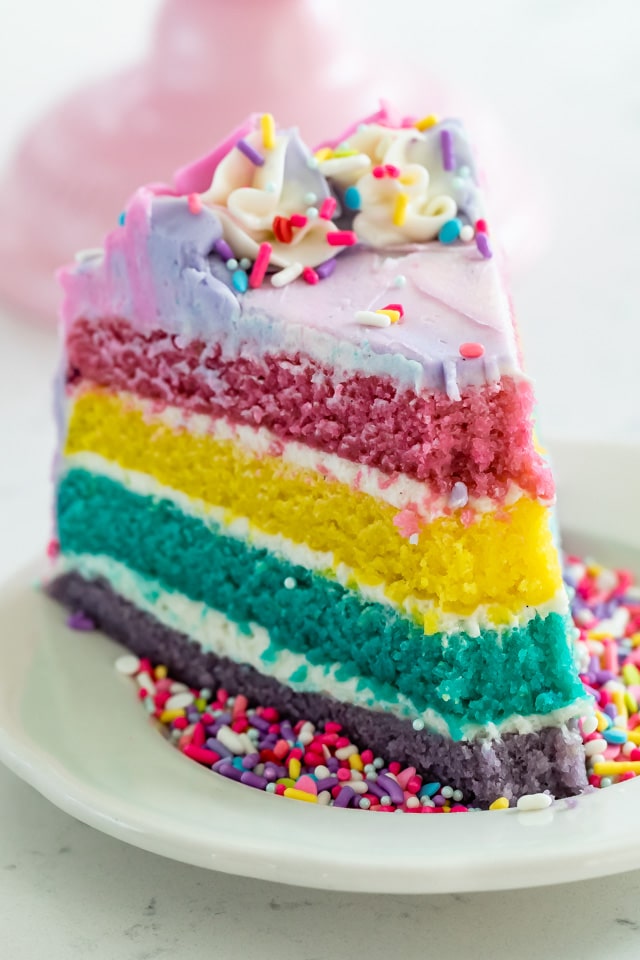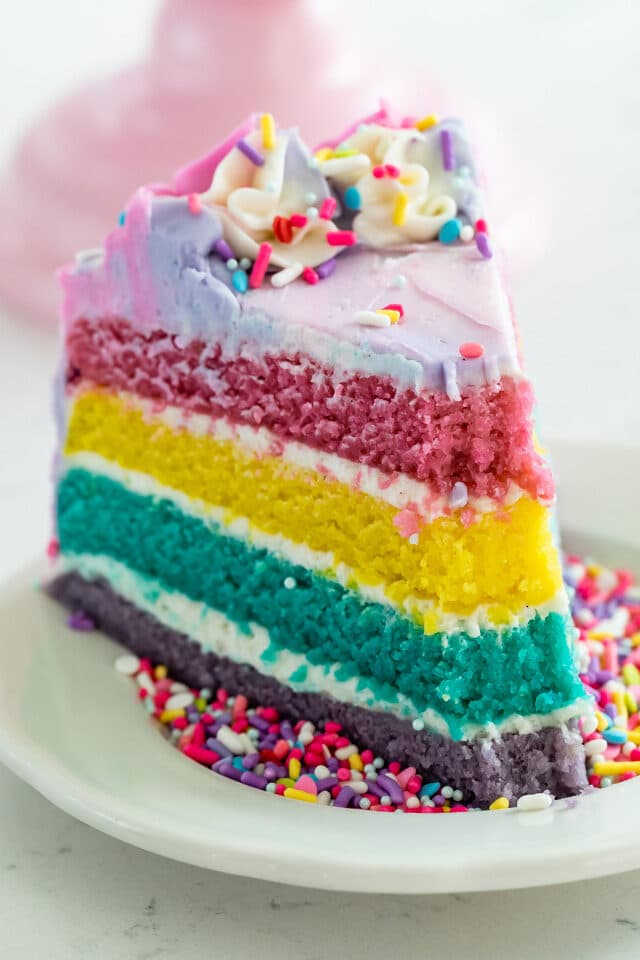 [mv_video key="ukzn7kebg5mm1jt61jja" volume="70″ aspectRatio="true" title="Pastel Rainbow Cake" thumbnail="https://mediavine-res.cloudinary.com/video/upload/ukzn7kebg5mm1jt61jja.jpg" doNotOptimizePlacement="undefined" doNotAutoplayNorOptimizePlacement="false" sticky="false"]It's the ultimate I-love-you-Taylor-Swift-congrats-on-Lover cake! And I'm pretty sure it'll be my birthday cake too. 🙂
If you love fun cakes, check out:
Tools for success:
Have you made this recipe?
Tag @crazyforcrust on Instagram or hashtag it #crazyforcrust
[mv_video key="mrnjkdjcamn9f2m1hnfi" title="Pastel Rainbow Cake" thumbnail="https://mediavine-res.cloudinary.com/video/upload/mrnjkdjcamn9f2m1hnfi.jpg" volume="70″ doNotOptimizePlacement="undefined" doNotAutoplayNorOptimizePlacement="false" ratio=""]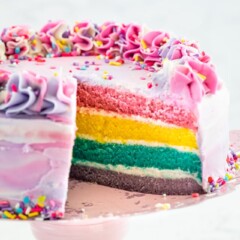 Pastel Rainbow Cake
This easy rainbow cake recipe is made with pastel colors! Make a pastel rainbow cake for a birthday or turn it into a unicorn cake! The cake is decorated with watercolor frosting and sprinkles
Total Time
2

hours
30

minutes
Equipment
Pastel Food Coloring

Pastry Bag

1M Tip

4-6 of the same cake pan
Ingredients
For the Cake:
1/2

teaspoon

salt

3

teaspoons

baking powder

2 1/2

cups

all-purpose flour

1

cup

unsalted butter, melted

1 1/2

cups

granulated sugar

4

large eggs

1

tablespoon

vanilla extract

1 1/4

cups

buttermilk

Pastel food coloring
For the frosting:
1 1/2

cups

unsalted butter, softened

6

cups

powdered sugar

1/2

teaspoon

salt

1

tablespoon

vanilla extract

3-4

tablespoons

heavy whipping cream

Sprinkles

optional
Instructions
For the cake:
Preheat oven to 350°F. Grease and flour 4-6 (8-inch round) cake pan(s). (Pictured: 4 pans)

Whisk salt, baking powder, and flour in a medium sized bowl. Set aside.

Using a hand mixer, cream sugar into melted butter until smooth. Beat in eggs, one at a time, then mix in vanilla extract.

Add dry ingredients alternately with the buttermilk, starting and ending with the flour, mixing gently between each addition. Mix until just combined. Be sure to scrape the sides of the bowl.

Divide batter into as many equal parts as you have pans (i.e. if you want 4 layers, separate it into 4 bowls). Add a few drops of pastel food coloring to each bowl. Stir to color, then pour into prepared pans.

Bake for 20-30 minutes, or until a toothpick comes out clean. The cake will bake faster than regular thickness layers would bake. If you're making more than 4 layers it might take less time. Cool the cakes completely before frosting.
For the frosting:
Beat butter until smooth with a hand or a stand mixer. Note: if you're using a hand mixer be sure to use a very large bowl to avoid wearing the powdered sugar.

Add powdered sugar, one cup at a time, and beat on medium speed until crumbly. Mix in salt and vanilla.

Add 1 tablespoon of heavy whipping cream at a time, mixing between each addition, until the frosting is smooth and the desirable consistency.

Divide and color the frosting as desired. (Pictured: 3 colors: pink, purple and white)
Decoration:
Place the bottom cake layer on cake plate. Frost with a layer of frosting. Add the layers, frosting in between each, until the cake is assembled.

Make a crumb coat of frosting. This is a very, very thin layer of frosting that you frost the entire cake with. Chill the crumb coated cake until set.

Frost the cake as desired with remaining frosting. Details below:

For the watercolor look: drop dollups of different color frostings all over the cake like polka dots. Use an offset spatula to spread them and swirl. Be careful not to mix the frosting colors too much.

To make a swirled frosting for the top: lay a sheet of plastic wrap on the counter. Place any remaing frosting in three lines and wrap the palstic wrap up. Cut off one end and add it to a pastry bag set with a 1M tip. Top the cake with rosettes and sprinkles.

Chill to set. Store covered in the refrigerator for up to 2 days.
Recipe Notes
Use a box mix if you prefer, and even canned icing.
You can do this same recipe to make ANY color layers.
It's best if you use the SAME brand cake pan for all the layers. Different brands/units might be different sizes even if they say they're all 8-inches.
Fill the cake with other flavors, like lemon curd or chocolate frosting.
For a visual on how to do the swirl frosting, check out my Unicorn Cupcakes tutorial.
Recipe Nutrition
Serving:
1
slice
|
Calories:
615
kcal
|
Carbohydrates:
80
g
|
Protein:
4
g
|
Fat:
32
g
|
Saturated Fat:
20
g
|
Cholesterol:
123
mg
|
Sodium:
188
mg
|
Potassium:
146
mg
|
Fiber:
1
g
|
Sugar:
64
g
|
Vitamin A:
1018
IU
|
Calcium:
73
mg
|
Iron:
1
mg
Nutritional information not guaranteed to be accurate
**Did you make this recipe? Don't forget to give it a star rating below!**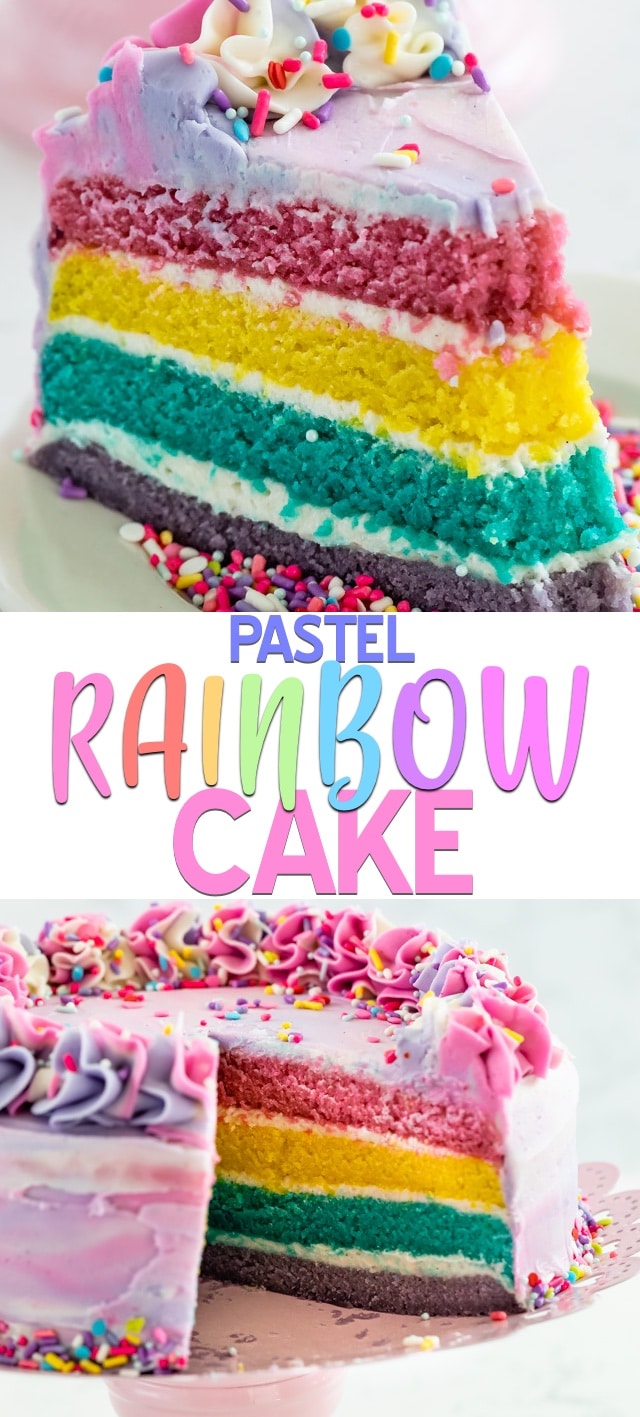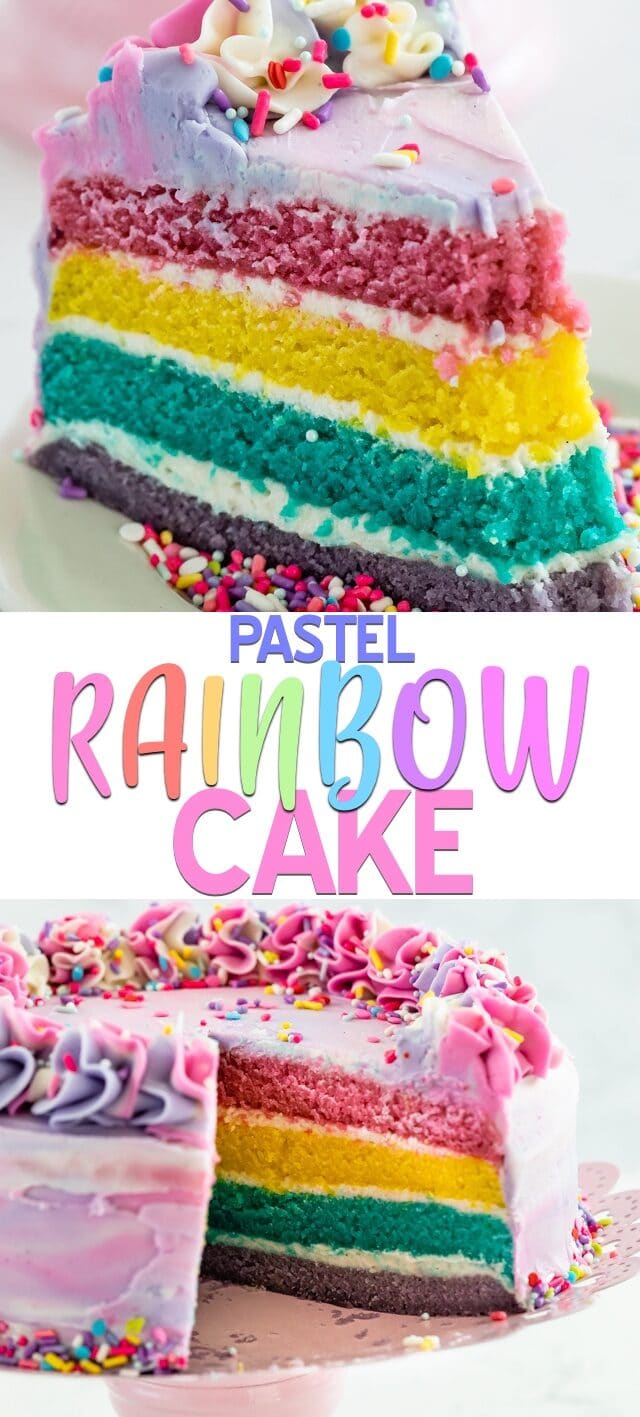 Last Updated on October 14, 2019