This post may contain affiliate links. For more information, read my disclosure policy.
How to decorate a Mickey Mouse Cake even if you aren't a cake decorator! This easy cake decoration is something ANYONE can do easily without any special tools.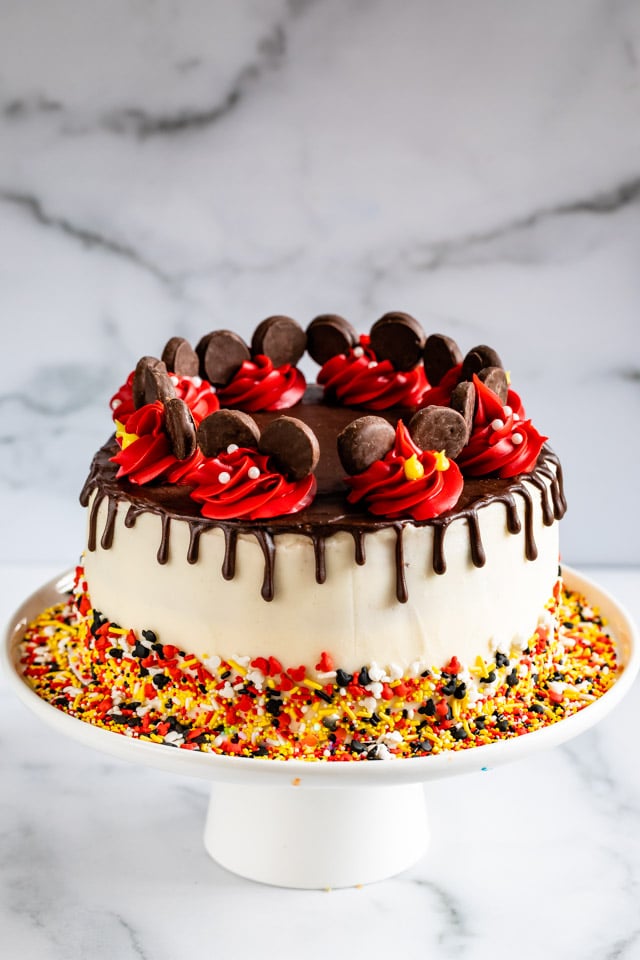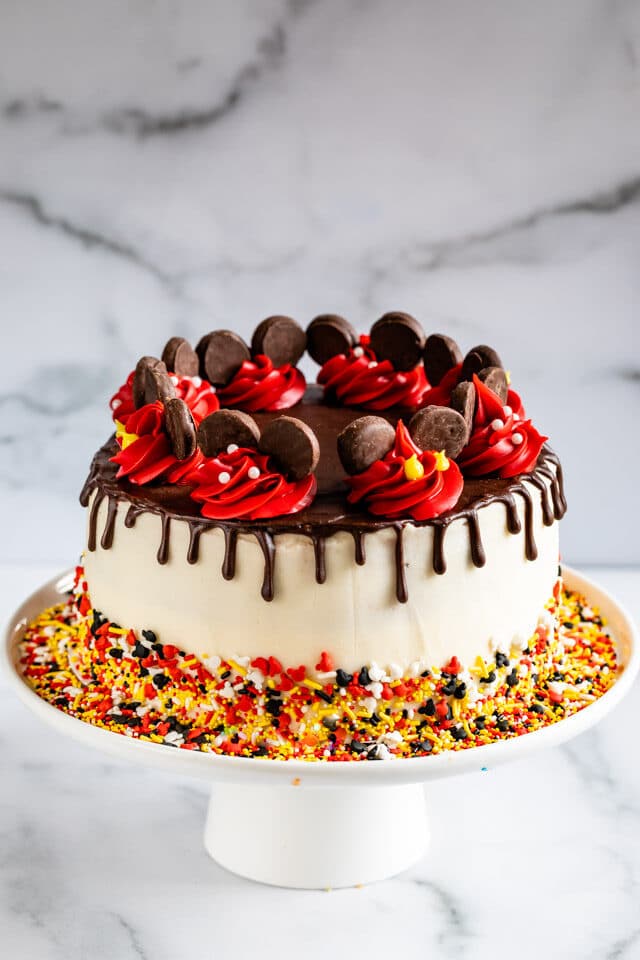 I have so many feels about this cake, even more this morning than I did when I made it a few weeks ago.
You see, I love being creative. I love coming up with new ideas and fun ways to make dessert. In fact, that's how this blog got started. I'd consistently go to Walmart and stand in the baking aisle getting ideas to make things like Funfetti Gooey Bars or PopTart Bars or fudge covered cookie bars. That was the creativity that fed my soul and made me happy to be a food blogger. And then…then blogging got competitive.
Instead of just being friends with other bloggers and throwing ideas back and forth, blogging became about getting "position zero" on google. It became about making recipes that people want instead of food porn people want to think about…and that meant making basics like chocolate chip cookies and instant pot chicken even though all the other bloggers you know are making the same thing. You know that, in reality, there can only be so many chocolate chip cookie recipes, right?
In fact, there can only be nine: those that show up on the first page of google…because no one clicks to page two.
There are eleventy-billion food bloggers and nine slots, so you can imagine how competitive blogging has gotten and it feels so much worse because these people are my friends. We're a community.
So! Back to why this cake gives me so many feels: it made me realize I need my creative outlets. I need to sit in the grocery aisle and dream up crazy desserts once in awhile. Will it get onto page 1 of google? Probably not. Does it matter?
NO.
A friend's daughter was turning 10 a few weeks ago and having a party with her favorite things. Disney is her favorite thing and she wanted a Mickey Mouse Disney cake so I offered to make it for her. Putting this cake together, dreaming up how to decorate it, building my own sprinkle mix: it gave me so much happiness.
It turns out that a Mickey Mouse Cake is not only magical because everything Disney is magical, but because it's a fun and sweet cake for anyone's birthday.
(See – even in a magical and fun creative post like this I still have to do all the things for google, like turn a creative thought into a headline so that the bots will find it. It's exhausting.)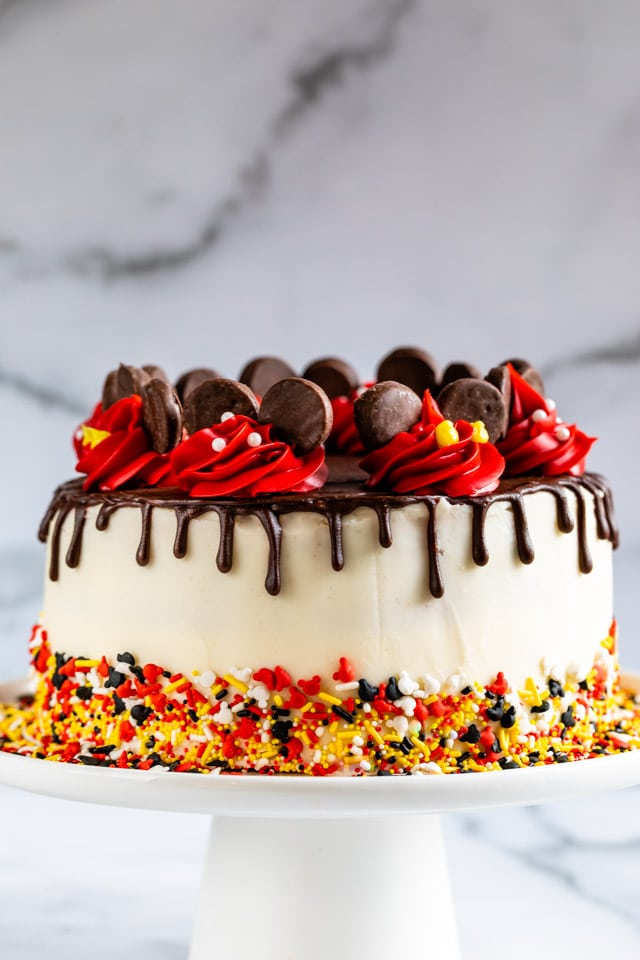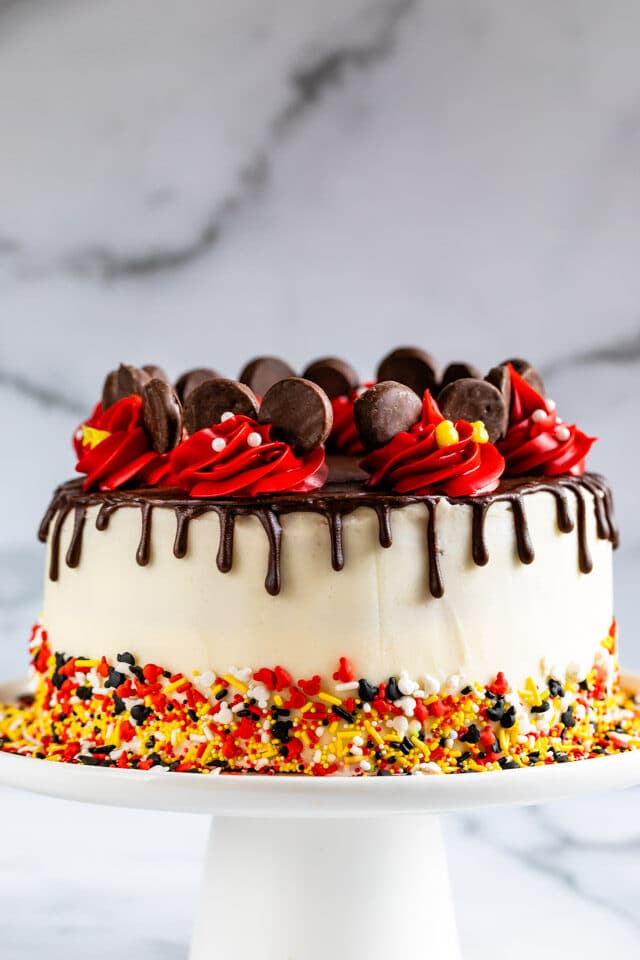 (All products you need to make this cake are linked in the bottom of this post.)
Let's talk about cake! This cake is actually really easy to decorate. Guys, I'm NOT a cake decorator. I suck at cake decorating but this one turned out SO well and I'm going to show you how.
First of all, I started with my yellow cake recipe. You could use any cake you want (maybe chocolate or red velvet) and you can even add sprinkles to make it a funfetti cake. Use my recipes or use a box, just make sure you end up with two 8-inch or 9-inch round cakes.
Fill them as desired with frosting or filling and then crumb coat the cake with some vanilla frosting. (Sometimes I cheat and crumb coat my cakes with canned frosting!)
What is a crumb coat?
A crumb coat on a cake is just a very thin layer of frosting that you use to make sure all the crumbs don't show through on the final product. Check out my friend Lindsay's post on how to frost a smooth cake. Her tips are also how I was able to get the outside of this cake so smooth!
A crumb coat isn't as important on a vanilla cake, but it's super important if you're making a chocolate cake or using vanilla frosting because every little crumb will show.
Once you have a crumb coat on, chill it until set, and then frosting the outside is easy as pie.
The birthday girl requested a Mickey Cake with the traditional colors, so I decided on this simple design with red rosettes decorated to look like Mickey and Minnie Mouse.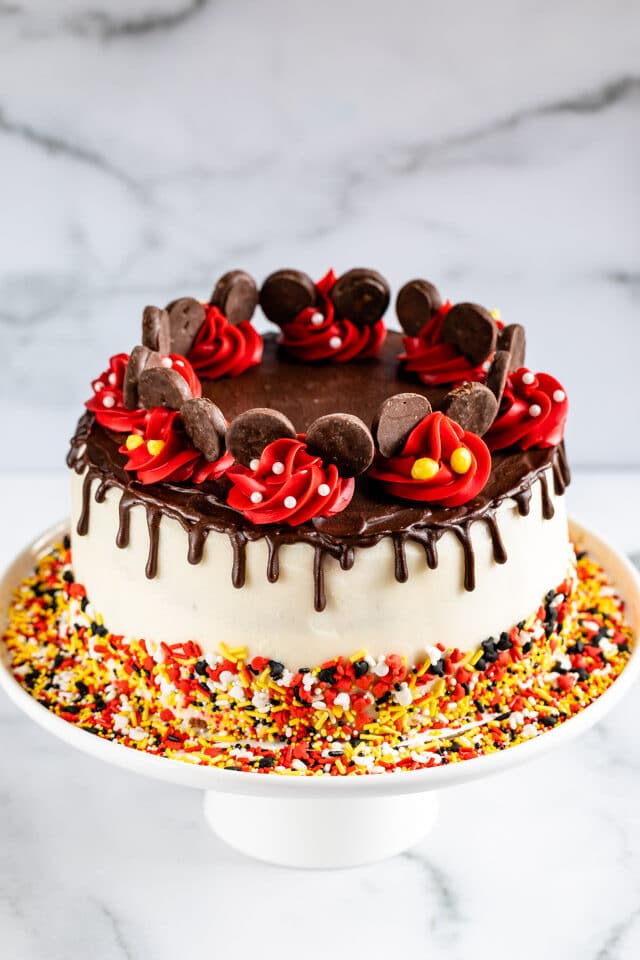 How do you make Mickey Mouse sprinkles?
I couldn't find a combination Mickey sprinkle that I liked, so I made my own. Now, this isn't always the cost-conscious way to do it, but I know I'll use the sprinkles on other projects in the future. If you have a Disney lover or are doing a Disney birthday party, you can use the sprinkles you make on all the things.
I make my own sprinkle mixes all the time by just combining colors and shapes I love. For these, I used jimmies and nonpareils in shades of red, yellow, and black and I found Mickey Mouse sprinkles on Amazon. Simply mix to your liking!
I love putting a bunch of sprinkles around the bottom of cakes to hide any mistakes and to hide the cake board.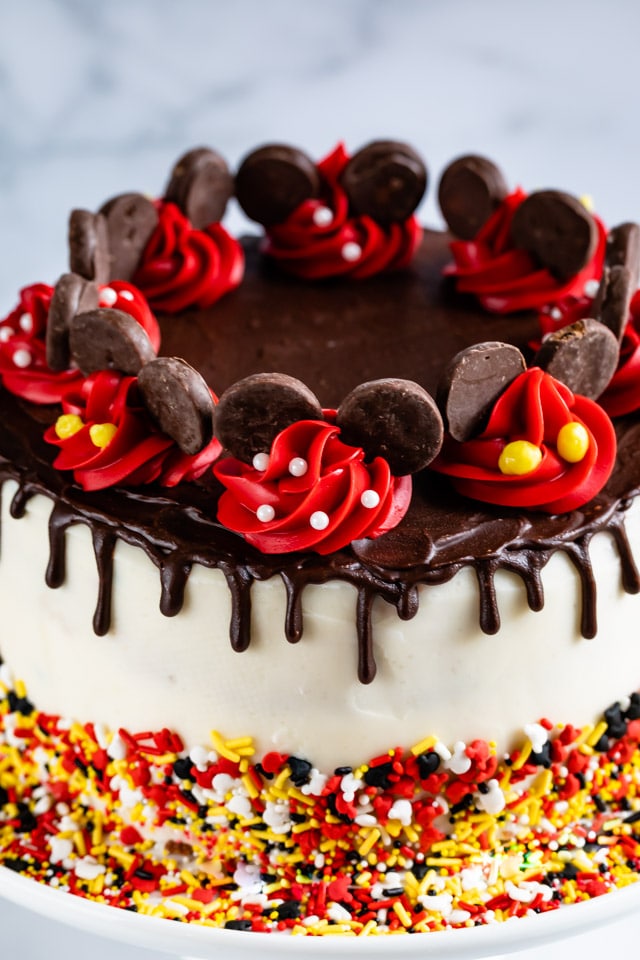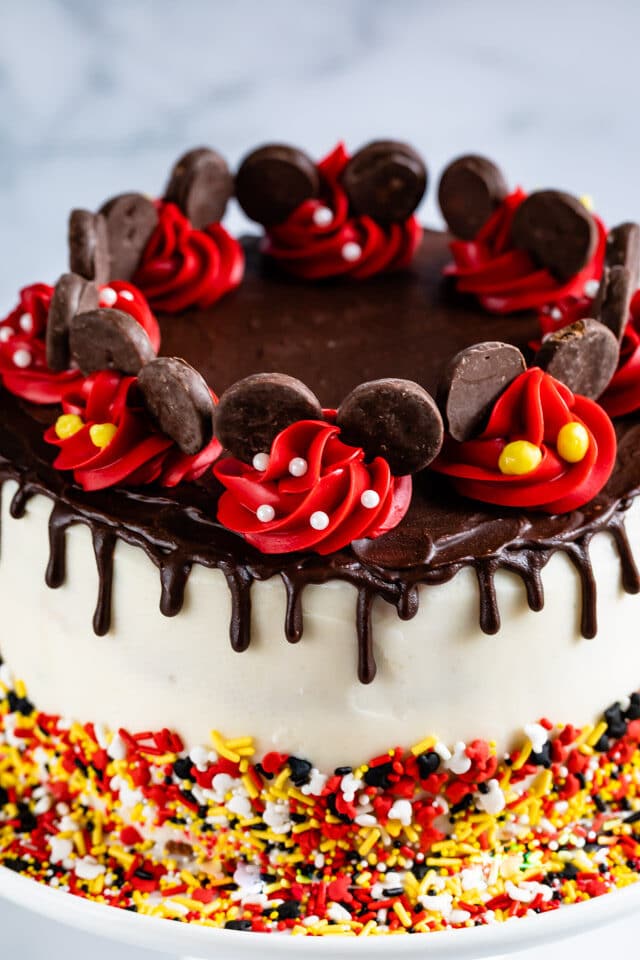 I also decided that the top needed something more than just plain old white frosting, so I decided to make a drippy ganache.
How do you make ganache for cakes?
Good question! I didn't know either. My friend Lindsay, again, came to the rescue. She has several ganache topped cakes on her site so I followed the recipe for this ganache. Browse around, she has lots of different kinds of ganache on her blog, some are made with white chocolate and turned into colors too!
You can use any color melting chocolate for the ganache if you wanted a fun color on top, but the chocolate ganache drizzle fit right in with my theme. Lindsay's videos even show you how to drizzle the chocolate over the cake. Her recipe is thin enough to drizzle but thick enough to stop partway down. It's perfect!
Then came the fun decorating part: Minnie and Mickey Mouse!
I'm not good at cake art or fondant, but I am amazing at making a rosette cake. In fact, rosettes are the only decoration I can do and I use them on all my cake and cupcake recipes!
How do you make a rosette on a cake?
It's simple using a Wilton 1M tip; it's basically just a swirl.
TIP: since Mickey and Minnie are red, and it can be hard to get food coloring to be really red, head to your local craft store and get some already-made red frosting. It comes in a can and has the perfect color. This is so much easier than making your own red frosting!
I swirled red frosting around the cake eight times, then decorated every other rosette to be Mickey or Minnie.
The Mickey frosting has two yellow dots of yellow frosting (or you can use two yellow pearl sprinkles).
The Minnie frosting has white pearl sprinkles to represent the dots on her dress.
Each rosette has two Oreo ears to make the Mickey Mouse ears!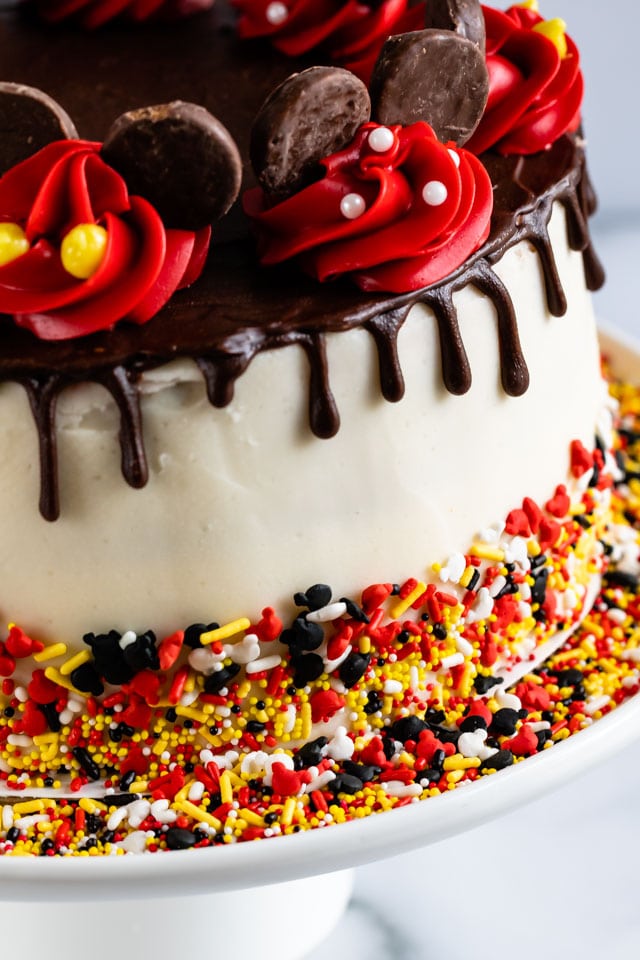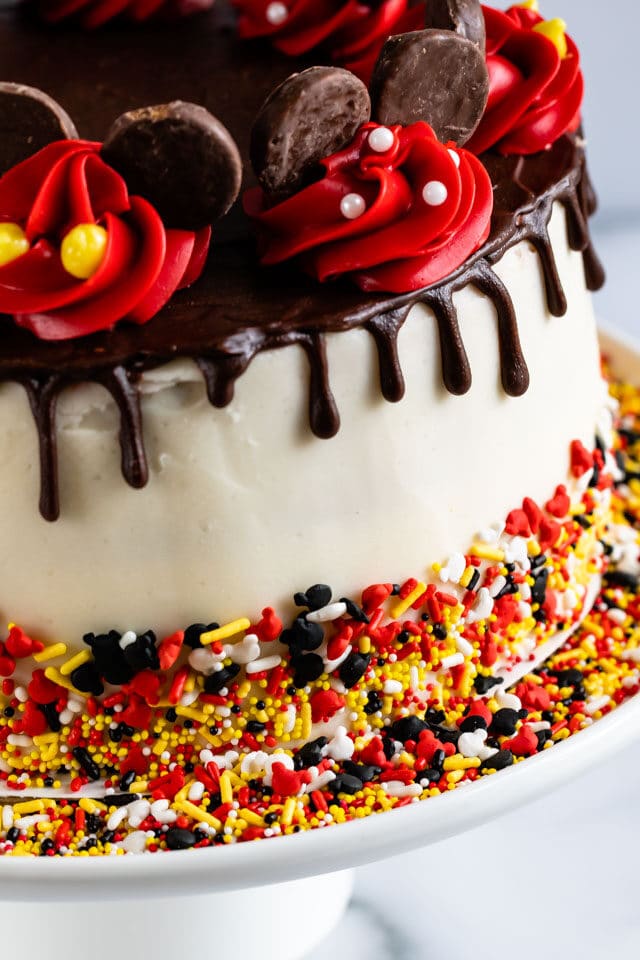 And that's it – the perfect Mickey Mouse cake! Really, it's a frosted white cake with vanilla frosting.
Here's another tip: don't want to make a cake? Buy a plain layer cake from the bakery and just decorate it yourself. *Mind blown*
Here are all the things I used to decorate and make this cake:
Want even more? Subscribe to Crazy for Crust to get new recipes and a newsletter delivered to your inbox. And stay in touch on Facebook, Pinterest, Twitter, and Instagram for all my latest updates. If you make this recipe, share a photo on social media tagging @crazyforcrust and using the hashtag #crazyforcrust.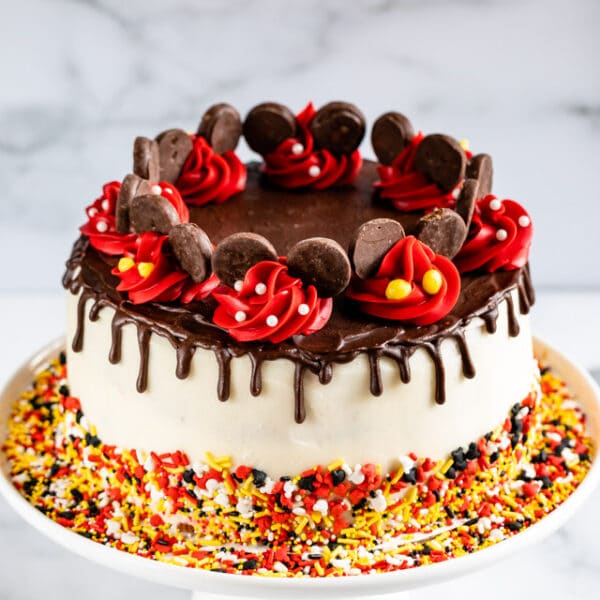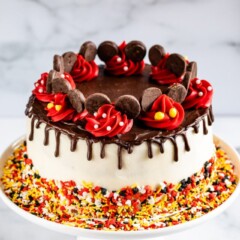 Mickey Mouse Cake (How To)
How to decorate a Mickey Mouse Cake for people who can't decorate! This easy cake decoration is something anyone can do!
Instructions
Fill your cake as desired and give it a crumb coat. Chill.

Frost the outside of your cake with white frosting (or any color you want). Smooth it as much as possible.

Mix your sprinkles or use any color combination you want to press along the bottom of the cake. Do this right after frosting so they'll stick. Do it over the sink too - it'll make a mess! Chill to set.

Drizzle the cake with the chocolate ganache. Let set before decorating.

Use a 1M tip to pipe rosettes around the edge of the cake. Decorate every other one with two yellow dots (Mickey) and white pearl sprinkles (Minnie). Top each with two mini Oreos to represent ears.

Cake will last in refrigerator up to 2 days.
Recipe Nutrition
Serving:
1
serving
|
Calories:
85
kcal
|
Carbohydrates:
18
g
|
Fat:
1
g
|
Sugar:
18
g
Nutritional information not guaranteed to be accurate
**Did you make this recipe? Don't forget to give it a star rating below!**
Other fun cakes I've made:
How to make a Pineapple Cake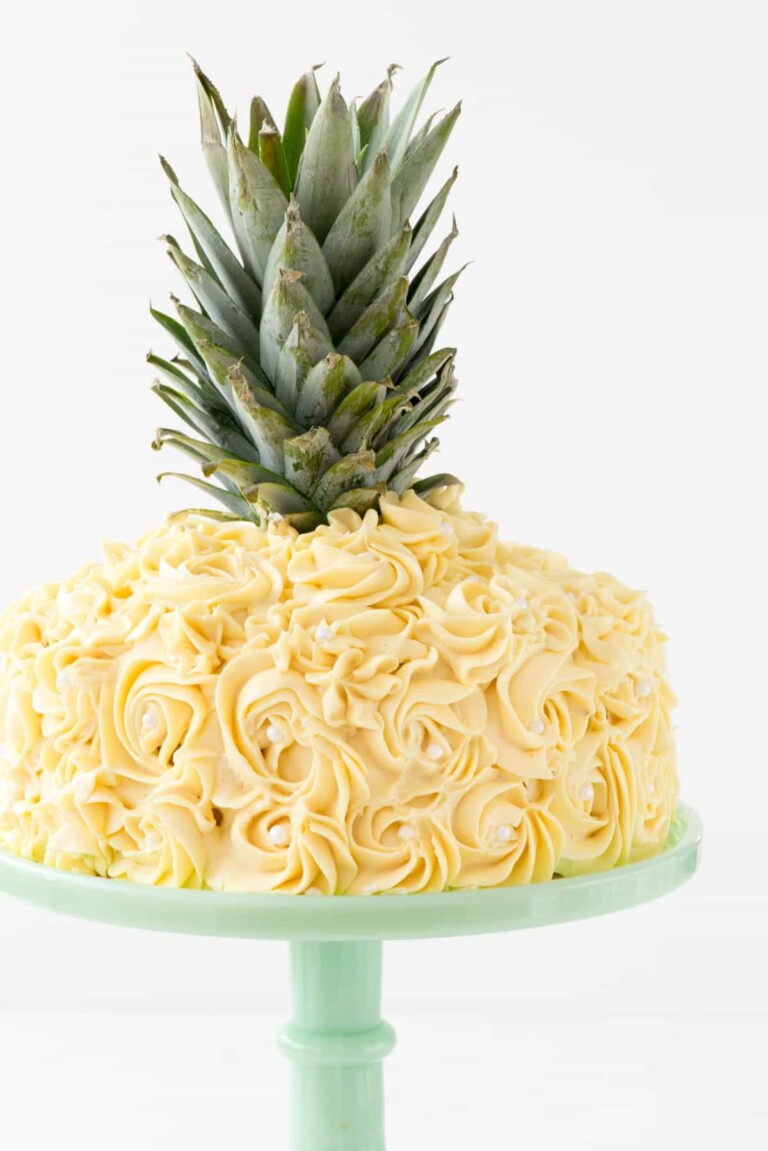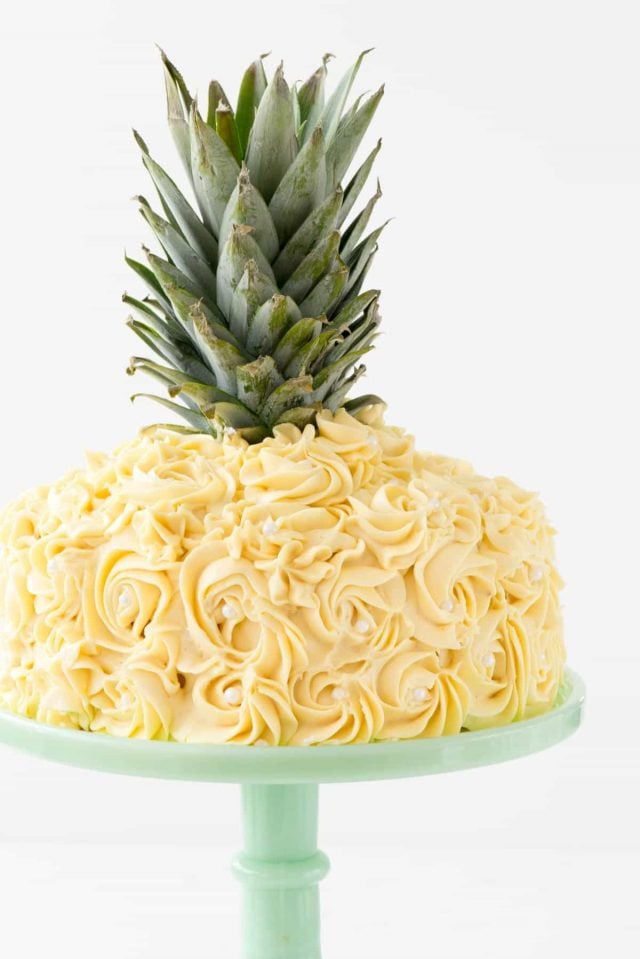 How to make a Unicorn Cake Roll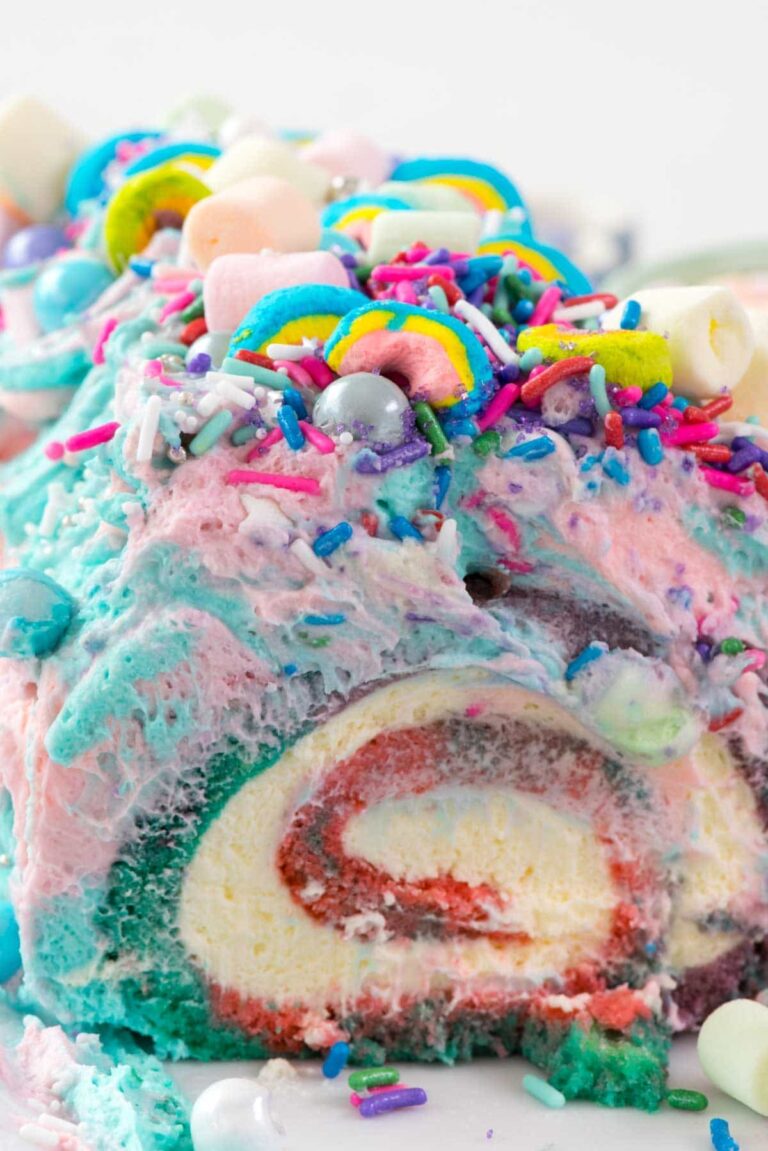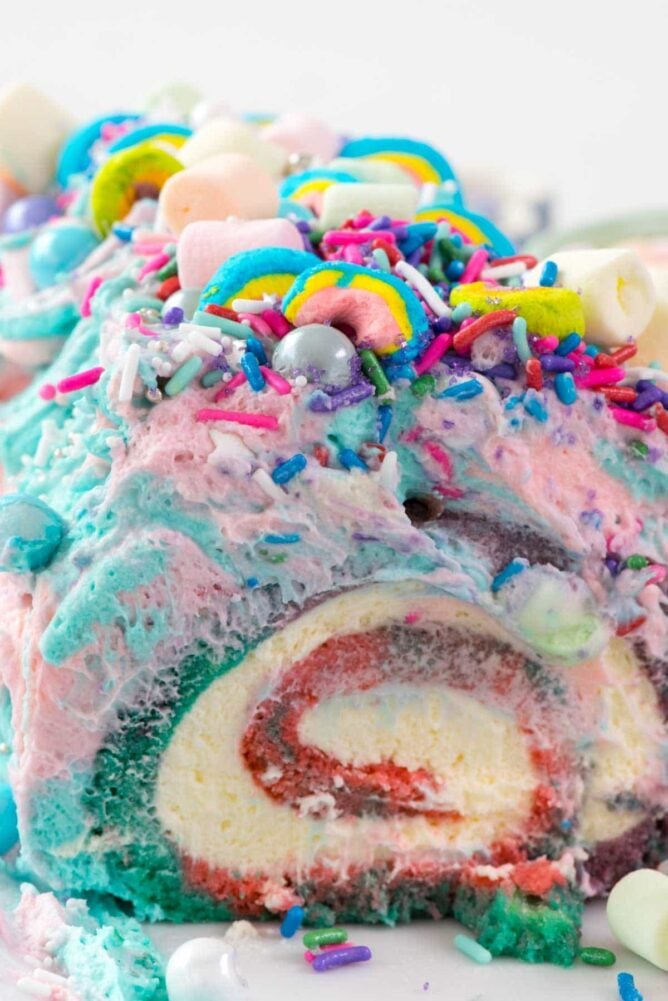 This easy Mickey Mouse Cake decoration can be done by anyone – it's that easy!
Last Updated on May 13, 2020