This post may contain affiliate links. For more information, read my disclosure policy.
Unicorn Cake Roll – an easy cake roll recipe that is all things rainbows and UNICORNS! Colorful cake and frosting, pudding, whipped cream, sprinkles, marshmallows and all things glitter and fun.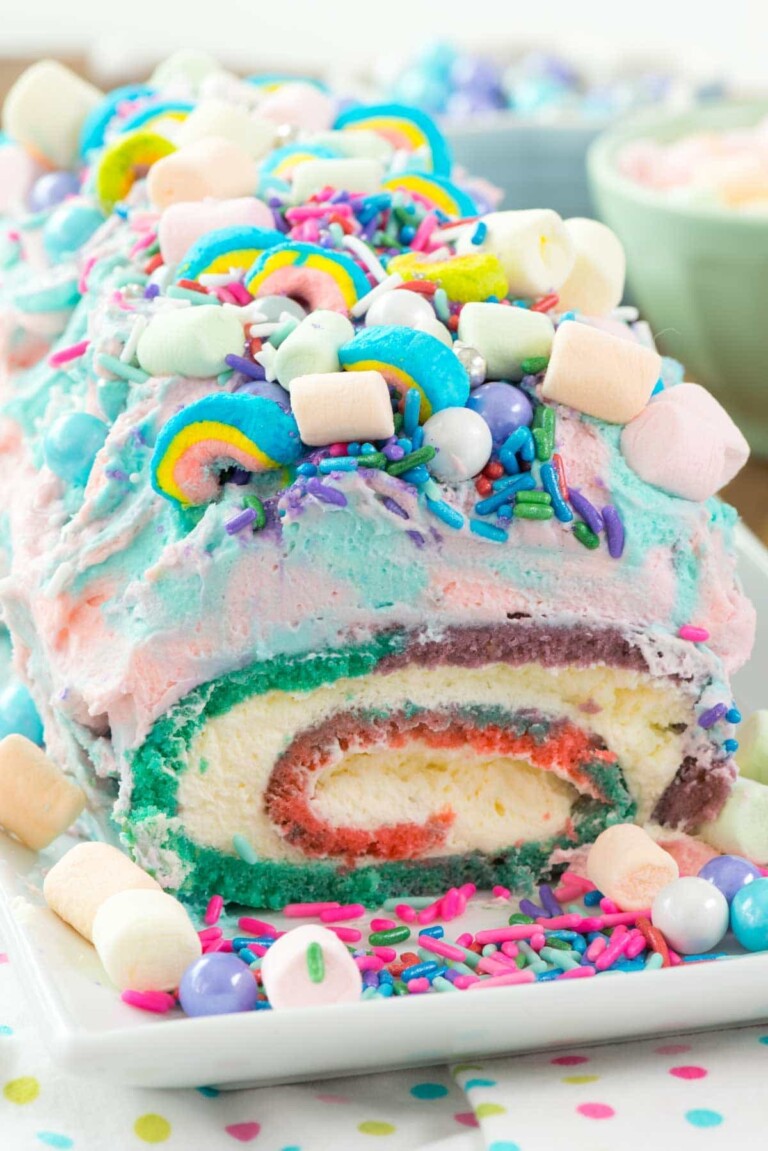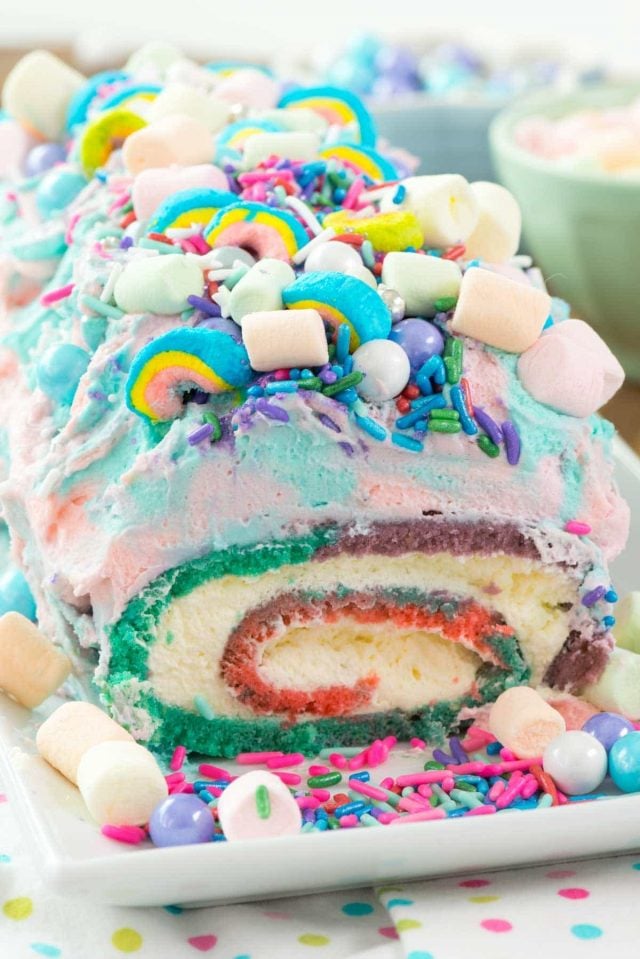 Unicorn Cake Roll
You knew it was coming, right? I mean, I can't believe I didn't think of it before now: A UNICORN Cake Roll. If this cake doesn't scream DOROTHY to you, than you don't know me very well.
I love anything to do with rainbows, sparkles, sprinkles, and unicorns. Currently, thanks to the newest food trend, I'm O-B-S-E-S-S-E-D with Unicorn theme in all of the things. This is my first unicorn recipe, but it's not going to be my last, that's for sure.
Jordan's sixth birthday was a rainbow party. We had rainbow cupcakes and rainbow cookies and lots of rainbow fun. It was then (6 years ago) that I decided I wanted my 40th birthday party to be a rainbow theme too, because I love them so much. Guess what? This year I turn 40 (in September) and am planning a big celebration. It's not every day that adults are allowed to throw a birthday bash for themselves, so I'm doing 40 big. My theme is still rainbow and it's evolved to rainbows and sprinkles (because, duh, sprinkles make everything better) and now it also incorporates unicorns because I want to unicorn all the things.
I'm planning to make sprinkle cookies and maybe some fun celebration cookies, and of course, this Unicorn Cake Roll. Because WHY NOT?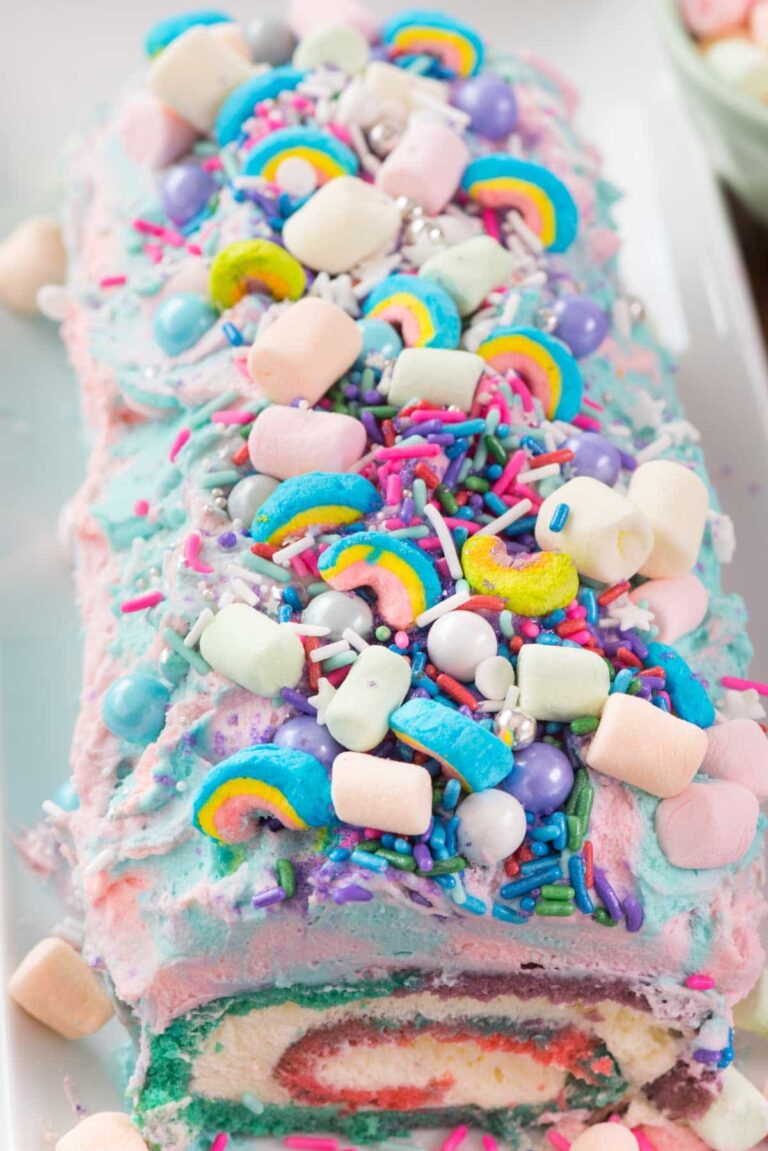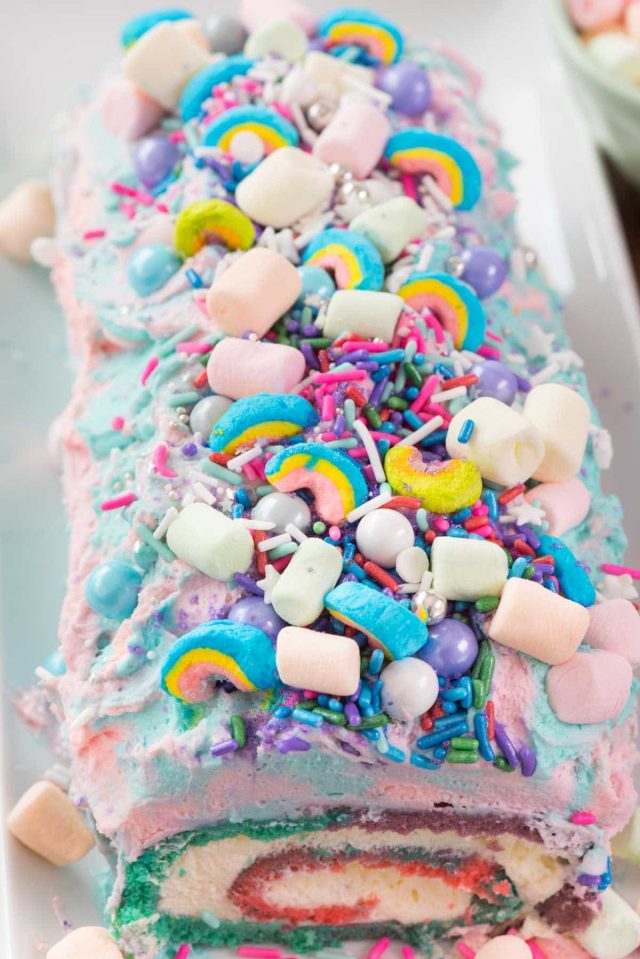 How to Make a Unicorn Cake Roll
Honestly, this cake was so much fun to put together. The batter is colorful, thanks to neon food coloring (I know McCormick makes it and I think some store brands do too). Then I filled it with my new favorite whipped cream recipe: PUDDING whipped cream.
Yes, PUDDING WHIPPED CREAM is a thing. Have you ever heard of it? You add pudding mix (any flavor) to heavy whipping cream and beat it until stiff peaks form. The flavor in the pudding flavors the whipped cream, and the cornstarch in the powder helps to keep the cream stable. I used cheesecake pudding mix because it's what I had in the pantry, but you can use any flavor you like.
Once it's filled you dye the whipped cream colors (which is another reason I didn't use plain whipped cream; I was afraid the food coloring would make it weep) and then frost away. I used the same neon colors, but made them more pastel (used less of the dye) for the frosting. Then I swirled it on thick, because anything unicorn has to be super over the top.
I left the frosted cake on the counter and then, when no one was looking, a real unicorn came and dropped it's stuff all over the cake. Unicorns poo sprinkles, didn't you know? 😉
Okay, so no unicorns actually were involved in the making of this cake; instead I poured my sprinkle stash on top, covered it with sparkly candy and marshmallows, and picked through the Lucky Charms box for just the rainbows.
Hey, no one said unicorn cake is low calorie…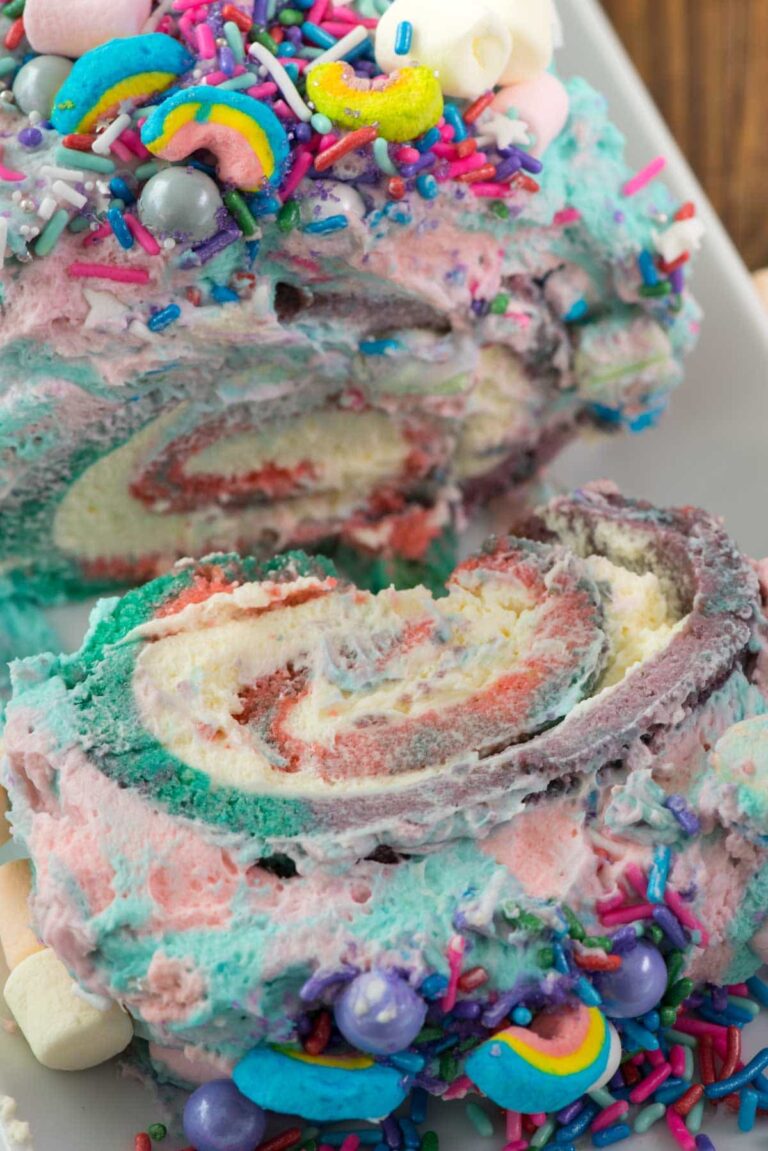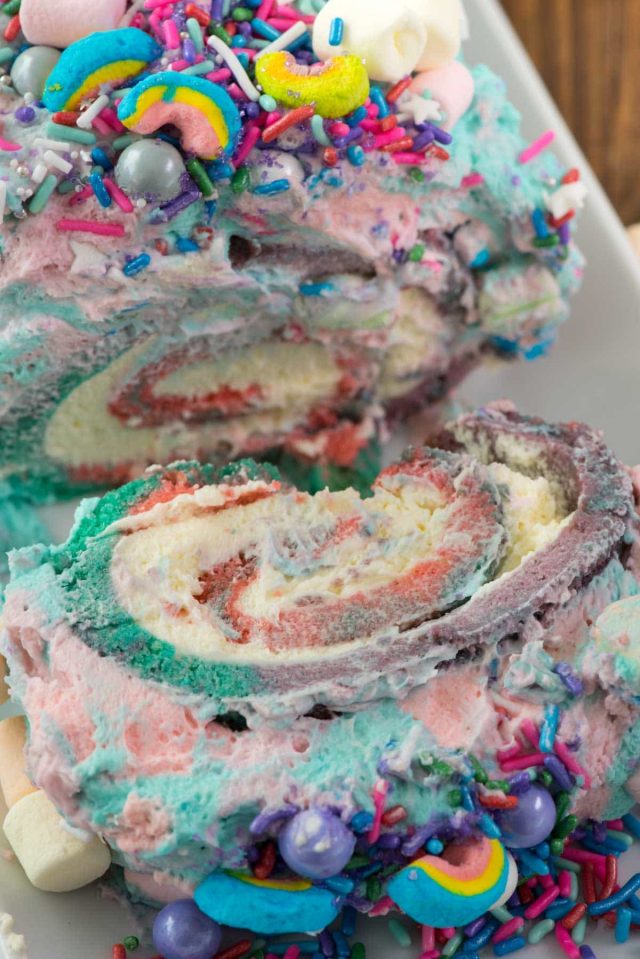 I can hear some people right now talking about how much sugar and calories are in this unicorn cake. Those are the same people that posted how the Unicorn Frap will kill you because it has the same amount of sugar as 3 Snickers bars. But I'm not making this cake every day, and Jordan was instructed to only eat half the cake in one sitting, instead of the whole thing so she wouldn't get a tummy ache.
(I kid, she didn't eat half the unicorn cake. Just the frosting off of half.)


I am pretty sure that this cake counts mostly as food porn, BUT I think anyone who loves unicorns, sparkles, rainbows, or Lisa Frank should make a unicorn cake roll ASAP.
I'm sure a 12 year old girl you know will love a unicorn cake…or the 40 year old woman down the block. ?
Be sure to check out all my cake roll recipes!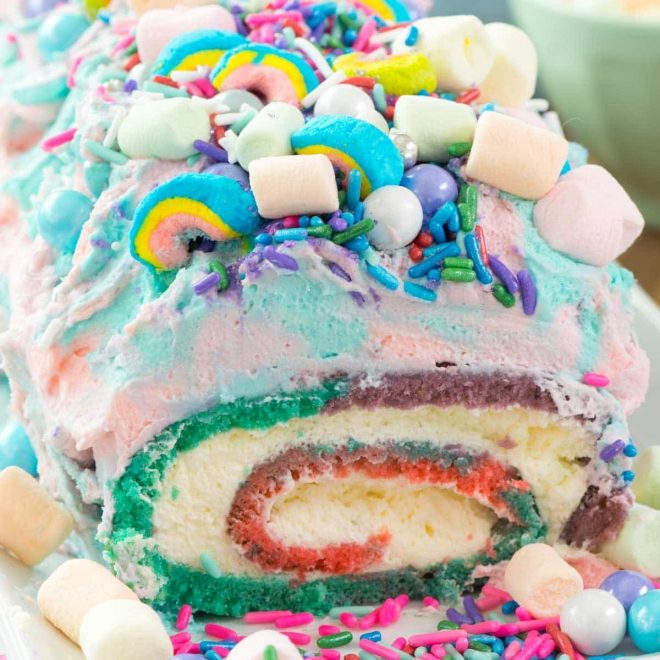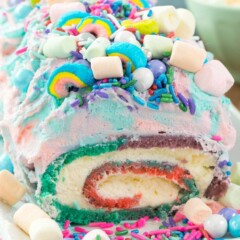 Unicorn Cake Roll
Unicorn Cake Roll - an easy cake roll recipe that is all things rainbow and UNICORN! Colorful cake and frosting, pudding whipped cream, sprinkles, marshmallows and all things glitter and fun.
Ingredients
For the Cake:
3

large eggs

3/4

cup

granulated sugar

1

tablespoon

vegetable oil

1

teaspoon

baking powder

1/4

teaspoon

salt

1

teaspoon

vanilla extract

3/4

cup

all purpose flour

Food Coloring

see note

Powdered sugar

to aid in rolling
For the Filling and Topping:
1

quart

heavy whipping cream

1

box instant pudding mix

2

tablespoons

powdered sugar

more to taste

Food Coloring

see note

Assorted sprinkles

colorful marshmallows and/or candies, etc.
Instructions
Preheat oven to 350°F. Line a 10x15" or 10.5x15" cake/jelly roll pan with foil and spray with floured nonstick cooking spray.

Place eggs in a large bowl or the bowl of an electric mixer. Beat at medium speed with mixer for 5 minutes until foamy and yellow. Add sugar and mix for 2 more minutes, until the mixture is thickened slightly. Mix in oil, baking powder, salt, and vanilla, then add flour and mix slowly until just combined.

Divide batter into three bowls. Color each as desired.

Pour each batter into prepared pan, spreading and swirling as desired with a spatula. Bake for 10-15 minutes, or until the top is browned and the cake springs back when touched lightly. (Mine took 12 minutes, but all ovens differ.)

While the cake is baking, lay out a clean kitchen towel onto the counter. Spread with about 1/4 cup powdered sugar.

Remove the hot cake from the oven and carefully, using oven mitts so you don't burn yourself, flip the cake onto the towel. This might make a mess, but that's okay. Carefully remove the pan and foil (they're hot!) and then, using the towel, roll up the cake from the short side. The towel will be rolled into the cake. Let this cool completely before continuing.

Note: you can wrap the cooled cake in plastic wrap and let it sit overnight before finishing.

Make the filling: Place the heavy whipping cream in a very large bowl or the bowl of a stand mixer. Add the pudding mix and beat at high speed with electric or hand mixer until stiff whipped cream forms. This will take anytime between 1-5 minutes, depending on the speed of your mixer. Taste, then add powdered sugar as desired for sweetness, whipping to mix them in.

To fill cake: Carefully unroll the cake. Spread with some of the whipped cream mixture. Carefully roll the cake back up as tight as possible, unsticking it from the towel as you go.

To decorate the cake: divide the remaining frosting into 2-3 bowls. Tint with frosting as desired. To frost as I've shown it: place each color in it's own ziploc or piping bag, then cut of the tip. Pipe stripes of each color on the cake roll, then swirl with a spatula as desired. You can also use a 1M tip to make roses in different colors, however you like it (see this cake roll for an example of how that looks).

To decorate: go to town with sprinkles, brightly colored candies, marshmallows and more.

Chill for at least 1 hour before slicing. Cover loosely if chilling longer than one hour.
Recipe Nutrition
Serving:
1
/8th slice of cake
|
Calories:
280
kcal
|
Carbohydrates:
56
g
|
Protein:
3
g
|
Fat:
4
g
|
Saturated Fat:
1
g
|
Cholesterol:
71
mg
|
Sodium:
1456
mg
|
Sugar:
45
g
Nutritional information not guaranteed to be accurate
Strawberry Shortcake Cake Roll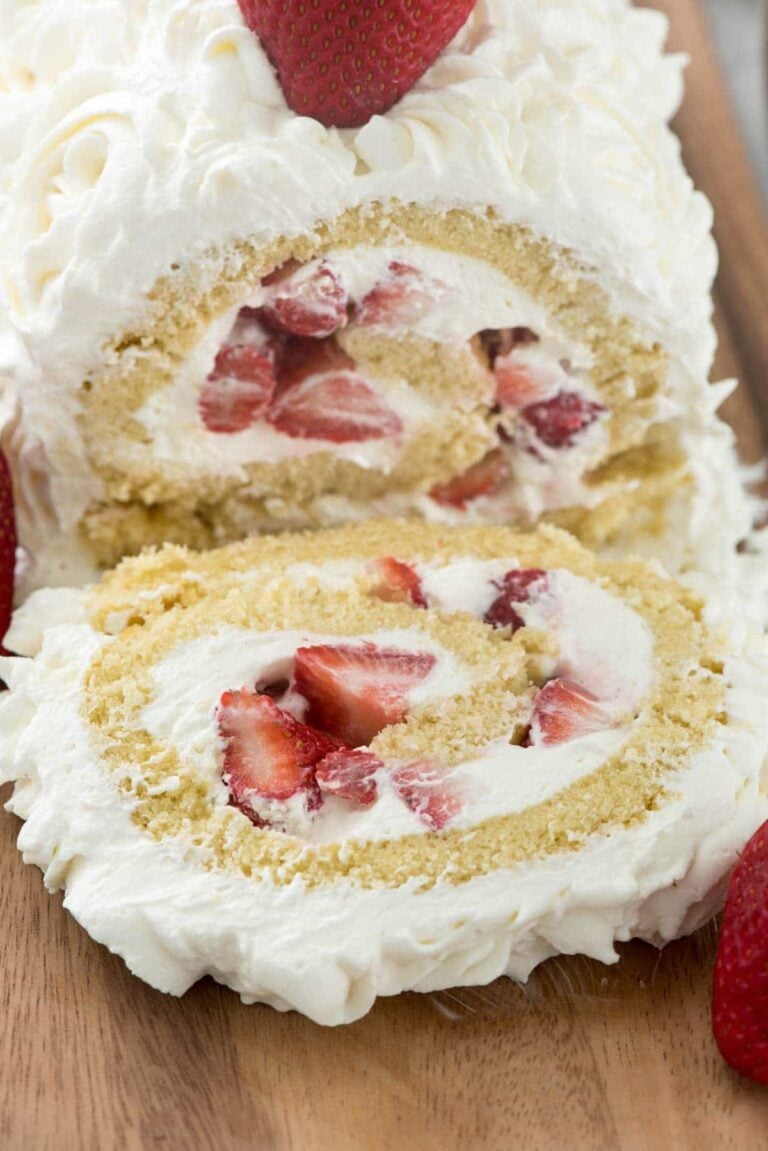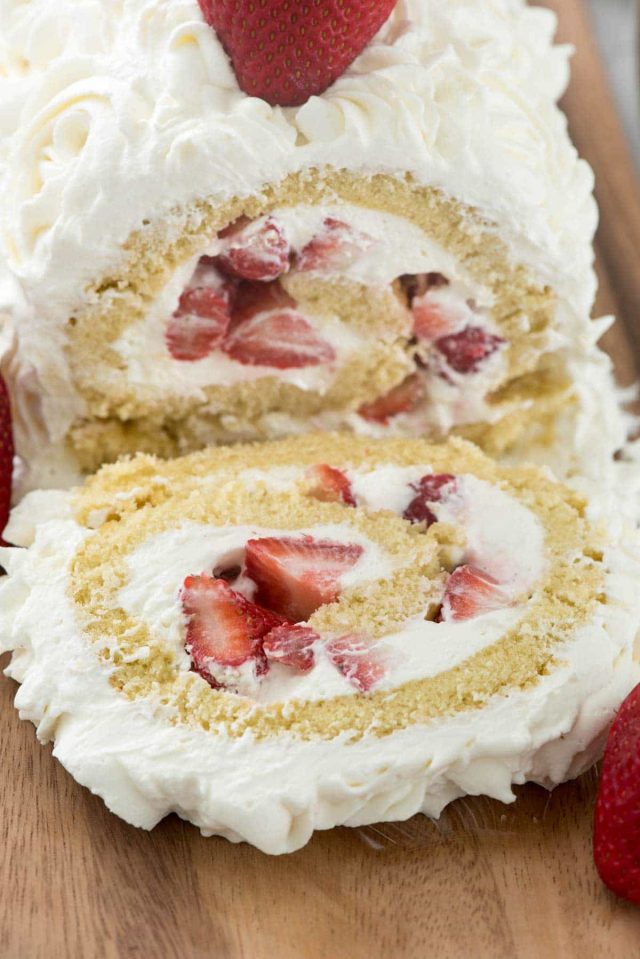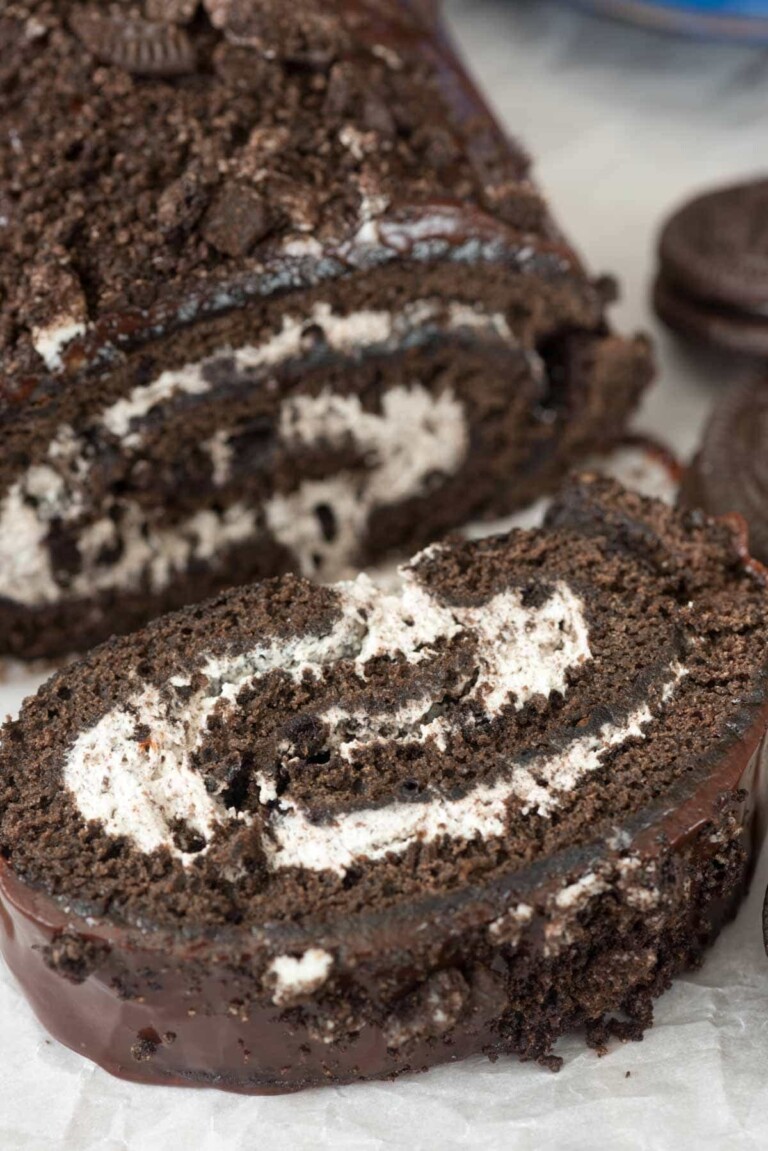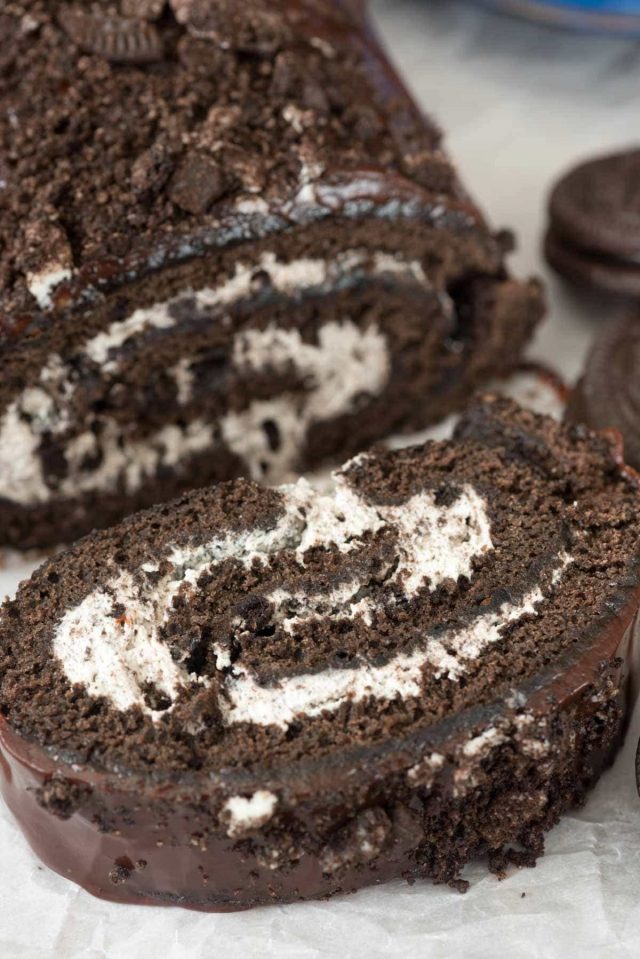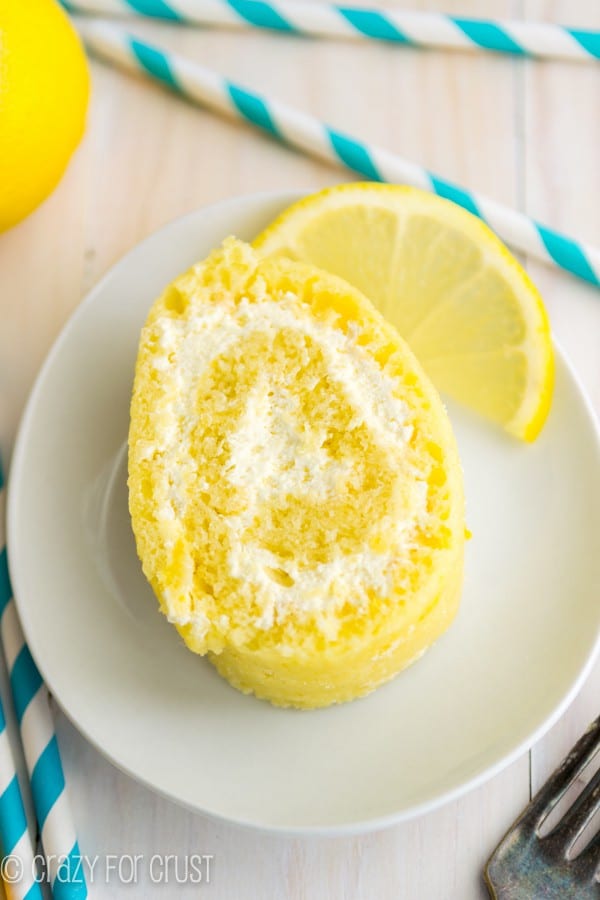 If you love this recipe, check out ALL my CAKE ROLL RECIPES. If you love unicorns, you'll also love these recipes: Unicorn Ice Cream, Unicorn Sugar Cookie Bars, or Unicorn Poop Lasagna.
SaveSave
Last Updated on January 19, 2023