This post may contain affiliate links. For more information, read my disclosure policy.
That's right, my friends. I turned one of my favorite desserts into NO BAKE Cheesecake Truffles, made three ways. You can roll them in graham cracker crumbs, dip them in chocolate, or fry them carnival style.
When you can't commit to an entire cheesecake, these truffles are exactly what you need.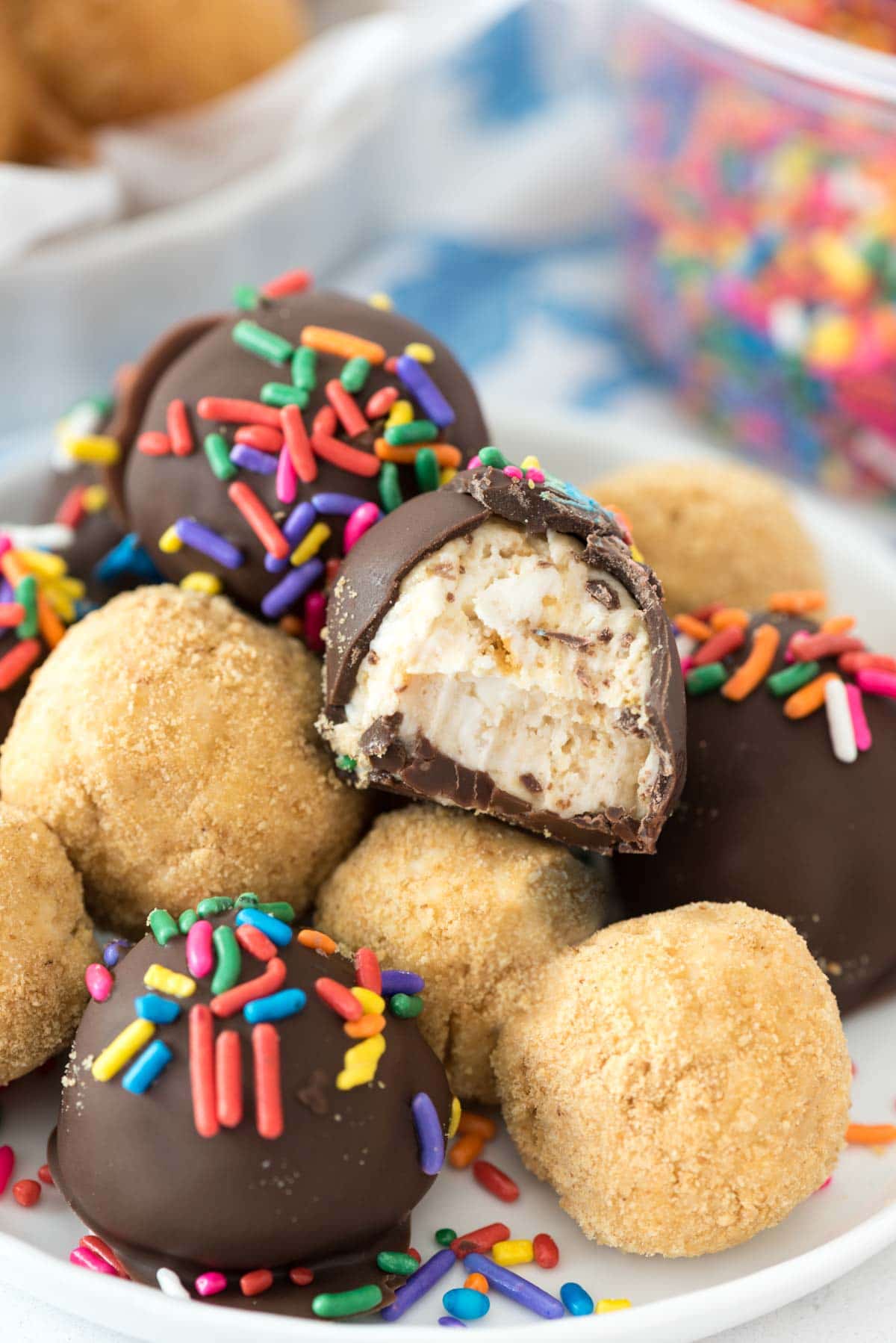 This weekend my husband and I will celebrate our 15th anniversary. I still can't believe we've been married that long; it really seems like yesterday. And then I look at pictures of our wedding and I think OMG I was such a baby! Over the last 15 years we've been through a lot, both good and bad. We've moved states (to Arizona and back to California), lived in about 6 houses, had a baby, dealt with infertility, dealt with struggling times in our jobs, and watched each other get older. While life situations may have been difficult for us over time, we've always gotten through it all because we had each other. I swear it sounds corny, but I didn't know what a "soul mate" was until our first date.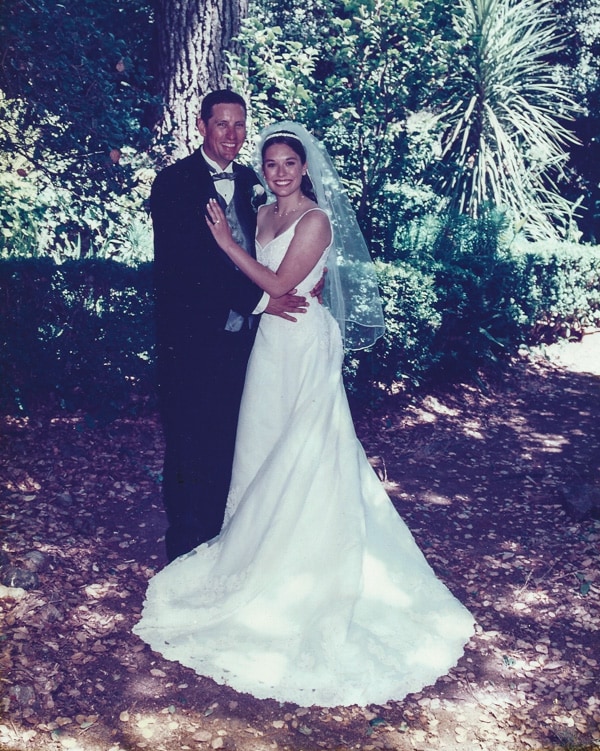 (You can read all about our love story here.)
Anyway, whenever our anniversary rolls around I think about food that defines our relationship: Midori Martinis, Chocolate Croissant French Toast, and cheesecake. You see, our wedding cake wasn't a traditional cake; we had a tiered cake that was actually a CHEESECAKE. It was pure heaven! I knew I wanted to make something cheesecake for this post but it's been about a gazillion degrees here and I could not deal with a baked cheesecake and a water bath and leaving the oven on so long. I decided to make cheesecake TRUFFLES because they're bite size and NO BAKE!
And then I decided to make them three ways: roll them in graham cracker crumbs, dip them in chocolate, and deep fry them like I had at the fair.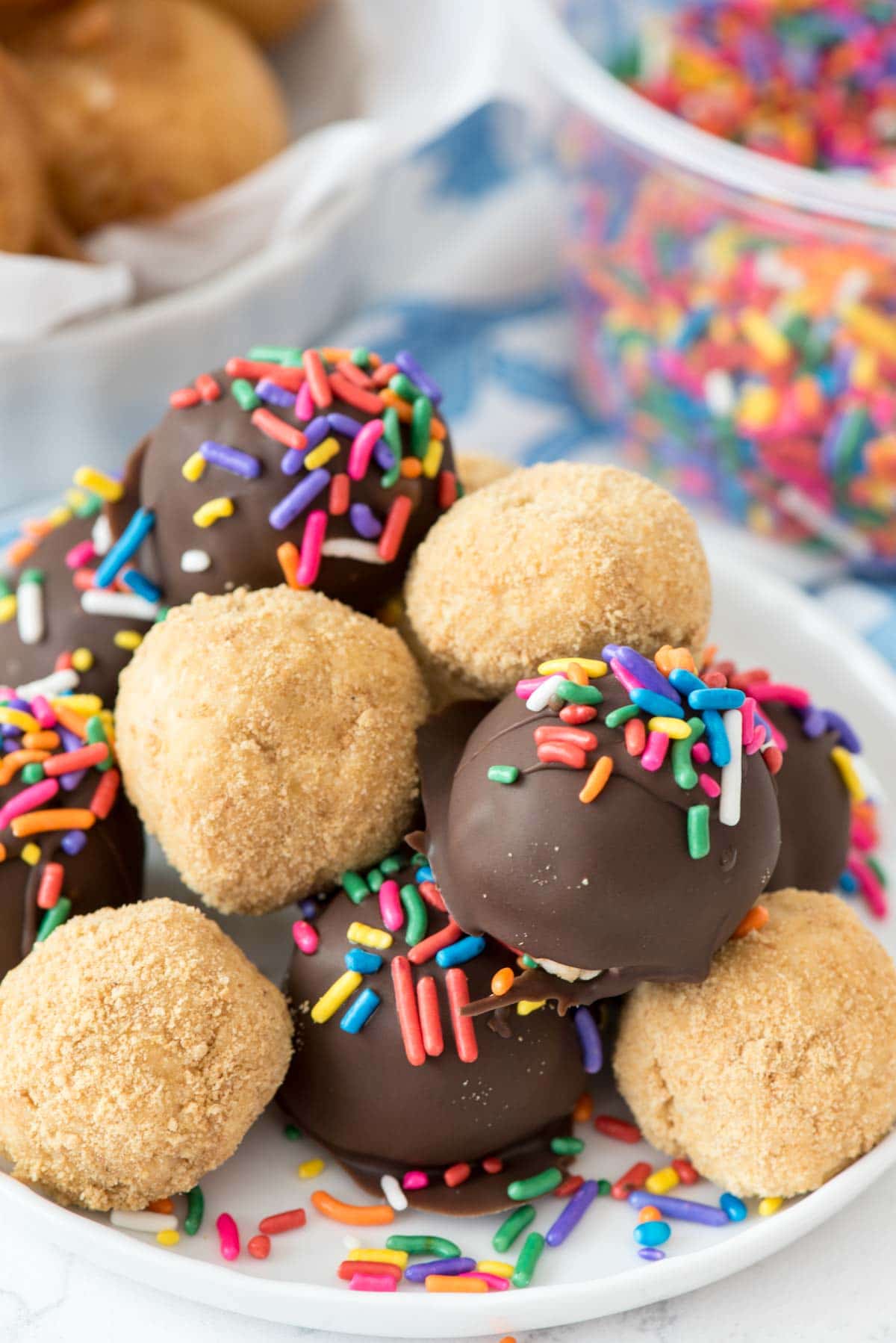 This is probably one of the easiest recipes ever. It's based off one in my original cookbook. Basically you make a no-bake cheesecake and instead of spreading it into a graham cracker crust, you put the crust into the mixture, then roll it into truffles.
The truffle base has only 4 ingredients: cream cheese, sugar, vanilla extract, and graham cracker crumbs for binding. You mix it up and scoop it into bite sized balls, and then the fun begins. There are so many options for how you can dress these up! I'm sharing three different ways with you today, all of them easy!
First, you can go the super easy route and just roll them in more graham cracker crumbs. It's like rolling the truffle in more crust, and will taste most authentically like a bite of cheesecake.
Second, you could dip these in chocolate. This makes them perfect for parties or giving, or the holidays (which really aren't that far away!) I used rainbow sprinkles because I just love using them on truffles. When I dip things in chocolate, I like using Candiquik or Almond Bark for easy dipping, but you can also use baking chocolate bars (like Bakers or Ghirardelli).
And third, one of my FAVORITE versions: Deep Fried Cheesecake, just like at the state fair!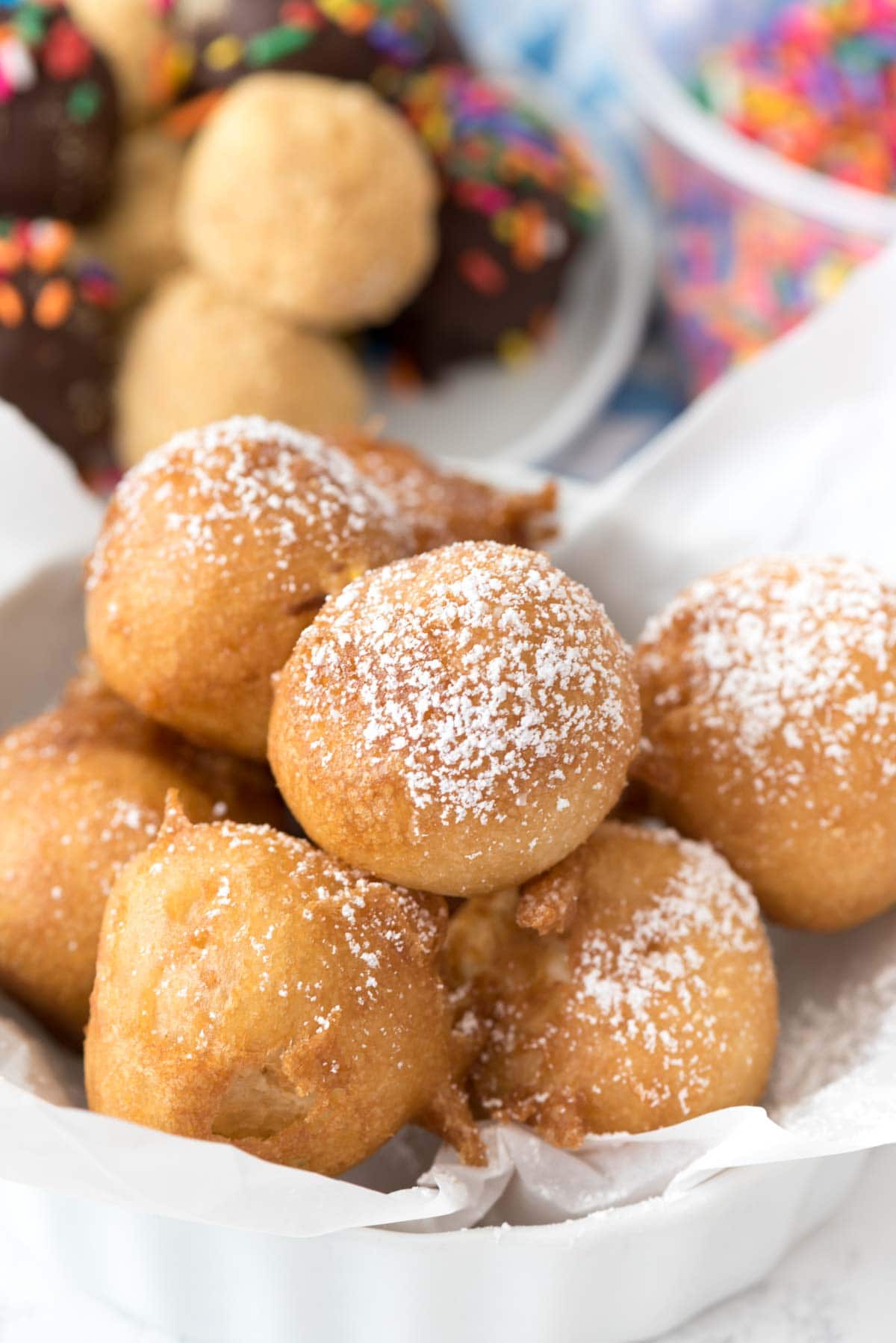 When we were at the fair a few weeks ago I spent $21 at the deep fried booth. We got Oreos and Brownies and a big ol' slice of deep fried cheesecake. It was probably one of the best things I'd ever eaten; when the cheesecake deep fries it gets all melty and gooey. I didn't even eat the coating, I just scooped out the inside with a fork. I knew I had to recreate that at home.
Now, if you're scared of frying things, don't be. I am too, but it's easy. (And remember, if you don't want them fried, just dip them in chocolate and call it a day!) To be successful frying I recommend a deep 3 quart pot and a candy thermometer. The thermometer is pretty much required so you know how hot the oil is.
I coated my truffles in a thick batter I made out of pancake mix. I used Krusteaz, the kind you just add water too, but I added more pancake mix and less water than you'd use if you're making pancakes. It's a nice thick batter. I rolled the truffles in flour and then dredged them in the batter. After a few minutes in the hot oil they're JUST like the fair but at home (and bite sized so I'm not eating 5 million calories).

Whenever I make cheesecake, I think of my wedding. And now whenever I make it I'll also think of these truffles. In fact, I may never make a big cheesecake again!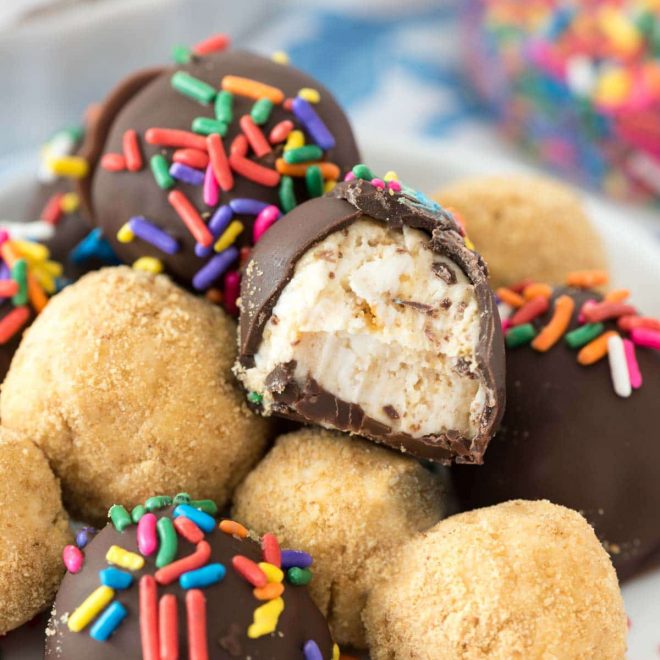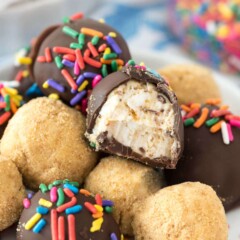 No Bake Cheesecake Truffles (3 ways)
Make No Bake Cheesecake Truffles three ways! This easy recipe turns no-bake cheesecake into a bite covered in grahams, chocolate, or deep fried!
Ingredients
For the truffle base:
8

ounces

cream cheese

I like using Challenge brand

1/4

cup

granulated sugar

1/2

teaspoon

vanilla extract

1/2

cup

graham cracker crumbs
To Make Graham Coated Truffles:
1/2

cup

graham cracker crumbs
To Make Chocolate Covered Truffles:
8

ounces

Candiquik

Almond Bark, or other baking chocolate for dipping
To Make Deep Fried Truffles:
1 1/2

cups

pancake mix

the kind you mix with water

3/4

cup

water

1/4

cup

all purpose flour

4

cups

vegetable oil

for frying
Instructions
Make the truffle base: Beat cream cheese until smooth using a hand mixer. Mix in the sugar, extract, and graham cracker crumbs.

Line a cookie sheet with wax or parchment paper. Scoop 1 tablespoon size balls of the cheesecake mixture onto the cookie sheet.

If you're making the graham coated truffles, continue without chilling. Freeze the cookie sheet of naked truffles for about 30 minutes if you're making the chocolate covered truffles or fried truffles.

To make graham coated truffles: roll each truffle in a bowl of graham cracker crumbs. Roll between the palms of your hand to make a uniform ball, then roll in the bowl again. Chill until they're not too soft, about 30 minutes.

To make chocolate covered truffles: melt chocolate according to package directions. I like melting the chocolate in a disposable paper bowl for easy cleanup. Dip each truffle in the chocolate and tap off the excess, then place on a wax paper lined cookie sheet. Sprinkle with colorful sprinkles. Chill to set, about 10-20 minutes.

To make the fried truffles: place oil in a deep 3 or 4 Qt pot and attach a candy thermometer to the side. Heat on medium heat until the oil reaches 350°F. Meanwhile, whisk the pancake mix and water until smooth. Let it sit until the oil is ready. Place a paper towel on a cookie sheet and place the flour in a small bowl. Once the oil is ready, roll each truffle in the flour, then dip in the batter. Use two spoons to carefully get the truffle into the hot oil without splattering. Cook for just a few minutes, 2-3 at a time, rolling them with a spoon to make sure they get evenly cooked, until they are golden brown. Remove from the oil with a slotted spoon to the paper towels. Once they're done, serve topped with powdered sugar.

Store chocolate covered truffles or graham coated truffles in the refrigerator for up to 4 days. Eat fried truffles while warm, or at least the same day they are fried.
Recipe Nutrition
Serving:
1
truffle
|
Calories:
195
kcal
|
Carbohydrates:
18
g
|
Protein:
1
g
|
Fat:
12
g
|
Saturated Fat:
9
g
|
Cholesterol:
19
mg
|
Sodium:
117
mg
|
Potassium:
42
mg
|
Sugar:
11
g
|
Vitamin A:
175
IU
|
Vitamin C:
0.1
mg
|
Calcium:
35
mg
|
Iron:
0.4
mg
Nutritional information not guaranteed to be accurate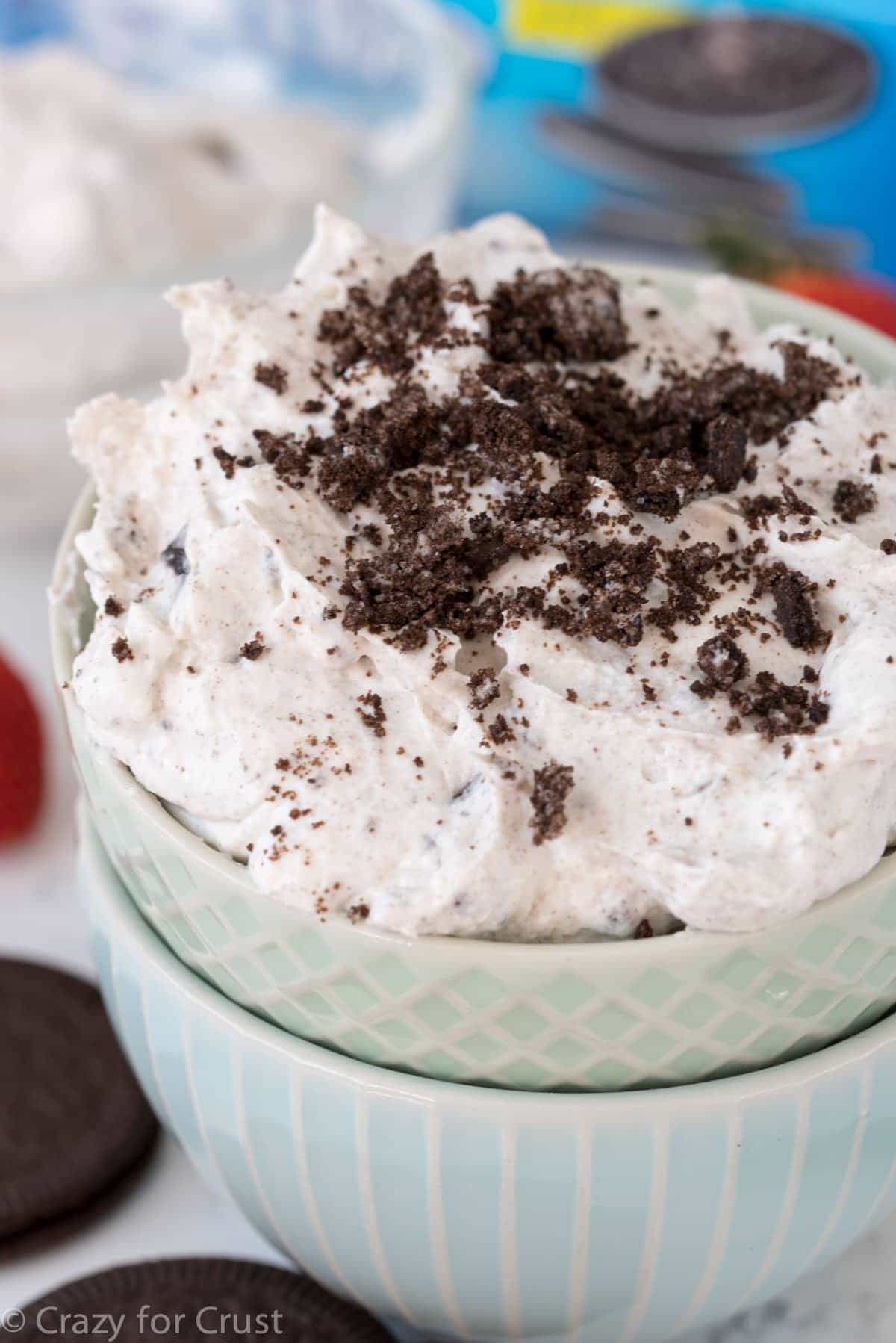 Oreo Truffle Dipped Strawberries (try putting the cheesecake truffles inside instead!)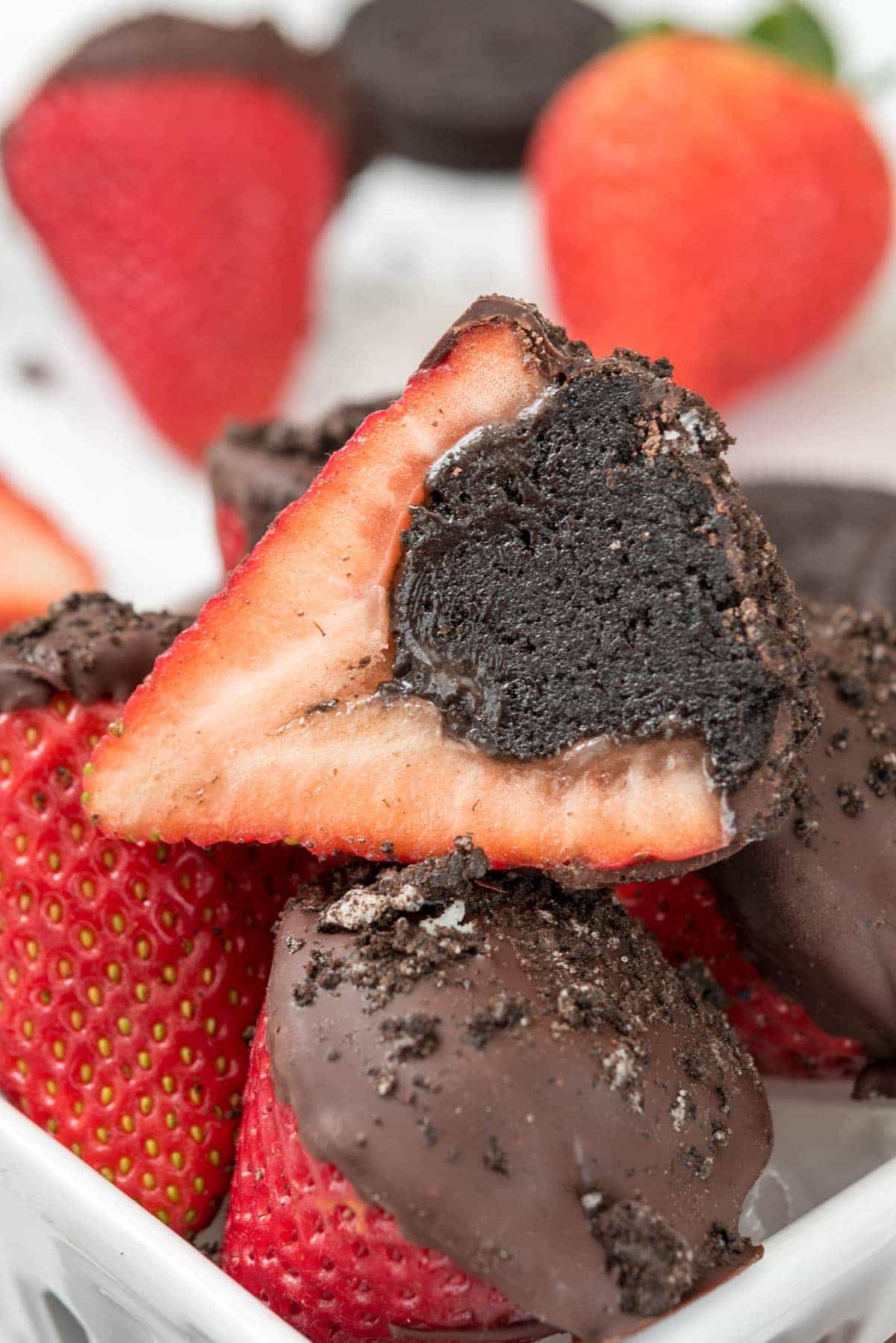 How to Dip Candy and Truffles (without crying)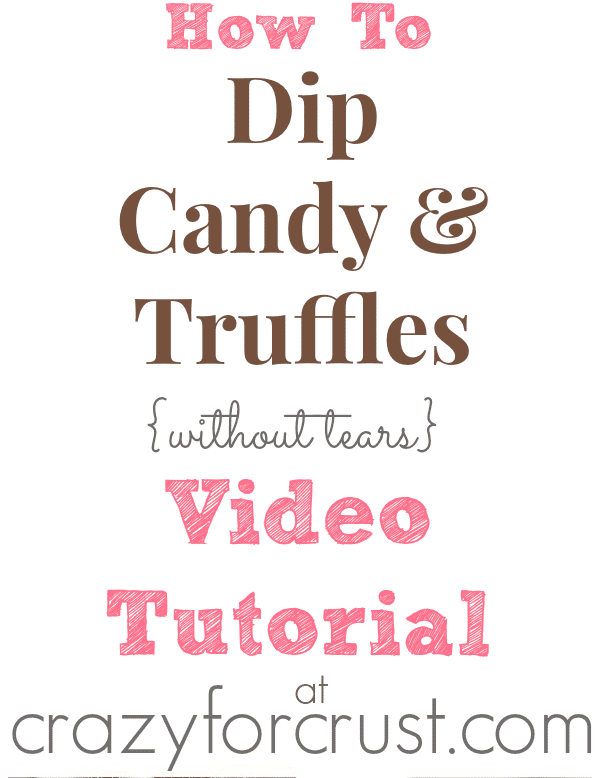 Sweets from friends:
Pina Colada Cheesecake Truffles by What's Cooking Chicago
Dark Chocolate Strawberry Cheesecake Truffles by Amy's Healthy Baking
Cherry Cheesecake Chocolate Truffles by Hungry Couple
Last Updated on September 23, 2019