This post may contain affiliate links. For more information, read my disclosure policy.
Blueberry Pancake Muffins are an easy way to enjoy pancakes even when you're busy! You can make a big batch ahead and have them on hand for easy breakfasts during the week.
These are lightly sweetened and made from scratch and so much better than ones made from a mix. They're better for you, too, because my pancake muffin recipe has less flour and no refined sugar.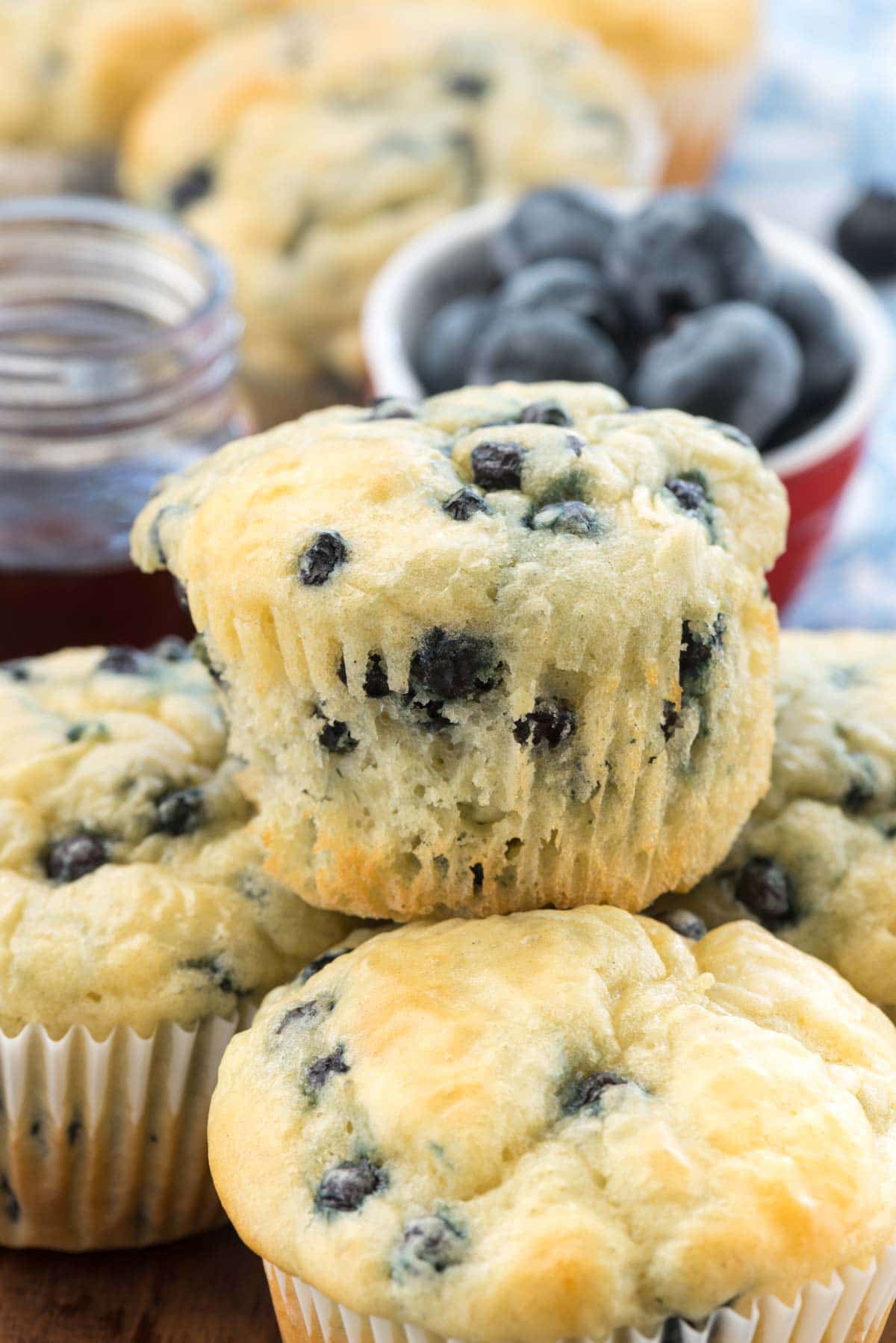 I love pancakes, but most of the time I don't have the energy to make them in the morning or the time to sit down and enjoy a plate before we have to rush out the door. I also don't have the metabolism or desire to enjoy that much sugar first thing in the morning! So, I save traditional pancakes for special occasions, but I can still get my fix with Pancake Muffins.
These are an easy way to enjoy pancakes in the morning, on the go, and especially if you don't love a ton of sugar. Even though they're technically "muffins" they're lighter than regular ones which can be very dense. These pancake muffins have a light and airy texture and have less flour and sugar.
You can make them ahead and enjoy them cold or warm them up in the microwave for an easy on-the-go breakfast during the week.
Table of Contents
Lightly Sweet Blueberry Pancake Muffins from Scratch
These muffins don't have any refined sugar. Instead, they're lightly sweetened with maple syrup.
I know it might be tempting to use a pancake mix, but these are just as easy to make from scratch and they taste so much better. Plus, they're better for you because you know exactly what's in them. Speaking of which, here are the ingredients you'll need:
All-purpose flour
Baking powder
Baking soda
Salt
Buttermilk
Real maple syrup or pancake syrup
Vegetable oil
Eggs
Blueberries
They have a hint of sweetness and the texture of a light and airy muffin, so I can check all my "want carbs" boxes. If you like more sugar, you can slather them with syrup and eat them with a fork, or let the kids dip them. They'd also be awesome with chocolate honey butter.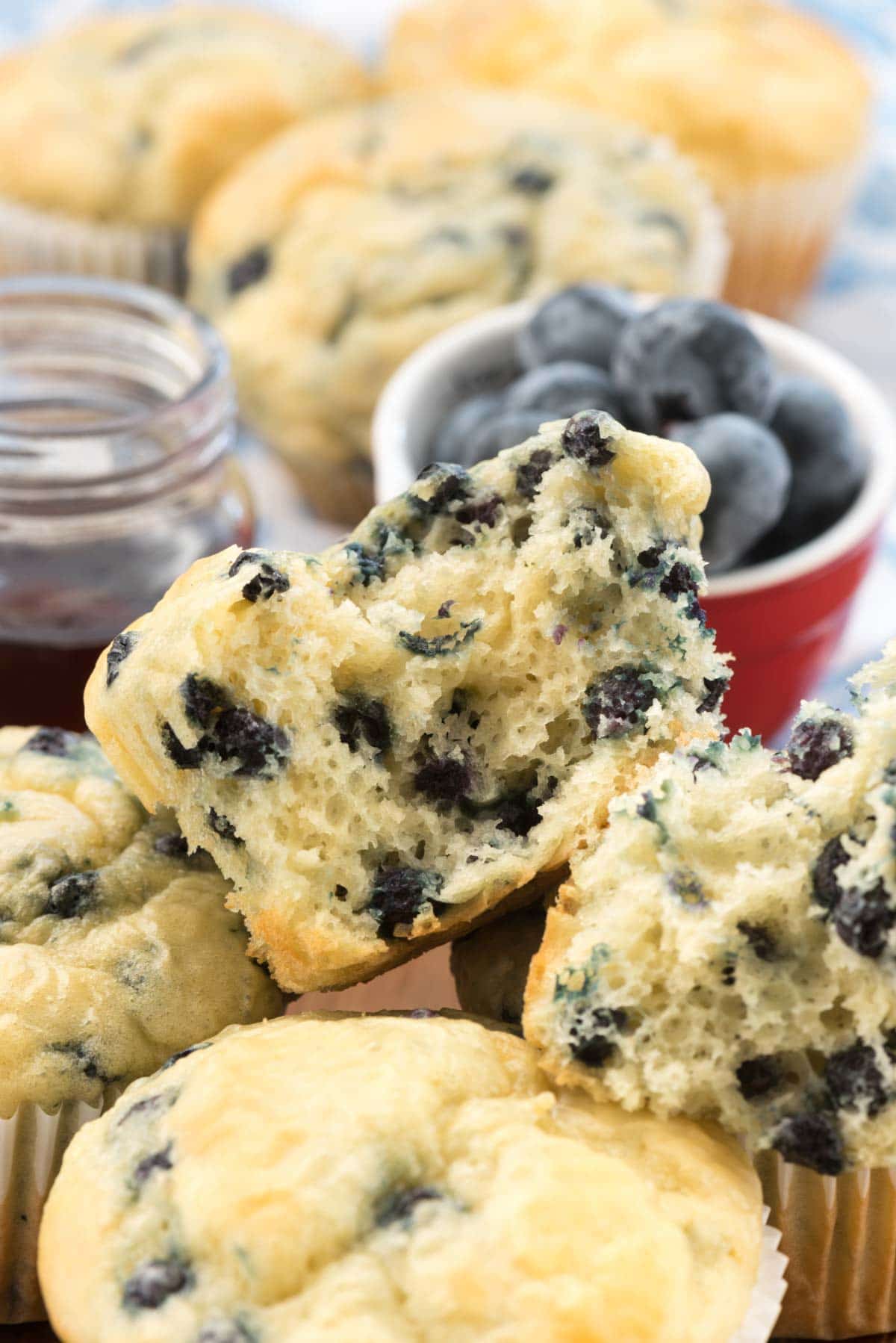 Tips for Substitutions
I don't always have buttermilk on hand so luckily there is an easy way to make your own buttermilk:
Combine 2/3 cup of milk with 1 teaspoon of vinegar and let it sit for five minutes before adding it to the batter.
So easy, right? Also, if you don't want to use milk you can use your favorite non-dairy milk and add the same amount of vinegar to make a non-dairy buttermilk.
If you want to make them sugar-free just use your favorite sugar-free pancake syrup.
I like to use fresh blueberries for this recipe, but you can use frozen ones. Just be sure to thaw them and drain off the excess liquid before adding them to the batter.
Steps for Making the Batter
You will need a standard 12-cup muffin pan for this recipe. I like to use muffin liners and spray the inside of each with cooking spray. Preheat your oven to 350°F.
Whisk the flour, baking powder, baking soda, and salt together in a large bowl. In a smaller bowl, whisk the buttermilk, maple syrup, vegetable oil, and eggs together until smooth.
Add the wet ingredients to the dry ones and stir just until combined. Like a regular pancake batter, there will be some lumps which is fine. Fold in the blueberries.
Fill each muffin liner ¾ full with the batter. Bake the muffins for 12 to 15 minutes or until a toothpick comes out clean.
You can serve them right away or cool them and keep them in the refrigerator for an easy breakfast later.
Recipe Video
How to Make Muffins with Pancake Mix
I really want to encourage you to make them from scratch – they really are easy to make and so much better! But I get it – if you're busy and short on time, yes, you can make blueberry muffins with pancake mix – just use your favorite mix and bake them as pancakes instead of flipping!
Serve them Warm, at Room Temperature or Cold
What I love about these pancake muffins is that they're delicious at any temperature. They're great warm from the oven and we love to drizzle a little maple syrup over the top just like you would with regular pancakes. Or dip them in syrup!
They also hold well at room temperature so they're great if you have a brunch with family and friends. Just pile them on a platter and let everyone help themselves.
Or, make a batch ahead of time and keep them in the refrigerator. They're delicious cold or you can warm them up in the microwave.
Other easy on the go breakfast ideas
Have you made this recipe?
Tag @crazyforcrust on Instagram or hashtag it #crazyforcrust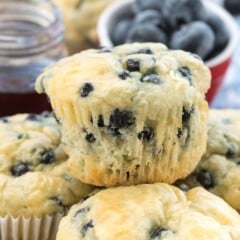 Blueberry Pancake Muffins
Blueberry Pancake Muffins – these easy muffins are made with pancake batter. They're great for on the go or with syrup for an easy make-ahead breakfast!
Ingredients
1 1/2

cups

all purpose flour

1

tablespoon

baking powder

1

teaspoon

baking soda

1/2

teaspoon

salt

2/3

cup

buttermilk

or 2/3 cup milk + 1 teaspoon vinegar, let it sit for 5 minutes

1/4

cup

maple syrup

1/4

cup

vegetable oil

2

eggs

1

cup

blueberries

more if desired
Instructions
Preheat oven to 350°F. Line a 12-cup muffin pan with liners and spray them with nonstick cooking spray.

Whisk flour, baking powder, baking soda, and salt in a large bowl. Whisk buttermilk, maple syrup, oil, and eggs in a large measuring cup or medium sized bowl. Stir wet ingredients into dry, and stir just until combined. Mixture will be slightly lumpy. Stir in blueberries carefully.

Fill muffin cups 3/4 full (about 1/4 cup of batter per muffin liner). Bake for 12-15 minutes, or until a toothpick comes out with just a few crumbs and the muffins are puffy and golden. Cool slightly before serving. Serve warm or cold, plain or with butter and syrup.
Recipe Notes
Use any mix ins you want instead of blueberries.
Recipe Nutrition
Serving:
1
serving
|
Calories:
140
kcal
|
Carbohydrates:
19
g
|
Protein:
3
g
|
Fat:
5
g
|
Saturated Fat:
4
g
|
Cholesterol:
28
mg
|
Sodium:
214
mg
|
Potassium:
170
mg
|
Sugar:
5
g
|
Vitamin A:
70
IU
|
Vitamin C:
1.2
mg
|
Calcium:
72
mg
|
Iron:
1
mg
Nutritional information not guaranteed to be accurate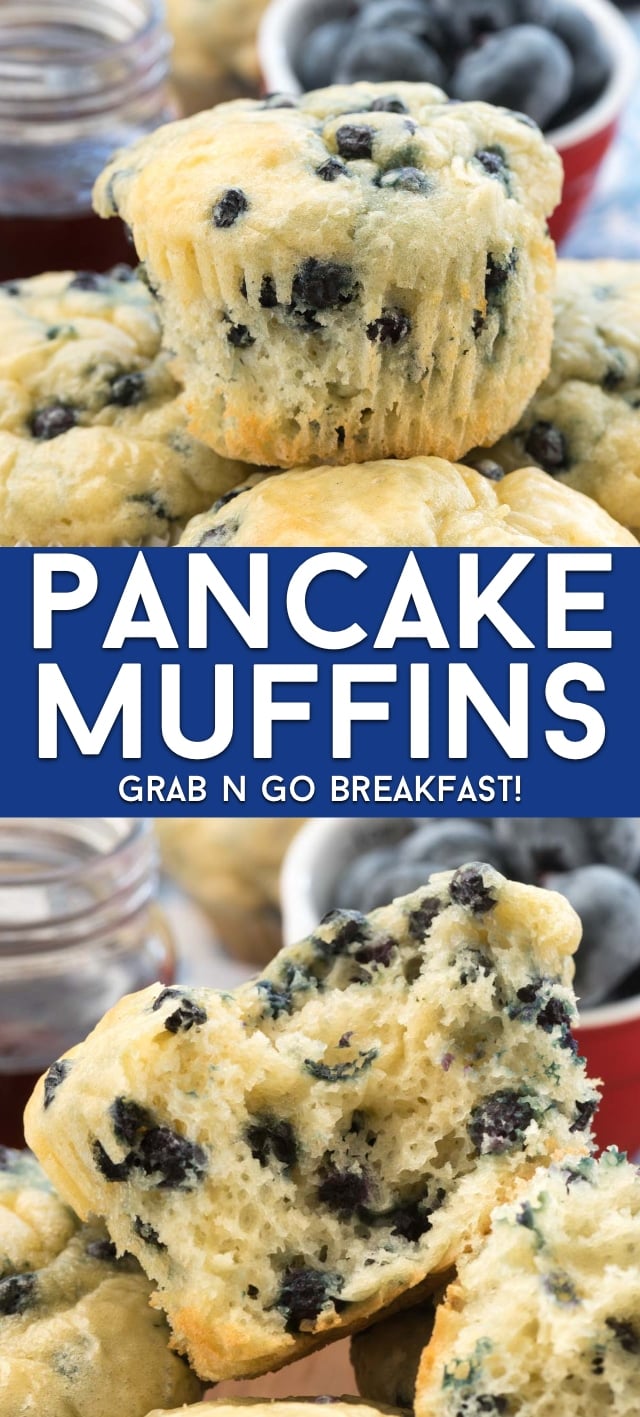 Pancake Muffins are an easy on the go breakfast! Bake from scratch pancake batter in muffin tins and add blueberries for a delicious and easy breakfast recipe.
Last Updated on May 20, 2022