This post may contain affiliate links. For more information, read my disclosure policy.
Want a pumpkin pie recipe that's tried and true? This Chocolate Chip Pumpkin Pie is it – it's my mom's recipe!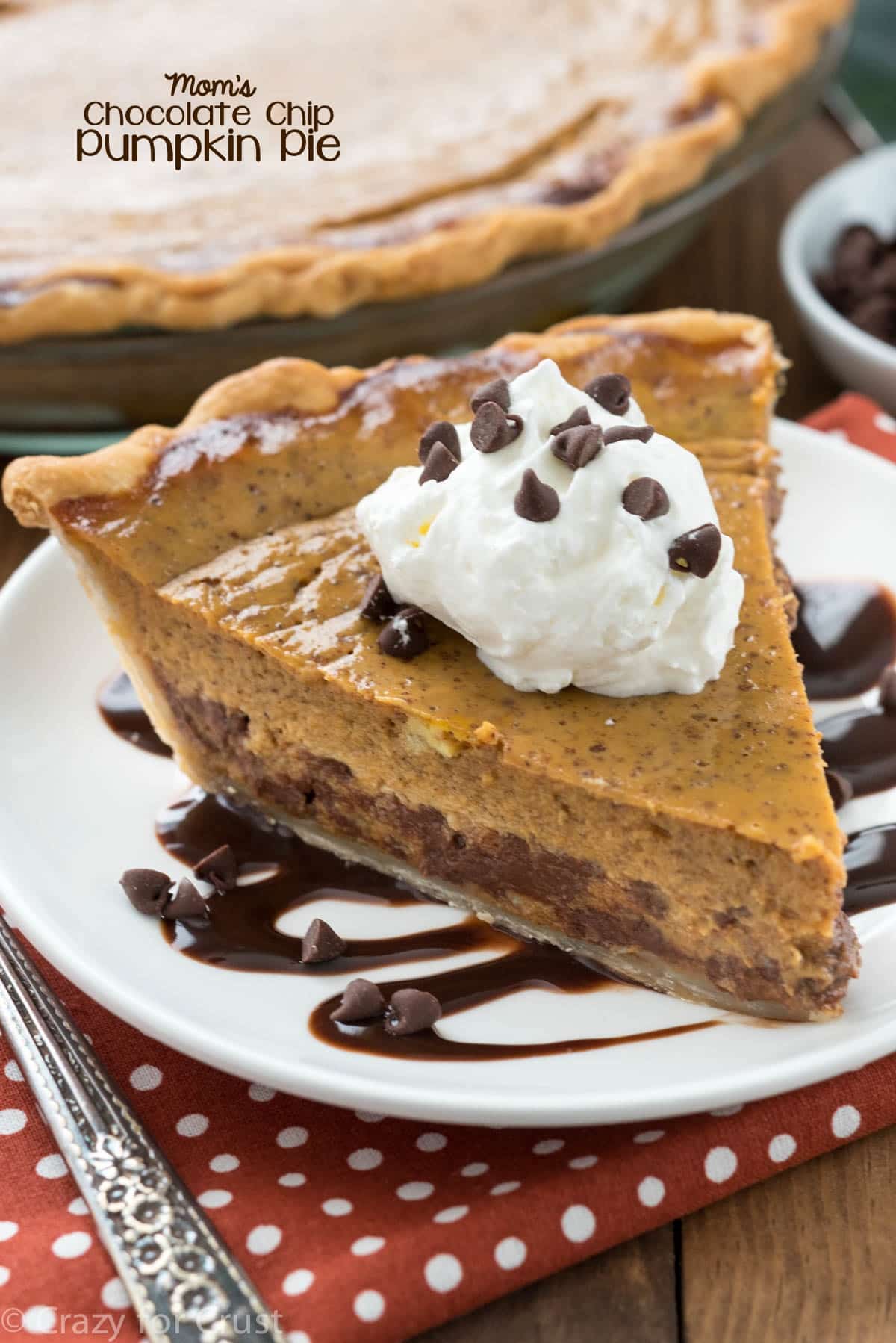 This pie has been at every holiday and family gathering as long as I can remember. Well, sort of. I added the chocolate chips to my mom's recipe because, well, why not? Chocolate chips belong in everything, including pumpkin pie!
Ever since I was a kid, my mom always brought pies to every holiday party. (And Russian Teacakes too!) The two pies that we always made were Pecan Pie and this Pumpkin Pie. I'm not sure why it took me 5 years to post her pumpkin pie…forgive me?
Whenever I think of this recipe, I think about Christmas, Thanksgiving, and Heidi's Pies. That last one was a pie shop near where I grew up. For the entirety of my childhood, my mom used two silver pie tins that she'd saved from buying pies from Heidi's back in the 70s. I never actually ate at Heidi's Pies, but I ate pie from their pie plates several times a year!
There were a few staples we used when making my mom's pumpkin pies each year: already prepared pie crust (from the refrigerator), canned pumpkin, and McCormick spices.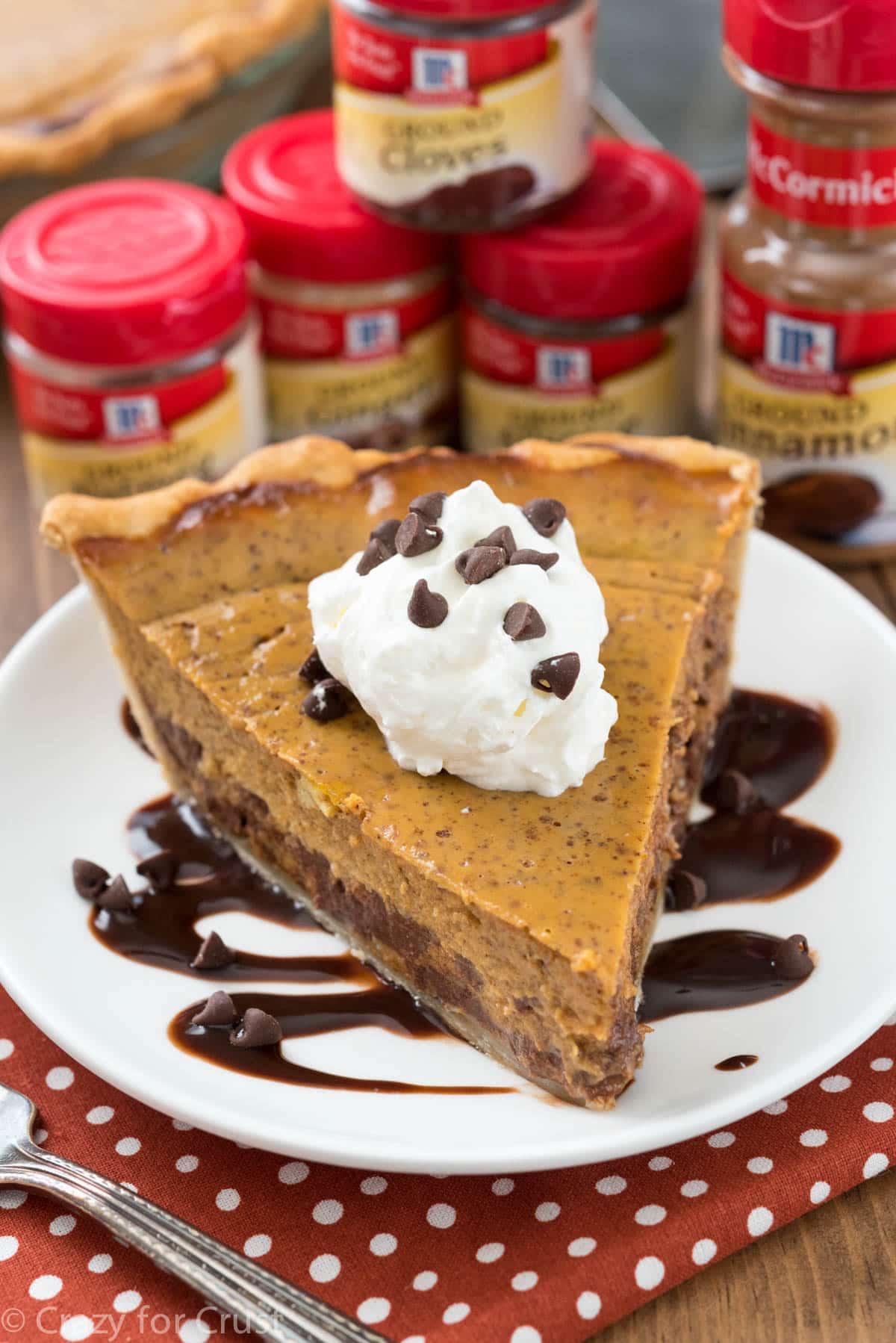 While I wasn't a fan of pumpkin pie as a kid, I loved making them with my mom. Why? Because of the spices! I absolutely loved opening up the allspice, cloves, and ginger and taking big deep whiffs of their spicy scents. Even today, smelling those pumpkin pie spices makes me immediately transport to Thanksgiving, Christmas, and standing on a chair in my Mom's kitchen, stirring the pumpkin pie mixture. Sometimes I'll randomly pull out the McCormick spices just to transport myself back in time.
This pie recipe could not be easier if you tried. Literally all you do is dump everything into a bowl, stir, and pour it into a prepared pie crust. It really is that fast and easy – and good!
Let's talk pie crust for a second. You're welcome to use a homemade pie crust for this pie. For the ease of making this recipe for you, I used a store bought crust (the refrigerated kind, from a pack of two). Also, I was being lazy. I had to make this pie twice. You know how I couldn't recommend my new oven? While I was waiting for it to be replaced, I made this pie the oven burned it to a crisp. So…I went the easy route on round 2. My mom always used refrigerated pie crusts so…I'm just sticking to her recipe by using it. 🙂

A few notes about the recipe:
The pie is very full. I used a standard 9″ pie plate and you can see from the pictures it's full to the brim. Be sure to use at least a 9″ pie plate for this recipe or it will spill over. You can also use 9.5″ or 10″ pie plate, or a 9″ deep dish. Either way, put it on a cookie sheet for baking. This helps when you're transporting it to the oven too, since it's so full.
The pie bakes a long time. The crust will get over done if you don't cover it. I like to cover the edges of my crust with foil and then remove them about 15 minutes before baking ends. You can also use a pie shield, if you have one. You can add that at the beginning and remove it, like the foil, or just add it to the pie after about half the bake time.
My mom used to make this as two pies, in two 7″ pie plates. Feel free to do that if you want, using 2 crusts.
If you want a traditional pumpkin pie recipe, just leave out the chocolate chips. But that would make me sad, because the added chocolate is so good in this pie!
I hope you love this easy pumpkin pie as much as we do. The chocolate added something extra special to the recipe and I don't know if I'll ever make a plain pumpkin pie again! Plus, it makes your house smell like a holiday. Enjoy! 🙂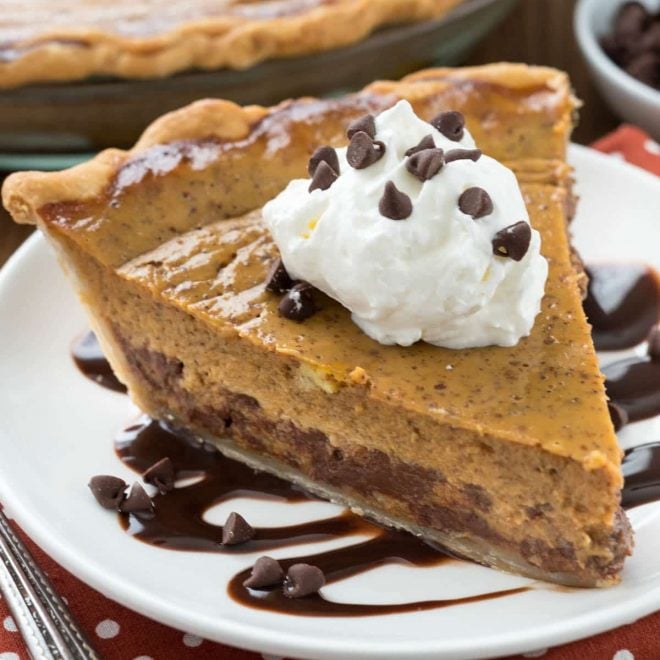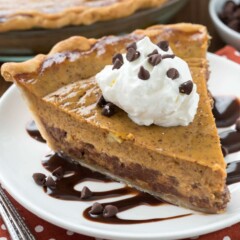 Mom's Chocolate Chip Pumpkin Pie
This is my Mom's Pumpkin Pie recipe, filled with chocolate chips! This pie has been made at every family gathering for years - it's a favorite!
Total Time
1

hour
30

minutes
Ingredients
1

pie crust

from scratch or from a pack of two

1 3/4

cups

or 1-15 ounce can pumpkin puree (not pumpkin pie mix)

1/2

teaspoon

salt

1 3/4

cups

whole milk

3

eggs

2/3

cup

brown sugar

packed

2

tablespoons

granulated sugar

1 1/4

teaspoons

McCormick Ground Cinnamon

1/2

teaspoon

McCormick Ground Ginger

1/4

teaspoon

McCormick Ground Nutmeg

1/4

teaspoon

McCormick Ground Cloves

1/4

teaspoon

McCormick Ground Allspice

1

cup

mini chocolate chips
Instructions
Preheat oven to 375°F.

Place your pie crust in a 9-10" pie plate. Please note: this pie gets very full. It's pictured made in a standard 9" pie plate. If you have a 9.5" - 10" or 9" deep dish pie plate, you can use those as well. Just don't use anything smaller than 9". (Also - you can make this as two 7" pies, using two pie crusts.) Place pie plate on a cookie sheet for baking.

Place pumpkin, salt, milk, eggs, both sugars, and spices in a large bowl. Whisk until smooth. Stir in chocolate chips. Pour into pie plate.

It's best if you cover the edges of the pie crust with foil before you start baking. Remove the foil after 50-60 minutes of bake time. You can also use a pie crust guard, if you have one. If you're using a pie crust guard, you can also add it later on in the baking process, if you wish. It's in the oven for a long time and the crust will get too brown without being covered at some point.

Carefully transfer pie to oven and bake for 60-75 minutes. I'm giving a large range in time because it depends on what size pie plate you're using and your oven. My 9" pie plate took 70 minutes. It's done when the center looks solid. Cool completely, then wrap tightly and chill for at least 4 hours before serving. Serve with whipped cream. Store in refrigerator.
Nutritional information not guaranteed to be accurate
See more of my ultimate pie recipes here!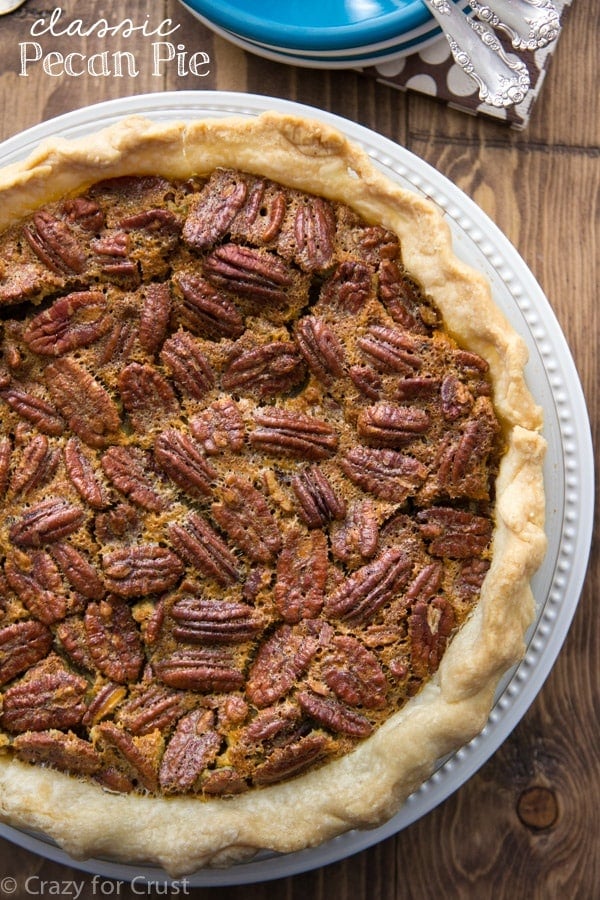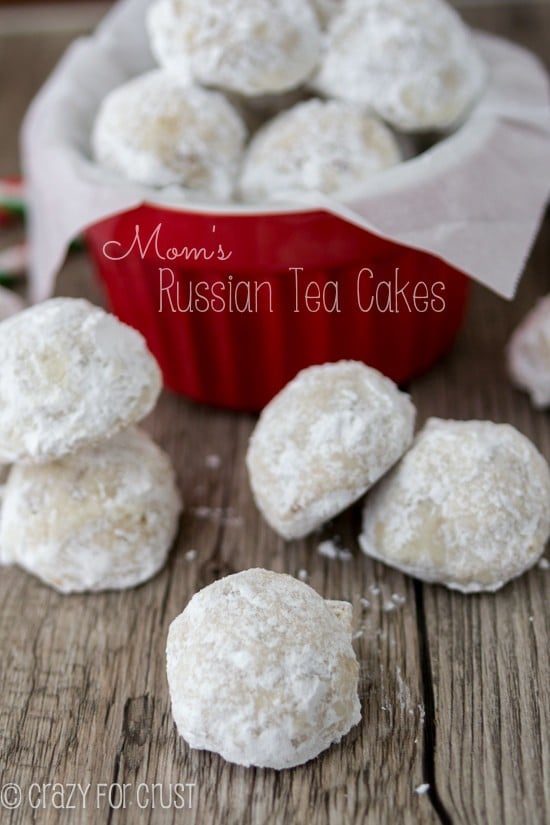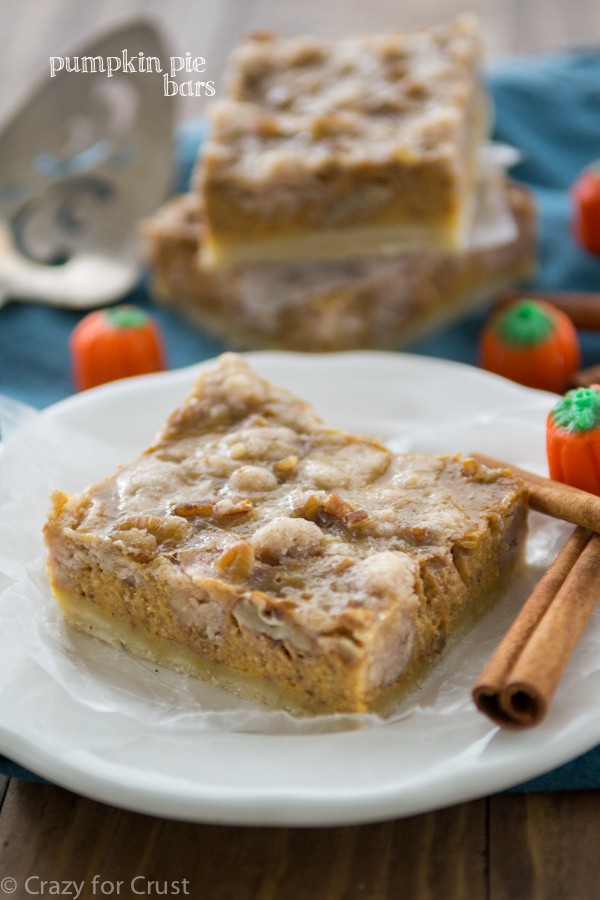 Sweets from friends:
Nutella Swirled Pumpkin Pie by Sally's Baking Addiction
Praline Pumpkin Pie by Chef in Training
Pumpkin Pie Crunch by Chocolate, Chocolate, and More
This post is sponsored by McCormick as part of my ongoing ambassadorship with the brand. All opinions are 100% my own. Thanks for supporting the brands that make Crazy for Crust possible.
Last Updated on April 30, 2023