These are my Mom's Famous Russian Tea Cakes! They're the perfect Christmas cookie.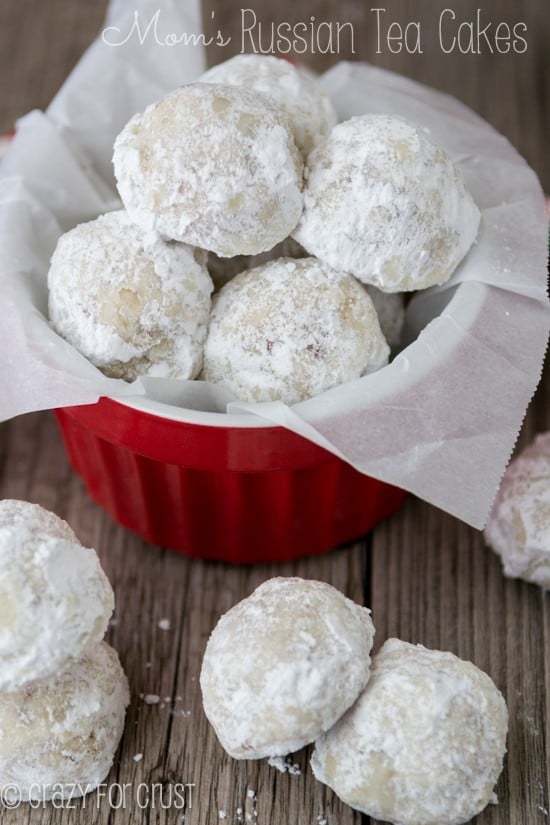 Mom's just do it better, right? Your mom's recipe for something is just the best one, period.
These Russian Tea Cakes are no exception to that rule!
My mom has been making these longer than I've been alive. I call them her Famous Russian Tea Cakes because she's always the one that makes them – and they're always expected (and requested!) at parties. She makes them for Christmas, for Easter, for every holiday…and just because it's a Tuesday.
Now, if you ask her about her recipe, she'll tell you she got it during her home economics class back in school. She got a treasure trove of recipes from that class: coffee cake, banana bread, meringues. As a kid I'd rifle through her recipe box and in neat cursive script were all these recipes on index cards with her name up in the corner. So many recipes on this blog are based on those recipes.
I'm sort of jealous of her Home Ec class. When I was in mine in the seventh grade, all we made were sloppy joes that turned out cold and disgusting (seriously, I didn't eat another sloppy joe for about 25 years) and a pillow that looks like a phone that my mom sewed for me. #idontsew #thesewingmachinehatesme
So thank you, Home Ec teacher. These Russian Tea Cakes have made many a Christmas. And now I'm sharing them with you!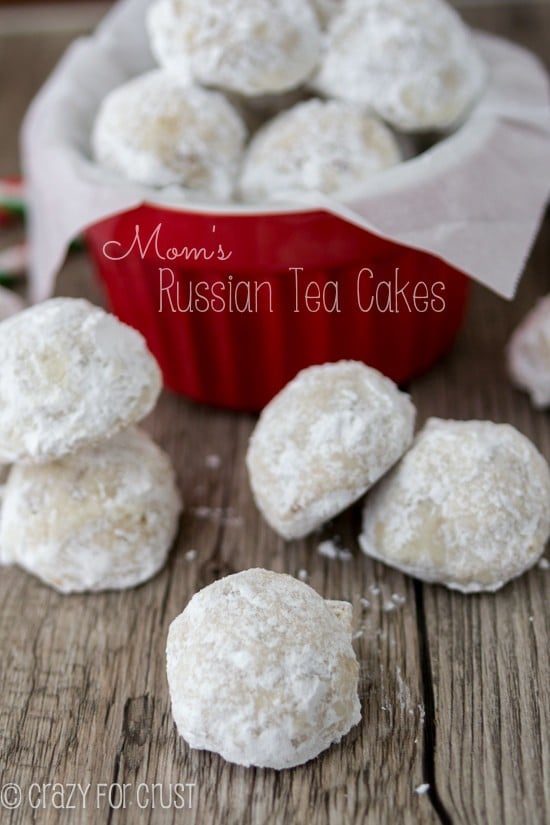 Now, you may be scratching your head and wondering why the heck I'm calling these a Russian Tea Cake. It's what I grew up calling them. Only a few years ago, after I started blogging, did I realize there are several names for these cookies:
Mexican Wedding Cookies
Snowballs
Butterballs
Whatever you call them, they're good. They're super buttery and rich, probably because the ratio of butter to sugar is 2:1. Normally in cookies, there is more sugar than butter. These are all butter baby!
So, then, why don't they flatten? Well, probably because there's also lots of flour. Flour is a binder. These cookies have no egg, but they do have nuts in them. The classic Snowball/Russian Tea Cake is made with butter, powdered sugar, flour, and nuts. I used pecans, because they're my favorite. You can also use walnuts or almonds.
Did you know you can stuff these cookies with candy? Mmm-hmmmm. I've done it with Reese's. (Those are good. Go pin them. I'll wait….)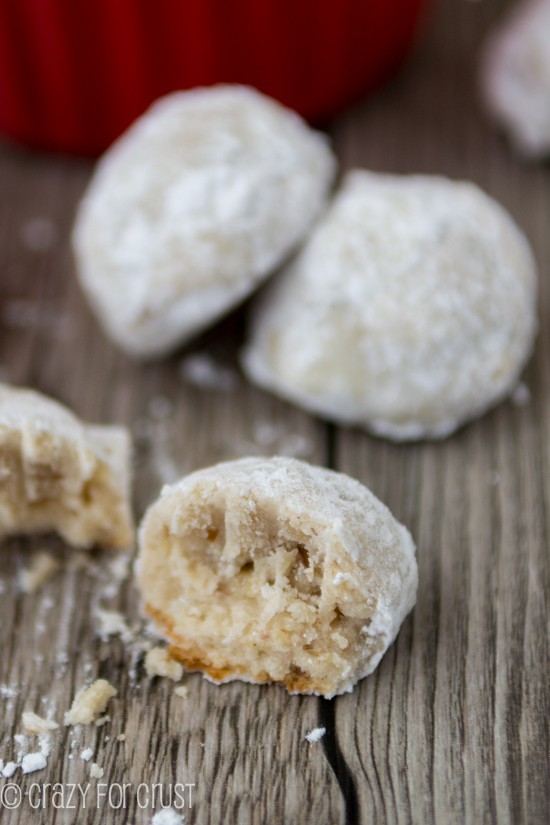 After baking, these cookies get a roll in powdered sugar. You do it while the cookie is still hot (careful of burning your fingers!) so the sugar sticks.
Many of you might wonder how I got my powdered sugar to look so powdery and not melted into the cookie. The secret: The Double Roll. Once cooled, roll the cookies a second time. Then they are powdery to the extreme.
These are a super rich, buttery, crumbly cookie. I use a 1 tablespoon cookie scoop to make them evenly sized. You have a cookie scoop, right? If not, add it to your Christmas list. Santa needs to bring you one! (I have three: 1 tablespoon, 2 tablespoon, and 1/4 cup. You should ask for all of them!)
My mom loves to make these more bite sized. She uses her cookie scoop, then cuts each cookie in half. You get double the cookies and they're perfect for a one-bite treat. No powdered sugar or crumbly mess anywhere. Great with kids. 🙂 #omgpowderedsugareverywhere
I know your family will love these as much as mine does. They'll become a fixture on your holiday table, just like ours!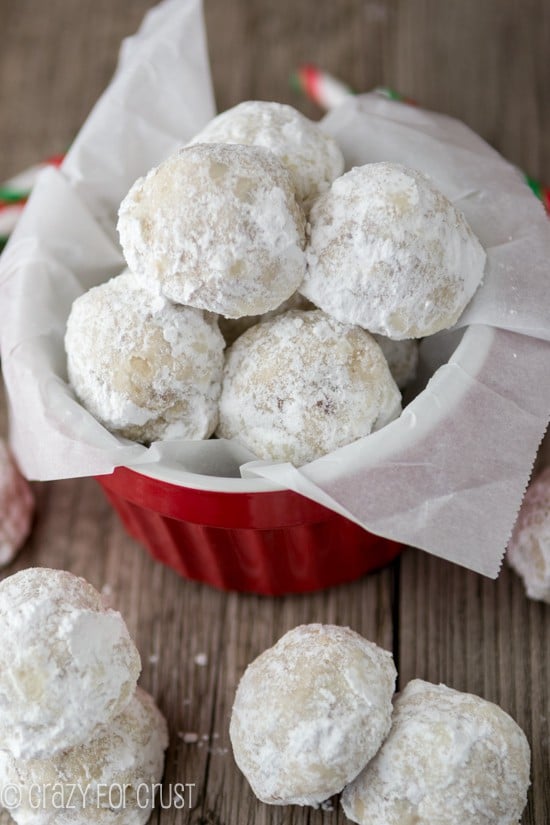 Enjoy!
Mom's Russian Teacakes
This is my Mom's famous Russian Teacake recipe! This classic recipe is a family favorite, wether you call them snowballs or teacakes or wedding cookies!
Ingredients
1

cup

butter

softened

1/2

cup

powdered sugar

1

teaspoon

vanilla

2 1/4

cups

flour

1/4

teaspoon

salt

3/4

cup

finely chopped nuts

pecans, walnuts, or almonds

Powdered sugar for rolling
Instructions
Preaheat oven to 375°. Line two cookie sheets with parchment paper.

Mix butter, ½ cup powdered sugar, and vanilla with an electric mixer until fluffy. Add flour and salt and mix until the dough comes together. Stir in the nuts. If dough is too soft, chill it until you can work it easily with your hands.

Scoop 1 tablespoon balls of dough and place on prepared cookie sheet.

Bake cookies for 7-8 minutes until bottoms are just slightly brown. Remove from oven and cool for just a minute, until you can handle them. Fill a small bowl with powdered sugar and roll each cookie in the sugar until coated.

Place on a rack to cool. (Once cookies are cooled, you may want to re-roll them in more powdered sugar.)
See more of my snowball recipes here!
Reese's Stuffed Snowballs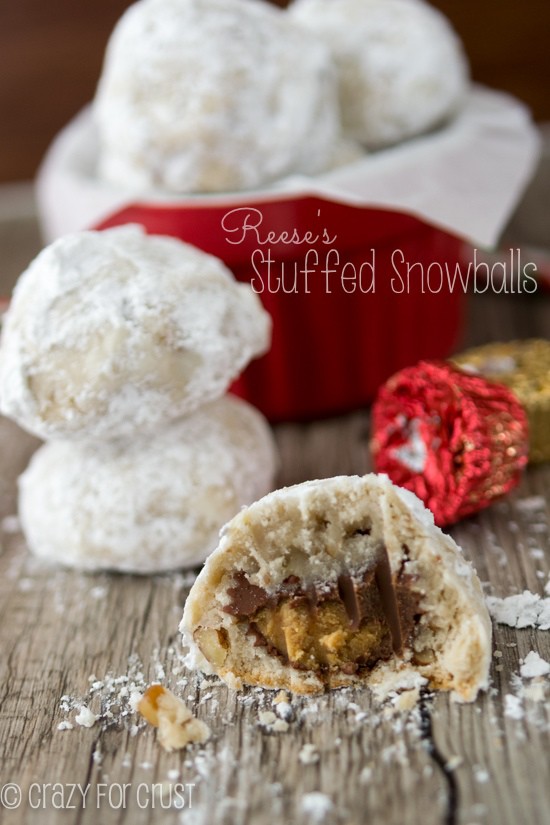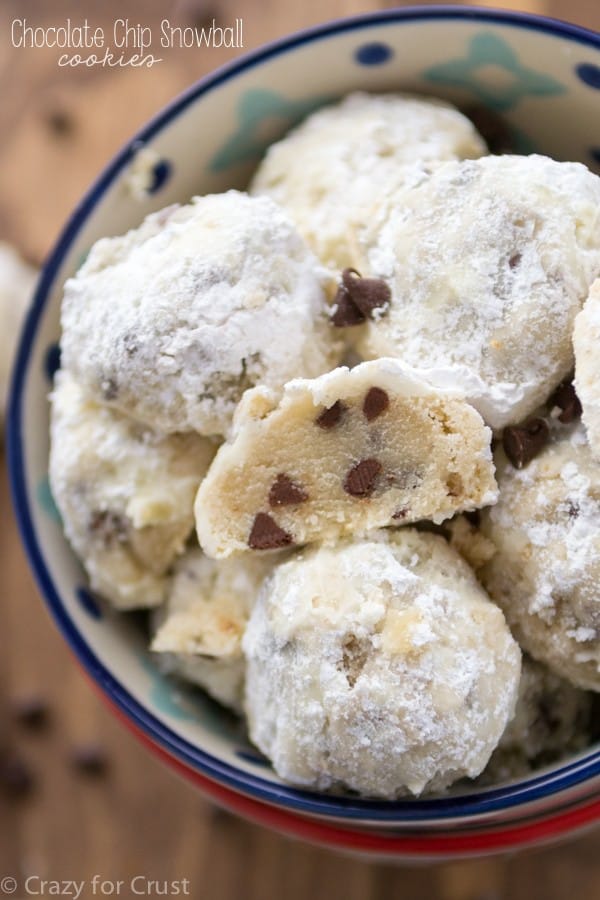 Rolo Stuffed Chocolate Snowballs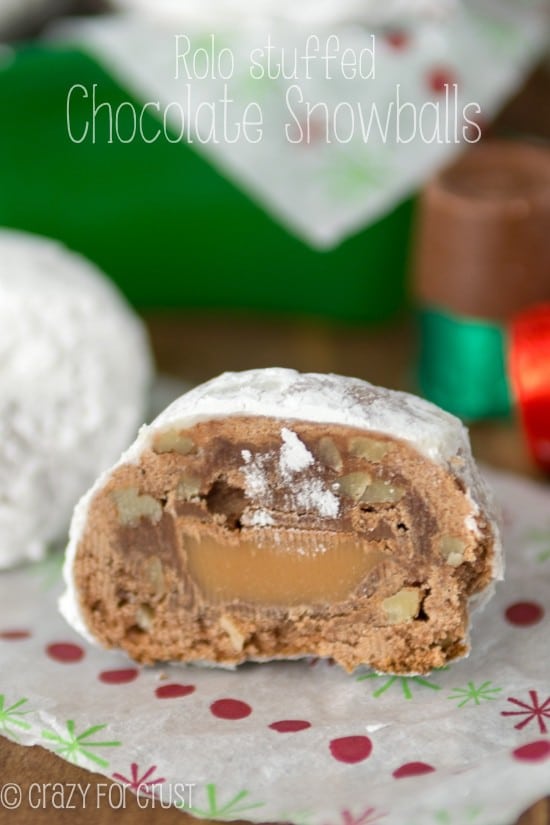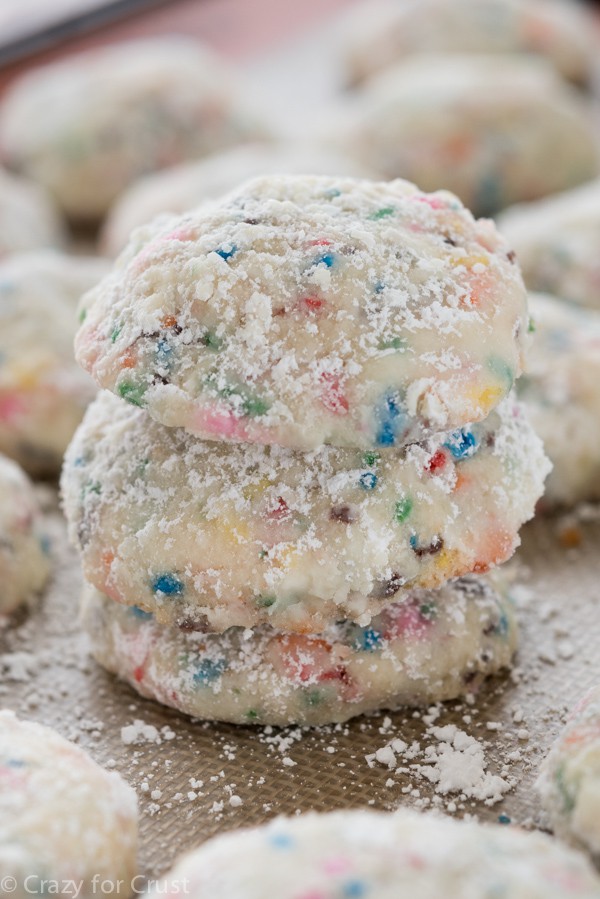 Sweets from friends:
 Chocolate Peanut Butter Shortbread Bites by TidyMom
Flourless Fluffernutter Marshmallow Peanut Butter Thumbprints by Cupcakes and Kale Chips
Dark Chocolate Hazelnut Cookies by Something Swanky
All text and images © DOROTHY KERN for Crazy for Crust. Please do not use my images without prior permission. If you want to republish this recipe, please re-write the recipe in your own words, or link back to this post for the recipe. Disclaimer: Nutrition information shown is not guaranteed to be accurate.
This post may contain affiliate links. For more information, read my disclosure policy.
Published on: December 10, 2013