Are y'all ready for some football?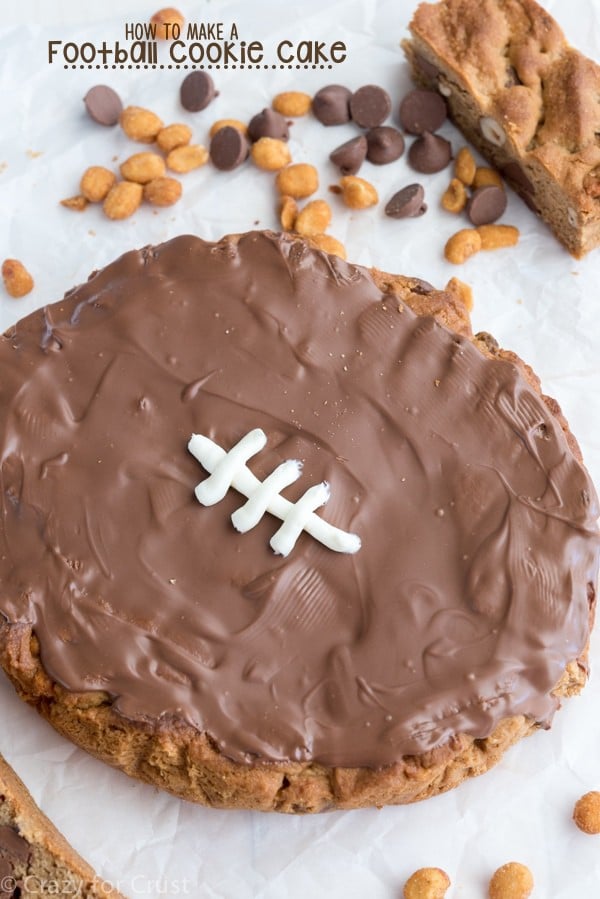 Honestly? If I'm being truthful, I'm never ready. Football just kind of…exists for me. For my husband? It's a whole 'nother ballgame. He's, like, down with the football. Football is Mel's thang. And I'm just the wife who sits back, scolds the kid for rolling her eyes, and downloads extra books on her kindle from September-January.
All I gotta say is, I'm glad he doesn't play fantasy baseball. That season is way too long, thankyouverymuch. At least this one is only a few months a year.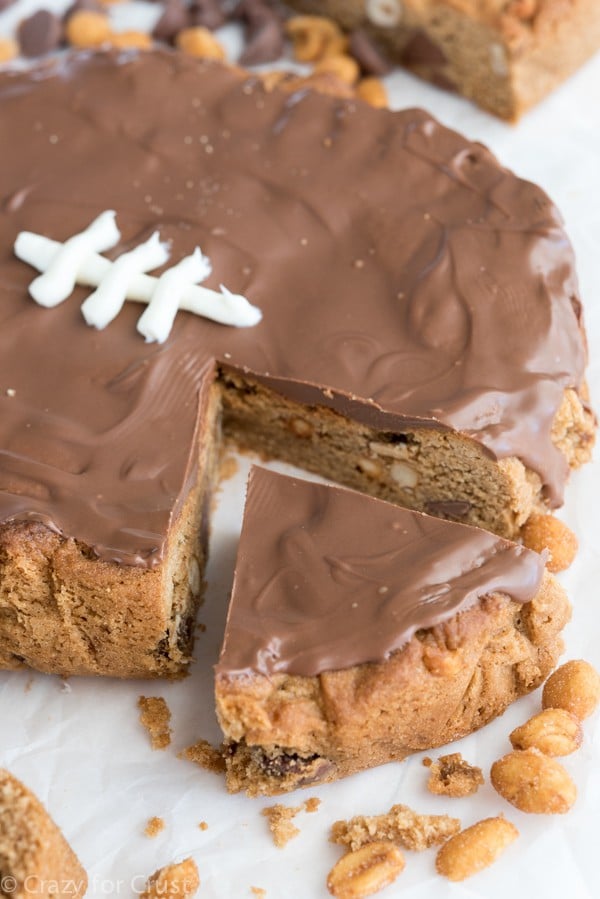 If you've read this blog for any length of time, you know a few things about my husband:
He doesn't eat dessert.
He loves peanut butter more than me.
He loves fantasy football so much that he's the commissioner of his league and he travels to Arizona to do his draft.
In all fairness to him, #3 is because he's been playing with the same guys since we lived in Arizona (10 years ago) and it's become his once-yearly boys draft/golf weekend.
Every year, while he and Jordan make some sort of trophy for the league winner out of dollar store parts, I make some sort of football dessert for him to take to Arizona with him. They all enjoy it during the draft, while they're on their computers and headsets and doing whatever it is you do during a fantasy draft.
I've made Peanut Butter Football Cookies, Football Brownie Pies, Peanut Butter Football Dip, and Nutalla Brownie Footballs, to name just a few. You'll notice most of them involve some sort of peanut butter. This is Mel, we're talking about.
This Football Cookie Cake is no different: it is a Peanut Butter Football Cookie Cake. BUT, if you don't eat peanut butter you can still make this. Really, the recipe is just the method for how to make the football cookie cake.
Seriously, you can make this football cookie cake with any cookie recipe. If you prefer chocolate chip cookies, make this Chocolate Chip Cookie Cake recipe but follow the method below for making the football. Or make the football cookie cake out of sugar cookies, oatmeal cookies, or chocolate cookies. Just press any of those batters into a 9″ round cake pan and bake until they're done. Then make them into a football!
Want to know how to make a football cookie cake? Glad you asked. It's really easy.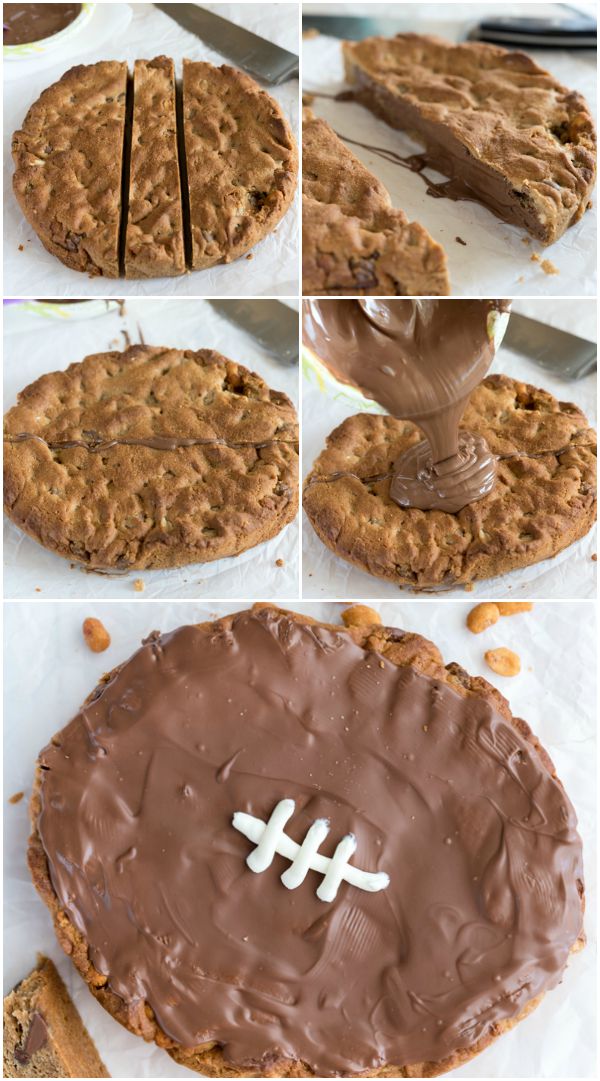 I learned this method of football cookie cake making from my friend Ashton over at Something Swanky. A few years ago I made 13 football cookie cakes for a bar mitzvah, using her method and my chocolate chip cookie recipe. Once Mel planned his fantasy draft weekend this year, I knew I had to make this cookie cake.
Here is what you do to make this football cookie cake:
Bake your cookie cake in a 9″ round pan. Let it cool completely. Make sure you've lined the pan with foil or parchment for easy removal.
Make two slices off-center of the cookie, 1″ apart. Discard the 1″ strip. (i.e. eat it)
Melt some chocolate chips. Use a knife to coat the inside cuts with chocolate, then press the halves of the cookie cake together. Voila! You have a football.
Pour the rest of the chocolate on top and spread to the edges. Let it dry, then use white chocolate or frosting to make the laces.
Eat.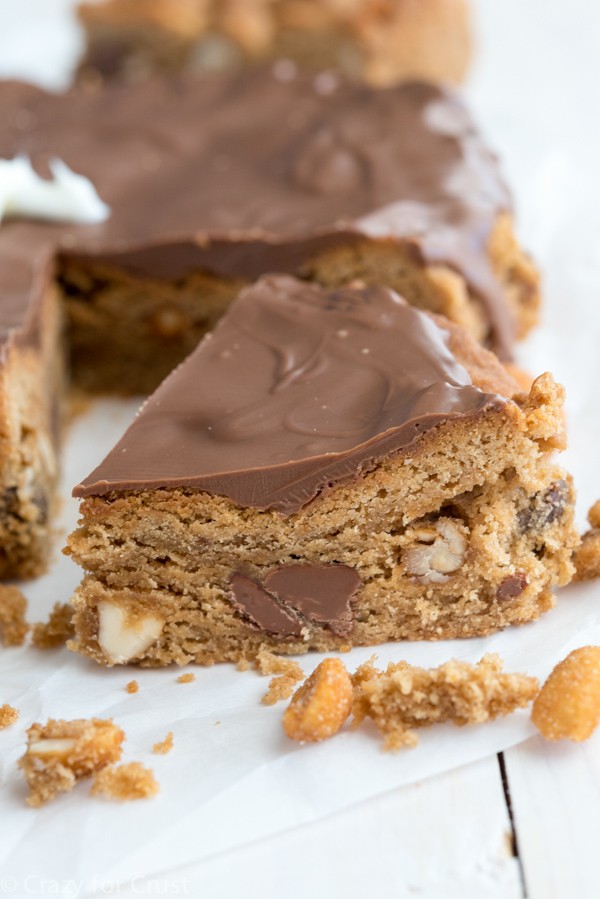 So, last week, amidst kitchen construction, I spent way too long making this cookie cake (it's hard to bake things when your kitchen is spread between several rooms of your house) and then….Mel forgot to take it with him to Arizona.
His loss was my gain. Weight gain, that is. Jordan, me, and the contractors enjoyed this cookie cake immensely. We saved Mel a little piece, so I can, in fact, tag this post with Mel ate it.
What flavor football cookie cake will YOU make?
Football Cookie Cake
Celebrate game day with a football cookie cake! It's easy to make from your favorite cookie recipe!
Ingredients
For a non-peanut butter version use this Chocolate Chip Cookie Cake Recipe

1/2

cup

unsalted butter

softened

3/4

cup

peanut butter

3/4

cup

packed brown sugar

1/4

cup

granulated sugar

1

egg

1

teaspoon

vanilla

1

tablespoon

milk

1/2

teaspoon

salt

1/2

teaspoon

baking soda

1 1/2

cups

flour

2

cups

chocolate chips

or 1-12 ounce bag

1

cup

chopped peanuts

optional

1

teaspoon

vegetable oil or shortening

1

tablespoon

White frosting or melted white chocolate
Instructions
Cream butter, peanut butter, and both sugars in the bowl of an electric mixer fitted with the paddle attachment, about 1 minute. Add egg, vanilla, milk, baking soda, and salt and mix until combined. Slowly add flour and mix until dough just comes together, scraping the sides of the bowl as necessary. Stir in 1 cup chocolate chips and nuts.

Line a 9" or 10" round cake pan with foil and spray with cooking spray. Press dough into pan.

Preheat oven to 350°F.  Bake for about 18-22 minutes, until the top is golden brown. Let cool completely before continuing.

To make the football: make two cuts in the cookie cake, 1" apart right on each side of the center. (It's like you're cutting it in half but you're making two long cuts just off center.) Remove the 1" cookie piece. Melt remaining 1 cup of chocolate chips with oil or shortening in the microwave on high in 30 second increments, stirring between each. (The oil is to help keep the chocolate from seizing.)

Use a knife or offset spatula to spread some melted chocolate inside the cut halves of the cookie, then press them together to seal. Once the chocolate hardens, the cookie will stick together. You now have a football shaped cookie cake!

Pour the remaining chocolate over the top and spread evenly. Chill to set the chocolate, then pipe on the laces using white frosting or melted white chocolate.
Click here to see more PEANUT BUTTER recipes!
Click here for my ultimate Football Party Menu!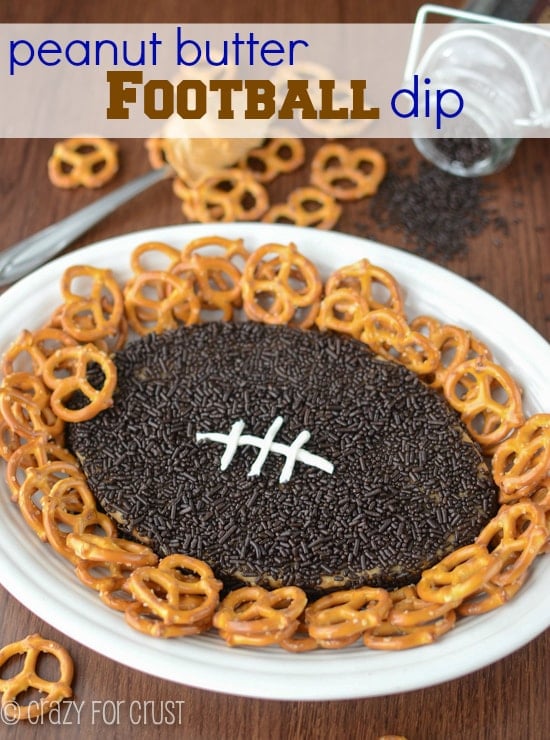 Peanut Butter Football Cookies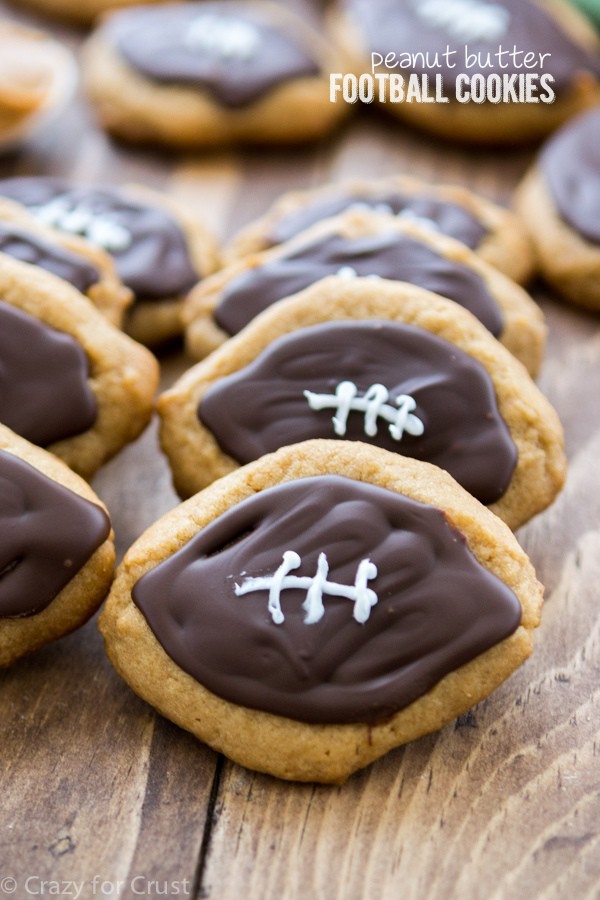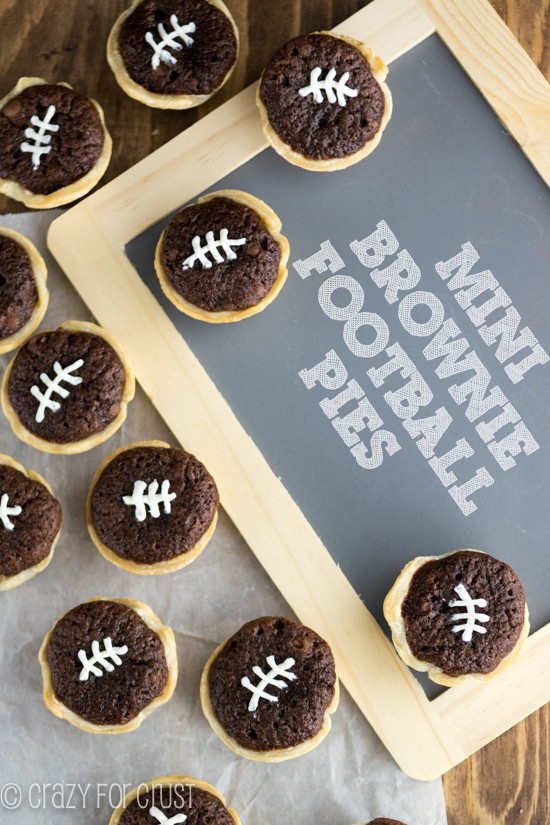 Sweets from friends:
Toffee Doodle Football Cookie from Something Swanky
Football Field Cake by Mom on Timeout
Chocolate Chip Cookie Dough Footballs by Life, Love, and Sugar
All text and images © DOROTHY KERN for Crazy for Crust. Please do not use my images without prior permission. If you want to republish this recipe, please re-write the recipe in your own words, or link back to this post for the recipe. Disclaimer: Nutrition information shown is not guaranteed to be accurate.
This post may contain affiliate links. For more information, read my disclosure policy.
Published on: September 3, 2015