This post may contain affiliate links. For more information, read my disclosure policy.
These chocolate chip cookies aren't just a plain old cookie: They're Brown Butter Chocolate Chip Cookies, XL Bakery Style, and they're some of my favorite cookies ever.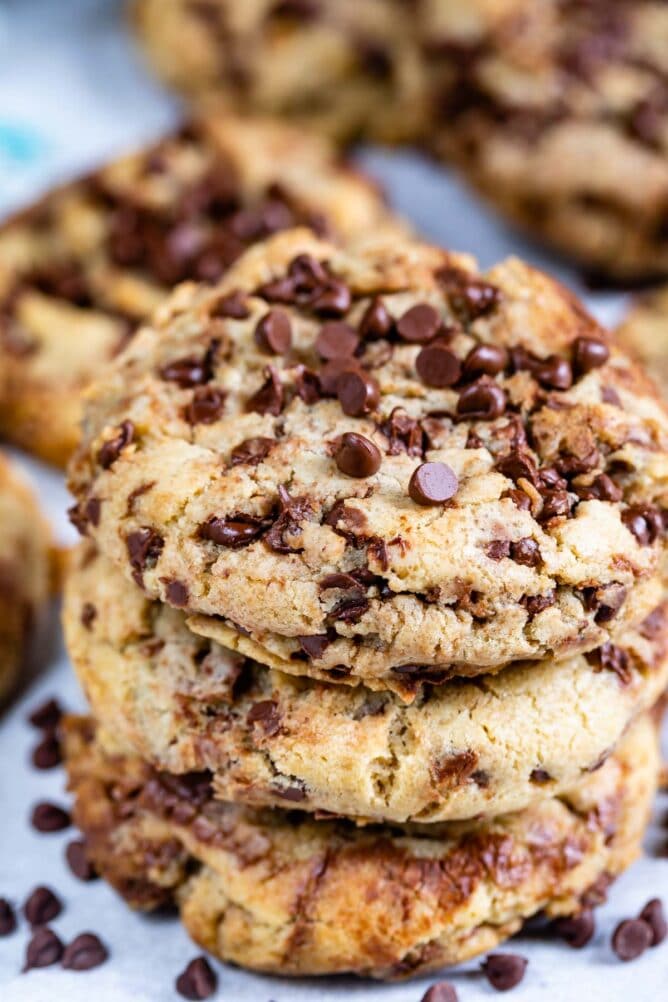 Why You Will LOVE These Cookies
Chocolate Chip Cookies never get old: they're the gift that keeps on giving. I have a ton of recipes on this site and don't plan to stop creating them anytime soon!
Here is why these Brown Butter Chocolate Chip Cookies are one of the best ones:
Brown Butter gives the cookies a deep rich flavor that just plain melted butter doesn't have.
These are HUGE cookies so they stay soft and gooey in the center. Almost as big as my hand, they have 1/4 cup of dough in each one!
Mini Chocolate Chips ensure a ton of chocolate in every bite!
Brown Butter Chocolate Chip Cookies Recipe Video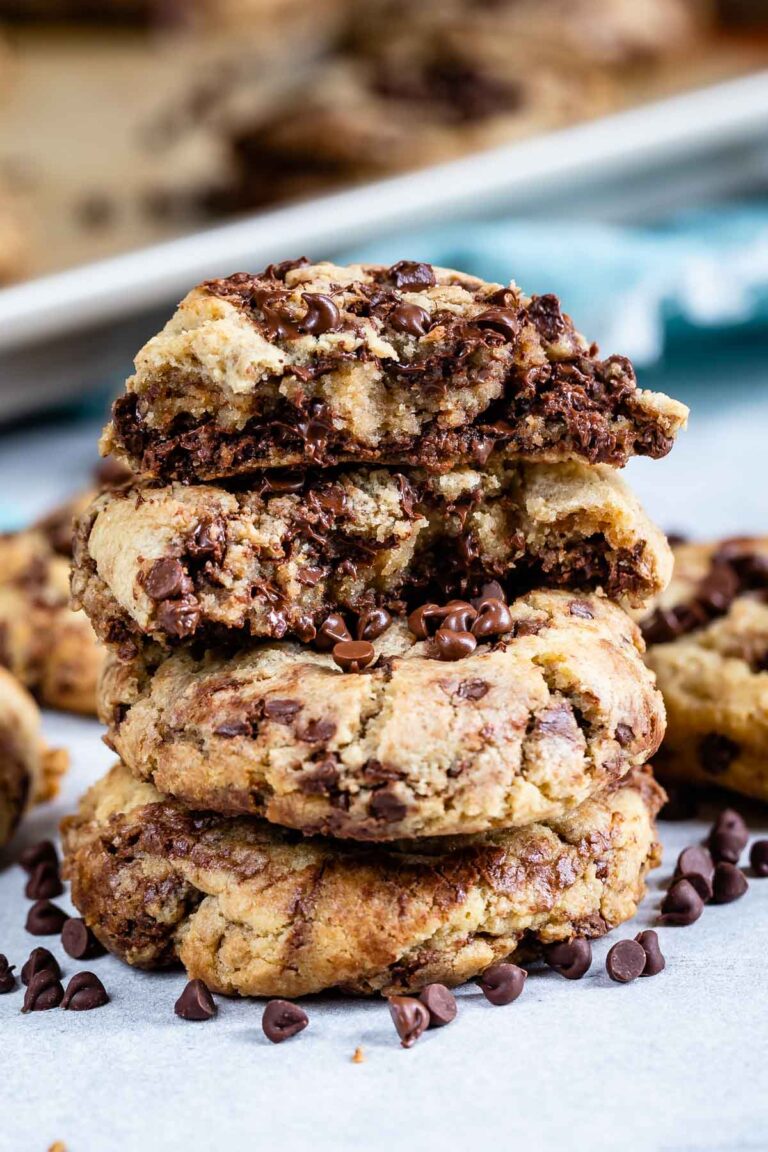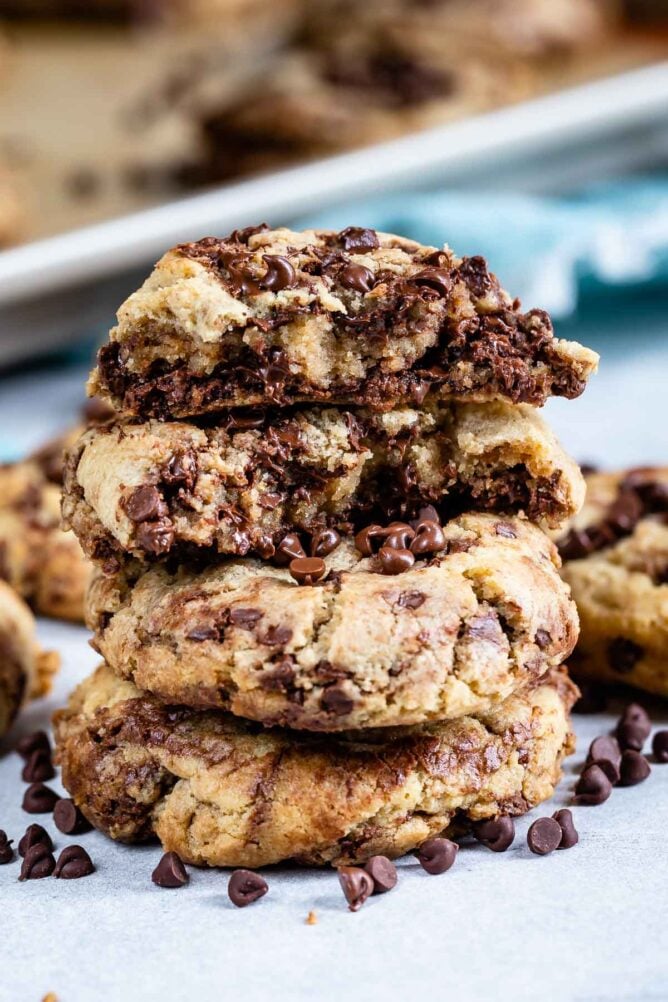 Ingredients in Bakery Style Cookies
Unsalted Butter: Unsalted butter is a must because we are going to brown it. You don't want to brown salted butter as it will concentrate the salty flavor.
Sugar: I use both brown and granulated sugar in the recipe. Brown sugar helps keep them soft.
Eggs: Eggs are important for the structure of cookies and the fat from the yolk makes them rich and chewy.
Vanilla Extract: For flavoring – for an extra boost add almond extract too!
Baking Soda: Helps cookies spread and rise.
Salt: Required since we're using unsalted butter.
All-Purpose Flour: Be sure to measure it correctly or the dough will be too crumbly.
Mini Chocolate Chips: You can use regular ones but I like how the mini ones get in every single bite.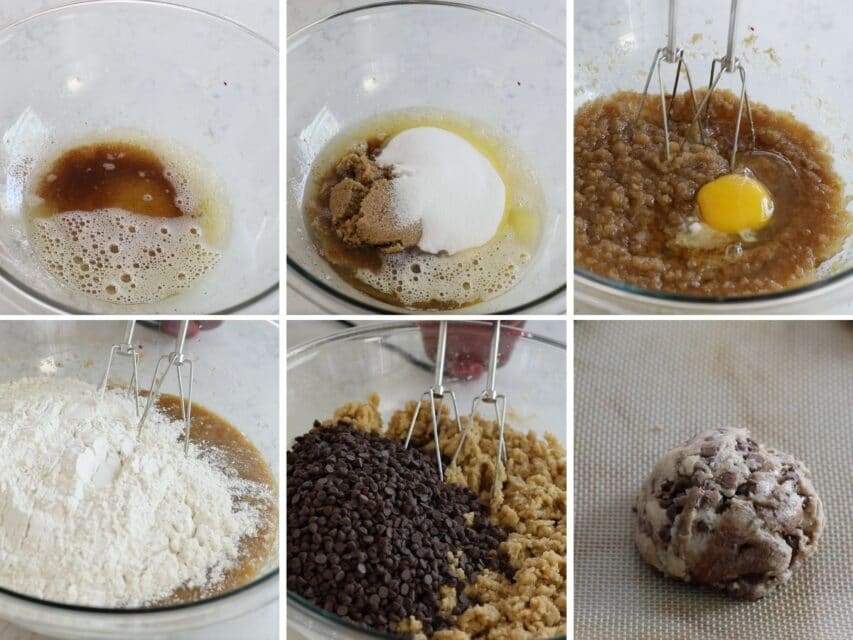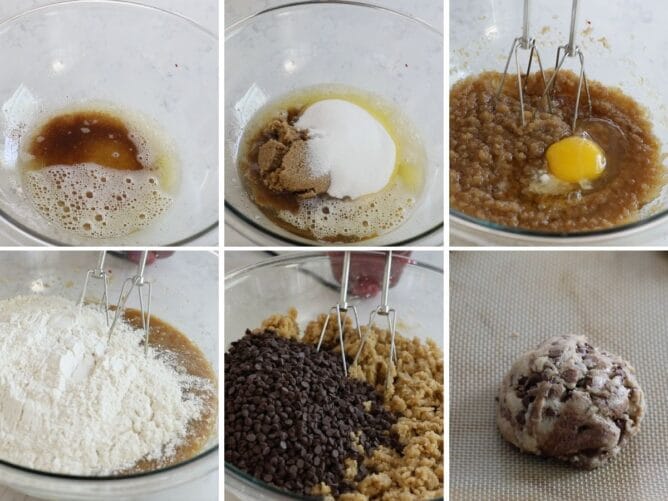 How to make Brown Butter Chocolate Chip Cookies
1. Brown the Butter: Have you ever browned butter before? It's easy, but you have to be careful. It'll burn quick! You just melt your butter over medium-low heat and cook, stirring, until it turns golden brown and smells nutty. The butter will foam, and that's okay. The foam will go away once it's removed from the heat. Read my post to learn how to brown butter easily.
2. Mix: Then simply add the brown butter to a large bowl. Mix in the sugars, then the eggs and vanilla, baking soda and salt, then mix in the flour. Stir in the chocolate chips and it's time to scoop.
3. Scoop: Scoop 1/4 cupfuls of dough onto the cookie sheet. You don't need to space them out yet.
4. Chill: This dough MUST be chilled for best results. I recommend chilling overnight but the minimum chill time is 2 hours.
5. Bake: Because they're pretty firm when going into the oven, bake them halfway then press them down a bit to flatten and finish baking. These cookies are huge. They're large and in charge and the center doesn't quite cook all the way and it makes them gooey and doughy and fabulous.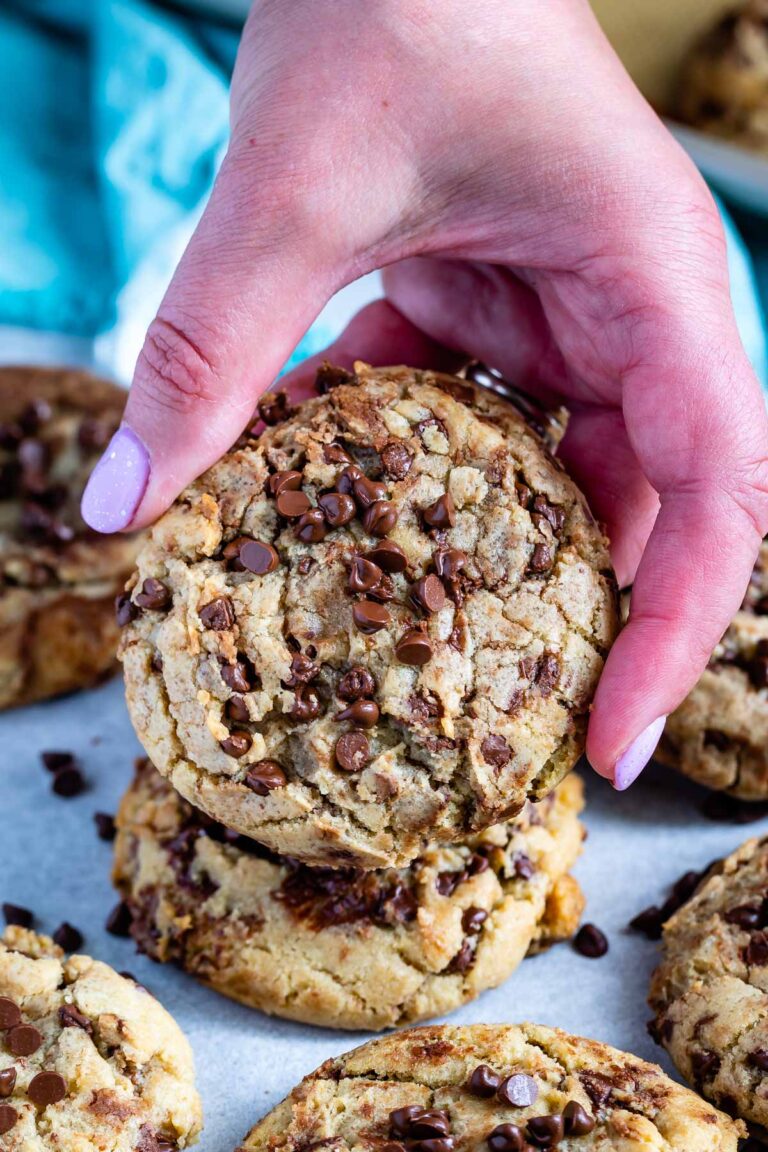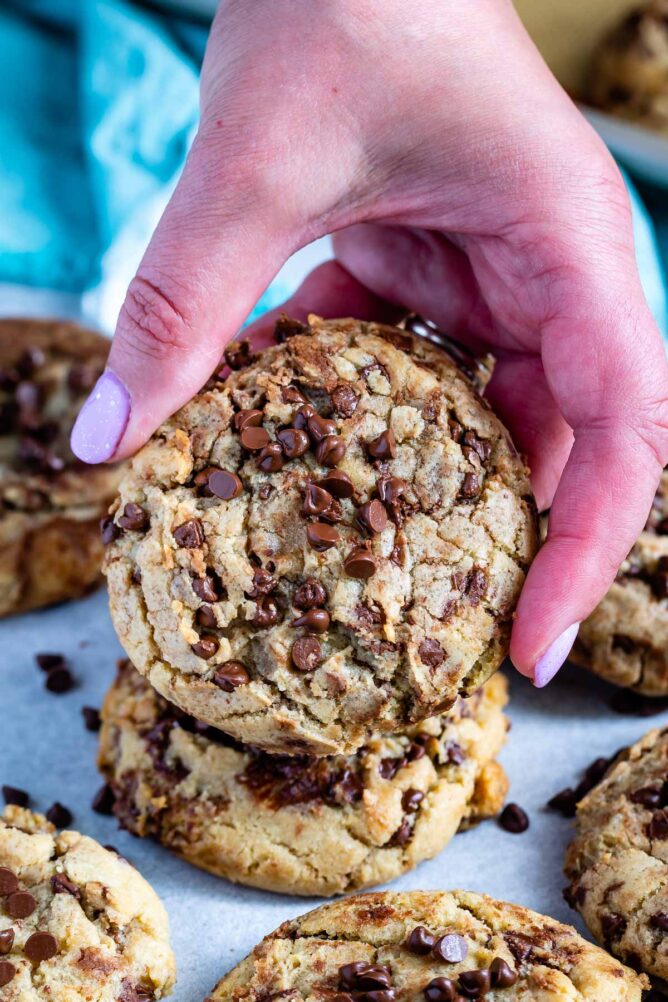 Tips
Because the butter starts off melted, it's hot. The brown and granulated sugars cook into the butter giving it a really toffee-like flavor. And because it starts off melted you MUST chill it. I chilled this dough overnight in my fridge. You don't have to chill it that long, but it's TOTALLY worth the wait. Something about the chilling makes the flavors marry just the right way. Don't skimp on the chilling!
For an extra flavor boost add 1 teaspoon almond extract in addition to the vanilla.
They won't flatten unless you press them down a bit partially through baking.
Top just baked cookies with more chocolate chips for that extra chocolatey look.
The recipe has been updated slightly to encourage you to scoop the dough BEFORE chilling so it's easier to do.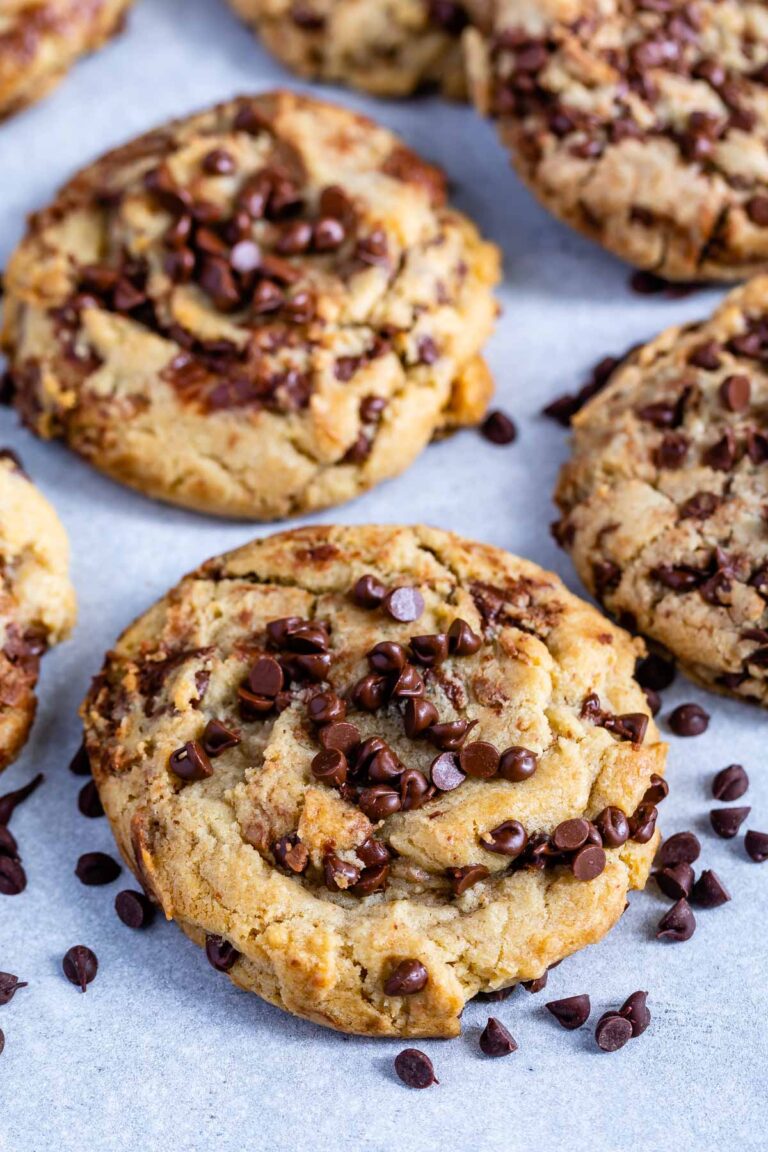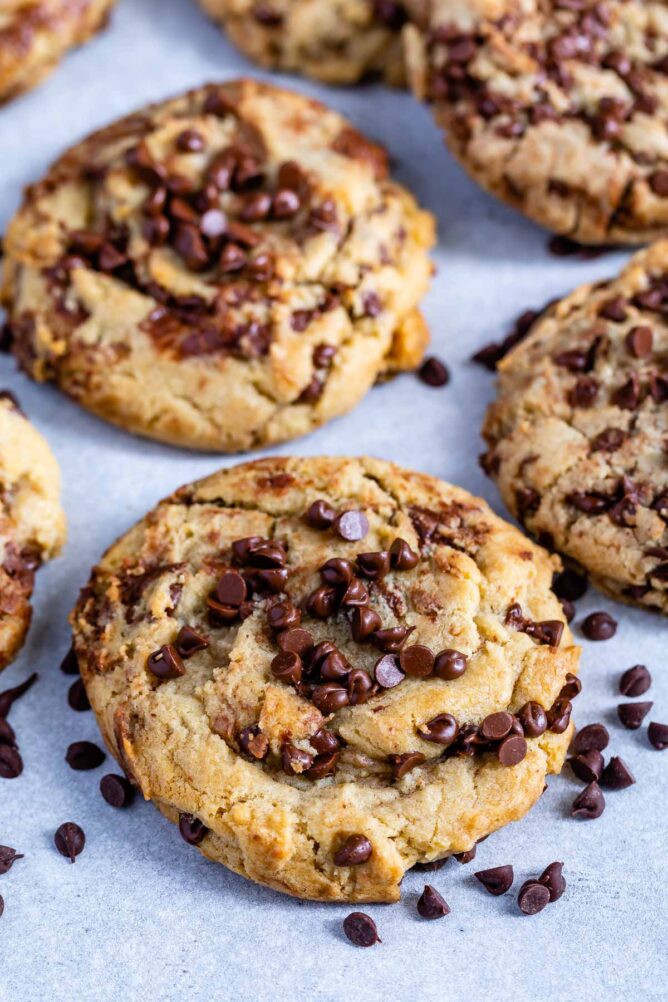 FAQ
How do you store chocolate chip cookies?
Store these in an airtight container on the counter or freeze them for up to 2 months.
What does brown butter do for cookies?
The concentration of the toasty butter flavor you get from brown butter adds a deepness and richness to the cookies – the flavor is hard to describe but it's almost toffee-like.
Why are my cookies flat brown butter?
If you're making brown butter cookies and they're flat, that's because you probably didn't chill the dough. Brown butter is hot and melted and you can't immediately bake cookie dough made with it. Chill these cookies for a minimum of 2 hours before baking.
Should you brown butter for cookies?
YES – it's so easy to make brown butter and add it to chocolate chip cookies.
How do bakeries keep cookies soft?
These stay soft because of the combination of brown sugar and melted butter and because they are not over baked – under bake your cookies to keep them soft.
How do I make my cookies look professional?
My trick is to top just baked hot from the oven cookies with more chocolate chips. The chocolate melts a bit to adhere them and then they look extra pretty!
What makes cookies cakey or chewy?
Cakey cookies happen when there is too much flour or when you use baking powder. Chewy cookies happen with the addition of eggs.
XL Bakery Style Chocolate Chip Cookies. You WILL eat them all. And they're worth every calorie!
Other Favorite Cookie Recipes
Have you made this recipe?
Tag @crazyforcrust on Instagram or hashtag it #crazyforcrust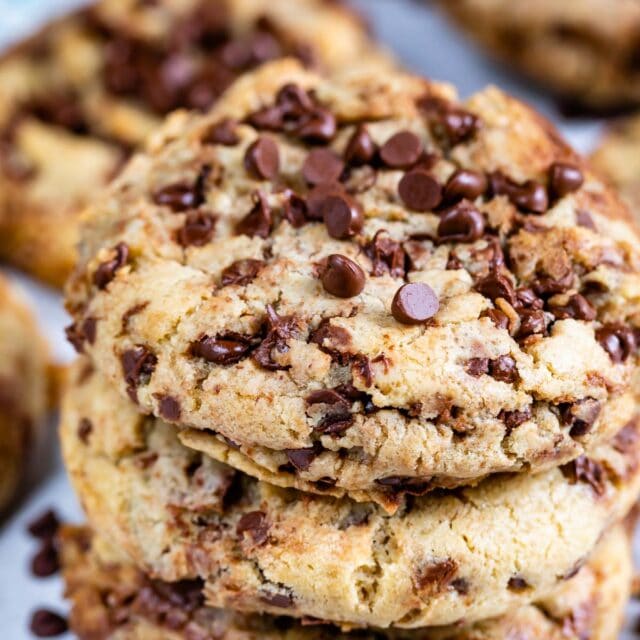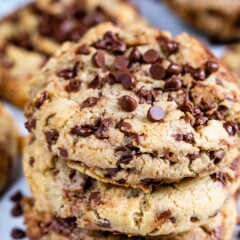 Bakery Style Chocolate Chip Cookies
These Bakery Style Chocolate Chip Cookies are gooey, chocolatey, XL, and filled with brown butter!
Total Time
4

hours
45

minutes
Ingredients
1

cup

(226g) unsalted butter

¾

cup

(150g) granulated sugar

1

cup

(200g) packed light brown sugar

2

large eggs

1

teaspoon

vanilla extract

1

teaspoon

almond extract

optional

1

teaspoon

baking soda

3 ¼

cups

(403g) all-purpose flour

¼

teaspoon

salt

1 ½

cups

mini chocolate chips
Instructions
Melt butter in a saucepan over medium heat. Cook, stirring often, about 6 minutes, until it becomes brown in color. It will foam, reduce, then foam again. Once it's done cooking the foam is a light brown and it will dissipate after you remove it from the heat. Once it starts to brown, keep stirring so it doesn't burn. Let sit for about 5 minutes to cool.

Pour into an electric mixer fitted with paddle attachment. While still hot, add both sugars and mix on low until combined. Let sit to cool for a few minutes.

While butter mixture is cooling, combine flour, baking soda, and salt in a medium bowl. Stir and set aside.

Turn mixer (with butter mixture bowl attached) on low. Add eggs, one at a time, mixing completely. Mix in vanilla extract and almond extract (optional, but it adds great flavor). Add flour mixture to the wet ingredients and mix until combined. Stir in chocolate chips.

Scoop ¼ cupfuls of dough into balls onto a cookie sheet lined with parchment paper or a silicone baking mat. No need to space them. Cover with plastic wrap and chill at least 2 hours or overnight.

Preheat oven to 350°. Line cookie sheets with parchment or silpat liners.

Scoop out ¼ cup sized balls and place 6-8 on a sheet. They don't spread a lot, but they're BIG cookies. Bake 5 minutes, then press the cookies slightly to flatten. (Careful – they're hot! Use a glass that's been sprayed with cooking spray so you don't burn your hands.)

Bake for about an additional 8-10 minutes. They will be golden on the outside and still doughy on the inside – perfect! Top just baked cookies with more chocolate chips. Let cool for 5 minutes, and then remove from pans to cool completely.

Store in an airtight container on the counter for up to 3 days or freeze for up to 2 months.
Recipe Notes
Almond extract is optional but adds great flavor.
Recipe has been updated – originally it called for chilling the dough prior to scooping which just made scooping really hard. Scooping before chilling is the way I do it now and so much easier.
Minimum chill time: 2 hours but I like overnight best.
Substitute regular size chocolate chips in place of mini if preferred.
Recipe Nutrition
Serving:
1
cookie
|
Calories:
432
kcal
|
Carbohydrates:
62
g
|
Protein:
5
g
|
Fat:
19
g
|
Saturated Fat:
11
g
|
Polyunsaturated Fat:
1
g
|
Monounsaturated Fat:
4
g
|
Trans Fat:
1
g
|
Cholesterol:
61
mg
|
Sodium:
149
mg
|
Potassium:
67
mg
|
Fiber:
1
g
|
Sugar:
38
g
|
Vitamin A:
482
IU
|
Vitamin C:
1
mg
|
Calcium:
47
mg
|
Iron:
2
mg
Nutritional information not guaranteed to be accurate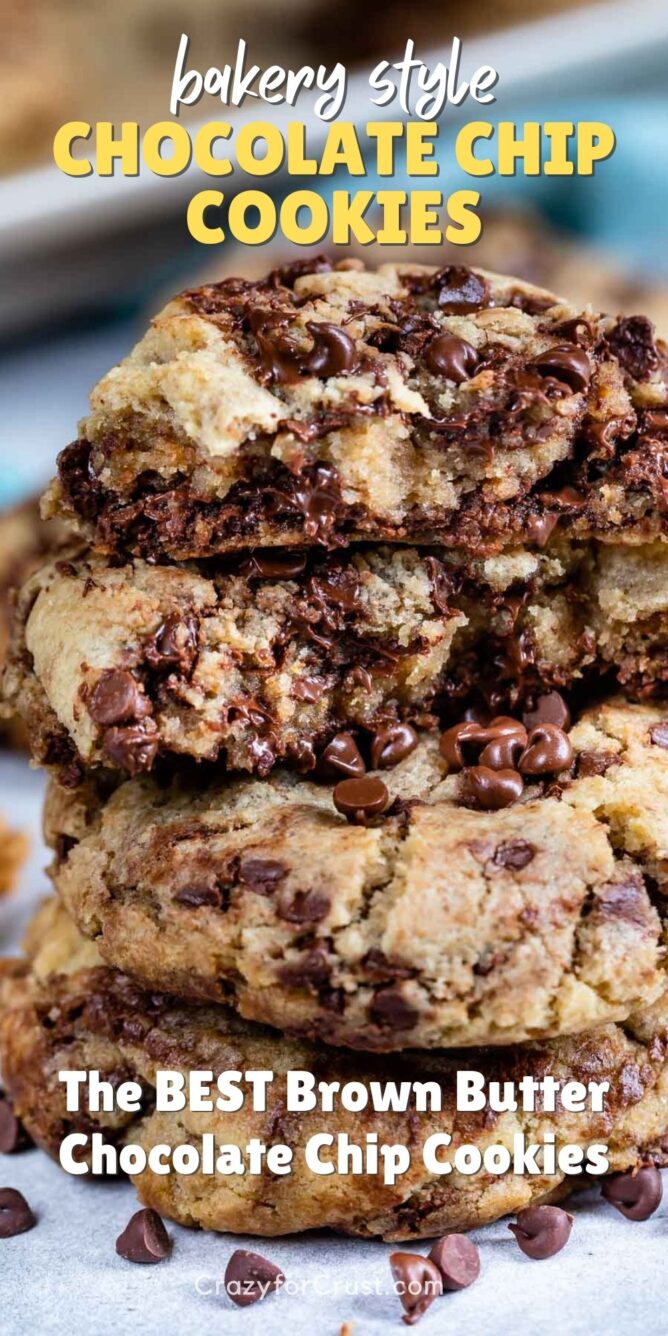 These Bakery Style Chocolate Chip Cookies are gooey, chocolatey, XL, and filled with brown butter!
Last Updated on June 28, 2021