This post may contain affiliate links. For more information, read my disclosure policy.
Thanks to PHILADELPHIA Cream Cheese, I am brining you this amazing Cookies and Mint Chip Cheesecake, your new favorite decadent dessert this holiday season!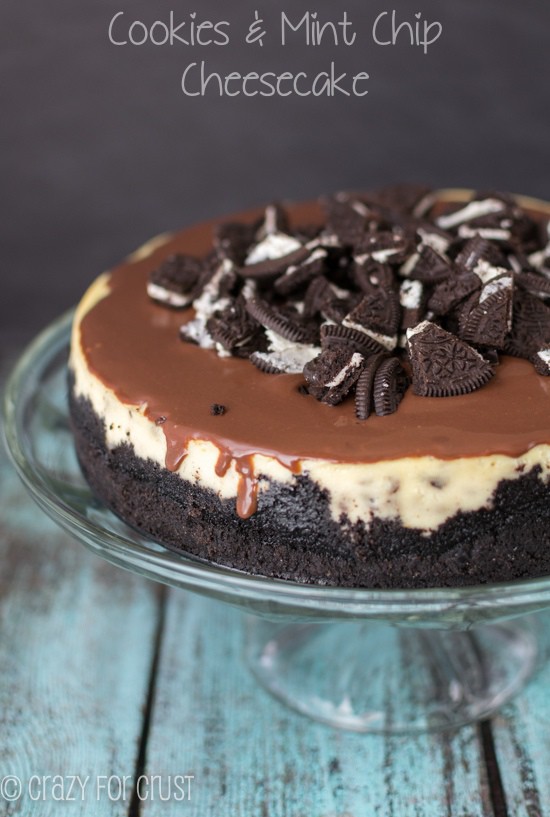 Ohhh. Emmmm. Geee. This cheesecake. You guys. Best cheesecake I've ever made. And I should know, I made this one twice for you before I had complete success.
It's mint. And Oreo. And mint ganache. And chip.
Seriously, let's all say it together. Ohhhhh Emmmmm Geeeeeee.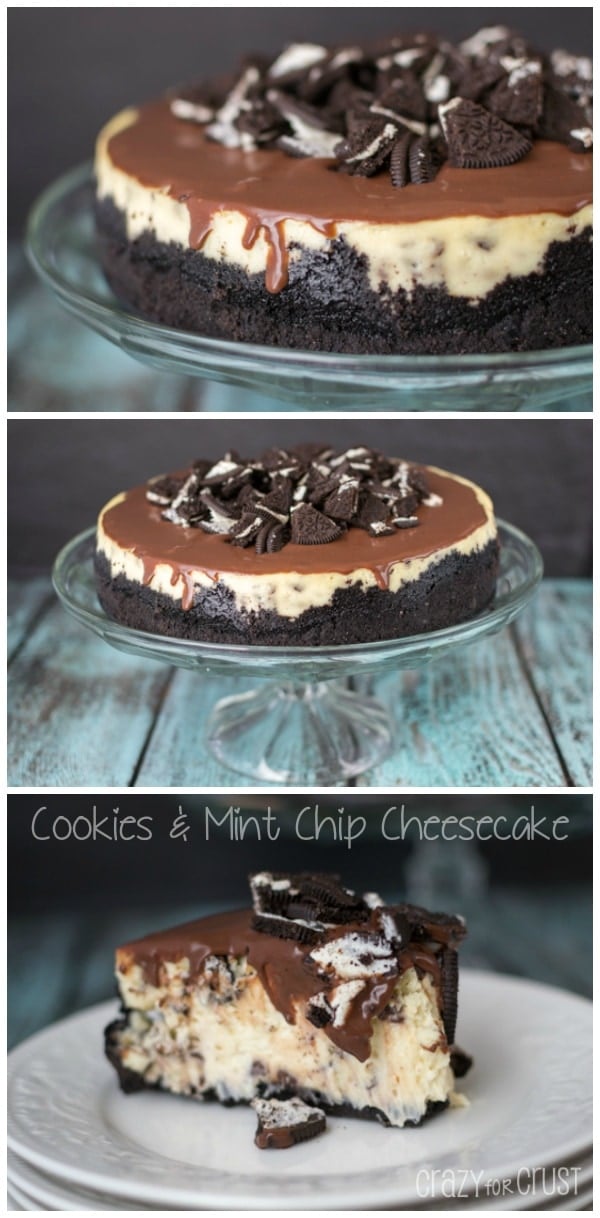 This cheesecake is rich. It's creamy. It's got an Oreo crust. There are mint and chocolate chips floating amid the rich cheesecake. There's mint ganache. There are more Oreos. This cheesecake is decadent to the nth degree, and it's perfect for any party. Or, a random Tuesday. Grab a fork, it's what I did.
This cheesecake starts with one of my favorite crusts: Oreo. I swear, I could eat an entire plate of just the crust. Who needs the cheesecake?
Oh, um, I do. Because it's fabulous.
Now, I know cheesecake can be finicky. So I'm going to give you some great tips today for making the perfect cheesecake (which is, er, this one.)
The basis of every cheesecake is, well, the cheese. The cream cheese, to be exact. And when I think about cream cheese, I think about Philadelphia Cream Cheese. To create the perfect cheesecake, I always like to "bring out the silver" because it's the best. It's just fact.
Philadelphia Cream Cheese has been an American Favorite for years because of their commitment to developing a quality product. Did you know that they get their milk from local dairy farmers and that the cream cheese is farm to fridge in just six days? I had no idea it was that fresh! There are no preservatives in Philadelphia Cream Cheese and all their products use real ingredients.
I wanted to make a cheesecake that was so decadent it would be perfect for the holidays. Can you believe it's November already? This cheesecake is so good you could serve it for Thanksgiving and no one would miss the pumpkin pie, I promise. And it will totally complete any Christmas dessert table.
Seriously – best cheesecake EVER.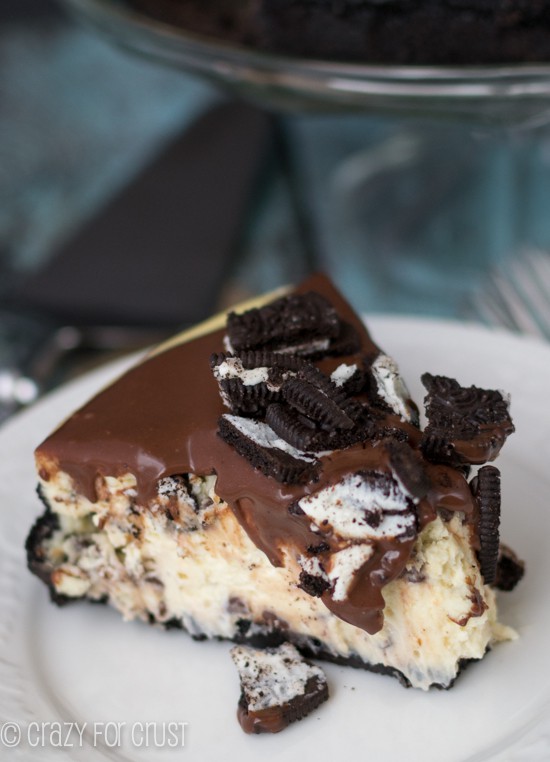 First tip about making cheesecake: all your ingredients need to be room temperature. This includes your cream cheese, sour cream, and your eggs. Leave them out for several hours before you make your cheesecake. Otherwise it will be lumpy. The only way I've found to make a really creamy, lump-free cheesecake is to use room temperature ingredients. And if you have a stand mixer (like a KitchenAid), use it.
So, I mentioned I made this twice. I had three major problems during my first run. One, I used peppermint extract, which I like…but not in cheesecake. It tasted very fake.
Two, I used green food coloring to make it look minty. Green in the pan was slime once it was baked. Not good.
And three, the worst of all the cheesecake problems: cracking. Now, normally I wouldn't mind the cracking so much, because I knew I was covering it in ganache, but combined with the other two issues, it was the straw that broke the camels back.
Version #2 was much better. Why? A few reasons. First, I ditched the exact and food coloring. The mint flavor comes from the chopped Creme de Menthe candies (Andes mints) in the batter and in the mint ganache. It's a much more natural and yummy mint flavor.
The second reason it succeeded? Because I did what I knew I should have done in the first place: a water bath. Now, before you get scared, baking a cheesecake in a water bath is easy. It just takes a little know-how, which I'm going to show you right now.
This cheesecake, as most cheesecakes are, is baked in a springform pan (mine is a 9″ pan). The sides release and come off the pan after the cheesecake is cooled, but the bottom stays attached to the crust. Because the pan comes apart, there are seams. Those seams have to be covered in a water bath or water can leak into your pan.
It's simple to create a water barrier: foil. Use two sheets of foil bigger than your pan. Wrap the bottom in the foil, and be sure to wrap the foil up the sides almost to the top of the rim. This will insure that no water will get into your cheesecake.
When you're ready to bake, add your pan to a large roasting pan. Place it in the hot oven. Then use a kettle or something similar to pour boiling water into the large pan around the cheesecake.
Do NOT attempt to add the water to the pan and then transfer it to the oven. You will spill boiling hot water all over yourself. Pan goes in the oven first.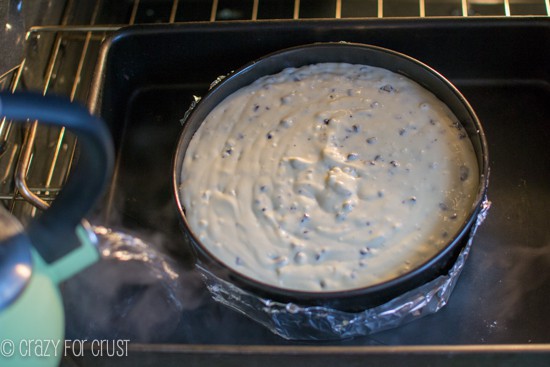 Then you bake it for an hour and fifteen minutes, and then let it cool for an hour with the oven off and the door propped open. Do not move it. After an hour, carefully remove it from the oven to cool to room temperature, cover it with plastic wrap, and chill overnight. It needs to set for at least 12 hours, but more is better.
Then you make your mint chocolate ganache. Yes, I said mint ganache. I swear, I had to fight Jordan and her straw off this ganache. It's so good, I wanted to eat it with a spoon.
The ganache is simple: just more mini chocolate chips and chopped Creme de Menthe candies. (I used Andes mints that I chopped, but you can find them already chopped in the baking aisle this time of year.) The ganache is the perfect amount of chocolate and mint.
Here is a tip for making ganache: use a microwave safe measuring cup. Add your heavy cream and chocolate to the measuring cup and microwave it for 30 seconds. Whisk it a little. If the chocolate is not melted enough, microwave for another 15 seconds, then whisk again. By this time it should be almost there, but you can microwave it once more for 15 seconds if you need to. Then let it chill until it's the consistency you desire. If it gets too hard, just microwave it for a few seconds to loosen it up.
Simply pour the ganache over your cheesecake and top with more chopped Oreos. Then die and go to heaven.
(And, again, topping your cheesecake with ganache is awesome because if it does crack…who cares? No one will see it!)
I ate two slices of this cheesecake then had to freeze it. Problem is, I know where it's hidden in the freezer.
It's not going to last long.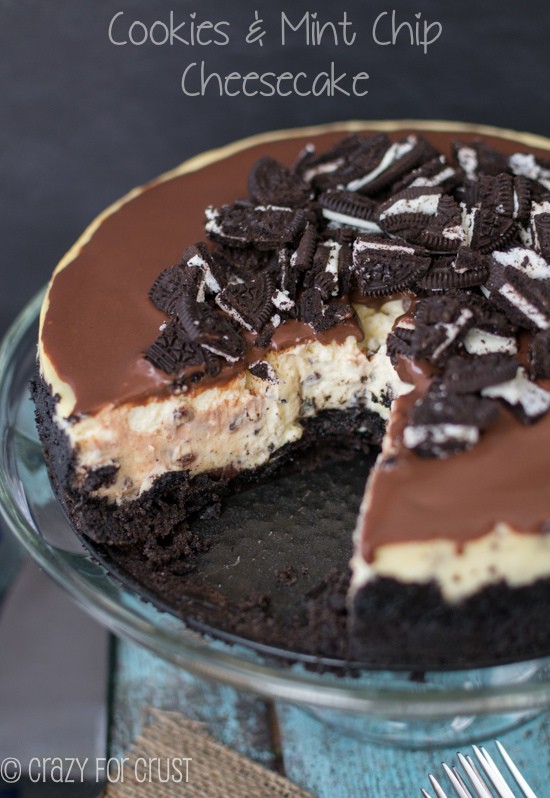 Seriously. Ohhhh emmmm geeeee.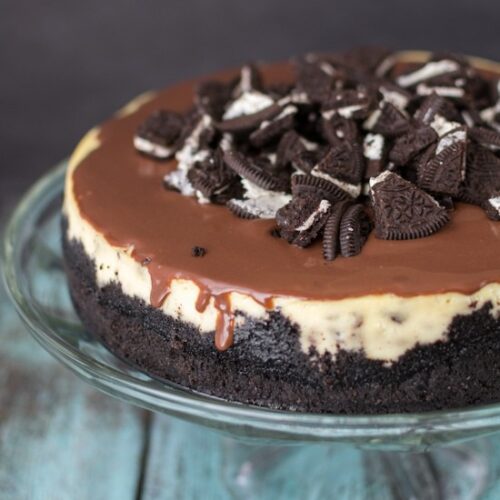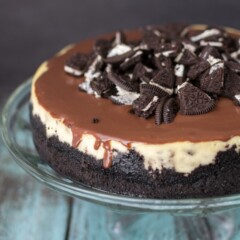 Cookies and Mint Chip Cheesecake
Ingredients
For the Crust

30

chocolate sandwich cookies

such as Oreos

4

tablespoons

butter

melted

For the Cheesecake

3-8

ounce

packages Philadelphia Cream Cheese

room temperature

1 1/3

cups

sugar

16

ounces

sour cream

room temperature

5

eggs

room temperature

1/4

cup

+ 1 tablespoon flour

divided

1

teaspoon

vanilla extract

1

cup

mini chocolate chips

1/2

cup

creme de menthe candies

chopped (I used Andes Mints, you can also use the Andes Mint Chips you can find at some grocery stores. One 4.6 ounce package of Andes Mints is about 1 cup when chopped.)

For the Mint Chocolate Ganache

1/2

cup

chocolate chips

1/3

cup

creme de menthe candies

chopped (whatever is left from when you made your cheesecake)

3/4

cup

heavy cream

More Oreos for garnish

chopped (about 10)
Instructions
Preheat oven to 325F. Wrap a 9" or a 9 1/2" springform pan in two layers of foil, making sure it's covered at least halfway up the pan (on the outside). Spray the inside of the pan with cooking spray.

Crush cookies in a food processor. Stir in melted butter and then press into the bottom and about 1" up the sides of the prepared pan.

Place a kettle or pan of water on to boil. This is for your water bath.

It is very important that all your ingredients are room temperature. This will help avoid lumps in the cheesecake!

Beat cream cheese in a stand mixer fitted with the paddle attachment. Beat until smooth. Scrape down the sides of your mixing bowl. Add sour cream and sugar and beat until smooth, scraping down the sides of the mixing bowl (and the paddle) often. Add eggs, vanilla, and 1/4 cup flour and beat until completely mixed, again scraping the sides of the bowl often. Be sure you are scraping the bottom too, I know batter and cream cheese often gets trapped in that small space at the bottom of my Kitchen Aid bowl.

Place mini chocolate chips and chopped creme de menthe candies in a small bowl and add 1 tablespoon flour and mix gently with your fingers to coat. This is to help the chips not all sink to the bottom of your cheesecake. Fold gently into cheesecake mixture with a spatula.

Pour cheesecake mixture into your prepared pan. Place the pan in a large rectangular pan (I used a roasting pan). Place pan on a rack in the middle of the hot oven. Carefully pour your boiling water around the cheesecake pan so that it comes up about 1/3 of the way. This will help your cheesecake cook evenly.

Bake for 1 hour and 15 minutes, prop open oven and let cheesecake sit inside for one hour. Remove carefully, cool completely, cover and the chill for at least 12 hours before continuing.

While the cheesecake is chilling, make your mint chocolate ganache. Here is how I like to make ganache: add heavy cream to a microwave safe measuring cup. Add mini chocolate chips and creme de menthe pieces and microwave for about 30-60 seconds. I like to start at 30 seconds, whisk, then do increments of 15 seconds, whisking after each, until the mixture is smooth and all the chocolate is melted. Chill to set, about an hour or two. It should be pourable but not thick like frosting. If it's too thick that means it's chilled too long, but you can just microwave it for a few seconds and stir to loosen it up.

When ready to assemble cheesecake, spread about half the ganache mixture on top of the cheesecake. You'll have some leftover, you can use that for serving. Top with more some chopped Oreos, if desired. Note: the Oreos will get stale after being on the cake for awhile. Do this right before serving.

Store cheesecake in refrigerator.
Nutritional information not guaranteed to be accurate
Philadelphia is teaming up with recipe and lifestyle experts to provide recipes and entertaining tips to make your holidays better and add a fresh spin on holiday desserts. Get more recipes and tips at CheesecakeCheer.com!
And if you need other cheesecake ideas for the holidays, check these out (and check out my Crazy for Cheesecake Pinboard!)
Cinnamon Spice Cheesecake Bars
Baileys Irish Creamer Cheesecake Pie
Sweets from friends:
Peanut Butter Cup Cheesecake by Inside BruCrew Life
Chocolate Cheesecake with Praline Sauce by Dieter's Downfall
Lemon White Chocolate Cheesecakes by Something Swanky
I have been selected by Kraft Foods to be a spokesperson for PHILADELPHIA Cream Cheese. While I have been compensated for my time, my opinions are my own.
Last Updated on May 31, 2020