Key Lime Cheesecake
This post may contain affiliate links. For more information, read my disclosure policy.
Did you know that July 30th is National Cheesecake Day? *Best Day Ever*
Thanks to PHILADELPHIA, I'm starting the celebration early with my new favorite: Key Lime Cheesecake. Creamy, sweet, and just a little bit tart, this cheesecake is the perfect way to celebrate the best day of the year!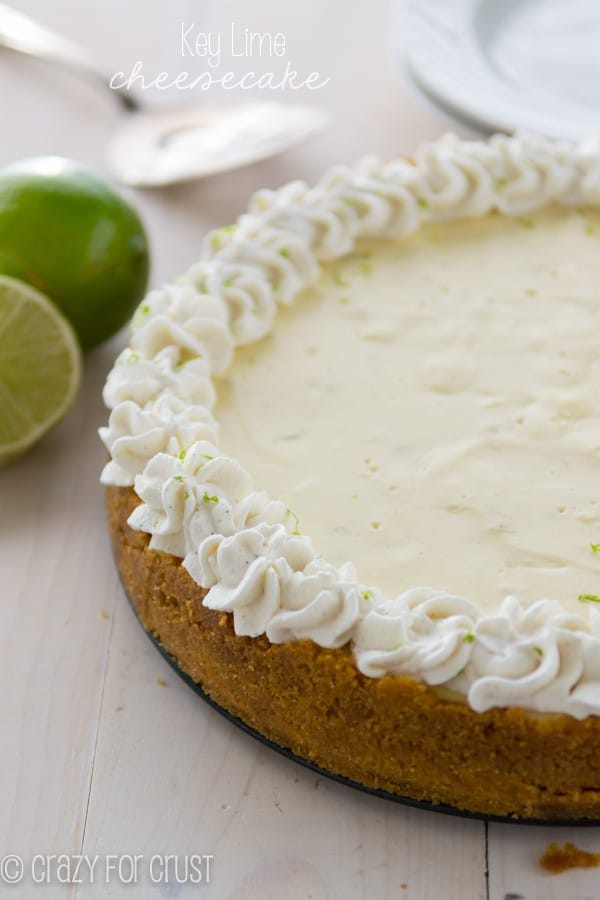 Reasons why I love cheesecake:
*It has a crust. I mean, that should be the obvious one.
*It reminds me of my wedding. We love cheesecake so much, our wedding cake was made of it!
*The texture and denseness of cheesecake makes me feel like I'm eating a lot, even when I just have a small sliver.
(Er, I usually don't have a small sliver. Does anyone only eat small slices of cheesecake? Besides my husband, of course?)
*The flavor combinations are endless! Chocolate, peanut butter, caramel, brownie…key lime.
*In fact, it's my favorite way to make a dessert mash-up. I know all about dessert mash-ups – I wrote a book full of them. (Out this fall!)
My favorite cheesecake mash-up? Ever since I went to Miami, I've been crushing on Key Lime. Now? Now I'm crushing on Key Lime Cheesecake.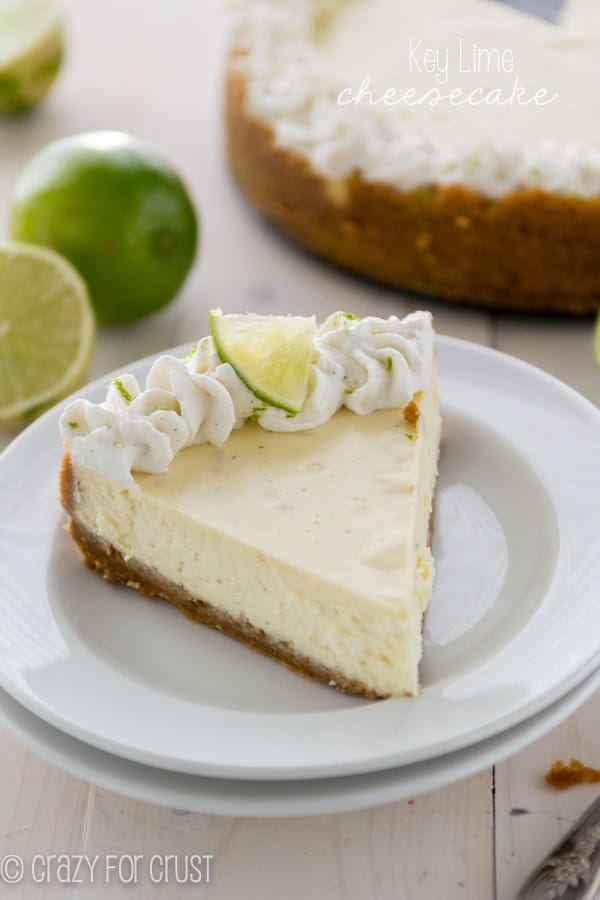 This cheesecake recipe is one of my favorite ones. It's creamy and smooth and perfectly dense, just like a cheesecake should be.
The perfect cheesecake flavor and texture comes in part from the cream cheese. Cream cheese is, obviously, the base of any good cheesecake. I use PHILADELPHIA Cream Cheese because it's my absolute favorite brand. It performs well every single time – and when you're baking you want a dependable product.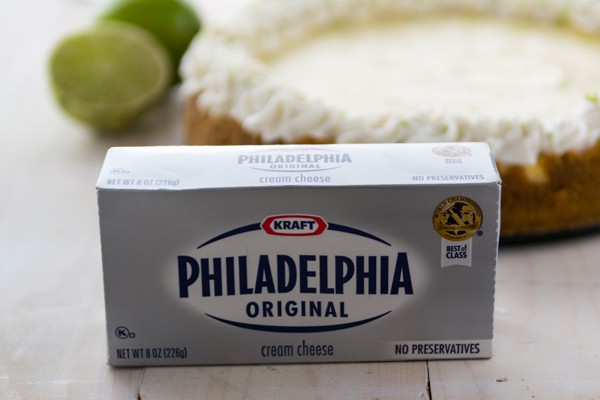 PHILADELPHIA is such a good product because it's made of fresh local milk and real wholesome cream. PHILADELPHIA Original Cream Cheese goes from farm to their fridge in just six days, it has no preservatives, and it's made with real ingredients. Bottom line: It's dependable, which is exactly what you want in a cheesecake.
You also want amazing flavor…and this Key Lime Cheesecake gives you that, in spades!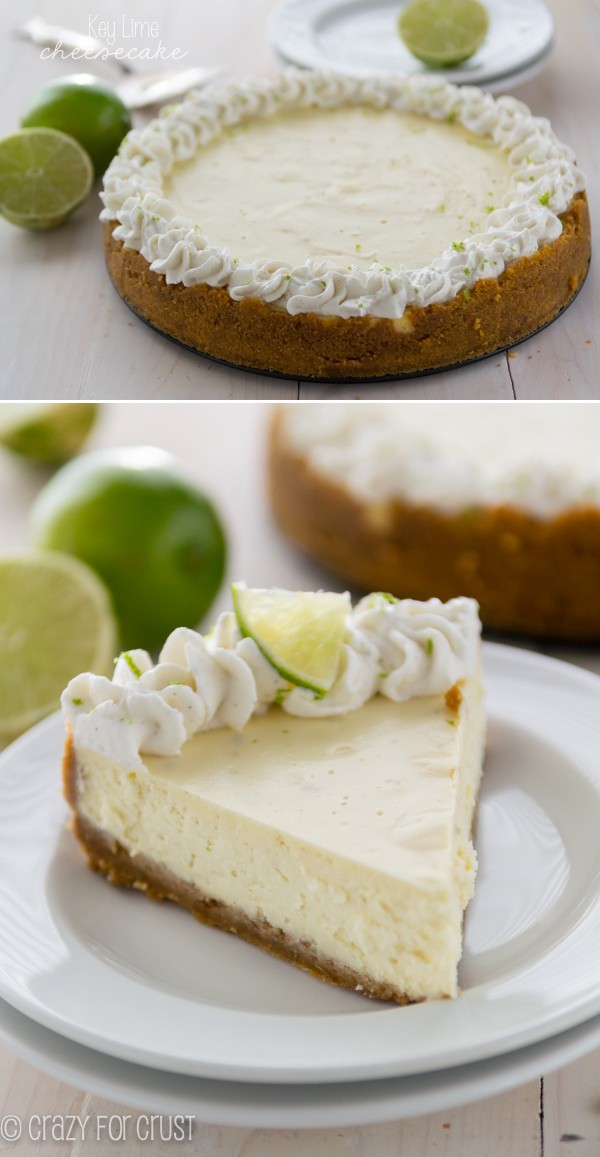 Like any Key Lime Pie, I used a graham cracker crust for this cheesecake. The base of the cheesecake includes not only cream cheese, but sour cream as well. I love the combination – it makes a perfectly smooth and rich cake.
A few tips about making cheesecake at home:
*ALL your ingredients MUST be room temperature. Cream cheese, sour cream, eggs. Leave them on the counter for at least an hour before making your cheesecake. The texture of the cream cheese mixed with cold eggs will give you lumps. You do not want lumps – you want a perfectly smooth, velvety cheesecake. It's worth adding a reminder to your phone to take out the ingredients early.
*Bake it in a water bath. I know a water bath might be daunting, but it's really simple. You need to be sure to wrap your pan in foil so no water seeps in, and you need a large roasting pan to place the cheesecake in. Using a water bath helps the cheesecake cook evenly and there will be less chances of it cracking. Here is my water bath tutorial, if you need it.
*Once the cheesecake is done baking (about 50 minutes) you have to turn off your oven and leave it for 1 hour. A little more is fine, but make sure not to skip this step. Moving a just baked cheesecake too much is just asking for cracks.
*Then, once it's finally out of the oven…you have to wait overnight to eat it. I know, right? But it's worth the wait. Cheese gets better with age…and so does cheesecake. Be patient!
This Key Lime Cheesecake is good plain, or you can garnish it with homemade whipped cream (ala The Cheesecake Factory).
The other thing I love this served with?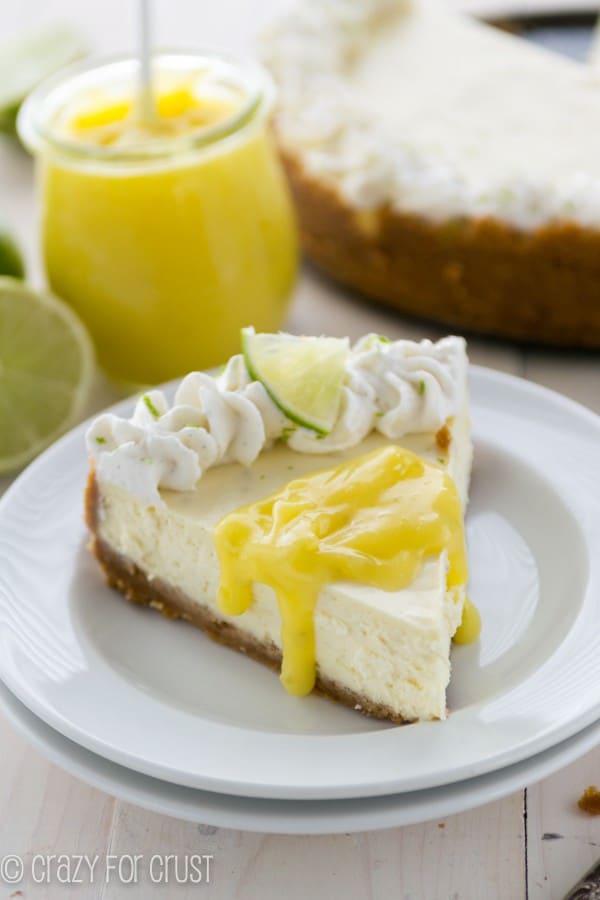 Homemade Lime Curd. OBVIOUSLY.
How will you celebrate National Cheesecake Day tomorrow? Be sure to check back…I have yet ANOTHER cheesecake for you…and it's no bake!
Servings: 12 slices
Key Lime Cheesecake
Your favorite key lime pie...in cheesecake form! Rich and creamy and filled with key lime flavor, this cheesecake will become a fast favorite!
Ingredients
Crust:
2 cups graham cracker crumbs — from about 12 whole graham crackers
1/4 cup packed brown sugar
1/2 teaspoon cinnamon — optional
Pinch of salt
8 tablespoons unsalted butter — melted
Cheesecake:
2-8 ounce packages cream cheese — room temperature
3/4 cup sugar
1 cup sour cream — room temperature
3 eggs — room temperature
2 tablespoons flour
3 tablespoons key lime juice — fresh or bottled if you can't get key limes
Zest of two key limes — or regular limes if you can't find key limes
1/2 teaspoon vanilla extract
Fresh whipped cream and/or lime curd for garnish
Instructions
Preheat oven to 350°F.

Wrap the bottom of a 9" or 9 1/2" springform pan in two layers of heavy duty aluminum foil. You will be baking your cheesecake in a water bath and you want to make sure no water gets into the pan from the seam at the bottom.

Make the crust: If you're using whole graham crackers, finely crush them in a food processor or place them in a ziploc bag and roll with a rolling pin.

Stir graham cracker crumbs, brown sugar, cinnamon, and salt together in a large bowl. Add melted butter and stir with a fork.

Press mixture into the bottom and up the sides (about 1") of your pan. Press hard to compact. Chill until ready to fill.

Place a kettle of water on to boil for the water bath.

Make the cheesecake: Beat cream cheese with a hand mixer or a stand mixer fitted with the paddle attachment until smooth. Beat in sugar and sour cream until smooth. Beat in eggs, one at a time, until fully incorporated. Mix in flour, lime juice, lime zest, and vanilla extract. Be sure to scrape down the sides and bottom of your bowl during mixing to get any clumps of cream cheese stuck to the sides or bottom. Pour into crust.

Place the cheesecake in a large roasting pan. Place pan in the center of your preheated oven. Pour the boiling water carefully in one corner of the pan, until it reaches about a third to halfway up the cheesecake.

Bake for 50-60 minutes, until the cheesecake is just slightly jiggly in the center. Turn off the oven and let it sit for one hour. Remove from oven and let it cool completely, then cover and refrigerate overnight.

When ready to serve, carefully remove ring of the springform pan. Top with whipped cream. Serve with lime curd, if desired. (If your cheesecake happens to crack, frosting it with lime curd will cover any blemishes!)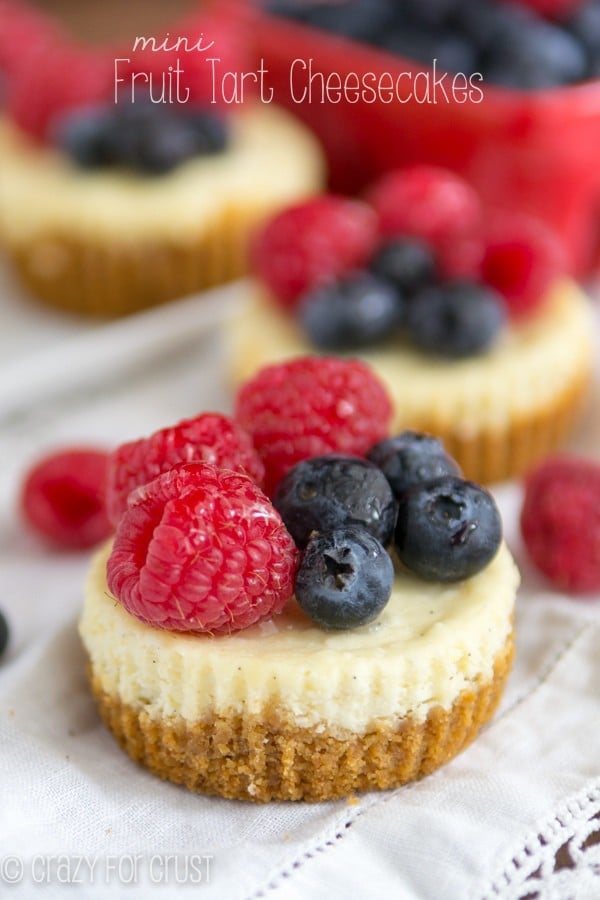 Cookies and Mint Chip Cheesecake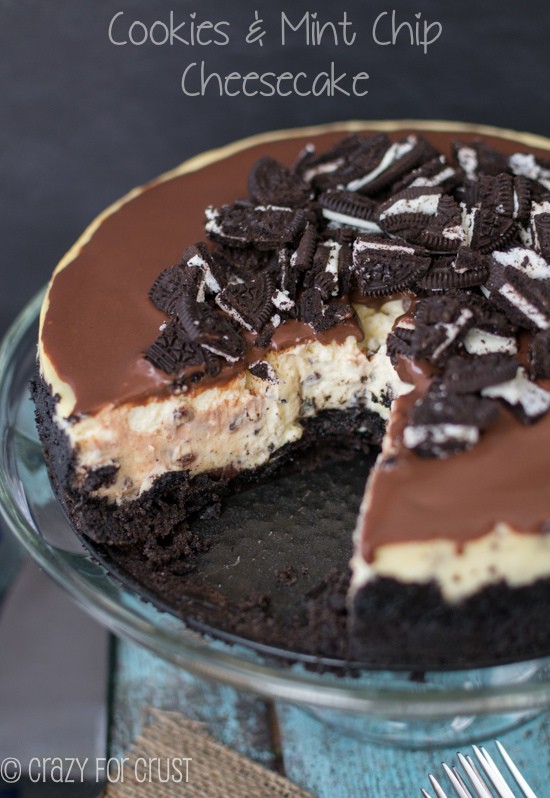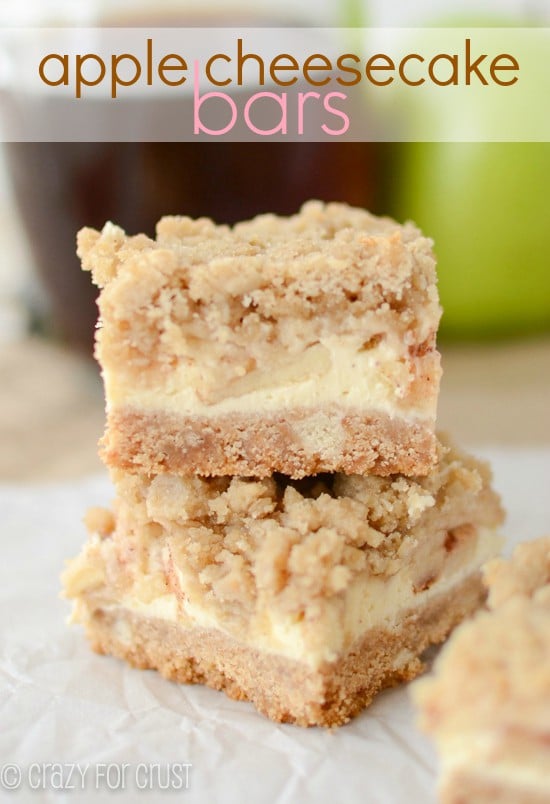 Sweets from friends:
No Bake Samoa Cheesecake by Life, Love, and Sugar
Peanut Butter Cheesecake Bars by Shugary Sweets
NY Style Cheesecake by Something Swanky
This post was sponsored by PHILADELPHIA Cream Cheese, but that doesn't matter. I love their product so much, I'd use it for free. All opinions are 100% my own.