This post may contain affiliate links. For more information, read my disclosure policy.
This Pecan Pie Fudge is a great way to eat your candy…and pie too!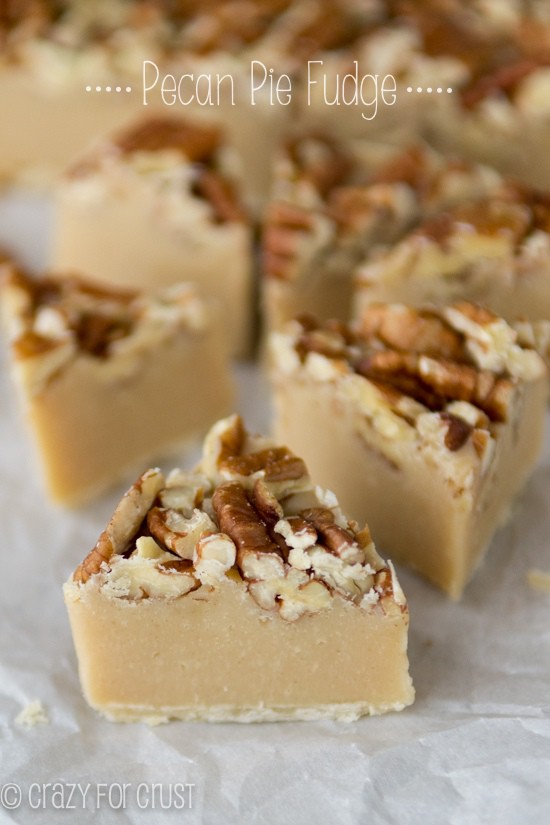 I hate it when my husband travels because I stay up way too late working. Without the sounds of him in the other room reminding me that I should shut down the computer and go hang out with him, I just keep working. Of course, my idea of working late is not the same as other people's ideas of working late. (Ahem.)
I mean…8:45pm is late, right? At least it is when you go to bed at 10:00. What can I say? I'm an old lady in a 36-year-old body.
The other thing I do when he's gone? Eat too much dessert. How can I say no when his iron willpower isn't here to save me?
Especially when there is pecan pie fudge looking at me?
Oh yes, that's what I said. Pecan. Pie. Fudge.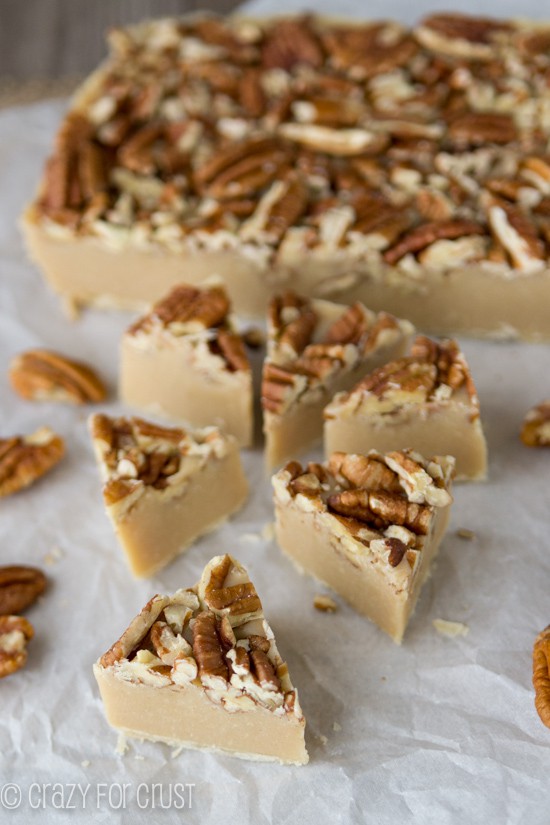 Y'all know how much I love a good crust. I put it in ice cream. I put it on brownies. Heck, I even put it in rice krispie treats, and occasionally on pie. It's my POV here at Crazy for Crust: I love crust. On everything.
Especially fudge. Oh yes. Especially that.
This fudge has been in my brain for awhile now. Pecan pie, but in fudge form. My only question was to how to get that fudge factor that tasted like the center of a pecan pie, but still using the easy fudge method.
Dude, I know you can cook fudge. But why? WHY? Easy fudge is just so…easy. Sweetened condensed milk and chocolate chips. DONE. And it's good! Fantasy fudge, easy fudge, minute fudge, whatever you call it, I love it.
But I wanted that trademark brown sugar sweet pie center. And finally it hit me: Karo dark corn syrup.
And this fudge was born.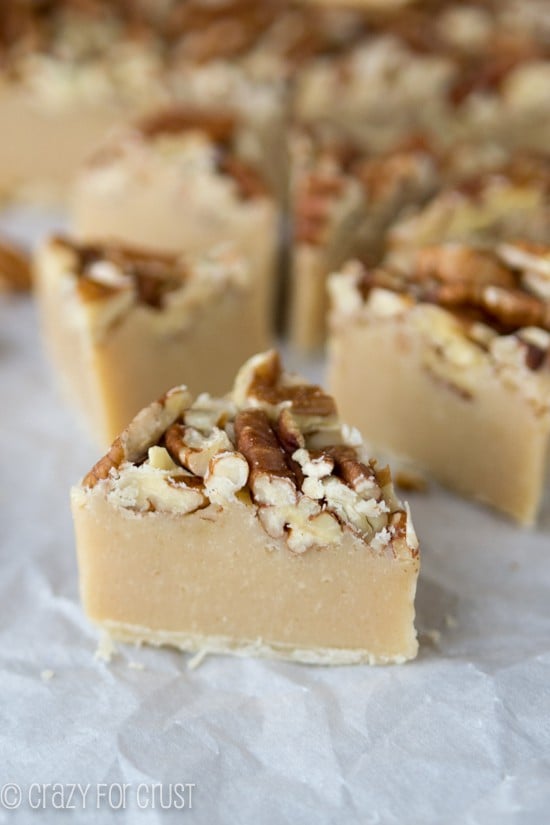 Instead of using sweetened condensed milk, I used a combination of dark corn syrup, brown sugar, and evaporated milk for this fudge. It gets mixed with white chocolate chips and then some vanilla and maple extract. It tastes like pecan pie!
And…don't forget the crust. I sure didn't. It's what makes this pecan PIE fudge and not just pecan fudge. The crust! I unrolled a Pillsbury pie crust and cut it to the size of my pan. You can use an 8×8″ pan or a 9×9″ pan (the fudge will be thinner). You'll have some crust scraps left over – but who doesn't love cinnamon sugar rolled pie crust scraps? Just sprinkle them with cinnamon sugar, roll, and bake.
Then you bake your pie crust. While it's still hot, you pour the hot fudge over it. Being allowed to cool together ensures that the pie crust and fudge will stick together.
As soon as you pour the fudge on the crust, you top with with chopped toasted pecans. Let the fudge set, and you have pecan pie fudge!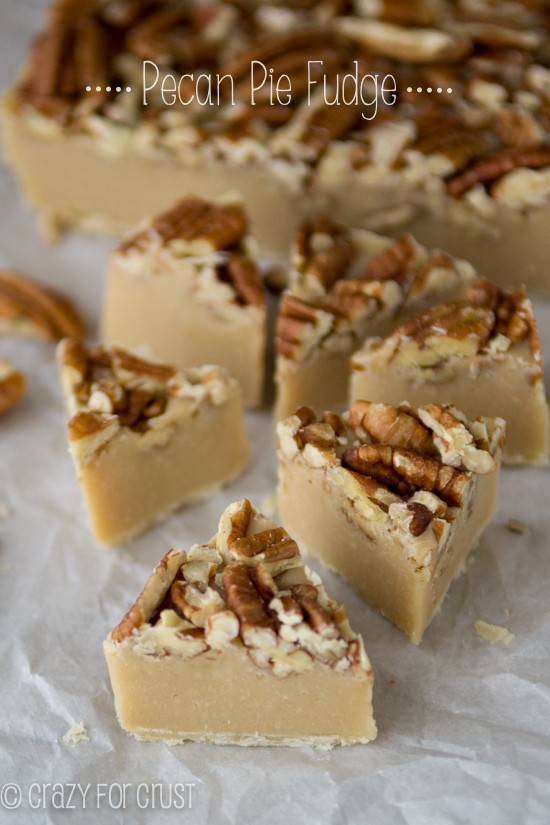 This is the perfect dessert to round out a Thanksgiving meal, or for your holiday platters. Or because your husband is gone and it's a Tuesday and you want fudge!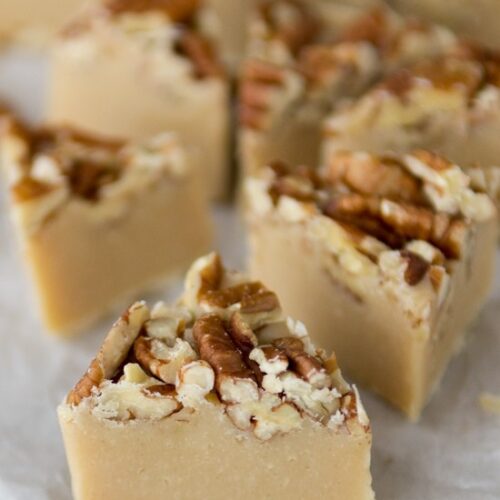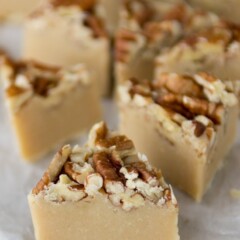 Pecan Pie Fudge
Ingredients
1

pie crust

from a box of 2 or from scratch

1 1/2

cups

pecan halves

coarsely chopped

1/2

cup

dark corn syrup

1/3

cup

evaporated milk

mine was low-fat

3

cups

white chocolate chips

1/2

cup

brown sugar

1

teaspoon

vanilla extract

1/4

teaspoon

maple extract
Instructions
Preheat oven to 400F. Line a 8x8" or 9x9" pan with foil and spray with cooking spray.

Place pecans on a baking sheet and toast lightly in the oven. Do not walk away from the oven. After about 1 minute, open the oven and gently shake the pan. Pecans are ready as soon as you smell them.

Unroll pie crust and cut an 8x8 square (or 9x9 if you are using that size pan). Place in pan and poke with fork several times. Bake for 10-12 minutes until the crust is golden around the edges.

When the crust comes out of the oven, add the corn syrup, evaporated milk, white chocolate chips, and brown sugar to a medium saucepan and heat over medium-low heat. Stir constantly until mixture is melted and smooth. Turn off heat and stir in vanilla and maple extract. Pour over hot crust. Immediately top with pecans and press down lightly so that all the pecans are touching the fudge.

Chill fudge until firm. Slice into squares (or triangles) and serve.

This is best stored in the refrigerator.
Nutritional information not guaranteed to be accurate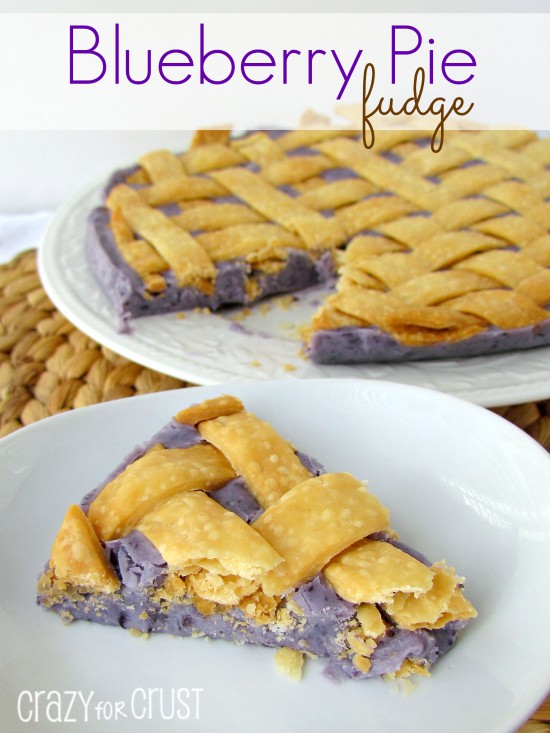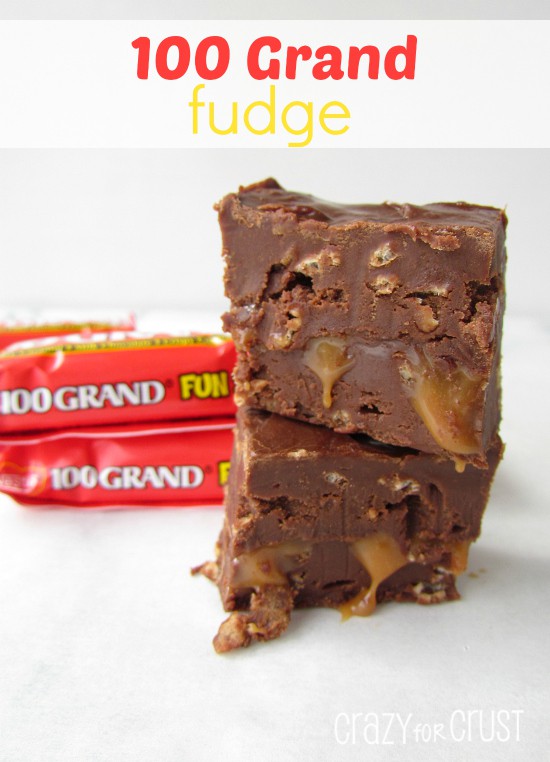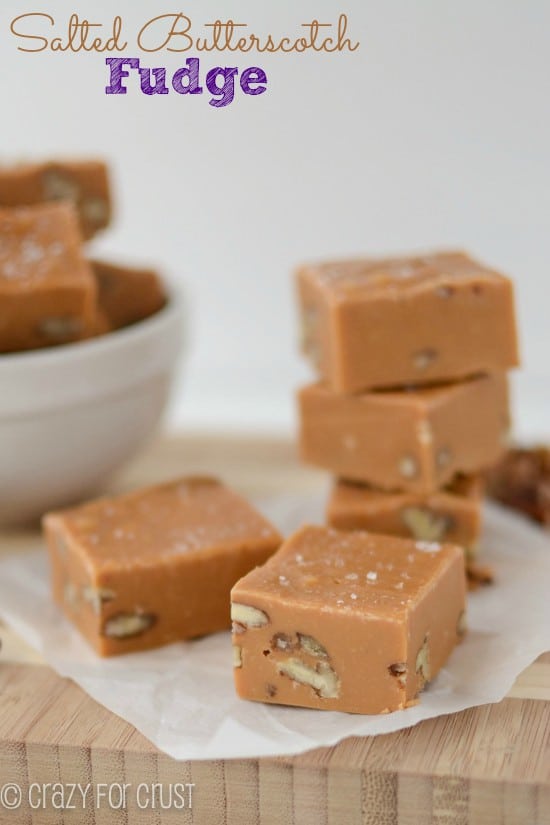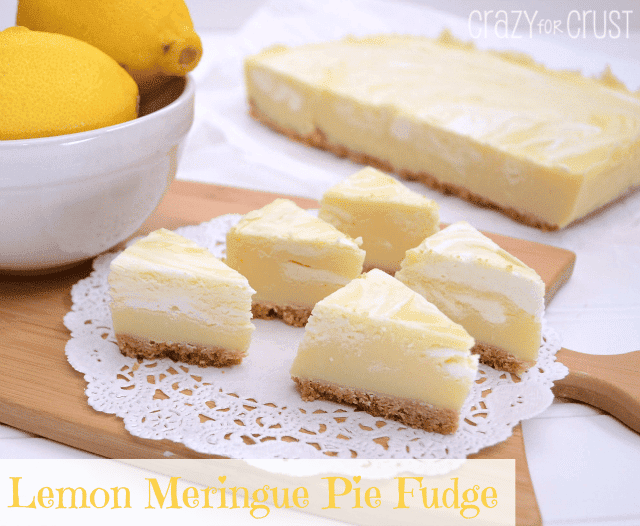 Sweets from friends:
Toasted Coconut Fudge by Kristin's kNook
Tequila Lime Coconut Fudge by The Sweet Chick
Reese's Fudge by Something Swanky
Last Updated on April 1, 2023