This post may contain affiliate links. For more information, read my disclosure policy.
These Wheat Germ Pancakes are secretly healthy and no one will know it – not even you!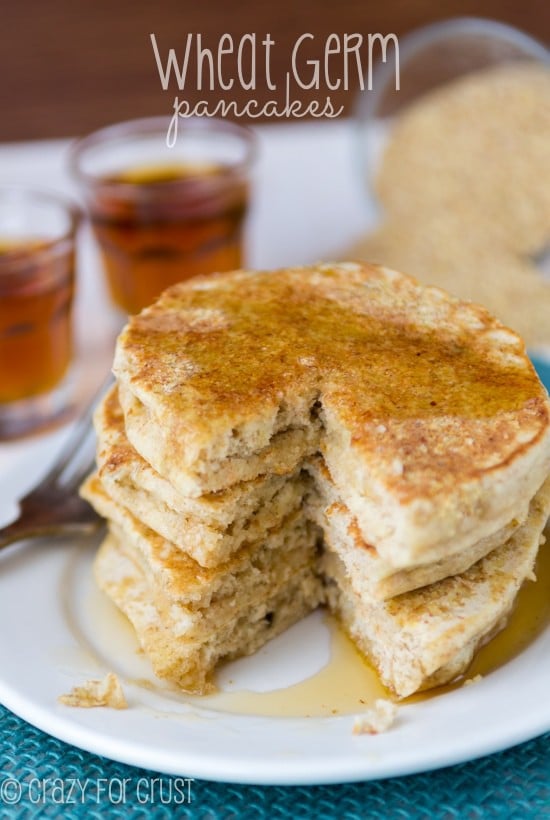 What the heck is wheat germ and why is it in my pancakes? I'll get to that in a minute.
This recipe is actually a copycat recipe, one I've been dying to make forever. There's a breakfast place in my hometown called Stacks. I have no idea if it's a chain, but their food is sooooo good! It's right by my old high school, so on Wednesday mornings, when we had late start, we'd all go to Stacks for breakfast.
When we were 16 and "kidnapping" for birthdays was popular, (did y'all do that? I think it was the worst birthday idea ever, BTW) we'd drag our friends out of bed and force them to Stacks in their PJs. Then they'd have to go to school like that. It happened to me once but, in true Gilmore Girls fashion, my mom warned me.
Anyway, Stacks has these amazing Wheat Germ pancakes on their menu. They're huge pancakes, as big as plates, and one side is all crunchy from the wheat germ. I doubt those are at all healthy, because they're made on a griddle, I'm sure with clarified butter or some other really fattening thing. When I made my copycat, I made them healthy.
These are the perfect pancake to eat for breakfast, because even you won't know they're not bad for you! And your kids will eat them too. Just don't tell them the crunchy part is wheat germ…or they might go all Jordan on you.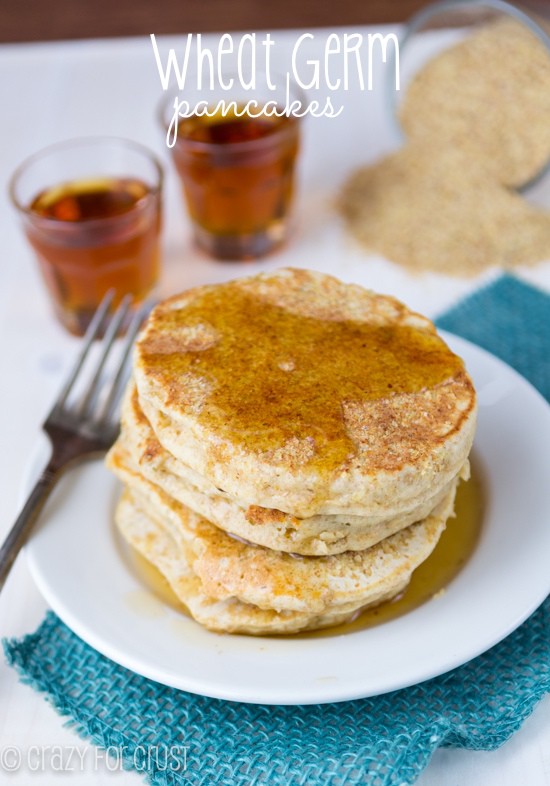 Okay, so what is wheat germ? According to Dr. Oz, wheat germ is the most vitamin- and mineral-rich part of the wheat kernel. It's packed with nutrients that are good for you, like Vitamin B, fiber, healthy fatty acids, and more. In my effort to show you some recipes that are a teeny bit healthier to help you with your resolutions, I thought these pancakes would be perfect.
Here are a few reasons why these pancakes are healthier than a traditional pancake:
They are made with a combination of all-purpose and whole wheat flour.
While they have oil and sugar, there are only 3 tablespoons of sugar and 2 tablespoons of oil. Feel free to cut down on the sugar, if you like.
Instead of non-fat milk, I used unsweetened vanilla almond milk. That saves about 60 calories per cup, BTW. You can use non-fat milk if you prefer, or use soy or coconut.
Instead of using all milk, I cut some of the milk with a mashed banana. These are not overly banana-tasting, but it cuts down on the amount of milk you use, and the banana adds some vitamins and natural sweetness.
And then there's the wheat germ. You add it to the pancakes while they're on the griddle, so when you flip them the wheat germ gets toasty as the pancake cooks. It gives a nice nutty crunch to the pancake.
There is also 1 tablespoon of baking powder in these pancakes, so they get super fluffy. I love a fluffy pancake! And I add a little vanilla to them, for a depth of flavor. Plus, vanilla is good in pretty much everything!
I love these with syrup, but you can use a reduced calorie or sugar-free one if you prefer. Measure it out, you don't need much!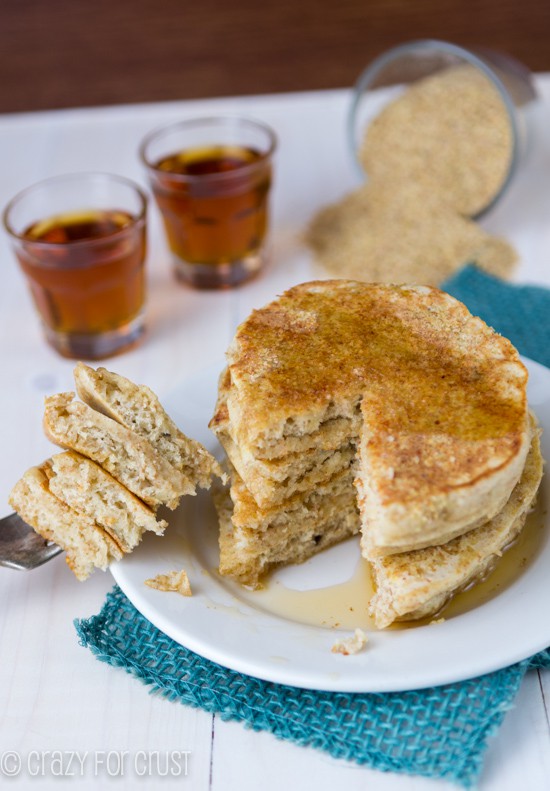 These are the perfect pancakes for a healthier start to your day. And now I can have my Stacks at home! 🙂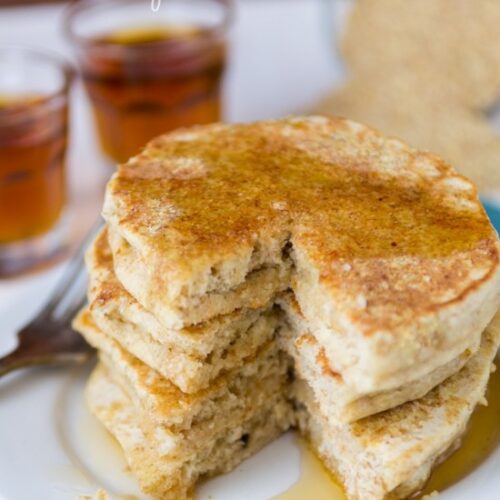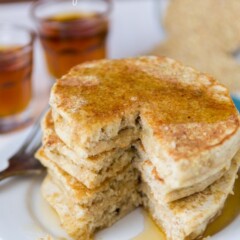 Wheat Germ Pancakes
Ingredients
1

cups

all-purpose flour*

1/2

cup

whole wheat flour*

3

tablespoons

sugar

1

tablespoon

baking powder

1/2

teaspoon

salt

1

banana

mashed + enough milk to make 1 1/4 cups (non-fat milk or unsweetened vanilla almond milk; I've used both with success)

2

tablespoons

vegetable oil

2

eggs

1/2

teaspoon

vanilla

About 6 teaspoons Wheat Germ
Instructions
If you're using a griddle, begin to preheat. I use an electric one and I set it for about 350 degrees.

Whisk flour, sugar, baking powder, and salt in a medium sized bowl. Mash banana in a large measuring cup. Add a little milk and stir them together, then add more milk until the measuring cup reads 1 1/4 cups. (You will use about 3/4 cup of milk). Whisk in oil, eggs, and vanilla. Then whisk the wet ingredients into the dry ingredients until just combined.

Spray your griddle with nonstick cooking spray. Ladle the pancakes one by one onto the griddle. Add 1/2 teaspoon of wheat germ to the top of each pancake and cook until the bottoms are brown. Flip and cook until golden on the bottom. Serve with syrup.

Pancakes can be placed between paper towels and frozen for up to one month. Simply heat in the microwave to unfreeze for a quick breakfast.
Nutritional information not guaranteed to be accurate
Click HERE for my PANCAKE & WAFFLE recipes!
Click here for more Brunch Recipes!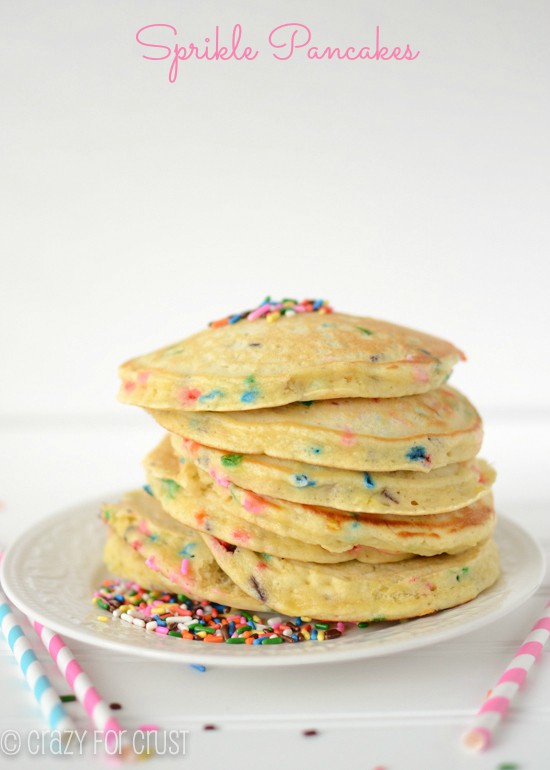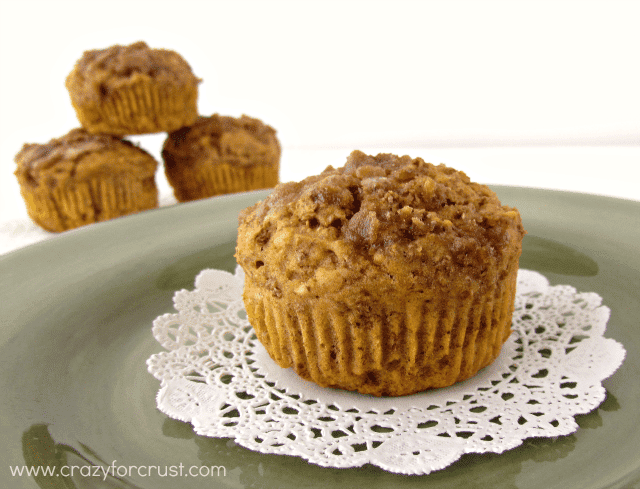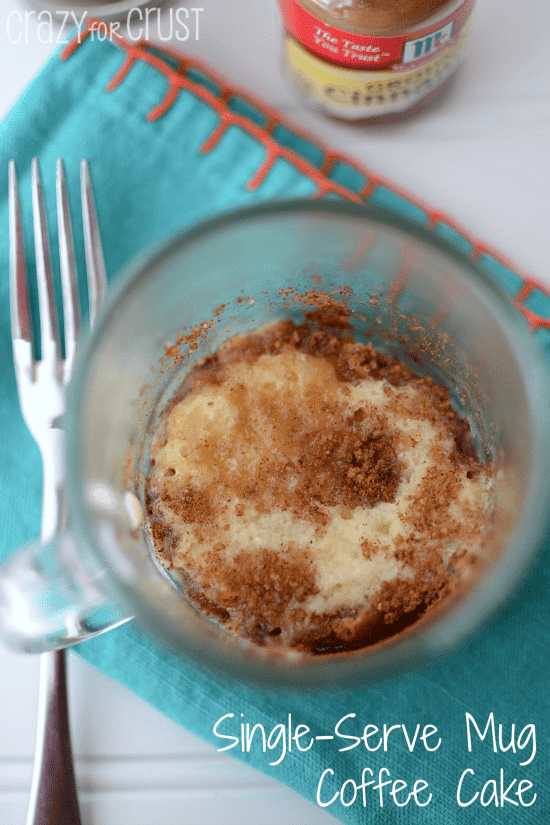 Sweets from friends:
Homemade Instant Pancake Mix by Something Swanky
Strawberry Buttermilk Pancake Muffins by Heather's French Press
Vegan Gluten-Free Pancakes by Averie Cooks
Last Updated on May 13, 2020