This post may contain affiliate links. For more information, read my disclosure policy.
Fruity Pebbles Muffins are SO fun and kids love them, especially mine. This recipe starts with my basic muffin recipe, which comes out perfect every time.
These easy muffins are perfect for breakfast – we love to make them ahead and freeze them – and they're so easy kids can make them!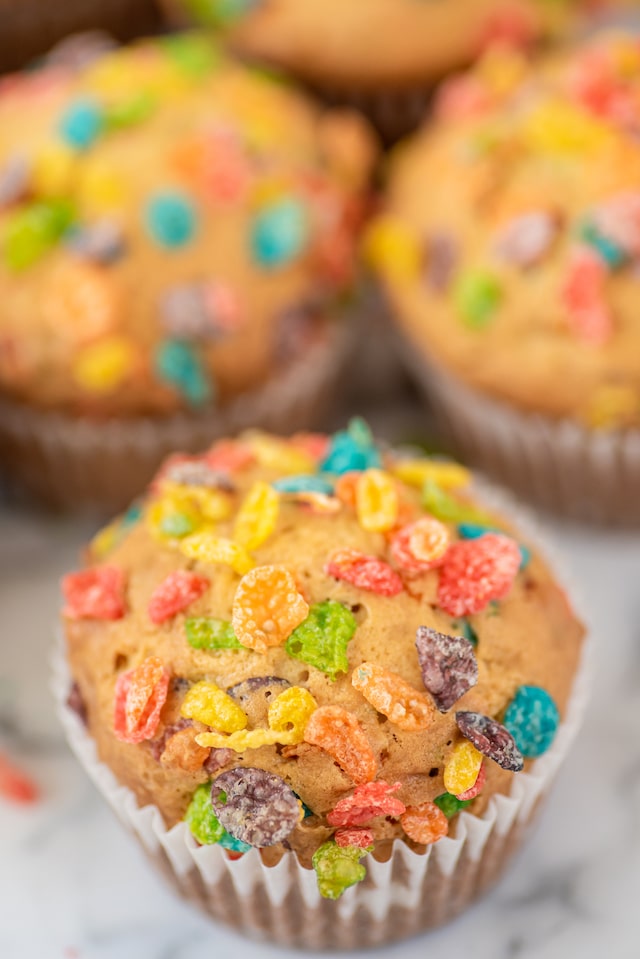 That's right – I put fruity pebbles cereal in my muffins. I absolutely LOVE Fruity Pebbles! It's one of those cereals I can rarely buy because I'll eat the entire box – all by myself.
My daughter loves the cereal too – we've been buying it from Sam's Club recently, 2 packs to a box – and it goes so fast I can barely make cookies or cereal treats, let alone muffins!
I managed to snack a few cups of it after our last shopping trip to make these muffins. They're an easy sour cream muffin recipe! This is my basic muffin recipe I make all the time with different mix-ins:
Today I'm sharing this recipe for a special reason: because of my friend Julianne. She loves Fruity Pebbles too (I'm partial to her ice cream cake) and…she's having a baby! So today is her Virtual Baby Shower, and I couldn't think of a better way to celebrate than with muffins!
If you like muffins you will LOVE this easy muffin recipe. It's a keeper!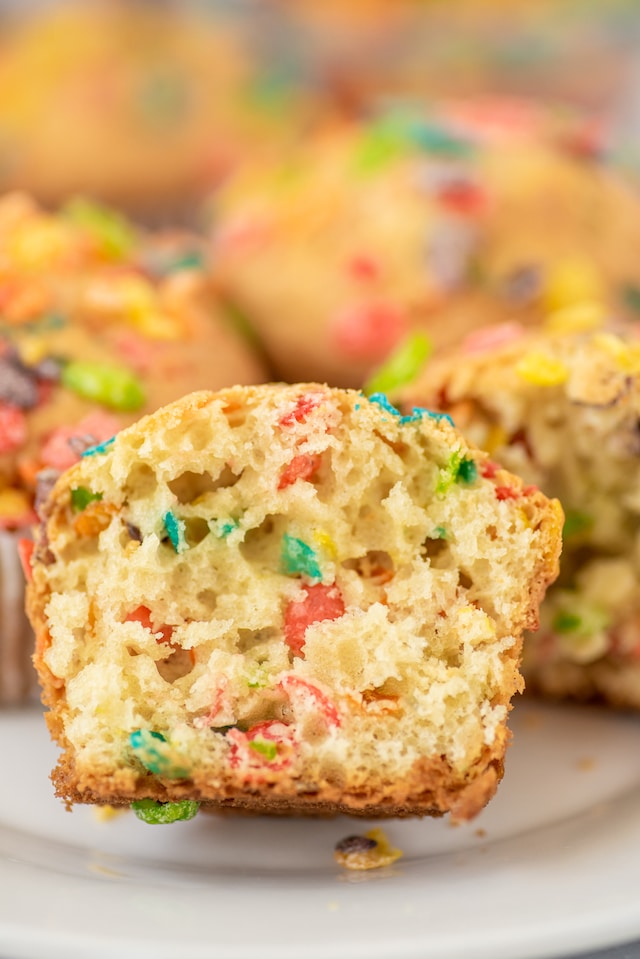 Making Muffins From Scratch
These muffins are easy, made in one bowl, and are soft and fluffy every time!
Let's talk about why these muffins are fluffy and moist: it has to do with the ingredients. This recipe has all the basic things you'd find in a muffin recipe:
Granulated Sugar
Oil
Vanilla & Salt
Baking Soda & Vinegar
Sour Cream
Eggs
Flour
Like any muffin recipe, this one uses sugar for sweetness, flour for binding, vanilla and salt for flavor, and eggs for fat/moistness and leavening.
To get that light and airy, fluffy texture in the middle, I use a combination of vinegar and baking soda for leavening. You can learn about baking soda in baking here, but the short of it is that baking soda needs an acid to activate. The vinegar (and also the sour cream) activates the baking soda.
If you don't have vinegar you can substitute lemon juice (you won't taste the lemon flavor).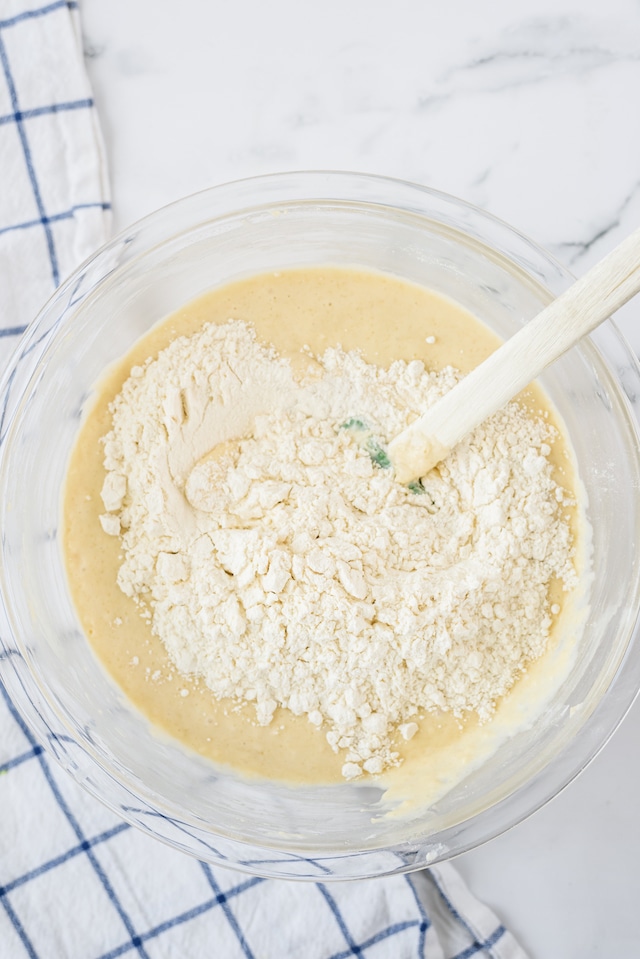 What does sour cream do to muffins?
A lot of muffin recipes call for milk, but mine calls for sour cream. The sour cream adds moisture without thinning the batter, making them nice and rich. It also adds fat to keep the muffins nice and moist.
In addition to all that, the sour in sour cream also helps activate the baking soda. That sourness is the acid the baking soda needs to activate.
Basically, this is already the best muffin recipe and then we make it better by adding fruity pebbles!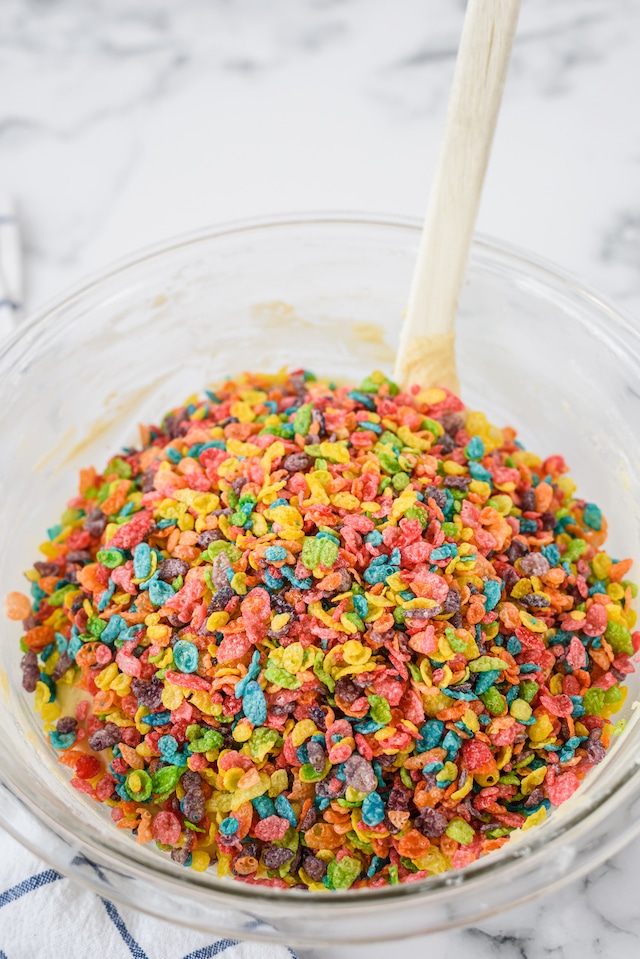 Adding cereal to muffins
Be sure to save 2 cups of Fruity Pebbles for making muffins, because that's how much you stir in the batter.
The cereal doesn't get soggy while baking, but it's not crunchy in the muffin either. It just tastes like a muffin; the cereal adds its fruity flavor to the muffin.
Want to change it up? Add Cocoa Pebbles or ANY flavor pebbles cereal to the batter.
Baking & Storing Muffins
This recipe makes about 24 muffins. You have two choices when baking muffins:
Grease the pans with shortening or nonstick cooking spray
Use muffin liners
I prefer using muffin cups/cupcake liners. I prefer the inside of a muffin to the "done" edges they get when baked straight in a muffin pan.
You can use a regular 12-cup muffin pan (you'll need about 2 pans) or you can even make mini muffins, but it'll make about 6 dozen.
Sprinkle the tops of the muffins with more Fruity Pebbles before baking so they look super pretty when done.
Muffins should be stored in an airtight container for up to 3 days, or you can freeze them for up to a month. It makes for an easy on-the-go breakfast too!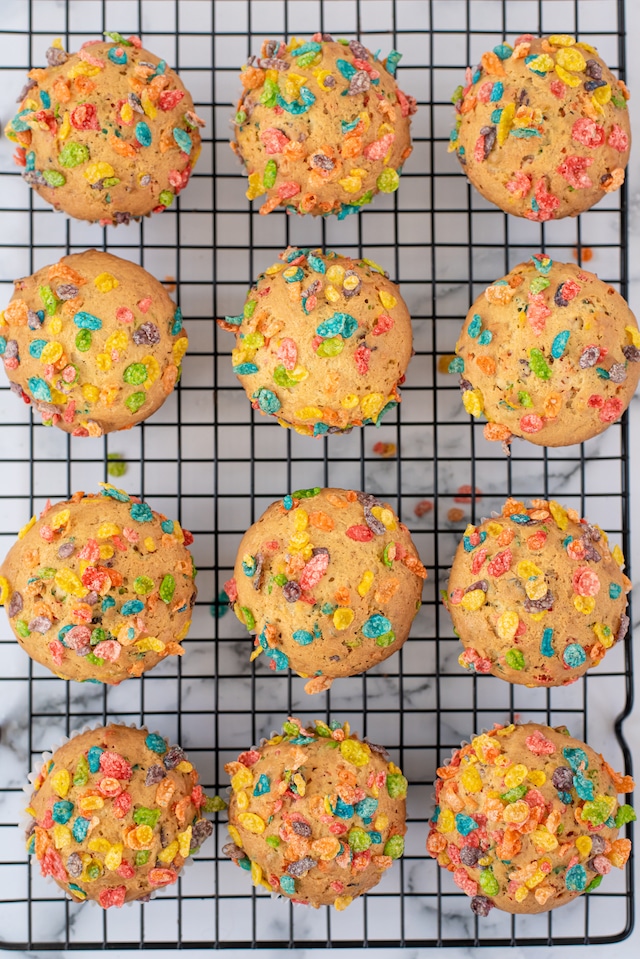 Serving Muffins
Muffins are perfect for breakfasts or snacks. I love that they're portable and easy to eat and pack to take along. They're even great for a potluck – and these are so colorful and fun they'd be great for a party!
My friend Julianne is having a little boy, so we're throwing her a shower. If you're looking for something to serve these muffins with at a party, here are a few ideas:
We love you Julianne! Surprise!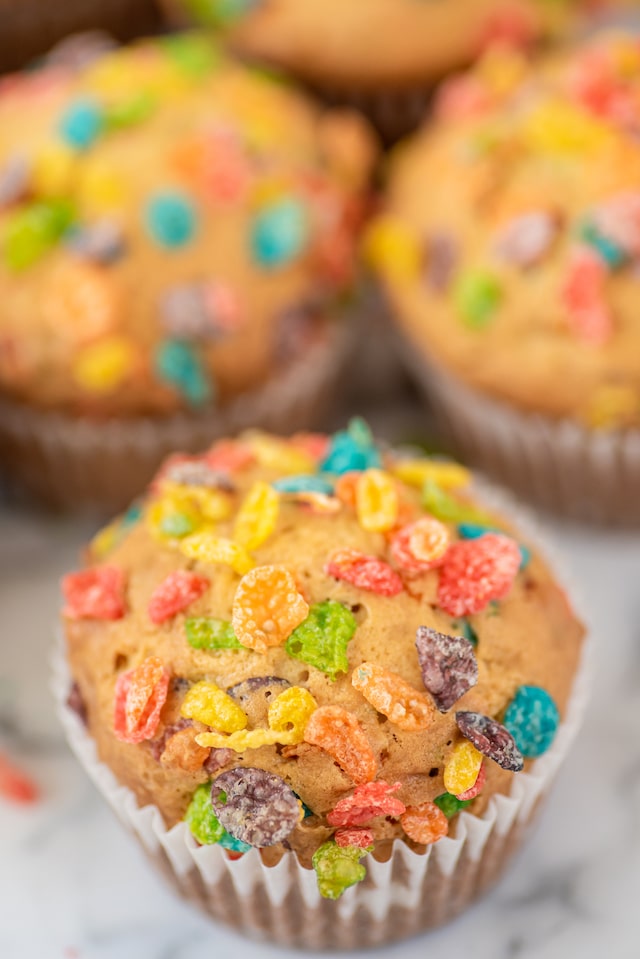 If you're looking for an easy muffin recipe – and a fun one at that – then these Fruity Pebbles Muffins are the best ones ever!
Have you made this recipe?
Tag @crazyforcrust on Instagram or hashtag it #crazyforcrust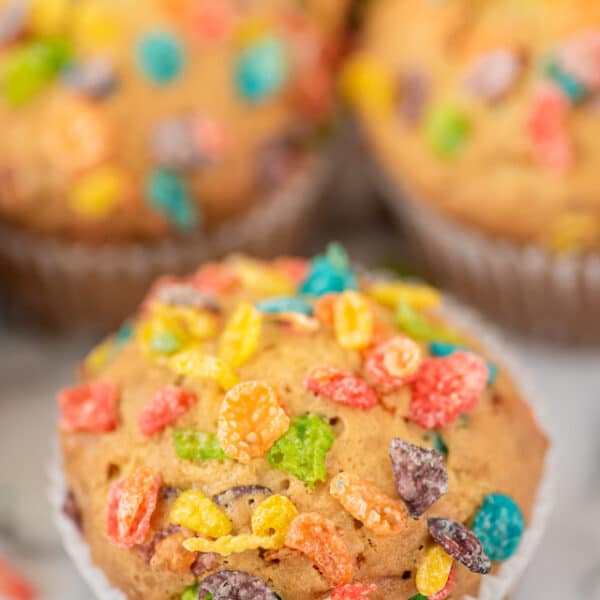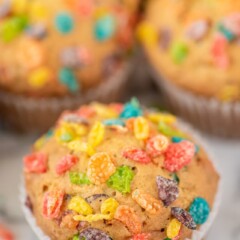 Fruity Pebbles Muffins Recipe
This is my basic easy muffin recipe that you can add any mix in to! Fruity pebbles muffins are fun and easy and so delicious with that fruity cereal flavor.
Ingredients
2

large

eggs

1/2

cup

vegetable oil

or melted butter

1

cup

granulated sugar

1

teaspoon

vanilla

1

teaspoon

baking soda

1

teaspoon

vinegar

or lemon juice

1/2

teaspoon

salt

1

cup

sour cream

2

cups

all purpose flour

2

cups

Fruity Pebbles Cereal

plus more for garnish
Instructions
Preheat oven to 350°F. Line muffin pans with liners.

Using a hand mixer, mix eggs in a large bowl 1-2 minutes until thick and frothy. Mix in sugar and oil, beat until creamy. Mix vanilla, vinegar, baking soda, and salt. Mix in sour cream then stir in flour using a wooden spoon. (Batter may be slightly lumpy.) Stir in fruity pebbles.

Scoop into liners. I use about 1/4 cup of batter (it helps to use an ice cream scoop). Sprinkle each muffin with a bit of cereal for garnish.

Bake for about 15-22 minutes, until a toothpick comes out clean. Check them at 15 minutes to guage the remaining time.

Cool slightly before eating. Store in an airtight container for up to 3 days or freeze for up to one month.
Recipe Nutrition
Serving:
1
serving
|
Calories:
150
kcal
|
Carbohydrates:
20
g
|
Protein:
2
g
|
Fat:
7.1
g
|
Saturated Fat:
2.4
g
|
Fiber:
0.7
g
|
Sugar:
9.9
g
|
Calcium:
15
mg
|
Iron:
1
mg
Nutritional information not guaranteed to be accurate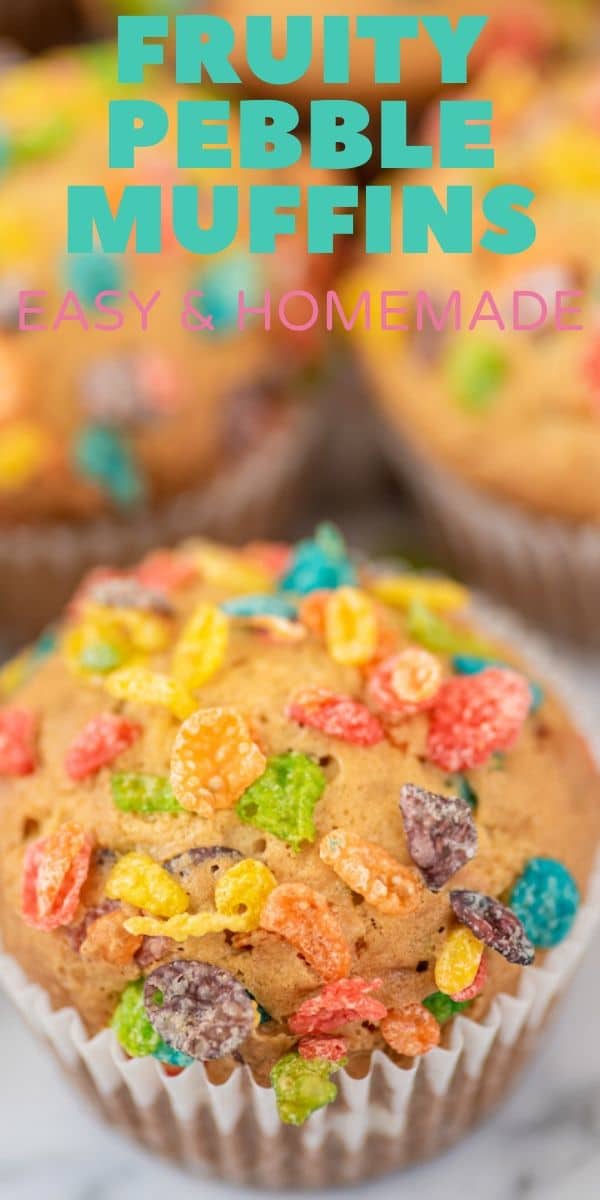 Fruity Pebbles Muffins are an easy homemade muffin recipe filled with Fruity Pebbles Cereal! This is one of our favorite easy breakfast recipes and the kids love them.
Last Updated on April 20, 2020