This post may contain affiliate links. For more information, read my disclosure policy.
I've created heaven: Easy Lemon Butter Cake starts with a cake mix and has the perfect lemon flavor. The warm cake is soaked with a lemon butter sauce!!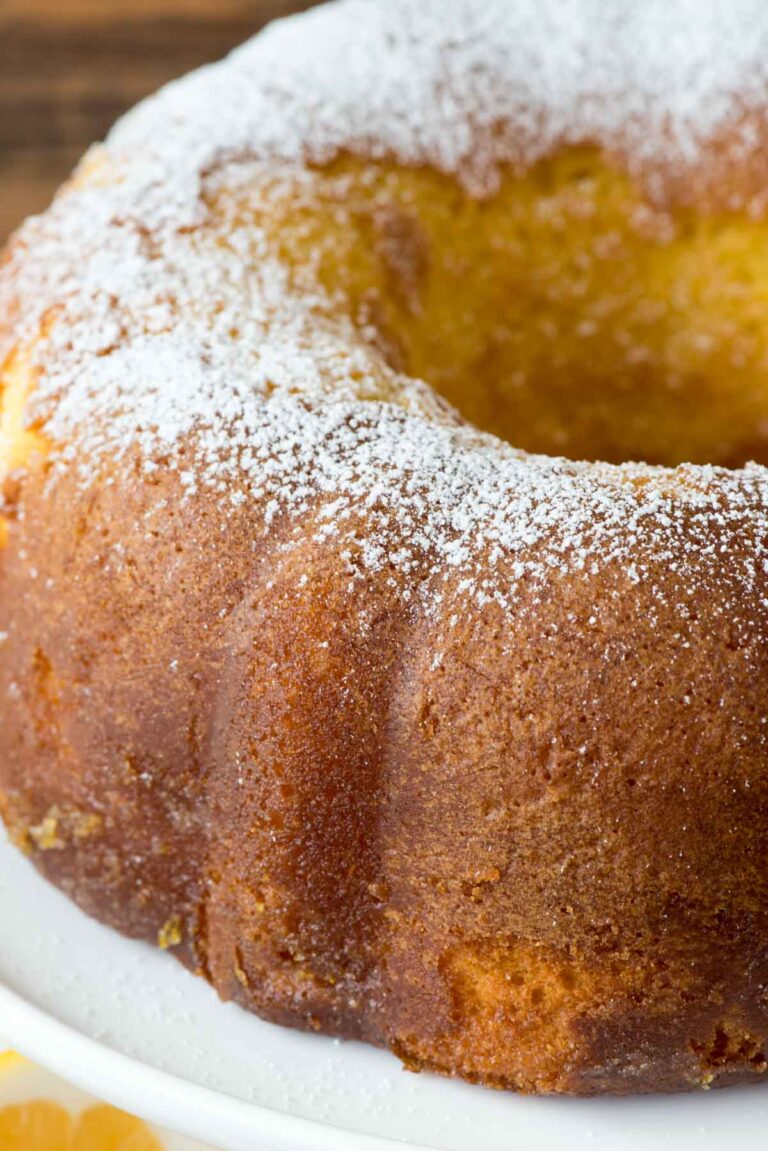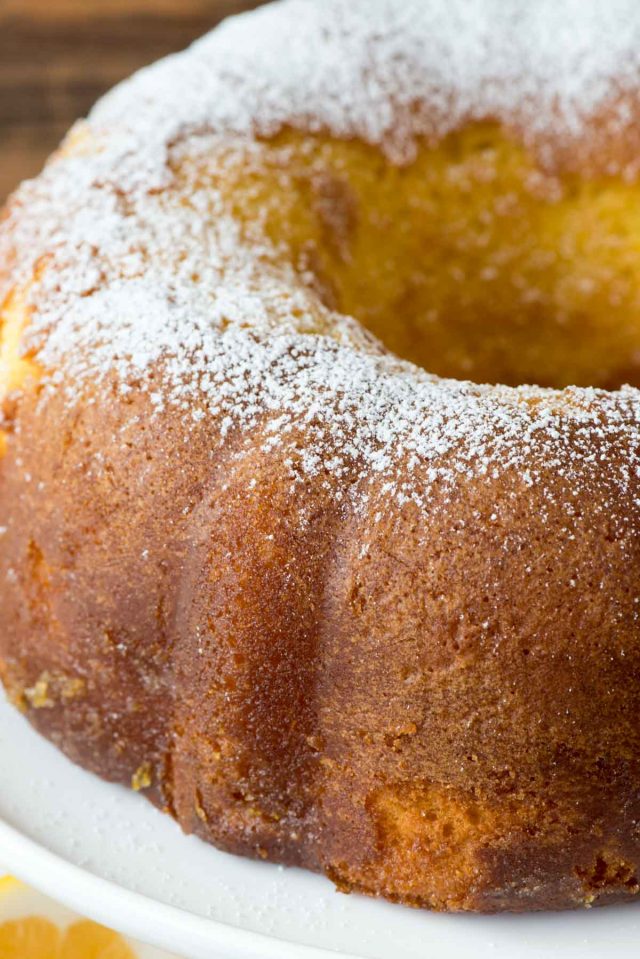 Jordan had her first day of middle school last week. How my baby got to be a 7th grader, I'll never know. I wasn't sad when I dropped her off really, more nervous. Nervous about if she'll like it, what classes she'll have, if she'll have good teachers, if the girls will all get along.
If I'm being 100% honest I'm more worried about the seventh grade girl drama than I am about school. Jordan'll get by in school; that I'm not worried about. It's the hormones and craziness of middle school girls I'm worried about. I've head some horror stories from veteran parents…and I remember my 7th grade year…it wasn't awesome.
I have a feeling we're both going to need lots of comfort food as the months progress and lots of hugs…and patience…something I need to work on when it comes to her emotions. You know what can help me with my emotions? Cake. Lemon Butter Cake – an easy lemon cake soaked with a sweet lemon butter sauce. It's, quite literally, heaven and is proven to improve any mood.
Lemon Butter Cake starts with a cake mix so it's an easy recipe soaked with a buttery sweet lemon sauce. This cake is moist for days…if it lasts that long.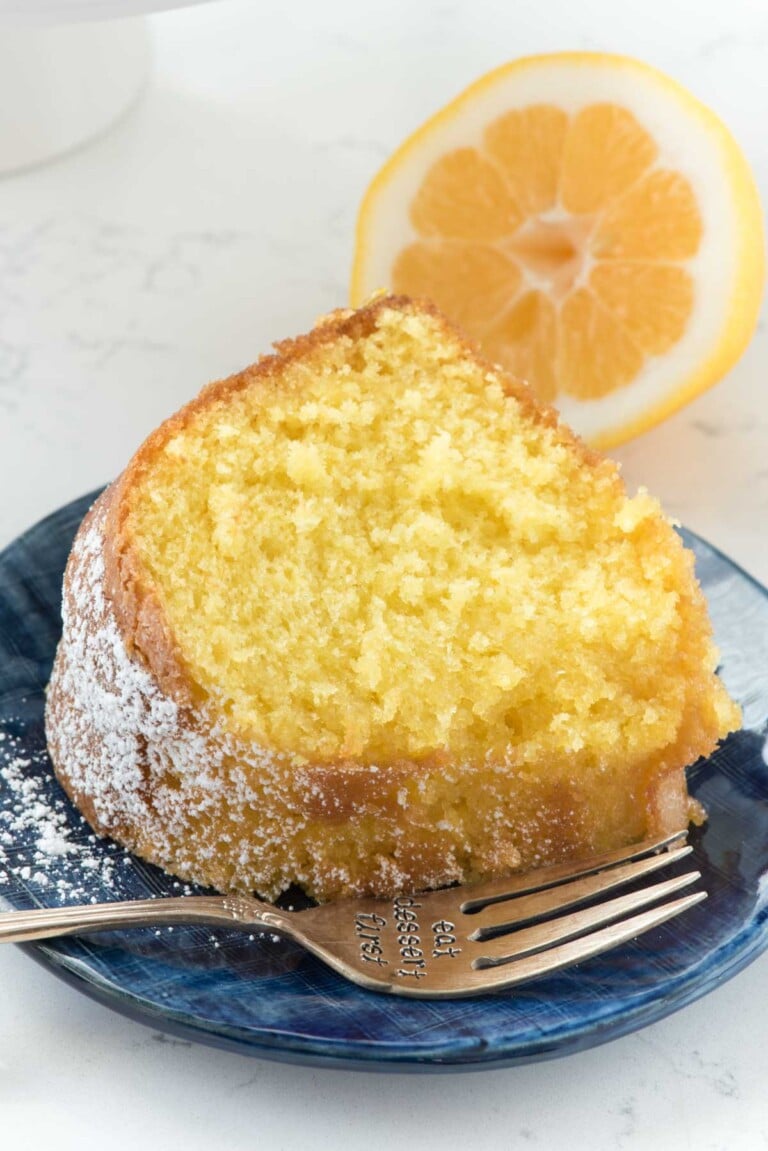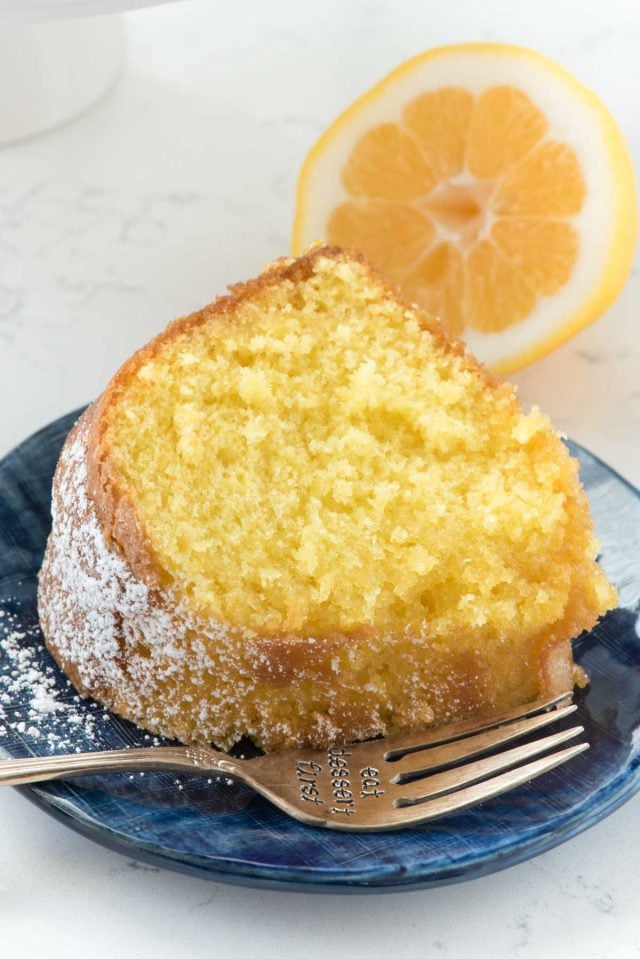 What is a Butter Cake? Well, it's a cake with lots of butter in it, for one. (Obviously!) I've heard it referenced as a Kentucky Butter Cake also, so maybe it originated in the south? The southerners invented the best foods didn't they? My love for red velvet cake, pecan pie, and biscuits tells me I was born in the wrong section of the country!
A Butter Cake is an easy pound cake recipe that, while it's hot, is soaked with a butter sauce. Butter sauce is a boiled concoction of butter, sugar, and vanilla. When you pour it over the hot cake and then let the cake cool it soaks in and the cake stays moist for days – plus it adds SO much flavor. This cake is even better on day 2 but I doubt it'll last that long.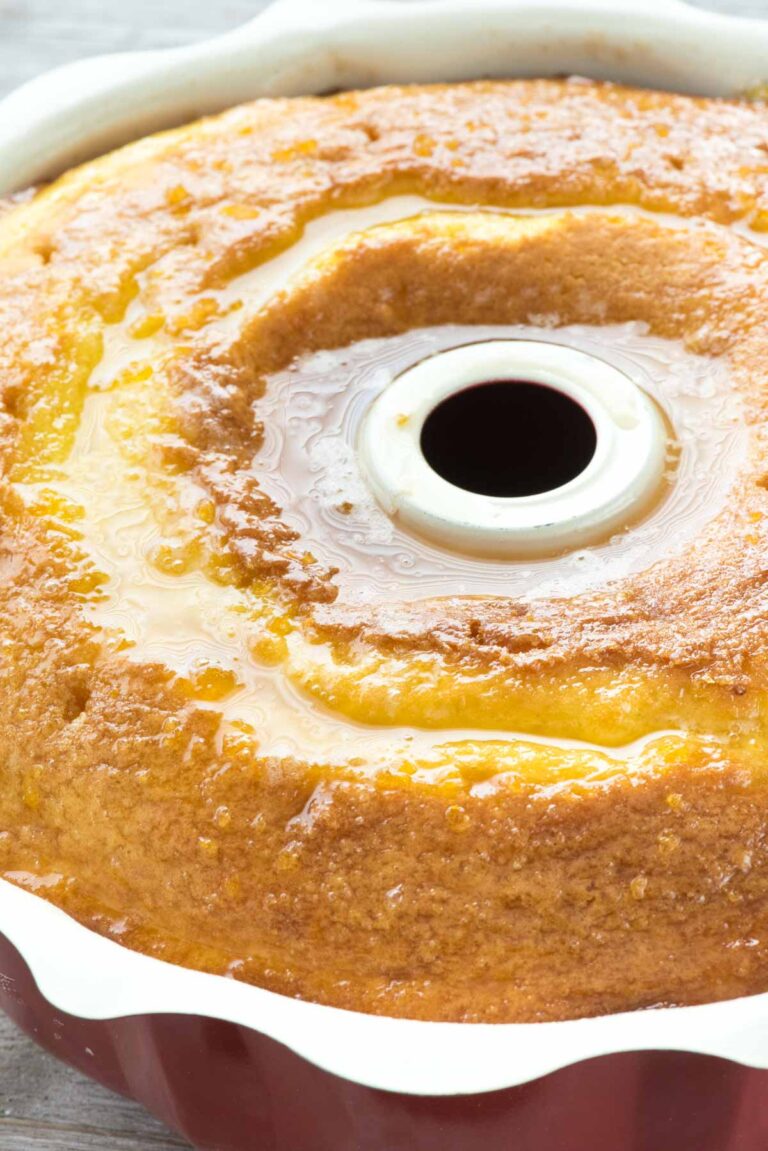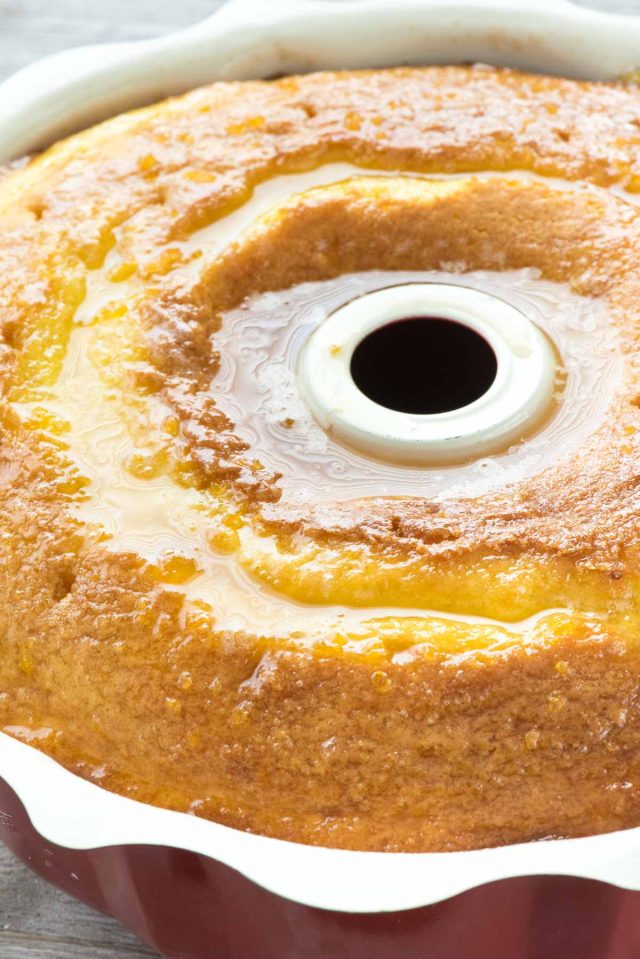 Traditional butter cake recipes I've seen are plain old vanilla, or maybe vanilla bourbon. I decided to switch it up a bit and make my easy butter cake recipe into a LEMON Butter Cake. Everything is better flavored lemon, am I right?
To make the cake even easier, I started with a lemon cake mix. I love the extra lemon punch lemon cake mixes give. I know of at least two brands that sell that flavor, so use your favorite. The lemon flavor and tender cake is punched up a notch by adding pudding mix to the cake batter. I always love adding some pudding mix to my bundt cakes – they add so much flavor and keep the cake moist (kind of like they do for pudding cookies).
While the cake is baking, you make the butter sauce by heating butter, sugar, lemon juice, and lemon zest until it boils. It turns into a thick sweet sauce. Once the cake comes out of the oven, poke tons of teeny holes in it with a skewer or toothpick, then carefully pour the sauce over the top. As the cake cools the sauce soaks into the cake making it gooey and delicious.
Did I mention the TRIPLE lemon makes it so super lemony? Guys, I had to re-home this cake ASAP or I would have taken a fork to it I'm not kidding.


How to make the perfect Lemon Butter Cake:
Be sure to grease and flour your bundt pan really well. That's the secret to easy release and a pretty cake.
If you can't find lemon pudding mix, you can use vanilla or even cheesecake flavor.
Be sure to let it cool completely before removing from the pan so the flavor soaks into every single bite.
The cake is sweet enough because of the sauce so it doesn't need frosting; just a dusting of powdered sugar will do!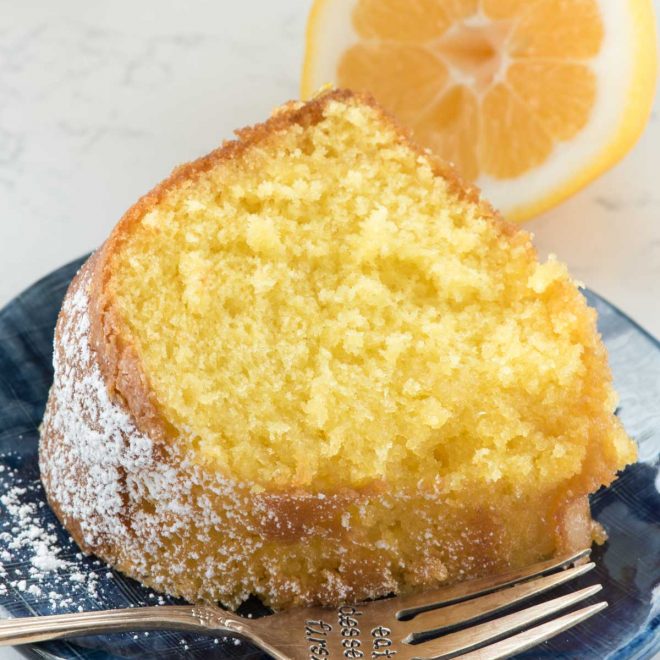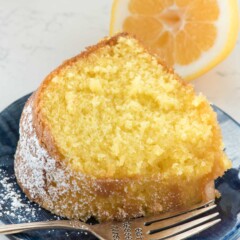 Easy Lemon Butter Cake
Easy Lemon Butter Cake starts with a cake mix and has the perfect lemon flavor. The warm cake is soaked with a lemon butter sauce!!
Ingredients
Cake:
1

box lemon cake mix

1/2

cup

unsalted butter

melted

1

cup

milk

4

eggs

1

teaspoon

butter extract

optional; it pumps up the butter flavor of the cake

1

3.4 ounce box instant vanilla or lemon pudding mix
Sauce:
3/4

cup

sugar

1/4

cup

unsalted butter

3

tablespoons

lemon juice

from 1-2 lemons

Zest of one lemon

Pinch

of salt

1

teaspoon

vanilla extract

Powdered sugar

for dusting
Instructions
Preheat oven to 350°F. Spray a 12-cup bundt pan with nonstick cooking spray (the kind with flour) or butter and flour it.

Use a hand or a stand mixer to beat the cake mix, butter, eggs, milk, extract, and pudding mix until a thick batter forms. Pour into prepared pan.

Bake for 35-45 minutes, or until a toothpick comes out with just a few crumbs. Remove the cake from the oven and cool for 10 minutes but keep it in the pan.

While the cake is baking, make the sauce. Melt butter in a small saucepan over medium low heat. Stir in the sugar, lemon juice, zest and salt and cook until it just simmers (bubbles around the edges). Remove from heat and stir in the vanilla.

Poke several holes in the cake using a long skewer and pour the butter sauce over the cake. Cool in pan completely, then remove to serving plate. Dust with powdered sugar before serving.
Nutritional information not guaranteed to be accurate
Click here to see the complete list of Lemon Recipes!
Click here to see my best Cake Mix recipes!
If you like my easy lemon butter cake recipe you'll love this Salted Caramel Kentucky Butter Cake by Wishes and Dishes or a Gooey Butter Cake by Tidy Mom.
Brown Butter Pumpkin Bundt Cake
Last Updated on May 12, 2020