This Triple Chocolate Bundt Cake is one of the most rich, decadent chocolate cakes I've ever had, and it's got a healthy secret!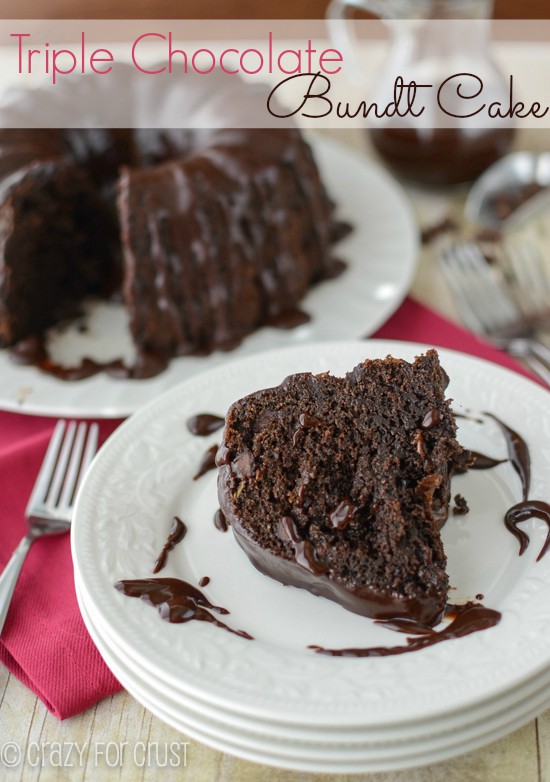 This past Saturday, Mel and I saw Jobs, the movie based on Steve Jobs' life. I was skeptical because as much as I love Ashton Kutcher…I could not see him in that role. But it was a fantastic movie, and it really made me think.
The first scene in the movie is of Steve Jobs announcing the super-secret iPod in one of his signature reveal videos. He talks about making something that is going to revolutionize music, and pulls the iPod out of his pocket.
It was 2001. 12 years ago.
First, that made me feel old. Then, it made me think. In 2001 the iPod was invented. It was promised to "revolutionize the way we listened to music" but it revolutionized way more than that. It changed the way we all live our lives. Think about it.
The iPod was followed by the iPod Touch. Apps were born. Then the iPhone. And, I don't know about you, but the iPhone literally changed my life. It opened up this whole new techie world. It allows me to share things with people – instantly. It's also caused an addiction to social media and the feeling that one can never be unplugged, but whatever.
Long car rides? No longer boring. We have the iPad for that.
Waiting for food at a restaurant? No worries. Here kid, play Angry Birds on my phone.
Need to practice math facts? No problem – there are 1,321 apps for that.
And it all started with a single little music playing device, the iPod. Revolutionary, right?
Kind of like this cake. This cake is revolutionary. I made a triple chocolate bundt cake that's so chocolatey you want to cry, and it's made without oil or butter.
I'll give you three guesses to figure out what I made this cake with, and the first two don't count. Ready? Go.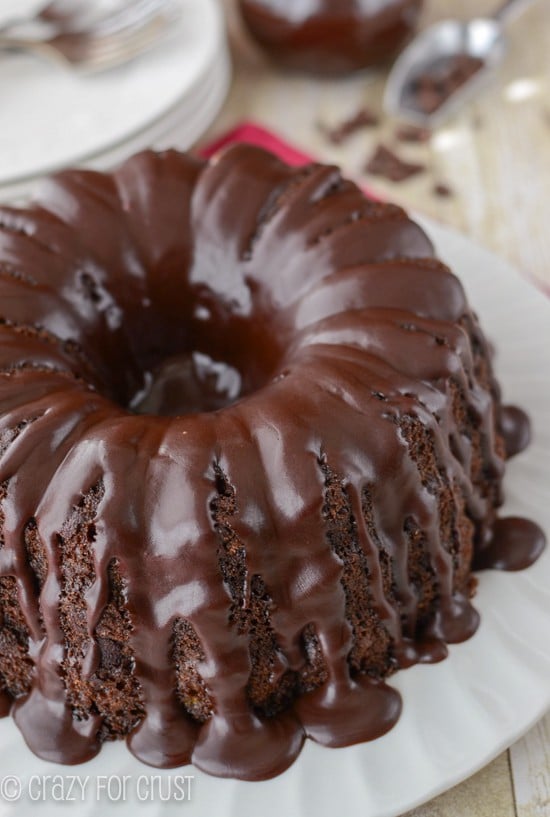 And yes, you'd be right. I made this cake with avocado. Just like I made these bars, this bread, and these truffles. No oil. Less or no butter. Avocado works as an amazing substitute. And because avocados are full of healthy fats, the fat in the cake is healthier.
Now, I'm not saying this cake is healthy. No, it's not. It's healthIER. Some of the fat is replaced with good fat. I like to think it helps cancel out all the other fat. 🙂
And yes, you could make this cake even healthier by leaving out the chocolate chips. Or leaving off the ganache frosting.
But you really shouldn't do that, especially not the ganache frosting. You should pour it over the cake, and then drink the rest.
Thanks to my friend Ashton, I'm no longer afraid of ganache. She made it look so easy to make, and it is.
Normal ganache uses heavy cream and chocolate. Did you know you can also use coffee creamer to make ganache? Yes, you can. And the beauty is, the ganache will adjust it's flavor to whatever flavor creamer you use.
Like mint? Use mint creamer.
Like coconut? Use almond joy creamer.
Like vanilla? Use vanilla creamer.
The possibilities are endless.
I used International Delight Heath Coffee Creamer because I love toffee. This ganache tastes like toffee. I *may* have eaten lots of it with just a spoon.
The point I'm making is that you should use whatever flavor you like.
I'm kind of mad that it's not my birthday this week. Because now that I've had this cake, it's the one I want for my birthday, but it's already gone. And you know how I have issues re-making things. Unless it's peanut butter.
This cake is birthday worthy. It's party worthy and Christmas worthy. It's my favorite cake ever, I think.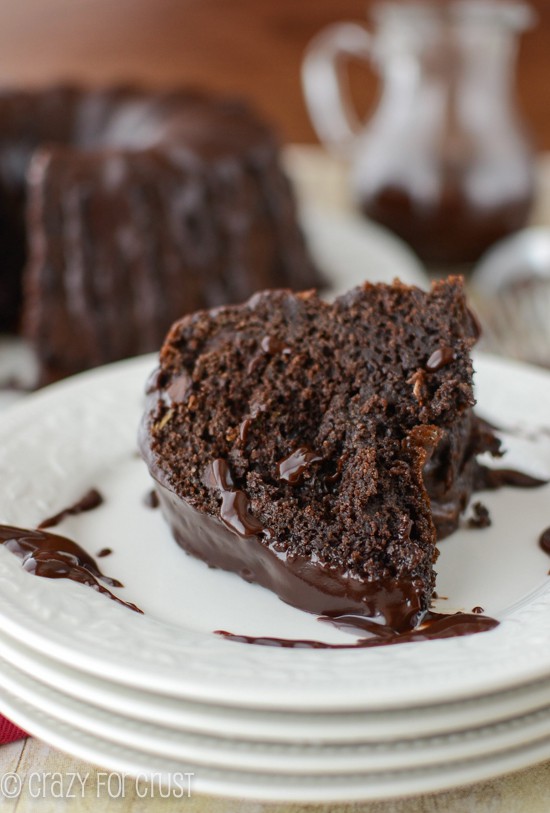 And it's made with avocados. Please, don't be afraid of avocados. You can't taste them in this cake. They just are the fat stand in. And if you MUST, if it creeps you out so much to use avocados, just use oil.
But it will be healthier if you use avocado, and you can check out Avocados from Mexico for the proof. Then you can justify two slices.
And you're going to want two slices, I guarantee that.
Chocolate cake mix + chocolate chips + Coffee Creamer Ganache = Best. Cake. EVERRRRR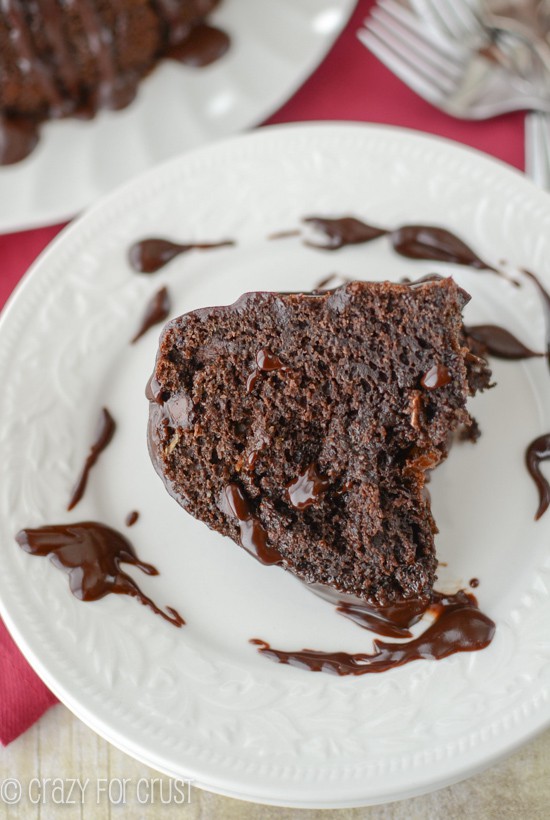 Like I said, revolutionary. Like the iPod, only it tastes better.
Easy Triple Chocolate Bundt Cake
Easy Triple Chocolate Bundt Cake - this cake is easy and has triple the chocolate flavor, plus a secret ingredient!
Ingredients
For the cake:
1

box chocolate fudge cake mix

3

eggs

1

large

about ½ cup avocado

1 1/4

cups

nonfat milk

1

cup

semi-sweet chocolate chips
For the ganache:
1

cup

semi-sweet chocolate chips

1

cup

liquid coffee creamer

any flavor; I used International Delight Heath
Instructions
Preheat oven to 350 degrees. Spray a 12-cup bundt pan with cooking spray that has flour in it, or grease and flour the pan.

Add avocado to a large bowl. Beat it with a hand mixer on medium speed until the large chunks are broken up. Add cake mix, eggs, and milk and beat at medium speed until smooth (some lumps remain), about 2 minutes. Stir in chocolate chips.

Pour into prepared pan. Bake about 29 minutes, until a toothpick comes out clean around the edge, slightly crumby in the center. (The box will tell you a bundt cake takes much longer. Mine only took 29 minutes. Time may vary due to type of pan, brand of cake mix, and because of the avocado.)

Cool cake completely before removing from pan.

To make the ganache, add creamer and chocolate chips to a microwaveable measuring cup or small bowl. Heat for about 1 minute. Whisk until all the chocolate is dissolved and the mixture is smooth. Let cool to thicken. Mine took about 2 hours to get to pouring but not runny consistency, the first hour was spent in the refrigerator, the second on the counter.

When ready to frost, turn cake out onto serving plate. Carefully drizzle ganache over cake. Place in refrigerator to set the ganache. Slice and serve!
See more of my coffee creamer recipes here!

Connect with Avocados from Mexico:
Website / Facebook / Twitter / Pinterest
Baileys Creamer Cheesecake Pie
Sweets from friends:
Vanilla Dream Cake from The Novice Chef
Triple Layer Coffee Caramel Chocolate Mousse Cakes from Half Baked Harvest
Cookie Dough BTS Cake from Something Swanky
All text and images © DOROTHY KERN for Crazy for Crust. Please do not use my images without prior permission. If you want to republish this recipe, please re-write the recipe in your own words, or link back to this post for the recipe. Disclaimer: Nutrition information shown is not guaranteed to be accurate.
This post may contain affiliate links. For more information, read my disclosure policy.
Published on: September 2, 2013