This post may contain affiliate links. For more information, read my disclosure policy.
One of the best Poke Cakes yet! Chocolate Mint Poke Cake, filled with sweetened condensed milk and hot fudge, and topped with a mint whipped topping and Oreos for good measure.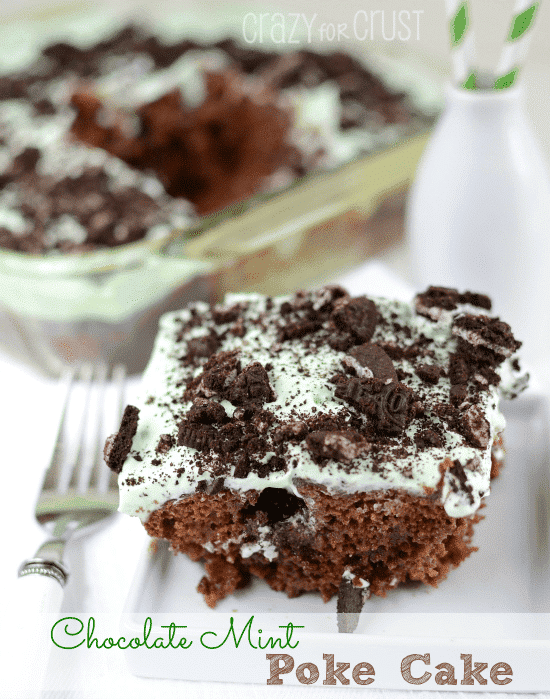 I would normally have called this Chocolate Mint Poke Cake by it's more fun name, a better than… cake. But…it wasn't appropriate, I didn't think. You see, today is Jordan's 8th birthday, and this is her birthday cake!
I cannot believe my baby is 8 years old today. Where has the time gone? The last eight years have seriously been a total whirlwind. I almost feel like she's eight going on 16. I think this is one of those cusp years; one where we are on the bridge to change. I can already see her changing from her little girl ways – even though she's still little! She's gone from being obsessed with princesses and Barbie to asking for a guitar and rock star clothes for her birthday.
I look at Jordan and I see so much of me but it's weird, because I see so much of my husband too. I don't think I've ever seen a person who is so much 50% of each parent – but she's totally it. She's my little twin…and she acts just like her daddy. A pretty good combo, I think.
Anyway, I'm going to shout it from the rooftops for a second…
HAPPY BIRTHDAY JORDAN!!!
Okay good. Now onto cake. A Chocolate Mint Poke Cake, to be exact.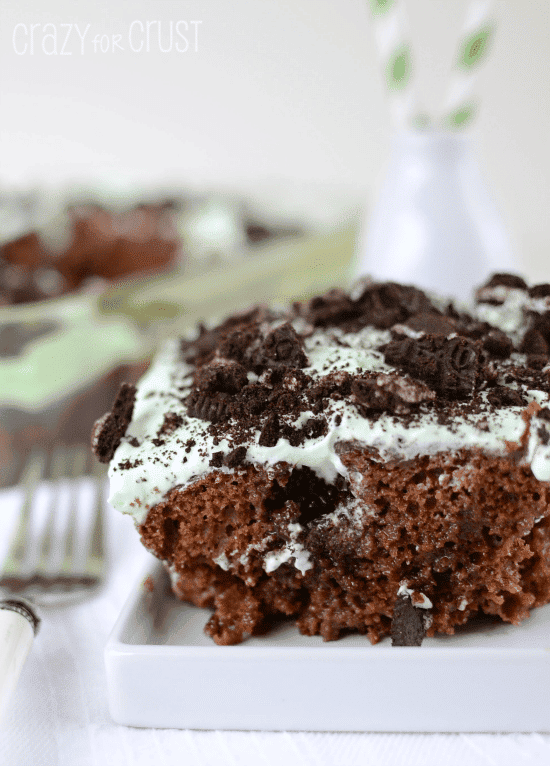 Did you know that today was National Chocolate Mint Day? I had no idea, until a few weeks ago when I posted about food holidays. Until that morning, I had been planning to make Jordan a Kit Kat cake, the one you've seen all over Pinterest. Then she decided she wanted a chocolate mint cake. An hour later I was writing that post and realized that her birthday was also Chocolate Mint Day. It was too much of a coincidence for me to ignore it!
I don't know what made me think of a poke cake, but I'm glad I did! This cake is SO easy to make. Whenever Jordan asks me for a chocolate cake, I have to use cake mix. Any from-scratch cake is "too chocolatey" for her. So the base of this cake is a milk chocolate cake mix. Then I infused sweetened condensed milk and hot fudge ice cream topping with peppermint extract. While the cake is warm from the oven, you poke holes in it with the back of a wooden spoon and slather it with the milk and the hot fudge. This makes the cake gooey and rich and amazing. It's probably where the Better Than… part of the title comes from!
I topped the cake with whipped topping that had been flavored with more peppermint extract and colored with a few drops of green food coloring so it screams "I'm minty!"
And well, the crushed Oreos on top never hurt a thing, and they add a little crunch.
This cake is not only a great birthday cake…but it would be perfect for St. Patrick's Day too!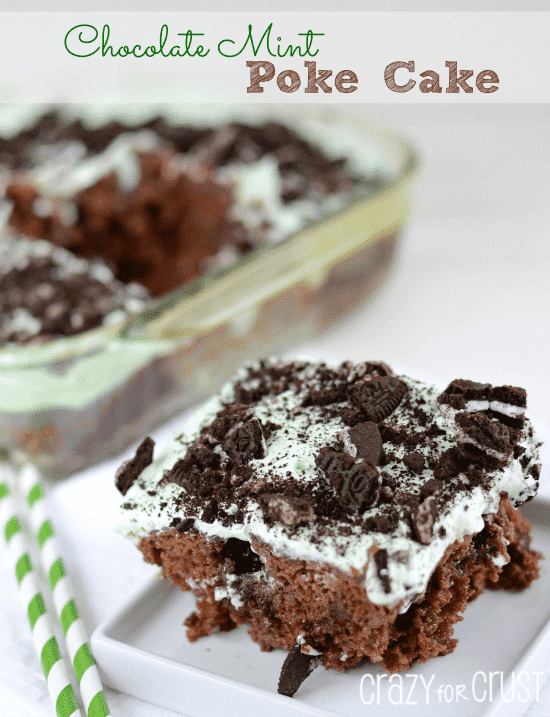 Chocolate Mint Poke Cake…poked with love and birthday wishes. How's that for cheesy?
Jordan would fall off her chair laughing if I said that to her. She has her daddy's humor, and it's one of the many things I love about my baby. My big girl eight year old baby.
*sobbing*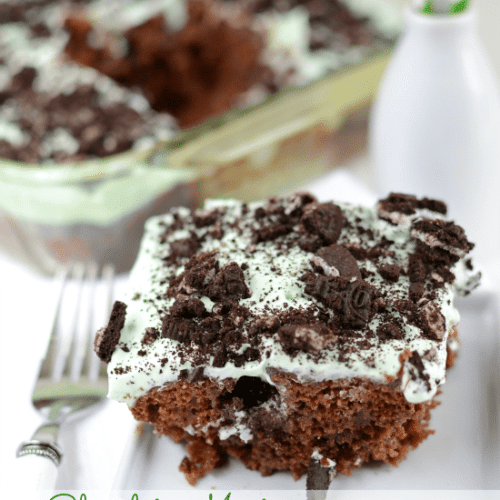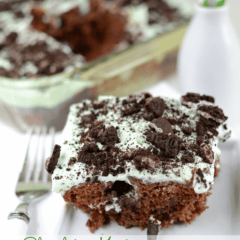 Chocolate Mint Poke Cake
Chocoalate cake poked and filled with a sweet peppermint mixture, topped with mint whipped cream and Oreos!
Ingredients
1

chocolate cake mix

9x13 pan size, plus water, oil, and eggs on the box to make the cake

1

can

14 or 14.5 ounces sweetened condensed milk

1

jar

10-12 ounces hot fudge ice cream topping

1 1/4

teaspoons

Peppermint Extract

divided

8

ounces

whipped topping

thawed

3-4

drops green food coloring

1

cup

Oreos

crushed
Instructions
Mix and bake cake according to the box directions. When a toothpick comes out clean, remove from oven and let sit for 5 minutes.

Place sweetened condensed milk in a small bowl. Stir in 1/2 teaspoon peppermint extract. (You can also do this in the can without transferring to a bowl, if you want to save a dish!)

Remove lid from jar of hot fudge sauce. Heat in microwave for about 30-60 seconds, until it is pourable. Be careful not to heat it too much without stirring, you don't want it to burn. Stir in 1/2 teaspoon peppermint extract.

Once the cake has cooled for 5 minutes, poke several holes in the top with the back of the handle of a wooden spoon. Pour the sweetened condensed milk over the cake, making sure it gets in all the holes. Spread with a spatula if needed.

Pour the hot fudge sauce over the top of the cake, making sure to get it in all the holes. Spread with a spatula if needed. Cool the cake completely before continuing.

Open thawed whipped topping. Stir in 1/4 teaspoon peppermint extract and 3-4 drops green food coloring.

Spread over cooled cake and sprinkle with crushed Oreos. Chill for several hours (or overnight) before serving.

Best served room temperature.
Nutritional information not guaranteed to be accurate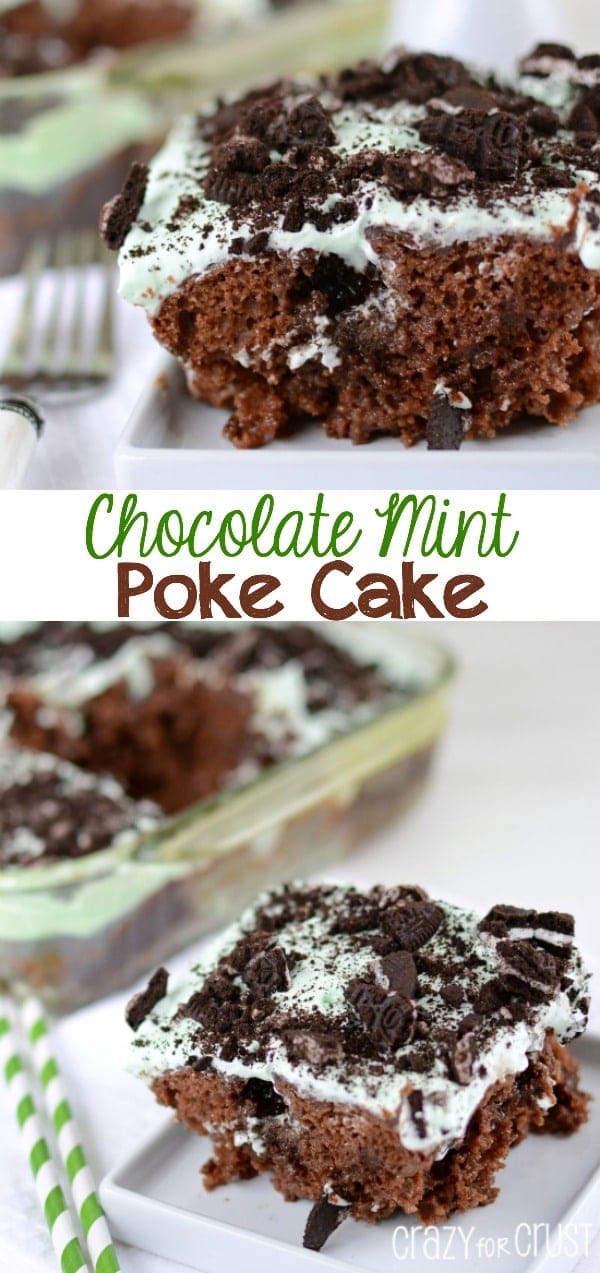 Mint Chip Chocolate Chip Cookies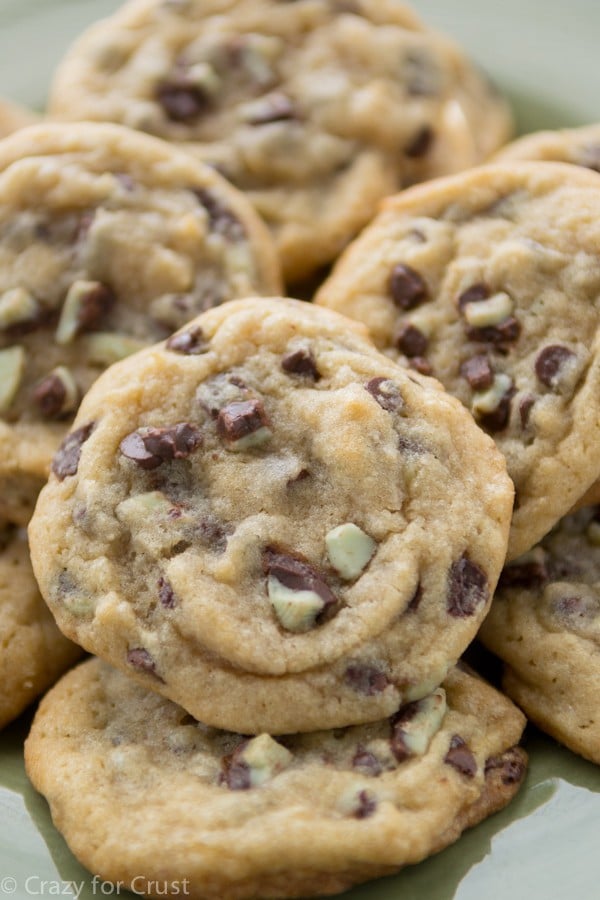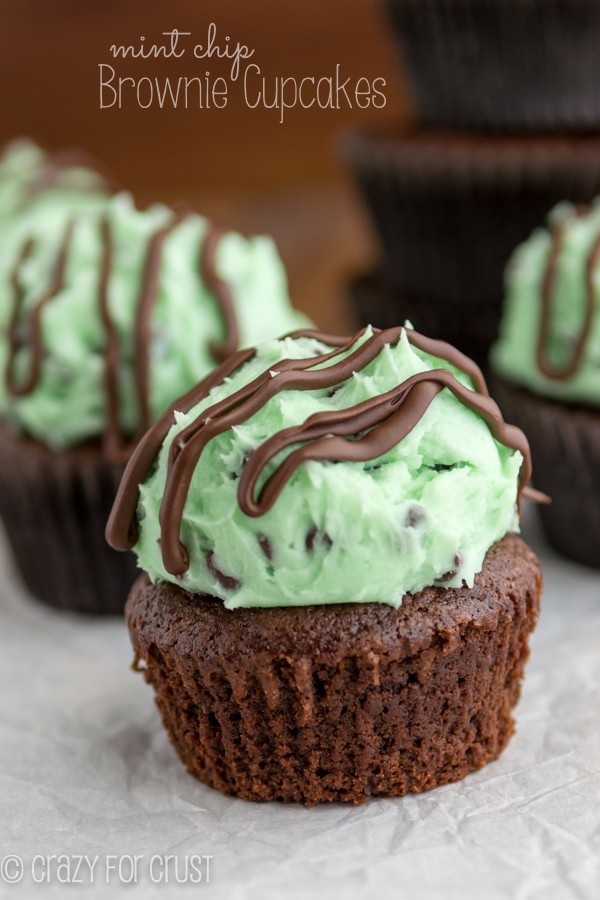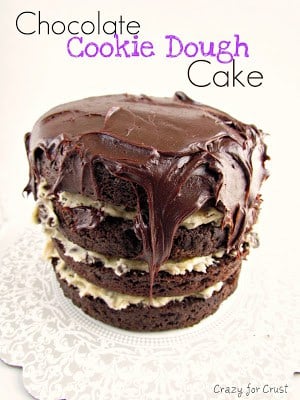 Brownie Ice Cream Birthday Cake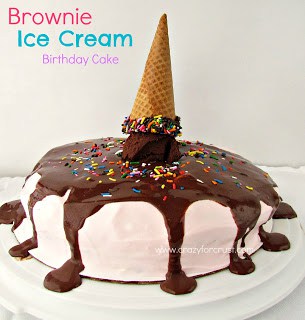 Pokes from friends:
Oreo Pudding Cake by Lil' Luna
Better than anything S'more Cake by Chef In Training
Red Velvet Poke Cake by Something Swanky
Last Updated on August 21, 2018