This post may contain affiliate links. For more information, read my disclosure policy.
Learn all about how to zest a lemon or any citrus (limes and oranges too)! This easy technique is something you can do to add tons of flavor to any recipe, whether it's a lemon recipe or not.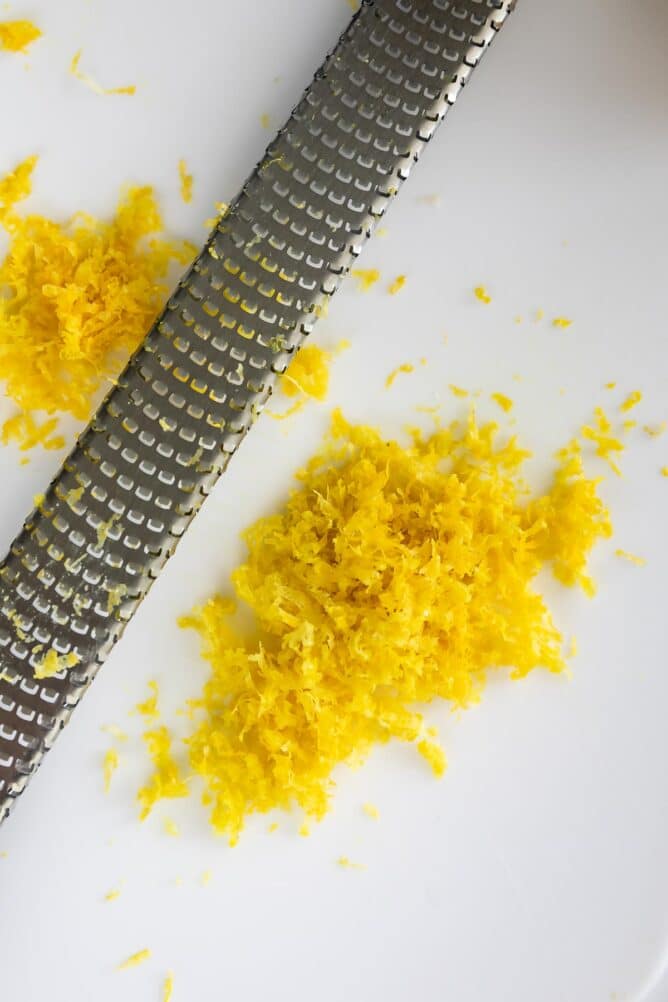 EASY Way to Zest a Lemon
Lemon zest (or any citrus zest) is used to add flavor to tons of different recipes. Whether you're making dinner or dessert, often recipes will call for zest. Today I'm going to teach you how to do this and what tools you need.
How to Zest a Lemon Video
What is Lemon Zest?
Lemon zest is the yellow outer layer of the fruit. Similarly, lime zest is the green and orange zest is the orange outer layer.
Zest is where a ton of citrus flavor lives. In fact, recipes where you add zest will have more of the fruit flavor than if you just add juice.
Lemon Zest is just the yellow layer, while the Lemon Peel is the yellow layer plus the white layer underneath. The white layer is called the pith, and it's a bitter and not-to-tasty part of the fruit.
What tools do you need to zest a lemon?
1. Microplane – a microplane is the easiest and best way to zest. It's a long skinny grater tool made for zesting. It's easy to grip and easy to clean the zest off the other side.
But what if you want to know how to zest a lemon without a zester? Here are some other options:
2. Box Grater – a regular box grater usually has 4 sizes of holes, one on each side. The smallest side can be used to zest. The only problem with this is it's hard to clean off and get all the zest into your recipe.
3. Vegetable Peeler – if you don't have either of those, use a vegetable peeler to peel off just the yellow part of the lemon. This is also good if you want lemon as garnish, or for cocktails. Need it smaller? Mince it once you have it peeled.
4. A Knife – a small pairing knife is another good way to get the peel off, similar to using the vegetable peeler. Mince it to use it as zest.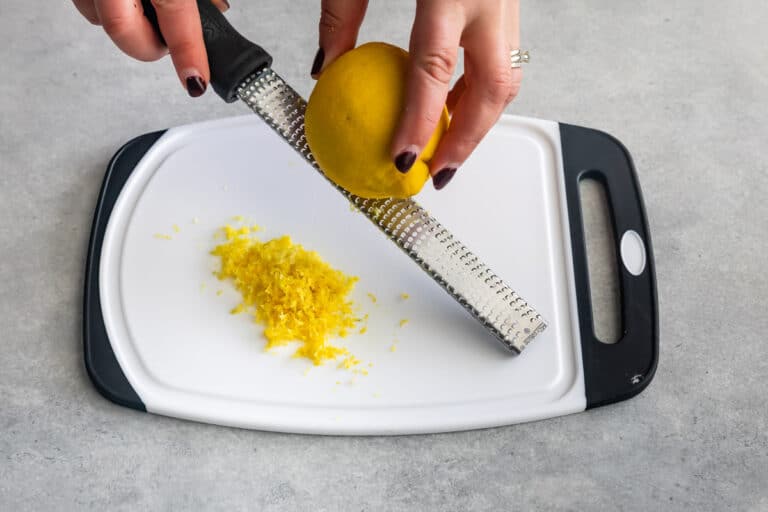 How to Zest a Lemon with a Microplane
First, wash your fruit.
Second, position your microplane or grater over a plate or cutting board.
Then, run the lemon up and down over the surface, scraping off the yellow skin.
Lastly, be sure to flip the microplane over and clean out the zest on the back side.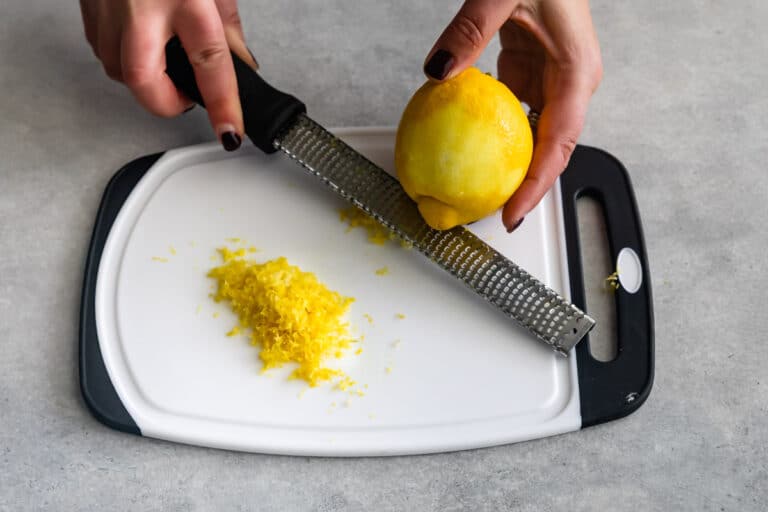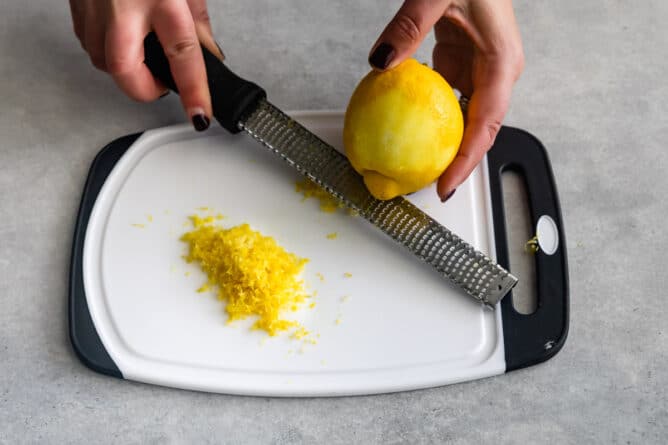 Most Important Zesting Tip
The most important thing to remember when zesting any citrus is to ONLY take off the colorful part (yellow, green, orange). Once you see the white part, stop. Don't zest the pith because it's bitter and you don't want it in your recipe.
How to Zest without a Microplane
To use a Box Grater: Run the lemon up and down the smallest side of the grater, being careful not to grate the pith.
To use a Vegetable Peeler: hold the lemon firmly and press the peeler into the surface, peeling off only the yellow skin. Dice the strips to use as zest, or use them for cocktails or to flavor sugar or oil.
To use a Pairing Knife: hold the lemon firmly on a cutting board and use your knife to carefully cut away only the yellow part of the fruit. Dice the strips to use as zest, or use them for cocktails or to flavor sugar or oil.
FAQ
How long does lemon zest last?
You should use your zest immediately for best results.
How to store citrus zest?
Freeze any unused zest in an airtight container or bag for up to 6 months. We also love adding extra zest to ice cube trays with water to make lemon ice!
How much zest is there in one lemon?
One medium lemon has about 1 tablespoon lemon zest. It does depend on the size of the lemon though.
How much zest is there in one lime?
It depends on your limes – they range wildly in size depending on where you live and time of year. You can get anywhere from 1 teaspoon to 1 tablespoon lime zest from a lime.
Can I juice a lemon once it's been zested?
Yes for sure – it's much easier to zest first, juice last. Don't waste your zested lemons – slice and juice and freeze any leftover juice!
How to use Lemon Zest
You can use zest in so many recipes, whether the recipe calls for lemons or limes or not. Here are some of my favorite ways to use it:
Have you made this recipe?
Tag @crazyforcrust on Instagram or hashtag it #crazyforcrust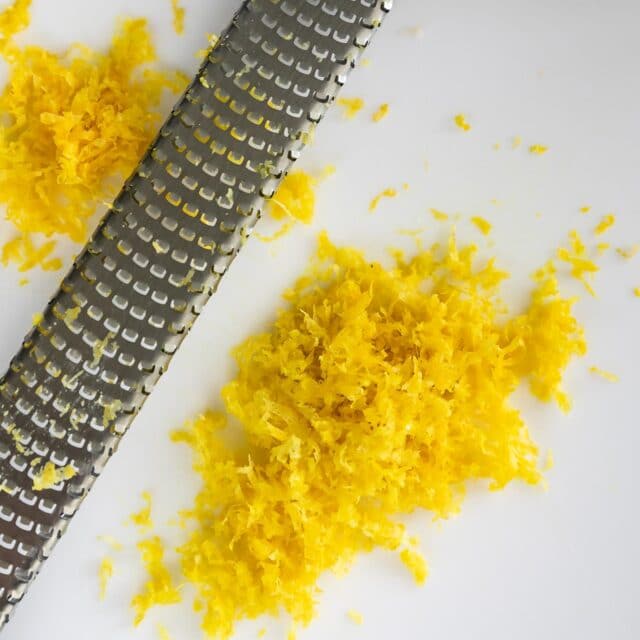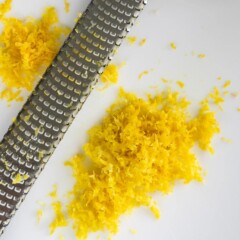 How to Zest a Lemon
Learn all about how to zest any citrus fruit to use in any recipe!
Equipment
Microplane, Box Grater, Vegtable Peeler or Knife
Instructions
Using a microplane or box grater: run the lemon over the sharp edges, peeling away only the yellow skin.

Using a peeler or knife: run the tool over the skin, cutting away just the yellow part. Mince as needed for your recipe.

Beware the white pith – stop zesting when you see white.
Recipe Nutrition
Serving:
1
serving
|
Calories:
31
kcal
|
Carbohydrates:
10
g
|
Protein:
1
g
|
Fat:
1
g
|
Saturated Fat:
1
g
|
Sodium:
2
mg
|
Potassium:
149
mg
|
Fiber:
3
g
|
Sugar:
3
g
|
Vitamin A:
24
IU
|
Vitamin C:
57
mg
|
Calcium:
28
mg
|
Iron:
1
mg
Nutritional information not guaranteed to be accurate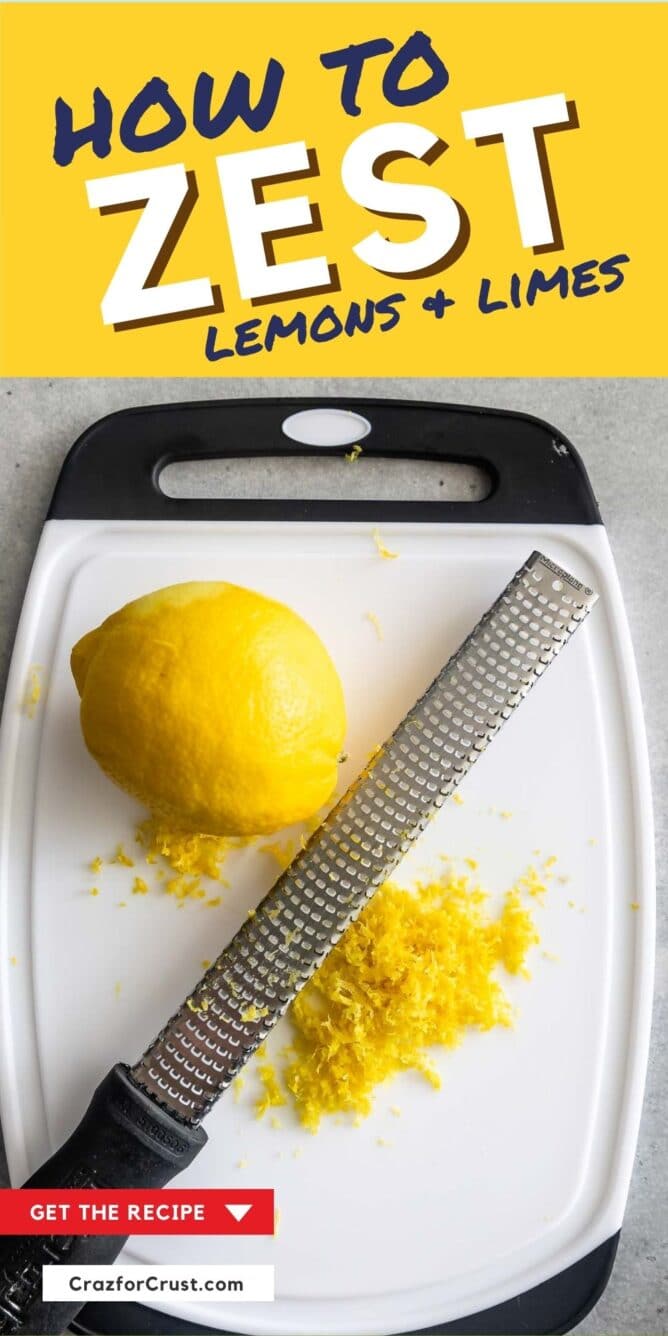 Learn how to zest a lemon for any recipe – with or without a microplane! This method can be used for lime or orange zest too! Use zest in any recipe to add tons of flavor.
Last Updated on August 3, 2021