Easy Fluffy Pancakes Recipe
This post may contain affiliate links. For more information, read my disclosure policy.
Looking for an Easy Fluffy Pancake Recipe? My Buttermilk Pancakes are the perfect pancake recipe! You'll never use a mix again once you try this recipe.
This recipe is also so versatile – you can easily make blueberry pancakes or sprinkle pancakes by just adding your favorite mix-ins!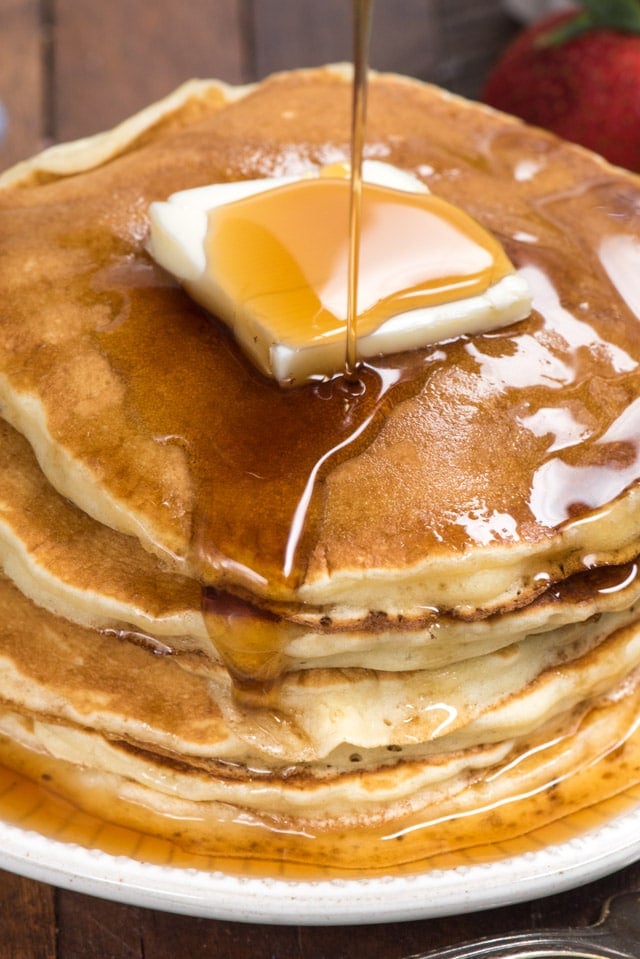 We love pancakes in my house! I don't make them often anymore but every once in awhile I just crave them. I can almost taste them, drenched in butter and syrup, just by looking at these photos.
When Jordan was little she LOVED pancakes so much. Basically she viewed pancakes as a vehicle for syrup (that is, until I discovered sprinkle pancakes). She would beg me for pancakes every morning and, if I was in a good mood, I'd often say yes.
Here's the thing about pancakes: they're easy to make but they take a bit of time because you have to flip each one. In order for a little kid to have pancakes for breakfast when they get up with the sun, mom has to be willing to make pancakes in the dark, and I (still) rarely have that urge. That's when I learned one of the most valuable pancake making secrets: you can make them ahead of time!
That's right: most often when I make pancakes I make them the night before and then just rewarm them up for breakfast. Jordan never cared: she just wanted pancakes!
Fluffy buttermilk pancakes whisk up easily and fast, so you don't really need a box mix. I was raised on box pancakes but as an adult I fell in love with this slightly sweet and super fluffy recipe and I haven't gone back. It makes a perfect 8 pancakes for a small breakfast or you can double the batch for larger families.
This easy fluffy pancake recipe makes perfect buttermilk pancakes that your whole family will love.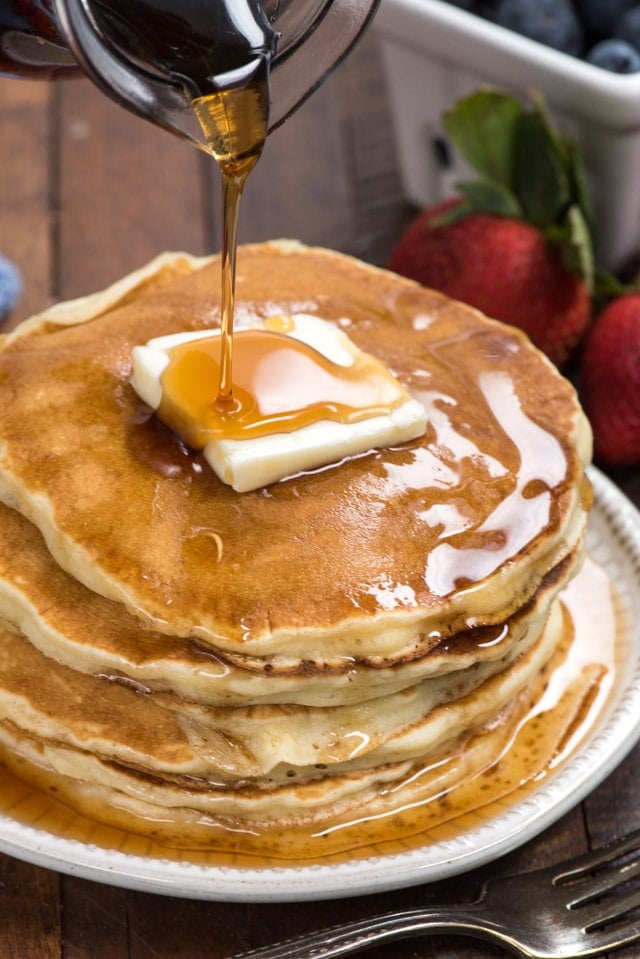 When Mel and I were first dating he'd take me to a (now closed) breakfast place and their pancakes were to die for. They were big and super fluffy and not quite done in the center and I can still taste them. That's how I modeled this pancake recipe.
Fluffy is a word we throw around a lot when we talk about pancakes and waffles, but fluffy just means that your pancakes have risen.
What causes pancakes to rise?
This recipe is extra fluffy because it uses a combination of buttermilk, baking soda and baking powder. Baking powder is most often used in pancakes because regular pancake batter doesn't contain acid that would activate baking soda. However, this fluffy pancake recipe uses both baking powder and baking soda and the baking soda is activated with the acid in the buttermilk. The extra leavening and the acid results in an extra fluffy pancake recipe.
The secret to fluffy pancakes is using baking soda, baking powder and buttermilk!
Read here more information on baking soda vs baking powder.
Why are my pancakes not fluffy? Why are they so thin?
Chances are one of three things happened during the chemical reactions to cause your pancakes to be flat:
Check the expiration date of your baking soda and baking powder in case it's old.
Your pan was not hot when you added your batter. Baking powder is double-acting; the first reaction occurs when mixed and the second when heat is added. If the pan wasn't hot enough the baking powder won't be activated correctly.
Did you mix your ingredients and then let it wait before cooking? When cooking or baking with baking soda, you need to cook immediately after mixing. The chemical reaction between baking soda and the buttermilk happens right away and if you let the batter sit too long the bubbles will flatten out, causing flat pancakes.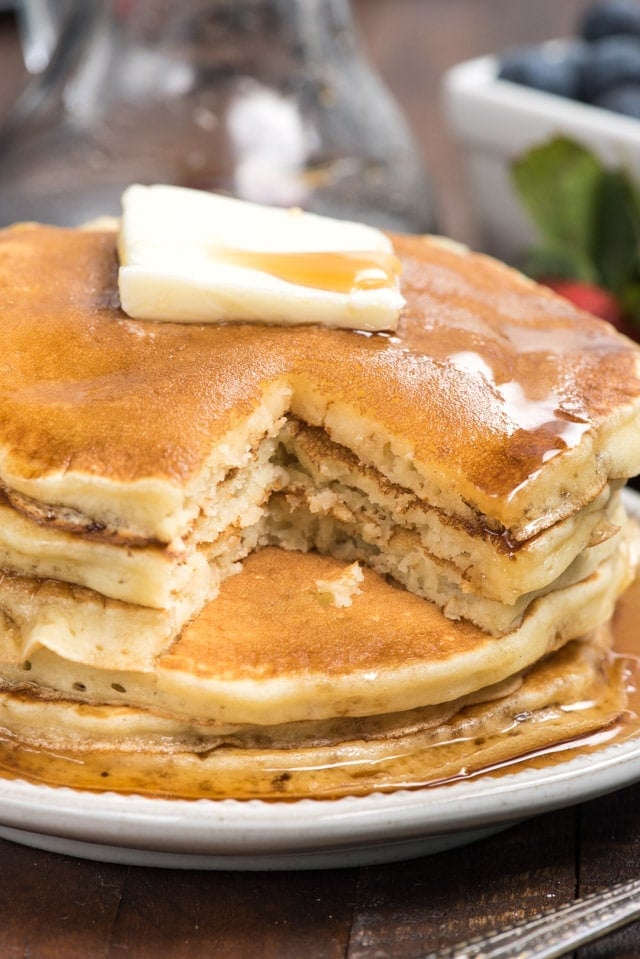 Change up this pancake recipe by adding blueberries or other flavors!
You can easily change up this fluffy pancake recipe by adding new flavors into the batter. Here are some ideas:
Add 1 cup blueberries or other small fruit
Add 1 cup chocolate chips (mini chocolate chips are best)
Add 1 cup of sprinkles
Add some orange or lemon zest
Add 1 teaspoon of cinnamon
Fold chopped cooked bacon into the batter
The sky is the limit: this pancake recipe is a blank slate for your creative breakfasts!
Making pancakes ahead of time and reheating instructions
As I mentioned, you can make pancakes ahead of time. I often make them the night before and then put them in the refrigerator. To reheat you can use the microwave or even the toaster or toaster oven.
I also love freezing pancakes so we always have some at the ready. Freeze them in a gallon size ziploc bag with sheets of paper towel between each. Reheat using the microwave or toaster.
I freeze almost all of my recipes, didn't you know?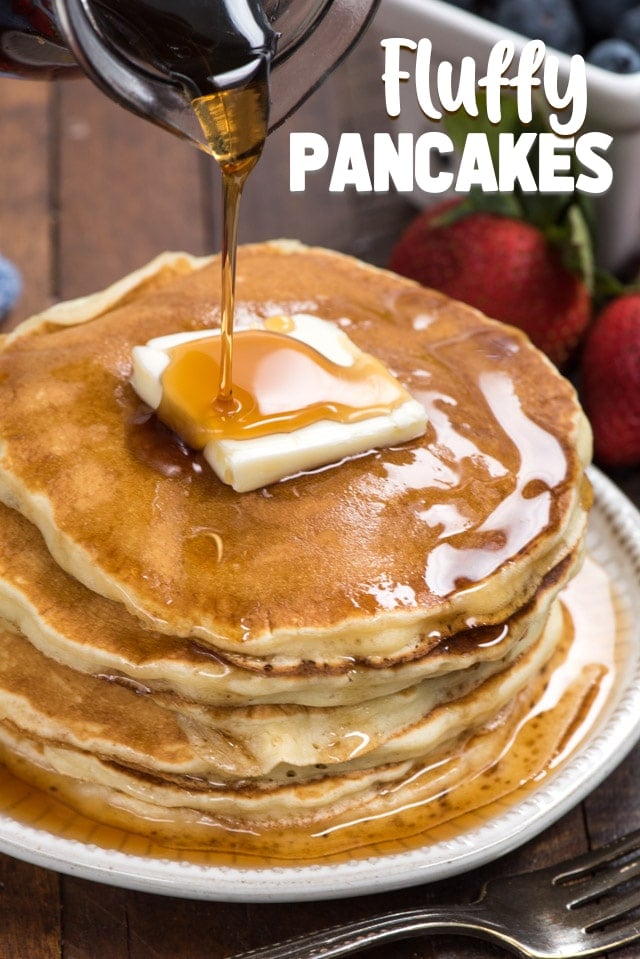 Easy fluffy pancakes are the perfect breakfast for any day. If you're a morning person, make them up all at once on a griddle or make them the night before so you can sleep in!
Pancake recipes we love:
Tools for success:
I absolutely love making pancakes on my Cuisinart Griddler. You can fold it all the way open and make six at a time!
Want even more? Subscribe to Crazy for Crust to get new recipes and a newsletter delivered to your inbox. And stay in touch on Facebook, Pinterest, Twitter, and Instagram for all my latest updates. If you make this recipe, share a photo on social media tagging @crazyforcrust and using the hashtag #crazyforcrust.
Servings: 8 pancakes
Easy Fluffy Pancake Recipe
This easy fluffy pancake recipe is homemade and makes the best ever buttermilk pancakes!
Ingredients
1 cup all-purpose flour
2 tablespoons granulated sugar
1/4 teaspoon salt
1/2 teaspoon baking soda
1 teaspoon baking powder
1 large egg
2 tablespoons vegetables oil — or melted butter
1 cup buttermilk
Instructions
Preheat griddle 350°F or heat frying pan over medium heat until a fleck of water "dances" in the pan.

If using milk, add vinegar or lemon juice to the milk and let it sit while you whisk the dry ingredients.

Whisk flour, sugar, salt, baking powder, and baking soda.

Add egg, lemon juice, milk (or buttermilk), and oil. Whisk until combined (batter may be slightly lumpy). Cook pancakes immediately so the bubbles created by the baking soda don't dissipate.

You'll know your pan is hot when the water dances: flick a bit of water on the pan. If it dances around (i.e. boils), your pan is ready. If it sits, let it heat up a bit longer.

Cook pancakes, flipping halfway, on griddle or in pan greased with cooking spray. You know they're ready to flip when the bubbles form on the top and start to pop and the bottom is golden. Serve warm with syrup.

Freeze between paper towels in a ziploc bag for up to one month. Reheat in the microwave.
Course: Breakfast
Cuisine: American
Keyword: pancakes
Nutrition Information
Amount per serving (1 pancake) — Calories: 126, Fat: 5g, Saturated Fat: 4g, Cholesterol: 24mg, Sodium: 181mg, Potassium: 115mg, Carbohydrates: 17g, Fiber: 1g, Sugar: 5g, Protein: 3g, Vitamin A: 80%, Calcium: 62%, Iron: 0.9%
**Did you make this recipe? Don't forget to give it a star rating below!**