This post may contain affiliate links. For more information, read my disclosure policy.
Butter Pecan Pancakes – this easy recipe is the BEST PANCAKE RECIPE EVER. The flavor tastes just like butter pecan ice cream, especially with the butter pecan syrup!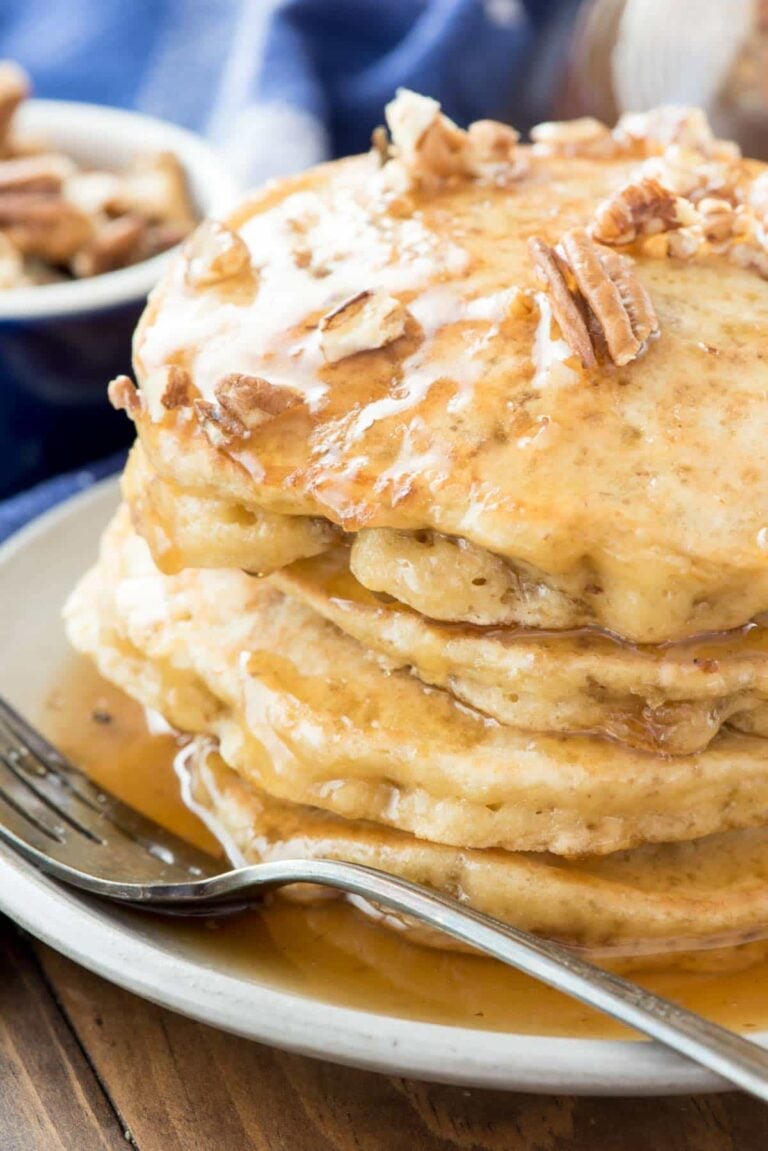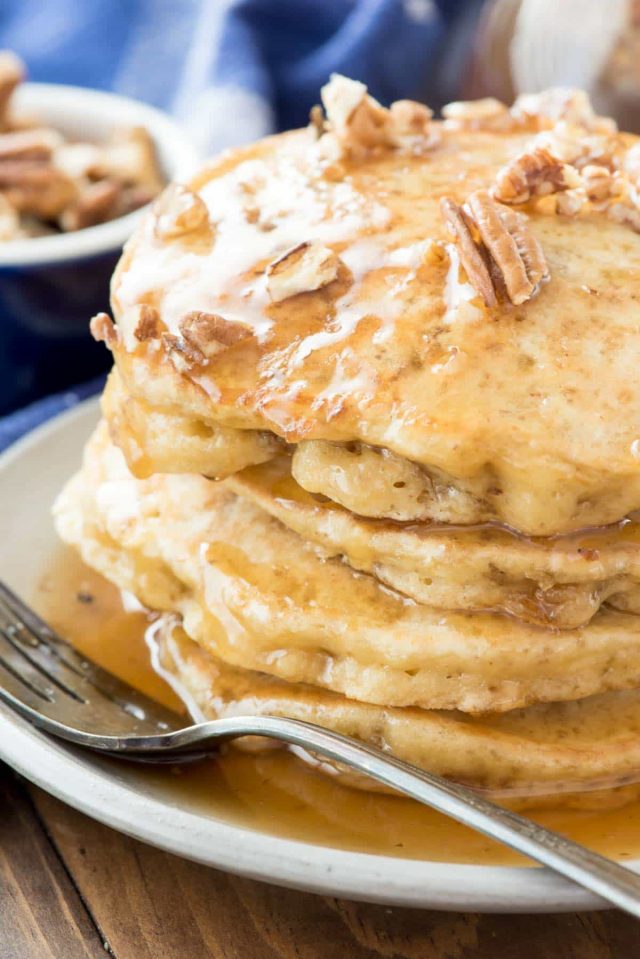 It's kind of freaky how Google just KNOWS me. On my phone, on my computer…it just knows what I want even if I haven't been searching for it. Does it do that to you? You know, when you start typing in a question like "how do I make…" and it suggests answers for you? Sometimes it knows what I'm asking and I'm not sure how. Does my phone read my mind? Are the robots taking over the world?
We've been watching the Showtime series Homeland this summer. (It's really, really good and I totally recommend it, by the way.) We're on season 3 and one of the characters goes to Iran and speaks french to the hotel staff. I wasn't sure why they were speaking french in Iran, so I turned to Google. I typed "Why do they speak french…" and the suggestions popped up, the second choice being "…in Iran" so I clicked it. (I've never searched that before, so google read my mind that I wanted to know, obviously.)
You guys. It didn't open up to a search page. It opened up in quora (whatever that is) with the page titled, wait for it:
In Homeland, why does Carrie speak French in an Iranian hotel?
I almost screamed and dropped the phone. BIG BROTHER IS LISTENING.
Seriously, the same exact thing happened when I was searching butter pecan the other day. I typed in butter pecan and what did I get? PECAN PANCAKES. Everyone else in the world types butter pecan and gets ice cream. Me? I GOT PANCAKES. And it was breakfast time. AND I WAS HUNGRY.
It was a sign from the google gods. I needed to make pancakes. And that, my friends is how I created the BEST PANCAKE RECIPE YOU'LL EVER EAT.
Butter Pecan Pancakes is the best pancake recipe you'll ever eat.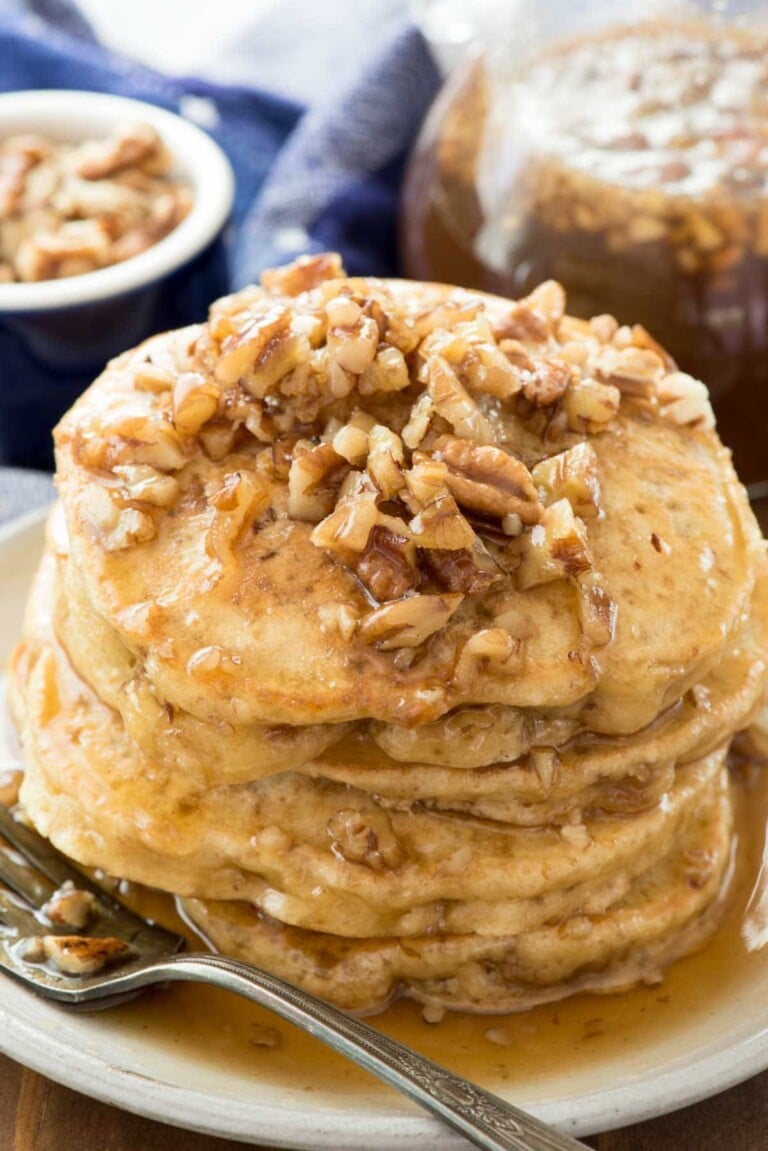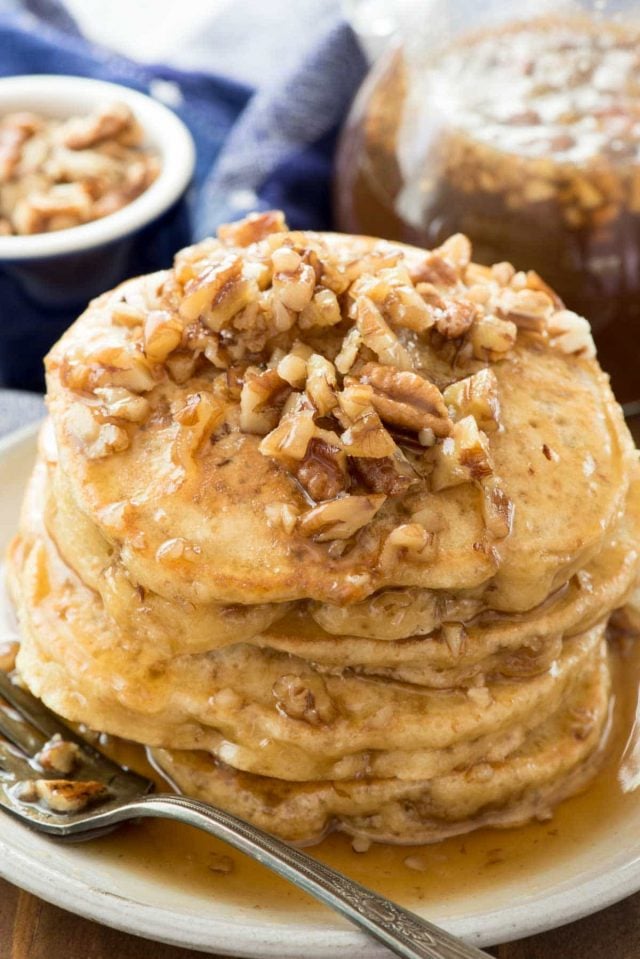 First of all, the smell. The smell of these pancakes made me think I was making ice cream on the griddle. My mouth is watering right now just thinking about them. They tasted like cupcakes. Or muffins. Or butter pecan ice cream.
Seriously, I will NEVER EVER make another pancake recipe. The butter pecan in the pancakes plus the butter pecan syrup? OMG just get me a wheelbarrow because that's how they're rolling me out of my house forever and ever goodbye.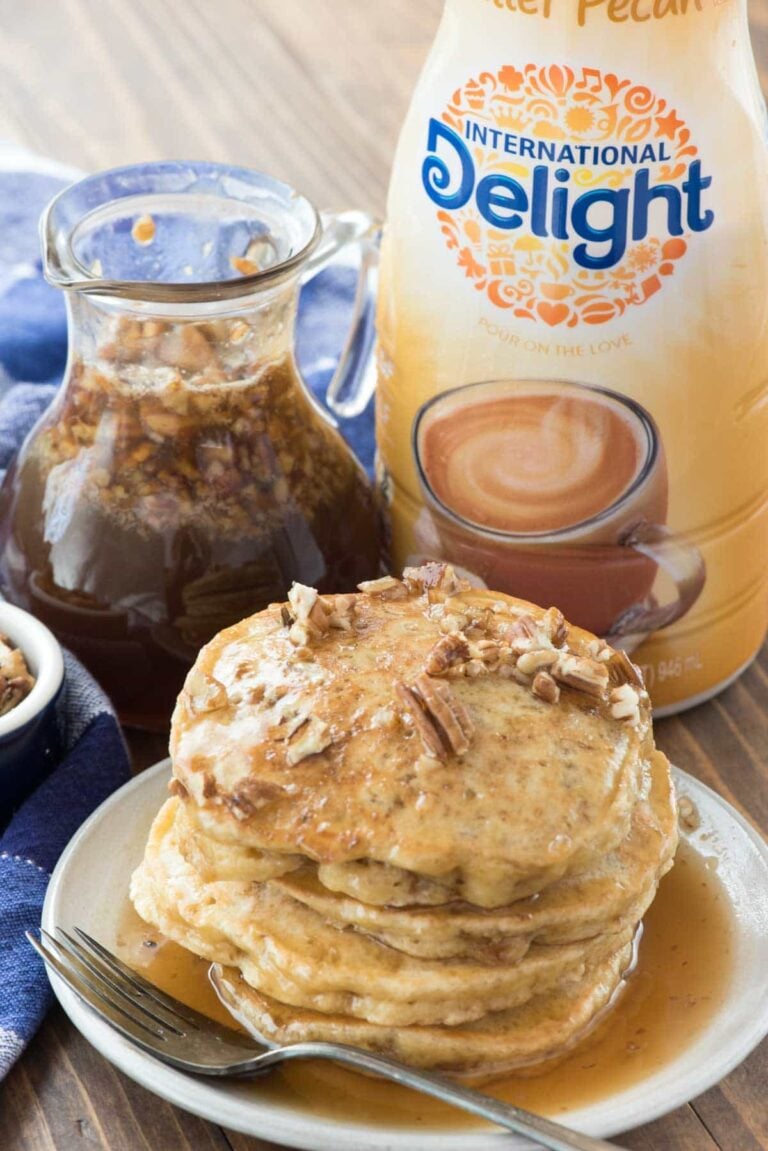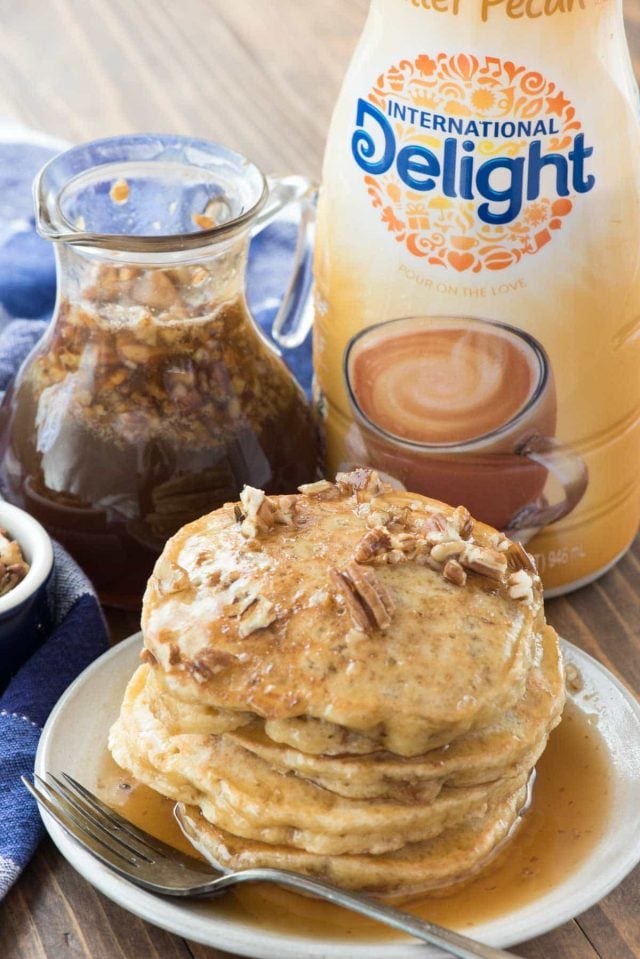 How did I make these butter pecan flavored? With International Delight Southern Butter Pecan Coffee Creamer, of course. As you all know I love my International Delight and I use it in all sorts of recipes, like ice cream and cheesecake and cookies and french toast. Anything you can use milk in, you can use creamer. PANCAKES ARE NO EXCEPTION.
Sorry for shouting, I'm just so darn excited about this recipe. I cannot even express how good they were. I know I say that a lot about what I make but these? *drooling*
Pancakes are such an easy recipe that it's easy to flavor them up with coffee creamer. There are so many options! Plus, if you happen to be out of milk and still want pancakes (#truestory) you can still make them from scratch!
And, um, don't forget the butter pecan syrup. Just give me a straw!

I started with my favorite pancake recipe and worked backwards to get this fabulous version. Let's break down the recipe:
Instead of granulated sugar, I used brown sugar instead. To me, brown sugar and butter pecan go well together.
Instead of adding milk, I used the aforementioned coffee creamer. The smell of just the creamer is amazing!
I added chopped pecans to the batter.
Don't over cook these pancakes!
The syrup isn't mandatory but butter + real maple syrup? And vanilla? Heaven, and it compliments the pancake flavor perfectly.
Happy breakfast!
Check out International Delight on Instagram, Twitter, and Facebook.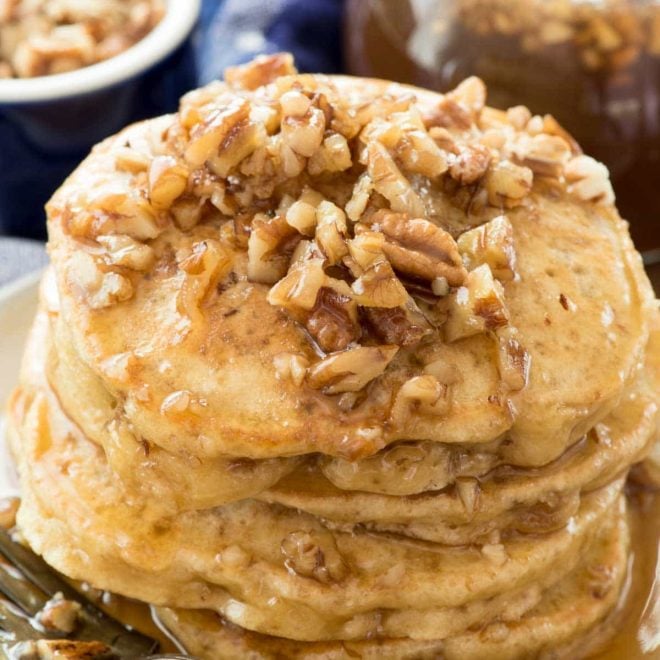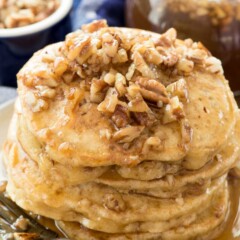 Butter Pecan Pancakes
Butter Pecan Pancakes - this easy recipe is the BEST PANCAKE RECIPE EVER. The flavor tastes just like butter pecan ice cream, especially with the butter pecan syrup!
Ingredients
Pancakes:
1 1/2

cups

all purpose flour

3

tablespoons

packed brown sugar

2

teaspoons

baking powder

1/2

teaspoon

salt

2

large eggs

1 1/4

cups

International Delight Southern Butter Pecan Coffee Creamer

3

tablespoons

unsalted butter

melted

1/2

cup

chopped pecans
Syrup:
1

cup

pure maple syrup

4

tablespoons

unsalted butter

melted

1

teaspoon

vanilla

1/4

cup

chopped pecans

optional
Instructions
Preheat griddle to 350°F.

Whisk flour, brown sugar, baking powder, and salt in a large bowl. In a large measuring cup, whisk the eggs, coffee creamer, and melted butter. Whisk the wet ingredients into the dry and then stir in pecans. Batter will be thick and slightly lumpy.

Scoop batter onto hot griddle after spraying with nonstick cooking spray. Bake until brown on both sides.

To make syrup: melt butter in a saucepan over medium heat. Add syrup and bring to a boil. Cook for 5 minutes at a low boil. Remove from heat and add vanilla and pecans. Serve warm over pancakes. (Use immediately, reheat once syrup cools and solidifies.)
Nutritional information not guaranteed to be accurate
Click HERE for more PANCAKE & WAFFLES recipes!
See more of my coffee creamer recipes here!
Click here for more Brunch Recipes!
This is a sponsored conversation written by me on behalf of International Delight. The opinions and text are all mine.
Last Updated on February 2, 2023