This post may contain affiliate links. For more information, read my disclosure policy.
Crockpot Apple Butter is so easy to make! Not only does it taste fantastic spread on toast, but it also makes your house smell amazing while it cooks. This recipe for making apple butter is my go-to and couldn't be easier – it's one of my favorite fall crock pot recipes.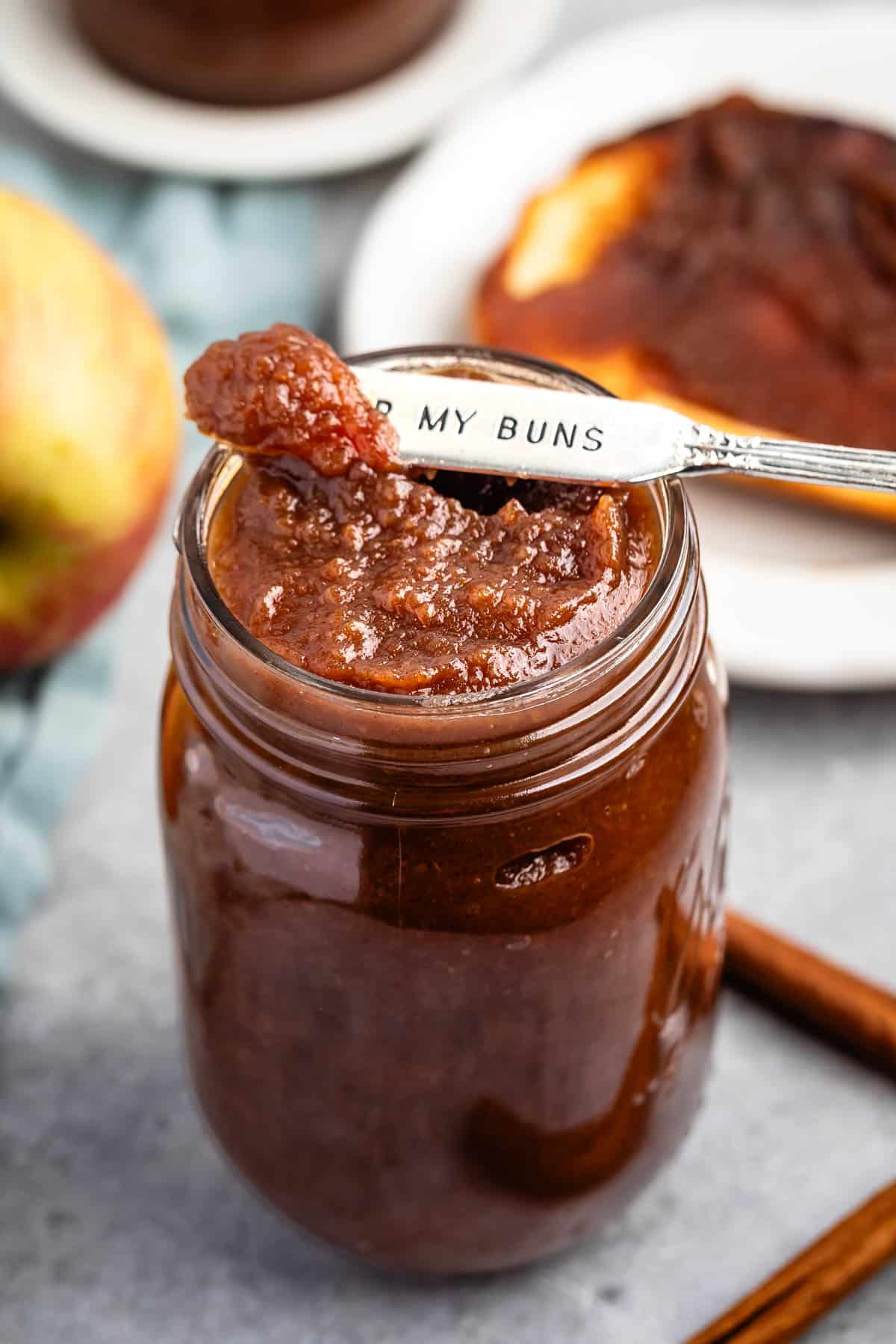 Easy Crockpot Apple Butter Recipe
Do you ever see those jars of apple butter at specialty grocery stores? You know, the ones with the adorable labels and big price tags? I used to buy them because I did not realize how easy it is to make your homemade apple butter.
Why you'll love this recipe
Apple butter takes a while to cook, so using the slow cooker to make it is perfect. It's a few easy steps, and then you leave them to cook until they're softened.
You don't have to peel the apples if you don't want to!
If you've ever made homemade applesauce, this is a similar process – it just takes a little longer to cook.
Slow cooker apple butter tastes like fall, and it makes your house smell like fall, too, while it cooks.
What is the Difference Between Applesauce and Apple Butter?
They are very similar, but applesauce is not cooked as long as apple butter. Apple butter has a deep golden color which is the caramelization that happens while they cook. It's also pureed and then reduced until it's thickened and spreadable.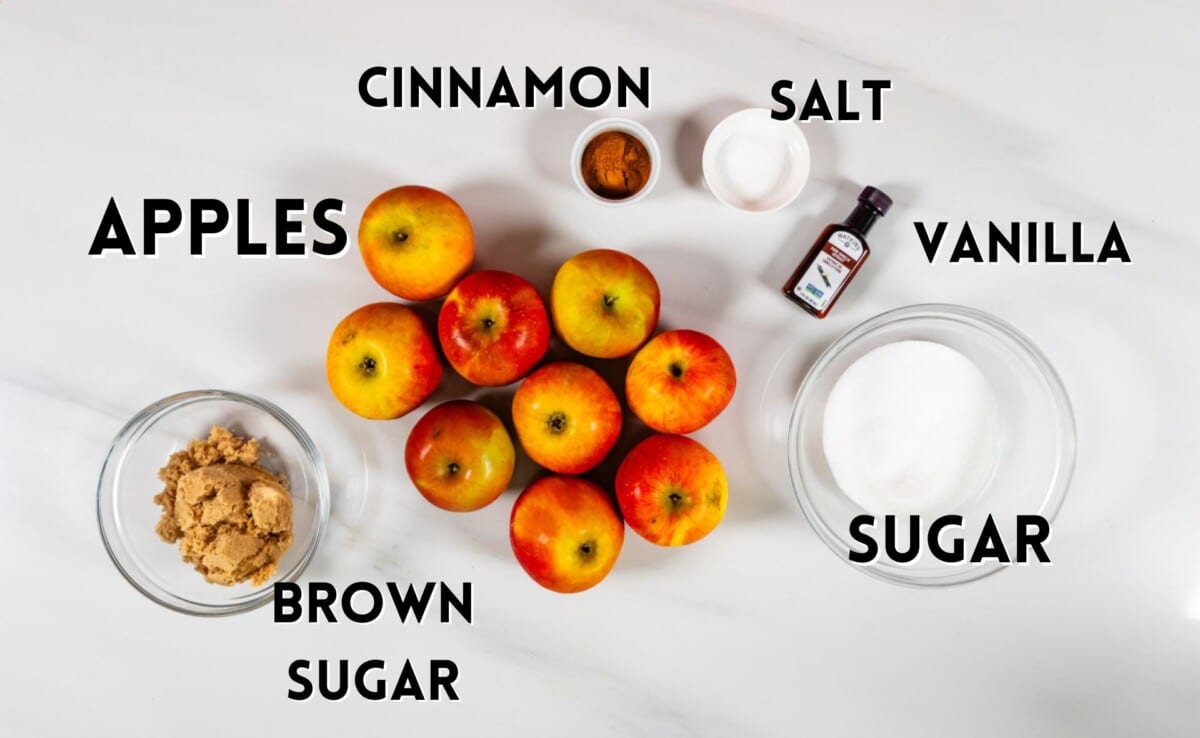 Important Ingredients
Apples: Sweeter apples like fuji, gala, Honeycrisp, Golden Delicious red delicious, or similar work well for apple butter. You need about 3 pounds apples.
Sugar: This recipe uses both Granulated Sugar and Brown Sugar.
Cinnamon: Ground cinnamon is a MUST in any apple butter recipe!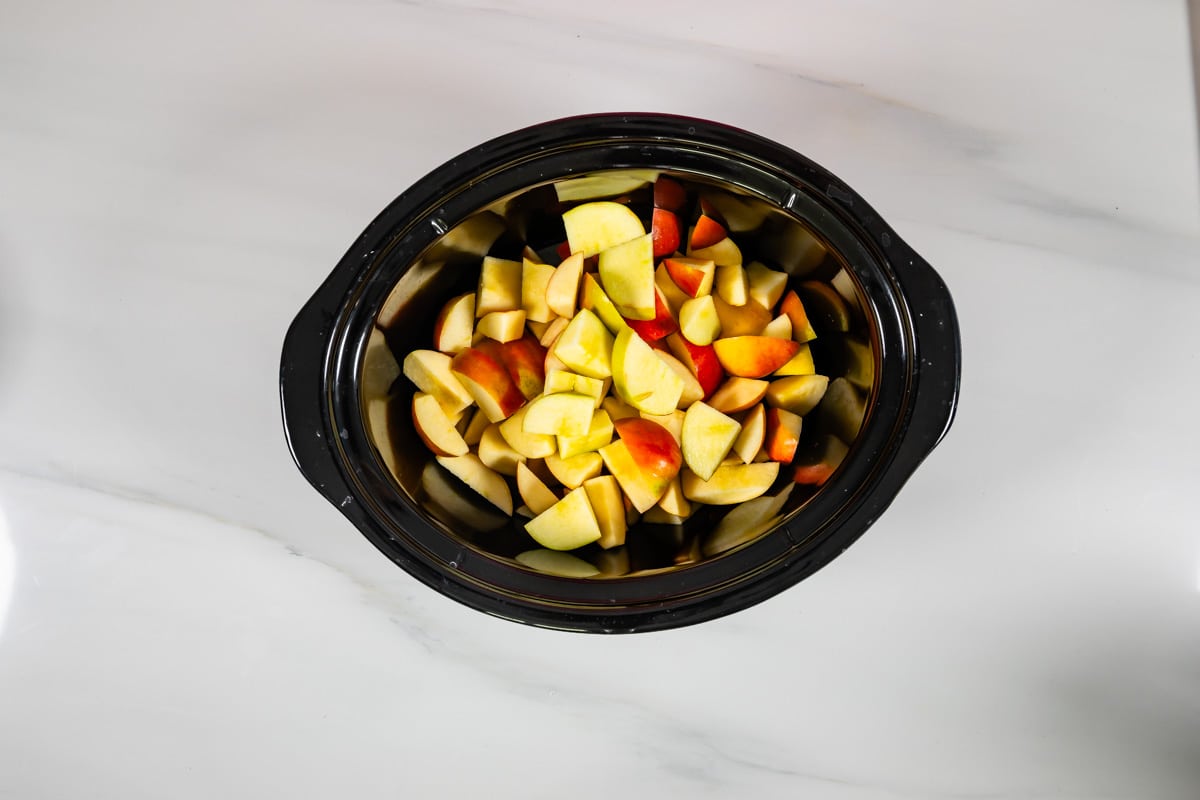 How to Make Apple Butter
Slice and core the apples: I leave the skins on, but you can peel them if you prefer. Cut the apples into small chunks, so they cook faster.
Add to Crock Pot: Place apples in the bottom of a 7-quart slow cooker and top them with both kinds of sugar and cinnamon. Toss them to coat them evenly.
Cook: Cover the crock pot and cook the apples on high for three to five hours. Stir them after two hours.
Puree: Once the apples are cooked, puree them with an immersion blender or in a blender.
Thicken: Cook the pureed apples for 30 minutes to an hour longer on high in the crock pot. Leave the lid askew so steam can escape while they cook. This will allow the mixture to reduce and thicken.
Flavor: Once it reaches your desired thickness, stir in the salt and vanilla. Let the apple butter cool, and then store it in jars.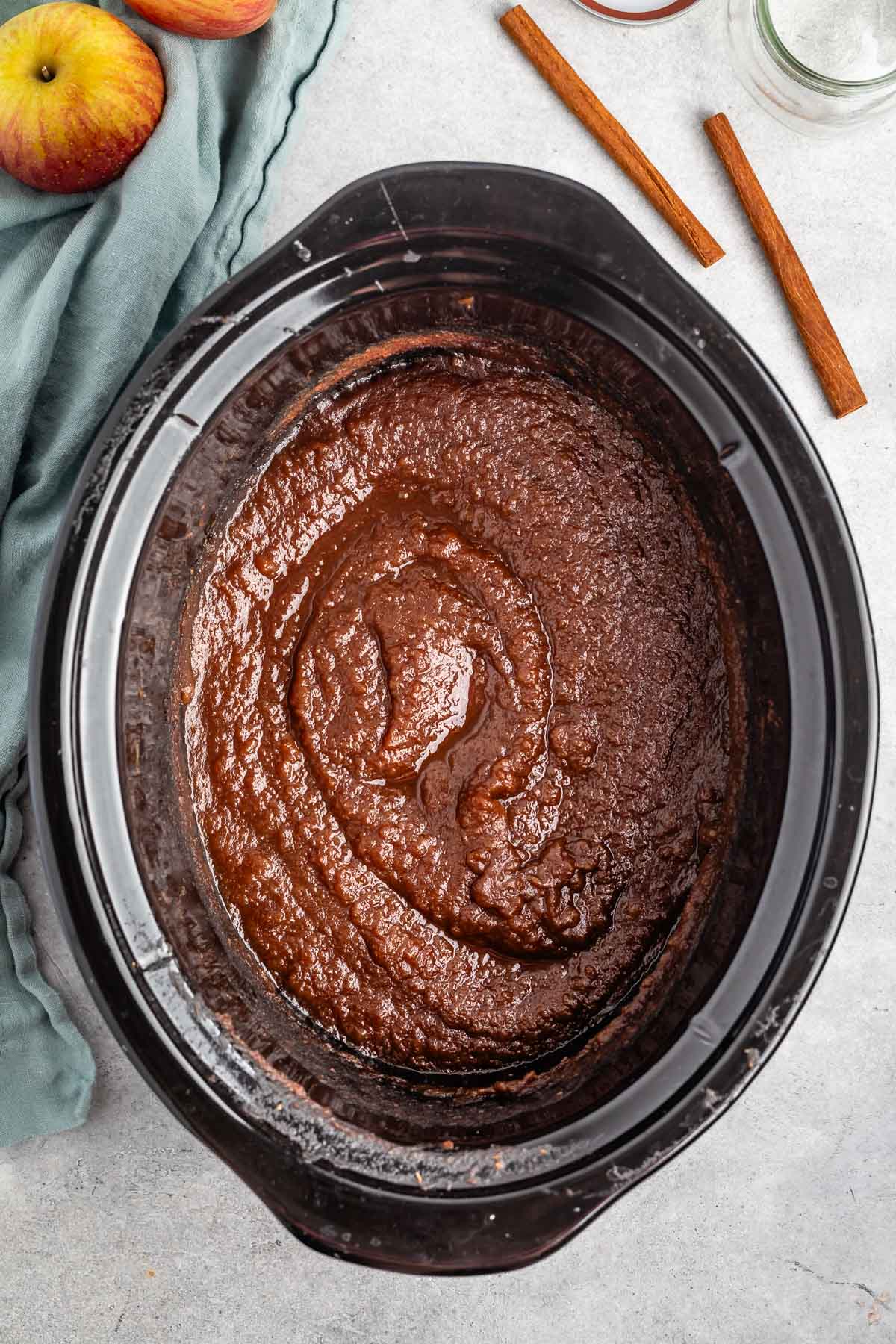 Expert Tips
How do you know when apples are done cooking for apple butter? You should cook them until the apples are translucent. Every crock pot is different, and this took about four hours in mine.
How to use apple butter: We love to spread it on toast, English muffins, and bagels for breakfast!
How to store apple butter: Once you've made your apple butter, it will keep in the refrigerator for up to two weeks. You can also freeze it in freezer containers.
Thickening apple butter is all about the cooking time. Once you've pureed the apples, leave them to cook with the lid slightly askew on the crock pot. This will allow steam to escape, which will help thicken the butter. The amount of time it takes will vary depending on how much liquid needs to evaporate.
FAQ
How long does apple butter last?
If you refrigerate it, it will keep for up to a week. Or freeze it for several months.
What kind of apples are best for apple butter?
You can use any apple, but I prefer a sweeter variety like gala, fuji, or Honeycrisp. If you want your apple butter to be more tart, try Granny Smith or pink lady. You can also do a combination of apples.
How to make apple butter smooth?
The easiest way is to blend it with a hand blender right in the crock pot. Or, use a stand blender or food processor.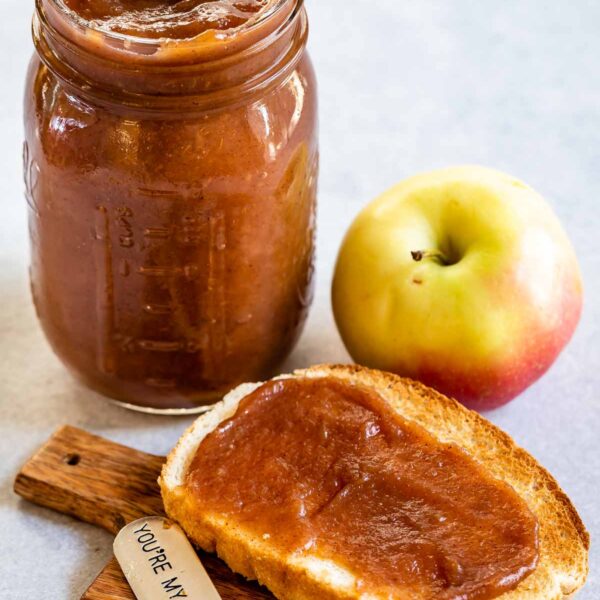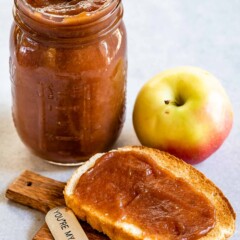 Apple Butter Recipe
Easy apple butter is made in the crockpot and is delicious on toast or added to recipes. Slow Cooker Apple Butter is the perfect recipe for fall and makes your house smell amazing.
Total Time
4

hours
20

minutes
Ingredients
3

lb

(1400g) apples (fuji, gala, honeycrisp, red delicious or similar)

½

cup

(100g) granulated sugar

½

cup

(100g) packed brown sugar

1

tablespoon

cinnamon

1

teaspoon

vanilla

¼

teaspoon

salt
Instructions
Slice and core apples. You can peel them if you want but I don't. Cut them into small chunks (smaller pieces cook faster).

Place apples in the bottom of a 7qt slow cooker. Top with both sugars and cinnamon then toss to combine.

Cover and cook on high for 3-5 hours, stirring after 2 hours. Cook until the apples look translucent, this took about 4 hours in my slow cooker.

Use a hand blender to blend the apples and their liquid into a smooth sauce. If you don't have a hand blender you can do this in a regular blender, but work in batches being careful not to overfill the blender with hot apples and leave the lid cracked when you run it so it doesn't explode.

Once your apples are blended, place them back in the slow cooker (if you've removed them to blend). Continue cooking on high with the lid cracked for 30 minutes to an hour, or until the mixture reduces to your desired thickness.

Stir in salt and vanilla then let cool and place in jars or freezer containers. At this point you can can the mixture if you wish or use the cooled apple butter in other recipes or on toast. Without canning apple butter will last about 2 weeks if stored in the refrigerator.
Recipe Nutrition
Serving:
1
serving
|
Calories:
77
kcal
|
Carbohydrates:
20
g
|
Protein:
1
g
|
Fat:
1
g
|
Saturated Fat:
1
g
|
Polyunsaturated Fat:
1
g
|
Monounsaturated Fat:
1
g
|
Sodium:
31
mg
|
Potassium:
82
mg
|
Fiber:
2
g
|
Sugar:
17
g
|
Vitamin A:
38
IU
|
Vitamin C:
3
mg
|
Calcium:
13
mg
|
Iron:
1
mg
Nutritional information not guaranteed to be accurate
Apple Butter is so easy to make in your crock pot or slow cooker! Not only does it taste fantastic spread on toast, but it also makes your house smell amazing while it cooks!
Last Updated on October 30, 2023