This post may contain affiliate links. For more information, read my disclosure policy.
Gooey Chocolate Chip Cookie Bars are worth every calorie! These easy cookie bars start with the best chocolate chip cookie recipe and are filled with gooey chocolate and sweetened condensed milk. They're a gooey bar from heaven!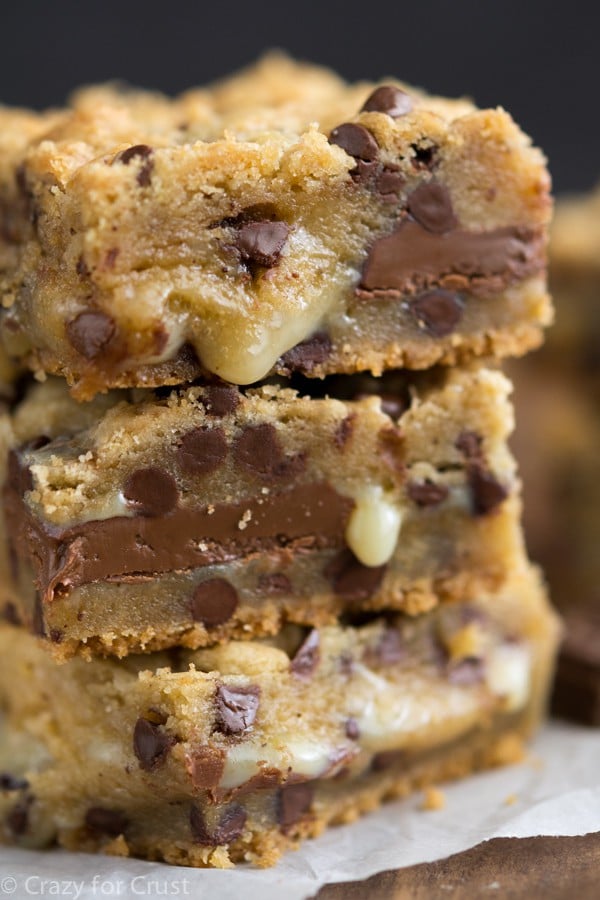 I love my dog, I really do. She's a total sweetheart. Ginger is a golden retriever and she's 12 but you'd never know it unless you had to watch her go up the stairs at night. During the day? She has no problem bounding up and down, but by nightfall she regrets her decision to look for kleenex in every trash can in the house 10 times during the day.
Ginger is nothing if not quirky. She eats kleenex and napkins, will only shred paper towels and won't touch toilet paper rolls. She doesn't understand the end of Daylight Savings Time, so since October she whines from 4pm-5pm wondering why I haven't fed her. And, when given a choice, she will sleep with her head on a pillow instead of flat on the ground.
Last week Ginger got groomed. While she was away, I washed her bed. The result? A fluffy, clean dog and a really lumpy bed. Ginger was not amused. She wasn't happy when I laid it down for her, when I tried to smooth it out, and she wasn't happy all. night. long.
It was like Princess and the Pea only worse because it actually happened. All night long. The poor thing couldn't get comfortable and she let me know it by shaking. And moving. And chewing. Did I mention she did this all night long?
Today we're both tired. She's napping. I'm working. Lucky girl!
Since I'm tired, I want comfort food. Is there anything more comforting than chocolate chip cookies?
How about chocolate chip cookie gooey bars? Yes?
Gooey Chocolate Chip Cookie Bars are the best and most popular cookie bar recipe!! They're full of chocolate and sweetened condensed milk and everyone loves them.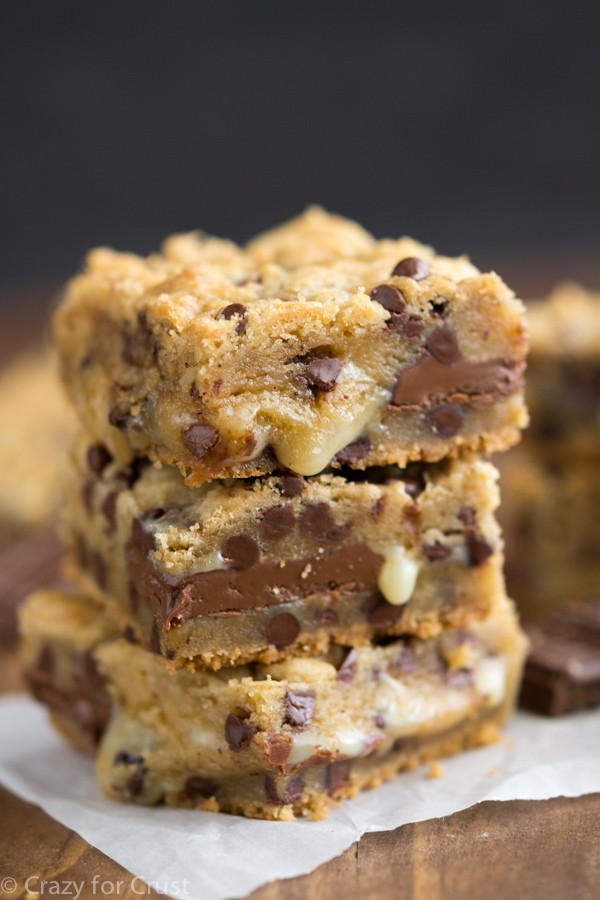 I mean, I can't even get over these pictures you guys. See how good they look? Yeah, they taste better. These were direct to the freezer and hope I forget about them bars.
I used my favorite chocolate chip cookie recipe to make these gooey bars. Gooey bars are kind of my obsession, if you didn't know. I'm particularly partial to the Funfetti version…but these are my new favorite.
The chocolate chip cookie recipe starts with brown butter. If you've never browned butter, don't worry. It's actually easy. You can read my tutorial on how to brown butter before you start.
If you don't want to brown the butter you can start with my best chocolate chip cookie recipe instead. It's got one less step but is just as good.
Really, the only thing you need to be careful of when you're browning butter is that you don't let it go too long because it burns easy. It's kind of like making a pudding or thick sauce: you stir and stir and stir waiting for it to thicken and then allofasuddenitsthickhurryupturnofftheheat. Same goes with browning butter. Once it starts it's super fast and can burn if you're not watching it.
It might seem like a pain…but don't skip it. Brown butter gives a richness to the cookie bars that aren't there with just melted butter. Totally worth it.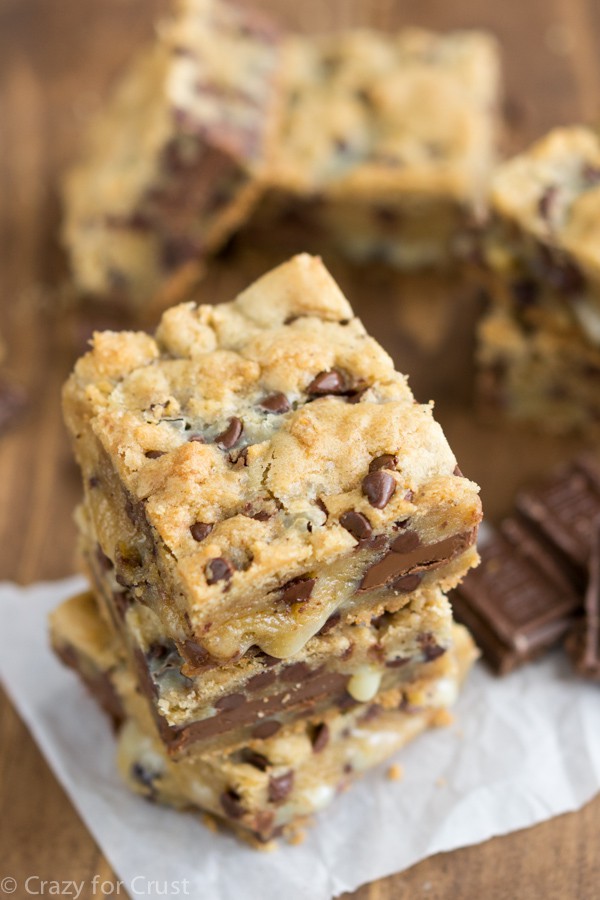 Another reason I love this chocolate chip cookie recipe is because it has a ton of brown sugar in it. When you add the brown sugar to the melted butter it creates a toffee-like flavor that is sorely missing in non-melted butter cookies. Normally, starting with melted butter means you have to chill the cookies for hours or overnight, which is why making chocolate chip cookie bars is better.
I love that chocolate chip cookie bars are made in a 9×13-inch pan; no scooping or rolling needed. Just press and bake!
These GOOEY easy chocolate chip cookie bars are even better than plain chocolate chip cookie bars because in between two layers of cookie dough you pour an entire can of sweetened condensed milk. This makes them gooey in the center. And because more chocolate is always better, they have chopped up Hershey bars in the center too.
You could also stuff these with Oreos or peanut butter cups!
Gooey Chocolate Chip Cookie Bars are the perfect comfort food and great for a potluck, party, or a random Tuesday.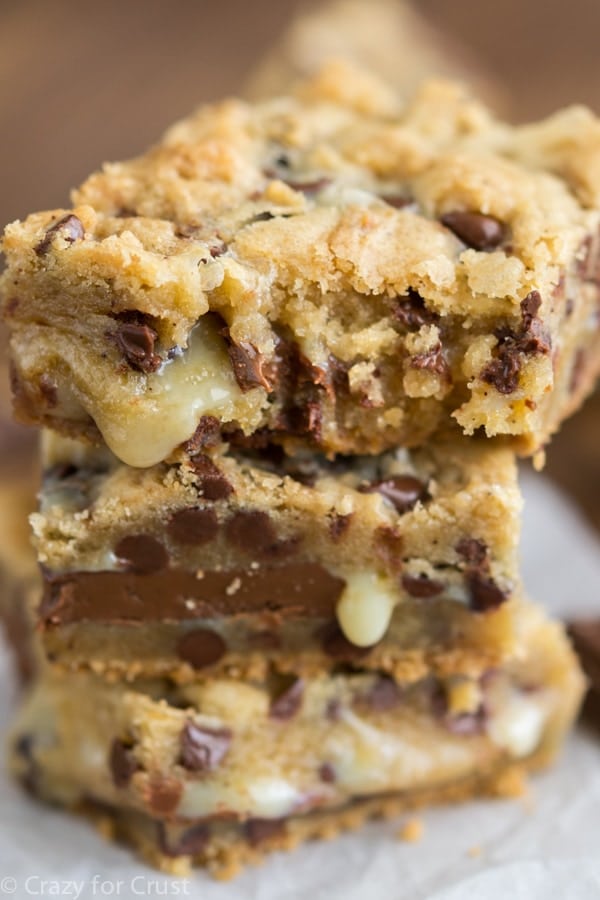 How to make chocolate chip cookie bars that are gooey:
Make sure to leave a border around the edge of the pan that doesn't have sweetened condensed milk. It'll bubble up around the outside of the pan if you do.
It's really helpful to bake these on foil for easy removal.
It's easiest to slice these cold. For the gooey look like I have, reheat them after slicing.
Want even more? Subscribe to Crazy for Crust to get new recipes and a newsletter delivered to your inbox. And stay in touch on Facebook, Pinterest, Twitter, and Instagram for all my latest updates. If you make this recipe, share a photo on social media tagging @crazyforcrust and using the hashtag #crazyforcrust.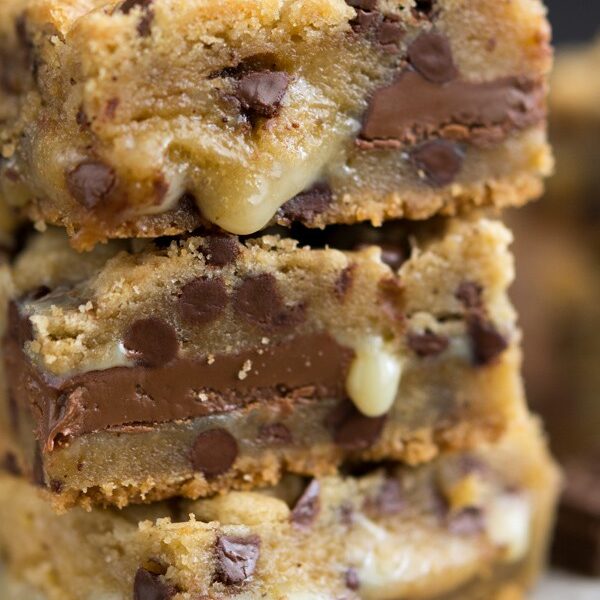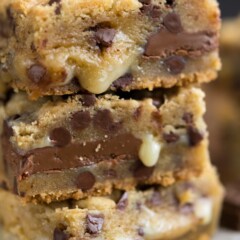 Chocolate Chip Cookie Gooey Bars
My favorite chocolate chip cookie recipe made into a gooey bar. This bar cookie is off the hook amazing - gooey, chocolatey, and perfect!
Ingredients
3/4

cup

granulated sugar

1

cup

light brown sugar

2

large eggs

1

tablespoon

pure vanilla extract

1

teaspoon

baking soda

3 1/4

cups

all-purpose flour

1/2

teaspoon

salt

1 1/2

cups

mini chocolate chips

1

14 ounce can

sweetened condensed milk

1

4.4 ounce

large Hershey bar (or smaller bars to make that same size)
Instructions
Melt butter in a saucepan over medium heat. Cook, stirring often, about 6 minutes, until it becomes brown in color. It will foam, reduce, then foam again. Once it's done cooking the foam is a light brown and it will dissipate after you remove it from the heat. Once it starts to brown, keep stirring so it doesn't burn. Let sit for about 5 minutes to cool.

Pour into an electric mixer fitted with paddle attachment. While still hot, add both sugars and mix on low until combined. Let sit to cool for a few minutes.

While butter mixture is cooling, combine flour, baking soda, and salt in a medium bowl. Stir and set aside.

Turn mixer (with butter mixture bowl attached) on low. Add eggs, one at a time, mixing completely. Mix in vanilla extract. Add flour mixture to the wet ingredients and mix until combined. Stir in chocolate chips.

Line a 9x13" baking pan with foil and spray with cooking spray for easy removal.

Press half the cookie dough in the prepared pan. Pour sweetened condensed milk over the top of the bottom layer (be careful to leave about 1/4" edge around the pan so the milk doesn't touch the foil), then break up the chocolate bar and drop pieces over the top. Break up the remaining cookie dough and place on top of milk. Press with your hands to flatten. It will mostly cover but not completely cover the bottom layer.

Refrigerate pan for 30 minutes.

Preheat oven to 350°F. Bake for about 30-35 minutes until the tops of the bars start to get golden brown. Cool completely before slicing into bars.
Recipe Nutrition
Serving:
1
bar
|
Calories:
172
kcal
|
Carbohydrates:
24
g
|
Protein:
1
g
|
Fat:
7
g
|
Saturated Fat:
4
g
|
Cholesterol:
23
mg
|
Sodium:
74
mg
|
Potassium:
30
mg
|
Sugar:
15
g
|
Vitamin A:
190
IU
|
Vitamin C:
0.1
mg
|
Calcium:
19
mg
|
Iron:
0.8
mg
Nutritional information not guaranteed to be accurate
**Did you make this recipe? Don't forget to give it a star rating below!**
Click here for my ultimate Football Party Menu and all of my gooey bar recipes!
Butterscotch Blondie Gooey Bars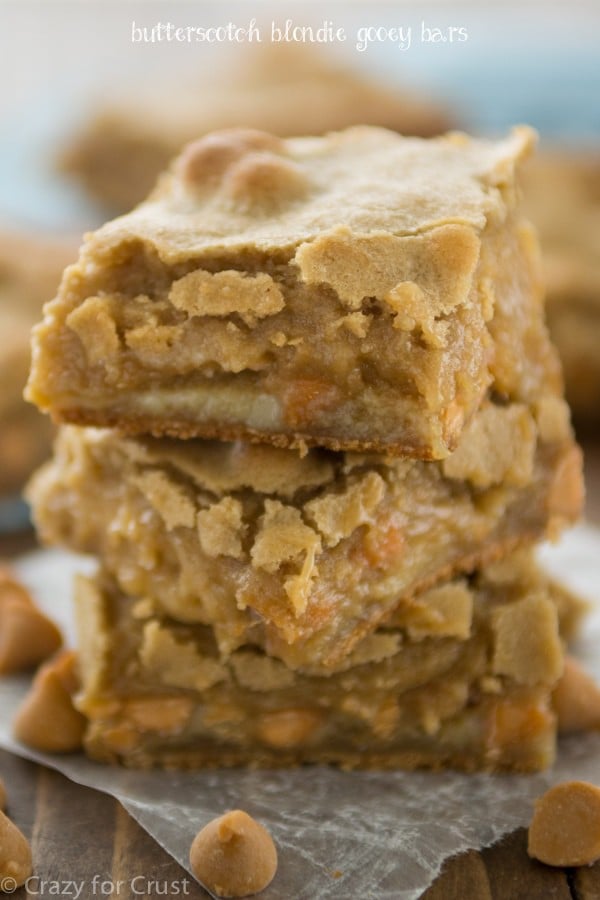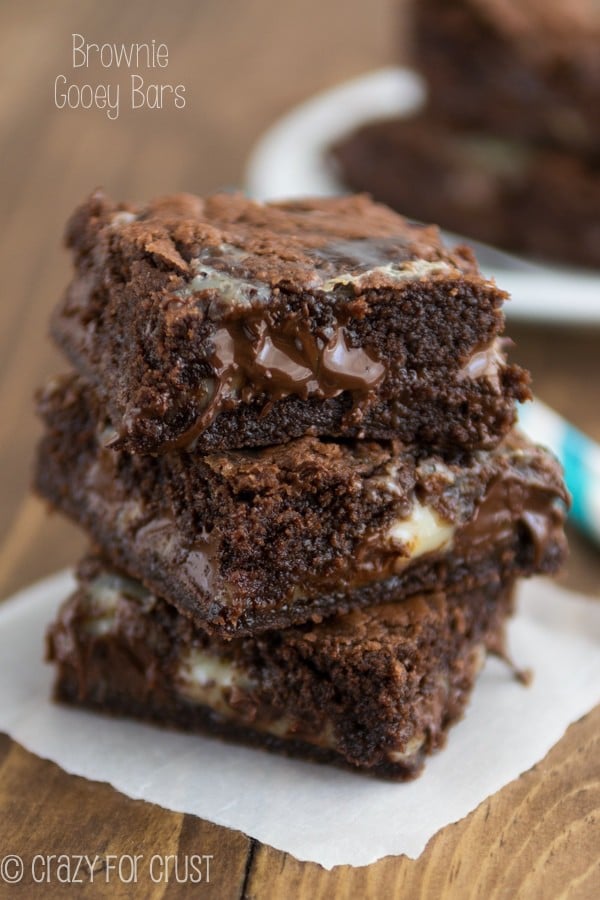 Oreo Truffle Chocolate Chip Cookie Bars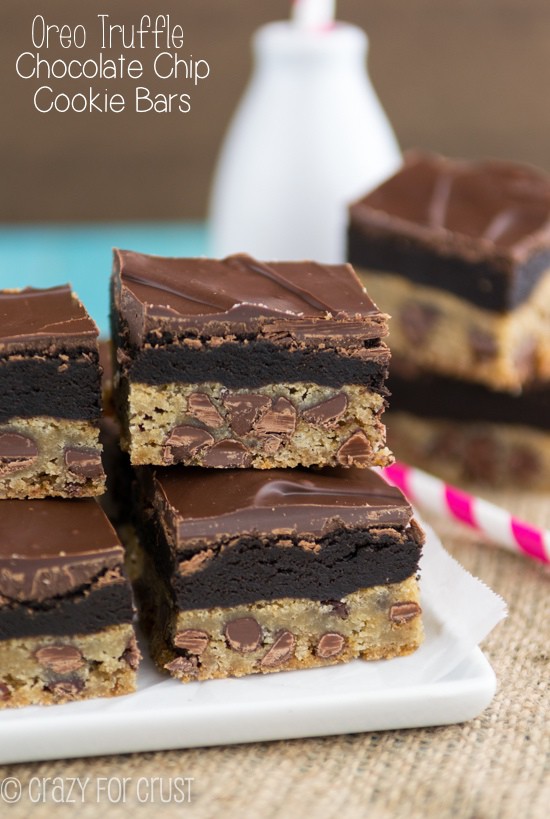 The BEST Bakery Style XL Chocolate Chip Cookies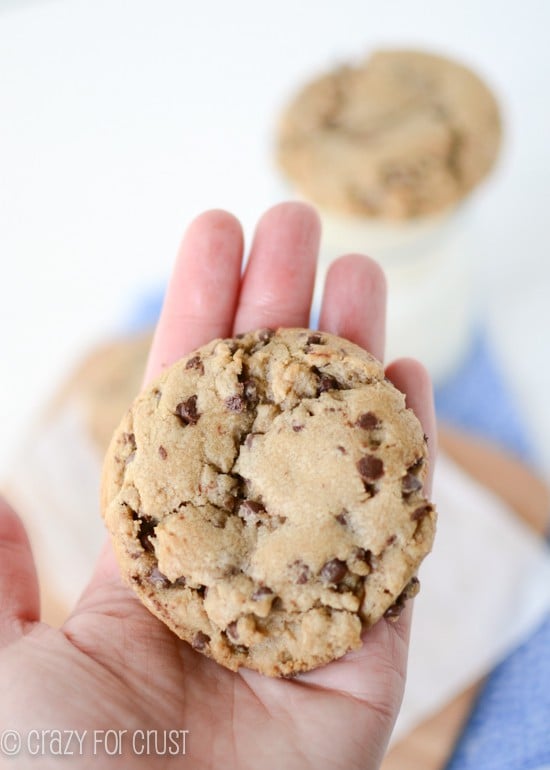 SaveSaveSaveSave
Last Updated on February 6, 2019